If you're looking for a natural way to get rid of orange, brassy hair then you've come to the right blog! Kavella's clean and vegan Blue Shampoo is the only natural blue shampoo available on the market! Made with natural and organic ingredients, superbly effective, good enough for professional hairstylists and gives back to animal welfare organizations – it doesn't get any better. Read on to learn all about Kavella's Blue Shampoo, a discount code and completely unedited Before and After pics.
If you're a brunette and you've highlighted or colored your hair, then you will most definitely deal with brassiness. It's inevitable and there's no avoiding it sadly! It's not just because our hair has so much red in it from being dark, but there's also external factors at play like pollution, chemicals in shower water and the sun.
To keep brassy orange hair at bay, a toning blue shampoo should be used weekly to maintain your true beautiful hair color.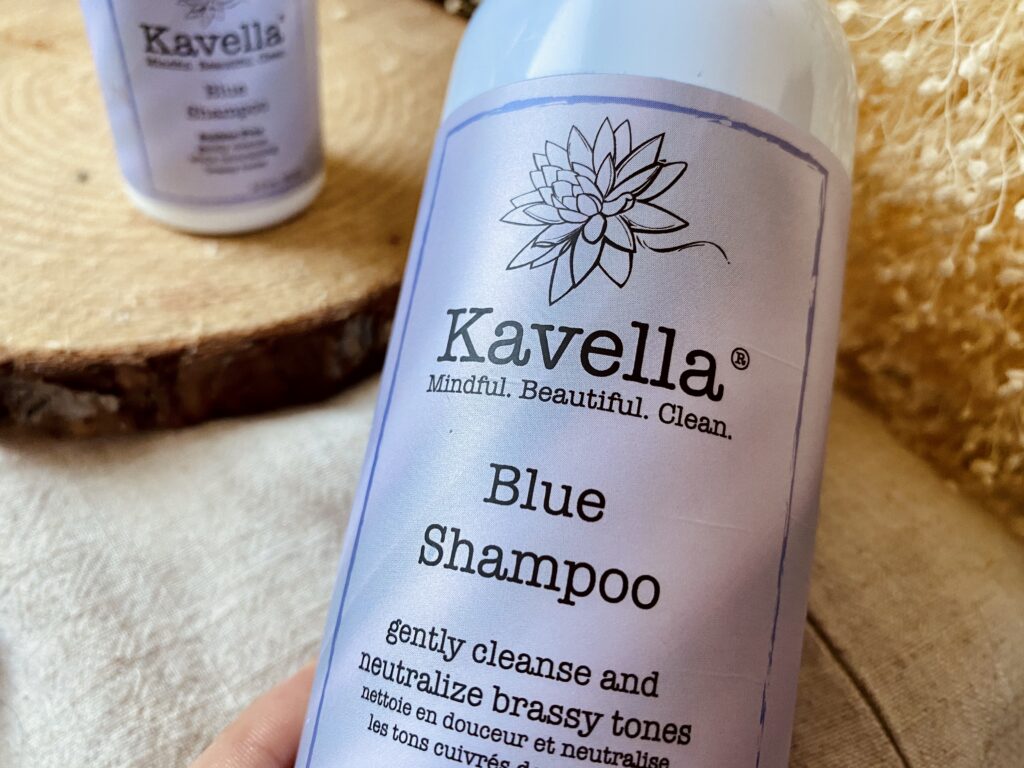 Who Needs Blue Shampoo?
How do you know if you need to use Blue Shampoo? A weekly toning treatment is ideal for:
Brunettes
Brondes
Light brown hair
Brunette hair with highlights
Brunettes with balayage
How does Blue Shampoo Work?
Blue is opposite of orange on the color wheel, so this pigment will help cancel out orange tones in your hair. If you're blonde, purple shampoo will get rid of yellow brassiness.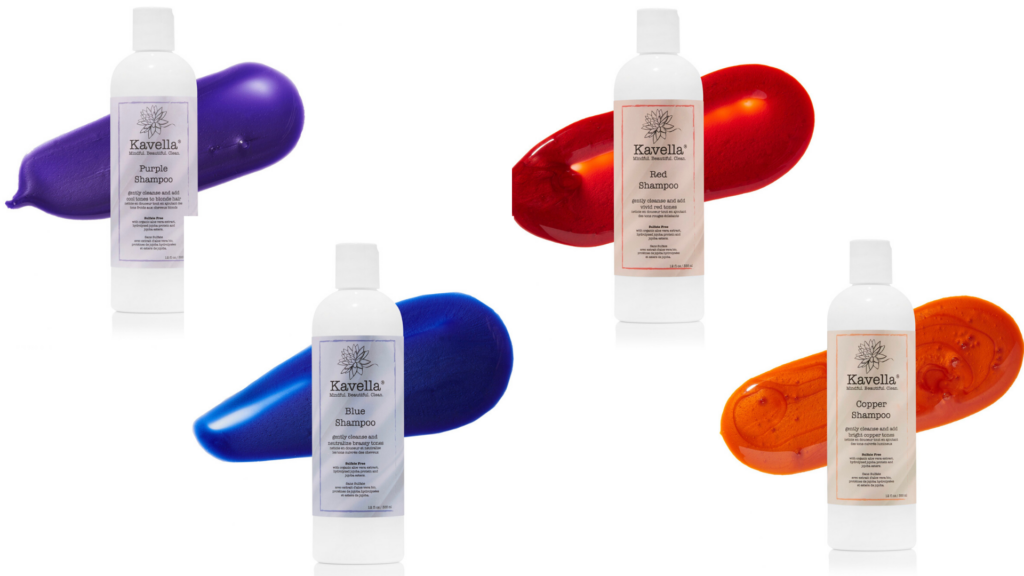 About Hair Care Brand Kavella
Kavella is a Los Angeles based hair care brand with an extensive range of clean and vegan hair products. It was started by a professional cosmetologist, who in her search of trying to find a professional hair care line that was truly vegan, cruelty-free and natural, decided to create her own.
Now, Kavella is in vegan and non-toxic hair salons across the country. I love that she set out to change industry standards on her own and create healthier products that actually work.
Kavella is also committed to sustainability and giving back. Their eco-friendly bottles are made from a biopolymer derived from sugarcane, making them not just carbon neutral but carbon negative.
Kavella's founder is a huge animal lover and each purchase gives back to animal welfare organizations (Angel City Pit Bulls, Soi Dog Foundation, Reversed Rescue and Primates Incorporated). So you're not only getting better hair, you're helping the animals.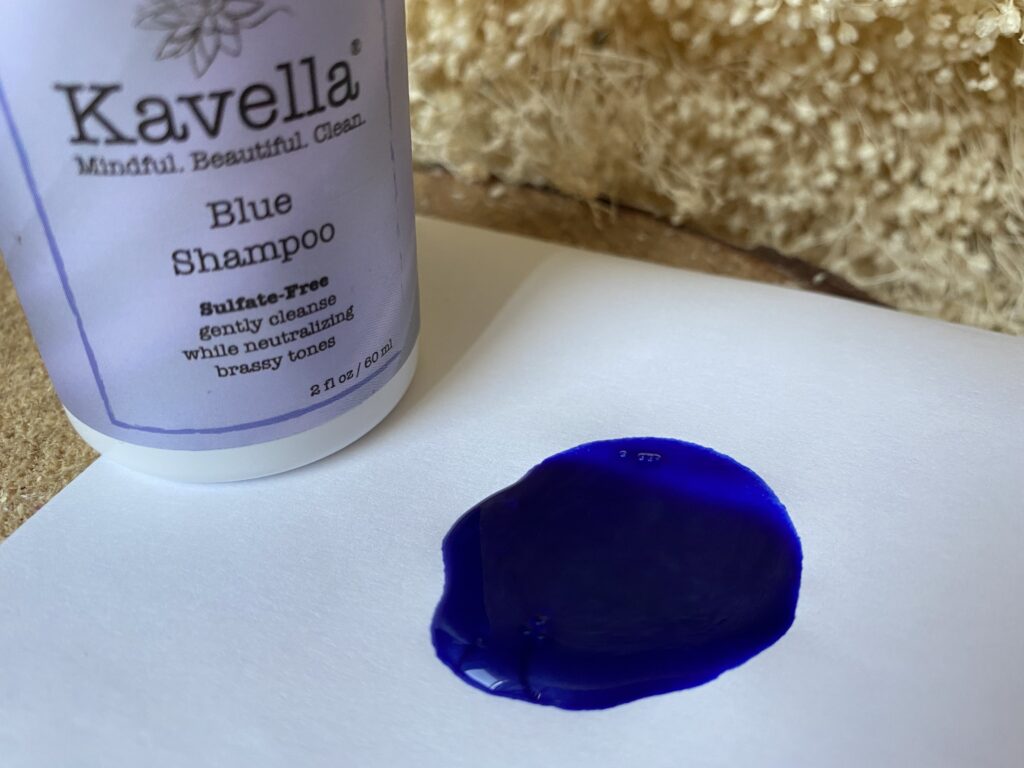 Kavella Blue Shampoo
Kavella Blue Shampoo is made of natural and organic ingredients as well as the right colorants to work effectively. Kavella's color shampoos are used by hair professionals, so you know you're getting the best of the best, and not the semi-effective products sold in supermarkets.
As you can tell from the image, these shampoos are beyond PIGMENTED. The blue is so deep it almost looks like violet in certain lighting.
Professional level products that are used in hair salons
Organic Aloe Vera Extract base and not water.
Infused with Natural and Organic ingredients like: Hydrolyzed Jojoba Protein, Jojoba Esters, Vanilla Extract Oil, Tonka Bean Absolute and Grapefruit Peel Oil
Important! pH balanced at 5.5 to keep the hair cuticle closed for color retention and shine.
I also love that this shampoo very gently suds and does not foam and strip your hair of moisture. My main goal when using a color shampoo is obviously, color correction.
Conventional purple shampoos have harsh surfectants that leave my entire hair shaft feeling so dry because I have to apply shampoo from root to end and I end up overcleansing my hair. Since my hair has been chemically processed and damaged for years, the perfect Blue shampoo for me is one that fixes my color and doesn't dry my hair out.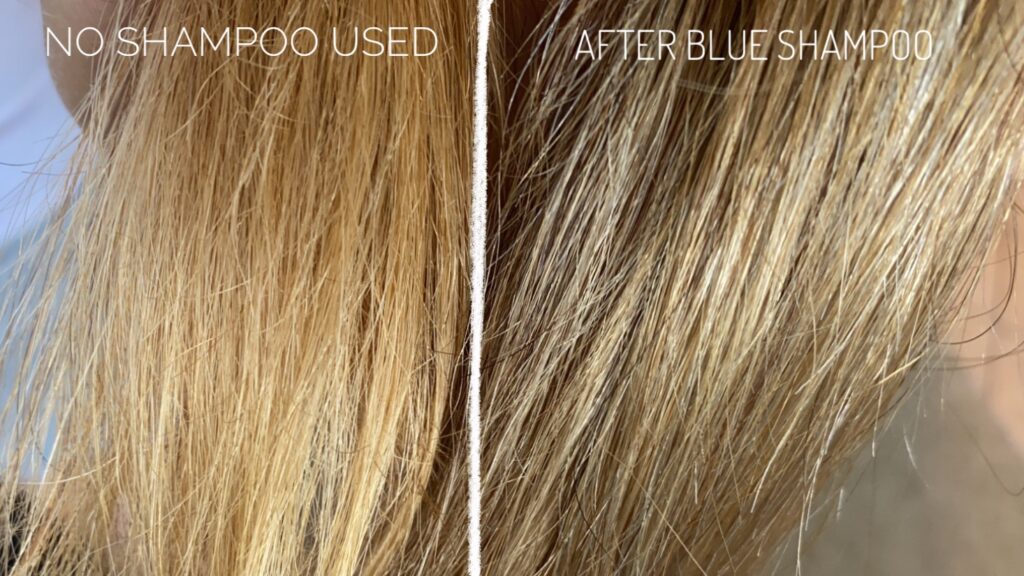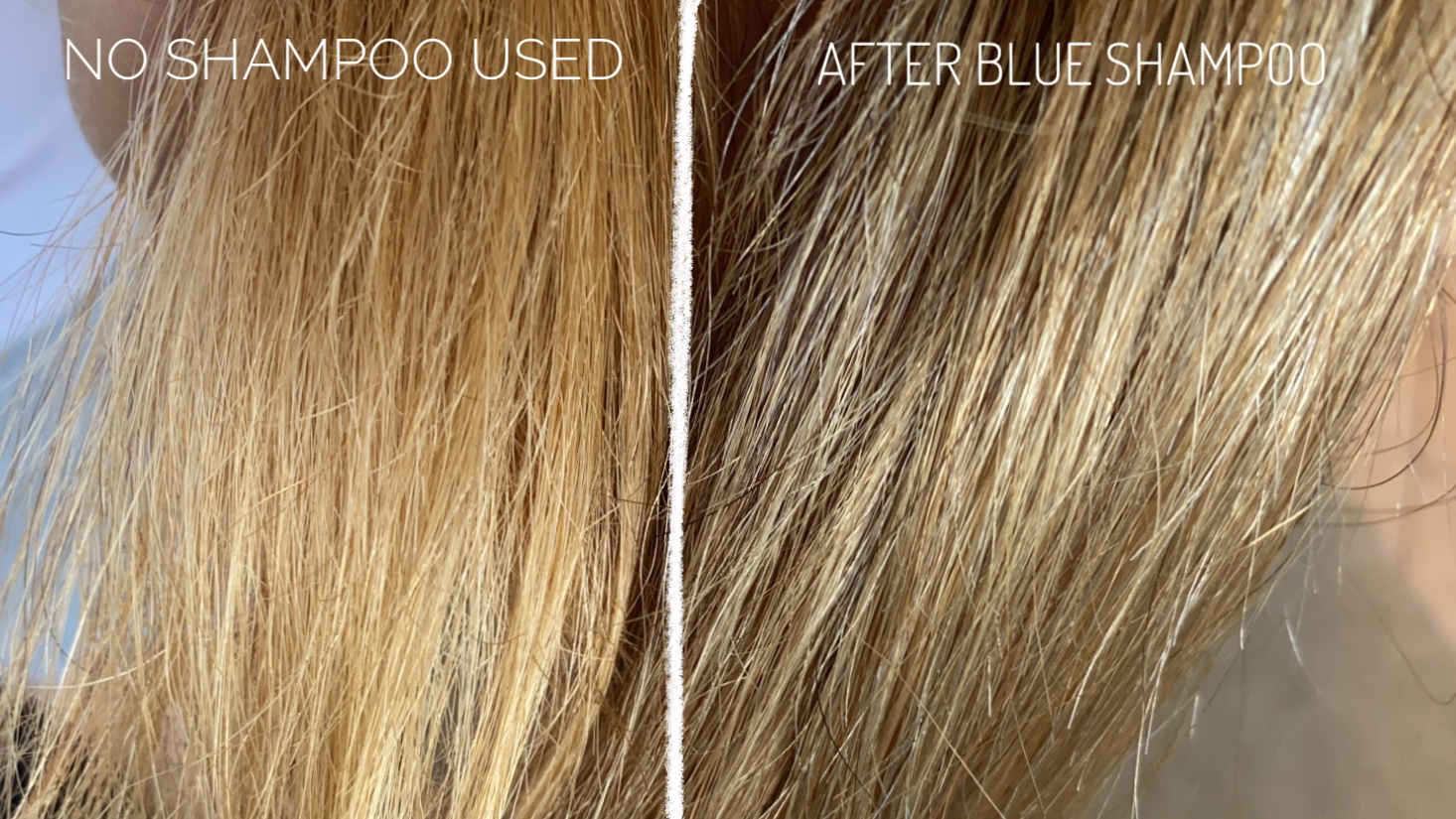 This blue shampoo before and after shot is completely unedited, unfiltered and non Photoshopped. I haven't touched this photo in any way – the results speak for themselves.
I did not use Kavella blue shampoo on the left side of my hair and only on the right. When I place both sides together, you can tell that the right has cooled down a lot in tone and looks like an ashy blonde.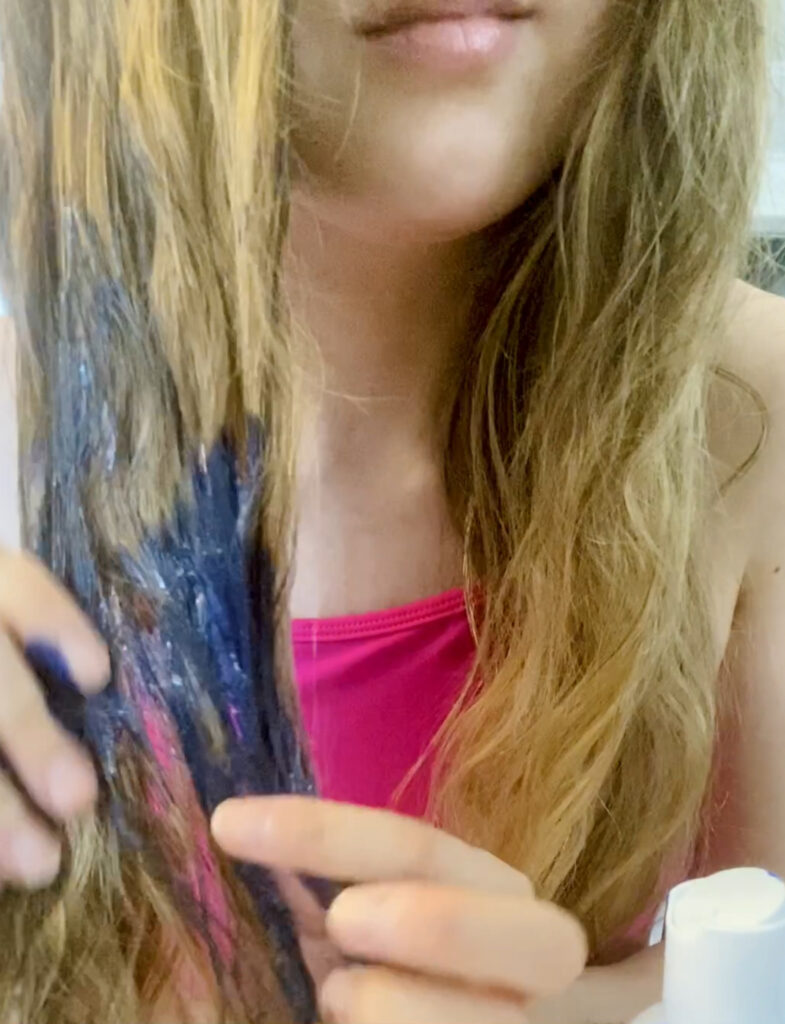 First, make sure you're not wearing clothes. I would strip down to a bra or nothing at all so you don't risk staining anything.
Second, begin applying on dry hair from the root down or from wherever you need to get rid of brassiness. Make sure it soaks into your hair. If you have long hair like me be prepared to use a LOT of product.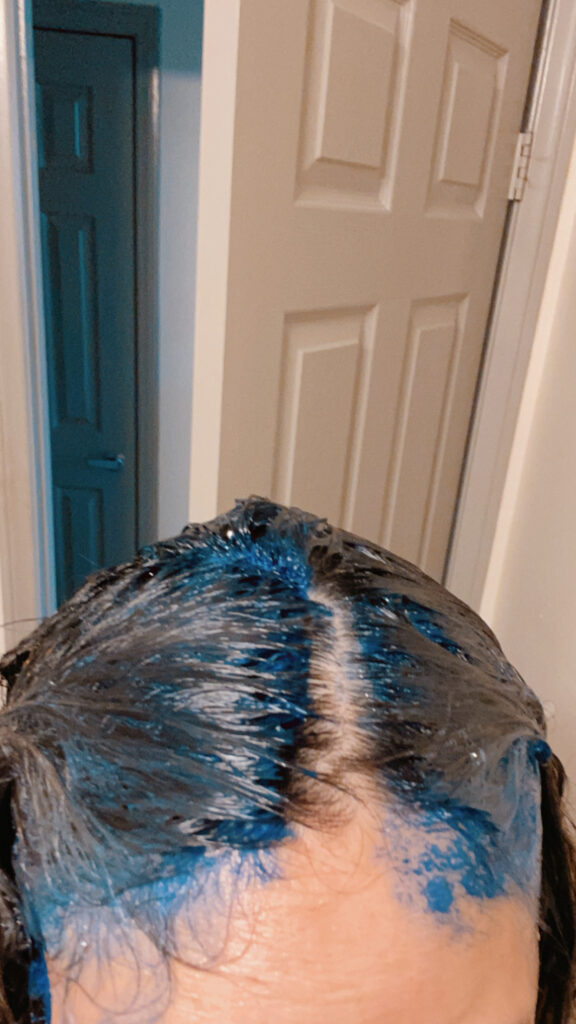 Third, let it sit for around 20 minutes. The longer you leave it on the stronger the results. Leaving it on too long may over darken your hair so you may need to experiment to find out what works best for you.
Fourth, get in the shower and rinse it out in cold water. This helps the pigment stay on and keeps hair shiny.
Blue shampoo can be used weekly or more often depending on your toning needs.
Discount code OBL saves 15%
Use my affiliate code OBL to save 15% sitewide at Kavella.
If you're unsure whether you need blue or purple, Kavella offers a Travel-size along with their regular and jumbo size bottles.
Redheads and copper toned hair also have red and copper color shampoos to choose from!