I am now addicted to gel nail strips! Where have these been all my life?
If you're unable to visit the nail salon or are looking to save money on expensive gel manicures I've found the perfect non-toxic solution! ManiMe is a gel stick on nail brand and the first to offer custom-fit sizes using a proprietary 3-D technology. Thank goodness for technology making all our lives more convenient! Read on to find out all about ManiMe, my experience and tips on how to apply gel stick on nails.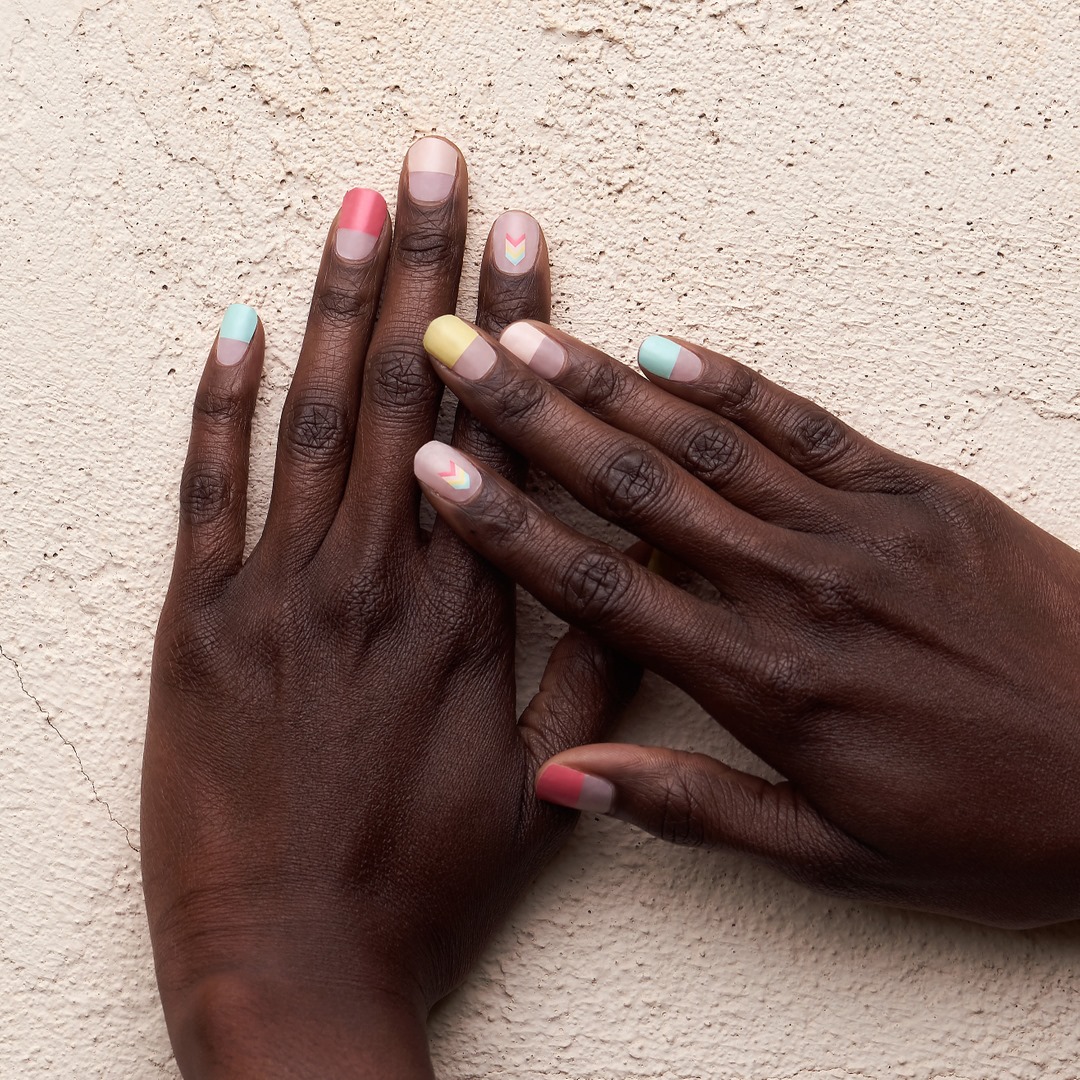 Founded by Korean native Jooyeon Song, ManiMe was born out of her desire to skip immobilizing her hands for two hours in a salon saturated in chemicals. She dreamed of creating accessible, healthy and easy-to-change manicures and I'm so glad that dream is now a reality!
While I love getting my nails and hands pampered in an eco beauty salon, the entire session from leaving my home to getting back takes up 2-3 hours of my time and costs a pretty penny. I've tried the supermarket press on nails but found that they were too large for my small nails.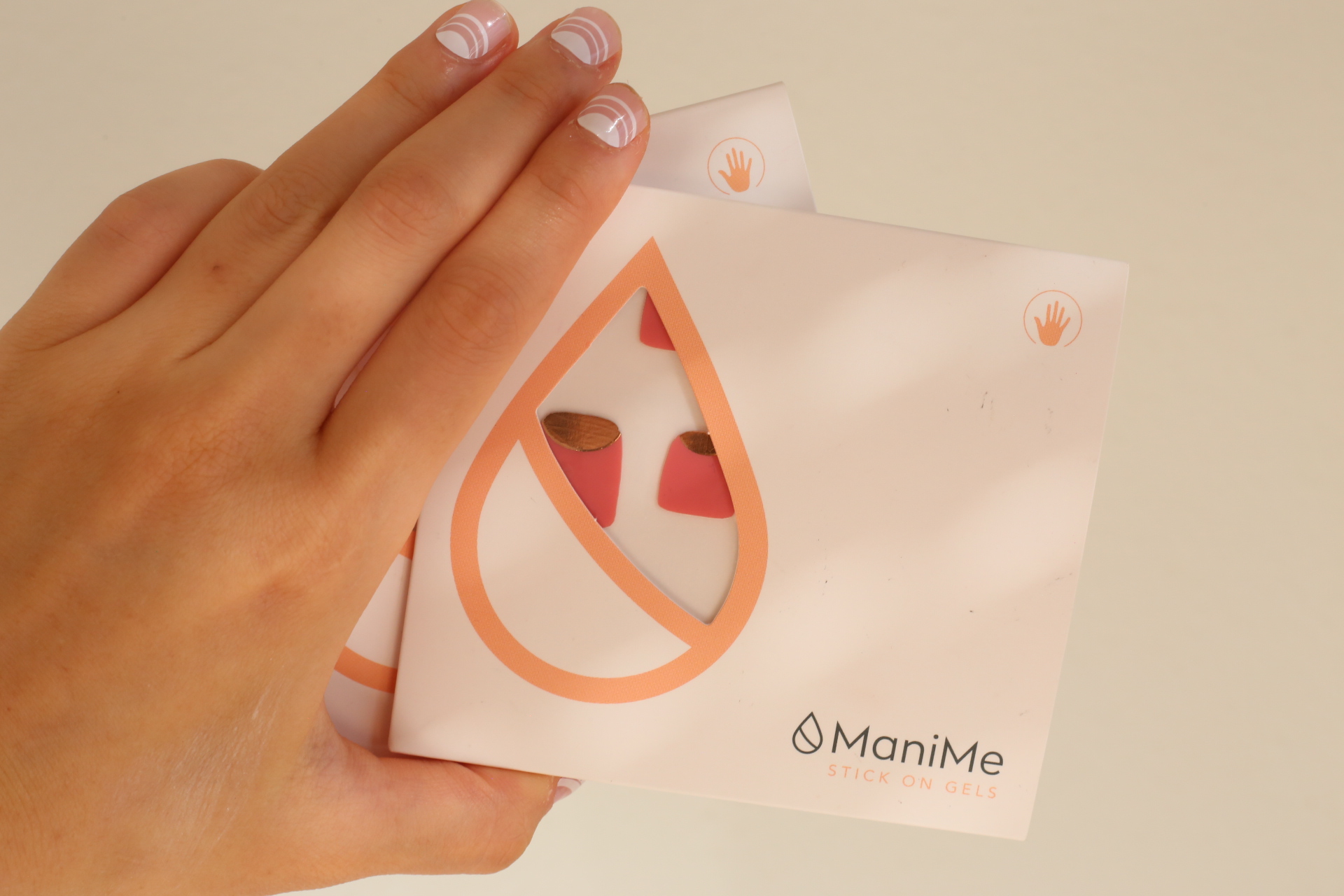 ManiMe 3-D printed gel nail strips have solved all my nail problems. First of all, where I live now, a gel manicure would easily cost me at least $150 which I most definitely cannot afford. I'm not a manicure obsessed gal to begin with so I prefer an easy and affordable solution.
ManiMe gel nails are:
3-D custom fit so the size and shape actually fit
Non-damaging and 10-free vegan formula
No harmful UV lights
Takes only 10 minutes of my time
Eliminates the need to use nail polish remover and time it takes to get everything
No chipping
Easily removable by just peeling them off
Tons of classic and fun nail designs to choose from
No need to leave my home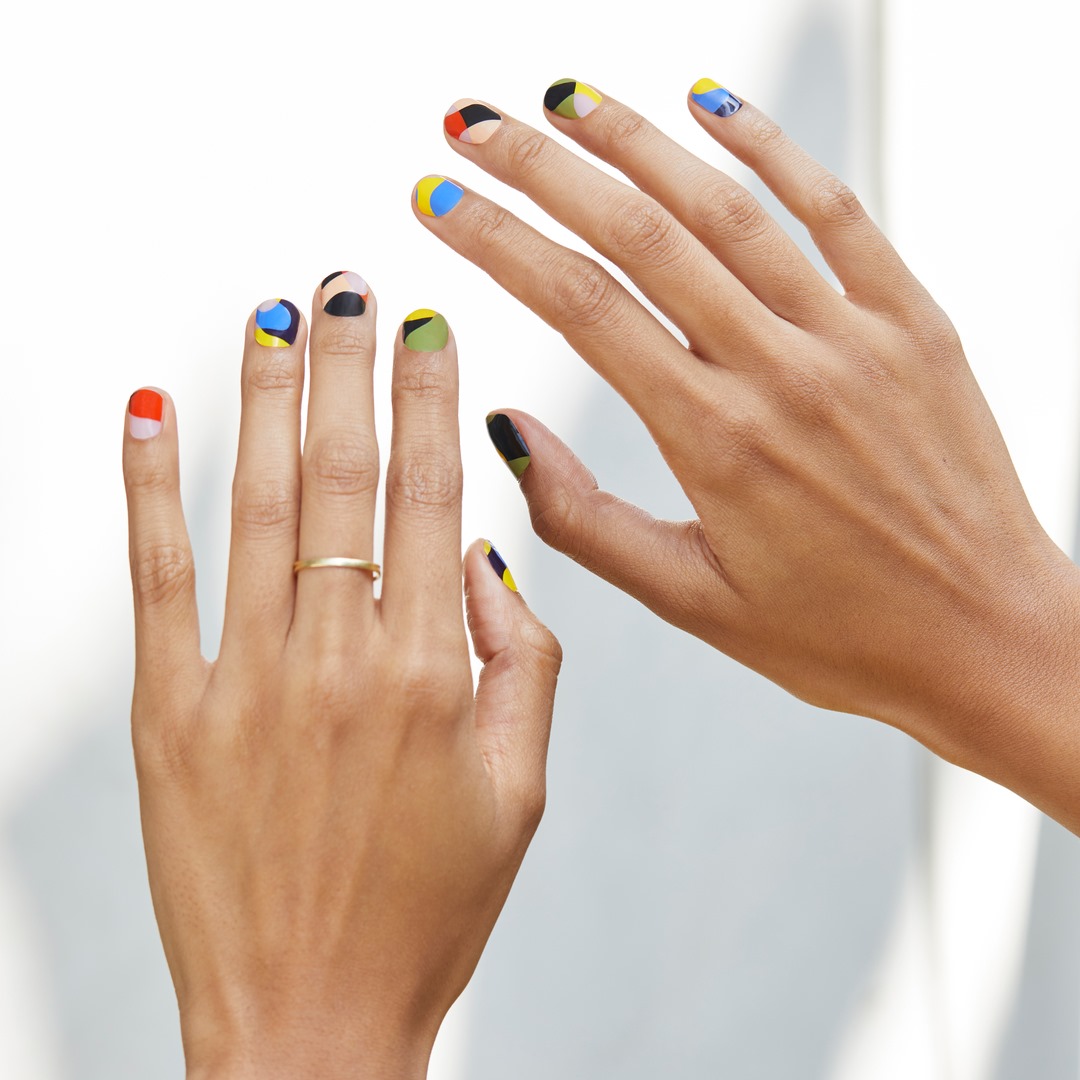 I had to first create an account on the ManiMe website and upload various shots of my nails at different angles. They then use their high-tech 3-D scanner to create customized nails. The size was perfect for all my nails except for the thumb and pinkie which didn't extend all the way to the edges. If it doesn't fit, you can contact them to get a fixed size.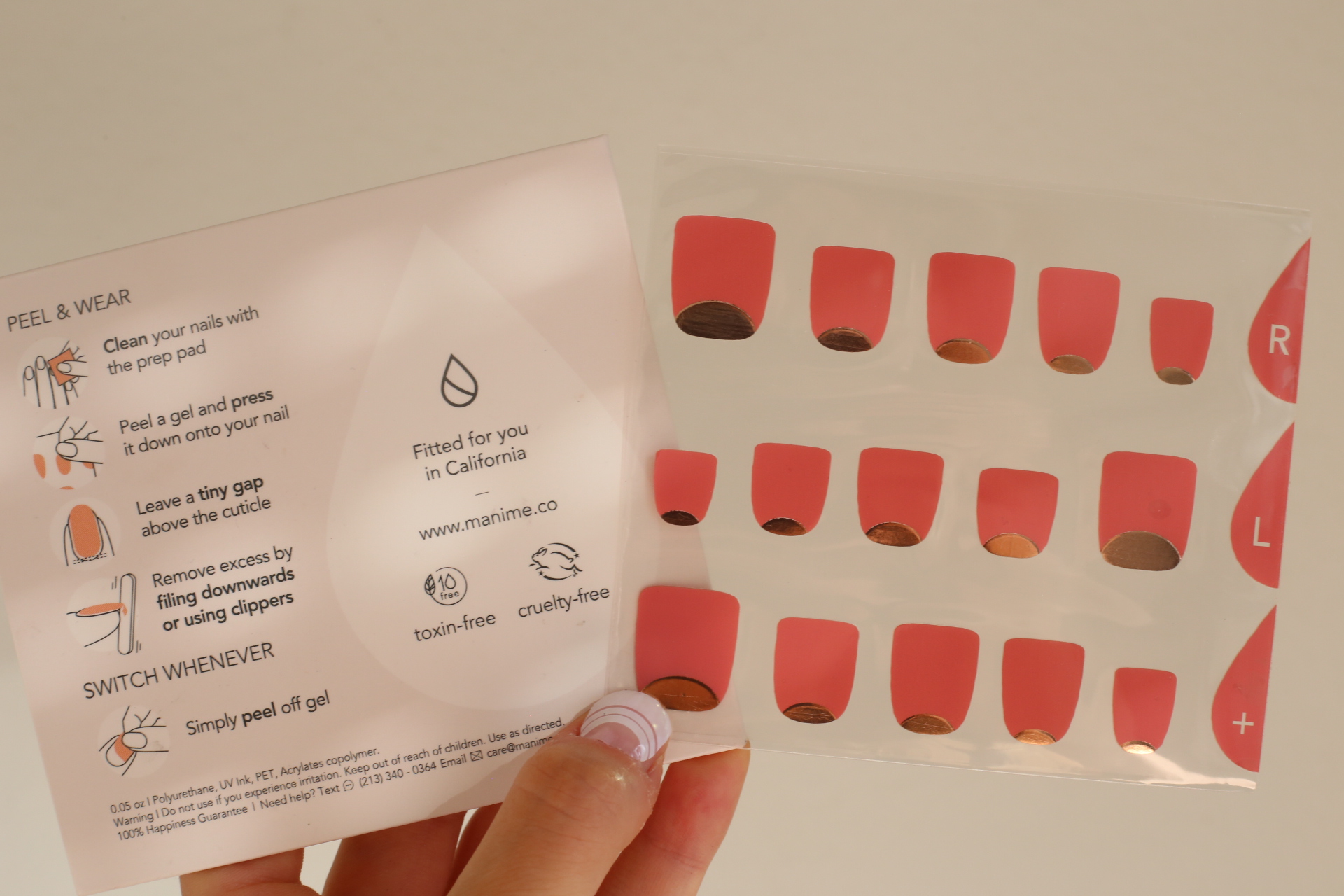 HOW TO APPLY GEL STICK ON NAILS
There is a bit of a learning curve when getting used to applying gel stick on nails. I made some mistakes on my first tries and I'm guessing it's going to take a few more tries to get it right consistently with each of my 10 nails. I recommend growing out your nails before applying because it's harder to file off the excess on short nails.
ManiMe includes a prep pad and nail file so you have everything you need. The nails will come longer than your actual nails in case you've grown your nails since ordering.
Step 1: Wipe down nails with the included prep pad
Step 2: Apply the gel stick ons leaving a slight space at the nail bed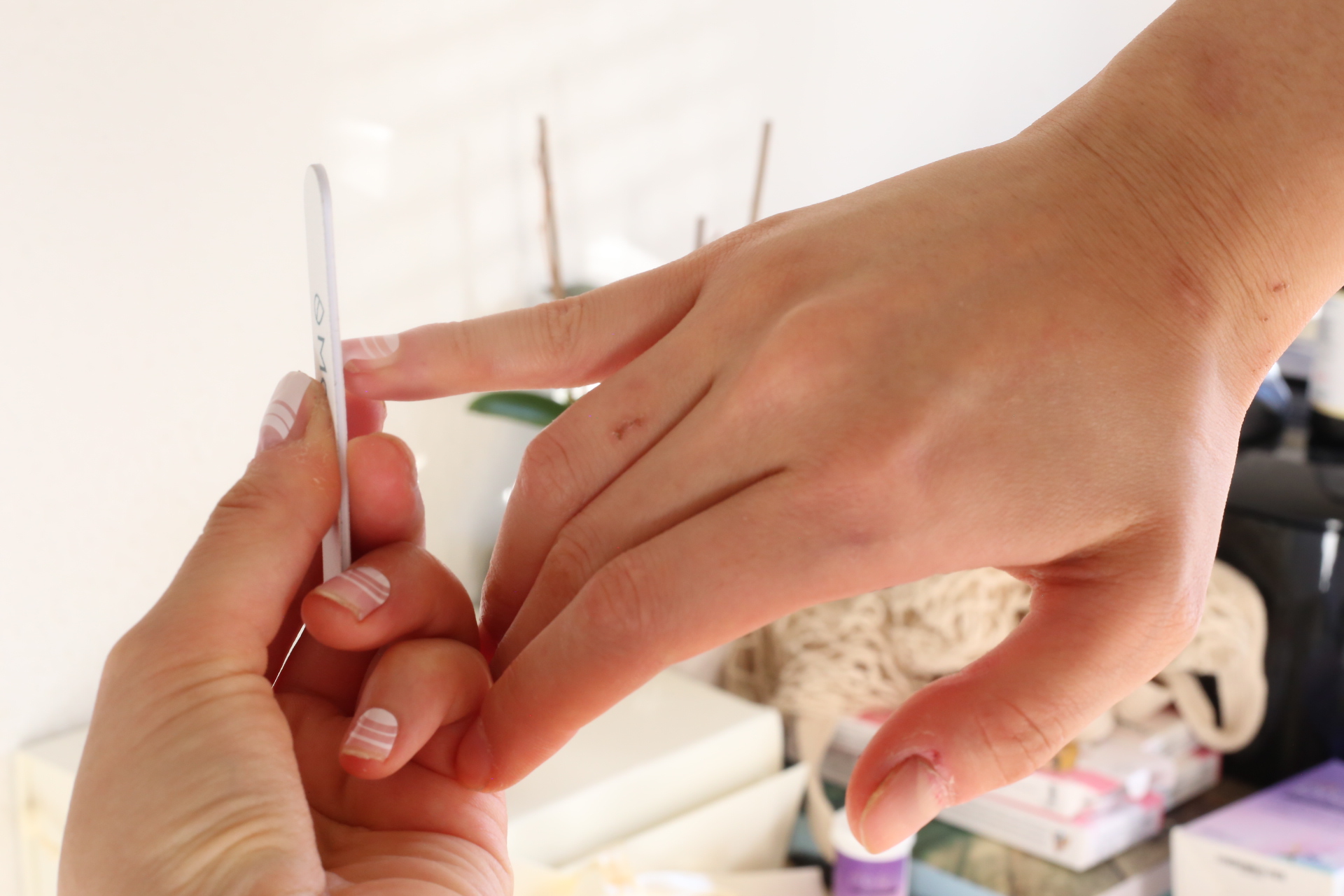 Step 3: Use the nail file or clipper to file or clip off the excess. I think a clipper will give cleaner results. If your nails are shorter than your finger it will be more difficult to file off the excess than if your nails extend past your fingers.
I've been using a nail file and it requires a bit of practice to get it right. If using a nail file, file in downwards motions and not horizontal and use steady controlled strokes. Keep the nail file at a 90 degree angle so you don't take off the gel part that's on the nail.
Step 4: Beautiful gel nails for 10-14 days! I read that if you use their top coat it can last upwards of a month.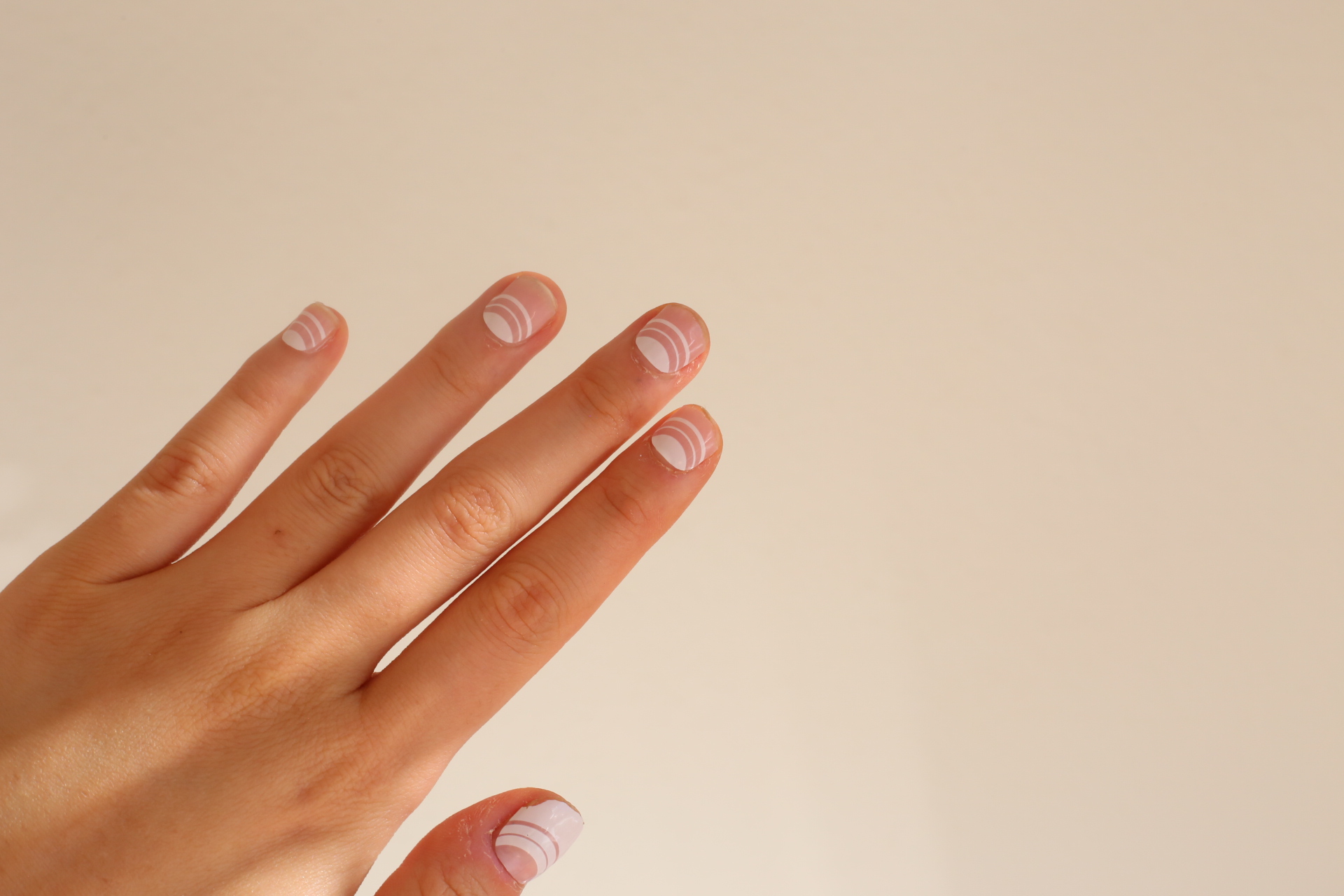 How Long Do Gel Stick On Nails Last
ManiMe Gel Stick On Nails are supposed to last 10-14 days. I noticed that different styles have different stay power. The light colored sheer gel nails had a much stronger adhesive than the black art nails I tried.
Some of my ManiMe gel nails started to come loose when I did the dishes manually with hot water. I would recommend using gloves to protect the lasting power of your gel stick on mani when doing any kind of manual labor that requires heat and water.

How To Remove Gel Stick On Nails
Removing the ManiMe Gel Stick On Nails is the easiest thing ever. You simply peel them off in seconds.
I absolutely love having a perfect gel manicure in a matter of minutes and in beautiful designs. They also offer pedicures.You can save $5 with code OBL (I receive $5 off my next order too). They ship to the US only for now and are working on adding international shipping in the future.
Shop ManiMe here