AHNESTI, EVOLVh & Captain Blankenship Organic Haircare from Folica Hair Boutique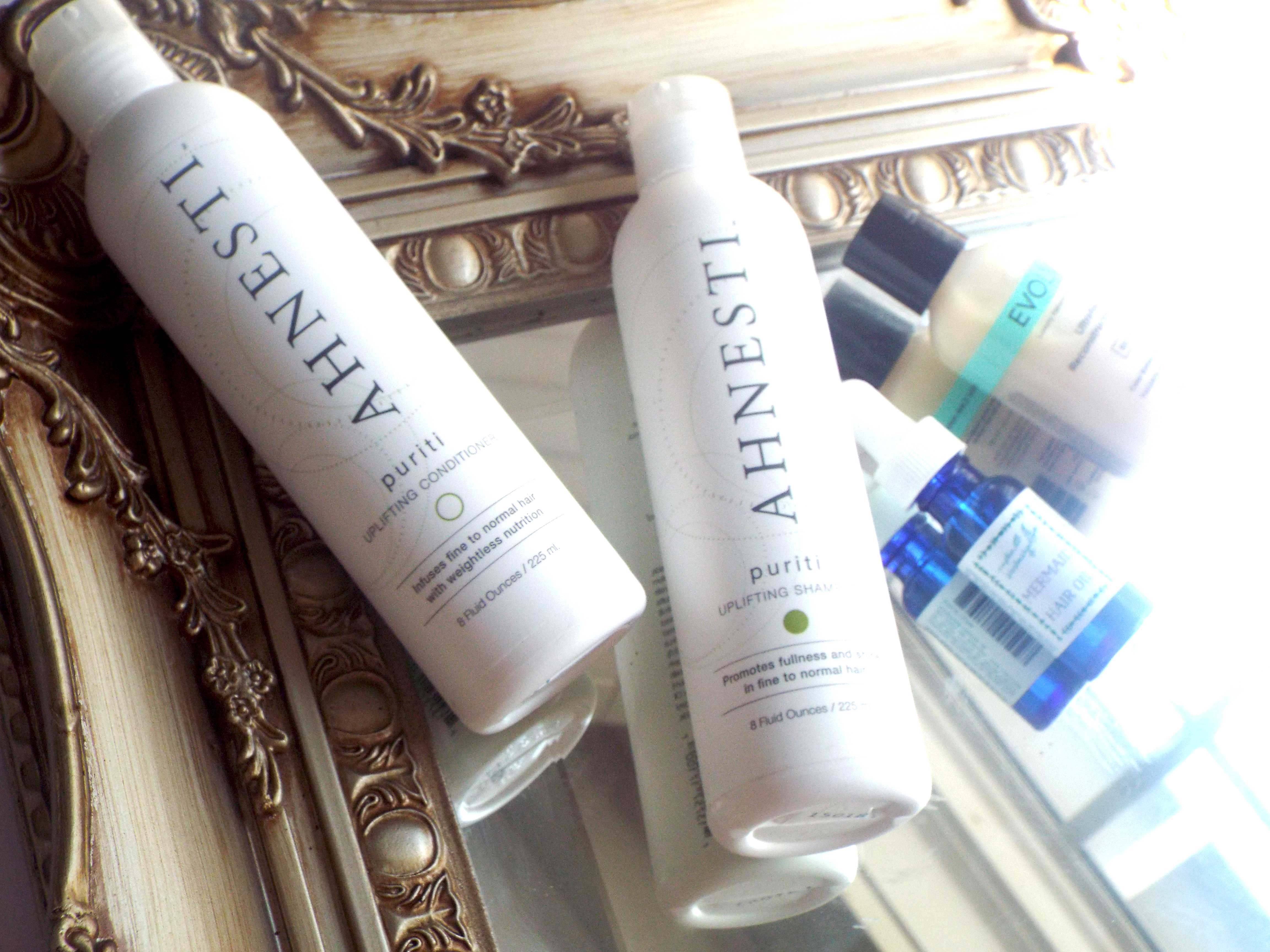 My hair adapts to whatever product I'm using quickly, meaning that with repeated use I see diminished effects, so I need to switch up the products I use quite often. I have dry hair that's damaged from overprocessing so I use a mask each time I wash my hair and oil treatments once or twice a week. Lately I've been using AHNESTI's Puriti Shampoo and Conditioner, Captain Blankenship's Mermaid Hair Oil and EVOLVh UltraRepair Deep Treatment Mask from Folica, an online hair boutique carrying a wide array of natural and organic haircare brands that you can't find in other organic online stores.
AHNESTI Puriti Shampoo and Conditioner (Fine/Normal Hair)
AHNESTI is a luxury natural haircare brand delivering salon professional results using organic ingredients. Their products are created in a Certified Organic manufacturing facility and are vegan, sustainable, biodegradable and cruelty-free. They use the combined standards set forth be the European Union, Canada and Whole Foods to create their products.
The Puriti Shampoo is 99% naturally derived with a blend of rice extract, pure rice starch, organic plant extracts, and provitamin B5 to nourish, detangle, and add shine and bounce to hair. It's designed for fine to normal hair and has a rich gel consistency that lathers excellently. The Puriti Conditioner is 91.5% naturally derived and has a light lotion-like consistency. These 2 leave my hair softer, shinier and I've noticed it seems bouncier.
EVOLVh UltraRepair Deep Treatment Mask
This mask is designed for coarse, overprocessed, frizzy hair that needs major nourishment.  It has a blend of  blend of raw lecithin with amino and fatty acids at the precise concentration to repair hair. While most deep conditioners act mainly on the surface of hair, this mask penetrates deep into hair to repair it from the source. After shampooing, towel dry hair then apply the mask and comb through. Put on a shower cap and let it sink into hair for 15 minutes before rinsing it out. I also use a blowdryer so the heat helps the mask absorb better into my hair. It left my hair incredibly soft and silky smooth and can definitely be considered a replacement to my old MoroccanOil Intensive Mask. I love how the mini size is perfect to take on summer travels when the sun and sea is sure to dry out my hair like crazy.
Ingredients
Water, pHytoBlend (proprietary concentrate blend of 20 herbs in an aqueous base) stearylkonium chloride, silk amino acids, glyceryl monostearate, palm oil, mango, lecithin, sunflower oil, soya, safflower oil, soy amino acids, vitamin C, wild pansy, sweet clover, apricot, nasturturm, nectarine, passion flower, citrus seed extract.
Captain Blankenship Mermaid Hair Oil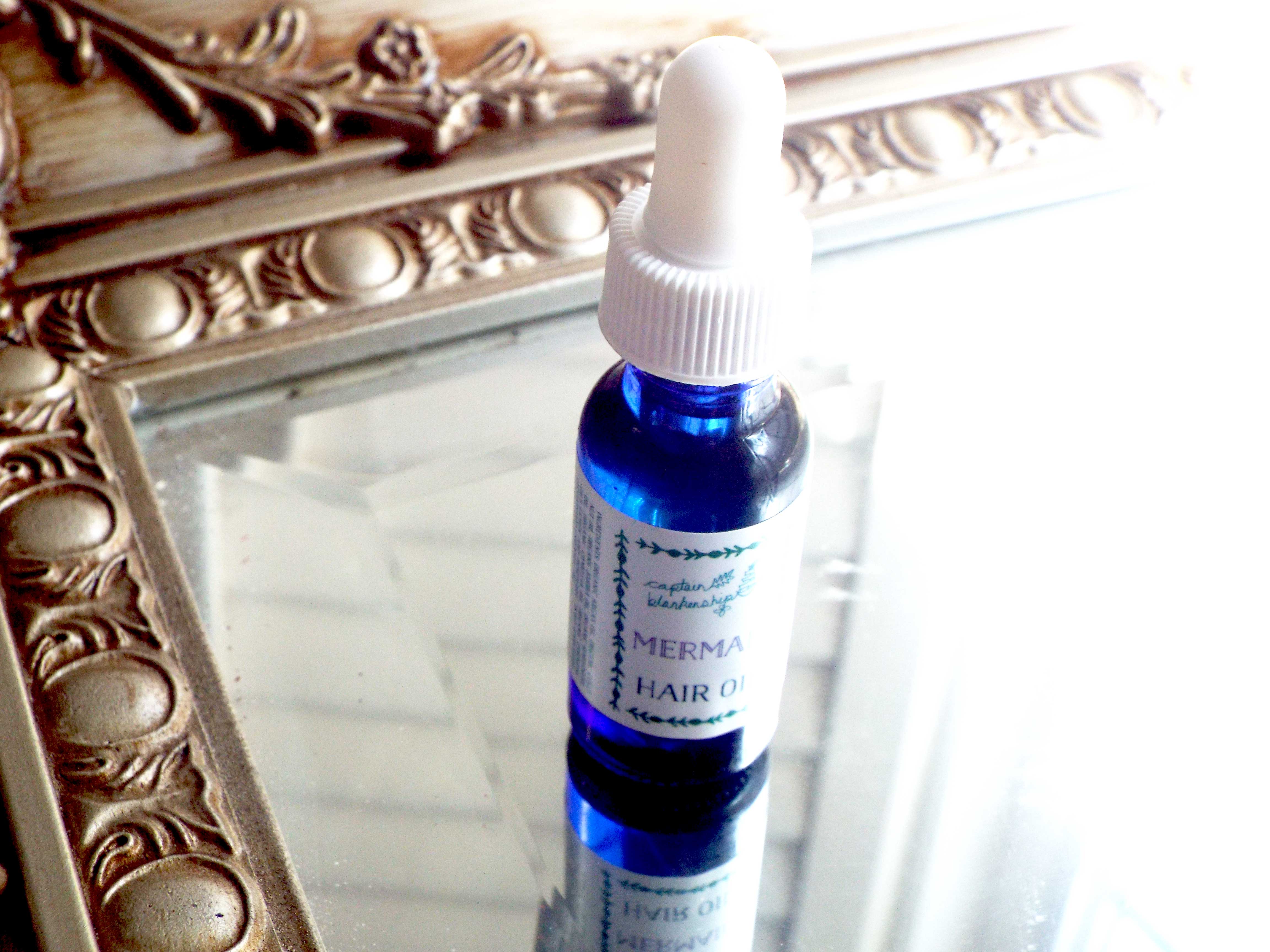 This hair oil adds shine and luster to dull or frizzy hair with a blend of Organic Argan Oil, Kukui Nut Oil, Organic Jojoba Oil, and Organic Sunflower Oil. It has an intoxicating scent from a blend of Organic Lemon, Rosemary, and wildharvested Cedarwood Essential Oils. I use just the slightest amount on the ends of my hair to combat frizz and add a healthy looking shine and as a scalp treatment by using it all over my scalp and pressing it in. Taking care of your scalp is super important, even more so than taking care of the lengths of your hair because without a healthy scalp it's impossible to have healthy hair. The scalp is responsible for maintaining the health of your hair follicles which determines how healthy or unhealthy your hair is, so don't forget to do treatments for your scalp!