Birthed through the founder Daisy Jing's personal struggle with cystic acne, Banish Acne Scars is a brand on a mission to banish much more than just acne scars. Because of the founder's own struggle with self-esteem and confidence while battling acne, she has made it part of Banish's mission to teach men and women "that it's not the way you look that matters; it's the confidence to be who you are, without hiding from others." Read on for my Banish Acne Scars review, before and after and discount code.
Thank you Banish for sponsoring this post. Banish Acne Scars products are small batch, all-natural and organic, using fresh natural ingredients sourced from the US West Coast. Banish's custom formulas are based off what worked for the founder through her cystic acne journey and get to the root of problems, not just covering them up temporarily. They're also based in Pasadena, California and ship directly from their office to all over the world.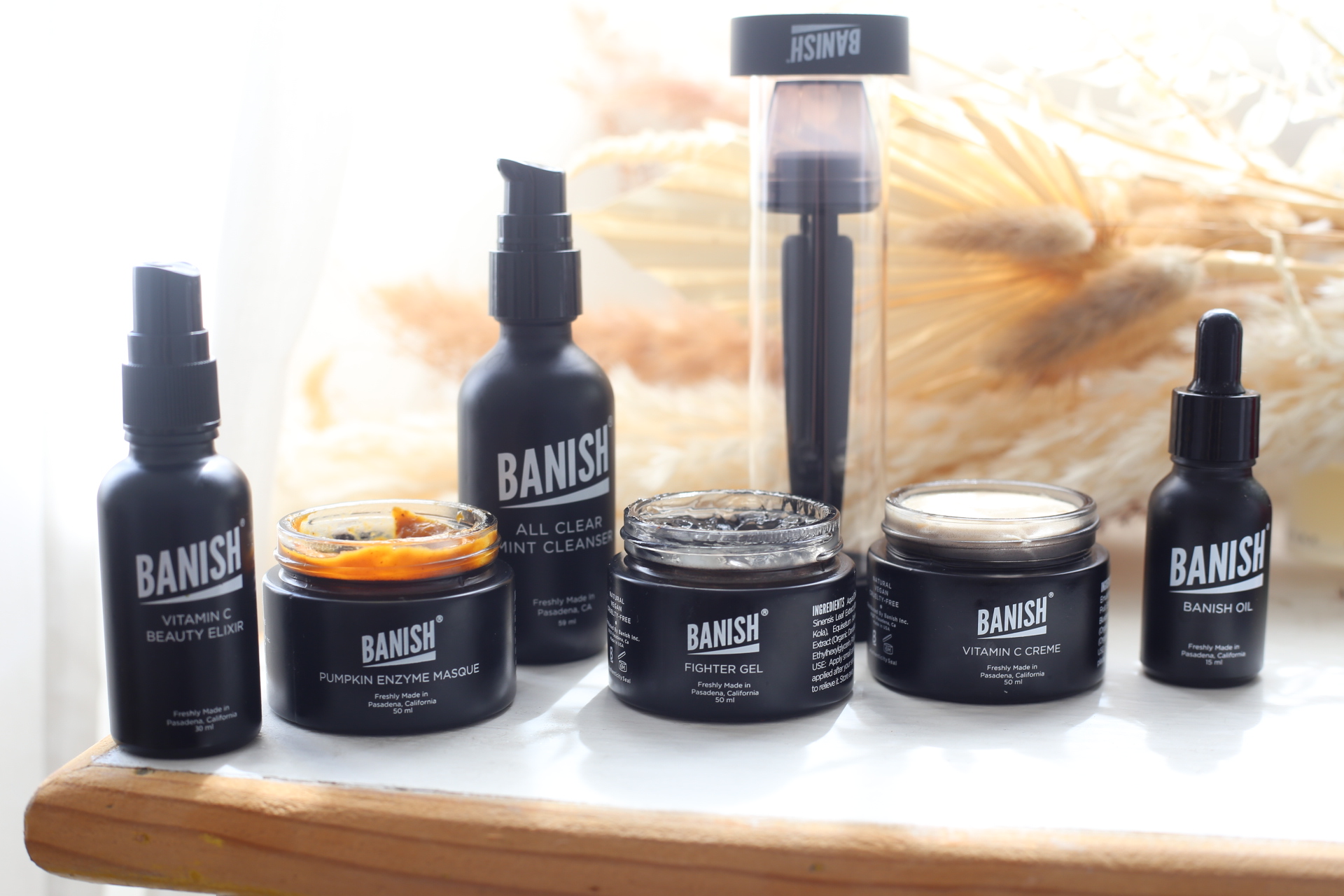 Banish reached out to have me try out the Banish Acne Scars Kit including their hero product the Banisher 2.0, a 24k gold-plated microneedling tool. While the Banish microneedling tool is particularly effective for pitted scars and seems to show the most dramatic results for cystic acne, the Banisher 2.0 is also great for marks left over from breakouts that afflict all of us. I was interested in trying out the Banisher 2.0 because it's a stamp instead of a roller, which allows for even pressure at a perpendicular angle instead of the varied, angled pressure of a roller. I also love that majority of the Banish Acne Scars line is Vitamin C focused.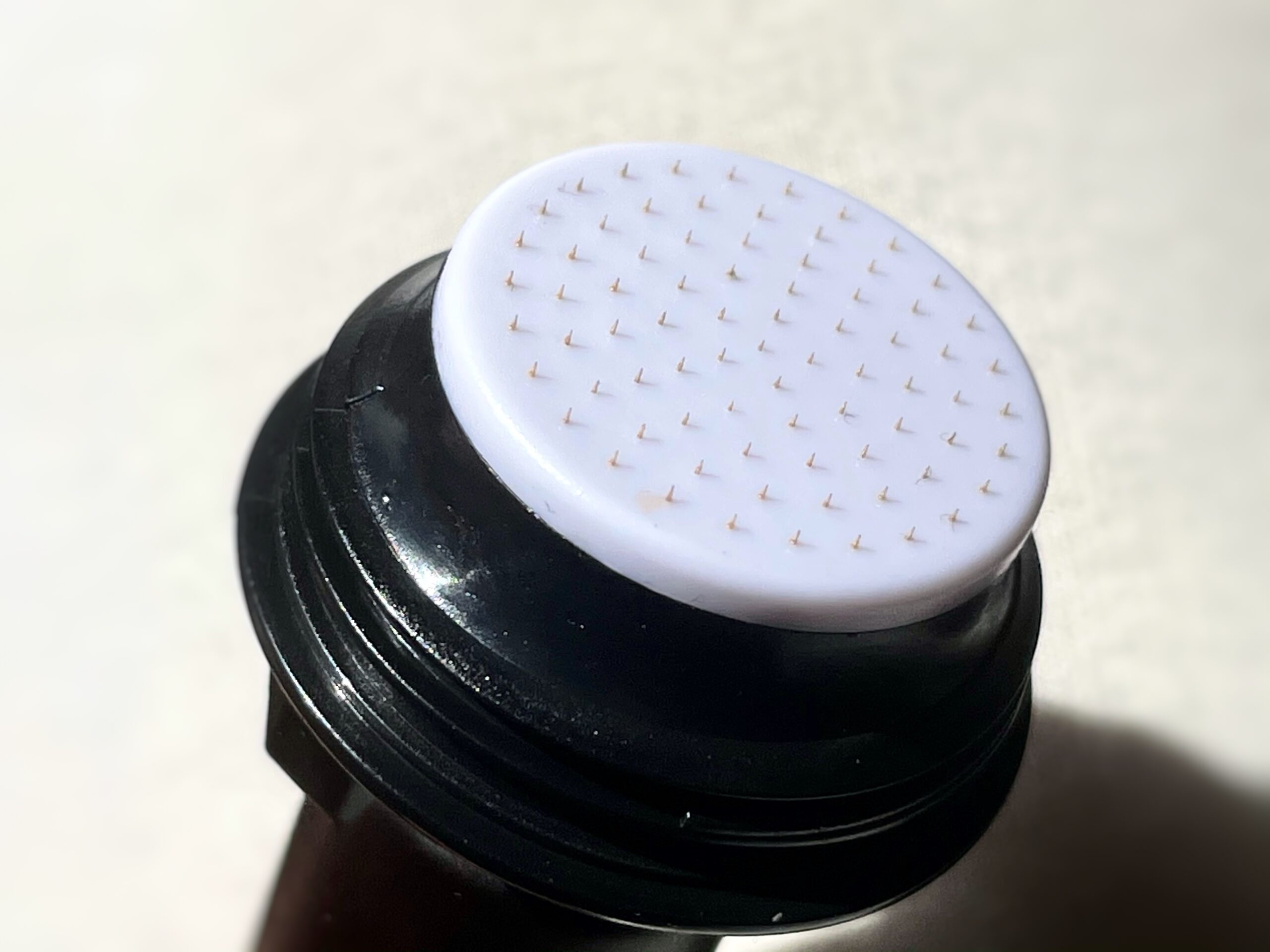 Microneedling is a hot topic in the skincare world and people seem to either love it or hate it. Microneedling essentially pricks the skin to stimulate the skin to heal itself. Some believe that microneedling should only be done by a professional in an office, but microneedling at home has become hugely popular to reap similar benefits.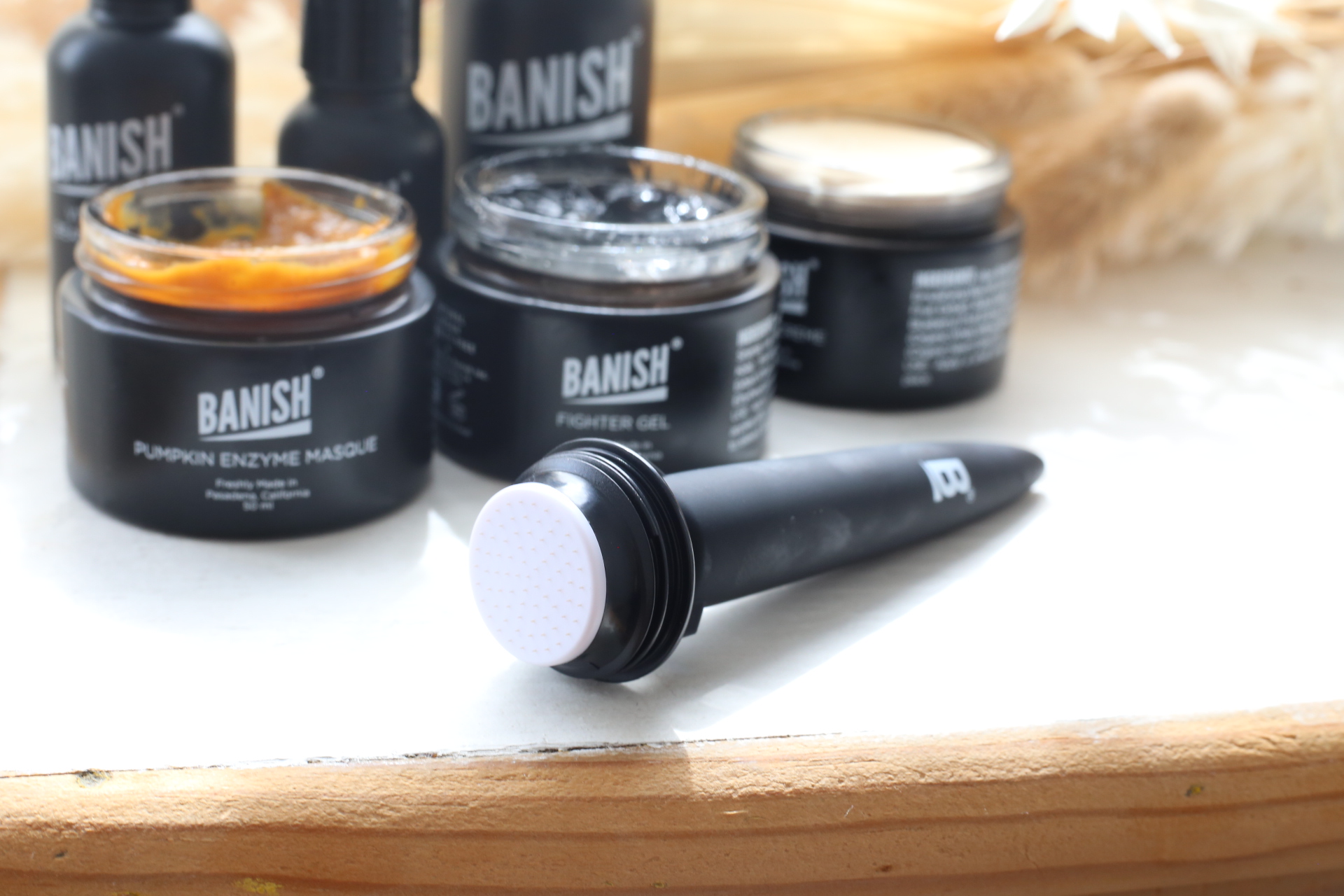 What makes the Banisher 2.0 different from other microneedling tools is:
24k Gold plated titanium bristles promotes collagen and gold has antibacterial properties
Presses down with even pressure
Stamping action instead of rolling action
Finer and sharper bristles create less irritation
Microneedling Benefits
Improves the appearance of acne scars and dark marks
Reduces fine lines
Naturally promotes skin renewal
Combined use with Vitamin C promotes collagen synthesis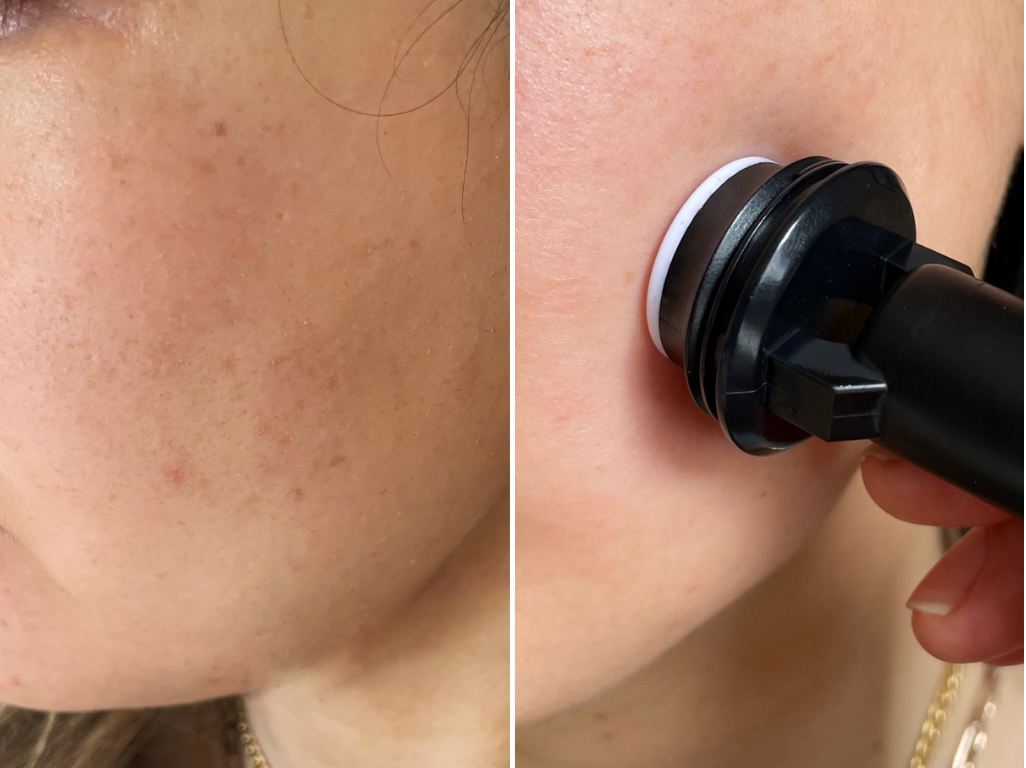 I recommend using the Banisher 2.0 for two minutes and every other day. I first apply the Banish Vitamin C Oil Serum which is made of 99.9% Pure Grade L-Ascorbic, Vitamin E and Ferulic Acid, the ideal combination for Vitamin C to work effectively. I then stamp the microneedling tool with light to medium pressure, focusing on the areas that I'd like to work most on. The prickly feeling is much more bearable for me than a traditional microneedling tool because the stamping action allows for me to give my skin a pause between each "stamp".
My skin looks tomato flushed after a few minutes of microneedling and subsides quickly after. Microneedling requires no downtime and should not be used on active breakouts.
After a few weeks of consistent use I did notice improvement in the marks left by old and recent breakouts.
For Banish Acne Scars' blog on how to get rid get rid of acne scars see here.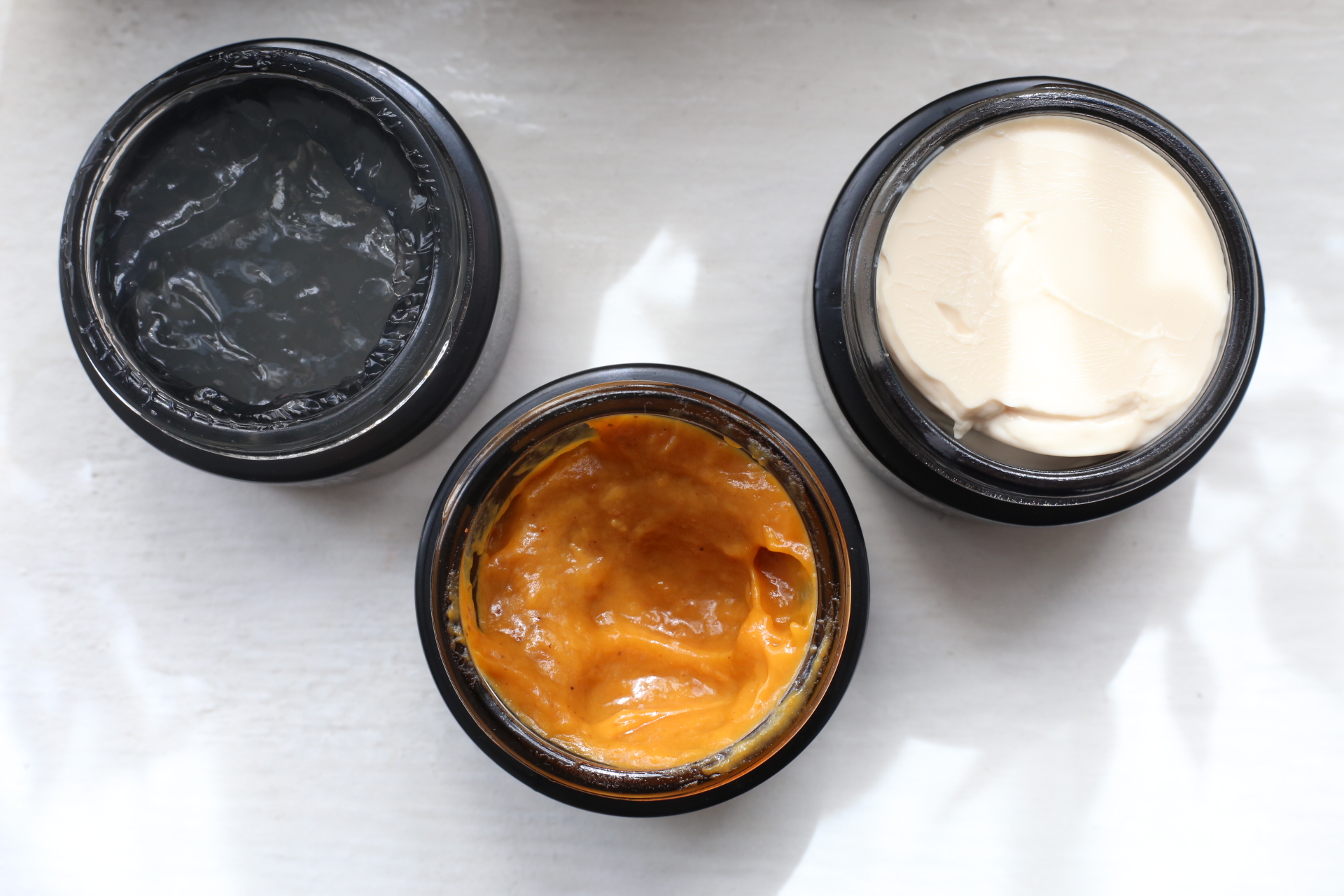 I am obsessed with the Banish Acne Scars Pumpkin Enzyme Mask mask! This mask is made fresh to order, meaning the ingredients are potent and it shows. I can feel the Pumpkin Enzyme Mask working immediately on my skin and it leaves my skin noticeably brighter and toned. The pulp-like concoction feels like it came straight from fresh pumpkins, smells exactly like Trader Joe's pumpkin pie and really works.
The Pumpkin Enzyme Mask is made with a blend of raw pumpkin, lemon peel extract, orange peel extract, glycolic acid, bilberry fruit extract, and ginger root and helps de-congest skin to leave pores clear and clean. You can use it up to three times per week, but you'd run out of this mask very quickly if you did. Depending on how much product you use each time, I would say you could get about 8 uses out of this jar.
Ingredients: Pumpkin Fruit, Organic Bilberry Fruit Extract, Organic Sugar Cane Extract, Organic Orange Peel Extract, Organic Lemon Peel Extract, Glycerin, Tetrasodium EDTA, Vitamin E, Phenoxyethanol, Meadowfoam Seed Oil, Xanthan Gum, Vitamin C, Glycolic Acid, Neem Seed Oil, Rosemary Leaf Extract, Cinnamon Bark Powder, Ginger Root Powder, Nutmeg Powder.
The Banish Vitamin C Cream and Pumpkin Enzyme Mask are both my favorite skincare products from the Banish line. What I love about the Banish Vitamin C cream is it's 20% Vitamin C and formulated to help with dark marks as it hydrates.  It's specifically formulated for acne prone and oily skin but I found my dry/combo skin also loves it. There's only a small amount of oil in this product and is made mostly of Organic Aloe, Vitamin C and fruit extracts.
Ingredients: Aloe Barbadensis (Organic Aloe) Leaf Juice, Glycerin, Rosa Canina (Rosehip) Fruit Oil, Emulsifying Wax NF, Ascorbyl Palmitate (Vitamin C Ester), Vaccinium Macrocarpon (Organic Cranberry) Fruit Extract, Rubus Idaeus (Organic Red Raspberry) Fruit Extract, Vaccinium Corymbosum (Organic Blueberry) Fruit Extract, Tocopherol (Vitamin E), Phenoxyethanol, Ascorbic Acid (Vitamin C), Salix Alba (Organic White Willow) Bark Extract,  Rosmarinus Officinalis (Rosemary) Leaf Extract, Azadirachta Indica (Organic Neem) Seed Oil
Another unique product from the Banish Acne Scars line, is their Fighter Gel. While it's called a gel, I find it more to be a jelly-gel hybrid with an impossibly velvety texture. This product was created by founder Daisy Jing to help with her eczema and psoriasis and was the only product that actually helped her. This jelly sinks into skin effortlessly and feels ultra calming and soothing. I like to use this after my microneedling with Banisher 2.0 to help calm and hydrate my flushed skin.
Key Ingredients include:
Arnica to speed healing
Dimethyl Sulfone – An powerful anti inflammatory based off sulfur that improves skin quality by preventing collagen breakdown and assists with collagen formation.
Green Tea Extract to reduce sebum production and redness.
Organic Gotu Kola – helps with eczema
Ingredients: Aqua, Aloe Barbadensis Leaf Juice (Organic Aloe) , Dimethyl Sulfone, Menthol, Camellia Sinensis Leaf Extract (Organic Green Tea), Arnica Montana Flower Extract, Centella Asiatica Extract (Organic Gotu Kola), Equisetum Arvense Extract (Horsetail), Geranium Maculatum Extract (Wild Geranium), Taraxacum Officinale Extract (Organic Dandelion), Mentha Piperita Oil (Peppermint Essential Oil), Hydroxyethyl Ethylcellulose, Carrageenan, Alcohol, Ethylhexylglycerin, Potassium Sorbate, Sodium Benzoate
The Banish Acne Scars Vitamin C Beauty Elixir is a face mist made of Aloe, Vitamin C and fruit extracts. As always, it's designed for acne prone skin with the addition of Tea Tree Oil which is anti-fungal and helps prevent and treat breakouts. At $19, I find this to be very  affordable for a targeted treatment mist that begins with an Organic Aloe Leaf Juice Base.
Ingredients:  Organic Aloe Leaf Juice (Aloe barbadensis), Phenoxyethanol, Vitamin C (Ascorbic acid), Glycerin, Organic Sugar Cane Extract (Saccharum officinarum), Organic Bilberry Fruit Extract (Vaccinium myrtillus), Organic Sugar Maple Extract (Acer saccharinum), Organic Orange Peel Extract (Citrus sinensis), Organic Lemon Peel Extract (Citrus Limon), Organic Cranberry Fruit Extract (Vaccinium macrocarpon), Organic White Willow Bark Extract (Salix Alba), Tea Tree Leaf Oil (Melaleuca alternifolia), Polysorbate 20, Organic Alcohol, Tetrasodium Glutamate Diacetate, Peppermint Oil, Eucalyptus Oil.
Banish Acne Scars Discount Code
You can use my discount code OBL to save $5 on $50+ orders at Banish Acne Scars website.