We are all hoping and praying that summer 2020 is not lost, so I am throwing out more good vibes into the internet universe with this mineral sunscreen review. I deemed March to be Sunscreen Madness month on social media (really just to hype myself up) and tested a dozen of the latest and greatest reef-safe sunscreens throughout the month. I love sunscreen, can never have enough of them, and probably own at least a dozen at any given time.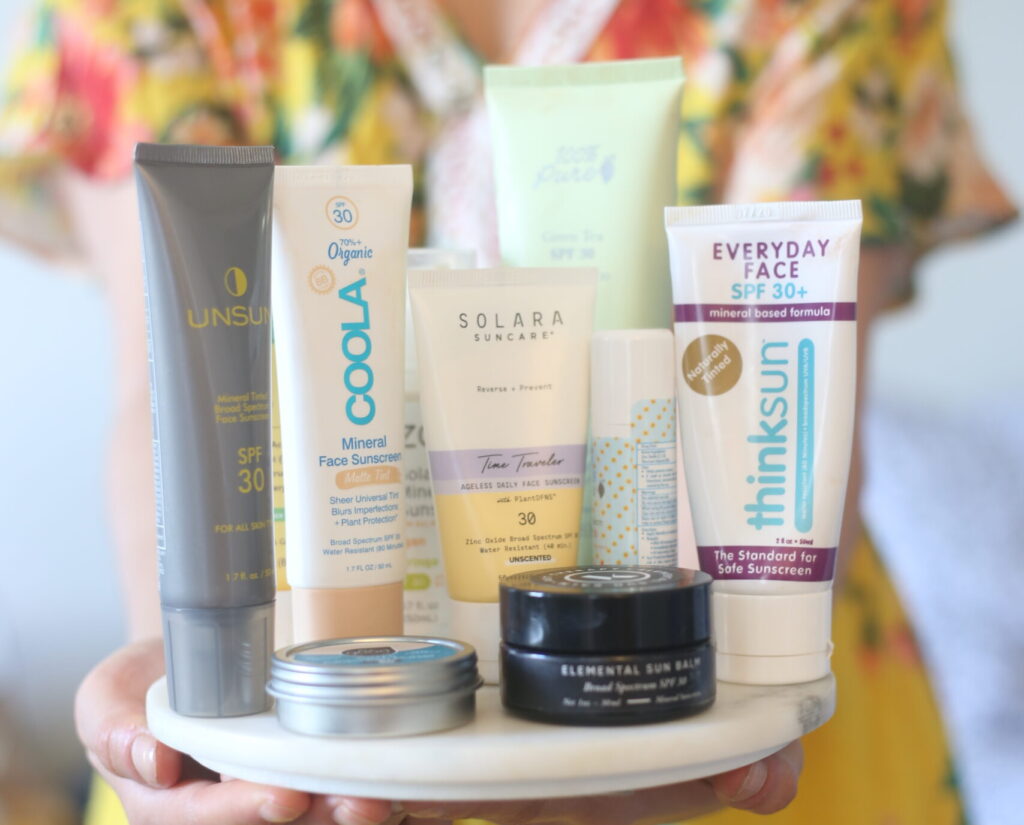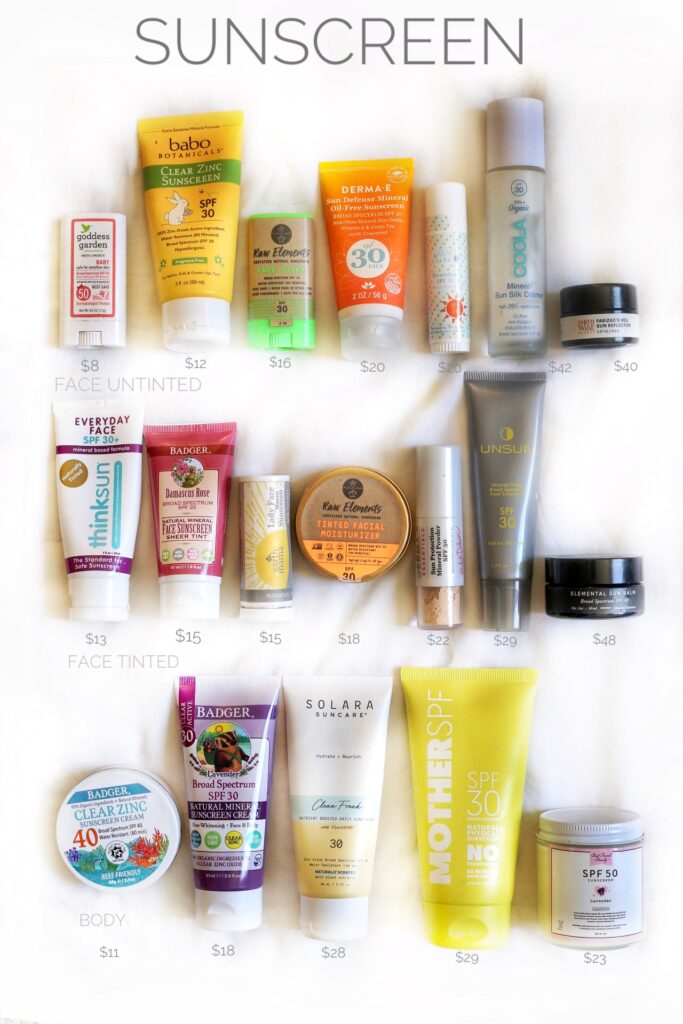 Even though I'm bummed my summer travel plans are currently up in the air, sunscreen is an important part of everyday life and should be part of your daily skincare routine. Our skin is subject to UV damage from the moment any natural light hits it, which means sunscreen isn't just for going outside. All good estheticians recommend sunscreen whether you're staying indoors or outdoors, rain or shine, 365 days a year. Many of us are working from home now, and if you work by a window you are definitely exposing yourself to harmful, aging UV rays that have the ability to penetrate glass.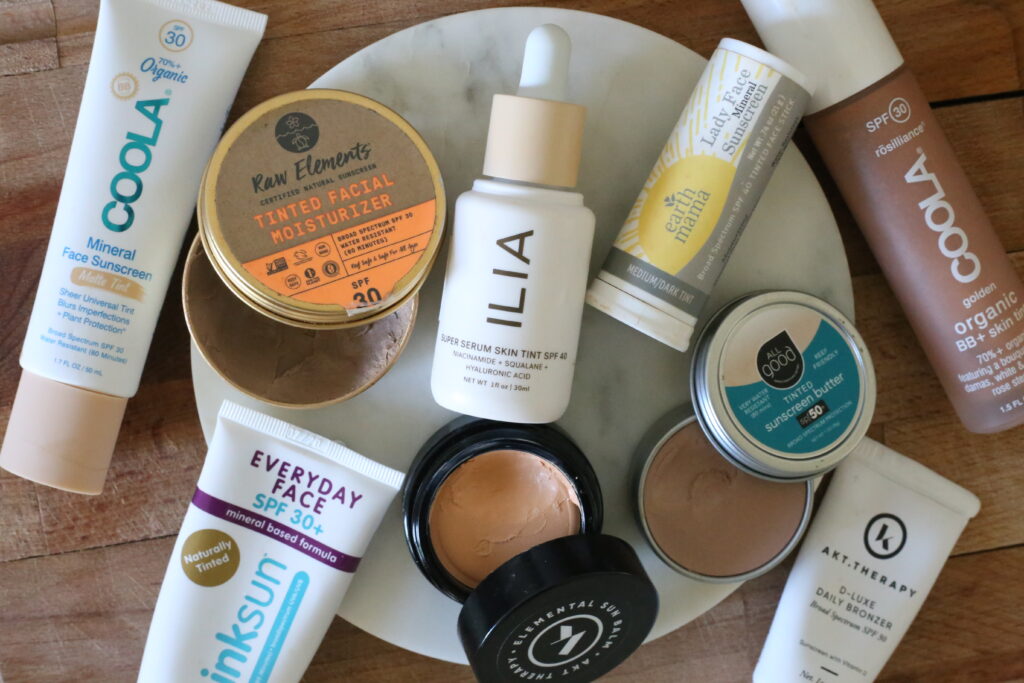 In this sunscreen review all the products I talk about are reef safe, natural, mineral and use zinc oxide to protect skin from UVA and UVB rays.
No one: How did you get all these sunscreens?
Me: For full transparency, I purchased about half of these and the other half I reached out for PR samples or received these products at industry trade shows in order to write this review and provide an honest breakdown of what these sunscreens are all about, how they apply, what I love and what I don't love about them.
Also, this review is focused on face sunscreens! Body sunscreens are relatively easy to shop for, so I felt like a mineral face sunscreen review would be more helpful. Read on to learn about the best new natural and organic sunscreens for face to try this summer! I also share side by side swatches of the tinted sunscreens mentioned in this post so you can compare the varying shades of tinted spf.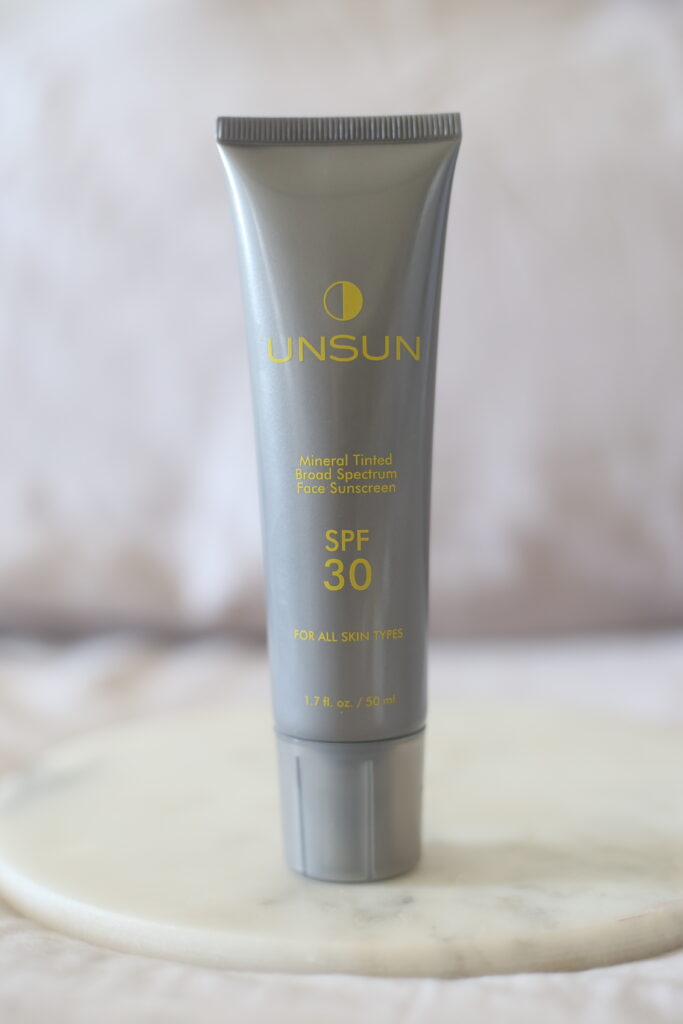 Black owned UNSUN is a natural mineral tinted sunscreen that's designed to color correct, prime and moisturize all skin tones. Their Mineral Tinted Face Sunscreen comes in two shades – Light/Medium and Medium/Dark. Unsun was created by a need for clean sunscreen products for women of color, and the brand is heavily focused on being inclusive. Ok, technically this brand was launched in 2016 but I had never heard of UNSUN until now, so it is new to me.
Free of harmful chemical UV barriers, UNSUN is formulated with zinc oxide and titanium dioxide and nourishing fruit extracts like Tangerine Fruit Extract, Beet Root Extract, Bitter Orange Fruit Extract and Cucumber Fruit Extract. The Light/Medium shade is designed to match the lightest skin tones all the way to medium. The tint is so cool toned I thought it would be a mismatch for my skin, but it surprisingly rubs in very sheer.
With one layer, I can't even detect any added tint to my olive-toned skin after I apply this and my skin looks like its natural bare self. I get a demi-matte finish with a soft glow but with a second re-application my skin has a dewy finish and some more coverage. There's no added fragrance other than the natural scent from its ingredients.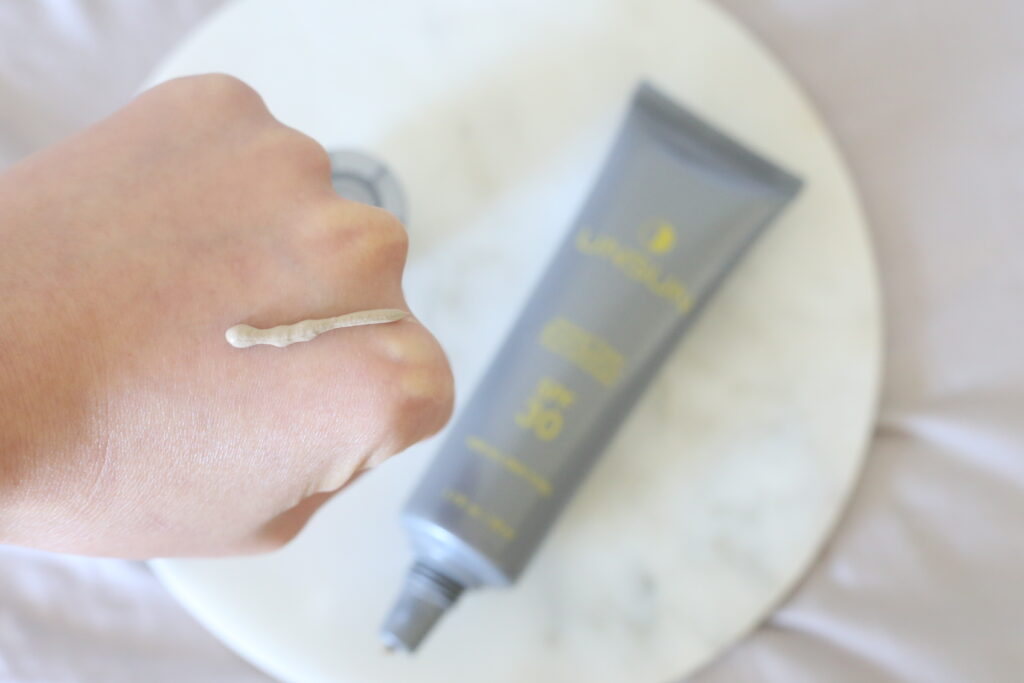 UNSUN has a dense, creamy formula that applies and absorbs without a glitch. I love that it doesn't require much rubbing in and adheres to the skin really well thanks to its thicker consistency. This mineral tinted face sunscreen also doubles as a primer and creates a smooth canvas for makeup application. It's water resistant for up to 40 minutes and is reef-safe – perfect for everyday use and for your Hawaii vacation.
UNSUN is sold on their website and at Credo Beauty. Shop UNSUN here.
Active Ingredients: Zinc Oxide: 6.500%, Titanium Dioxide: 5.500%. Inactive Ingredients: Water (Aqua), Isoamyl Laurate, Glycerin, Polyglyceryl-2 Ricinoleate, Coconut Alkanes, Polyglyceryl-3 Ricinoleate, Coco-Caprylate/Caprate, Crambe Abyssinica Seed Oil, Sorbitan Sesquioleate, Heptyl Undecylenate, Aloe Barbadensis Leaf Juice, Butyrospermum Parkii (Shea) Butter, Cocos Nucifera (Coconut) Oil, Carthamus Tinctorius (Safflower) Seed Oil, Beeswax, Olea Europaea (Olive) Fruit Oil, Tocopheryl Acetate, Hydrolyzed Corn Starch, Beta Vulgaris (Beet) Root Extract, Citrus Reticulata (Tangerine) Fruit Extract, Citrus Aurantium (Bitter Orange) Fruit Extract, Citrus Sinesis (Sweet Orange) Peel Extract, Cucumis Sativus (Cucumber) Fruit Extract, Citric Acid, Lactid Acid, Tocopherol, Magnesium Sulfate, Sodium Chloride, Triethoxycaprylylsilane, Sodium Glycerophosphate, Benzyl Alcohol, Iron Oxides (CI 77491, CI 77492, & CI 77499).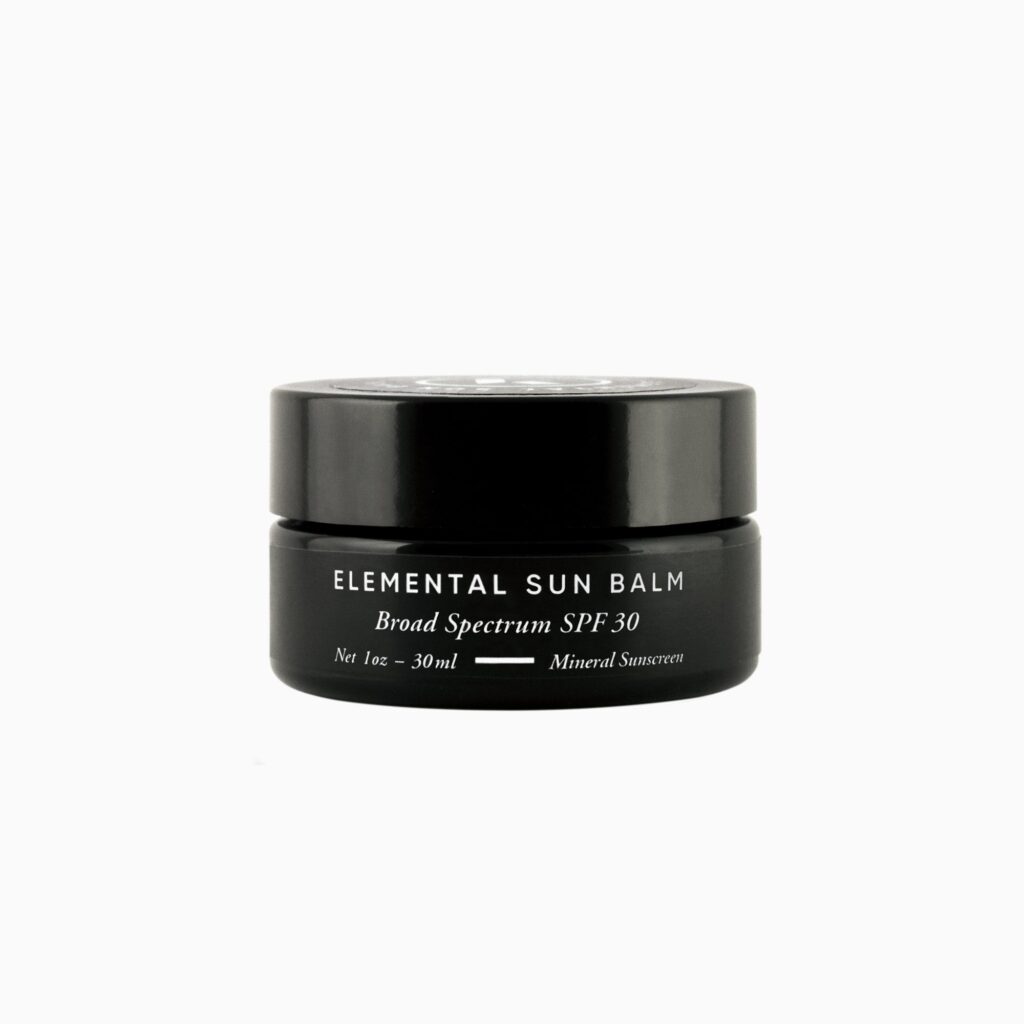 I owe this AKT Therapy Elemental Sun Balm review to @theecoaesthetic, who alerted me to this product – thanks girl! AKT Therapy Elemental Sun Balm is a luxury tinted sunscreen that looks a lot like it could be any high-end skincare product on your shelf. Packaged in a beautiful black glass jar, this sun balm surprisingly has 5 simple ingredients along with zinc oxide for sun protection.
Meadowfoam and grapeseed oil help balance the appearance of skin prone to redness, irritation and inflammation, while cherry kernel oil delivers essential antioxidants and vitamins.  Yes this sunscreen smells like cherries!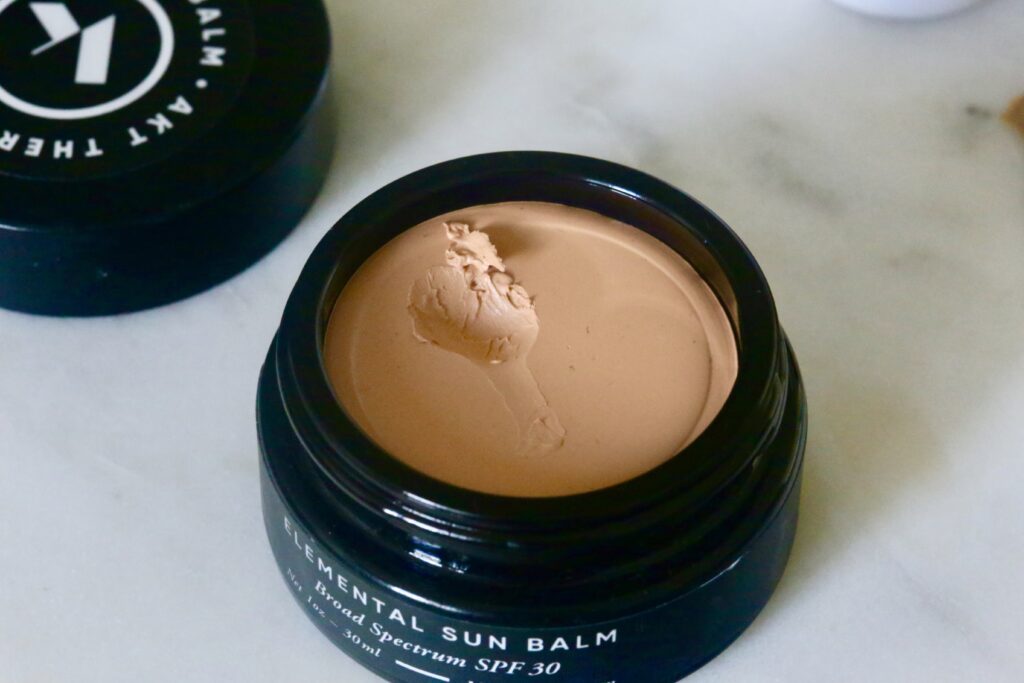 I really like the shade of this tinted sunscreen. I have olive toned skin and this shade helps brighten and doesn't dull or darken my skin as some tinted sunscreens do. The Elemental Sun Balm also provides a dewy finish and a subtle hint of coverage.
One thing to note is that this is very much like a skincare balm, but with spf protection. It feels like and sits like you've applied a face balm. Because it's so emollient I'm not sure if oily skin types would enjoy this balm. If you have oily skin you may prefer a lightweight lotion-like sunscreen than a balm consistency.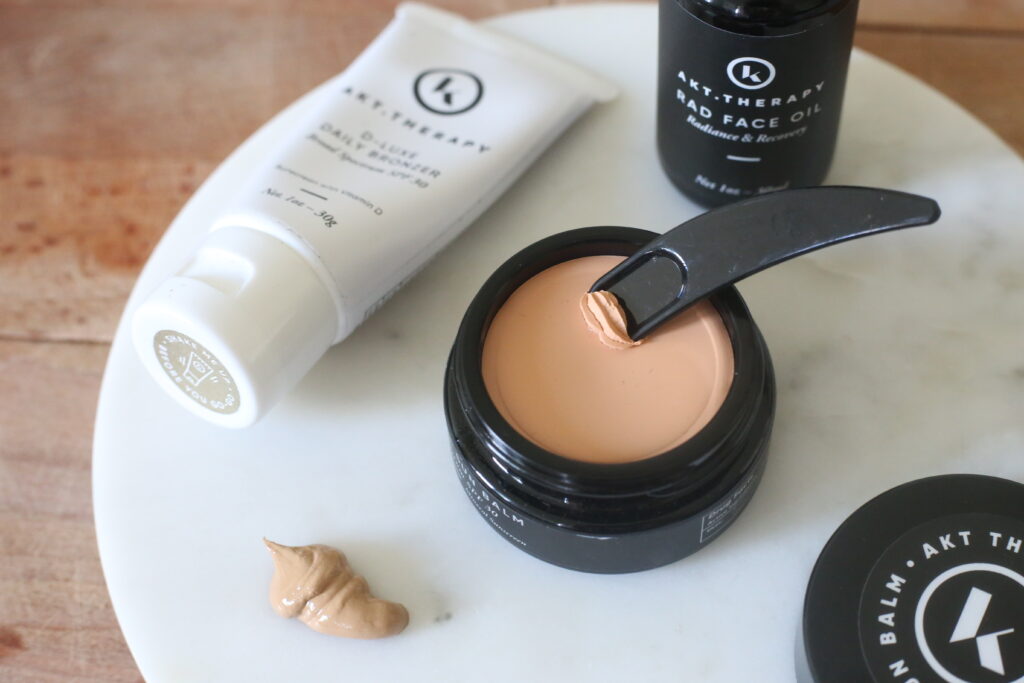 I found that applying this sunscreen balm over skincare layers of serum, moisturizer and face oil did not work well. I would definitely advise skipping face oil and maybe even your moisturizer. It's going to cause your balm to feel waaay too rich and it's not going to sit still on your face and move around easily.
If you have dry skin like me and are craving a luxury experience that you're just not getting from your current sunscreen, I feel like you would enjoy this sunscreen. Below are AKT Therapy swatches of their Elemental Sun Balm on top and D-Luxe Bronzer SPF 30 on bottom.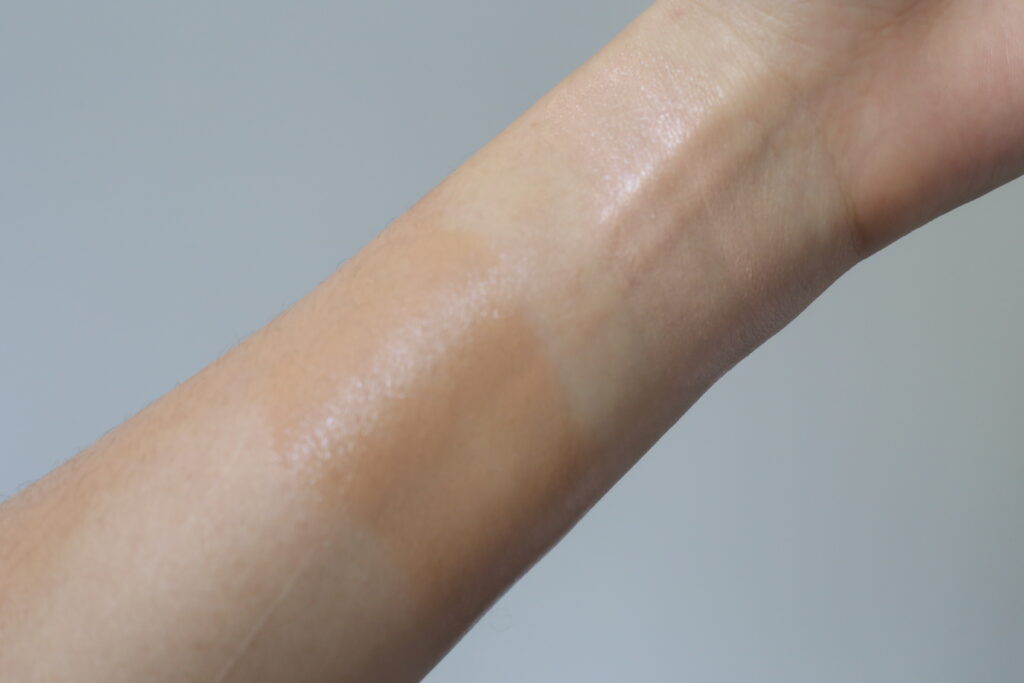 Ingredients:Zinc Oxide USP 25% Inactive Ingredients: Vitis Vinifera (Grapeseed) Oil, Prunus Cerasus (Cherry Kernel) Oil, Limnanthes Alba (Meadowfoam) Seed Oil, *Cera Alba (Beeswax), Iron Oxides (CI 77491, CI 77492).
AKT Therapy is sold on their site and at Credo Beauty. Shop AKT Therapy here.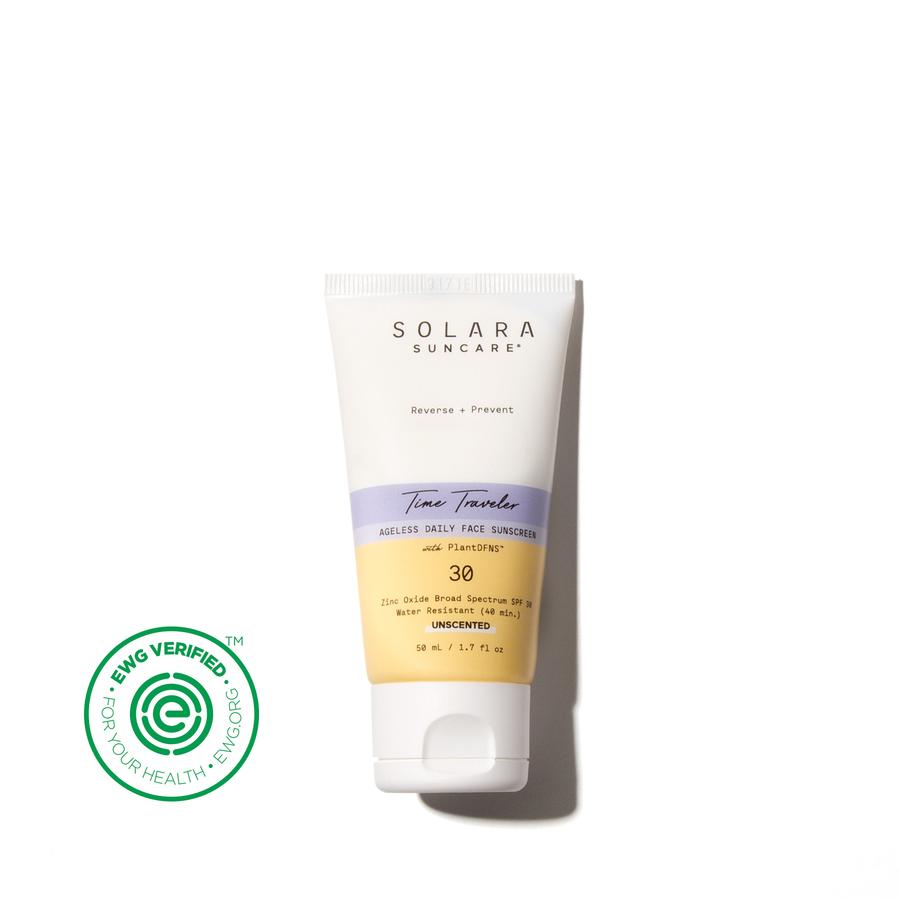 Solara Suncare combines skincare and suncare in their products with supercharged formulas containing powerful actives designed to protect skin from sun, digital and environmental aggressors. Time Traveler Face Sunscreen contains copper, squalane and zinc to boost cellular repair and fight free radicals as well as their 10-active botanical and adaptogen blend that's responsibly sourced, bioavailable and full of vitamins, omegas and antioxidants. This trademarked PlantDFNS blend is made of Certified Monoi de Tahiti, Pomegranate Flower, Perilla Leaf, Kakadu Plum, Ashwaghanda, Oat Kernel, Sunflower Seed Oil, Organic Raspberry Leaf Extract, and Shea Butter.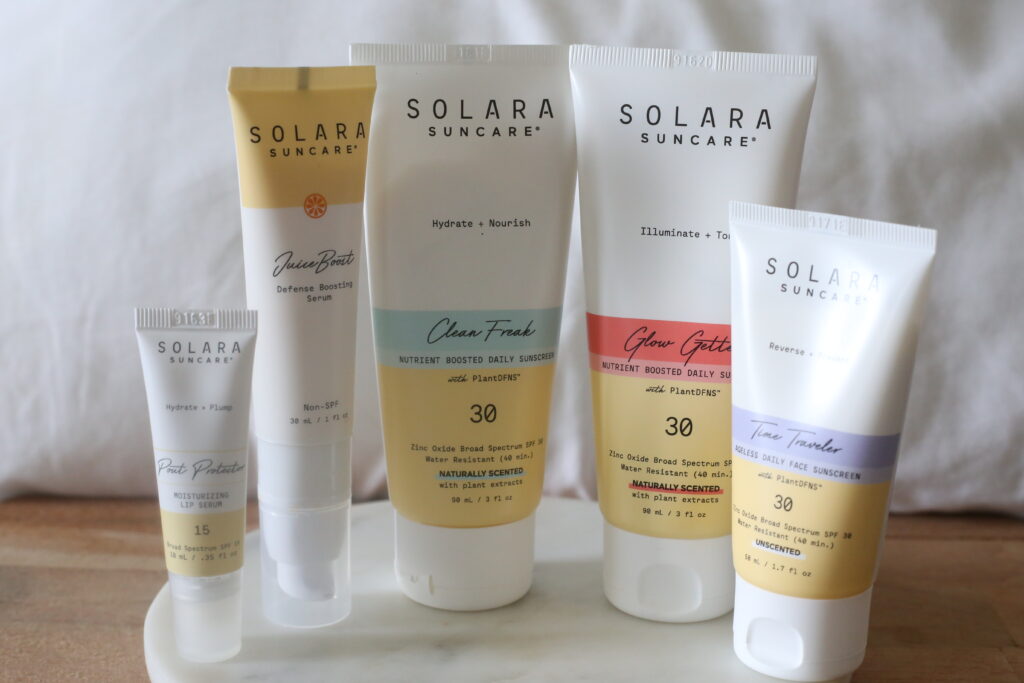 I discovered Solara Suncare at Indie Beauty Expo Los Angeles 2020 and am so glad I got to meet the team and their range of five products in person. They really went above and beyond in creating their mineral sunscreens:
99.99% Plant Origin ingredients
Additional Digital + Environmental Defense
Vegan + Cruelty Free + Reef Friendly
100% Recyclable Packaging
Responsibly Sourced
Commitment to 100% transparency
No silicones or drying alcohols
No pilling or white cast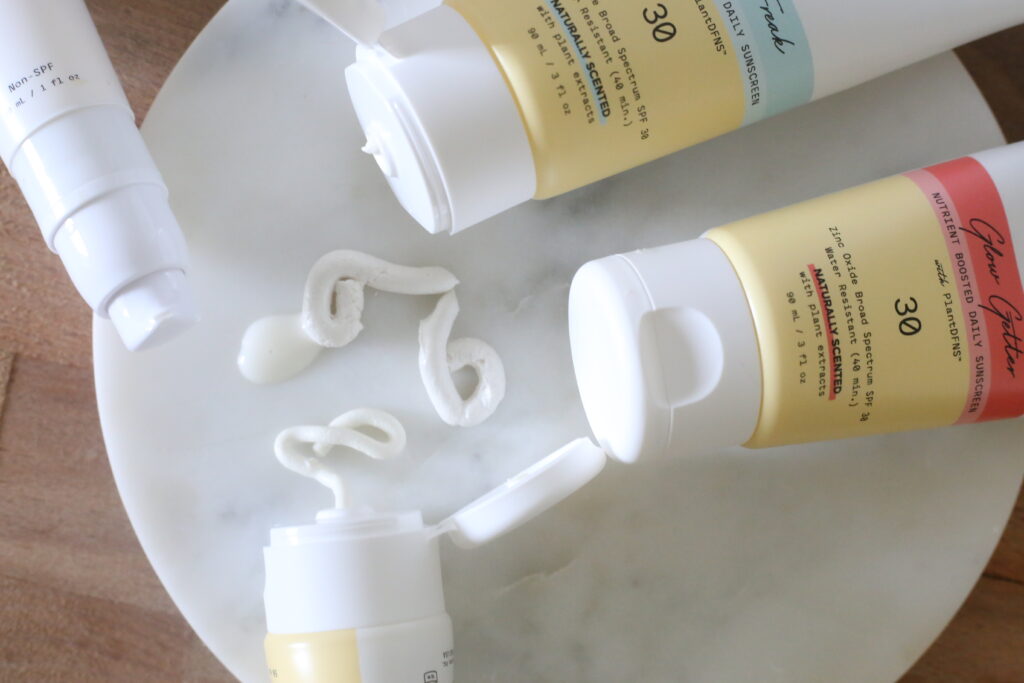 The Solara face sunscreen is creamy, rich and smooth and applies and absorbs beautifully. I do not get any white cast but you will notice a slight blurring effect and skin tone brightened with a soft glow finish. It has a subtle pina colada scent reminiscent of toxic conventional sunscreens, which I hope you are no longer using. I personally do not feel it sitting on the skin after applying, but this is a thick cream so if you are used to a fluid lotion like sunscreen you may find this on the heavier side. My dry skin loves this and the skincare benefits plus the digital and environmental pollution protection are fantastic bonuses.
Solara Suncare is sold on their site, Neiman Marcus and Beauty Heroes. Shop Solara Suncare here.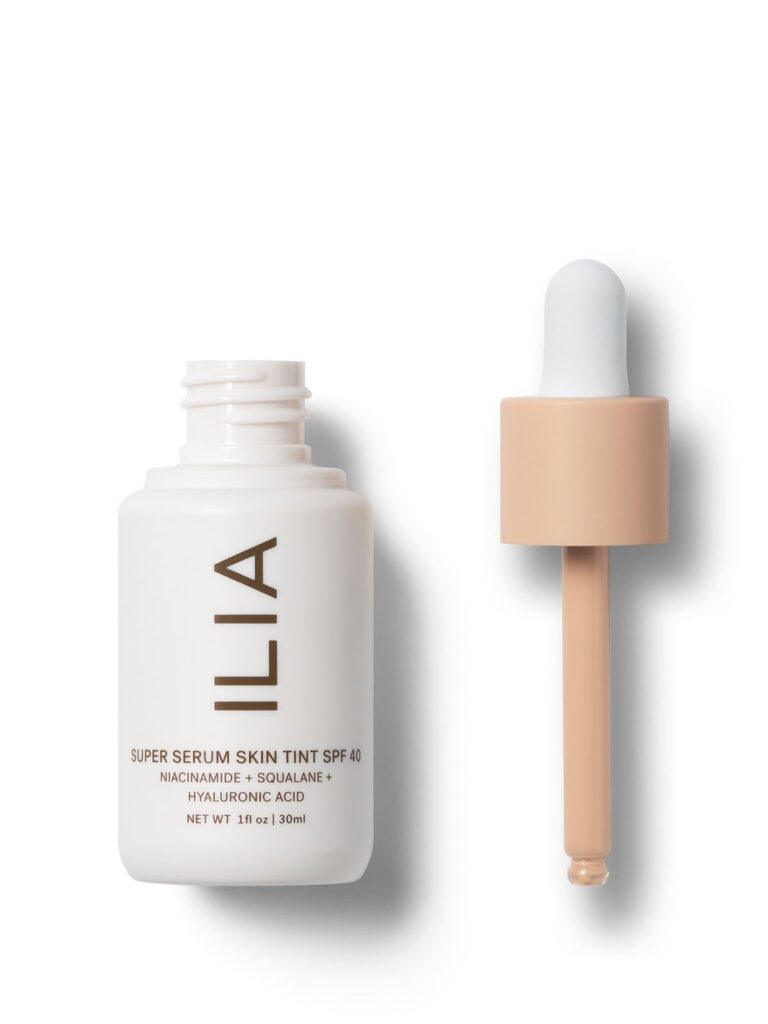 ILIA dropped a new product called the Super Serum Skin Tint in 2020 and it has to be the most hyped natural beauty launch of 2020. This Super innovative product combines not only skincare and suncare but also makeup – a 3-in-1 beauty product that fights the sun's UV rays, repairs skin underneath and covers skin on top.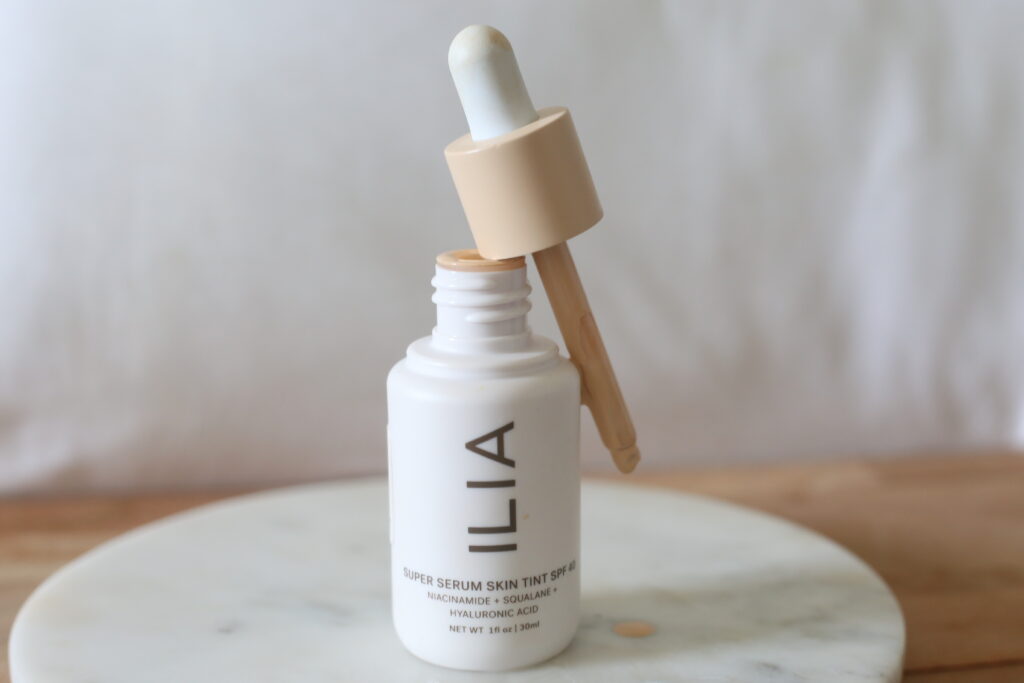 The ILIA Super Serum Skin Tint's vegan formula uses non-nano Zinc Oxide and contains no silicones, fragrance, or oils making it great for all skin types including sensitive. When I purchased this foundation I had the toughest time trying to figure out what shade I was, because the product comes in 18 different shades. I chose ST2 but it ended up being a tad too light for me. I reached out to ILIA HQ and their customer service team mailed me a few sample shades so that I could swatch them for you and hopefully help you to choose the right shade. Check out the ILIA Super Serum Skin Tint swatches below: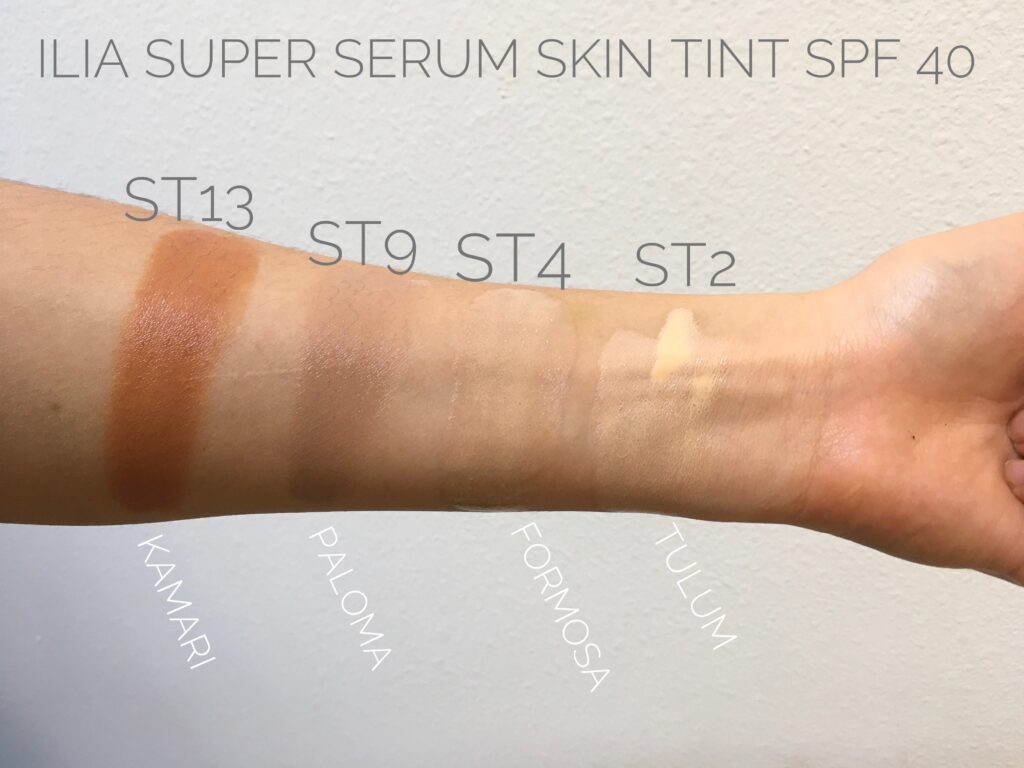 I so love and appreciate that the foundation has SPF 40 instead of the usual SPF 30. Many people don't feel that SPF 30 is strong enough sun protection, and I for one am right there with them. I am no skin scientist, but I noticed that the formula only contains 12% Zinc Oxide, so I'm not totally convinced this product actually provides SPF 30. My other sunscreens contain 20% or 25% Zinc Oxide and provide SPF 30 so mathematically speaking I'm not sure how half that amount with no added titanium dioxide can provide more spf. Please let me know if you know!
Because this is a liquid formula, you need to make sure to shake the bottle well before each use. Please, do not have the dropper touch your face! I see this happening all the time and droppers should not be touching your face. It can cause cross contamination of products and bacteria, so please apply hovering just above your skin not touching it.
Moving forward, interestingly, it's a pretty thick liquid and not as light as I expected it would be. When you apply it through squeezing the dropper it doesn't run down the face immediately but in slo-mo. It applies and absorbs well so no issues there but over the day it does oxidize and separate around the nose area.
The ILIA Super Serum Skin Tint gives skin a smooth dewy look and though it's buildable, 2 layers gives me a little too much of a dewy sheen. It helps blur skin and gives light to medium coverage. I don't need to wear foundation after applying this, but I wouldn't consider this a true replacement of my actual foundations. I would still categorize it as a tinted sunscreen rather than a foundation.
I'm not sure how the Super Serum Skin Tint would work on oily skin types. It's a rather heavy liquid even though it's described as being lightweight. You do feel it sitting on the skin, but I quickly forget about it soon after applying.
The sunscreen foundation has some fabulous skincare ingredients like Niacinamide and Hyaluronic Acid. From their Instagram:
SQUALANE: Sugar based fatty ester that is non-comedogenic and provides skin quenching moisture, while restoring skin elasticity.
HYALURONIC ACIDS: A macro and micro HA, hydrates and helps retain moisture, making skin plump and supple.
NIACINAMIDE: Vitamin B3 is a super healer. Smoothes, firms, evens texture, minimizes fine lines—can even help reduce inflammation in skin issues like rosacea and acne
Note that ILIA is a clean makeup brand that combines synthetics with natural ingredients. They are not a 100% natural product line.
ILIA is sold on their site, Sephora, Naturisimo (worldwide shipping) and Credo Beauty. Shop ILIA here.
Ingredients: Active Ingredients: Zinc Oxide 12.0% Aqua/Water/Eau, Squalane, Shea Butter Ethyl Esters, Isoamyl Laurate, Polyglyceryl-3 Ricinoleate, Butyloctyl Salicylate, Propanediol, Isopropyl Isostearate, Polyglyceryl-3 Diisostearate, Methylpropanediol, Niacinamide, Sodium Chloride, Lecithin, Caprylyl Glycol, Silica, Aloe Barbadensis Leaf Juice Powder, Bisabolol, Hydrolyzed Sodium Hyaluronate, Allantoin, Phenylpropanol, Sodium Myristoyl Glutamate, Sodium Hyaluronate, Tetrasodium Glutamate Diacetate, Aluminum Hydroxide, Polyhydroxystearic Acid. May Contain/Peut Contenir (±): CI 77491, CI 77492, CI 77499 (Iron Oxides), CI 77891 (Titanium Dioxide).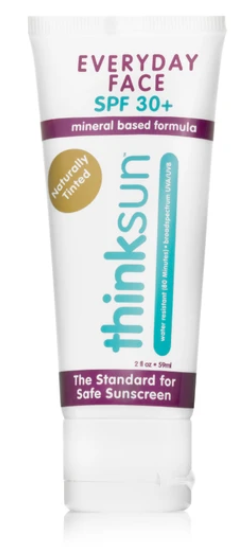 If you are a Think Baby and Think Sport sunscreen fan already, you will definitely like their thinksun face sunscreen as well. This is a tinted mineral base formula that doesn't contain any PABA, parabens, phthalates, oxybenzone, avobenzone dioxane or animal products.
The thinksun Everyday Face sunscreen is perfectly smooth and hydrating and the tint is very natural and works well for my olive toned skin. The company says that it contains just a small amount of tint to eliminate the white cast problem, but it actually gives me a decent amount of coverage. The thinksun Everyday Face Sunscreen also acts as a great primer before applying makeup. It has the signature pina colada scent of the other sunscreen products from the brand. Besides 20% Zinc Oxide, the formula also contains Vitamins C and E, raspberry seed oil, cranberry seed oil, hyaluronic acid and other skin beneficial ingredients.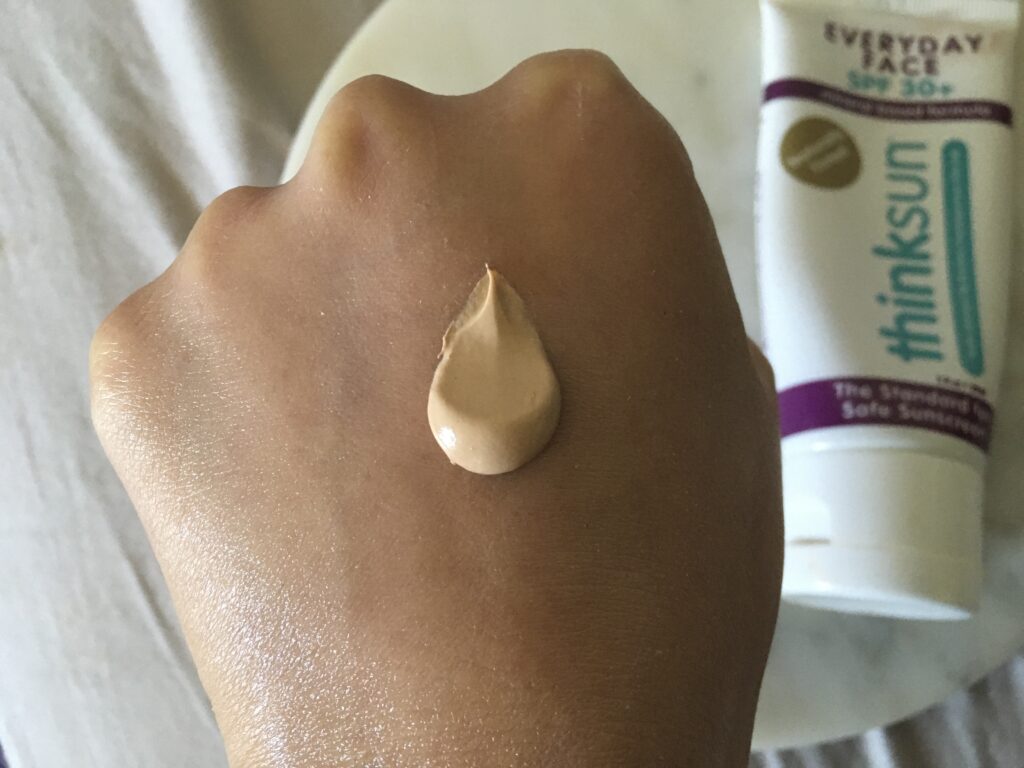 Like all the other products from the Think Baby and Think Sport sunscreen line, thinksun is so affordable at under $10 on Amazon. If you're looking for a budget option to many of the luxury sunscreens I talk about in this review, thinksun is one to try! And I also highly recommend their body sunscreens, which are also affordable at under $10 and do a super effective job of protecting skin. Check out Thinksun's super clean ingredients below:
Ingredients: purified water (0), aloe barbadensis leaf juice (0), capric caprylic triglycerides(0), sorbitan stearate (coconut based) (1), pine wood resin (0), vegetable glycerin (0), cetyl dimethicone (0), hydrogenated castor oil (0), magnesium sulfate (epsom salt) (0), sunflower oil, jojoba oil (0), ascorbic acid (vitamin c) (0), tocopherols (vitamin e) (1), olive oil (0), raspberry seed oil (0), cranberry seed oil (0), hyaluronic acid (made from vegetable) (0), currant (0), citrus paradisi (0), iron oxide (2) (skin deep ratings change)
Shop thinksun Everyday Face Sunscreen for $9.27 on Amazon here.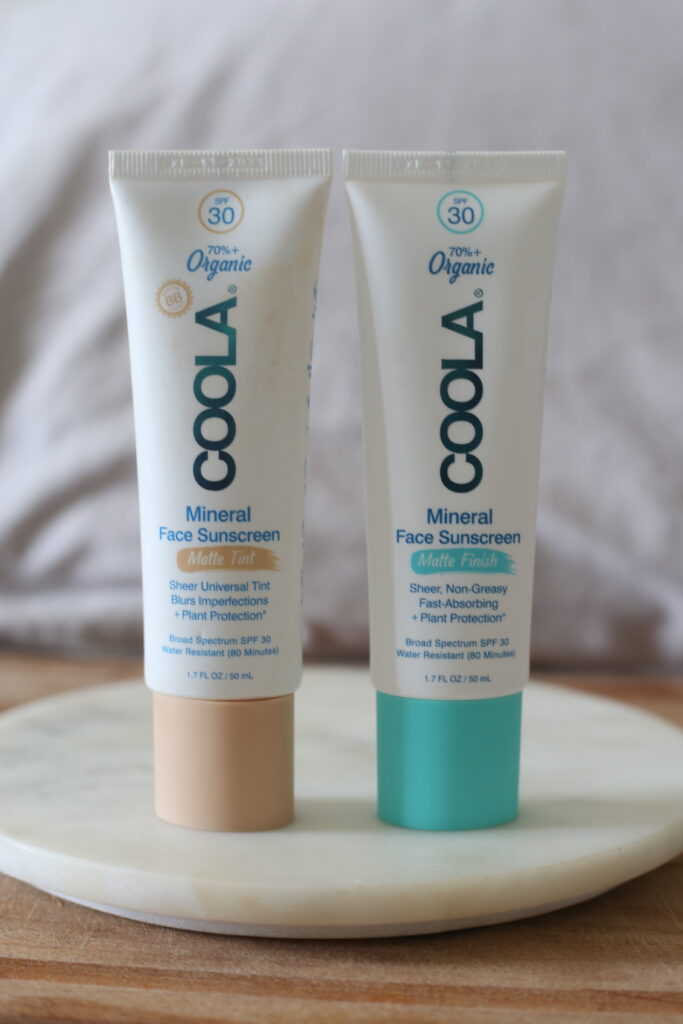 COOLA Mineral Face Sunscreen SPF 30 (70% organic)
COOLA launched two new mineral face sunscreens in Matte Finish and Matte Tint. These are a new and improved version of my favorite tinted face sunscreen, the Coola Mineral Face Sunscreen in Cucumber Matte whose major flaw has been the use of Dimethicone and Avobenzone and Homosalate as its UV protection ingredients.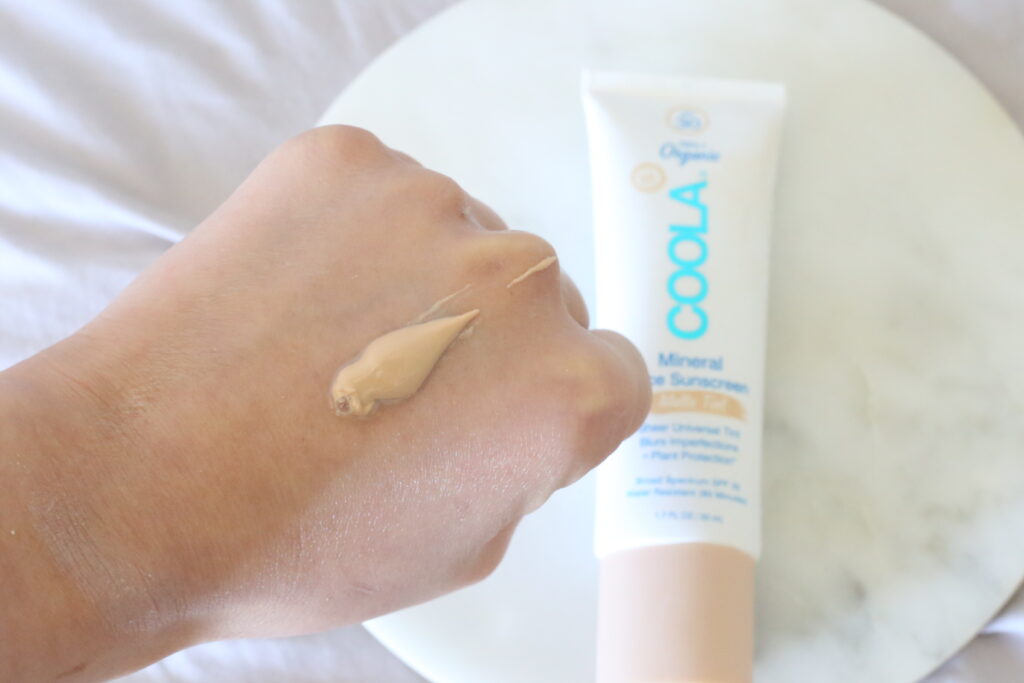 They call their new launches the next-gen version of the cult favorite that put them on the map. The 70% organic formula contains Zinc Oxide and Titanium Dioxide for sun protection, is Hawaii reef friendly and Oxybenzone and Octinoxate Free. Major major improvement! It also contains powerful skincare ingredients like Prickly Pear Extract and Buriti Oil and is fragrance free aside from a slight oat scent.
While I love the major stride they took in making their original Mineral Face Sunscreen natural I am not totally in love with this new product. I have dry skin and I still felt like this formula felt too slick. The new version feels very very slippery and you can feel it sitting on top of your skin.
Both the original Coola Mineral Face Sunscreen and this new version say Matte but the new one doesn't have the same matte quality as the original. I definitely need some kind of finishing powder or powder foundation on top of this. Other than this one complaint, I applaud the company for taking one of my favorite products and making it even better – they just need to improve the "matte" part.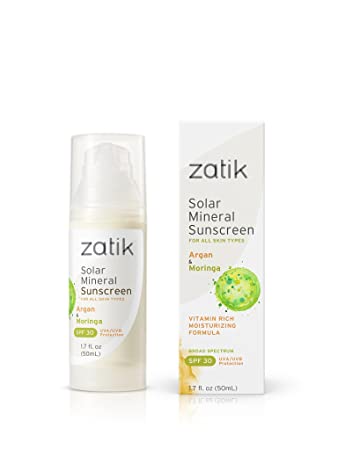 The Zatik Solar Mineral Sunscreen SPF 30 is a gentle, soothing sunscreen made of organic and biodegradable ingredients. The vegan and ph balanced formula feels like a lightweight to medium-weight, hydrating lotion (at least compared to the very emollient and rich buttery sunscreens I often test). Zatik Mineral Sunscreen has no fragrance and I can see how this sunscreen would be ideal for sensitive and oily skin types.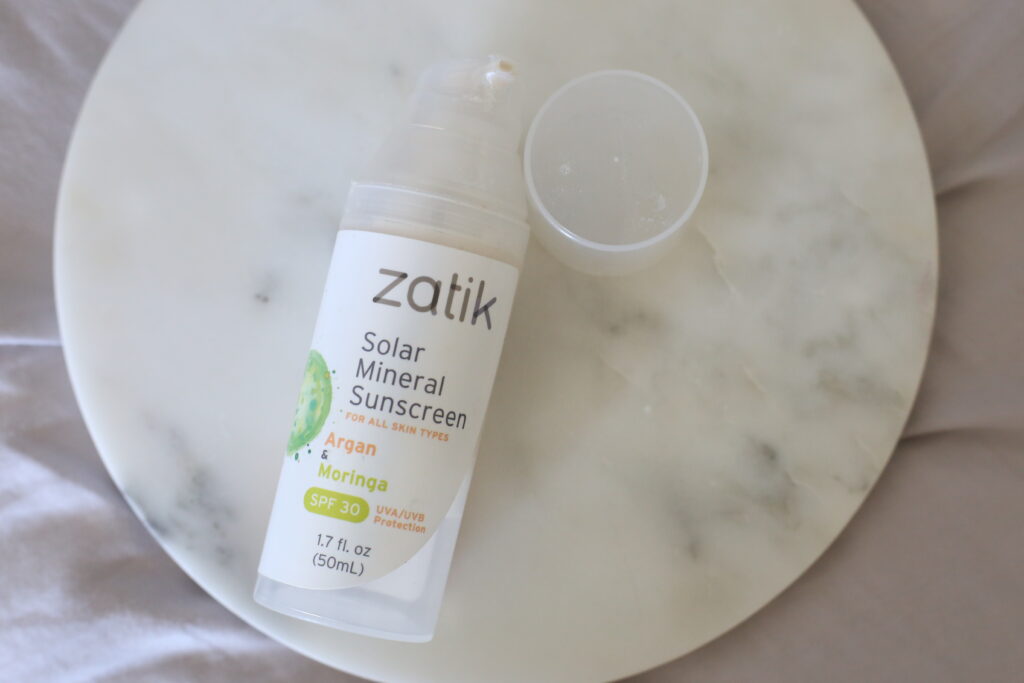 I initially tested this out on dry, bare skin and found that the sunscreen applied unevenly and required a ton of rubbing in (my skin type is dry/combo). It absolutely needs a few drops of face oil underneath before applying – a tip I received from BeautyFindsAdventures. Once I started applying face oil before slathering this sunscreen on, it applied and absorbed perfectly.
Because it's so lightweight it feels weightless on skin. There is virtually no white cast, but I noticed the formula only has 10% non nano zinc oxide so I'm not sure how the spf reached a level of 30. It provides more of a matte finish for me (again I have dry skin) with just a bit of dewiness. I think this is a great sunscreen option to try if you have sensitive, acne-prone or oily skin. If you have dry skin you may even like it if you make sure to apply a bit of face oil before.
Shop Zatik Solar Mineral Sunscreen on Amazon here.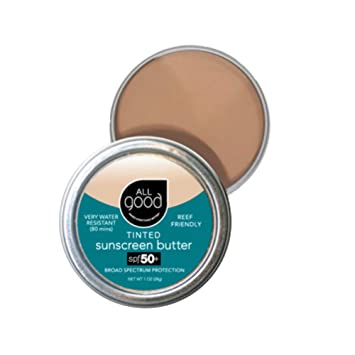 I first tried out All Good's new tinted sunscreens at Natural Products Expo 2019 where they launched their new products. So sad that Expo West was cancelled this year! Anyways, All Good has both a larger lotion version in a tube and a smaller butter version in a tin jar.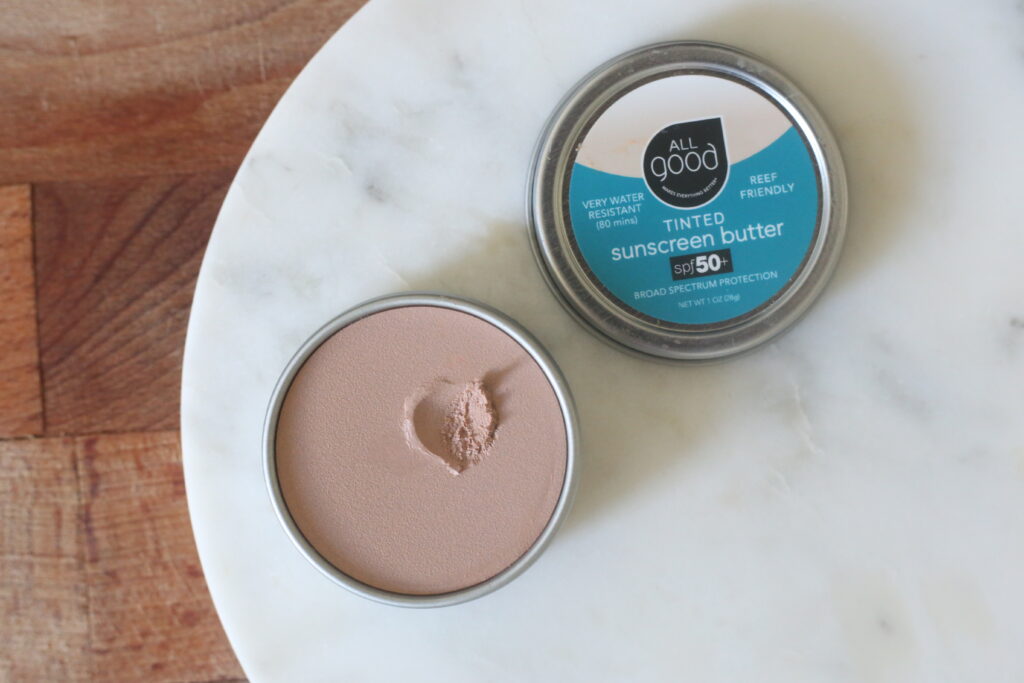 This reef friendly and fragrance free sunscreen has a deep tint similar to Raw Elements' and 25% zinc oxide for strong sun protection. I feel like this is a heavy duty sunscreen meant for extreme sun and beach days rather than everyday regular use. I find it to be VERY rich, so if you'd like a lighter version I suggest trying the tinted mineral sunscreen that comes in a tube. The tint is a bit too dark for my skin tone, but I easily solve this problem by adding Earthwise Beauty's Farizad Veil spf powder to lighten it up. The latter isn't a new sunscreen product, but one of my favorite most versatile sunscreens since it's purely zinc oxide and can be added to any skincare or makeup product to boost the spf factor. (Affilite code OBL saves at Earthwise Beauty.)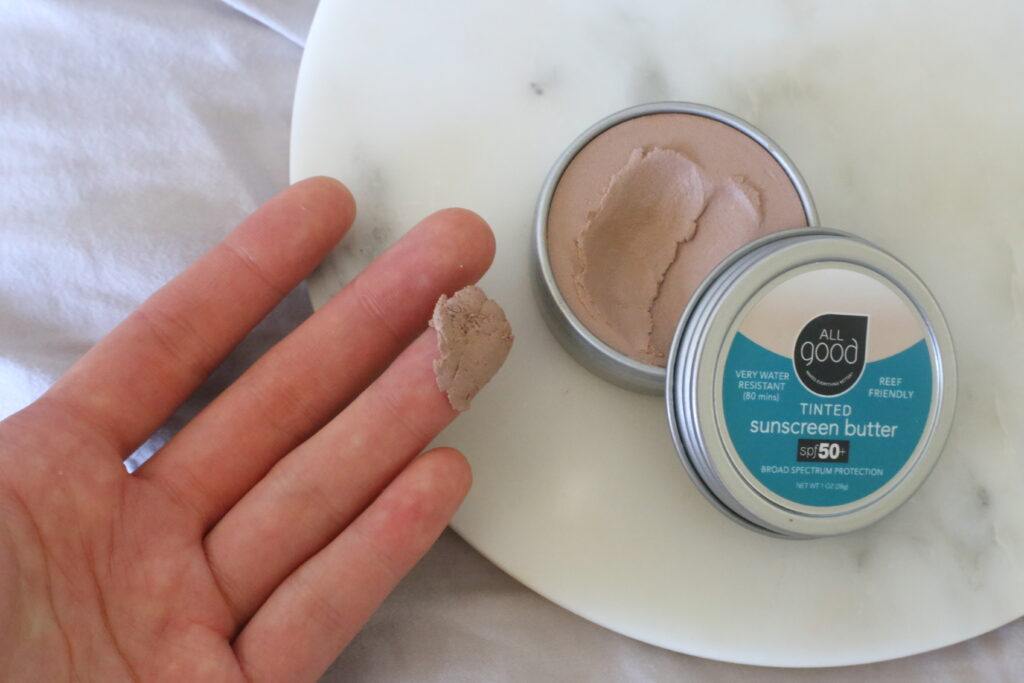 Something else I'd like to mention is that the tin jar is SUPER small. The product costs $10.99 but you're only getting 1 oz of sunscreen. The jar gets used up very fast, so for that reason, it isn't ideal for everyday use either.
Ingredients: Organic Calendula Officinalis Flowers infused in Organic Simmondsia Chinensis (Jojoba) Seed Oil, Organic Cera Alba (Beeswax), Organic Cocos Nucifera (Coconut) Oil, Iron Oxides (CI 77491), Iron Oxides (CI 77499), Octyldodecanol, Jojoba Esters, Trihydroxystearin, Non-GMO Tocopherol (Vitamin E), Yellow Iron Oxide.  
Shop All Good Sunscreen on Amazon here.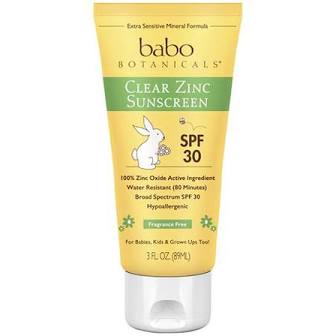 Now I'm not sure how new this particular sunscreen is, but I thought I would include this Clear Zinc sunscreen for anyone interested in Babo Botanicals. This is a brand that I'm honestly not too drawn to using, because it's mainly for babies and young kids. The name Babo itself sounds like baby and the design of their packaging is very children storybook style with drawings of fuzzy animals and bunny rabbits. BUT, Babo Botanicals is very affordable, widely sold across retail stores and they have safe natural formulas.
What I like about the Babo Botanicals Clear Zinc sunscreen is that it's a wonderfully hydrating and lightweight formula that feels like you're applying a perfectly smooth lotion. In terms of the formula texture and consistency Babo Botanicals got it spot on. It's also fragrance free so it has almost no detectable scent other than the slight natural one from its ingredients.
The cons of this product is that it doesn't go on as clear as I'd expected. I thought this product had some breakthrough clear zinc technology, but it goes on about as sheer as my other sunscreens that don't have Clear Zinc splashed in big letters across the packaging. It does whiten the skin a bit but there's no white film happening here.
Shop Babo Botanicals sunscreen for $11.99 here.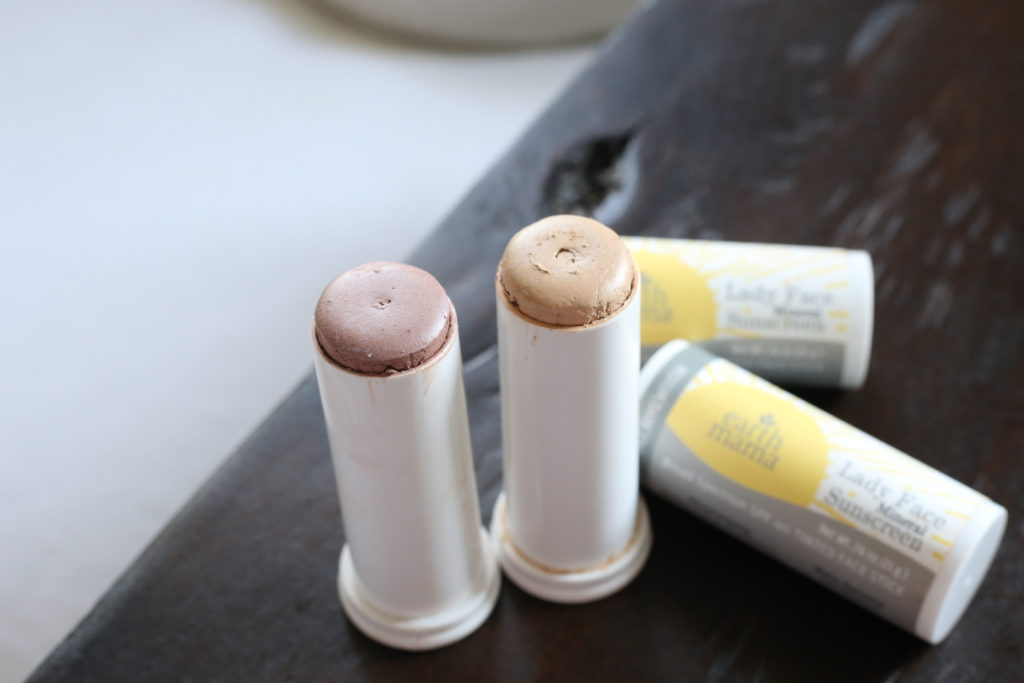 I did a full review of Earth Mama's new LadyFace Mineral Face Sunscreen here. This stick is made of natural and organic ingredients, is non-greasy, comes in 2 shades and gives great coverage. I wore the Earth Mama suncreen throughout my nearly 2 week long Aruba vacation last summer and did not come back even one shade tanner.
Shop Earth Mama Organics sunscreen here.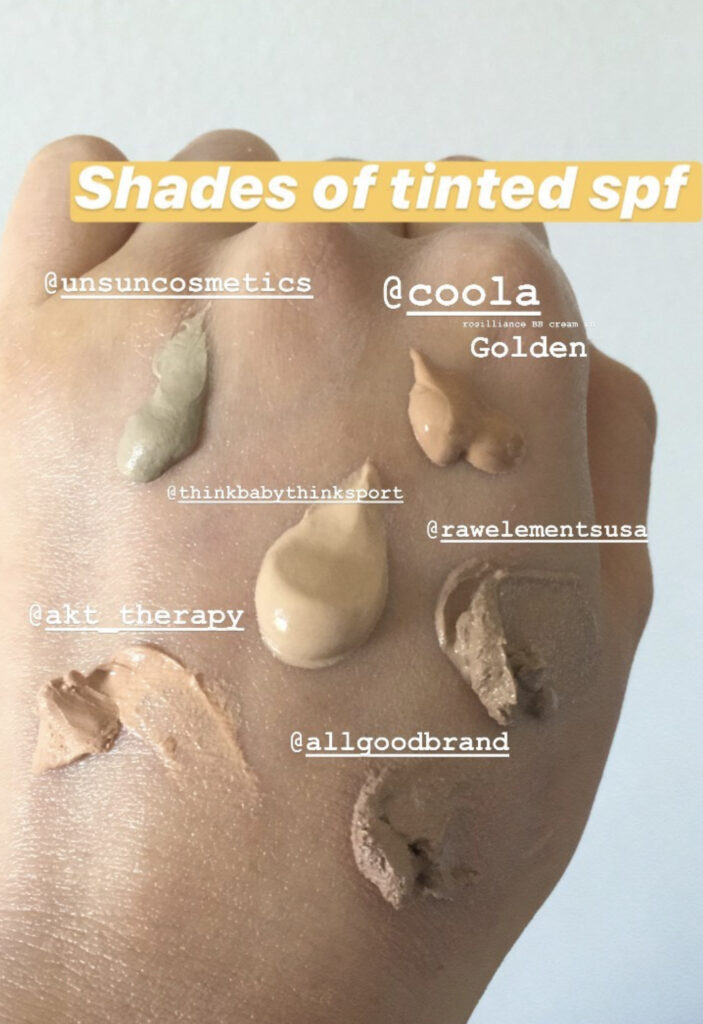 What I Don't Recommend
The new 100 Percent Pure Green Tea SPF 30 is my least favorite 100 Percent Pure sunscreen product. I have a lot of complaints about this product. First, it comes in a large tube with a cap you twist on and off and the product just gets everywhere inside. The formula is strange – it gets gritty and the ingredients seem to separate from each other. This company usually gets their formulas right but for some reason they hit the mark with this product.