If you have brassy blonde, brunette, highlighted or gray hair, this natural and organic purple shampoo review is for you. I've found the best natural purple shampoo for blondes (and best blue shampoo for brunettes) you can buy. And I have the before and after photos to prove it! Brighter blonde, ashy brunette and silver gray hair days are ahead.
An organic purple shampoo (and blue shampoo for orange hair) has been missing in clean beauty for a long time. When Rahua purple shampoo launched, its pale shade didn't have me convinced, and other "organic" purple shampoos contained toxins I wanted to avoid. I needed the best purple toner product that would effectively fix brassiness without a ton of toxic ingredients.

Thanks to Los Angeles-based clean hair care brand Kavella, there isn't just a natural purple shampoo that actually works, they've also made blue, red and copper ones for brunettes and redheads. Plus this purple hued color toning shampoo is vegan, cruelty-free, comes in an eco friendly bottle made from sugarcane and uses organic ingredients.
In this natural purple shampoo review I'll explain:
Why you need purple shampoo
Why you should choose a clean purple shampoo
How to choose between blue shampoo vs purple shampoo
How to use purple shampoo
My personal experience with Kavella products with before and after
You'll also find a Kavella Discount Code to save you money at the end. (So far I've gotten great feedback from everyone who's given these a try based on my recommendation.)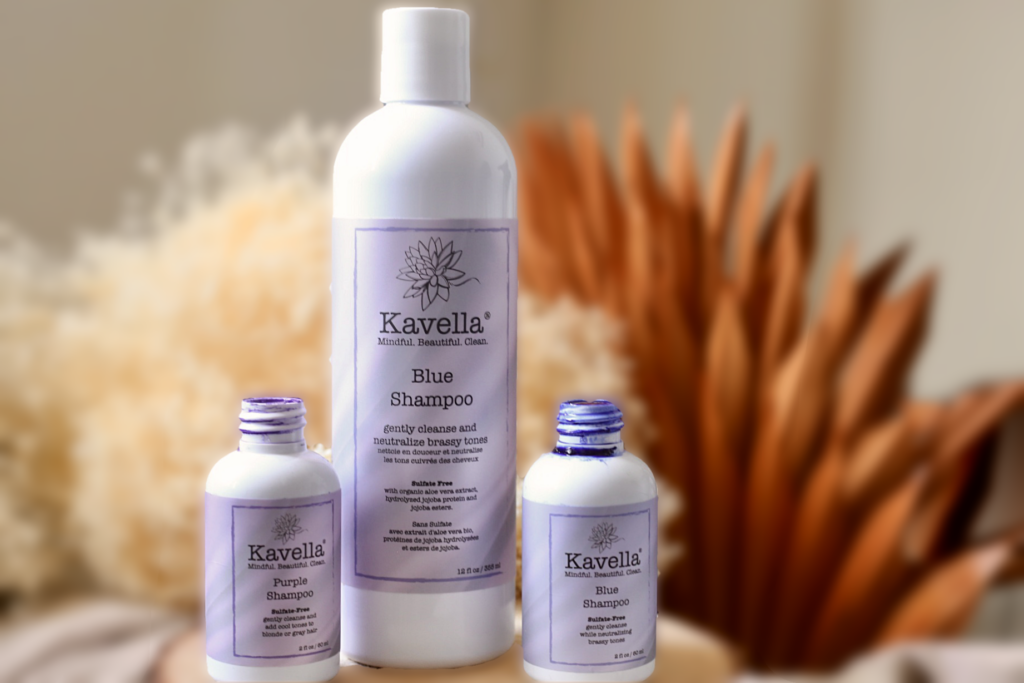 Why You Need a Natural Purple Shampoo
As a balayage addict, I have been battling orange and yellow hair my entire adult life. Professional toning can be done at a salon to get rid of those unwanted brassy tones, but these visits start to become expensive.
Plus the salon use-only toners that hairstylists use are semi-permanent, meaning they start to wash out with the first hair wash. The best way to stop brassiness on your own is by using a quality purple shampoo at home once a week.
If you have blonde, brown, gray or highlighted hair, you absolutely should be using either a purple shampoo or blue shampoo.
Since everyone has red undertones in their hair, no one is immune to developing brassiness. Because I have black hair I have the strongest red tones. Even natural blondes have red in their hair that causes yellowing.
Our hair is exposed to external aggressors everyday and the more you are out in the sun or wash your hair, the faster your hair color will fade. Even if your blonde or brown hair is natural, a color toning shampoo is a must.
How Purple Shampoos (and Blue Shampoos) Work
Hair toner shampoos work based off basic color principles and the color wheel. Blue is opposite of orange on the color wheel and purple is opposite of yellow.
Purple shampoo cancels out yellow (and green) tones
Blue shampoo cancels out orange and red tones
Purple shampoo is also needed to fight brassiness and yellow in gray hair.
Redken Purple Shampoo Toxicity
For the longest time, I had to use conventional purple and blue shampoos because there just wasn't a clean version available. Of course, that's changed because it's 2020 and the whole reason I'm doing this clean purple shampoo review is because I want people to stop buying toxic products from Walmart.
But before I get into my results, before and after photos and application tips, I wanted to discuss why you should even choose a clean option versus Redken or Joico purple shampoo. Let's take a look at the ingredients of the Redken Color Extend Blondage Color Depositing Purple Shampoo.
"Aqua/Water/Eau, Sodium Laureth Sulfate, Coco-Betaine, Glycol Distearate, Cocamide Mipa, Sodium Lauryl Sulfate, Parfum/Fragrance, Amodimethicone, Sodium Chloride, Sodium Benzoate, Polyquaternium-7, Polyquaternium-10, Peg-40 Hydrogenated Castor Oil, Ci 60730/Acid Violet 43, Salicylic Acid, Carbomer, Bht, Trideceth-6, Linalool, Arginine, Glutamic Acid, Serine, Hydroxypropyltrimonium Hydrolyzed Wheat Protein, Cetrimonium Chloride, Coumarin, Sodium Acetate, Isopropyl Alcohol, Phenoxyethanol, Sodium Hydroxide, Citric Acid."
Redken contains both Sodium Lauryl Sulfate AND Sodium Laureth Sulfate, which are detergents used in cosmetics to make them foam. Sodium lauryl sulfate (SLS) is a skin, eye and respiratory tract irritant and toxic to aquatic organisms. Depending on the manufacturing process, sodium laureth sulfate can be contaminated with ethylene oxide and 1,4-dioxane.
Why is that a concern? The International Agency for Research on Cancer classifies ethylene oxide as a KNOWN human carcinogen and 1,4-dioxane as a possible human carcinogen. Ethylene oxide can also harm the nervous system and is a possible developmental toxicant based on evidence that it may interfere with human development (Source: California Environmental Protection Agency).
1,4-dioxane is also toxic to the environment and it doesn't easily degrade and can remain in the environment long after it is rinsed down the shower drain. There is a way for 1,4-dioxane to be removed from cosmetics during the manufacturing process but can regular consumers discover the truth behind what massive corporations do behind closed doors?
There are numerous other ingredients that raise red flags are known to be insanely toxic to our health. Fragrance, which is disturbingly high up on the list of ingredients, is one that should be avoided entirely. Fragrance is a HUGE red flag. A product's fragrance can be concocted from any number of the fragrance industry's 3,100 stock chemical ingredients, the blend of which is almost always kept hidden from the consumer because they are classified as trade secrets.
There have been many studies done where fragrance in products were tested and were found to have dozens of secret chemicals that are known for hormone disruption, allergies or just plain haven't even been tested for safety in personal care products. These toxins have the propensity to build up in our tissue and bloodstream, and if you consider the number of products you use on the daily, that is something to think about.
I may be specifically discussing Redken's purple shampoo, but it's important to always read the ingredients for any product you use.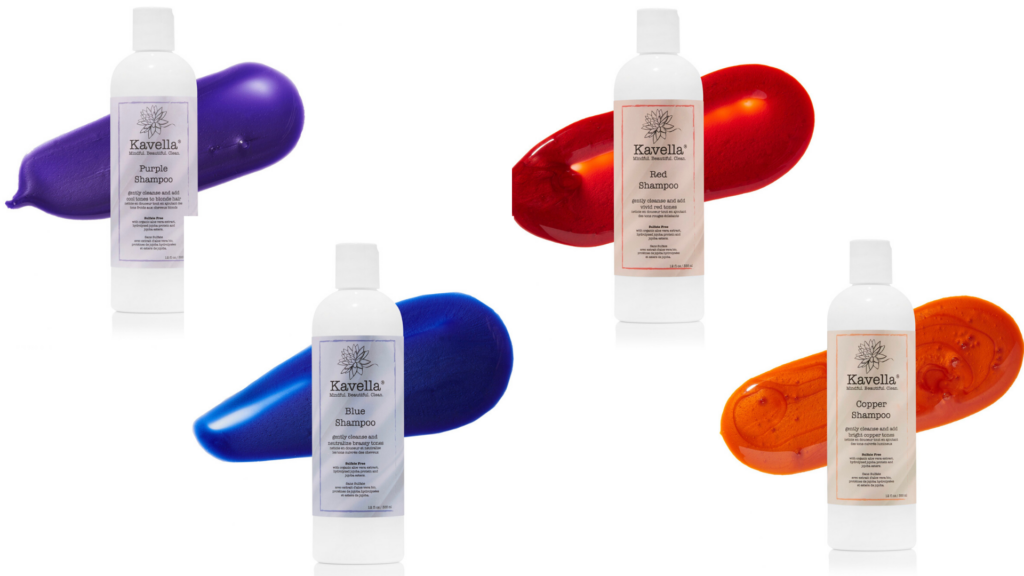 I finally found natural and organic Purple & Blue shampoos that work and are made by a brand that I can stand behind! Kavella is a clean and vegan hair care line that makes non-toxic purple, blue, red and copper shampoos.
The brand was started by an animal-loving cosmetologist who couldn't find a professional hair care line that was truly vegan, cruelty-free and natural. Most of the cruelty-free brands were owned by industry conglomerates that did test on animals, so she decided to change industry standards on her own. Kavella color shampoos prove that safer, healthier formulas work just as well as top purple shampoo brands.
I first tried Kavella a few years ago, and recently discovered that they had launched color shampoos. Kavella's color shampoos have the best and cleanest purple shampoos that REALLY work (before and after photos are proof)!
There are a handful of clean color shampoos available, but I chose Kavella because their products are a step above other natural purple shampoo options in many ways.
What sets Kavella Color Shampoos apart:
Professional salon-level shampoos that start with an Organic Aloe Vera Extract base and not water. Many other natural purple shampoos begin with water but charge similar prices. I appreciate that Kavella decided to make their shampoo more nourishing and not cut that corner.
Infused with Hydrolyzed Jojoba Protein, Jojoba Esters, Vanilla Extract Oil, Tonka Bean Absolute and Grapefruit Peel Oil
Properly pH balanced at 5.5 to keep the hair cuticle closed for color retention and shine.
Eco-friendly bottles made from a biopolymer derived from sugarcane. The eco-friendly packaging isn't just carbon neutral but carbon negative.
Each purchase gives back to animal welfare organizations (Angel City Pit Bulls, Soi Dog Foundation, Reversed Rescue and Primates Incorporated)
Dramatic results
A reader also told me that Kavella was much more effective than Bruns SCHAMPO N24, which was milder. The first ingredient is water, making up most of the product, so you're not getting as much bang for your buck.
Personally, an effective product that works the best is the most important aspect to me, not foaming power or consistency.
Most women with blonde/chemically-processed hair have dry hair, so a strong foaming product is only going to strip and dry your hair further.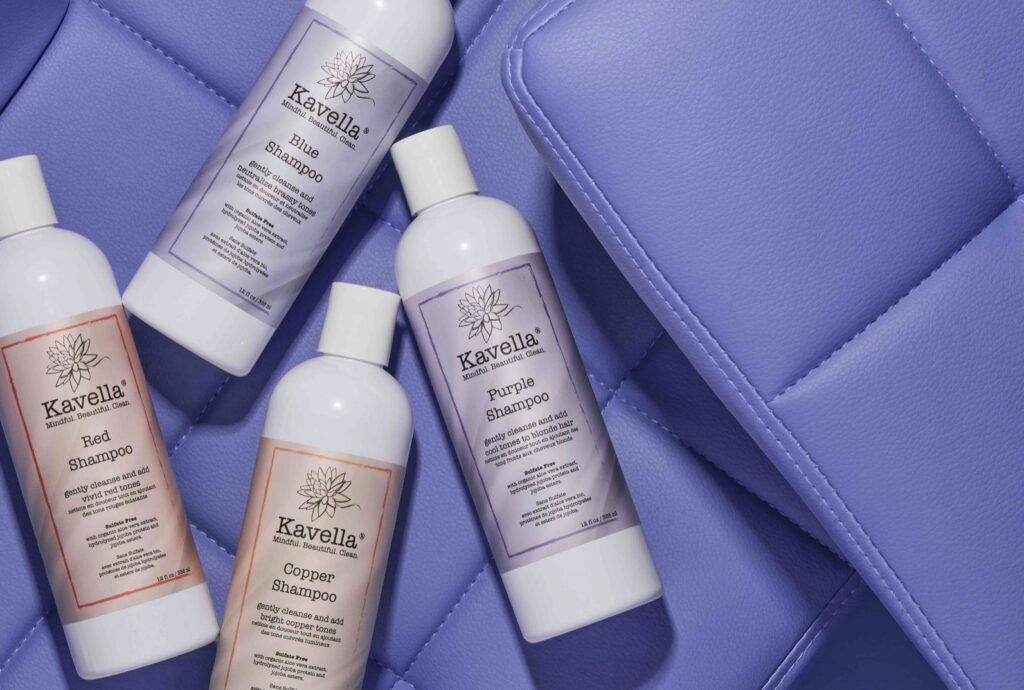 How to Choose a Purple Shampoo vs Blue Shampoo (and Red vs Copper)
Here's how to choose the right Kavella color shampoo for your hair:
💜 Purple Shampoo: for eliminating yellow in brassy blondes or gray hair
💙 Blue Shampoo: for eliminating orange and brassy tones in light browns to dark blondes
❤️ Red Shampoo: To refresh red tones or add warmth to medium or light brown hair
🧡 Copper Shampoo: To brighten light red to copper tones
Before and After Photos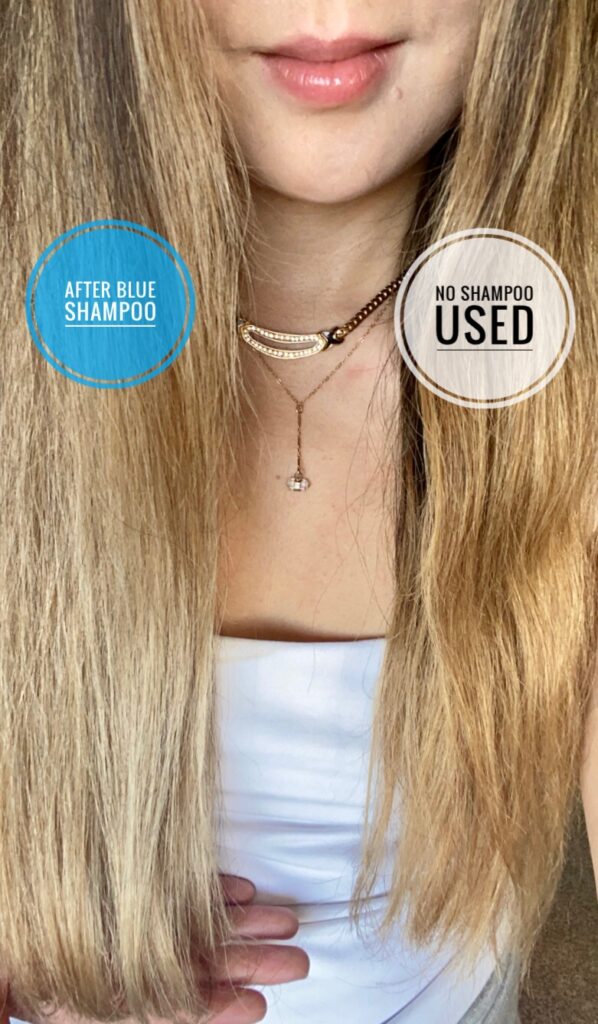 To get the most accurate before and after photos, I tested the blue and purple shampoos on one half of my hair so that there wouldn't be a shrivel of doubt when comparing the results. Same time of day, same position, same lighting, same everything so you can compare in real time.
Needless to say, I was very impressed by the results. These Kavella color shampoos really work and their natural blue shampoo did an excellent job at getting rid of unwanted brassy orange tones. If you are a bronde or dark blonde, I would suggest trying the blue shampoo instead of purple. Purple shampoo for blonde and grey hair can have no effect on darker blondes.
The Kavella blue shampoo also didn't leave my hair feeling stripped and dry like many a conventional one has in the past.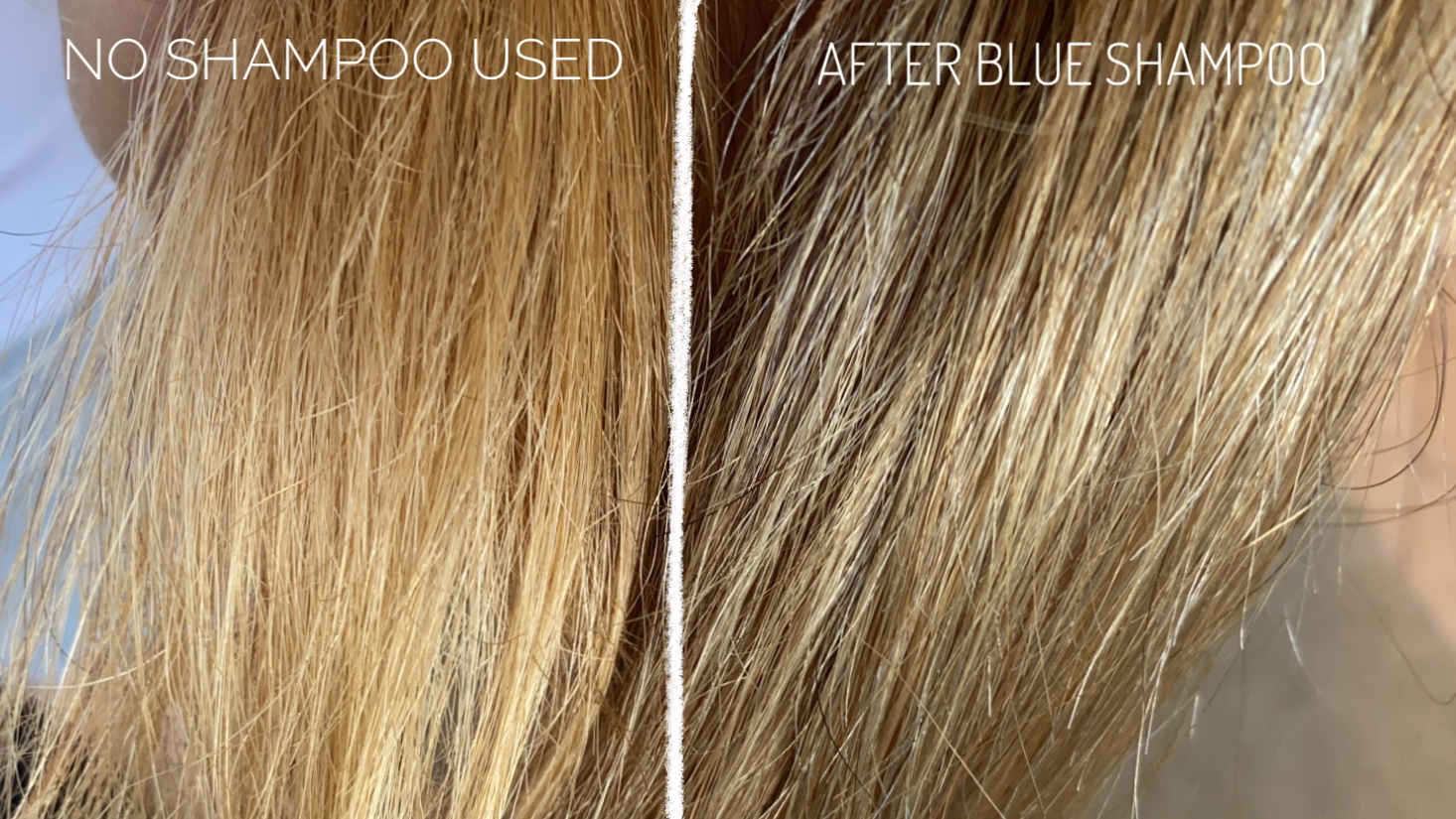 I am putting both sides of my hair together in the above photo, so there is no difference in time of day and location in these before and afters. Have you ever seen completely unedited blue shampoo before and after photos with such impressive results?
The left shows how brassy I was, and the right shows how Kavella's clean blue shampoo transformed my hair into an ashy cool toned blonde. My hair after blue shampoo looks brighter, healthier and multi-dimensional too. I was able to get rid of orange tones and brighten the blonde hairs.
How to Use Purple Shampoo: Application Tips
Having been a purple shampoo user for many years, I have found what works best for me. To get the best results I:
Apply to dry hair
Apply evenly down entire length of hair
Leave on a little longer than suggested time for more intense results (but not too long otherwise you'll end up with darker hair than you wanted)
Rinse out with cold not hot water (this helps the color stay and keeps hair shiny)
These are highly staining so be careful you don't accidentally transfer the product to clothing or furniture.
Discount code OBL saves 15%
Kavella provided me with an affiliate code OBL specially for my readers to save money! You can save 15% from their entire site with code OBL and say goodbye to orange and yellow hair.
Travel-size 2oz, regular 12oz or jumbo size 32oz bottles are available for Natural purple, blue, red and copper shampoos.