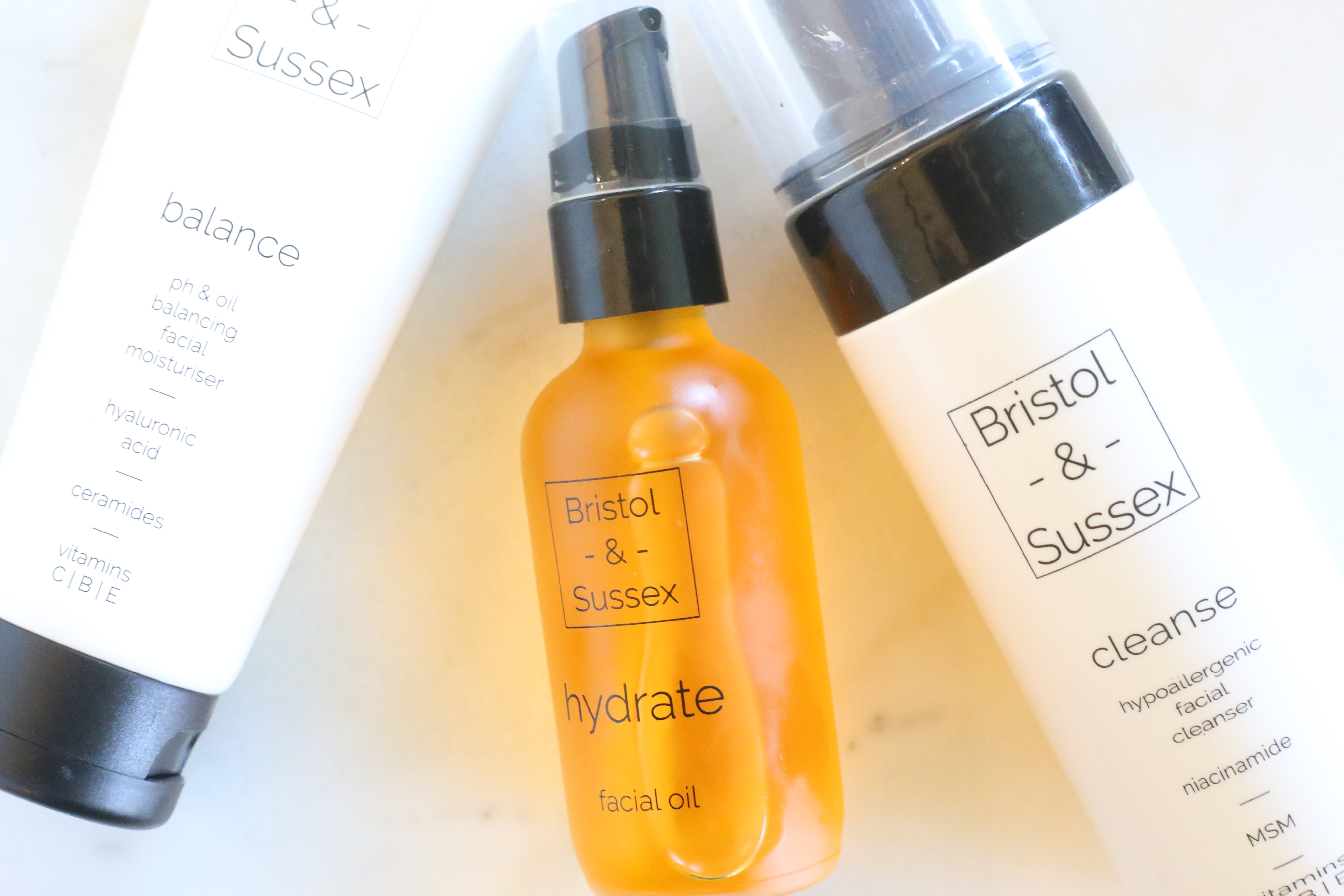 *This post was sponsored by Bristol and Sussex – all thoughts are my own
Use affiliate code OBL to save 25% sitewide
A newcomer to the green beauty scene, Bristol and Sussex doesn't promise to cure or treat anything – instead it's designed from a holistic standpoint to provide everything your skin needs to heal itself. It began when Dr. Brandey Dollens, who's based in San Diego, created facial care products specially for her husband whose psoriasis was becoming severe and unresponsive to medical treatments. Within a year his psoriasis was gone and they decided to launch the products to the public. No detail has been skipped – besides vegan organic ingredients, each with EWG Scores of 1, being Leaping Bunny Certified and using ECOcert-approved preservatives, what I appreciate is that no water or fillers are used in these products. The concentration of each ingredient is the result of years of research and "less is more" when it comes to these products.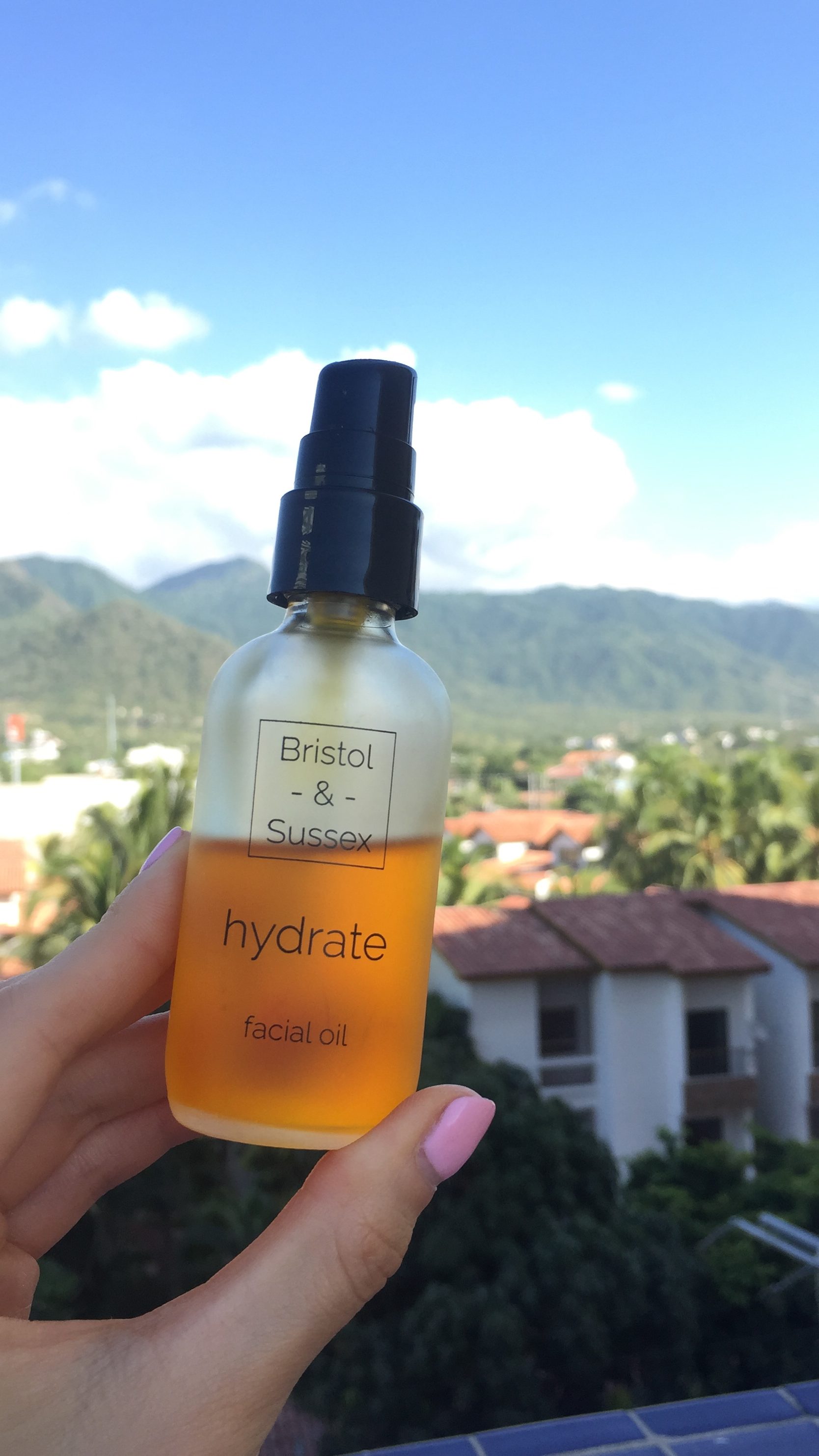 I love a squalane based oil. This one is not only squalane based but also features a high concentration of diverse omega fatty acids, vitamins C & E as well as skin balancing squalane, argan and jojoba oil, with age defying CoQ10. A liquid like oil that's lightweight yet nourishing, the Hydrate oil has been my favorite product from the line. Our bodies naturally produce squalane but this production declines as we age. It's been shown to be as powerful as retinol in fighting free radicals, does not leave an oily greasy feeling after applying, and feels like it's seeping into the skin and absorbing effortlessly. I also love using this on my hair while traveling.
Ingredients: Olive Squalane**, Argan Oil*, Jojoba Oil*, Sea Buckthorn Seed Oil*, Rosehip Seed Oil*, Safflower Oil*, Castor Oil**, CoEnzymeQ10**, Vitamin C (Ascorbyl Palmitate)**, Vitamin E (Tocopherol)**, Chamomile Essential Oil*, Lavender Essential Oil*, Rosemary Essential Oil*
This cleanser doesn't contain any water, alcohol or harsh chemical surfectants and, instead, contains  plant derived niacinamide (B3), vitamin C, B5 and E blend along with essential oils of lavender, chamomile, and rosemary to soothe and calm skin. It comes out as a foam so there's no need to "develop" a foam on skin. It feels airy and lightweight, but it's a hard-working product that effectively breaks apart sunscreen and makeup. Just 1 full pump is needed – if you use more you might end up with a stripped feeling if you have dry skin like mine. At only $25 this is an affordable
*indicates organically sourced ingredient
**indicates plant derived ingredient
Most moisturizers are less than 1.7oz or 2oz while the Bristol and Sussex one is 3oz – the size is the first thing you'll notice about this product. And just like the rest of the line, you are not paying for water, silicones or silicone derivatives which is a big plus in my book. It boasts a profile of:
Niacinamide
MSM
Sea Kelp Bioferment
Ceramides
Squalane
Hyaluronic Acid
Vitamin C, B5 & E
It feels like a hybrid gel-cream moisturizer with a lotion texture and feels very hydrating. After it dries it feels like it has not fully dried, so this might be bothersome to some. It has the same scent as the cleanser but for some reason I like it less for my moisturizer.
Ingredients: Raw Unfiltered Aloe Vera Juice*, Olive Squalane**, Argan Oil*, Jojoba Oil*, Castor Oil*, Shea Nut Oil*, Glyceryl Stearate**, Cetearyl Alcohol**, Sodium Stearoyl Lactylate**, Radish Root Ferment Filtrate**, Sea Kelp Bioferment**, Ceramide NP**, Ceramide AP**, Ceramide EOP**, Phytosphingosine**, Cholesterol**, Vitamin B3 (Niacinamide)**, Vitamin C (Ascorbyl Palmitate)**, Hyaluronic Acid**, MSM**, Sea Buckthorn Seed Oil*, Rose Hip Seed Oil*, Safflower Oil*, Vitamin B5**, Vitamin E (Tocopherol)**, Lavender Essential Oil*, Chamomile Essential Oil*, Rosemary Essential Oil*, Citric Acid* (from cane sugar)
*indicates organically sourced ingredient
**indicates plant derived ingredient