Earthwise Beauty launched a few new products this year, an interesting serum in the form of a face mist and the line's only single oil facial oil. I've reviewed the brand and most of its products in a previous blog post (including the founder's work diary provided by Ava herself), but since then, Earthwise Beauty has had a re-branding and a whole new look. Read on for my Earthwise review and, as always, my affiliate code OBL saves at Earthwise Beauty sitewide.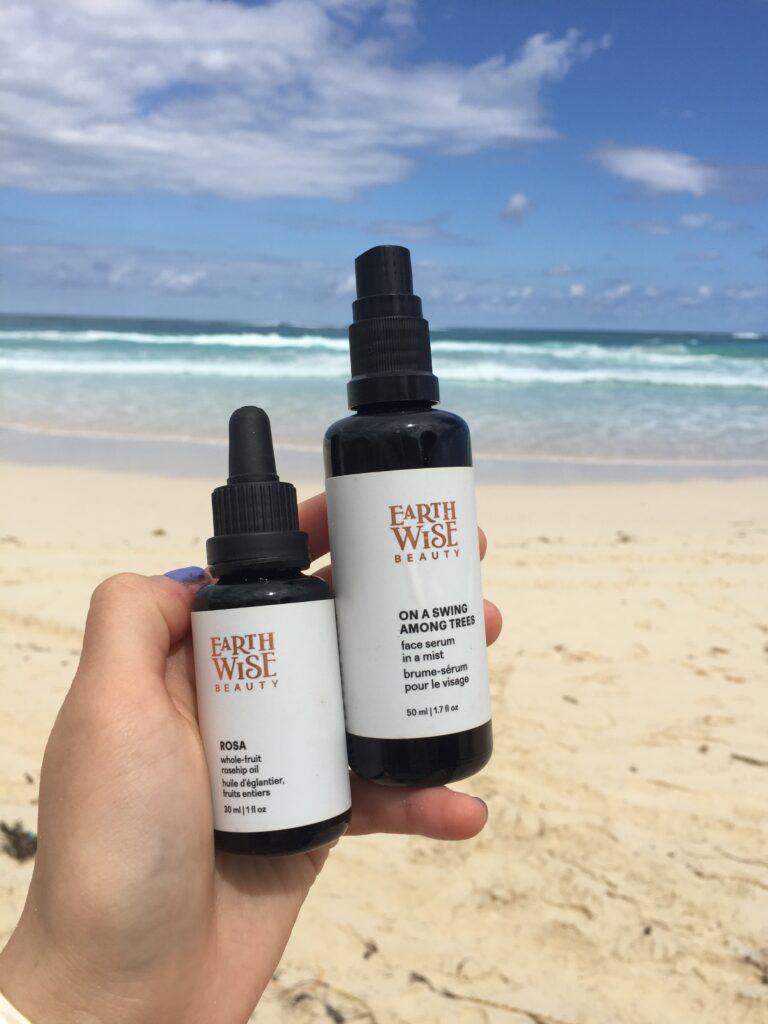 On a Swing Among Trees is like the anti face serums of face serums. Its goal is not to hydrate like most face serums but targets wrinkles, skin firmness, collagen loss, and damaged skin barrier. It's designed to feel matte when applied and not wet/greasy and ingredients are purposefully chosen from the dry, hot terroirs of Oman, Somalia and Ethiopia.
Its notable ingredients are:
Progressive plant ceramide–cholesterol complex that has been scientifically proven to boost the functioning of mature skin
Ultra-low-molecular-weight hyaluronic acid (plant-based, vegan, and non-GMO)
Myrrh and frankincense extracts from slow, sustainable, artisanal distillers
Copaiba resin that reduces wrinkles and acne and minimizes pore appearance
Turmeric to reduce hyperpigmentation and redness
Ethiopian garnet gem essence, Ethiopian rainbow opal, Omani frankincense sacra resin essence, and Omani myrrh essence
The scent of On A Swing Among Trees reminds me a lot of A Cistus in Moonlight Face Mist with its resinous, earthy sweet scent. The mist comes out finely and gently like walking into a foggy morning. This is a very out-of-the-box product that may not be everybody's cup of tea, but if you're a skincare fanatic that finds delight in unique formulations and innovation, this product encompasses all that I love about artisanal skincare.
Ingredients: Curcuma longa (turmeric) rhizome hydrosol*, Aloe barbadensis leaf juice*, Sodium hyaluronate (plant-derived), plant ceramide complex (ceteareth-25 [emulsifier, 0.18% total amount in formula], glycerin, cetyl alcohol, behenic acid, cholesterol, ceramide NP, ceramide NS, ceramide EOS, ceramide EOP, ceramide AP, caprooyl phytosphingosine, caprooyl sphingosine), Commiphora myrrha (myrrh) oil†, Boswellia (frankincense) serrata extract†, Copaifera officinalis (copaiba balsam) resin†, colloidal silver, Curcuma longa (turmeric) rhizome CO2 extract*, Chamomilla recutita (German chamomile) flower CO2 extract*, Crocus sativus L. (saffron) absolute*, potassium sorbate (natural food-grade preservative), caprylyl capryl glucoside (naturally derived, non-GMO), Citrus limon juice*, Rosa centifolia flower absolute, Ethiopian garnet gem essence, Ethiopian opal gem essence, frankincense sacra resin essence†, and myrrh resin essence†.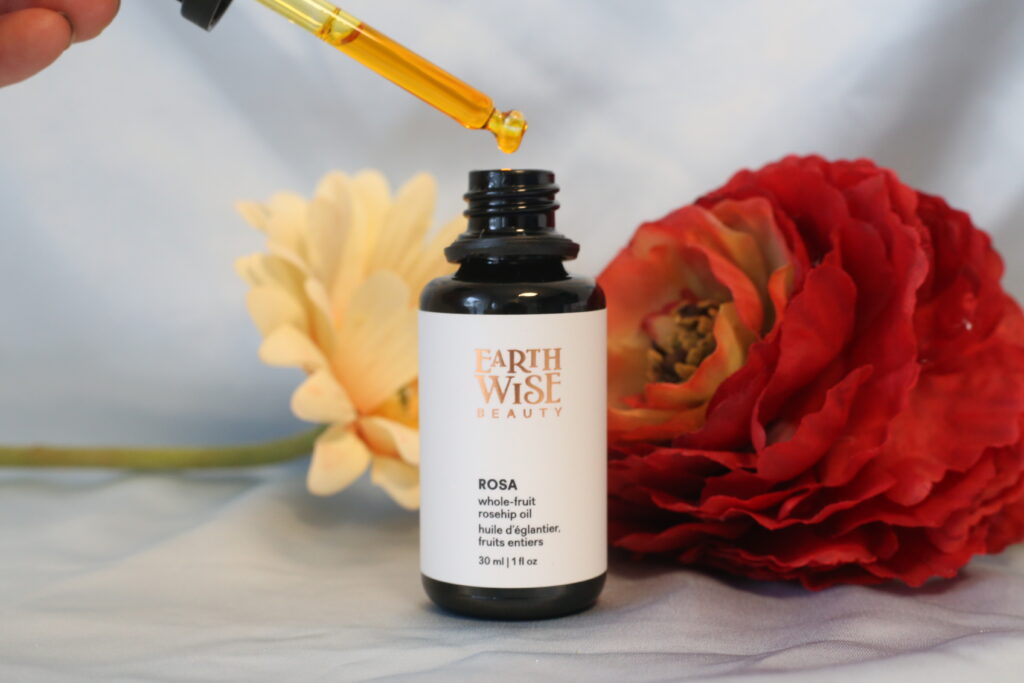 This is a bold product launch because it's the only single oil facial oil in the entire Earthwise Beauty line. All other facial oils like Ruby, Ferns and Moss and Black Locust contain an intense blend of rare and exotic ingredients sourced from all corners of the globe. So you might be asking yourself why simple rosehip oil.
This oil actually took 5 years to source and it promises to be superior to other rosehip oils you'll find on the market. Most rosehip oils are rosehip-seed-only extractions, or rosehip-seed extractions with just a small fraction of whole-fruit or fruit pulp extractives. Instead, Rosa is wholly balanced and made from the seeds, fruit pulp, and fruit skin. It's a rich, creamy vibrant orange-hued rosehip oil that feels incredibly nourishing on the skin.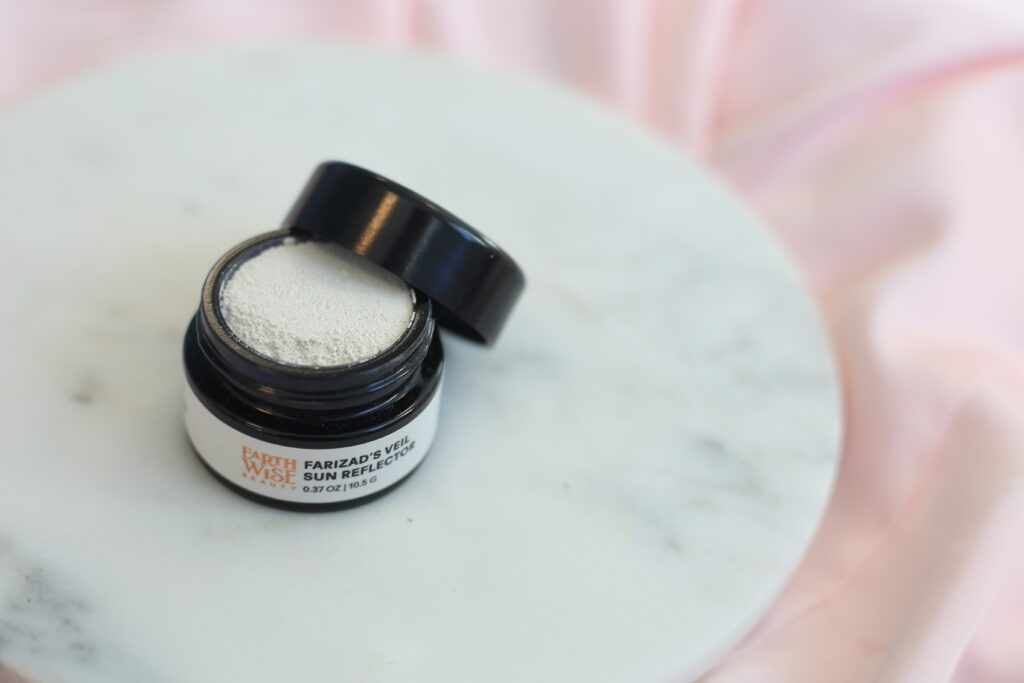 Earthwise Beauty Farizad's Veil is still one of my top products if I were stranded on a desert island. This non-nano zinc oxide powder is so versatile. I add Farizad's Veil to my BB creams, foundations or face oils to make sure I get sufficient sun protection.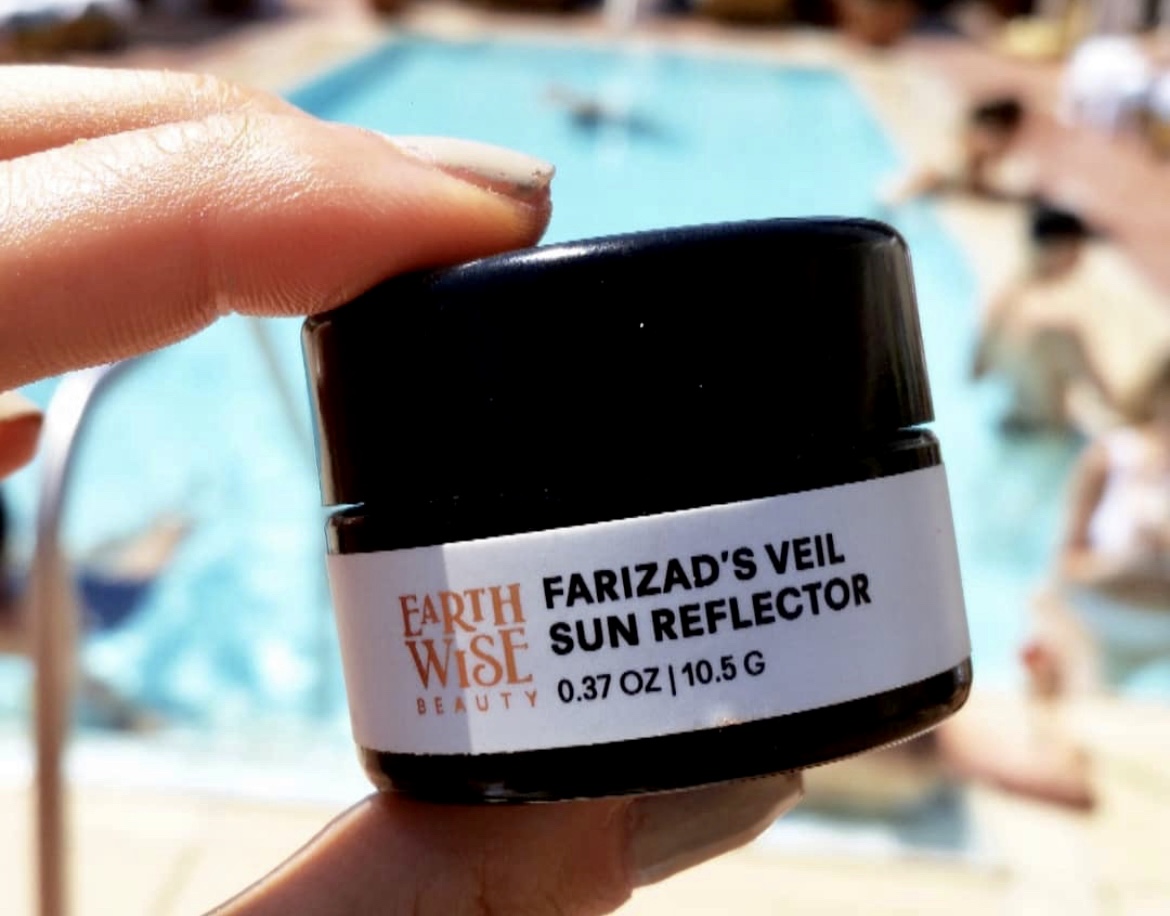 It takes some practice to figure out how much to use so you don't end up looking like a ghost. Farizad's Veil is super concentrated so a small amount goes a long way. My full in-depth review is here.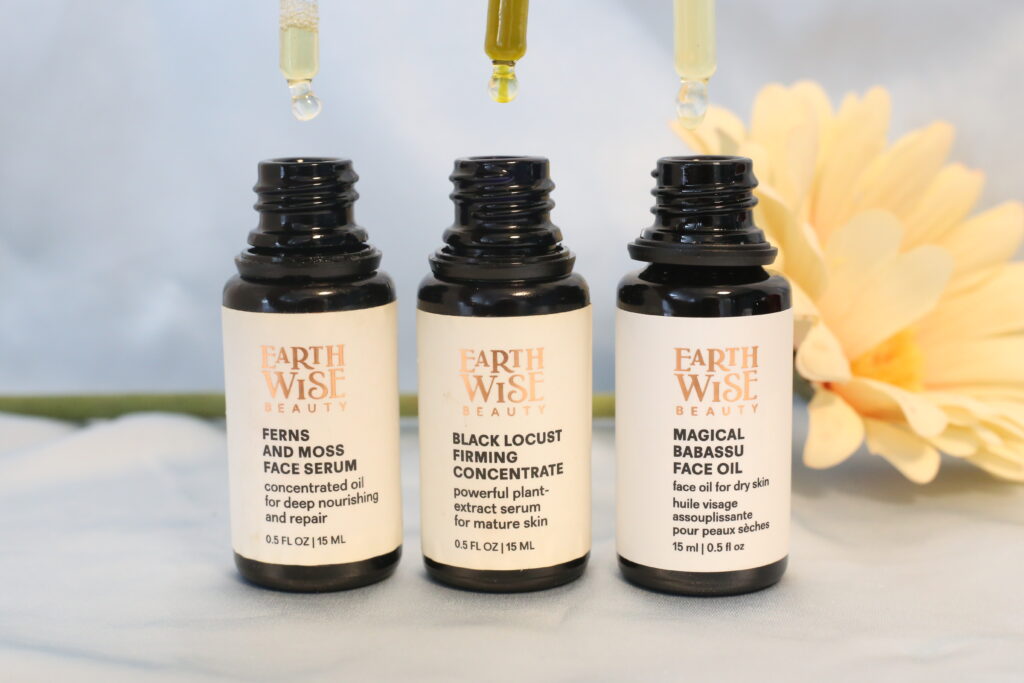 Black Locust is one of my favorite oils along with Ruby and Ferns and Moss Serum. With its unique and powerful list of ingredients, deep olive-green hue and alluring scent, it's hard not to. Black Locust was formulated with dry and mature skin in mind using time-tested skincare ingredients along with progressive ones for the luxury lover.
Black Locust notably contains ethically sourced bakuchiol extract from the Ayurveda babchi herb and two types of extracts from the wildflower white lupine. A natural alternative to retinol, Bakuchiol was found to have a very comparable effect in areas such as reducing acne, lowering inflammatory response, diminishing wrinkles, stimulating production of new healthy collagen, and inhibiting the peroxidation of squalene. There's also no side effects or risk of photosensitization like with retinol. Lupine seed improves  wrinkles, skin firmness, skin elasticity, and sagging facial contour. 
The scent is earthy and floral with Indian golden champaca and rhododendron flower. I find this oil, like with Ruby and Ferns & Moss, effectively rejuvenates my skin. The profound nourishment that these ingredients provide turns my skin supple, soft, clear and hydrated. My dry skin craves the richness of this oil and I find myself repeatedly drawn towards using it.
Ingredients: Euterpe oleracea (açai) fruit oil†, Citrullus lanatus (Kalahari melon) seed oil†, Lupinus albus (white lupine) seed oil and extract, Helianthus annuus (sunflower) seed oil, Triticum vulgare (wheat) germ oil unsaponifiables, Hippophae rhamnoides (seabuckthorn) fruit CO2 extract* or †, bakuchiol from Psoralea corylifolia seeds†, Calendula officinalis flower CO2 extract*, Sambucus nigra (black elderberry) fruit extract, Rhododendron anthopogon essential oil†, Warburgia ugandensis (greenheart wood) essential oil†, Michelia champaca flower CO2 extract or absolute†, Rosmarinus officinalis (rosemary) leaf extract.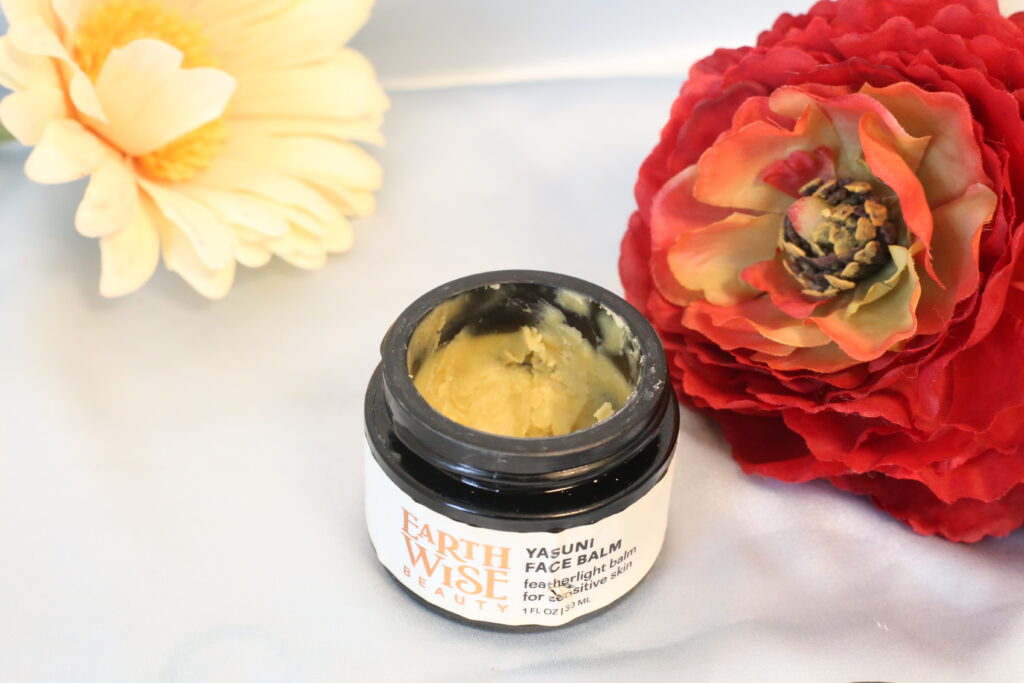 Yasuni Face Balm was formulated for a number of specific skin concerns including extra sensitive skin and acneic skin. I found this balm to be unlike most face balms I've tried in that it doesn't have an emollient consistency. Instead, it is a very dry butter that isn't too easy to scoop out – quite different from Earthwise Beauty's other balm Tigress. This makes sense since Yasuni is balm that can control oil production and heal breakouts.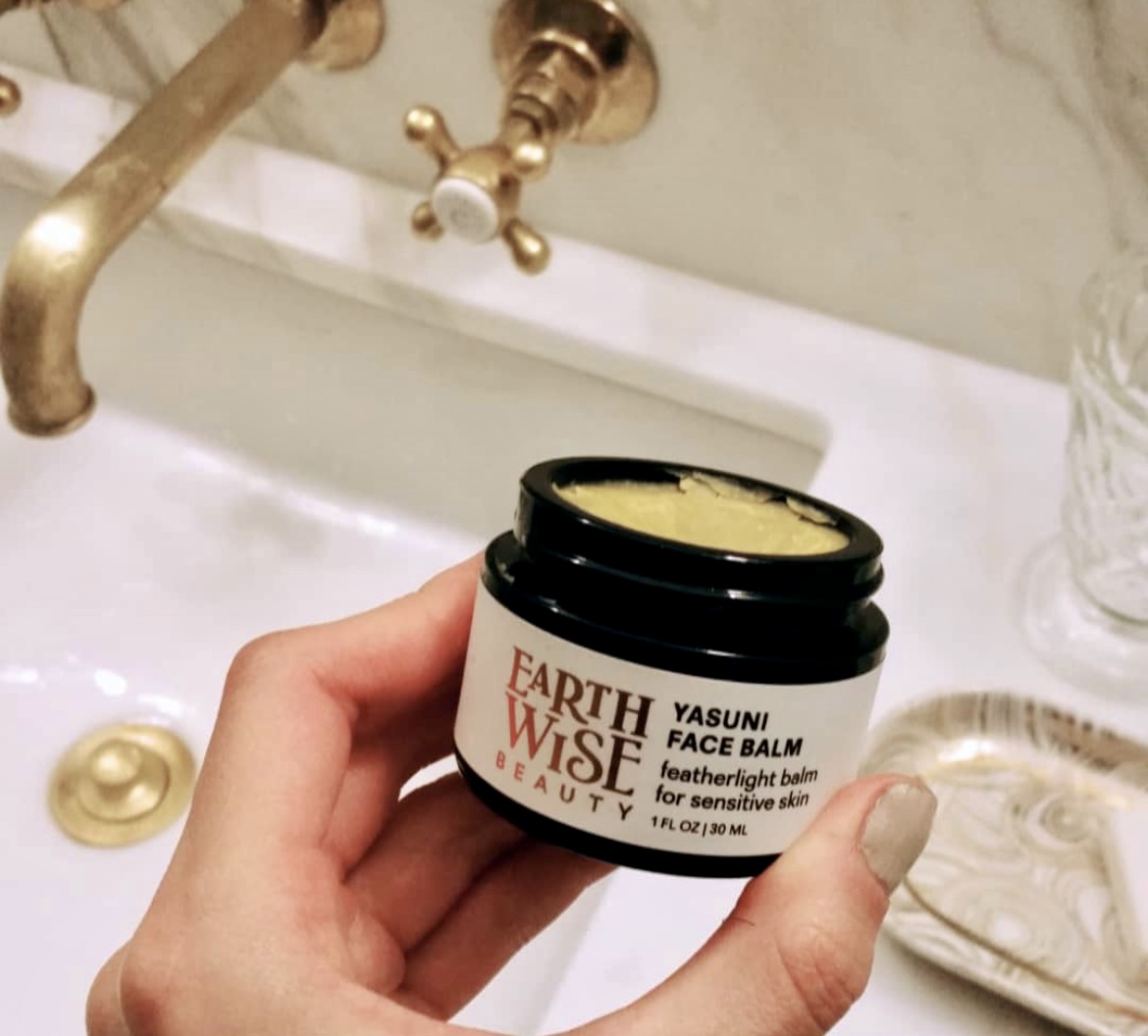 Yasuni also provides enzymatic action that helps resurface the skin. Acai oil helps exfoliate the skin and buriti oil acts similarly to retinol, With no essential oils, the scent is derived naturally from all the ingredients and is sharply earthy. The blend of cupuaçu, tucuma and bacuri butter are highly penetrating and hydrating and I find my skin absorbs the product well once it's melted.
Ingredients: Cold-press unrefined Theobroma grandiflorum (cupuaçu) seed butter†, cold-press unrefined Garcinia indica (kokum) seed butter†, cold-press unrefined Platonia insignis (bacuri) seed butter†, cold-press unrefined Astrocaryum tucuma seed butter†, cold-press unrefined Euterpe oleracea (açai) fruit oil†, cold-press unrefined non-GMO Vaccinium macrocarpon (cranberry) seed oil (organic whenever available), cold-press unrefined Rubus ideaus (raspberry) seed oil*, cold-press unrefined Coffea arabica (green coffee) seed oil†, cold-press unrefined Sclerocarya birrea (marula) seed oil*, tocopherol (vit. E from non-GMO sunflowers), cold-press unrefined Mauritia flexuosa (buriti) fruit oil†, Sambucus nigra (elderberry) fruit extract
Save 10% sitewide at Earthwise Beauty with my affiliate discount code OBL.