Gen Z sunscreen brand Everyday Humans has taken 2021 by storm with their plastic neutral, sassy sunscreens. Impact and value driven, Everyday Humans makes inclusive, clinically tested and sustainability-focused SPF that's actually fun to use. There are three Everyday Humans sunscreen products available: two chemical sunscreens, one for body and one for face, and a mineral face sunscreen option. All are priced at $25 or under. Read on for my Everyday Humans sunscreen review.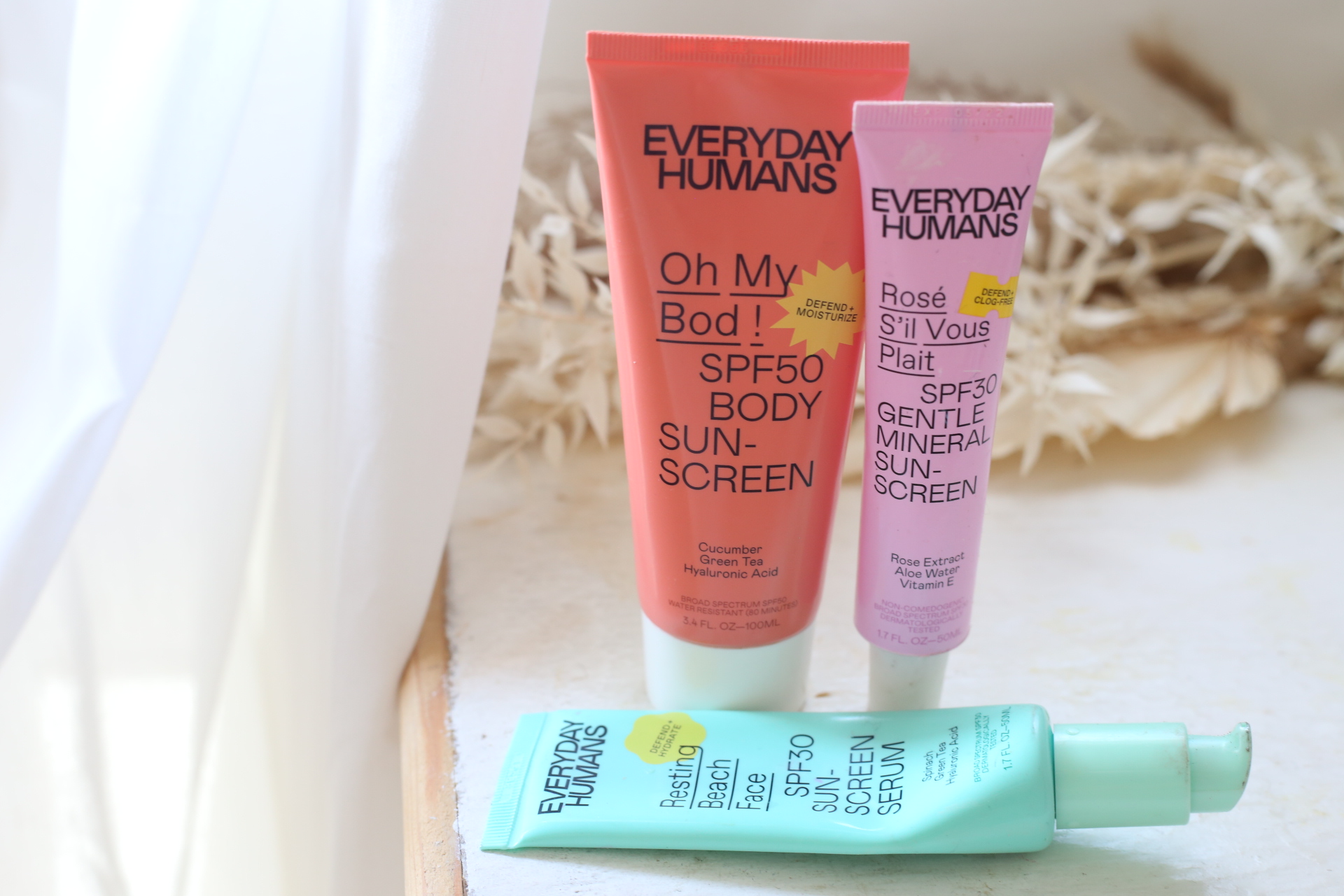 Mix of zinc oxide and titanium dioxide
Actives: Zinc Oxide 11.25%, Titanium Dioxide 1.50%
Contains Organic Aloe Vera Leaf Juice, Rosa Centifolia Flower Extract, Vitamin E, Green Tea Leaf Extract, Lavender Flower Extract
Light white cast
No scent
Con: Rose S'il Vous Plait sunscreen needs to be applied above skincare or with a few drops of oil added to it. It doesn't blend well when applied to bare skin.

Actives: Homosalate 8%, Octisalate 4%, Avobenzone 3%, Octocrylene 2%
Contains Hyaluronic Acid, Spinach Leaf Extract, Green Tea Leaf Extract, Helianthus Annuus Seed Oil
A light scent from COSMOS Certified Natural Fragrance
100% transparent and zero white cast
Serum like consistency
SPF 50
Actives: Homosalate 10%, Octocrylene 8%, Octyl Salicylate 5%, Avobenzone 3%.
Contains Cucumber Fruit Extract, Green Tea Leaf Extract, Hyaluronic Acid
Light scent from COSMOS Certified Natural Fragrance
Very lightweight and serum like
100% transparent and clear
Large 3.4 oz bottle
$18