FITGLOW BEAUTY Makeup Review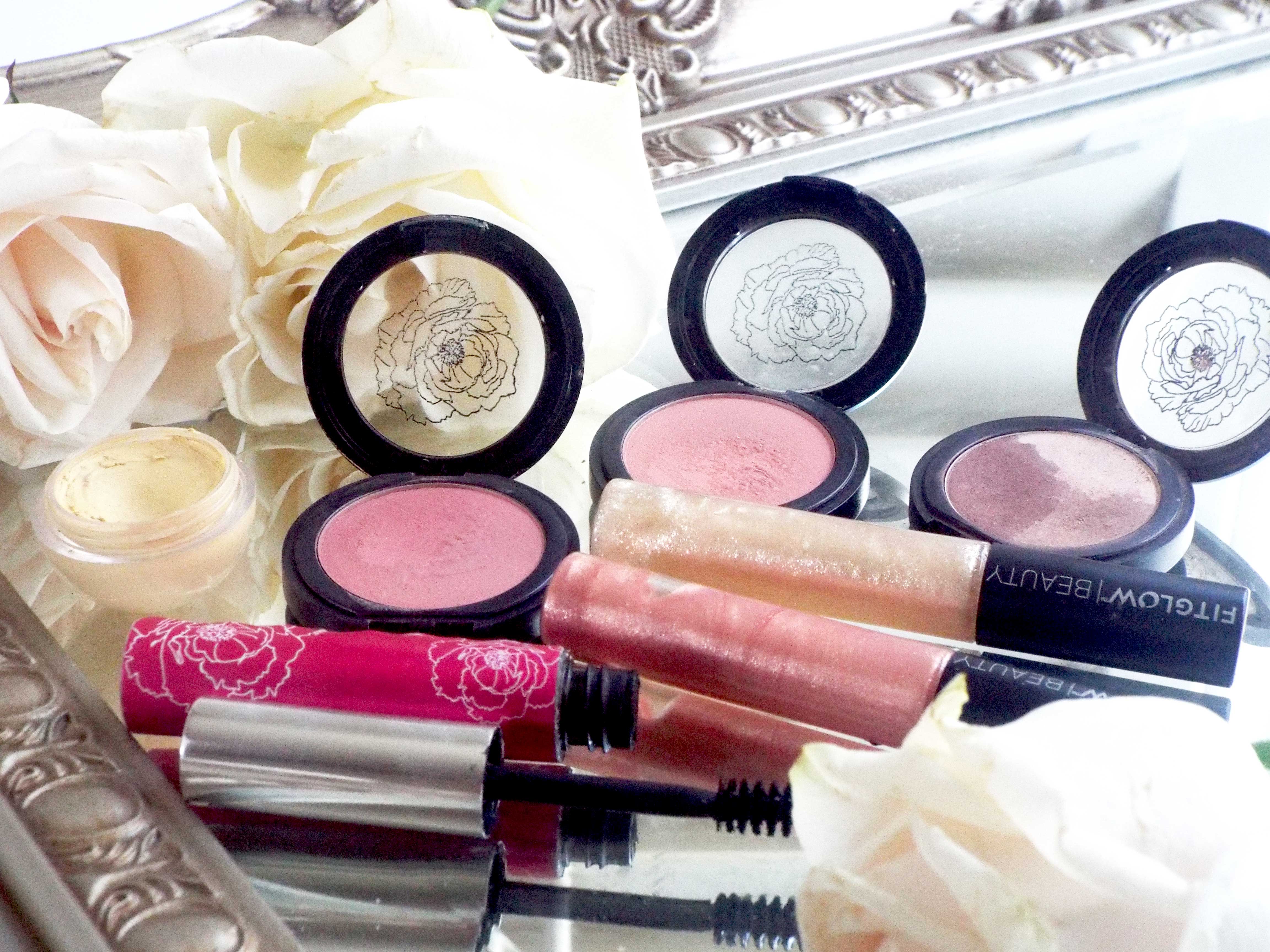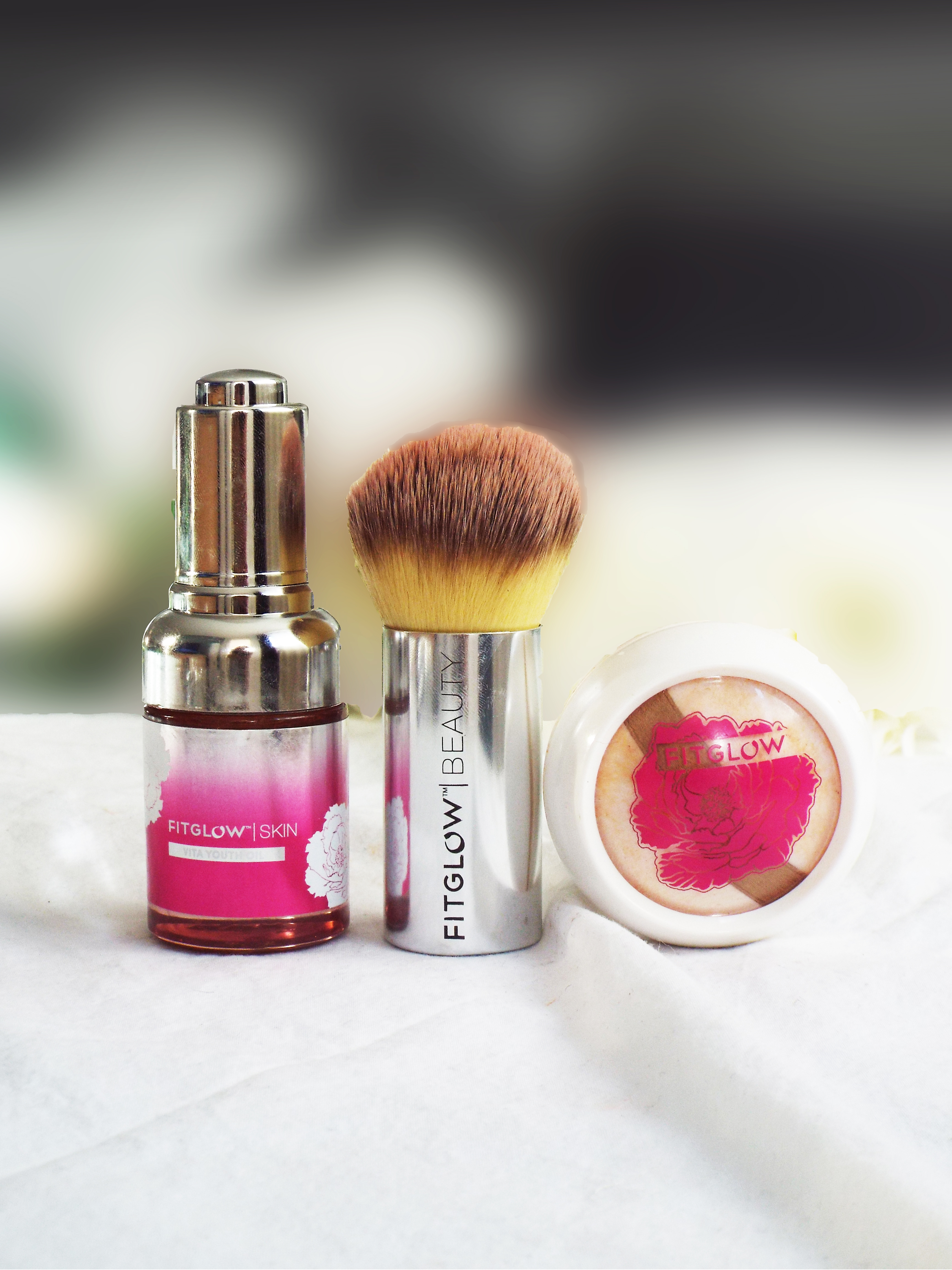 FITGLOW BEAUTY is one of my all-time favorite organic makeup brands. With each product you are guaranteed to experience high-quality organic ingredients, amazing performance, and beautiful pigment. If you're looking for an organic brand that measures up to and even outshines conventional makeup brands, FITGLOW BEAUTY is IT.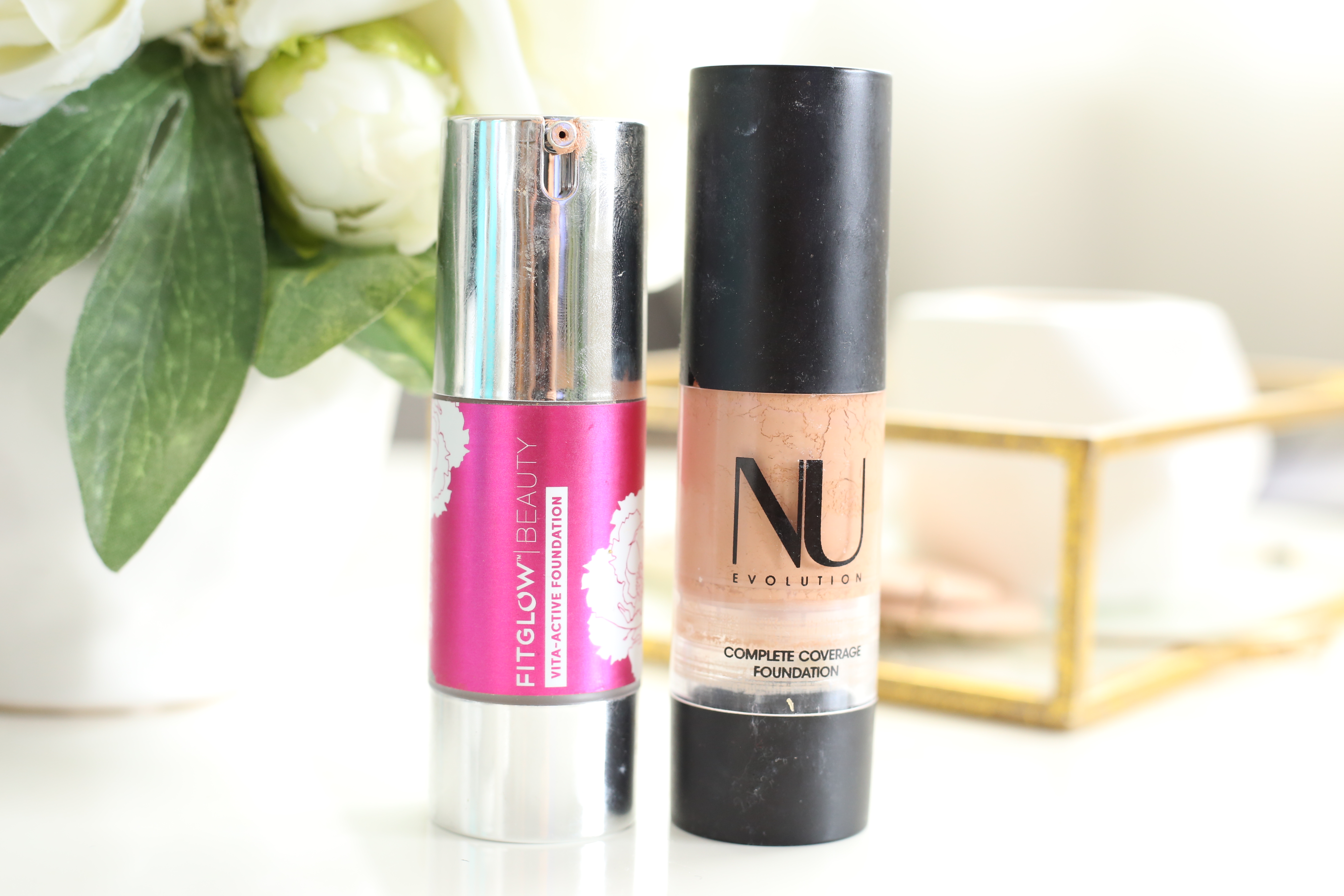 Update: Years later this is my all-time favorite foundation. If you don't need heavy coverage this is a dream and has whipped lightweight texture unlike any other. It's not only working to nourish and improve the health of your skin but provides a decent amount of coverage that lasts.
I received a sample of the revolutionary Vita-Acitve foundation, which is basically skincare you can use as a foundation. It's 98% Organic, 95% Whole Food Based and contains Vitamin C, Botanical Hyaluronic Acid,Seaweed Brighteners and Beta-Carotene to increase collagen production and boost skins ability to diminish spots, freckles, hyper-pigmentation, sun damage plus improve elasticity. It has the most impressive list of ingredints I've seen in a foundation. I normally don't like wearing foundation because I feel it's too heavy for my skin and I don't like the obviously made up look, but this foundation is very light and provides great coverage for me. It has a light and silky consistency and leaves a dewy finish. It dries very quickly so i have to be sure to rub it in quickly and it doesn't fade throughout the day. SHOP
Ingredients
Aloe Leaf Juice, Lavender Hydrosol, Rose Hydrosol, Castor Seed Oil, Grape Seed Oil, Sunflower Oil, Cetearyl Olivate, Sorbitan Olivate (Olivem®1000), Jojoba Seed Oil, Carrot Essential Oil, Botanical Hyaluronic Acid, Wakame Bioferment, Caprylic /Capric Triglyceride (Derived from Coconut), Cetyl Alcohol, Virgin Organic Coconut Oil, Leuconostoc/Radish Root Ferment Filtrate, Sea Buckthorn, Cetyl Alcohol, Mica, Titanium Dioxide (CI77891), Zinc Oxide (CI77974), Iron Oxides (CI77492, CI77491), Ultramarines (CI77007), Argan Oil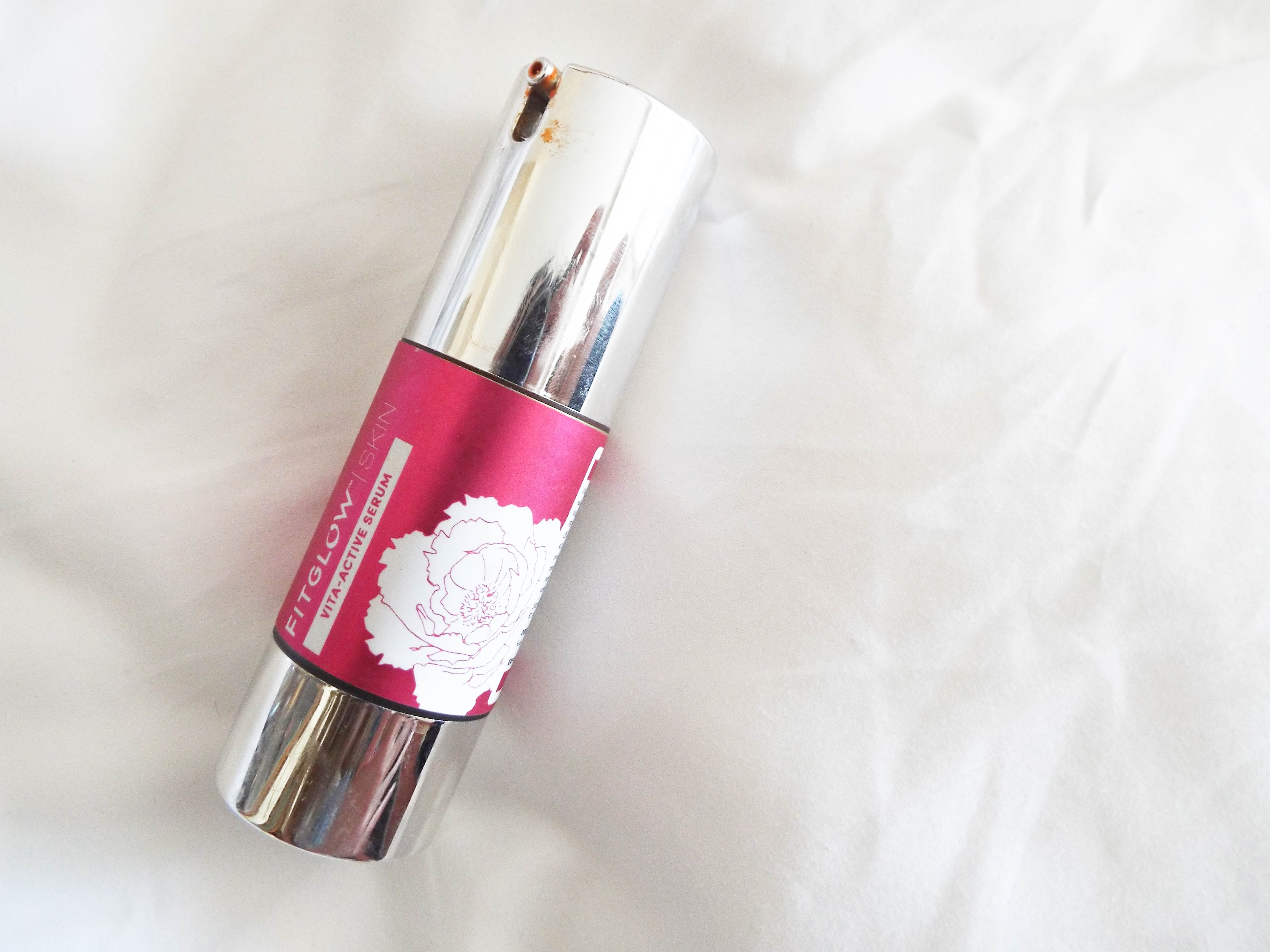 Let me just start by saying this is definitely a pricey product but it's an investment if you're looking for clinical style results and need something super powerful. If I could afford it, I would honestly use this serum on a long term consistent basis to prevent and fight aging. It:
Improves skin clarity, reduces freckles, uneven skin, and sun damage
Provides long-acting full spectrum antioxidant protection
Reduces signs of premature aging
Improves skin tone and smoothness
I used this product over one summer and it kept my skin smooth, clear, even-toned and radiant and also stopped further sun damage that usually occurs over a summer in the sun. I have also heard accounts of this product working to clear up more serious skin issues that others have had. It has a deep orange tint and a light gel-serum like texture that absorbs quickly. Serums are the product type you want to invest in most as these are the only product type in your regimen that has molecules small enough to penetrate deep into your pores.
Ingredients
Herbal Infusion*, Aloe Barbadensis Leaf Juice (Aloe Vera)*, Cassia Angustifolia Seed Polysaccharide (Botanical Hyaluronic Acid), Sodium Ascorbyl Phosphate (Vitamin C), Alpha Arbutin (Bearberry), Niacinamide (Vitamin B3), Ubiquinone (CoQ10), Lactobacillus/Portulaca (Purslane Bioferment) Oleracea Ferment ExtractUndaria Pinnatifida Cell Culture Extract (Wakame Bioferment), Kosher Vegetable Glycerin, Haematococcus Pluvialis Extract (Astaxanthin), Citrus Clementia hort. ext. Tan (Clementine Essential Oil), (2s)-2-Amino-5-guanidinopentanoic Acid, Wildcrafted Prunus Virginiana (Wild Cherry), Tanacetum Annuum Linnaeus (Blue Tansy), Curcuma Longa (Turmeric)*, Wildcrafted Hydrangea Arborescens (Hydrangea), Glycyrrhiza Glabra (Licorice)*, Sucrose Stearate,Preservative, Polyglyceryl-10 Laurate, Lecithin, Tocopherol, Ethylhexyl Glycerin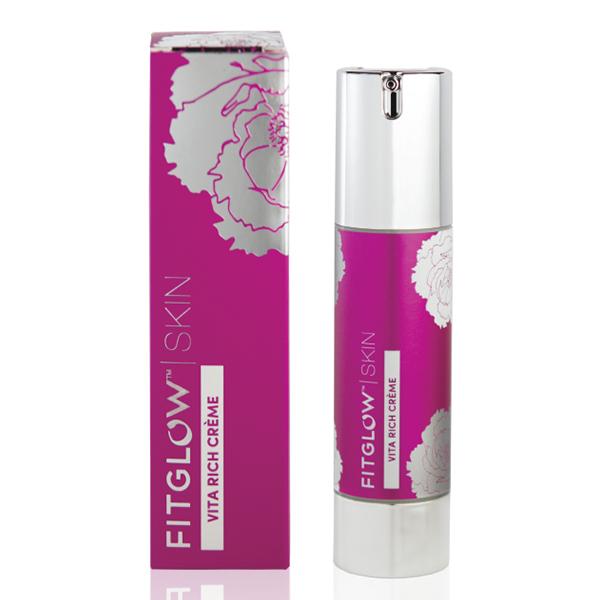 Again, if budget is not a concern when it comes to buying a moisturizer this Vita Rich Creme is superb in terms of ingredients, texture and efficacy. Rich in over 150 phytonutrients, vitamins, and cherry brightening comple, Rare Grass Extracts increase intercellular osmosis, retaining water long term deeply in the skin and plumping cells. You'll find that many of Fitglow's products including their makeup are about "plumping" the cells which I absolutely love because I feel that all other skin issues aside, plump skin is the key to looking youthful. This is a very rich creme with a smooth silky texture and fruity scent similar to their Vita Youth Oil. It will leave your skin feeling SUPER moisturized and soft.
Improves skin hydration and elasticity
Provides potent environmental protection from free-radical damage
Improves skin health and reduces inflammation
Improves skin tone and smoothness
Ingredients
Aloe Barbadensis Leaf Juice (Aloe Vera)*, Cassia Angustifolia Seed Polysaccharide (Botanical Hyaluronic Acid ), Cetearyl Olivate, Sorbitan Olivate (Olive Source), Simmondsia Chinensis ( Jojoba Oil)*, Rosa Canina (Rose Hip Oil), Borago Officinalis (Borage Oil), Argania Spinosa (Argan Oil), Coenzyme Q10 Leucidal Aloe (Aloe Plant Preservative), Imperata Cylindrica Extract (Congon Grass), Retinol Liposome, Acerola Bioferment (Cherry) Rubus Idaeus Extract (Raspberry )**. Prunus Domestica Fruit Extract (Plum)*. * Certified Organic Ingredients ** Organic Supercritical CO2 Extracts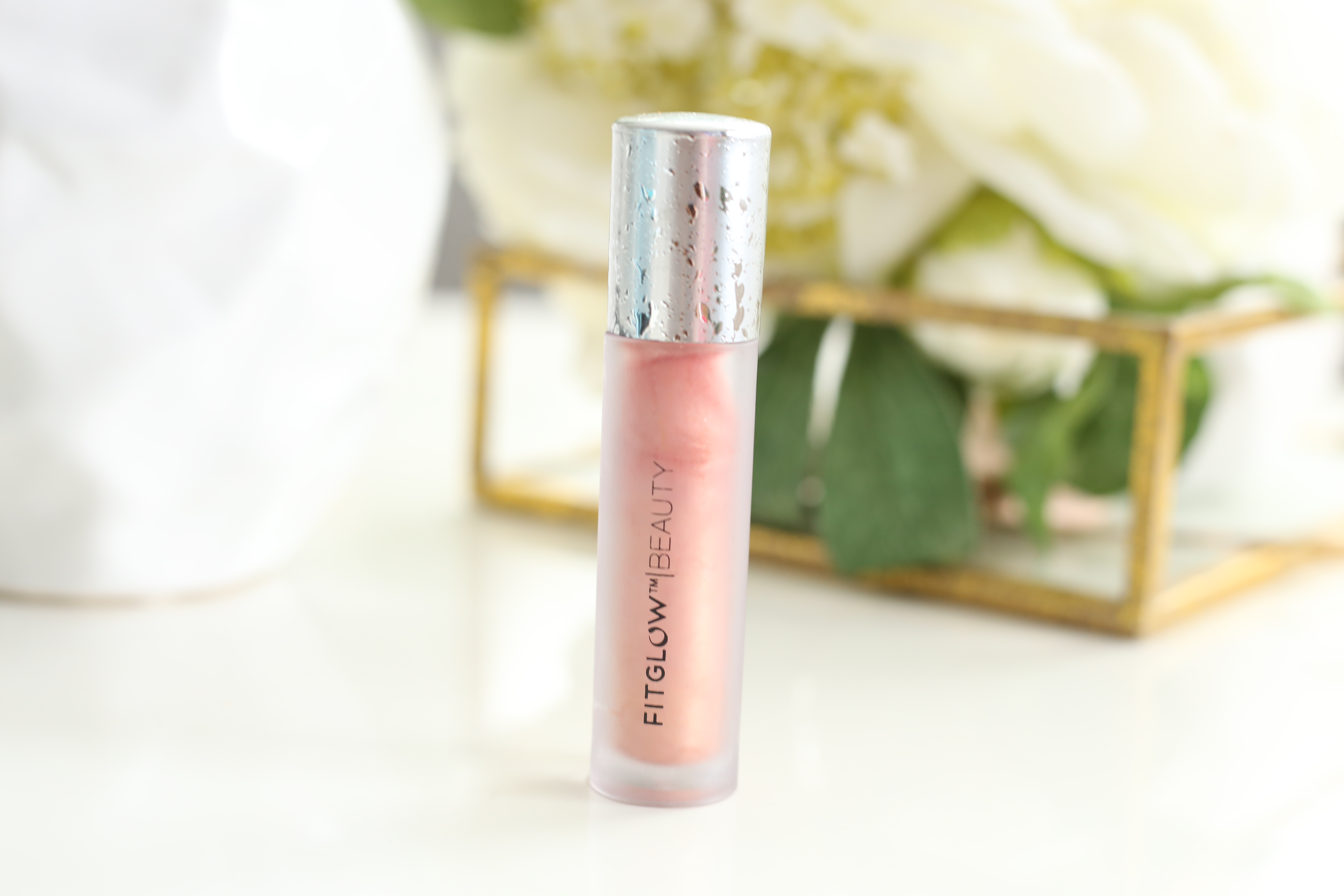 Lip Serum
Fitglow goes above and beyond just creating an organic lip gloss with beautifu color and clean ingredients but one scientifically formulated to improve lip cell structure and plump. Yes, this lip serum actually plumps my lips! I thought it was crazy at first but I definitely notice a difference. The Bliss shade is my absolute favorite, it's just so stunning and natural looking but Gospel is their bestseller.
Ingredients
Butyrospermum Parkii (Shea Butter)*, Cocos Nucifera (Coconut) Oil*, Helianthus Annus (Sunflower) Seed Oil*, Ricinus Communis (Castor) Seed Oil*, Vegetable Collagen, Copernicia Cerifera (Carnauba) Wax, Punica Granatum (Pomegranate), Sterols Beta Vulgaris Rubra (Beet Root) Cera Alba (Beeswax)*, Theobroma Cacao (Cocoa) Seed Butter*, Curcuma longa (Turmeric) Root Powder, Helianthus Annuus (Sunflower) Seed Oil & Lecithin & Yeast Extract (Organic Plump)*, Tocopherol Acetate (Vitamin E) Sorbic Acid, Vanilla Extract May Contain: Titanium Dioxide (CI77891), Iron Oxides (CI77499), (CI77492), (CI77491). *CERTIFIED ORGANIC INGREDIENTS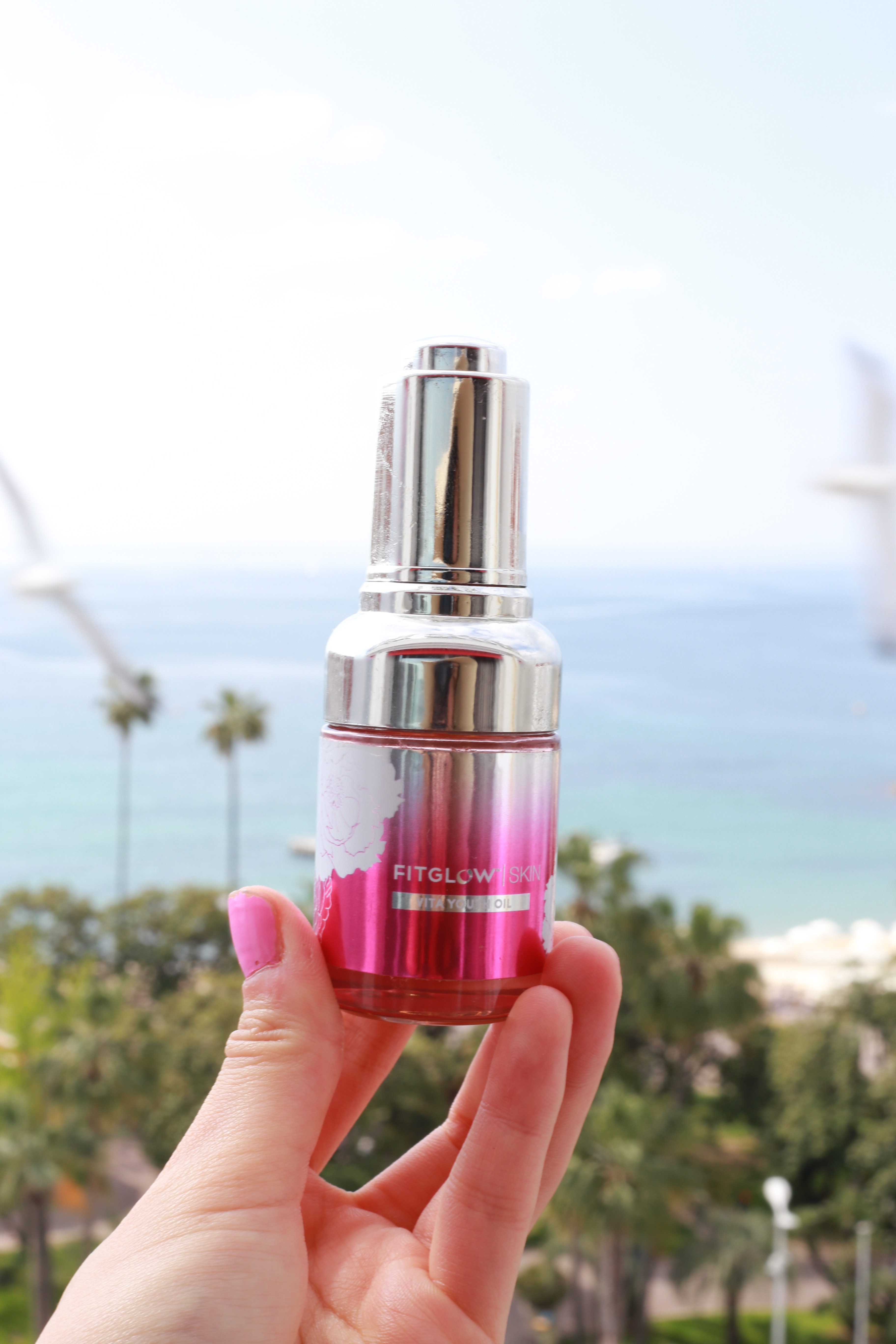 This is a safer natural alternative to traditional retinol products and requires just a few drops a night. Active oils are combined with plant stem cells and retinol to leave skin plump and glowing. I would say it is a light to medium oil that smells fruity and takes a while to absorb. Since I only used it at night this was fine for me. I wasn't a fan of its fruity scent as I prefer a more calming scent before I go to sleep. Pictured is the old bottle – now there's a new version with 30% more oil content than this one.
Improves skin elasticity and radiance
Reduces the look of lines and skin damage
Provides potent environmental protection from free radical damage
Improves skin health and regeneration of healthy cells
Ingredients
Orchis Mascula Extract (Orchid Oil)*, Borago Officinalis Seed Oil (Star Flower Oil)* , Rosa Canina Fruit Extract Rose Hip Seed Oil)* Squalane (Squalane From Olives)* , Helianthus Annuus (Sunflower) *Seed Oil & Malus Domestica Fruit Stem Cell Extract & Argania Spinosa Sprout Stem Cell Extract (Apple & Argan Stem Cell Extract )* Caprylic/Capric Triglyceride & Phospholipids & Retinol (Retinol liposome ), Sambucus Nigra Fruit Extract (Elderberry)*, Cucumis Sativus Fruit Extract Cucumber) ** Prunus Domestica Fruit Extract (Plum)**, Rosa Damascena Extract (Rose) ** *certified organic ingredients ** Organic Supercritical CO2 Extracts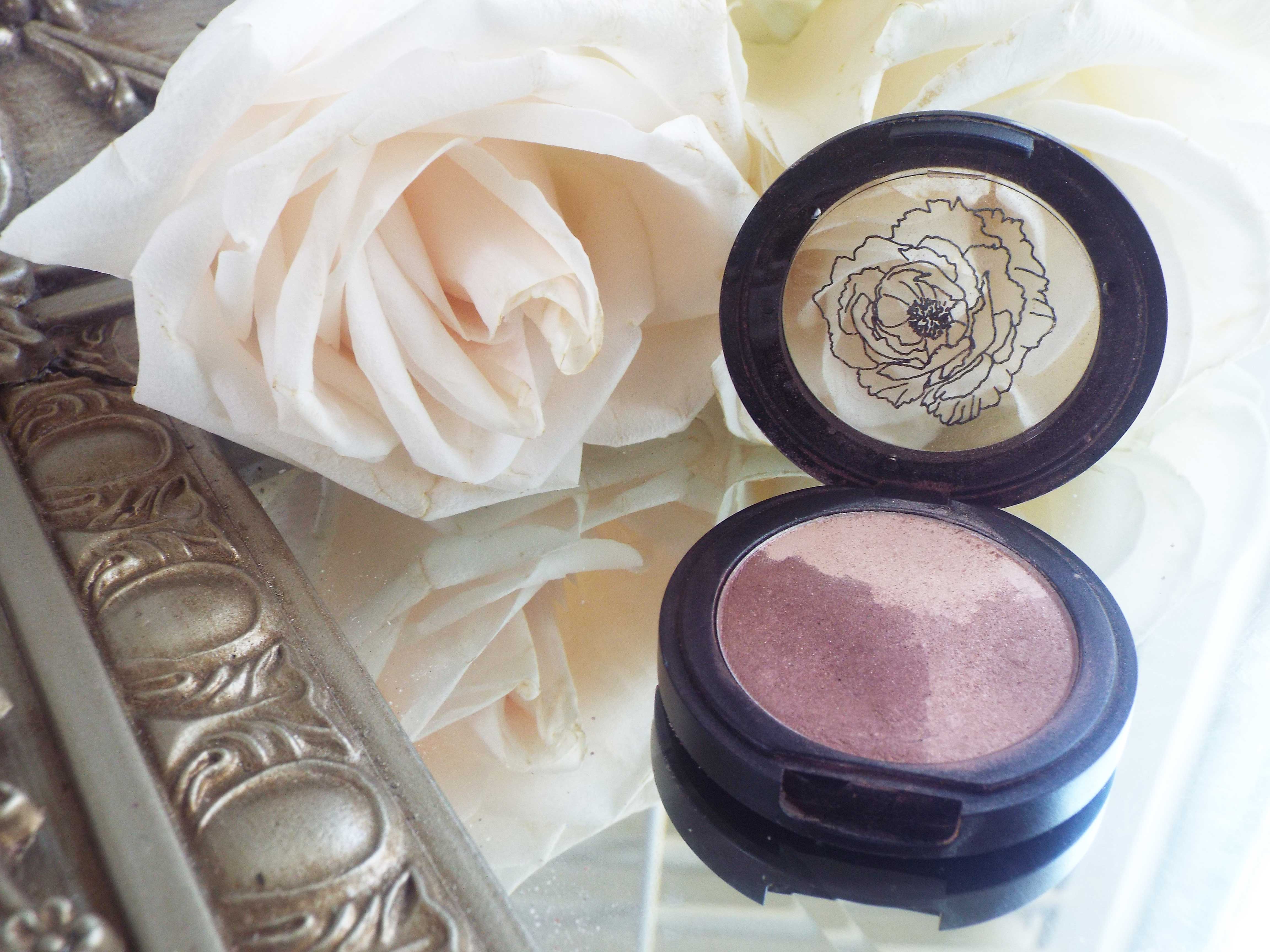 The 3-in-1 eyeshadow compact in SUNGLOW has got 3 shades I use nearly everyday. I even use the middle shade as a brow filler occasionally. The shades are richly pigmented and longlasting with a slight amount of shimmer. The darkest brown shade is more a warm brown than a cool one. This compact is super convenient as all 3 shades are side by side and the shades are just beautiful. SHOP
Ingredients
Castor Oil, Beeswax, Carnauba Wax, Candelilla Wax, Sun Flower Seed Oil, Shea Butter, Cocoa Butter, Jojoba Seed Oil, Coconut Oil, Cetyl Alcohol, Origanum Vulgare Leaf Extract, Thyme Extract, Rosemary Leaf Extract, Lavender Flower Extract, Golden Seal Root Extract, Lemon Peel Extract, Grapefruit Seed Extract, Tocopherol Acetate (Vitamin E)
These mineral blushes boast a triple-milled formula that works well for sensitive and even acne-prone skin. I have the shades in Pure and Fresh. Pure on the right is a more dusty rose color while Fresh has peach undertones. I've been wearing these blushes nearly everyday and find the pigment is rich enough and the powder lasts all day.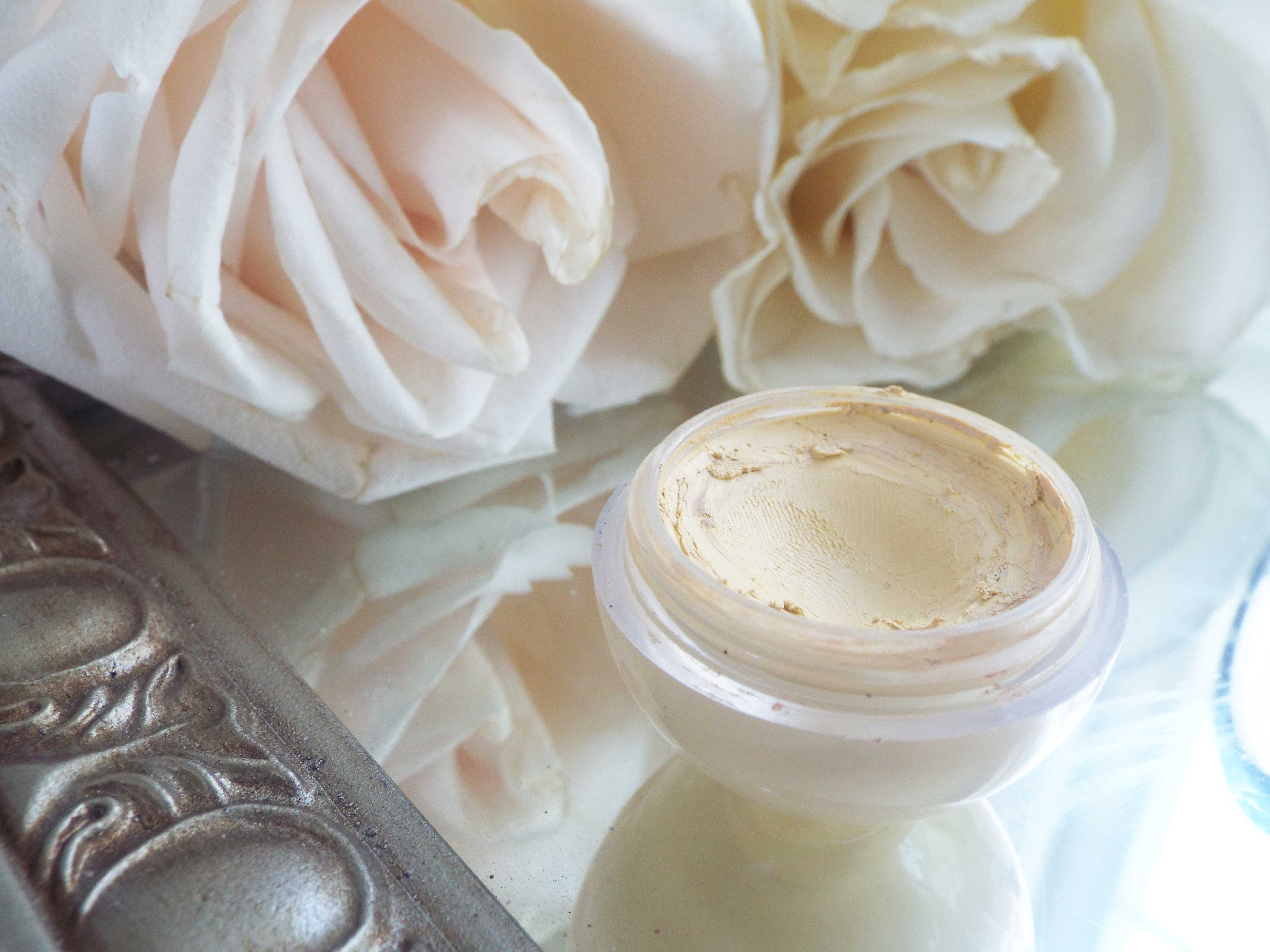 This isn't just an ordinary concealer to hide flaws, but a brightening one that also illuminates your look. I love using this to hide my undereye circles and brighten that whole area for a more youthful appearance. It's super concentrated and thick that even after 5 months of use I've only used about a quarter of this little bowl.
Ingredients
sweet almond oil, titanium dioxide, beeswax, shea butter, cocoa butter, iron oxide, coffee oil, jojoba oil, meadowfoam oil, evening primrose oil, avocado butter, tocopherol (vitamin e), rosehip oil, aloe oil, zinc oxide, rosemary) oleoresin, neem oil.
Good Lash Mascara (DISCONTINUED)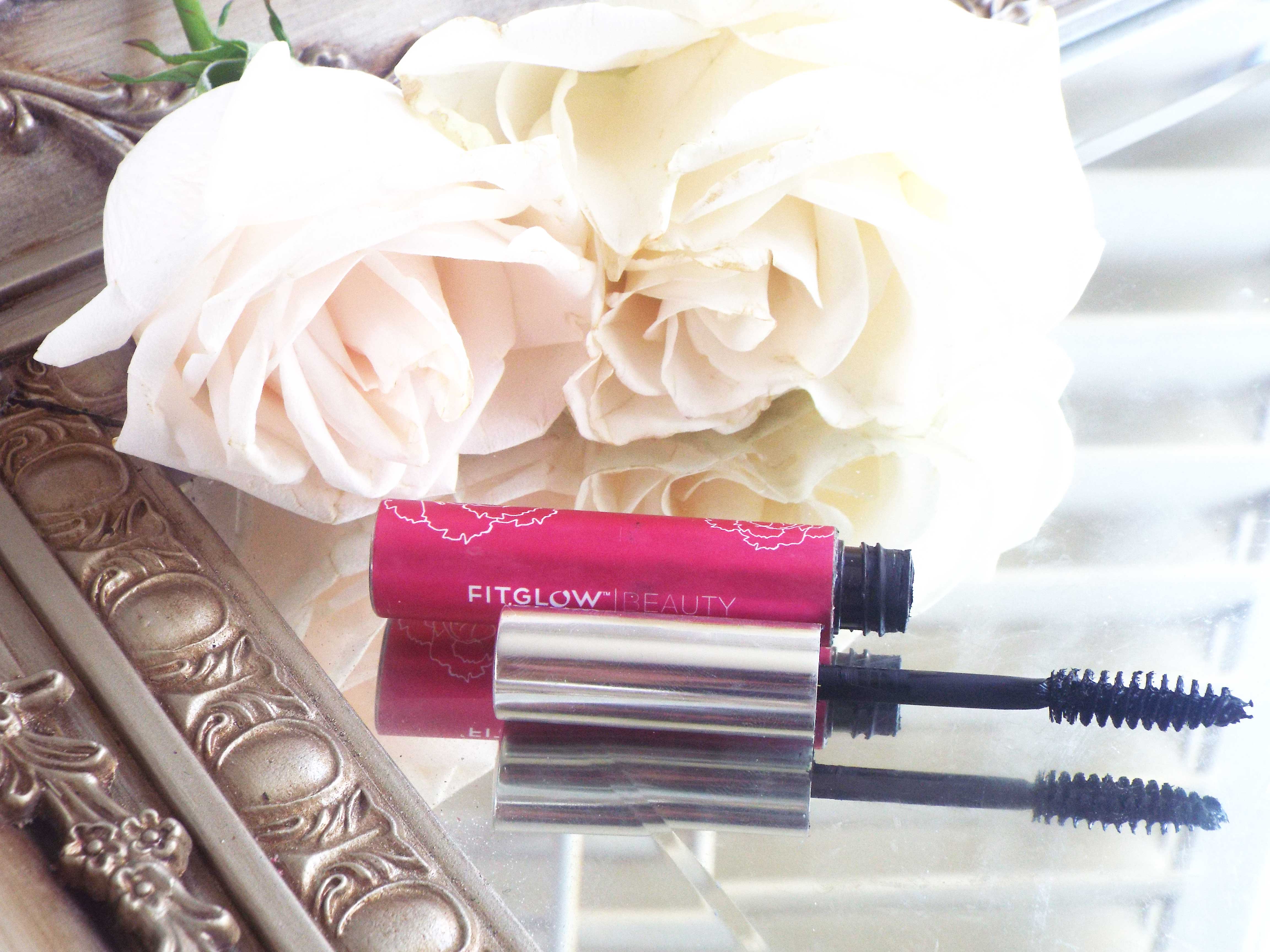 I find this mascara to be my preferred out of those I've tried. The formula of Organic Rice Bran Wax is thick and creamy enough that it really lengthens and volumizes my lashes and the wand is short for precise, controlled application. I have stubby and sparse lashes so mascara is a tricky one for me and hardly any mascara works well with my lashes. I used to use Maybelline Colossal Mascara and I'm quite happy using this as a replacement. It doesn't flake or clump even after building up multiple layers of application.
Organic Good Glosses & Lipsticks (DISCONTINUED)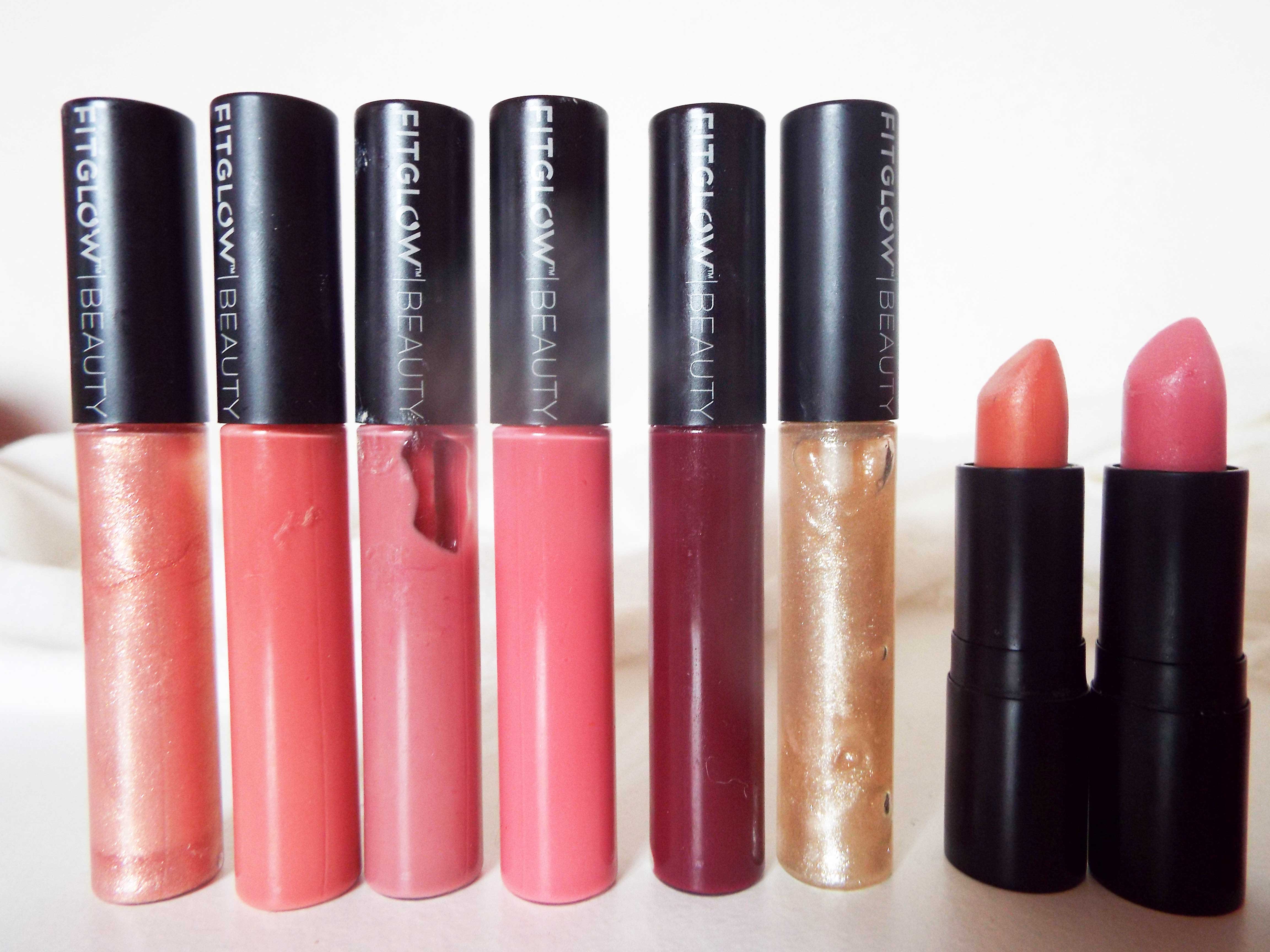 The Good Glosses are 90% Organic and contain Organic Coconut Oil, Shea Butter and Jojoba Oil to nourish lips without any nasty ingredients found in conventional lip glosses. My 3 favorites are Bliss on the far left, Glitz on the far right, and Nudie which is 3rd from the left. These 3 are the most wearable for everyday use for me and Glitz I love layering on top of lipsticks for extra shine and shimmer. They're super creamy, hydrating, non-sticky and smell chocolatey and I love the way they make my lips look fuller and plumper.
Ingredients
Castor Oil, Coconut Oil, Sunflower Seed Oil, Jojoba Oil, Bees Wax, Carnauba Wax, Cocoa Butter, Shea Butter, Vitamin E, *Origanum Vulgare Leaf Extract, Thyme Extract, Cinnamon Bark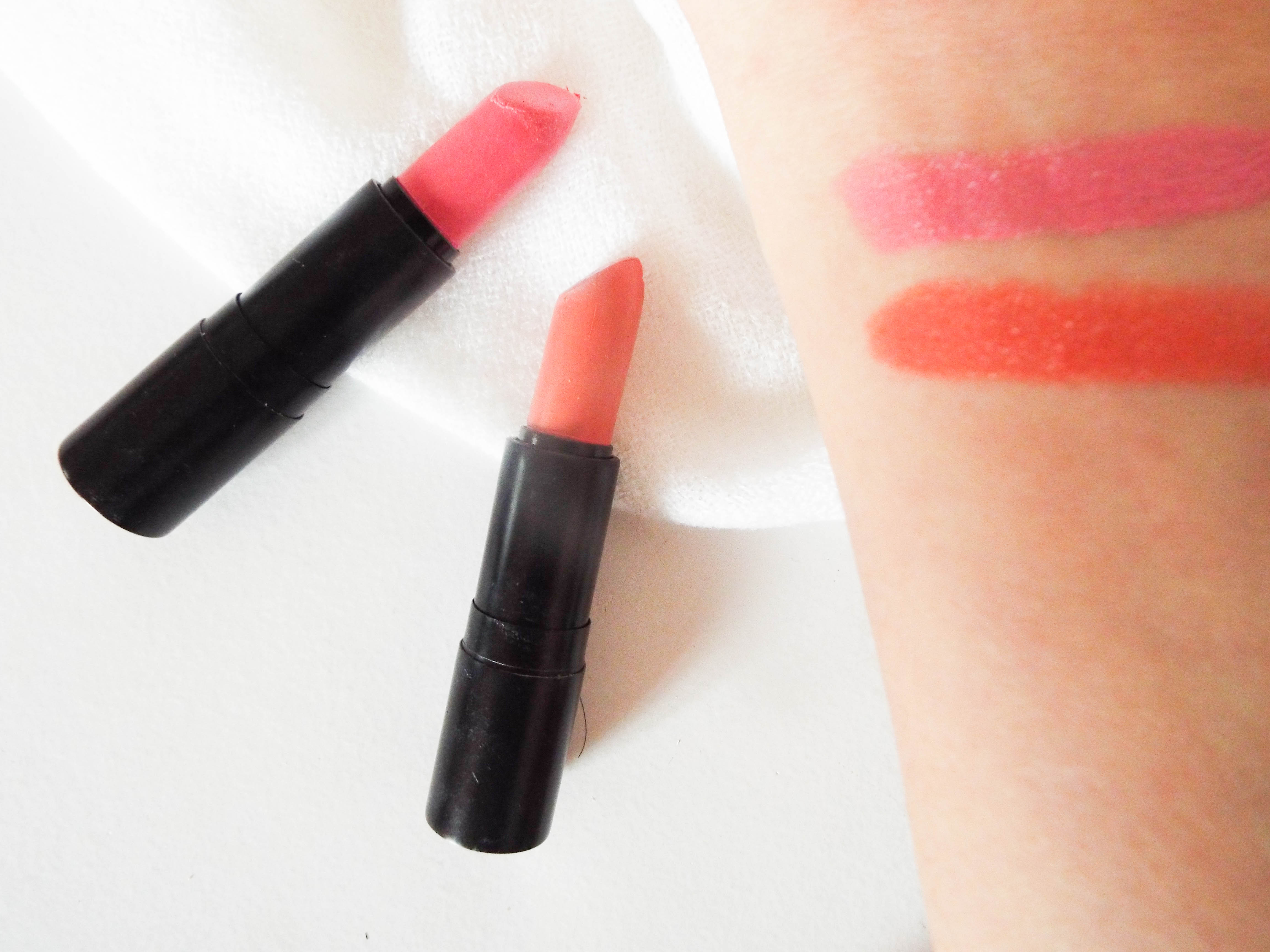 The Lipsticks are 95% Certified Organic and like the glosses are very moisturizing, creamy and longlasting. I have the shades in ChiChi and Mae pictured above and love Mae for a bright flirty pink and Chichi for a more nude look. Chichi is a nude with peach/orangey tones in it. You can see me model Mae in this Instagram pic here.