florapothecarie Review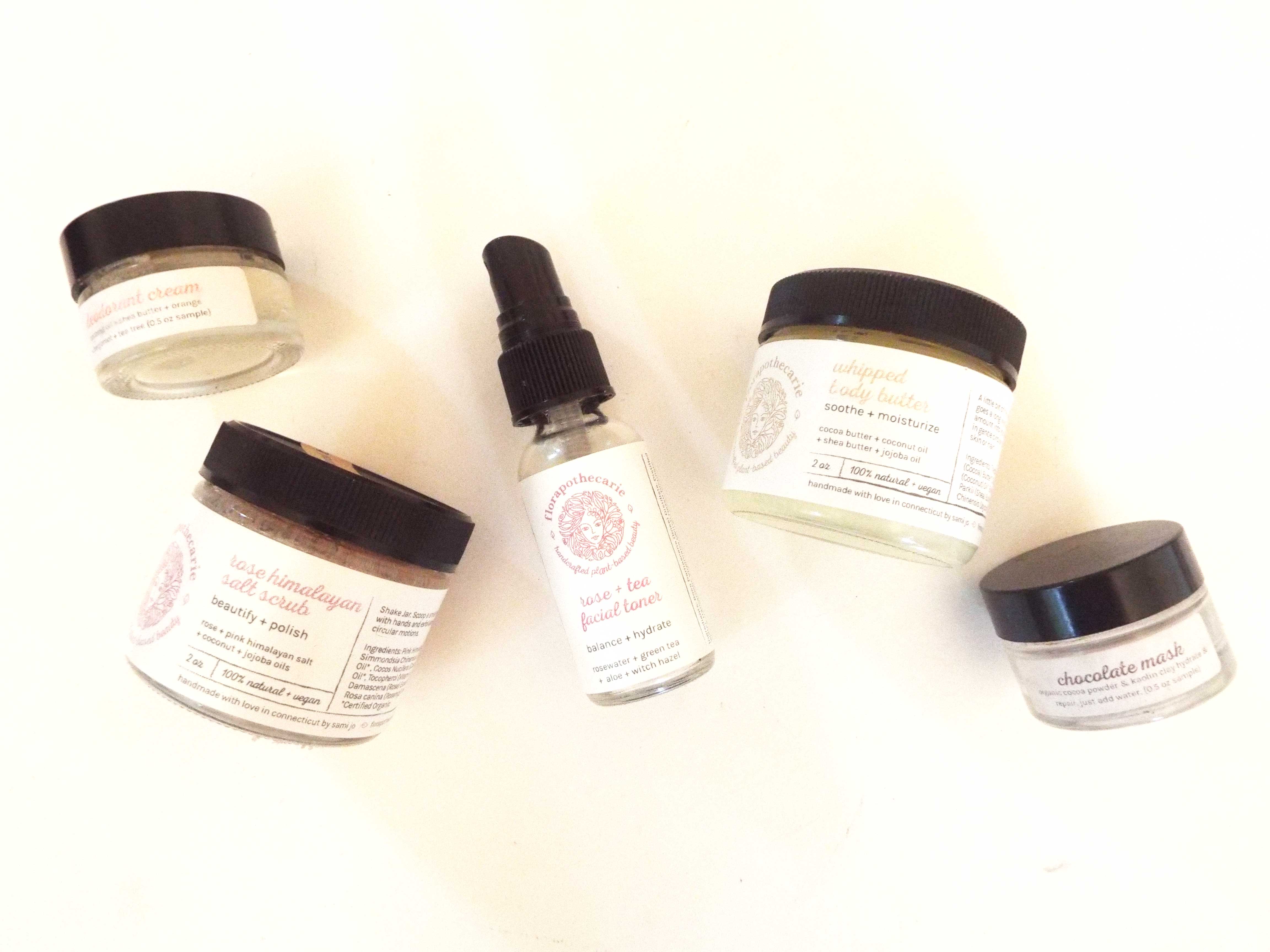 florapothecarie is a line of vegan bath & body products made of 100% natural, organic & fair trade ingredients. The founder Sami Jo Jensen in Connecticut handcrafts these products herself in small batches, and without any artificial colorants, fragrances, parabens, preservatives, or other toxic chemicals. I tried a variety of the line's most popular products and really enjoyed & recommend this line.
This rose & tea toner which can also be used as a mist is a blend of rosewater and aloe along with green tea extract. The hydrating and soothing formula comes in a beautiful glass bottle and has a delicate light rose scent. I kept this on my work desk and would spritz myself throughout the day as well after cleansing.
Ingredients
(Rose) Distillate, Distilled Water, (Witch Hazel) Distillate, Aloe Barbadensis Leaf Juice, (Green Tea) Extract*. *Certified Organic
I loved this clay-based mask made with organic cocoa powder, which is full of antioxidants to fight off free radicals, heal damaged skin, prevent premature aging, and reduce lines and wrinkles. Such a simple ingredients list, yet it has an impressive smooth & thick texture that spreads easily over skin and feels refreshing. My skin looked instantly smoother and slightly brighter after leaving it on for about 15 minutes.
Ingredients: Kaolin Clay, Organic Cocoa Powder, Dehydrated Coconut Milk.
Perhaps my favorite out of all the products I tried, this scrub has an amazing delicate rose, cinnamon and coconut scent. It's a blend of Rose otto essential oil, ultrafine Himalayan salt, and powdered rose hips to re-mineralize skin & draw out toxins. This scrub doesn't leave an oily film after applying. Scrubs are a much-loved part of my shower ritual because it's not only a form of self-pampering but it also allows for more nutrients from my body oils to be absorbed by my skin.
Ingredients
Pink Himalayan Salt, (Jojoba) Oil* , (Coconut) Oil*, (Vitamin E),(Rose) Essential Oil, (Rosehip) Powder. *Certified Organic
This nourishing body butter truly feels whipped and has a delicious cocoa butter scent. iI's rich in oils yet feels so light.
Ingredients
 (Cocoa) Butter*,  (Coconut) Oil*, (Shea) Butter*,  (Jojoba) Oil*. *Certified Organic
This feminine deodorant cream has an effective blend of arrowroot powder and baking soda to keep odor away and a sweet melange of Bergamot, Sweet Orange and Tea tree oil so you smell nice all day. It's a thick and creamy texture that's easy to apply though I do prefer stick deodorants. This deodorant worked well for me, but everyone's body is different so a deodorant that works well for one may not work well for another.
Ingredients
 (Coconut) Oil*, (Shea) Butter*, Arrowroot powder, Baking Soda, Candelilla Wax, Sweet Orange Essential Oil*, Bergamot Essential Oil, Tea Tree Oil.   *Certified Organic