GoodBeing Subscription Box Review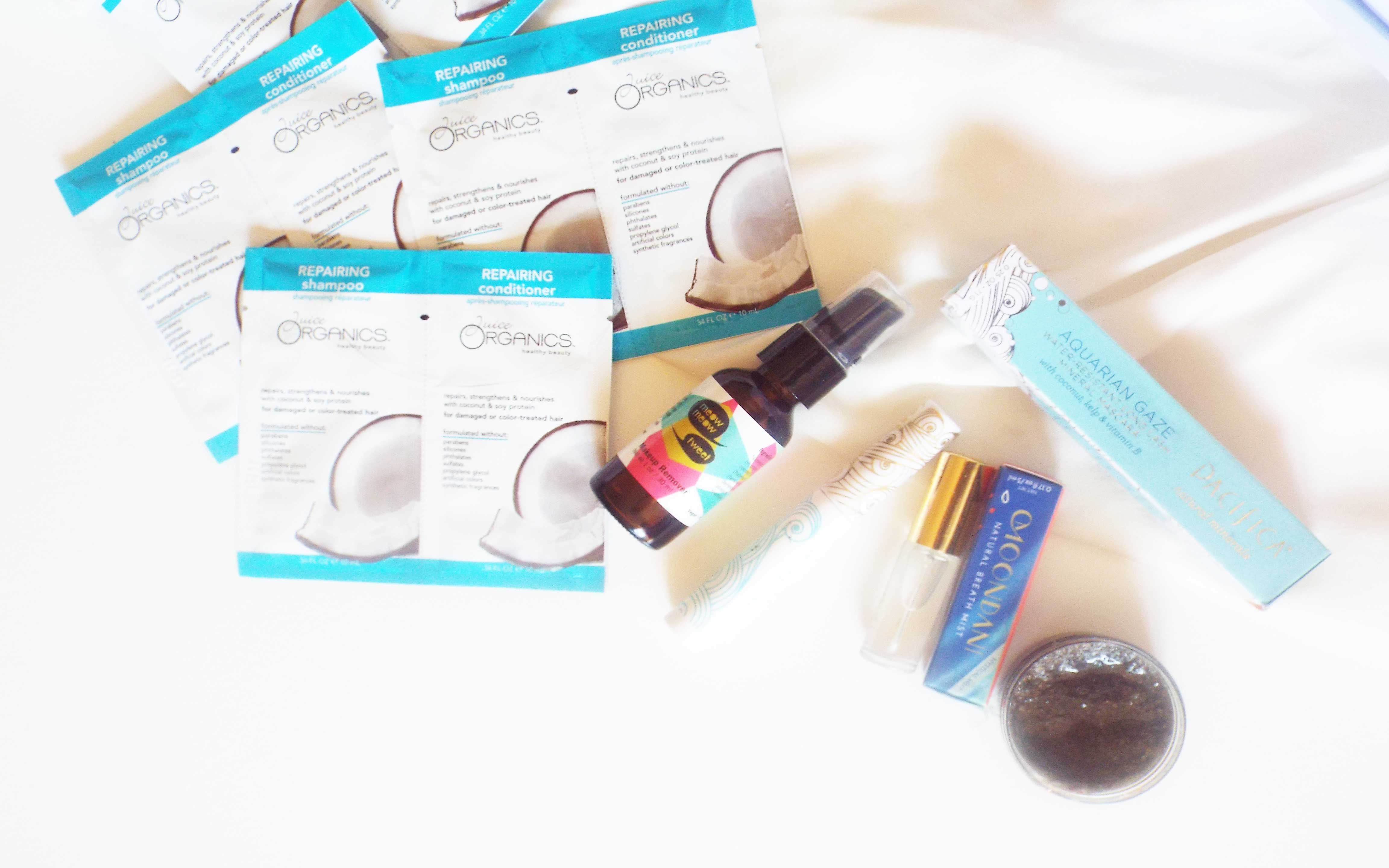 This is my first blog post on a subscription box and also my first time being a "brand ambassador" for one. A big thank you to all those who entered my giveaway for this box a while back! I'm a bit late with this review but here goes…
Goodbeing is a discovery box with 4-5 trial size products delivered monthly to your door featuring
Healthy beauty products
Non-toxic cosmetics
Natural wellness
Sustainable, toxin-free living goods.
This is one of the most popular natural beauty subscription boxes and for good reason. For $21 you receive a diverse assortment of products that you're bound to love. Why? Because when you sign up you take quite an extensive survey designed to figure out what products you'd actually want and use from your box. What's also great about this comopany is that you can pay monthly as you go and you don't need to commit for a lengthy period of time.
In the May box I received:
PACIFICA Aquarian Glaze mascara (Value $14)
This is a water-resistent mascara which I find perfect for summer when you want your eyes to still look gorgeous but you don't want racoon eyes if you're going to the pool or beach. This brand strives to create safer natural cosmetics and all their products are gluten-free, 100% vegan, and cruelty-free. If you have super sparse thin lashes this mascara won't transform your lashes but if you're looking for a safer option for waterproof mascaras this is a good choice.

meowmeow tweet Makeup Remover & Cleansing Oil (Value $8)
This is a much-loved brand as well and this cleansing oil contains a blend of fractionated coconut oil, hazelnut oil and jojoba oil with a light lemon and rose scent. I am a believer in double cleansing so I've been using this to take off my makeup before using a 2nd cleanser. It does a great job but takes a bit more effort if you have a ton of mascara and eye makeup on.
Juice Organics Shampoo & Conditioner Sample Bundle (Value $1.20 per sample)
The repairing shampoo and conditioner contains coconut and soy protein, borage seed oils, organic aloe and organic grape juices to help hydrate and strengthen hair. The shampoo suds very well and does a thorough job at cleansing even when my hair has become super oily. The conditioner also didn't dry out my hair and left it manageable and soft. 
Moondani Breath Mist
I was quite surprised that this natural breath mist tasted exactly like the breath mists I used when i was young – but without any toxins or chemicals. The blend of  cardamom, fennel and ginger help freshen my breath and feels so refreshing in my mouth. This is quite a powerful breath mist and it did not disappoint. (Sorry I lost the info card for this and couldn't find the retail value!)
London's Pedisoaks Foot Polish (Value $5)
This product is a great choice for summer when we want our feet looking our best. it's a blend of 2 premium fine salts to exfoliate dead skin cells, natural fruit acids and nutshells to buff skin, and moisturiying oils to hydrate skin. It has a strong peppermint scent and has a high oil content so it's super nourishing.

This subscription box consistently allows its subscribers to discover super popular as well as some lesser known brands. For example in previous boxes I noticed they featured luxury brands such as: Vapour Organic Beauty, MUN, Prim Botanicals, KUMARI, Odacité, Alima Pure, Kahina Giving Beauty, May Lindstrom, One Love Organics, Mahalo Skincare, Josh Rosebrook, W3ll People, INDIE LEE, Gressa Skin & many more.
If you're interested in trying out this box, this is my affiliate referral link here.
They're currently offering 1 free bonus product with new sign-ups.

Goodbeing also ships internationally to Canada, the UK, Ireland, Australia and New Zealand. (additional $9.00/EUR 7.90/ 6.22 GBP/ 11.50 CAD / 12.20 AUD / 13 NZD)