HUM Nutrition Review + giveaway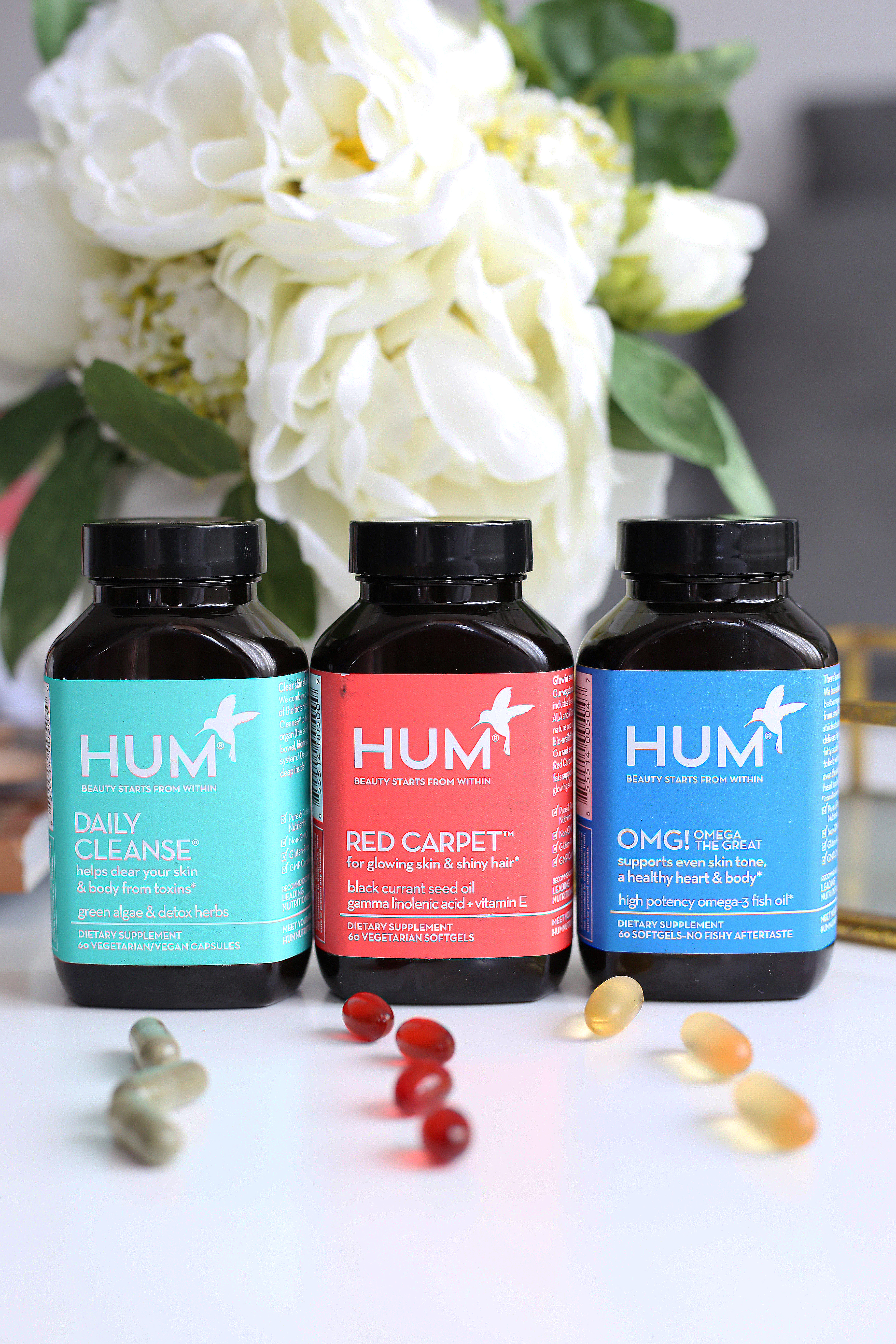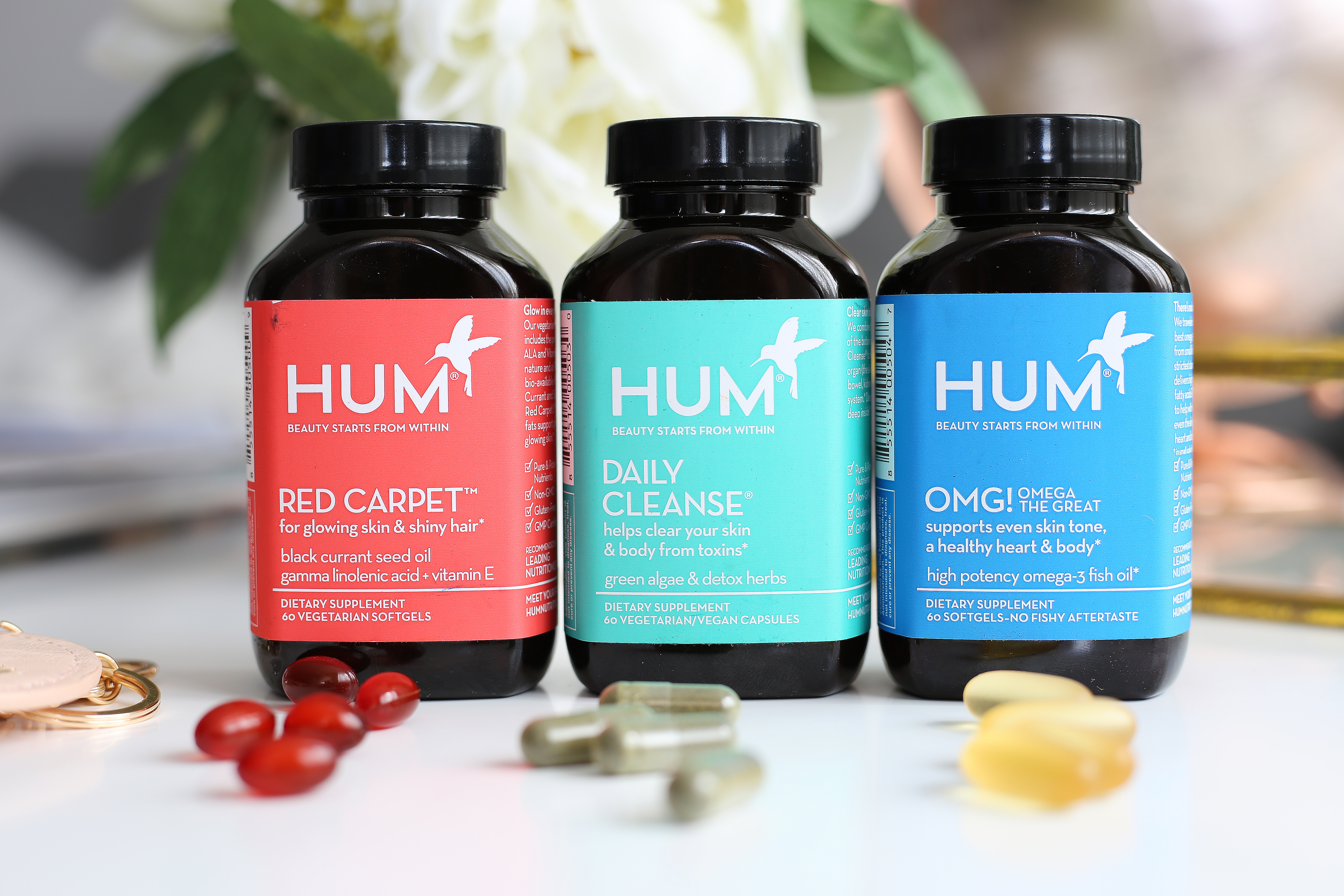 HUM Nutrition is a super high quality supplement line exclusively sold at SEPHORA and their website and they recently gave me the opportunity to try 3 of their products: RED CARPET, DAILY CLEANSE & OMG!. The first things that popped out at me, and which lends to their strong brand recognition, were their bright colorful labels & catchy names. One of the first things a friend of mine asked me after she saw my Instagram stories showing the products was to let her know if I think they're worth the price. So in case this is the first thing you're thinking of too, my answer is yes, BUT only for the supplements that you actually need.
To be honest I wasn't sure how I'd be able to review supplements. As a beauty blogger i'm testing out a variety of products all at once, and as one follower pointed out, bloggers can't really know the effects of 1 product if they're using 10 skincare products at once. So I was wondering with supplements how would you really know if you're experiencing positive effects from the supplements or because you increased the number of your weekly yoga workouts or because you rotated in new skincare products – fact is you can't unless you cut out all these other variables. So it's all based on perception, but everyone's reality IS their perception anyways.
So about HUM, HUM Nutrition sets themselves apart from other nutrition companies by offering a personalized approach using a revolutionary profiling methodology and leaders in the field of nutrition. You take a short online quiz and are then suggested a regimen of products that meet your health & beauty goals.  HUM products are 100% natural, pure, premium quality, sustainably sourced, non GMO and gluten free. Personally, I'm not religious about supplements. I buy them when I feel like buying them and take them when I feel like taking them but I don't stick to it everyday all year round. With the HUM supplements I committed myself to taking them everyday to see if I really noticed results.
The Daily Cleanse is what I would recommend you to get if you're wanting to try HUM and don't know which to start with.  I think the first step should be to rid your body of toxins so that everything else you take can really get to work. You take 2 capsules before you eat anything so I would take this as soon as I got up with a big glass of water. If I was running late for work, with a sip of coffee before dashing out the door.  Highlights of the Daily Cleanse include:
Cleanses your skin, liver, bowel, kidneys and lungs
Organic Algae
Cleansing Minerals
15 Detox Herbs
The Science Behind it
Studies have shown the anti-inflammatory properties of ALA, making it a vital antioxidant that protects the body's cells and aids in energy production.  "α-Lipoic acid has anti-inflammatory and anti-oxidative properties: an experimental study in rats with carrageenan-induced acute and cotton pellet-induced chronic inflammations." Br J Nutr. 2011. The American Cancer Society notes that milk thistle is said to detoxify and protect the liver, strengthen the spleen and gallbladder. Further, research has looked into silymarin, a key extract of milk thistle, as a potent antioxidant.
Effects I Experienced
I noticed 2 effects: practically zero zits/pimples and regular use of the bathroom. I'm someone who gets zits regularly along my chin/jawline and occasionally on my cheek. While I was taking this supplement I noticed I didn't have any zits appearing on my face and the flesh colored nearly invisible bumps subsided. I also had great movement down there. Some people experienced allergic hive reactions when taking this product so take caution.
OMG! Omega The Great
This fish oil supplement supports even skin tone, a healthy heart, brain & body and really does contain very high quality fish oil. I took 2 giant pills with food per day and would also recommend this product from their line, which is more potent than what you'd find in the supermarket. Its higlights:
Ultra pure fish oil
Ideal ratio of the actives EPA & DHA
High amounts in only two pills
No fishy aftertaste
The Science Behind It
Many studies suggest that the omega-3 fatty acids, EPA and DHA, found in the fatty layers of cold-water fish can keep your heart and body healthy by reducing overall inflammation. Our supplements are derived from the highest quality of sustainably sourced small fish, ensuring the purest and most nutrient-rich standards. Research connects the fatty acids in fish oil to healthy hair and skin function. According to research at the University of Manchester, the properties in fish oil have been proven to protect the skin from damaging sun rays by stimulating the production of healthy skin cells. And the benefit of fish oil extends beyond hair and skin. Research from the American Heart Association has shown that the omega-3 found in fish oil can also reduce the risk of heart disease while lowering the level of bad cholesterol (LDL) and increasing levels of good cholesterol in the body (HDL). Sources: Pilkington Suzanne, et al. "Randomized controlled trial of oral omega-3 PUFA in solar-simulated radiation-induced suppression of human cutaneous immune responses." The American Journal of Clinical Nutrition 97 (2013): 646-52. "Fish and Omega-3 Fatty Acids." American Heart Association. May 2014
Effects I Experienced
This is really hard to say. I use a lot of great skincare products, mask multiple times weekly, eat a healthy diet, drink lots of water etc. so I can't claim that this vitamin gave me glowing skin. I did read reviews by people saying that this is the one product that helped clear their cystic acne, hormonal acne and breakouts. What I can say is if you're looking for a quality fish oil that is designed to work more quickly than supermarket fish oil out of sheer potency, why not give this a try.
Red Carpet is the number 1 selling supplement at SEPHORA and is designed to give you glowing skin & shiny hair in 6 weeks. It's a Vitamin E- focused product (from sunflower oil) with ALA (from Black Currant Seed Oil) and its highlights include:
Rich in plant-based omegas
Vegetarian formula
Hydrates hair + skin cells
The Science Behind It
Black Currant Seed Oil is an excellent source of GLA (gamma-linoleic acid) and ALA (alpha linolenic acid). According to University of Maryland Medical Center, GLA stimulates healthy skin and hair growth, and is a strong anti-inflammatory. ALA, an omega-3 fatty acid, also acts as an anti-inflammatory agent, known to prevent heart disease and stiff joints. Sunflower seed oil contains Vitamin E and fatty acids that promote shiny hair and glowing skin. As an antioxidant, Vitamin E neutralizes free radicals that damage collagen and dry the skin. According to the University Maryland Medical Center, a healthy dose of Vitamin E can prevent premature aging and damage. Research suggests that Vitamin E improves capillary growth, which increases follicle circulation and moisture for fuller hair that is free split ends. Sources: "Vitamin E." University of Maryland Medical Center. January 2012. Beoy LA, et al. "Effects of tocotrienol supplementation on hair growth in human volunteers." Pub Med. NCBI. NLM. NIH. December 2010. "Gamma-linoenic-acid." Complementary and Alternative Medicine Guide. University of Maryland Medical Center. July 2011. "Black Currant." WebMD.
Effects I Experienced
My hair does look healthier and air dries with less frizz but, again, how can I really know it's because of the supplements or because I increased the number of overnight oil treatments or because I switched in a new shampoo/conditioner. One thing I feel like I DID notice that I feel I can say is because of these supplements, is that despite my use of top-tier organic skincare products, I will still have seriously haggard looking dull skin at about 1am before doing my nighttime skincare routine and going to bed. When I was younger my skin looked plump, fresh, vibrant no matter how late it was and no matter how little sleep I got, but now it totally shows on my face in the wee hours of the night. After about a month of taking these supplements I felt like when I'd go look in the mirror at midnight or 1am before going to bed I was starting to look more like my old self in that my skin didn't look as zombie like anymore. Even if my eyes look tired, my skin didn't look as sunken in, dry & dull.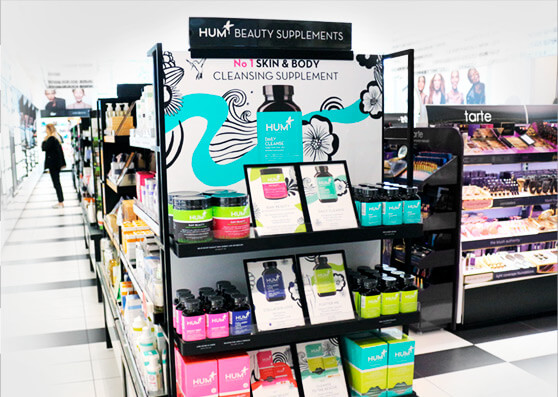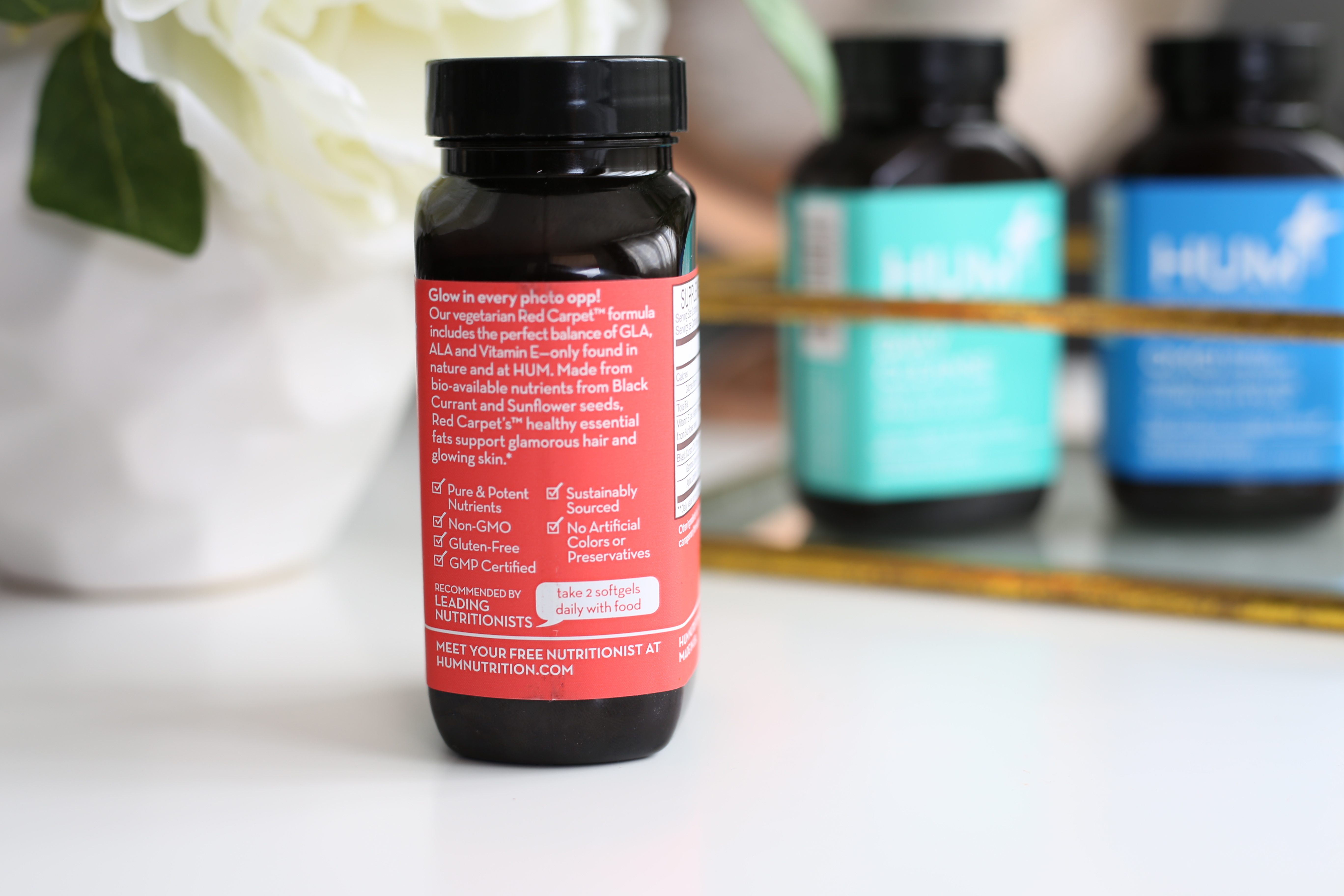 GIVEAWAY FOR 2 WINNERS
Enter on my Instagram post here. Ends Mon May 15, 2017!
Details:
2 winners will receive a @humnutrition supplement of their choice! Simply:
– Follow @humnutrition & me
– Tag friends (each tag is an entry)
Bonus: For 10 extra entries repost with #oblhum.