Red Light Therapy is a hot topic in the skincare community these days as an anti-aging therapy. But it's actually been around for a long time: In 1903, a Nobel Prize of Medicine was given to a scientist for the use of light therapy, in the 1980s NASA used red light therapy to grow plants in space, in the 1960s it was used primarily in Eastern Europe for treatment of chronic pain, arthritis and soft-tissue injury, and in the 1990s physical therapists noted a recovery time of 50 times faster than without the therapy. In short, there is an abundance of studies done on the proven benefits of LED light therapy. Read on for the skin benefits of Red Light Therapy and my Lumiere Skyn HyperGlo LED Mask Skin Rejuvenation System review!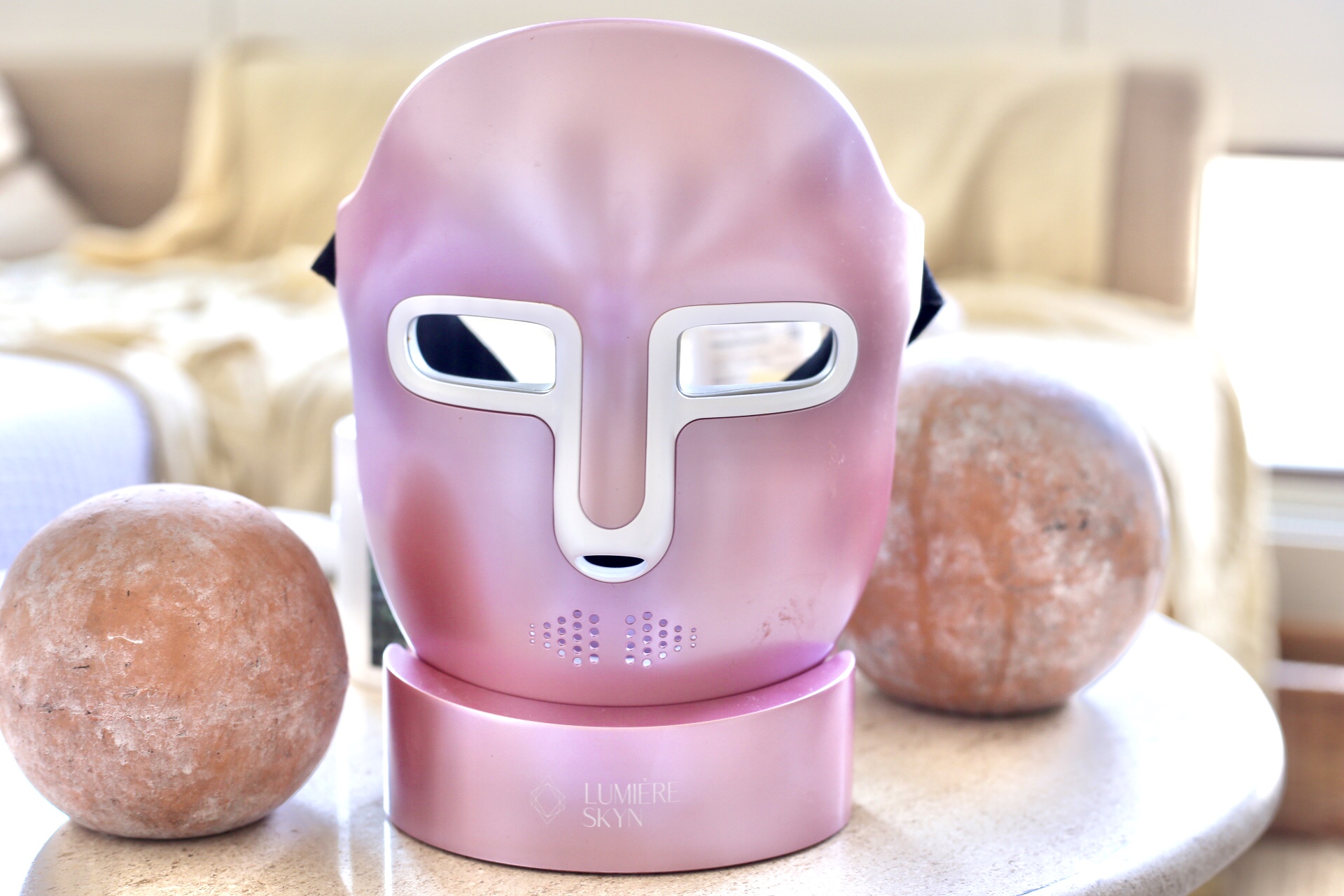 Red light therapy uses a natural wavelength of light that is considered bioactive in human cells. It combines LED (light emitting diodes) and heat. But how does Red Light Therapy help our skin? The basic concept is energy. According to a study in the journal Seminars in Cutaneous Medicine and SurgeryTrusted Source, mitochondria in the skin cells can absorb these light particles. This can help the cells produce more adenosine triphosphate, which is the energy source for all cells. With this extra energy, the cells can respond better to damage and rejuvenate themselves. Skin also produces more collagen and elastin, which helps skin look youthful and plump.
A review in the journal Seminars in Cutaneous Medicine and Surgery states that Red Light Therapy helps the skin by:
increasing collagen production in the skin, which gives the skin its elasticity
increasing fibroblast production, which helps produce collagen and other tissue fibers
increasing circulation between blood and tissue cells
protecting cells from damage
increasing mRNA in the cells, which helps stimulate the cell
improving facial texture
reducing fine lines
reducing wrinkle severity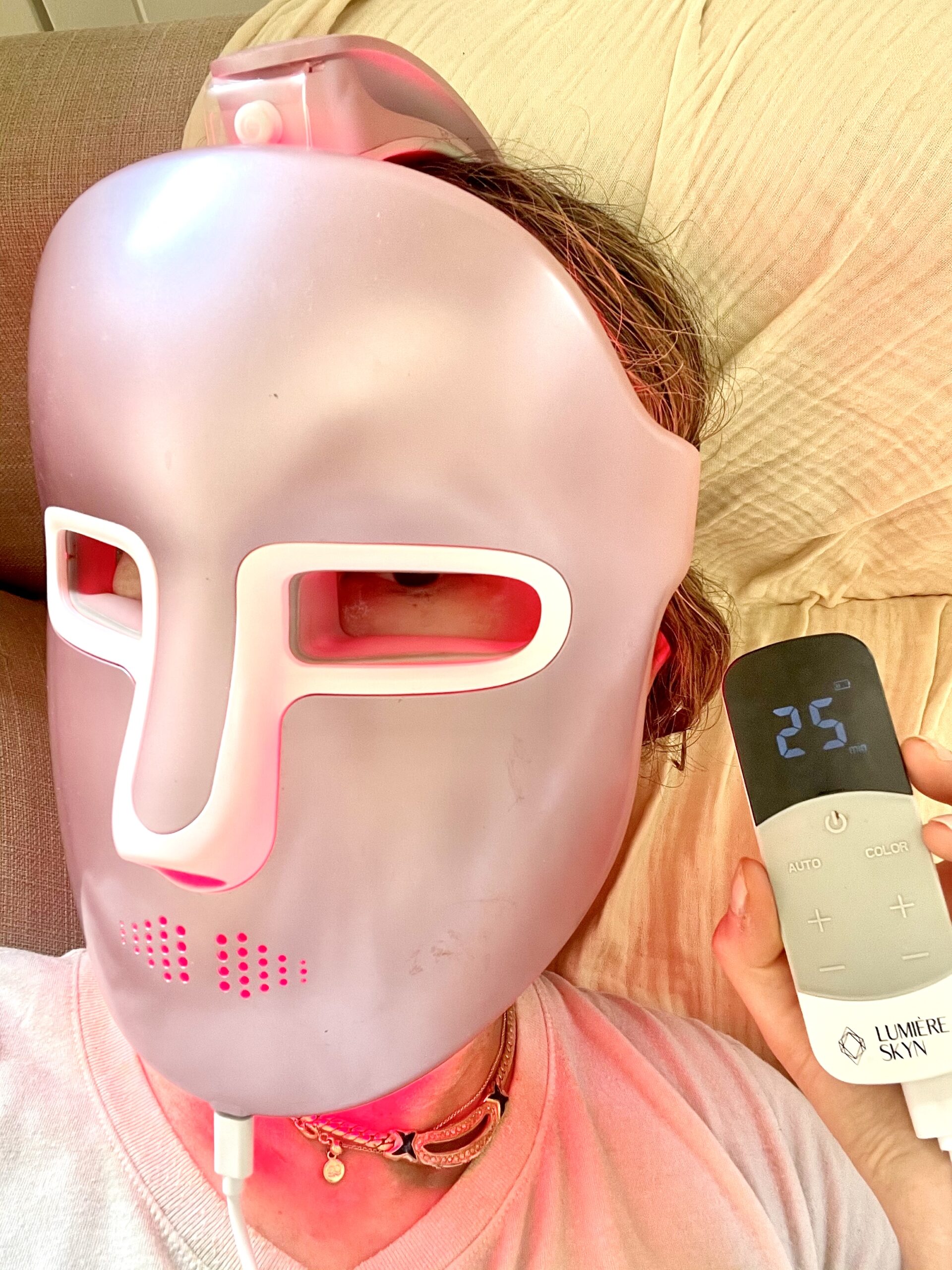 Launched by Lumiere Skyn, the HyperGlo Skin Rejuvenation Therapy System is an LED face mask that features 119 medical-grade LEDs with 3-color wavelengths – red, blue, amber/yellow photons.
HyperGlo LED Mask comes with:
LED Mask
USB cord to connect the remote to the mask and to charge the remote
Remote control
How Often Should I Use It
For maximum results, use consistently for 17-25 minutes every other day. I use the HyperGlo LED Mask in the morning, sometimes on bare skin and sometimes after my skincare routine.
After around five full 25 minute uses of the mask, the remote control needs to be charged again to power the mask.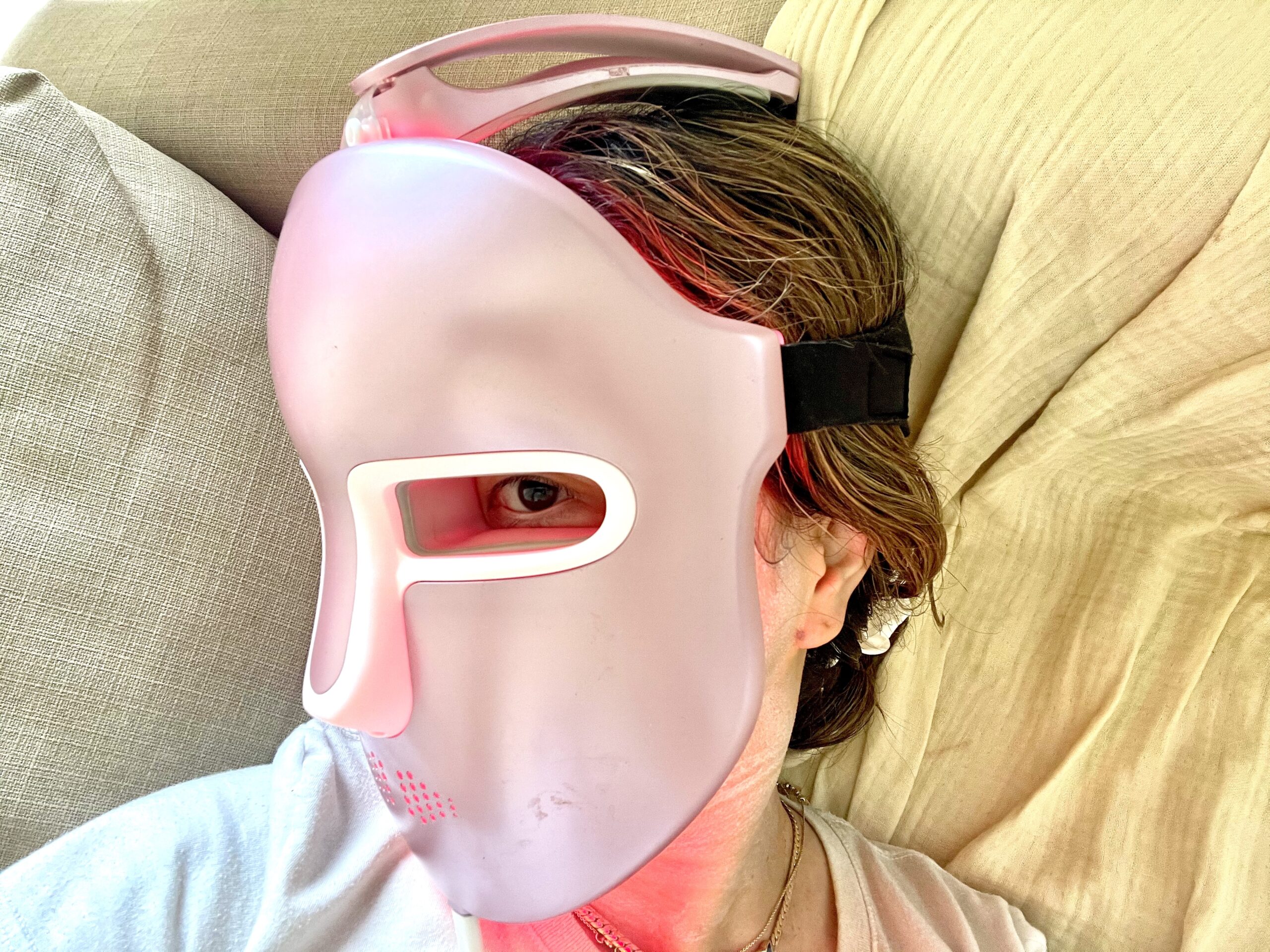 Is It Comfortable
The HyperGlo LED mask comes with a decent and the mask itself is very lightweight. While the mask itself doesn't feel heavy when on, the rubber eye cushions feel heavy and drag down the eyes a little.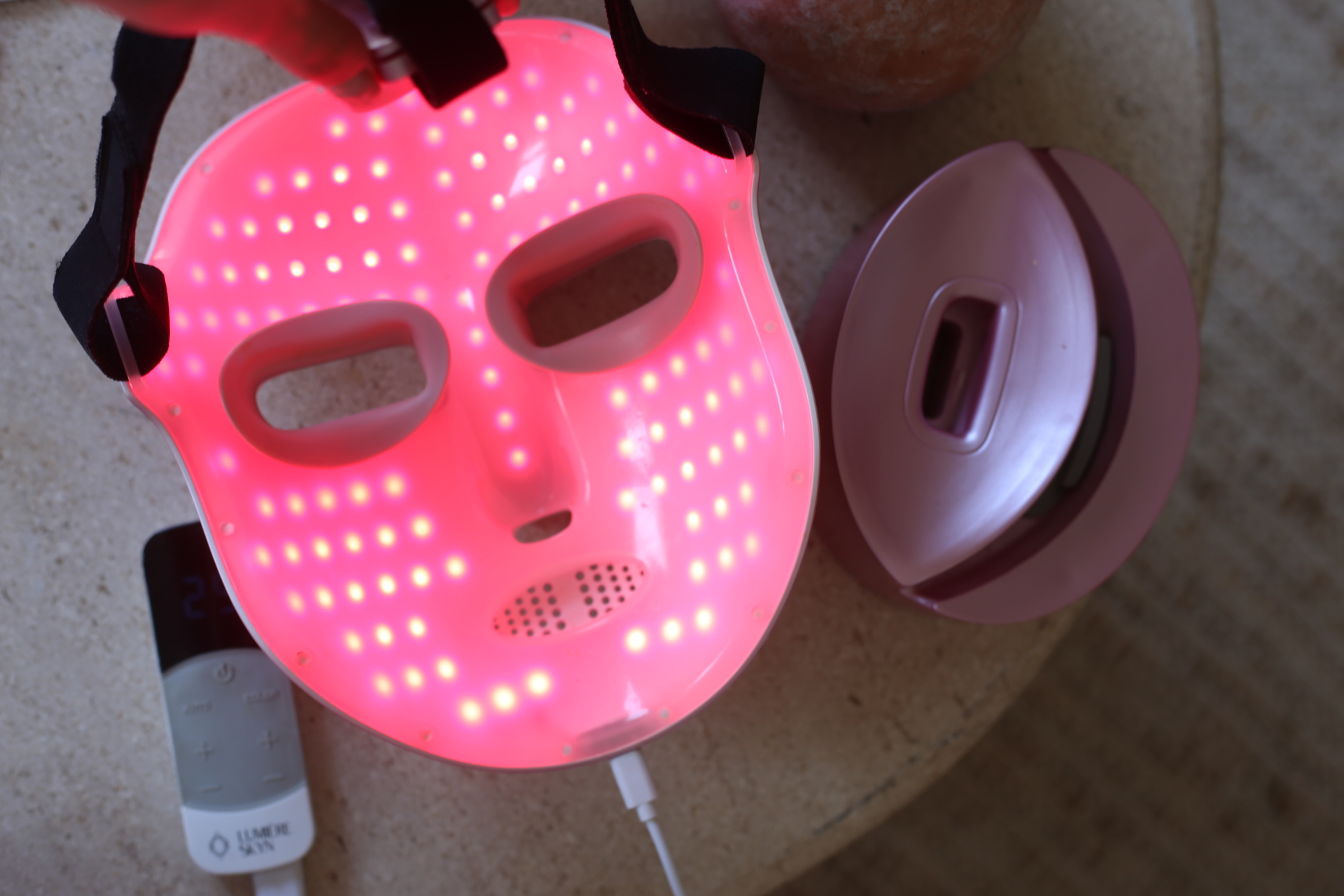 SKIN REJUVENATION MODE (RED)
630-680 NM Red Lights

Anti-Aging Properties

Promotes Collagen

Tightens & Firms Skin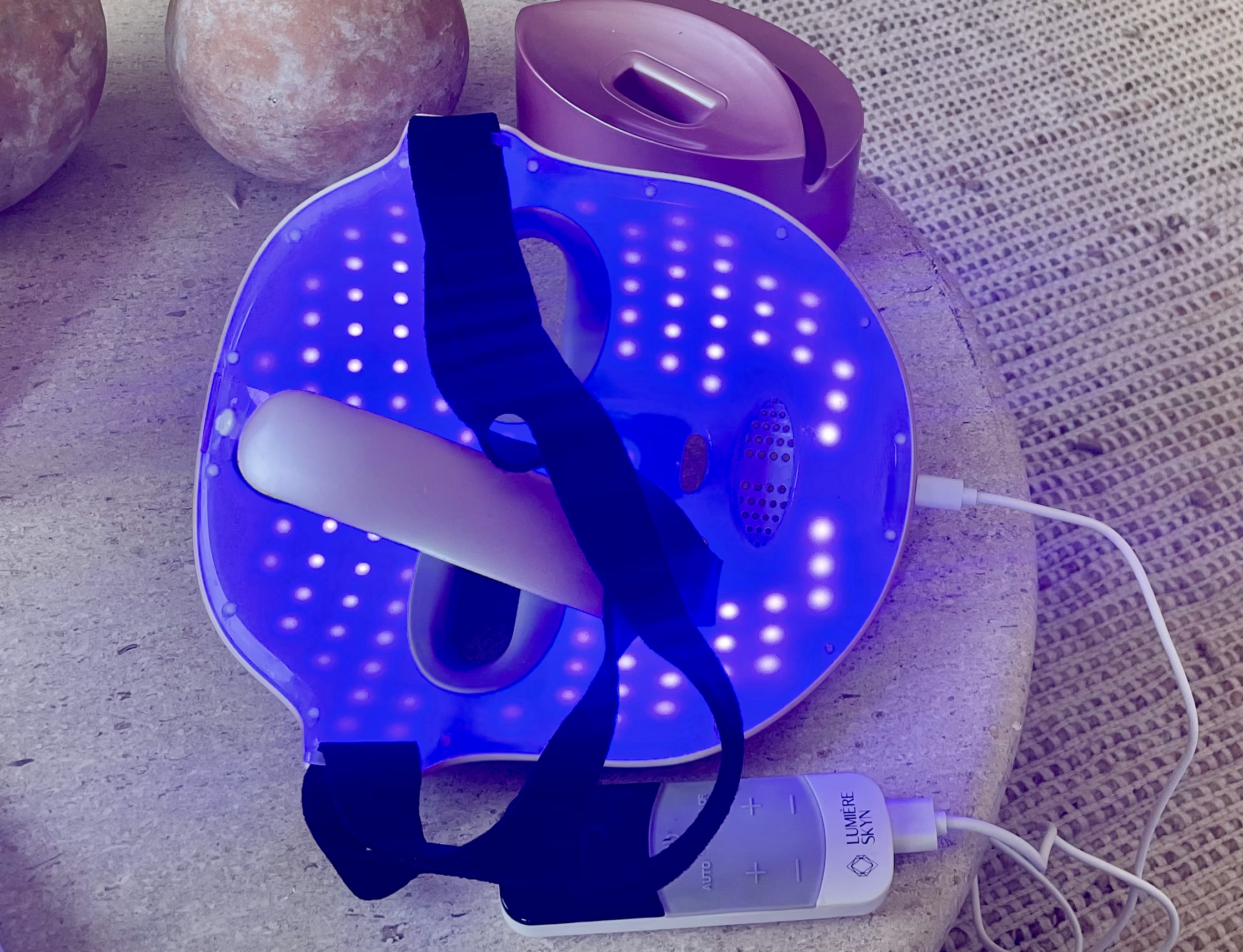 ACNE FIGHTING MODE (BLUE)
420-460 NM Blue Lights

Kills Acne Causing Bacterias

Decrease Appearance of Scars & Acne

Decrease Inflammation Of Skin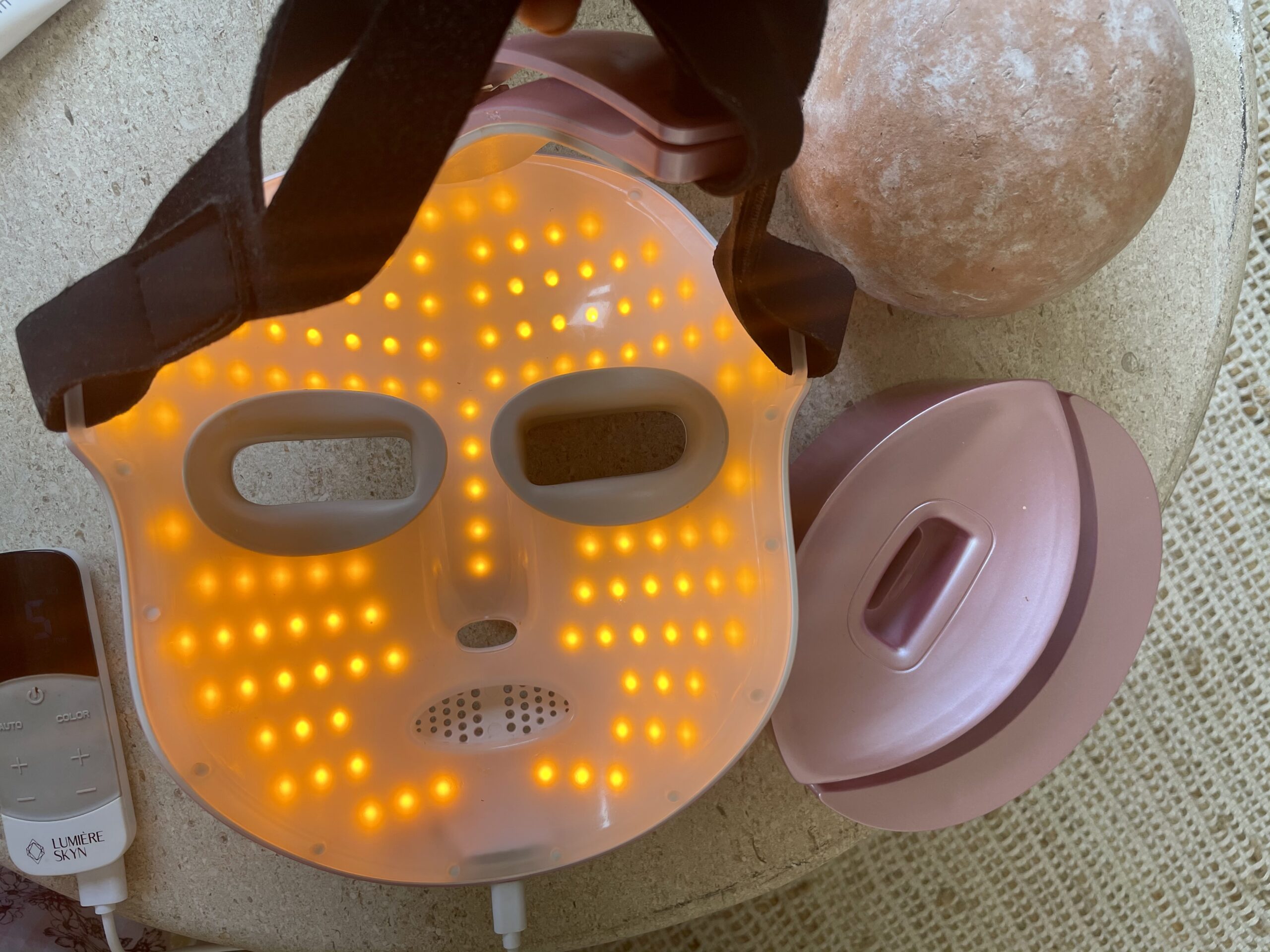 SOOTHING REPAIR MODE (YELLOW)
590 NM Amber/Yellow Lights

Increases Skin Elasticity

Reduces Hyper-pigmentation

Promotes Balanced Skin Tone & Texture
This is always tough for me to say with skin tools and I don't like to sugarcoat, exaggerate or sound overly salesy. Everything is so subjective and the only way to truly know is to do controlled studies, which is impossible for me as I use dozens of skincare products daily.
Having said that, I personally am a believer in red light therapy and the studies done on its proven benefits so I can only have faith in that I'm giving my skin extra energy to fight damage and self-rejuvenate (fingers crossed). I know that with professional facials, my skin always has looked best when there is a 30 minute LED red light panel included. As professionals always say, it is infinitely easier to prevent than to treat so that is my goal.