I am so excited to share with you all the Indie Beauty Expo Best in Show 2019 Collection! I attended the Indie Beauty Expo 2020 show (thank goodness it happened in January before the pandemic-onium began) and even wrote up a blog post sharing some of my cool indie beauty finds. More than 650 different indie beauty brands exhibited across the expo's North America and Europe shows and there were over a thousand products to evaluate.
About the Indie Beauty Expo Best in Show Box
This gigantic 30 pound box is valued at over $1500 and features 38 full-size or deluxe-sized products from top-performing brands that exhibited at any of Indie Beauty Expo's 5 shows throughout 2019 – Los Angeles, Berlin, Dallas, New York and London. The box's value is at least $1500! Shop it here for $295.
ENTER TO WIN YOUR OWN BOX!
About the Process
Brands qualify for the Indie Beauty Expo Best in Show program by exhibiting at any IBE during the course of the calendar year. They are nominated based on show performance, team testing and attendee voted favorites. Expert evalutors test products and select finalists and winners.
The Expert Evalutors
Amy Jargo: Global Sr Category Merchant Whole Foods
Annie JAckson: Co Founder Credo Beauty
Austen Parker: Beauty Director and Celebritzy Makeup Artist
Beth Santos: VP Merchandising Dermstore
Brandon For: Chief Accelerator Director Lubrizol Life Science
Elena Severin: Director of Brand Partnerships Detox Market
Jeannie Jarnot: Founder Beauty Heroes
Kandice Hansen: Buyer Revolve
Leigh Guilhot: Senior Merchant Blue MErcury
Rachel Anise: Editor in Chief Beauty Professor
Melisse Gelula: Editorial Director Well + Good
Melissa D'Aquila: Beauty Buyer Lord & Taylor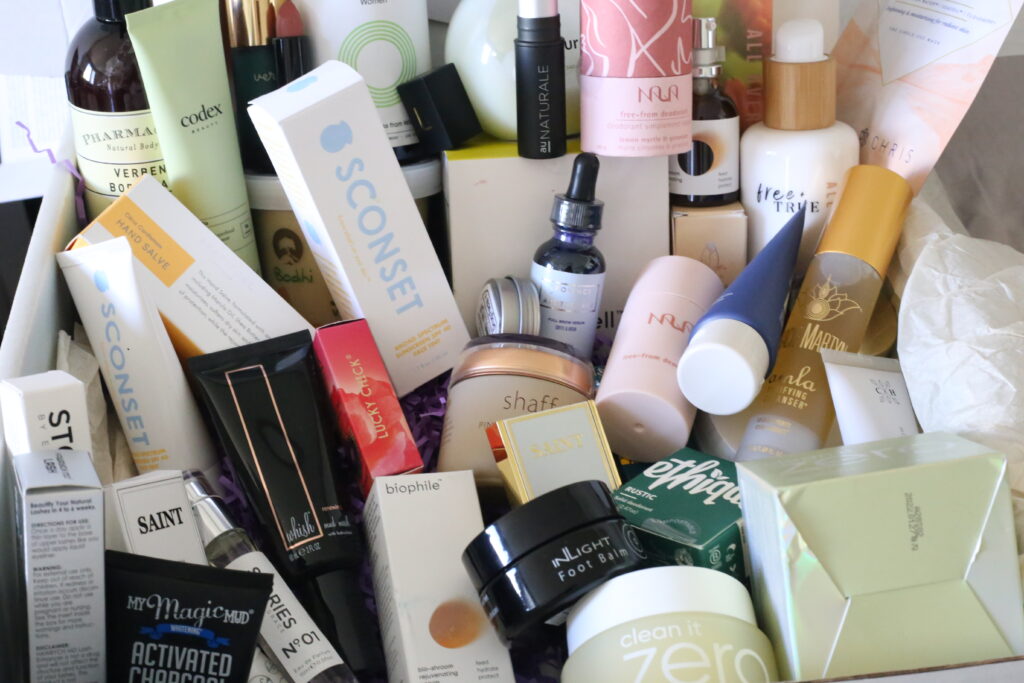 The Best in Show Winners
VISHA SKINCARE Bump 2 Baby Body Balm
A WHOLESOME GLOW Milk Bath Soak
WAY OF WILL 25 Black Spruce + Black Pepper Beard Oil
BODHI Bodhi Almond Honey Whipped Body Scrub
FREE + TRUE SKINCARE Body Prophet
PHARMACOPIA NATURAL BODYCARE Verbena Body Wash
HENUA ORGANICS Beautifying Toner
PROVINCE APOTHECARY Full Brow Serum
AU NATURALE COSMETICS Anywhere Creme Multistick in Awaken
HESS KLANGKONZEPTE – SOUND SELF CARE Peter Hess® Therapy Singing Bowl
SAINT COSMETICS Eyeshadow Satin
VERIPHY SKINCARE 20/20 Eye Cream
TRACIE MARTYN BEAUTY & WELLNESS Amla Purifying Cleanser
SHAFFALI Brighten: Pineapple + Peppermint Facial Exfoliant
WHISH BEAUTY Renewing Mud Mask
CODEX BEAUTY Bia Skin Superfood
BIOPHILE SKINCARE Bio-shroom Rejuvenating Serum
INLIGHT BEAUTY Organic Foot Balm
STORIES PARFUMS Stories Eau de Parfum
FLAUNT BODY Ingrown Hair Mask
VIRTUE® The Un-Frizz
SPARITUAL Citrus Cardamom Hand Salve
NUTRAFOL Core for Women's
HAWRYCH MD LASH COSMETICS Eyelash Enhancing Mascara
LA LA LEAF Lip Balm
LUCKY CHICK Creamy Matte in Paradise
CLOVE + HALLOW Liquid Skin Tint
BANILA CO Cleansing Balm Nourishing
EMILIE HEATHE Nail Artist Nail Polish
MY MAGIC MUD Activated Charcoal Peppermint Toothpaste
THE SPOILED BEE COSMETICS 10% Fruit Enzyme Serum
KEGELBELL Kegelbell: The Vagina Gym™
LITTLE MOON ESSENTIALS Ass Kisser
NATURELAB. TOKYO Repair Shampoo/Conditioner
ELENI & CHRIS Glow Face Mask
SCONSET (FORMERLY CLEAN SPF) Broad Spectrum Tinted Face Sunscreen SPF 40
ETHIQUE Rustic Lime & Eucalyptus Solid Deodorant
NALA CARE Lemon Myrtle & Geranium
The Categories
Best Baby & Child Product
Best Bath Product
Best Beard Treatment
Best Body Exfoliator
Best Body Moisturizer
Best Body Wash
Best Branding
Best Brow Treatment
Best Cheek Makeup
Best Device / Tool / Accessory
Best Eye Makeup
Best Eye Treatment
Best Facial Cleanser
Best Facial Exfoliator
Best Facial Mask
Best Facial Moisturizer
Best Facial Serum
Best Foot Care
Best Fragrance
Best Hair Removal
Best Hairstyling Product
Best Hand Moisturizer
Best Ingestible
Best Lash Treatment
Best Lip Care
Best Lip Color
Best Makeup Base
Best MAkeup Remover
Best Nail Care
Best Oral Care
Best Overnight Treatment
Best Personal Intimate Care
Best Product or Athletes
Best Sexual Wellness Product
Best Shampoo Conditioner
Best Sheet Mask
Best Suncare / Tanning
Best Sustainable Packaging
Best Toner
Best Underarm Treatment