Lalogy Alert Eye Cream Review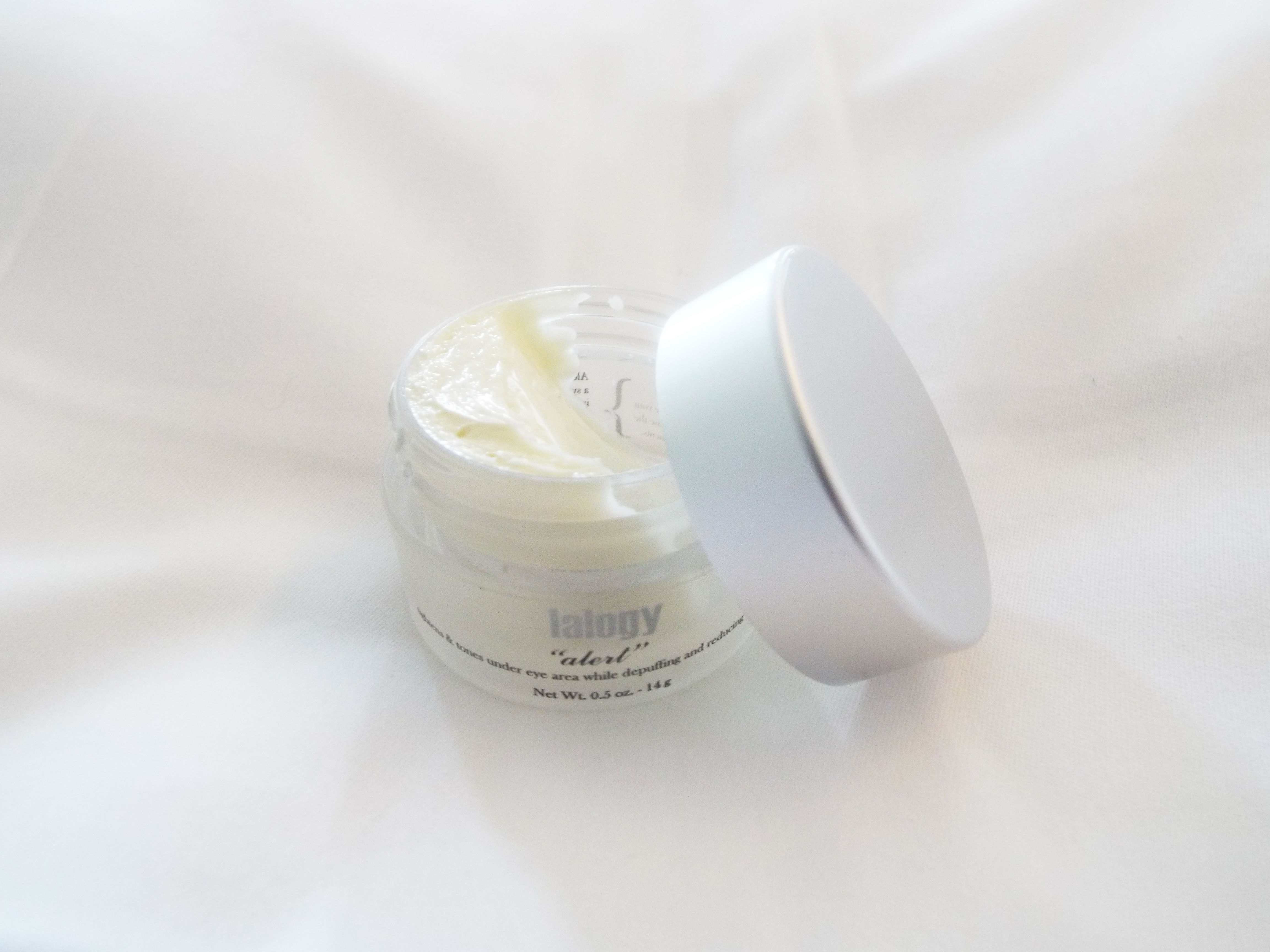 Lalogy is a Los Angeles based organic skincare company that uses effective, natural & 100% organic ingredients. They work with a broad range of  master formulators, chemists, estheticians, herbalists and natural & organic farms from all over North America to bring you the best possible products. Currently they have 4 standout products: Alert Anti-Wrinkle Eye Cream, Hangover Nano-Peptide Cream, Lullaby Corrective Night Cream & Sunkissed Antioxidant Cream.

The Lalogy Eye cream is formulated to diminish the appearance of deep lines and wrinkles, give the eyes a brighter appearance, and decrease puffiness, dark circles & discoloration. Refrigeration is highly recommended to keep the fresh ingredients active. This thick cream has an instant cooling effect on the skin especially when kept refrigerated and because of its creamy white hue it instantly helps brighten up dark circles. After day and night use for about a month, I feel there is a subtle positive difference in my dark circles and more specifically the veins underneath this thin area look less prominent. As for fine lines and wrinkles I can't say how well it works for this, but the texture of my skin is losing its integrity in this area and the cream helps restore it. The skin there just looks better when it's nourished. Keep in mind though that good sleep and plenty of hydration makes a huge difference and if you don't get both of these, no product out there can save you except tons of concealer.
Key Ingredients
Revital-Eyes: reduces wrinkles, puffiness and dark circles; tones skin
Niacinamide: diminishes dark circles
Cucumber Hydrosol: tones, revitalizes and purifies the skin
Witch Hazel: anti-inflammatory
Avocado Oil: contains rich amounts of vitamin B, A and E which help with skin damage and cell regeneration
Arnica Oil: powerful antioxidant with strong anti-inflammatory properties
Full Ingredients List
Water (Aqua), Aloe Barbadensis (Aloe) Leaf Juice, *Hamamelis Virginiana (Witch Hazel Extract), Calendula Officinalis (Calendula) Flower Extract, Emulsifying Wax, *Persea Americana (Avocado) Oil, *Arnica Montana (Arnica Herbal) Oil, Cucumis Sativus (Cucumber) Fruit Extract, Cucumis Sativus (Cucumber) Hydrosol Essence, Rosa Mosqueta (Rosehip) Seed Oil, Water & Lactobacillus Ferment Lysate Filtrate, Cameila Sinensis Leaf Ferment Filtrate, Punica Granatum Ferment Filtrate, Caffeine Ferment Lysate Filtrate, Niacinamide (Vitamin B3), Hydrolyzed Silk Protein, Sodium Lactate, Behenyl Alcohol, Leuconostoc/Radish Root Ferment Filtrate, *Cistus Ladaniferus (Essential Oil)
Lalogy does not use chemical preservative systems, parabens, petroleum, pesticides, propylene or butylene glycols, pthalates, sulfates, PEG's. TEA, DEA, GMO, silicones, glutens, artificial dyes or synthetic fragrances.
During a weeklong series of giveaways by Lalogy I won a product of my choice and I chose the Alert Eye Cream.