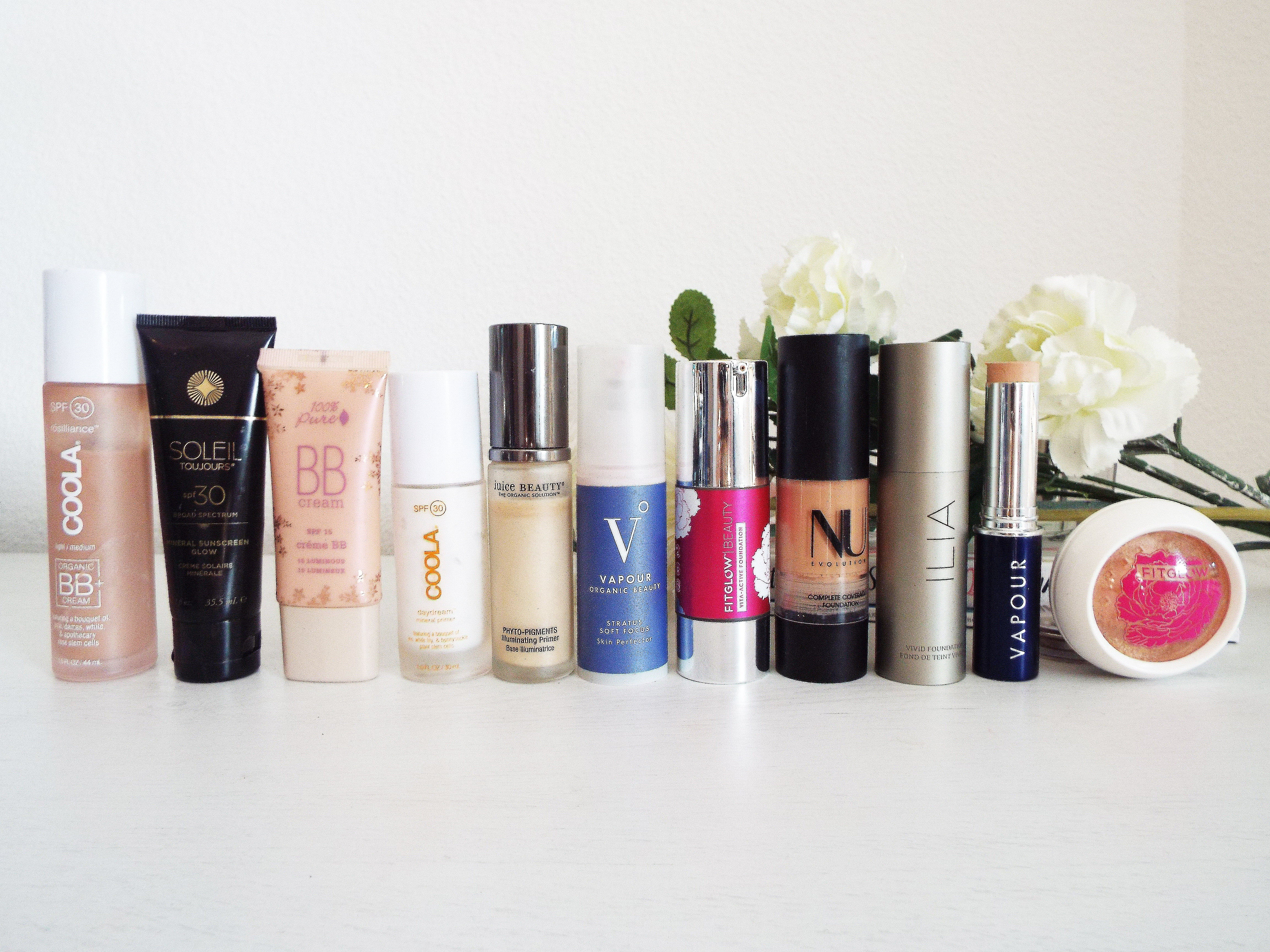 Makeup is such a tricky area in green beauty and when it comes to foundation, with everyone having different preferences, skin types & a hard time color matching, it can be the most difficult item in green makeup to purchase. I'm sharing my thoughts today on my entire current collection of natural & organic foundations, BB creams & primers.  Plus I created a chart for easier reference. To not make this post overly long I won't go into the characteristics such as coverage, finish & consistency which I've covered for each product in the below chart. Instead I'll talk more about my personal experience.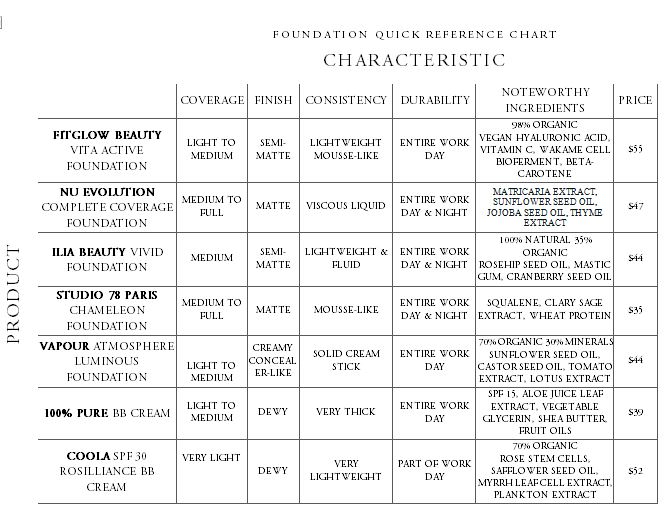 Fitglow Beauty Vita Active Foundation
This still stands as my top favorite foundation and ideal for the skincare-obsessed. Personally I'm not a huge foundation wearer and if I weren't a blogger I probably would just wear tinted moisturizers or BB creams. The 2 reasons why I love this foundation is because it's so lightweight it doesn't feel like I'm putting on foundation and because it's formulated as skincare with vegan hyaluronic acid, vitamin c, seaweed brighteners & more.
NU Evolution Complete Coverage Foundation
The formula of this foundation has an impressive texture/consistency due to the glycerin but note that it isn't all natural (though much cleaner than anything conventional). It spreads and blends very well and dries completely matte but doesn't look cakey. I've also had one follower in her 40s say it has never settled into her fine lines!  I reviewed their foundation on the blog here. Their line of foundations also has a full range of shades. (Affiliate code ORGANICBEAUTYLOVER saves 15% off at checkout)
This foundation is a light, runny liquid and I've noticed that if I don't properly prime my face and blend it super fast it will dry unevenly. So it's important to be fast! This is also an all-natural foundation so if you're looking for a completely pure option this is one to consider. See my ILIA review here.
Studio 78 Paris Chameleon Foundation
This Parisian line's foundation (sold at Petal and Post online shop) comes in just 3 shades and is a cool experience everytime because it goes on white and then you watch it adjust to your skin tone. The lightest shade is a little too tan/warm for me so I haven't used it much beyond testing purposes. I hope I can take it out more during the summer. It does feel nourishing, dries super fast and I appreciate that it has squalene.
Vapour Atmosphere Luminous Foundation
I feel like this is a love it or hate it type of foundation. If you like a concealer-like stick foundation that basically feels like a larger concealer stick to me then this is a great choice! It's EXTREMELY creamy, buildable and blends in well while not feeling overly heavy. This doesn't provide full coverage, I would say medium at best and light for some. For some I'm sure this product will feel tacky on their skin. I do appreciate the hands off application when I'm running late to work- you can use a brush if you prefer. In my personal experience (most likely due to my dry skin type), when I added a powder blush & luminizer on top of the foundation in the morning by  the end of the day I noticed the powder had caused the cream foundation to separate and look a little clumpy, so I wouldn't recommend this.  This is one of the cleanest on the market as it's completely pure and 70% Organic.
The main thing to note about this BB cream is it's not like other BB creams in that it's super thick & viscous. If you're particular about your BB cream being lightweight and sheer this is definitely not for you. I do really love this BB cream though and what I particularly appreciate about it is that it has BEAUTIFUL light reflective pigments, cool pink undertones & a bit of SPF. (Affiliate code OBL15 saves at checkout on the 100% Pure site).
COOLA Rosilliance SPF 30 BB Cream
This BB cream only comes in 2 shades (Light/Medium & Medium/Dark( and the lighter one is still too dark for me. If I only use a small amount it isn't too noticeable as this BB cream is VERY sheer. It's more daker/cooler than depicted on their website. It's vegan, 70% Certified Organic and has an impressive proprietary bouquet of Rose Stem Cells with an advanced bio-complex to moisturize & replenish skin. It's more important to me now than ever to look for face products that work at anti-aging instead of making my skin worse, which is why I love makeup with a skincare focus. I have a review on the blog of this product here.
I adore this primer because it's so soft and velvety to the touch. In just 2 months I've used up nearly the entire bottle. It glides on like a blanket over your skin and is made with Honeysuckle, Iris and White Lily Stem cells. It gives my skin a subtle glow, blurs imperfections and subtly lightens skin tone. The more primer you use the whiter/ghostly your skin will look.  I've got a review of this product here.
Vapour Stratus Soft Focus Skin Perfecting Primer
I recommend this primer if you don't mind a slightly thicker yet still lightweight formula and love pink undertones. This is a light cool pink toned primer that is on the viscous side (first ingredients include Camellia Seed & Sunflower seed oils as well as Beeswax) and spreads easily yet a little more slowly across your face than the Aloe-based Juice Beauty primer.  I don't mean to say this is a heavy primer just slightly more viscous. For some I'm sure it may even feel tacky.  It adds a very subtle glow and is made with 100% natural ingredients of which 70% are organic and 30% minerals & essential oils.
Juice Beauty Phyto Pigments Illuminating Primer
This primer is much thinner & fluid than the Vapour Stratus Primer because it has an Organic Aloe Juice base and has more light reflective pigments in it. Your skin literally looks lit after you apply this on. it contains Organic Glycerin, Lilac Extract, Witch Hazel Extract, Grape Fruit Cell Extract & Vitamin C. If you have oily or acne-prone skin I feel like this primer would suit you well. It really does make your skin look beautiful and sometimes I like to just wear it on its own to leave the unique glow it provides untouched.
Soleil Toujours SPF 30 Mineral Sunscreen Glow 
This is actually a body lotion but I use it for face and it isn't a totally natural product (but many others from this luxe line are very clean). It's a very light BB cream- like sunscreen that has Zinc Oxide, Mugwort Plant extract, Aloe Vera Leaf Juice, Licorice Root Extract, Cogon Grass Extract & Ubiquinone. The shade is too warm for me so I need to mix it with another product when wearing it, but again this is a body lotion not face. It has a super dewy finish which is great for those days when I'm feeling like it.
Fitglow Beauty Vita Set Powder
This is a setting powder that provides a number of benefits – sets foundation to make it last longer, protects your skin from free radical damage, controls oil, balances skin pH & can even be used as a foundation powder on its own. Pure Glacial Marine Clays soothe skin & Niacinamide, the most stable from of B3 vitamin, defends from free radical skin damage while activating skin collagen production. This is a tinted powder and the shade is a bit too tan for me but I think would suit fine during the summer months. It's a little difficult to get the powder to come out, but other than that I love the blurring effect and if I look a little too dewy this powder works to mattify. I have only just started using this product so will have more insight in the future.
Ingredients: Sericite, Calcium Carbonate, Kaolin Clay, Silica, Zinc Oxide, Glacial Marine Clay, Niacinamide (B3) Iron Oxides (CI77492, CI77491), Ultramarines (CI77007).