As part of the New Hope Network Influencer Co-op I'm sent a blogger box every quarter to experience and share with you all. It's filled with the latest and best natural products in the market right now and this quarter's box included a few brands I already know and love and many that I was excited to discover. I first discovered New Hope Network after attending Natural Product Expo, the biggest natural product trade show in the world, and this has been a fun way to continue to discover what's hot in the natural products industry.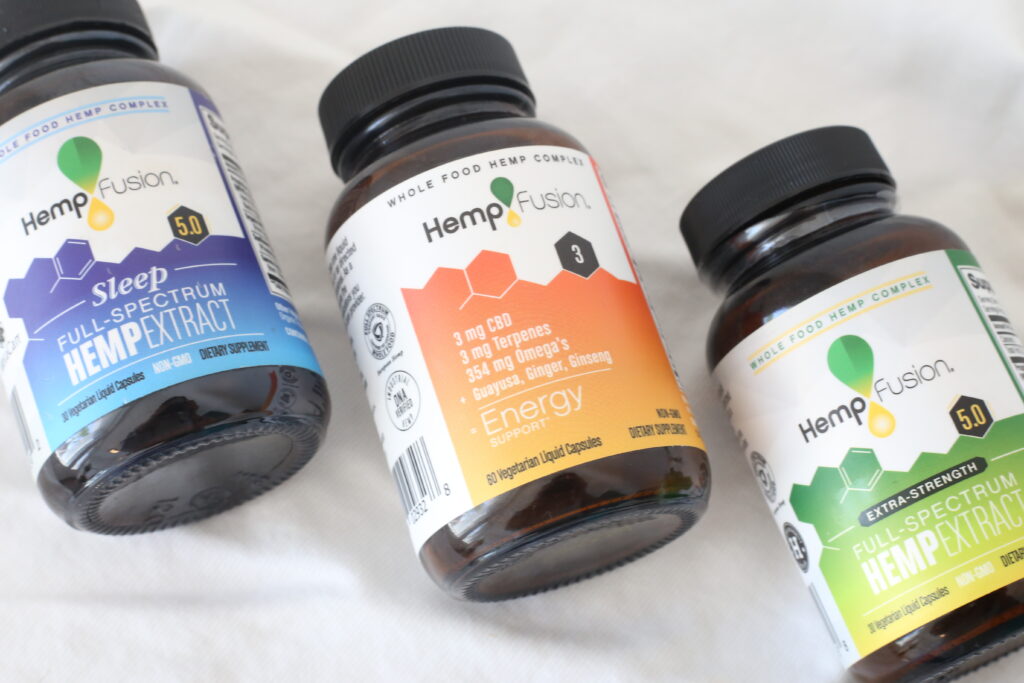 HEMPFUSION Whole Food Hemp Supplements
The box actually only contained sample packets, but luckily I'm already a HEMPFUSION fan and own their full-sized bottles. HEMPFUSION uses a whole food hemp complex which they call the "entourage effect" and they're certified Organic in Europe, a feat that's much more difficult to achieve than in the US. They are fully transparent from their farming practices to oil extraction method and manufacturing to testing, and their hemp is exclusively grown in Europe where the soil is pre-validated prior to planting. All raw materials are tested for potential contaminants like heavy metals, pesticides, glyphosate, and residual solvents. They also use a propriety method of extraction that they believe yields better quality hemp. Another reason I trust the brand is because they have been around long before thousands of hemp companies cropped up in the past year alone.

My favorite HEMPFUSION supplements are the Sleep Hemp Extract and Energy Hemp Extract. They make traditional capsules as well as liquids, topicals, skincare & travel-friendly products that are focused on specific benefits like energy, sleep and stress. Each product is infused with more plant-based omegas and terpenes like Organic Black Pepper Oil, Clove Oil & super ingredients like Guayusa, Ginseng, Ashwagandha, GABA & Turmeric.
ZUBI'S Organic Salsa and Queso de Jalapeno
These little jars of ZUBI's organic salsas and quesos were the first products I actually tried – and I loved each flavor! They use organic ingredients and the flavors are phenomenal. I used them in a variety of ways like as dipping sauces or added to dishes for extra flavor.
Lively Up Your Breath Natural Breath Freshener
These are the most innovative breath fresheners I've tried – organic, chewable, superfood-infused, essential oil-infused and super cute packaging. Unlike traditional products that claim to get rid of bad breath, Lively Up Your Breath's natural breath fresheners are made with no artificial sweeteners, preservatives or other harmful ingredients. Simple pure ingredients like organic essential oils and chlorophyll help remove the bacteria that's causing bad breath.
I tested these breath fresheners specifically after having coffee and getting my usual coffee breath (thank goodness I don't have to sit in an office and brush my teeth in corporate bathrooms anymore). They WORKED! The coffee breath didn't come back and I was very pleasantly surprised.
Wholesome Allulose
I've never been a big fan of sweeteners because of their odd aftertaste, but this zero-calorie allulose gave my lattes a VERY natural, toasted caramel taste. It's mild, so I need to add quite a bit to get to the level of sweetness I prefer and the bottle get used up fast. But zero fake sweetness or aftertaste so I'm a big fan of this product and will definitely repurchase. It's also calorie free and has no glycemic impact.
Upon further research I found that allulose is a rare sugar or monosaccharide naturally found in figs, raisins and kiwi and is 75% as sweet as sugar. Wholesome launched this barely a few months ago and they believe that it's a first-of-its-kind product! The Texas-based company offers a range of Fair Trade, organic and non-GMO sugar, syrup, molasses, stevia and honey.
Youtheory Ashwaghanda
I'm a big believer in adaptogens and am no newbie to Ashwaghanda and Youtheory. They make affordable suppelements widely available across numerous retailers and you've probably seen them at a health food store, Walgreens or Costco somewhere. Ashwaghanda, which is actually an ingredient in many organic skincare products these days, helps boost mental & physical performance, promotes calmness, reduces stress and helps maintain normal cortisol levels.
If you're not familiar with adaptogens yet, they help the body adapt to emotional and physical stressors. They also can support the adrenal glands that respond to stress, promoting relaxation and sustained energy. Adaptogens are:
Non-toxic in large doses
Non-habit forming
Help to restore normal physiologic function that's been altered by stress