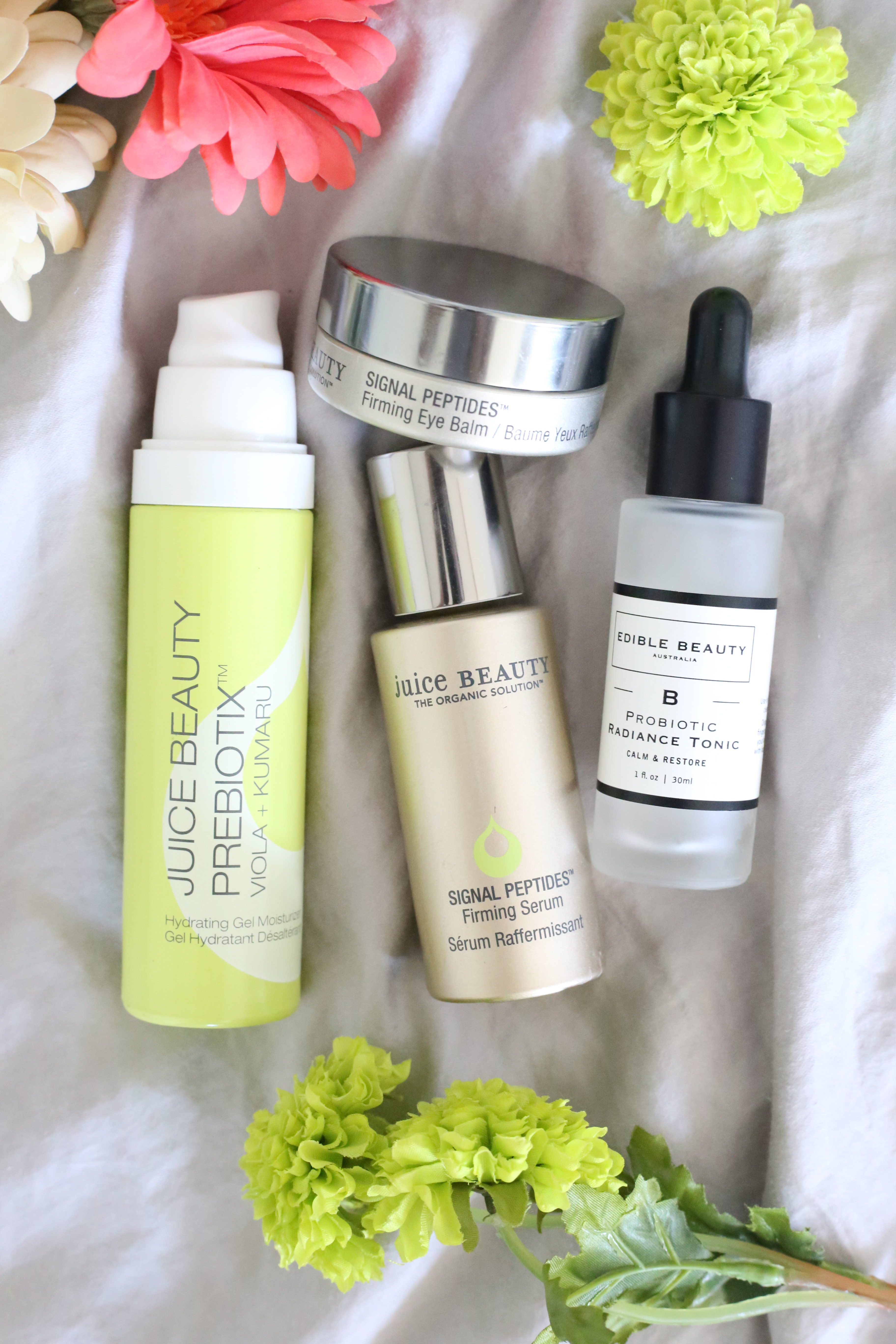 The Juice Beauty Prebiotix Gel Moisturizer and Signal Peptides products along with Edible Beauty Australia's boosters are some of the new and exciting launches of 2019 that I got to try recently. I've used these for the past two to three months and am sharing all the "juicy" details.
Prebiotix Gel Moisturizer
The Prebiotix Gel Moisturizer ($52) boasts an ingredients list full of antioxidant-rich, organic ingredients and a bio-fermented complex containing high-performance prebiotic ingredients to help balance the microbiome. What you'll immediately notice about this moisturizer is its beautiful light blue shade and how lightweight and thin the consistency is.
A proprietary prebiotic blend including viola flower, chia & coconut extract acts as a protective layer on the skin, locking in moisture for a more radiant, hydrated and balanced appearance
Boosts skin luminescence appearance with fermented kumaru known for its ability to absorb ultra- violet light and reflect back visible light
Helps soothe distressed skin with linseed
Fermented American bamboo smooths skin
Hydrates and moisturizes skin with organic antioxidant-rich jojoba & prickly pear
Fights free radical attack with an antioxidant juice base of organic grape & apple and organic aloe rich in Vitamin E
Calming aroma with essential oils lavender, clary sage & juniper
Even with dry skin like mine, this moisturizer felt amply hydrating and my skin seemed to soak it all in. It feels perfectl smooth and silky and since it actually feels much like a thick serum to me I was able to layer on heavier oils and balms guilt free. I will say the one ingredient I do not like that's all the way at the end of the ingredients list is bismuth chloride oxide, which I'm not sure why they needed to include. I emailed Juice Beauty customer service asking them and they replied that they chose it because it helps brighten the skin, blurs imperfections and minimizes the appearance of lines, wrinkles, dark circles. Still, this is one of those ingredients I'm iffy about because it goes through so many refinement processes to make it safe for cosmetic use that contamination is a risk. So I don't think this is a really necessary ingredient.
The scent of lavender and juniper is very subtle and is simultaneously calming and uplifting. I appreciate this concept of skincare that feeds the good bacteria on your skin and thus creating a stronger or repaired barrier, just the same as I appreciate skincare concepts like high-vibrational, CBD and gemstone-infused.
Ingredients:  (organic aloe juice/jus d'aloès bio)*, (organic apple juice/jus de pomme bio)*, (organic white grape juice/jus de raisin blanc bio)*, glycerin (organic/bio)*, olus oil†, sodium PCA†, lactobacillus ferment, (organic rice bran extract/extrait de son de riz bio)*, bentonite, coconut alkanes, (jojoba seed oil/huile de graines de jojoba), sodium hyaluronate†, glyceryl stearate SE,  (kumaru seed ferment filtrate/graine de kumaru fermentée filtrée), hydrolyzed viola tricolor extract, (organic shea butter/beurre de karate bio)*, (organic coconut oil/huile de noix de coco bio)*, lactobacillus, (coconut fruit extract/extrait de noix de coco), lactobacillus ferment lysate, (chia extract/extrait de chia), bamboo leaf ferment filtrate/feuille de bambou fermentée filtrée),  (prickly pear stem extract/extrait de cactus nopal), hydrolyzed linseed extract, propanediol†, xanthan gum, carrageenan, biosaccharide gum-1, coco-caprylate/caprate, sodium lauroyl lactylate†, hydrogenated lecithin, panthenol (Vitamin B5), potassium sorbate, melia azadirachta leaf extract, (eggplant fruit extract/extrait d'aubergine), (basil flower extract/extrait de fleurs de basilic), (turmeric root extract/extrait de racine de curcuma), citric acid, bismuth chloride oxide, lavandula angustifolia extract, triethyl citrate†, (orange peel oil/huile de peau d'orange), (juniper oil/huile de genévrier), (clary sage oil/huile de sauge sclarée).
*certified organic ingredient / ingrédient certifié bio †plant-derived / origine végétale
Juice Beauty Signal Peptides Firming Serum 
Another new launch as part of their Signal Peptides line, this product is notably interesting because it's a micro-serum. This is the first time I've come across a micro-serum, which has a unique micro-emulsion technology (10x smaller than standard emulsion droplets) that facilitates delivery of active ingredients to the skin. It's actually formulated for people over the age of 40 and focuses on restoring the appearance of firmness and skin elasticity with certified organic ingredients and firming peptides. Their custom blend of sunflower-derived plant lipids combined with rice peptides and pterostilbene-rich wild blueberry extract work to boost hydration, renew the skin's surface and protect from external aggressors.
I love how supple this serum makes my skin feel once applied. It has an immediate softening and hydrating effect and it doesn't just sit over the skin but properly absorbs. The reason I say this with confidence is because I've never had a pilling problem with this serum and it never feels like it's just sitting on top of my skin and drying into a layer. Not that color is at all important in skincare (or is it?) but the creamy white shade of this serum makes me feel like I'm applying a milk serum onto my skin.
Ingredients: Aloe barbadensis (organic aloe juice/jus d'aloès bio)*, glycerin (organic/bio)*, coconut alkanes, caprylic/capric triglyceride†, squalane†, polyglyceryl-10 mono/dioleate†, dicaprylyl maleate, cetyl alcohol, olea europaea (organic olive fruit oil/huile d'olive bio)*, butyrospermum parkii (organic shea butter/beurre de karate bio)*, hydrolyzed rice bran extract, phosphatidylglycerol†, polyglyceryl-3 oleate†, glycine soja sterols, vaccinium angustifolium (blueberry extract/extrait de myrtille), linum usitatissimum (linseed extract/extrait de graine de lin), helianthus annuus (sunflower seed oil/huile de graines de tournesol), hyaluronic acid†, tocopherol (Vitamin E/vitamine E), glyceryl cocoate†, coco-caprylate/caprate†, cetearyl olivate†, sorbitan olivate†, cetyl hydroxyethylcellulose, xanthan gum, caprylyl glycol†, squalene†, gluconolactone†, leuconostoc/radish root ferment filtrate, sodium benzoate, triethyl citrate†, citrus aurantium bergamia (bergamot oil/huile de bergamote), citrus aurantium dulcis (sweet orange oil/huile d'orange douce). 
* = Certified organic ingredient
† = plant derived/origine végétale
Juice Beauty Signal Peptides Firming Eye Balm
Similar to the Signal Peptides Firming Serum, the eye balm also features sunflower-derived lipids combined with rice peptides and pterostilbene-rich wild blueberry extract but with paracress extract. It's also in a base of organic coconut oil and sunflower seed oil which may not fare well with some of you. You may also be thinking $80 for an eye balm in a pretty standard base is a LOT- and it is. So while I do love the consistency and texture of this balm I do not believe it is worth the price as it's also a small amount of product that you receive. But I do want to say that this balm has an amazing consistency that makes it feel luscious, velvety and smooth. It's not at all greasy or overly rich/heavy and moisturizes well.
Cocos nucifera (organic coconut oil/huile de noix de coco bio)*, helianthus annuus (organic sunflower seed oil/huile de graines de tournesol bio)*, vegetable oil, copernicia cerifera (organic carnauba wax/cire de carnauba bio)*, butyrospermum parkii (organic shea butter/beurre de karité bio)*, glycerin†, hydroxystearic/linolenic/oleic polyglycerides†, euphorbia cerifera (candelilla wax/cire de candelilla), caprylic/capric triglyceride†, bismuth chloride oxide, spilanthes acmella (paracress flower extract/extrait de fleur de cresson de para), hydrolyzed rice bran extract, phosphatidylglycerol†, vaccinium angustifolium (blueberry extract/extrait de myrtille), tocopherol (Vitamin E/vitamine E), squalene†.
*certified organic ingredient / ingrediént certifié bio †plant derived / origine végétale
Edible Beauty Australia Boosters
Edible Beauty, which is a natural skincare line from Australia, launched their skin boosters this year and they're an entire product category on their own. It's not designed to replace any skincare step but rather "boost" it. They blended nourishing botanical, food and seaweed extracts (some of which are Australian yay) to create these serum-like products designed for use after cleansing and toning. I tried all three: Turmeric Latte, Probiotic Radiance and Deep Sea Collagen and all three have the same exact consistency and texture. I've seen this described as thick but to me it felt like a normal serum, neither thin nor thick. More than anything these provide intense hydration for the skin, so perfect for dry and parched skin. The probiotic one naturally helps optimize the health of your skin's microbiome and barrier, the turmeric one helps clear and calm skin, and the deep sea collagen is designed to plump and hydrate. Each one boasts some pretty interesting ingredients:
Turmeric Latte 
Turmeric Extract is rich in curcumin, a potent antioxidant which has been used as an ancient beauty ritual for lightening and brightening the skin. Curcumin also inhibits acne causing bacteria on the skin and has been shown to be 36 times stronger than azelaic acid, an irritating chemical used in acne treatments. Its anti-inflammatory properties also mean that turmeric can soothe painful cystic breakouts and calm redness.
Licorice Root contains the active ingredient, glabridin that interrupts the enzymes that activate melanin production, making it a natural skin whitening agent. It prevents future hyperpigmentation while improving existing dark spots on your skin. Licorice Root is also a powerful anti-inflammatory, reducing swelling and redness for a clear and calm complexion.
Snow Mushroom known as the "beauty mushroom" the Tremella mushroom has been used for centuries as a youth-preserving mushroom due to its unique polysaccharide and antioxidant profile.  Polysaccharides found in the mushroom have remarkable water retaining properties, with the ability to hold nearly five times more water than hyaluronic acid. Tremella's polysaccharides also stimulate the production of superoxide dismutase (SOD), one of the most important "super antioxidant" enzymes in the body. SOD helps to protect and regenerate the skin as well as effectively prevent wrinkling and sagging of the skin. It has shown to be effective in preventing oxidative damage to skin cells as well as increasing the body's production of its own powerful free-radical defence mechanisms.
Ingredients:Aqua, OrganicTremella Fuciformis, (Snow Mushroom), Organic Glycerin, Curcuma longa (Turmeric) Root Extract, Organic Glycyrrhiza Glabra (Licorice) Root, Organic Calitris Glaucophyll (White Cypress) Leaf, Acacia Senegal, Xanthan Gum. Rumex Occidentalis Extract, p-Anlsic Acid, Glyceryl Caprylate, Curcuma Longa (Turmeric) Root Oil, Ascorbic Acid.
Probiotic Radiance
Lactobacillus Bulgaricus Ferment Filtrate, restore skin PH and acid mantle reducing skin sensitivity and strengthening the skin barrier. This probiotic strain also attacks bacteria which sit on the skin's surface causing blemishes.
Wildcrafted Emu Bush, native to the Australian Northern Territory, it contains potent antioxidants including chloregenic acid which protects the skin from break down and ageing along with phenolic acids which have an antioxidant action stronger than that of vitamin E. This makes this wildcrafted extract effective at skin restoration and repair.
Birch Leaf, is a powerhouse ingredient for calming and treating sensitive and irritated skin. It is prized for its ability to reduce inflammation, purify and hydrate skin. It contains 17 amino acids, minerals, enzymes, proteins, antioxidants and vitamins, all of which are beneficial for your skin.
Ingredients: Aqua, Glycerin, Organic Aloe Barbadensis Leaf, Acacia Senegal, Xanthan
Gum, Lactobacillus Bulgaricus Ferment Filtrate, Simmondsia Chinensis (Jojoba) Seed Oil, Organic Betula Alba (Birch Leaf), p-Anisic Acid, Glyceryt Capry1ate, Organic Eremophila longifolia (Emu Bush), Organic Achillea Millefolium (Yarrow), Phospholipids, Sodium Hyaluronate, Propanediol.
Deep Sea Collagen Elixir
Seaweed Collagen, has been shown to reduce wrinkle depth and improve overall skin appearance. It increases the expression of the longevity-boosting and anti-ageing protein (SIRT1). Seaweed Collagen also prevents the breakdown of hyaluronic acid in skin cells and in doing so preserves the extracellular matrix, which is a dominant means of defence against visible ageing and the weakening of dermal thickness.
Seaweed Leaf, harnesses the unique power of ocean plants to survive extreme conditions and often adapt to changing environments, providing them with the ability to revitalise and renew the skin. Seaweed Leaf is rich in vitamins and amino acids which reinforce the skin cell membranes, protecting against free radical attacks, which accelerate ageing. The extract can also 're-organise' the cell membrane structure to reverse cell damage and restore the skin to its natural state, combating sagging and loose skin.
Purslane (Portulaca) Extract, works to repair and regenerate the skin on a cellular level. Purslane protects skin cellular DNA from age-related dysfunction, thereby maintaining the cells' repair function and strengthening the skin with its natural antioxidant compounds. It contains a high amount of glutathione, which is a natural antioxidant system, along with hydrating Omega-3 fatty acids.
Ingredients: Aqua, Glycerin. Undaria Pinnatifida (Seaweed Collagen), Acacia Senegal, Xanthan Gum, Organic Litchi Chinensis (Lychee), Organic Panicum Miliaceum (Millet) Seed, Ulva Lactuca (Seaweed Leaf}, Organic Portulaca Oleracea Extract, p -Anisic Acid, Glyceryl Caprylate