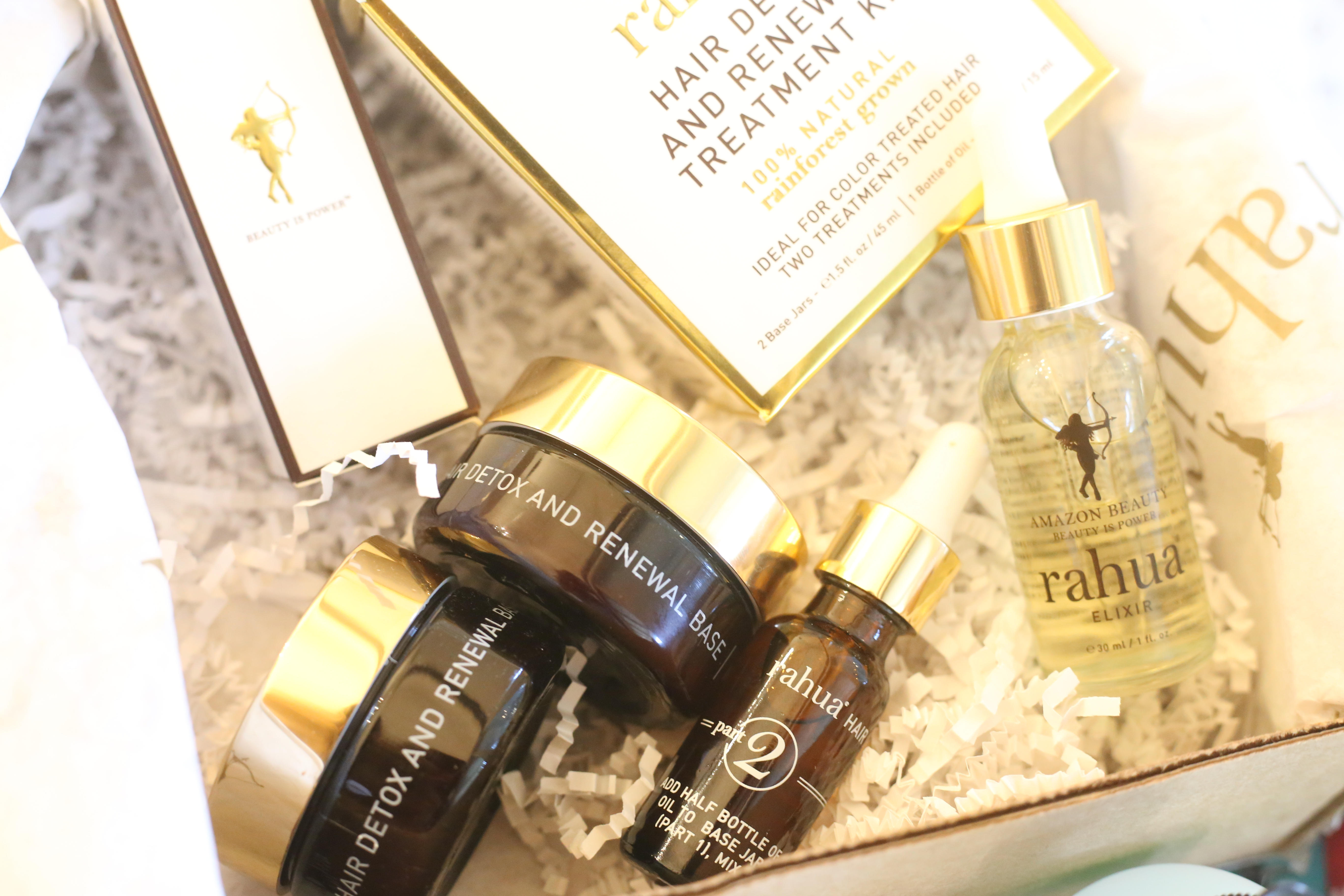 Beyond Rahua's shampoo and conditioner I had tried nothing else from the line until recently. They sent me a few of their highest priced items- the Hair Detox & Renewal Treatment Kit ($98) and Elixir ($175) and I was eager to see if they live up to the price tag.
THE STORY BEHIND THE BRAND
Fabian Lliguin, a renowned hairstylist and colorist in New York City was visiting the Amazon rainforest as an environmentalist, educating indigenous people about their land rights and human rights when he realized he was surrounded by women with fantastically long, lustrous hair that cascaded past their waists. For centuries the members of the tribe, who live deep within the rainforest, had relied on Rahua oil to nourish their hair and skin. He took a bottle that he was gifted back home to NYC and used it on his clients only to be amazed by the transformative results.  Rahua oil was -and is- produced by the Quechua-Shuar tribe in the same complex, ritualistic, and sustainable fashion it has been for generations. In 2008 Fabian and his wife launched Rahua together. Today, more than 500 families from the Quechua-Shuar, Achuar, and neighboring tribes work with Fabian and Anna to cultivate the rainforest grown ingredients used in the Rahua hair care and body care collections.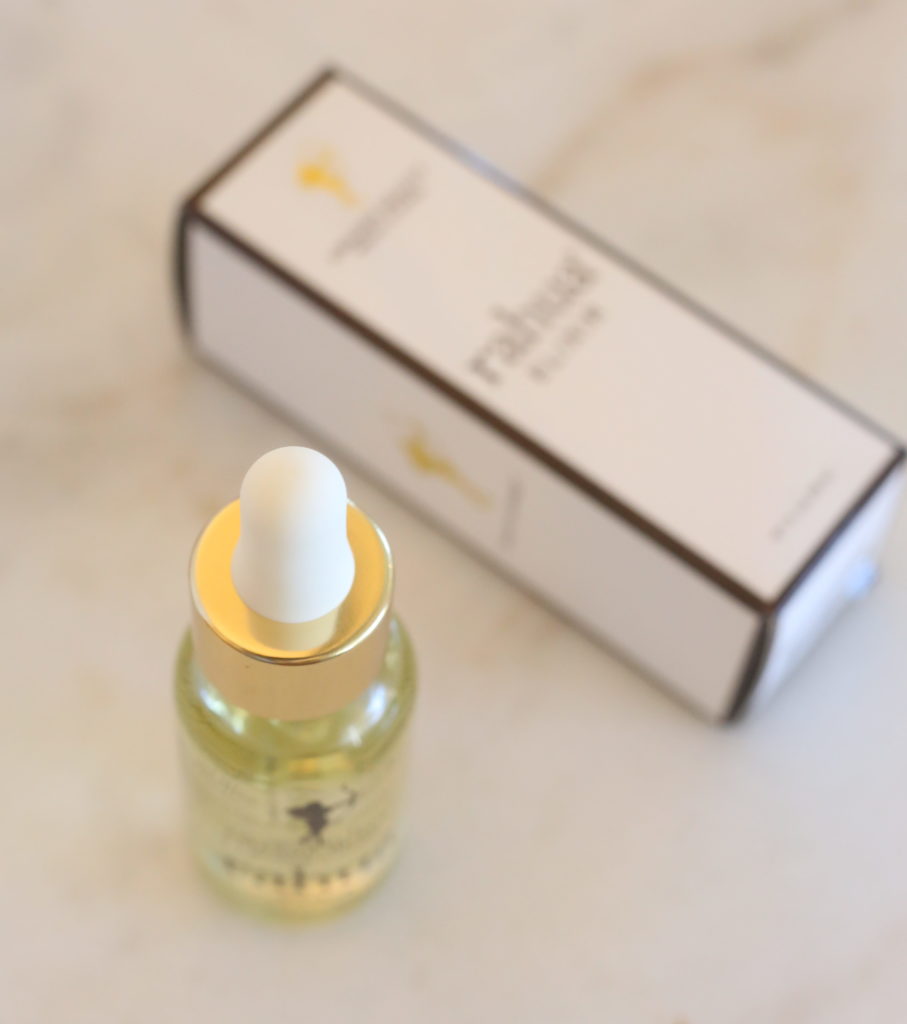 This bottle is made with one main ingredient –  100% pure handmade Rahua oil. It's a luxurious, concentrated hair and scalp treatment that delivers better results than your run-of-the-mill hair oil. Sustainably harvested in the Amazon rainforest, the oil is works to revitalize and strengthen weak, damaged strands and leave hair healthy with its infusion of active antioxidants, antibacterials, and microcirculatory properties working together to balance and restore the scalp. The super-fine molecules in the oil push color pigmentation deep into the hair shaft, greatly extending color endurance. It has a little bit of Palo Santo oil to give it its woodsy fragrance.
I've used this as both a leave-in treatment and defrizzer as well as a scalp treatment (both overnight and in for a few hours with steam). It impressed me across all uses. This is by far the driest hair oil I have tried, meaning that it does not weigh hair down or make it look greasy. Instead, it absorbs instantly and makes your hair shine as if you sprayed on the best conventional shine spray on the market. I used to be obsessed with the Frederic Fekkai shine spray- this oil is just as good if not better. My preferred method of using the Elixir is as a scalp treatment because this is where my hair needs the most nourishment to truly be healthy (rather than a fake glow) and because each drop of this oil is precious and pricey. As you all know by now I battle frizzy and tragically damaged hair from years of balayage and sometimes overfrying. I've always done regular oil treatments but this oil is on a different level. I would not be able to allow myself to purchase this unless during a major sale, but it is worth it and if you can make it go a long way, even more so.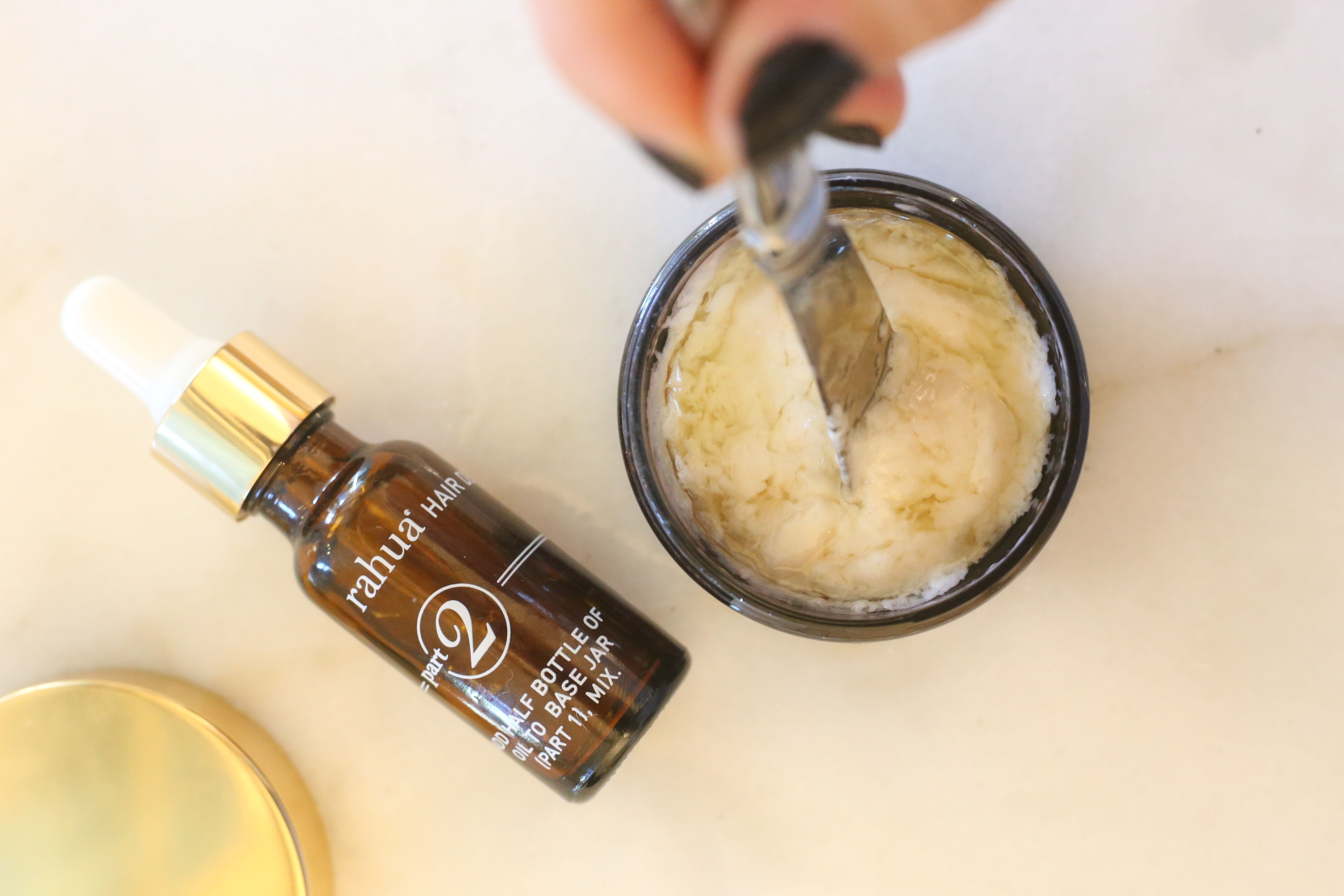 This kit helps to loosen and remove synthetic product build up and environmental residue while infusing hair and scalp with much healthier plant based molecules. It comes with enough product for 2 uses. There are 2 jars each of Step 1, which is a cream detoxifying base, and 2 vials of Step 2, an oil blend of: sunflower, rahua, jojoba, argan ,sacha inchi, buriti fruit and palo santo. You mix Step 1 and Step 2 together, apply to wet or dry hair (I did on dry both times) for 20 to 30 minutes, then shampoo and condition as usual. The detoxifying base is made of Aloe, Green Tea Leaf, Molasses, Colza oil, Rosemary Leaf, Raspberry Leaf, Rahua oil, and Shea Butter.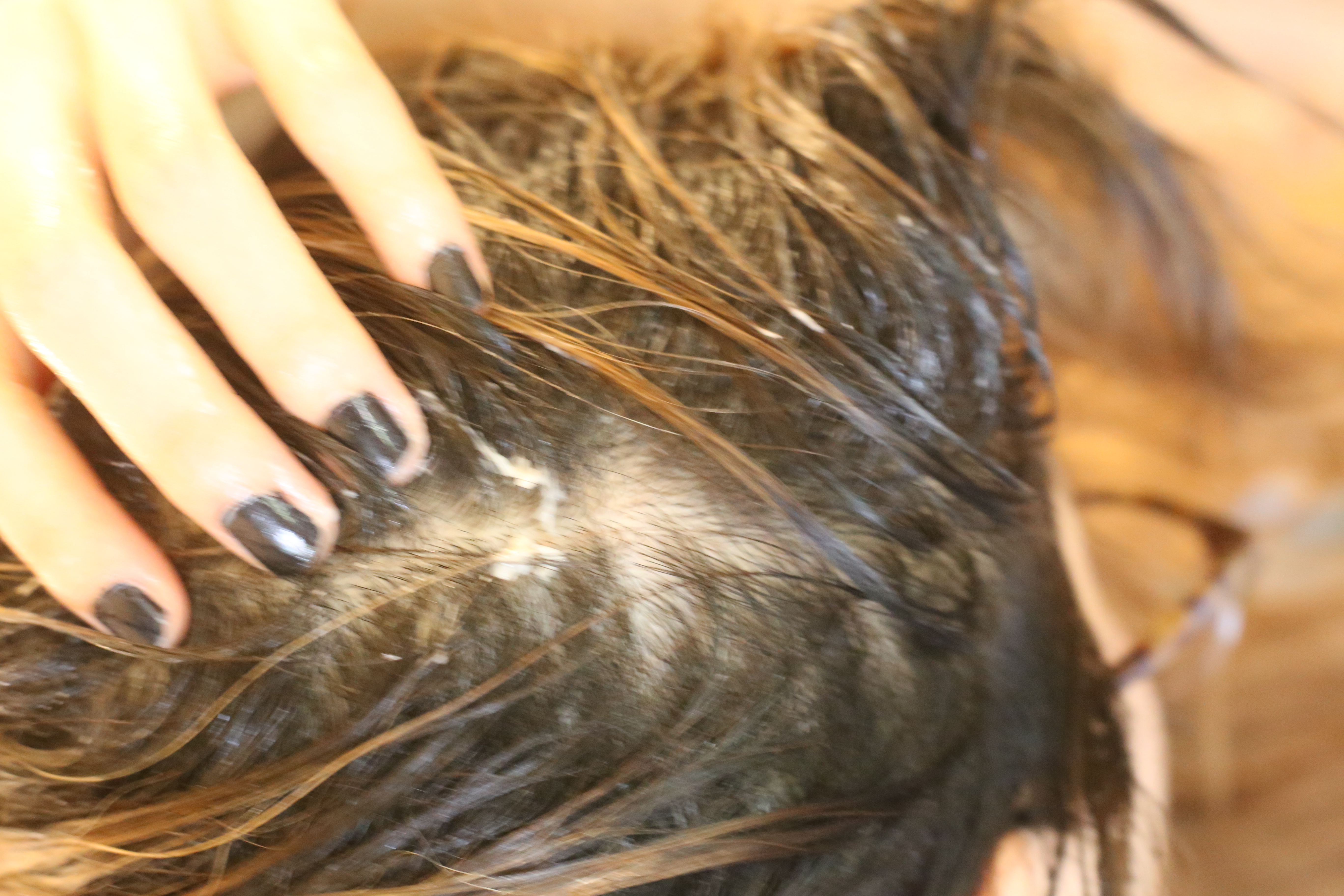 The cost of this product is nearly a hundred, making each use about $50. So you betcha I put in each use for well over the recommended time. The first time I left it in for 1 to 2 hours and also applied a warm towel continuously for about 20 minutes to let it seep into the hair follicles. Note that I applied most of the product to the scalp. The results from the first use was in a word, transformative. Not because these are the marketing words used on their website, but because I saw that it had visibly transformed my hair. My hair had dried naturally looking practically like it does after a major deep conditioning and blowout at a hair salon – incredibly light as feather, bouncy, soft and super shiny. Many of you saw these results in my stories, and if you missed it, they are saved under the Highlight "HAIR DETOX." For 100% natural and organic ingredients, I thought yes this is the holy grail treatment. And not only does it condition and renew, but it detoxes hair from all the environmental pollutants and synthetic buildup that I'm sure has been plaguing my hair since I was born.
BUT, and there is a but, the 2nd time I used it I wasn't impressed. It could be because I used it a different way- as an overnight mask. If I had done this both times I would definitely not be recommending this but the first time I near fell off my chair from the results. So moral of the story is, it's better to leave the Detox Kit in max a few hours with steaming than to leave it in overnight as the results are not compounded. But I believe this product is totally worth the purchase and have resolved to get it during Black Friday to use again when the seasons change.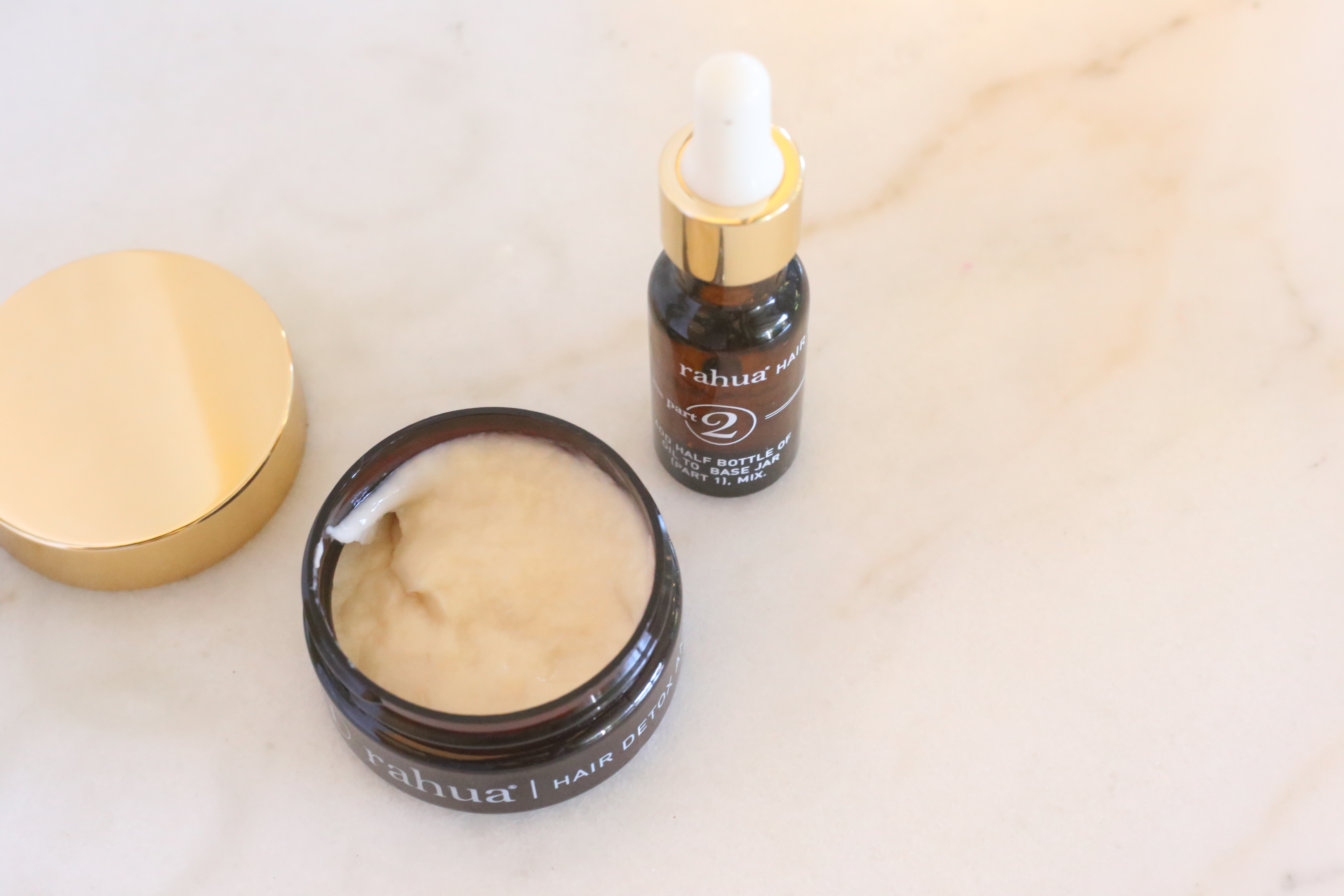 i n t e r v i e w  w i t h  f a b i a n  &  a n n a  o f  r a h u a
In honor of Earth Month I interviewed Fabian and Anna of Rahua on what the company is doing to help the plant.
– What is Rahua's current carbon footprint?
Through Rahua® by Amazon Beauty®, Inc.'s environmental work with Ecoagents, the nonprofit organization created to defend and protect the untouched natural areas of the world from damage, pollution and further destruction, with a special focus on the Amazon Rainforest, we have been able to preserve 37,500 hectors of pristine and biodiverse tribal lands deep in the Amazon for perpetuity.  Ultimately, producing oxygen and offsetting the carbon footprint for every single one of our customers, retail partners and more. We are proud to say we are beyond carbon neutral and generate oxygen surplus. Beauty is Power!
– How does Rahua strive to be a greener company?
Rahua® by Amazon Beauty®, Inc. is a green beauty company committed to sustainability in so many aspects. First and foremost, our formulas are created with rainforest grown, organic, plant-derived ingredients hand-harvested by the indigenous Amazonian tribes from self-sustain forests which help them sustain ancient traditions and grow their local economies. Rahua® promises to never harvest non-regenerative rainforest ingredients. Our ingredients are "Symbiotic®," meaning they are grown wild (not farmed) and the makers are paid above fair trade.
The plastic package we use is PET #1 which is 100% recyclable, recycled worldwide and reused to make everything from park benches, designer carpets, clothing and lots more. Our potent plant-derived, organic ingredients create high-performance, concentrated formulas which require less usage than synthetic formulas. Less consumption reduces package use dramatically. In collaboration with our environmental group, Ecoagents, Rahua created the Pink Flamingos Project, a continuous environmental clean-up effort working with locals to clean natural habitat areas of the pink flamingos and other endemic species in the Galapagos Islands where trash washes ashore from garbage buildup in the ocean.
– Does Rahua have any sustainability goals it's working towards?
Water conservation is extremely important to our planet. Water is the source of all life and we're talking about our precious waterways and spreading the word that we all remember to care for this pure, sacred substance. We created Rahua to help keep our waters clean. When Rahua formulas wash down the drain, the plant-powered ingredients absorb into our waters and become nutrients for all types of life. We use natural and organic ingredients because we care deeply for our planet's health, and for our clients. We encourage everyone to conserve water as much as possible and choose the right products that won't harm our water systems.
– What are the toughest challenges in innovating to be greener?
To be a true green company, you must count your success by how much contamination you remove from the environment per each bottle that you put out there (sell).  The process of incorporating the most up to date organic, clean and natural ingredients in your products, including registrations tests, documentations, certificates, etc. and then explaining to your clients why this new version of their favorite product is better than the previous good one that they are used to, is a challenge.
– Any new product launches you can tell us about?
Our most recent product launch is Rahua Palo Santo Oil Perfume. Rahua® was the first hair care company to incorporate this natural oil into the brand's hair and body care products as a natural preservation, along with its anti-bacterial and anti-fungal properties as well as its captivating, beautiful scent.  It has become a cult favorite and Rahua signature scent.
Palo Santo has incredible benefits and for centuries the people of the Andes have been using this compelling form of tree medicine for spiritual purification, healing, energy or cleansing. Along with shamans and saints, it is believed that many who seek a stronger spiritual connection with the world use Palo Santo to protect, heal, and experience a feeling of well-being.  Our Palo Santo oil is artisanal, made through traditional processes. Rahua® only uses naturally fallen, weather-aged wood and does not harvest live trees. Above and beyond preserving existing trees, we work with local communities to plant Palo Santo seedlings and balance the loss population over-harvested in other areas.
Our Palo Santo Oil is artisanal, made through traditional processes. Rahua® only uses naturally fallen, weather-aged wood and does not harvest live trees.  Above and beyond preserving existing trees, we work with local communities to plant Palo Santo seedlings and balance the loss population over-harvested in other areas.
Rahua has now made this powerful, natural fragrance available in a perfect, purse size oil perfume. The fresh, sophisticated earthy scent, with sweet notes of citrus and gardenia enfleurage, is created with the highest quality, pure plant-derived essential oils. Housed in an elegant, sleek rectangular glass with a rollerball application, this energizing and uplifting scent cleanses "mala energía" (bad energy) and promotes positive thinking. It can be gently applied on pulse points throughout the day to bring positive energy to your wellness routine.
Check out their Earth Month video "Green Utopia" here.