Taos Aer is a waterless, responsibly made personal care brand known for their high performance deodorant – and now sunscreen. Their products are truly clean and support your skin, your well-being, and the planet. The Taos AER Mineral Sunscreen is vegan and formulated without parabens, gluten, petroleum, or synthetic fragrances. There's much to love about the new Taos Aer mineral sunscreen and today I'm sharing my thoughts below in this Taos Aer review.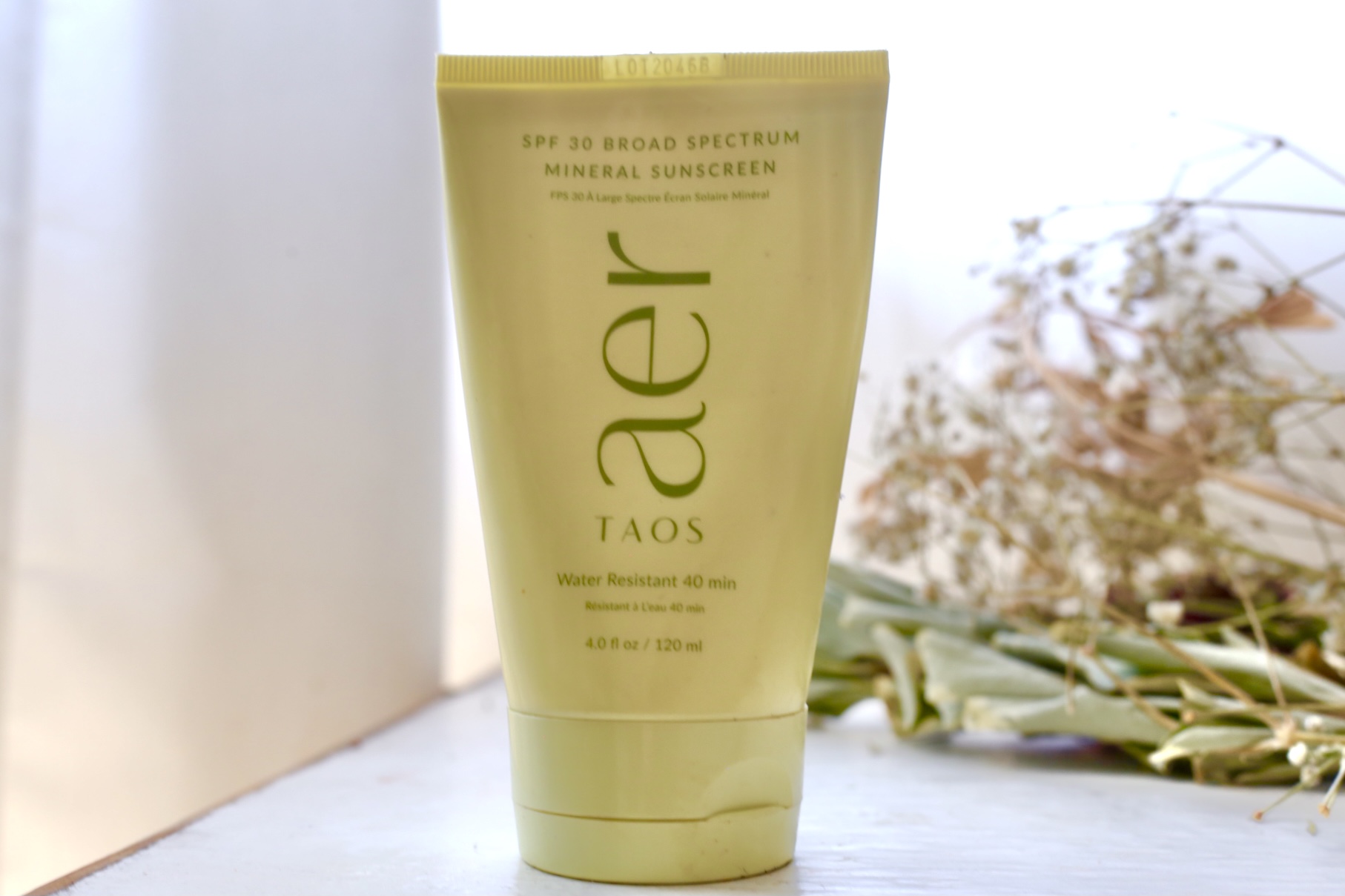 Here's the basic rundown of the Taos Aer Mineral Sunscreen:
SPF 30 with 20% non nano zinc oxide
Sport sunscreen with 40 mins water resistance
Aromatherapy scent of sage, cedarwood, bergamot, and vetiver essential oils
Has a richer sport sunscreen consistency yet is on the light, non-greasy side
Feels very moisturizing
Consistency
For a sport sunscreen Taos Aer has a lighter, more hydrating consistency compared to the many rich, heavy mineral sport sunscreens on the market. But if you're comparing it to non-sport sunscreens that are truly lightweight, this is going to feel thick and rich. Taos Aer mineral sunscreen has a smooth texture and great "grip" when applied to skin.
Scent
The aromatherapy scent is not overpowering and smells wonderful if you enjoy uplifting earthy scents.
Value
Taos Aer Mineral Sunscreen costs $38 for 4 oz. This is a luxury sport sunscreen, so not a product I'd recommend if you're looking for a sunscreen for a family beach day. You can check out options for that here. Taos Aer's sunscreen is great as a luxury face sunscreen if you need a product that's water and sweat resistant.
White Cast
Yes there's some white cast with this.