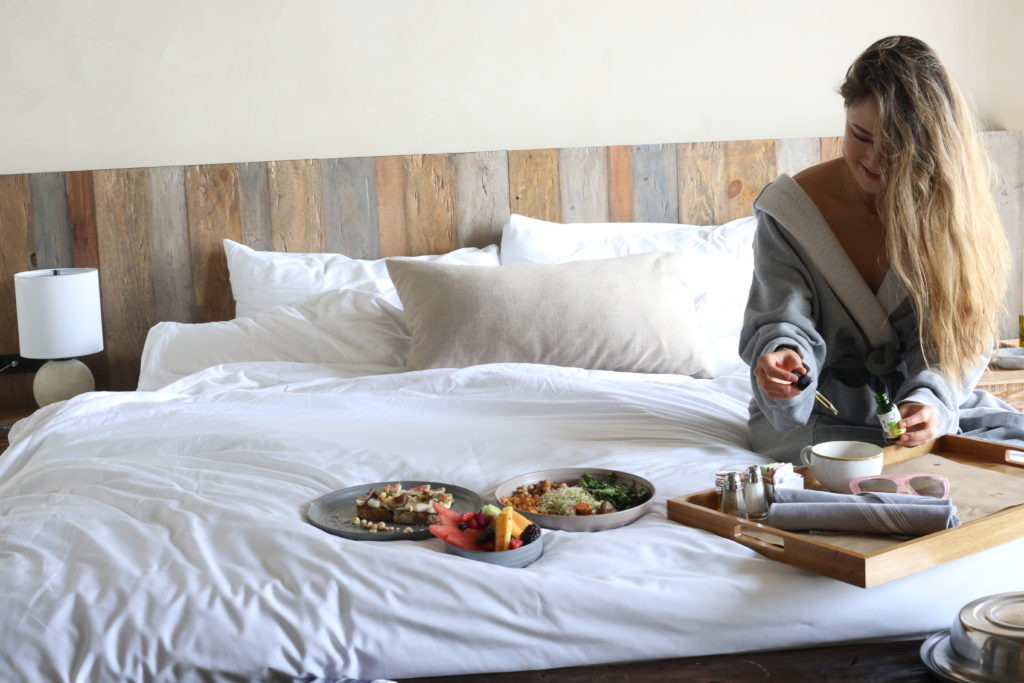 My BFF wifey treated us to a staycation at the newly opened 5-star eco-friendly 1 Hotel in West Hollywood, and while she went off to work I set about taking a million pictures of the hotel. I was so amazed by their dedication to sustainability, I had to do a write-up. Weeks later they had their opening party with celebrity guests like Jamie Foxx and Rachel Zoe, which we were not invited to sadly. Regardless, praise must be given where it is due.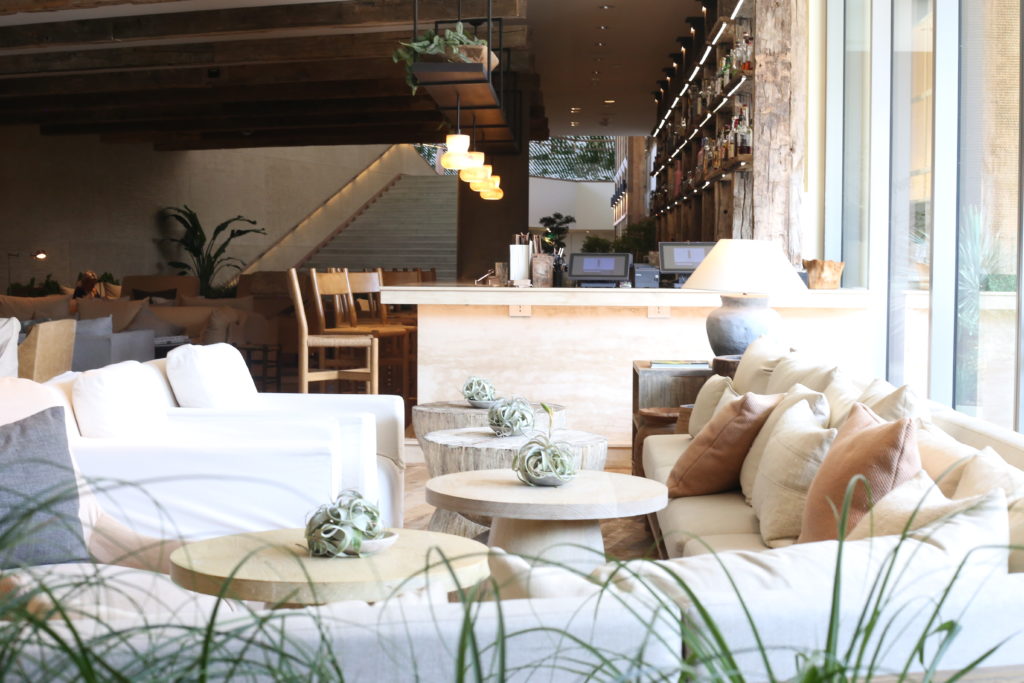 The 1 Hotel West Hollywood is one of the most energy-efficient hotels in Los Angeles, and their mission is to set an eco example that will make waves ripple throughout the hotel industry. A leader in sustainable luxury travel, every detail of the hotel is made with sustainability as its primary focus, with reception desks made of wod sourced from naturally fallen Aleppo trees, its courtesy car as an electric Tesla, smart irrigation systems, carpet made from ocean waste plastic, energy-efficient zoning of air conditioning and LED lighting.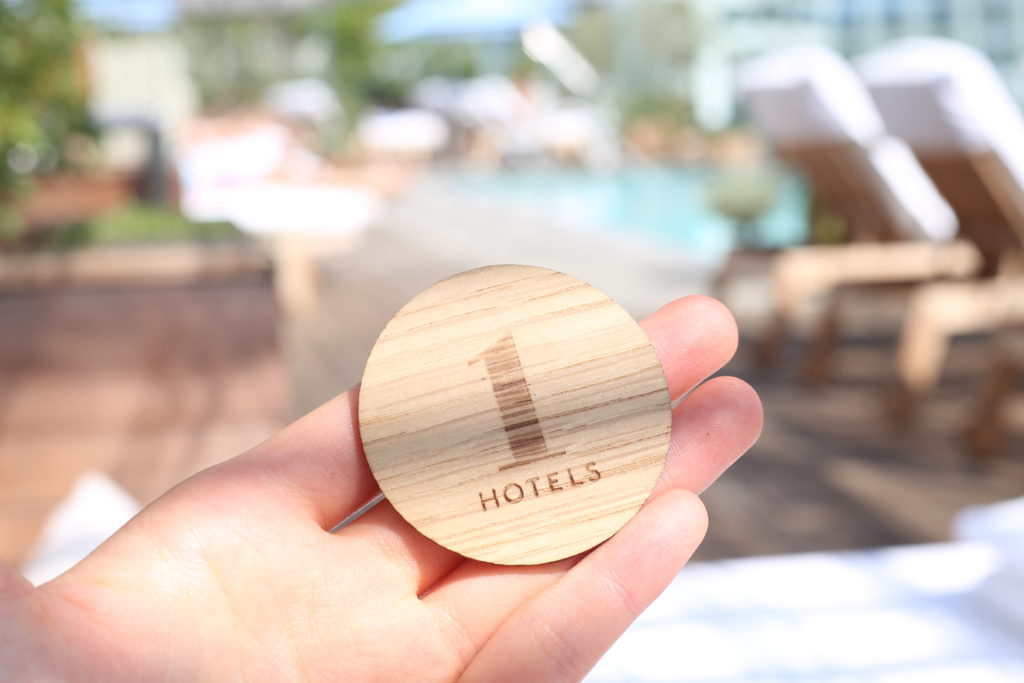 Just like in other 1 Hotels, the clothing hangars are made from repurposed wood (or cardboard), filtered water taps instead of plastic water bottles, clothes recyling bins, chalk slates instead of paper notebooks, organic slippers and organic cotton linens on the bed. You won't find any plastic or paper anywhere in the room. Everything is done through their mobile app, including ordering room service from menus.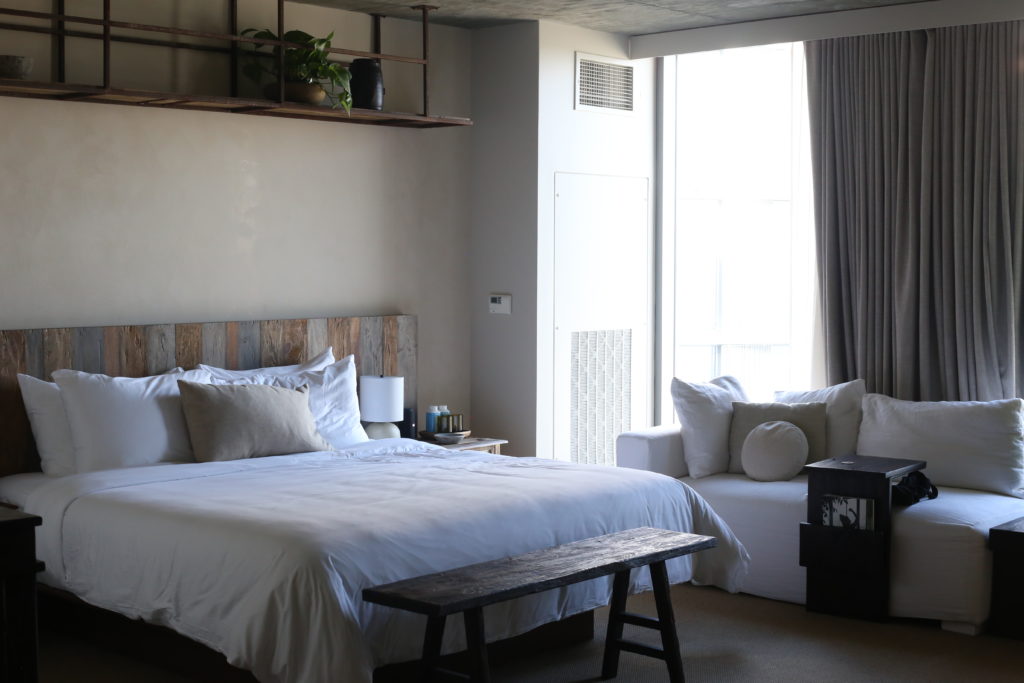 Even their restaurant is strongly focused on sustainability with its own organic vegetable garden, zero waste dishes on the menu, living walls of plants, and biodynamic wines.
Located at the base of the Hollywood Hills on Sunset Blvd. the hotel has 285 rooms, pool, gym, reception area bar, rooftop bar, restaurant, daily activities, gift shop and sun deck.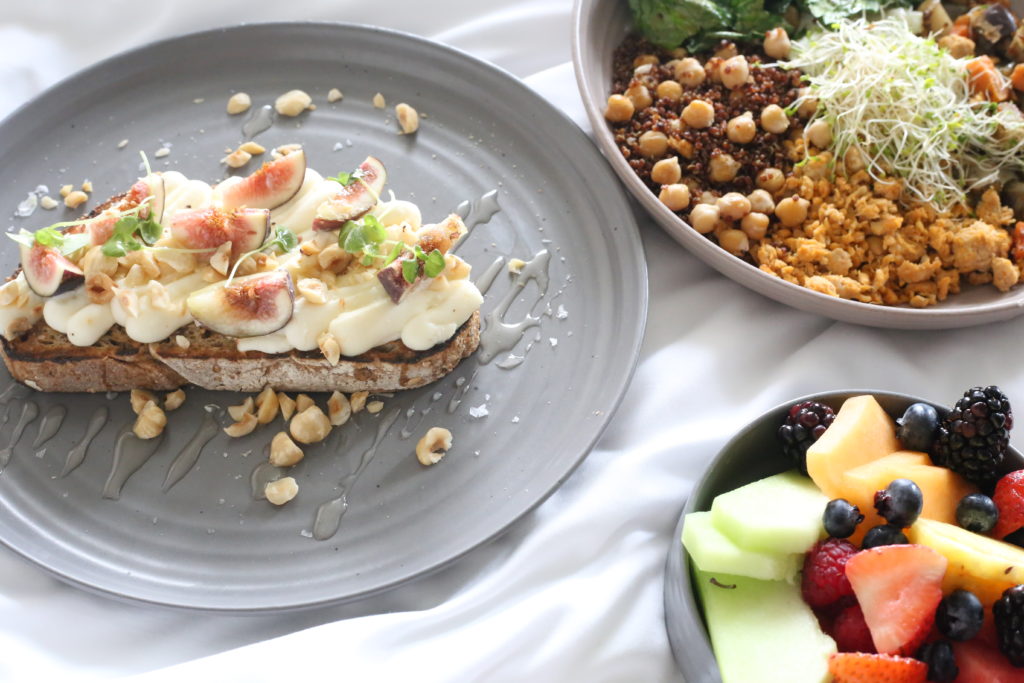 The food at the restaurant was so delicious – it was one of the best meals I've had in Los Angeles in a very long time. Breakfast was also incredibly gourmet and beautifully presented.
Below some of the sustainable details of the hotel: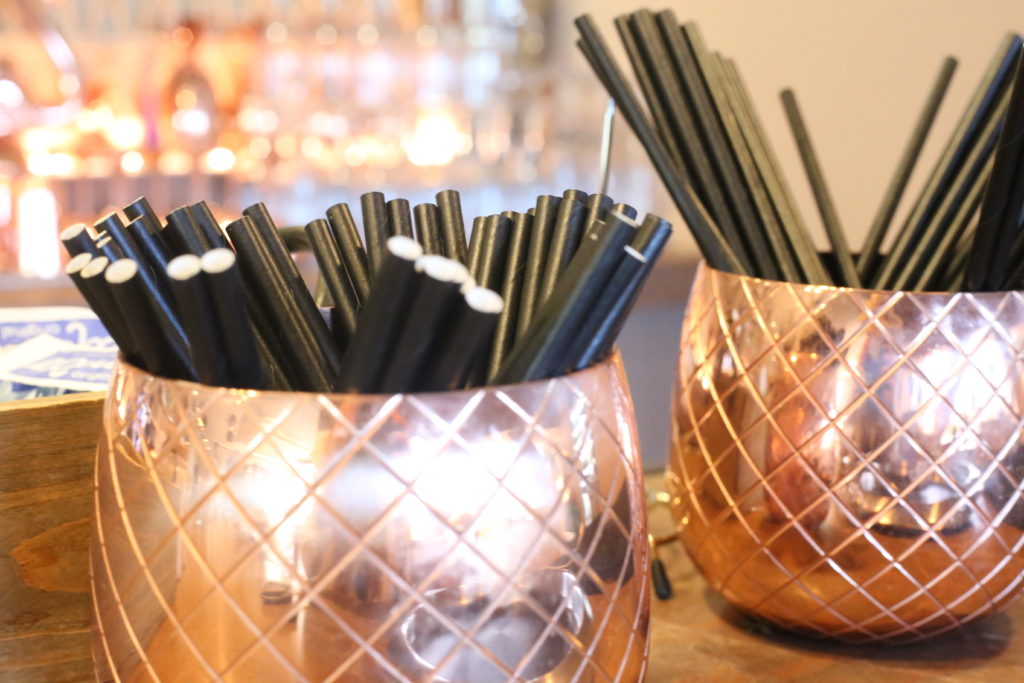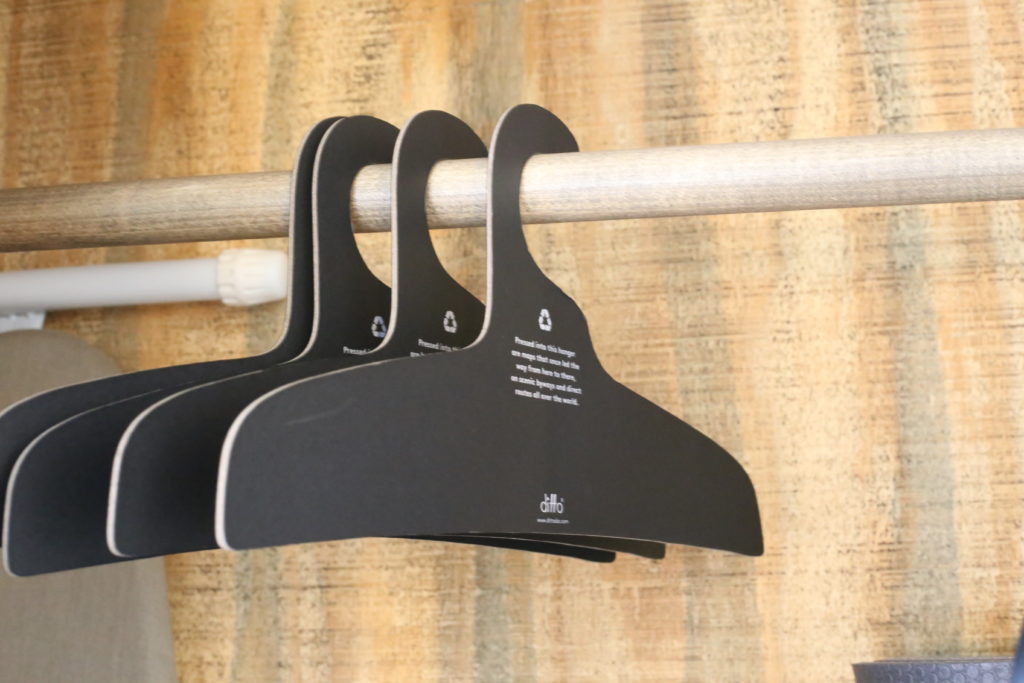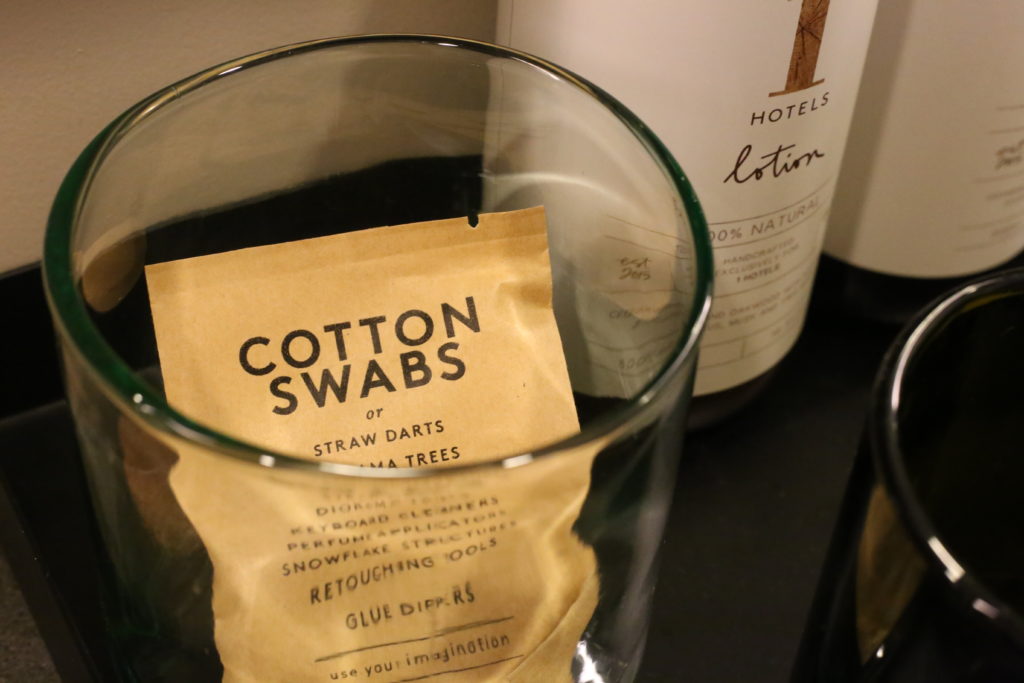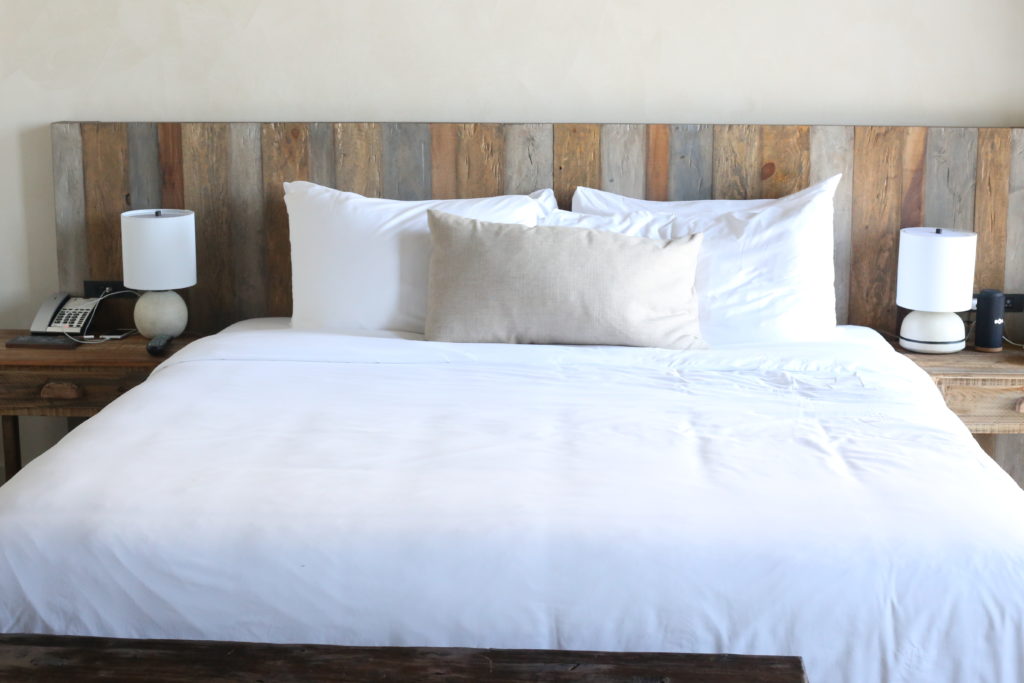 My favorite area of the hotel was the pool, with its panoramic sweeping views of LA, beautiful lounge chairs and plants all around, and chill music coming from the pool bar. Service was also to the level of 5 stars with bar attendants filling up my glass of water without me having to get up and go refill it myself. I ordered one of their green smoothies and added a shot of vodka to it, not realizing the shot of vodka cost more than the smoothie itself.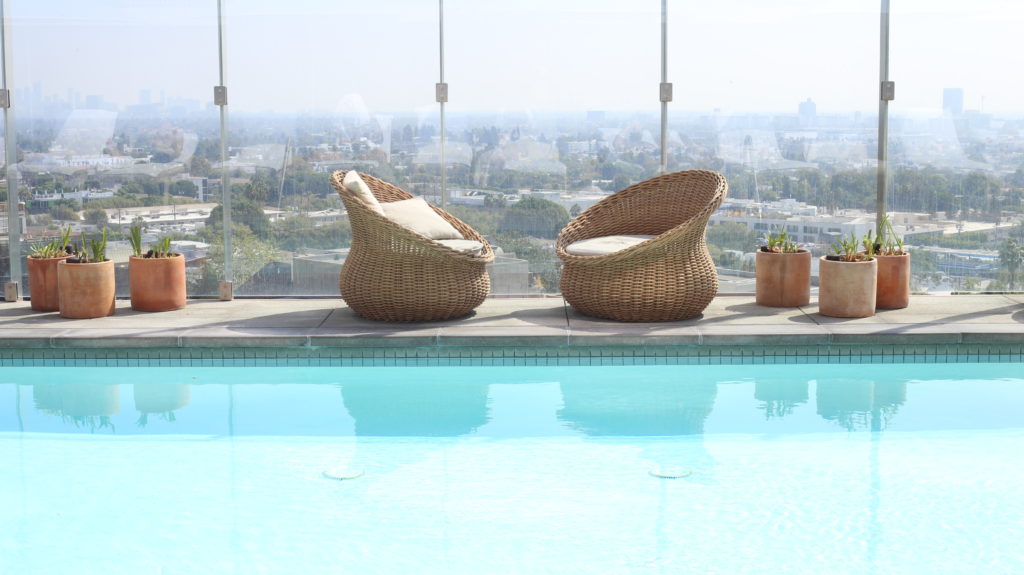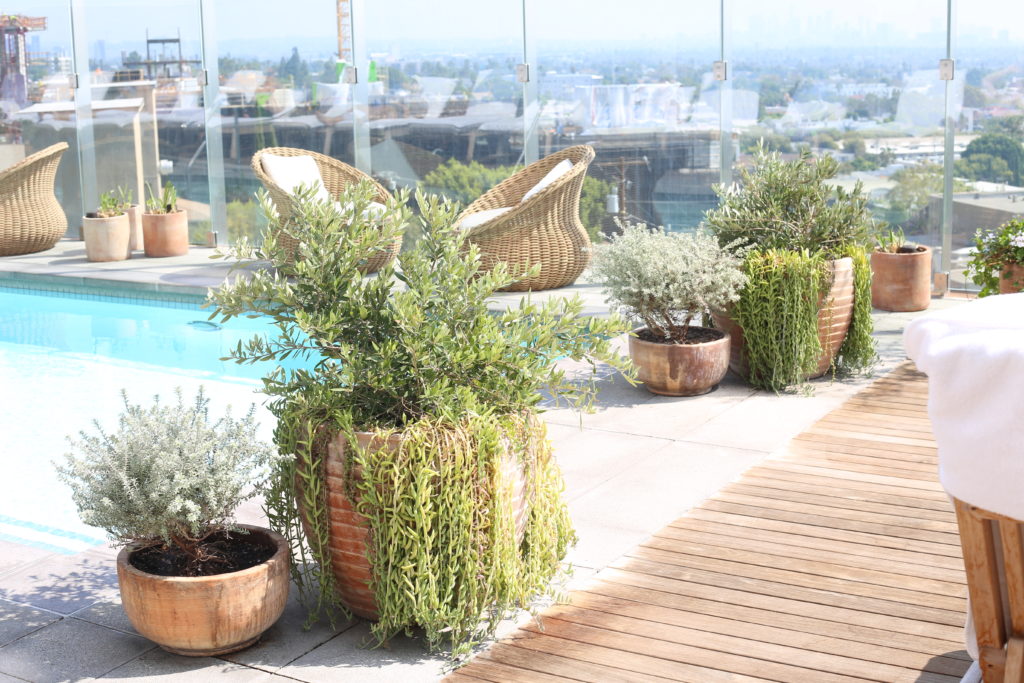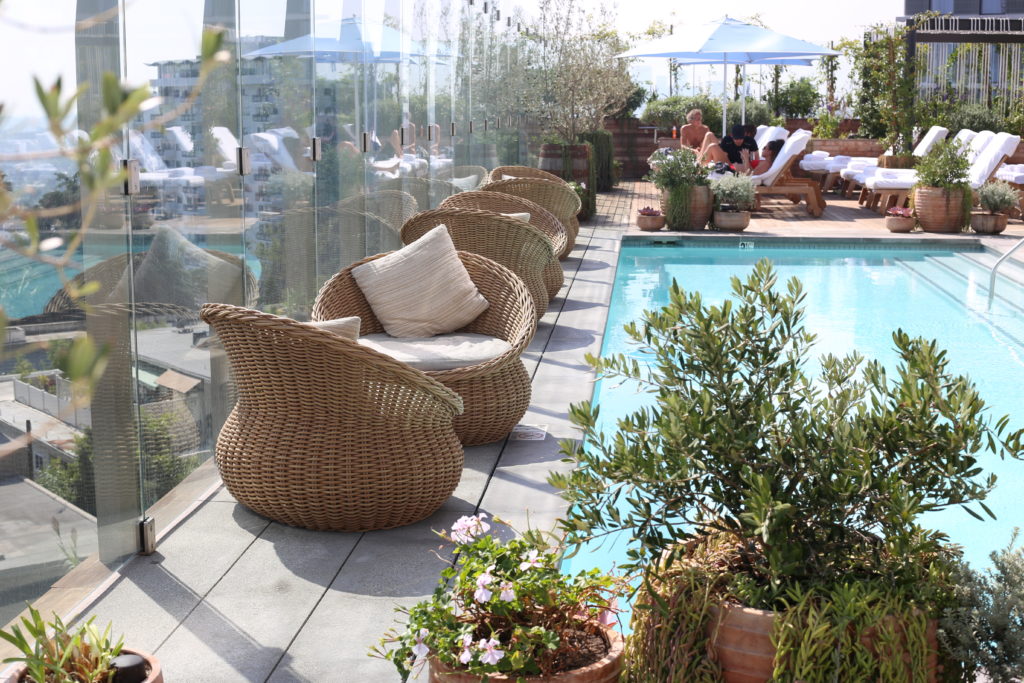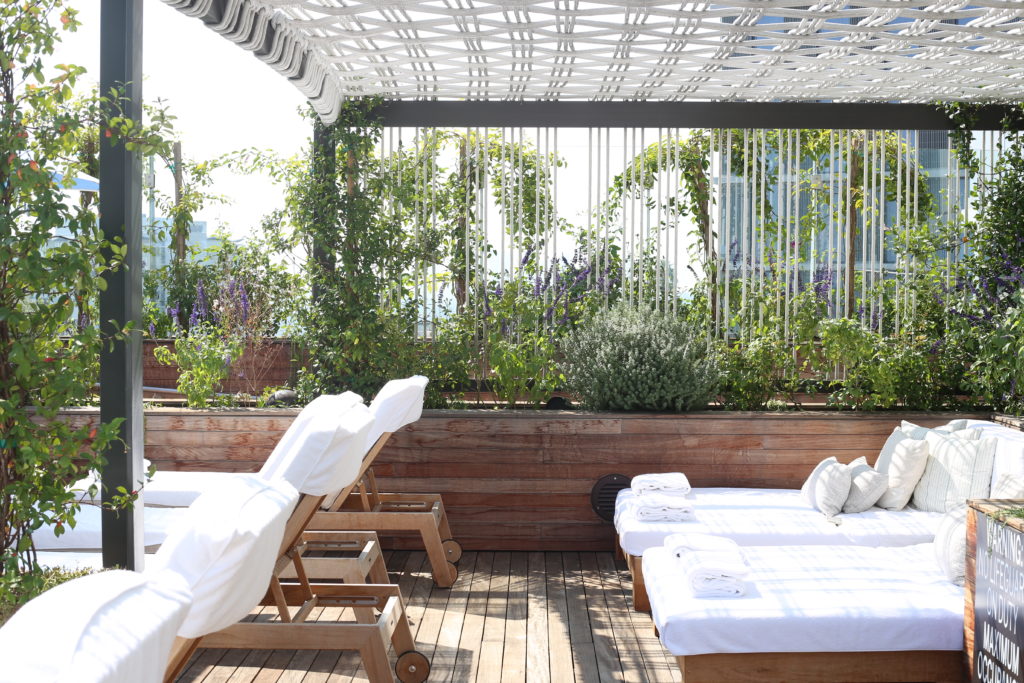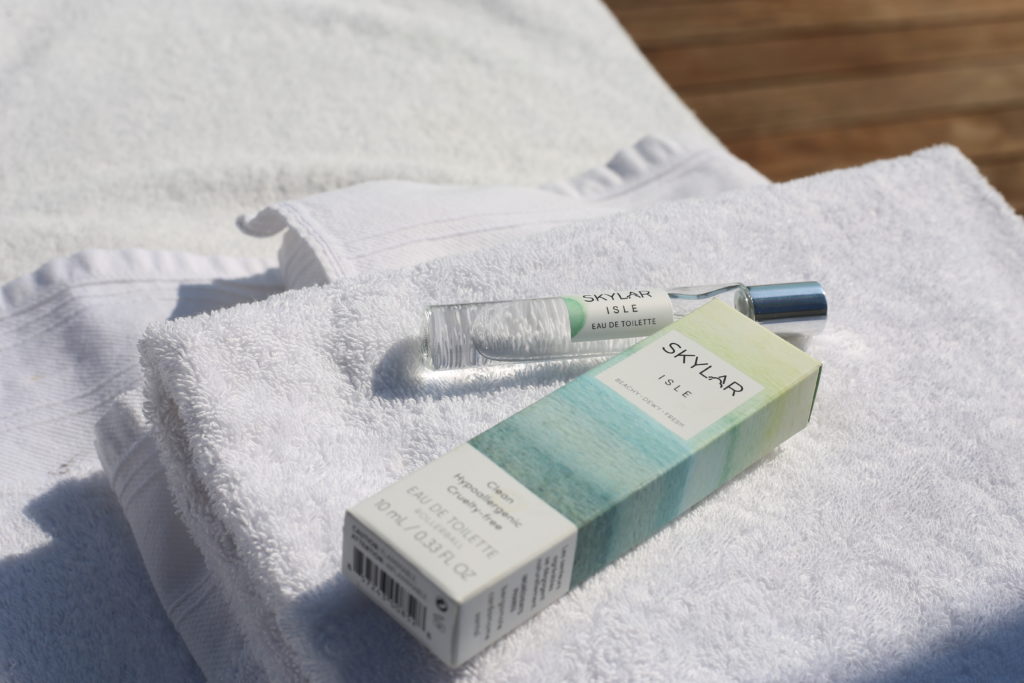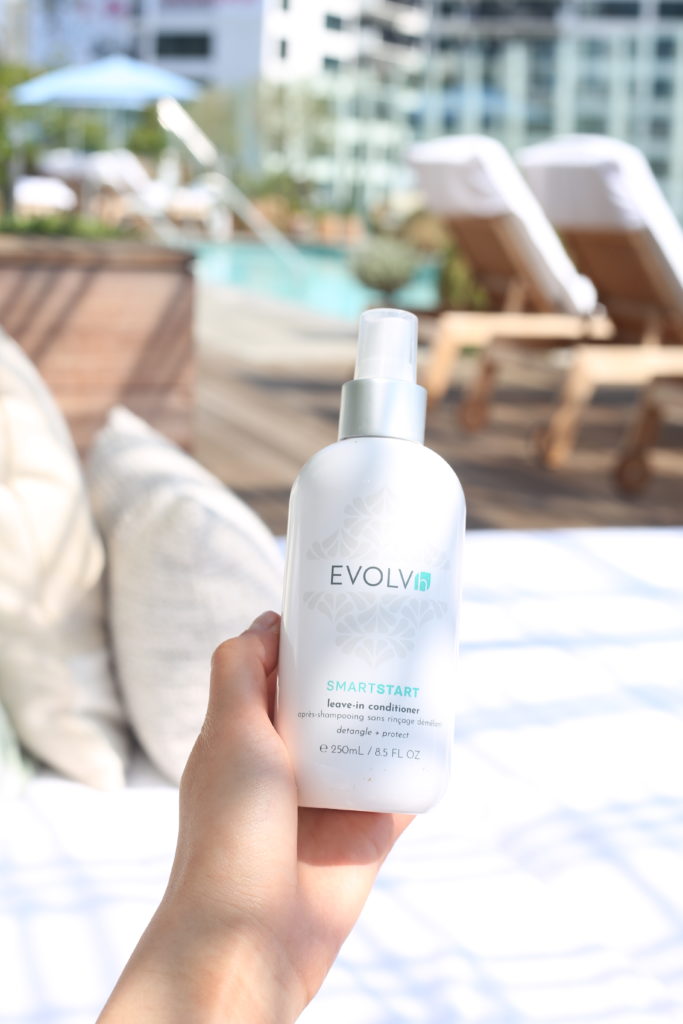 They also have a gym with panoramic views, floor-to-ceiling walls, the latest gym equipment, and personal trainer available.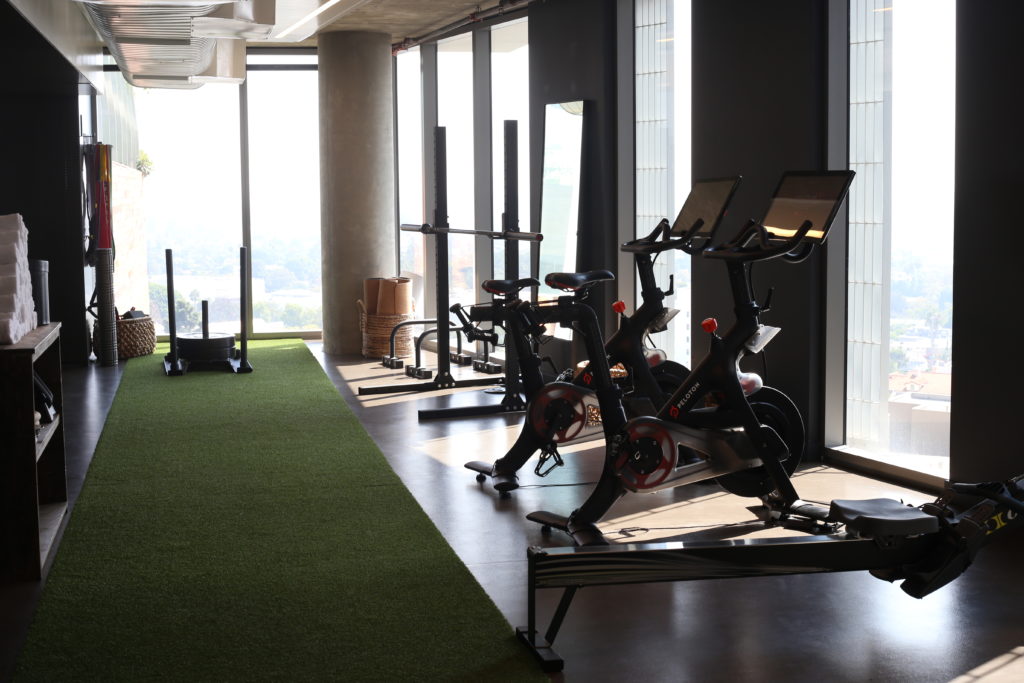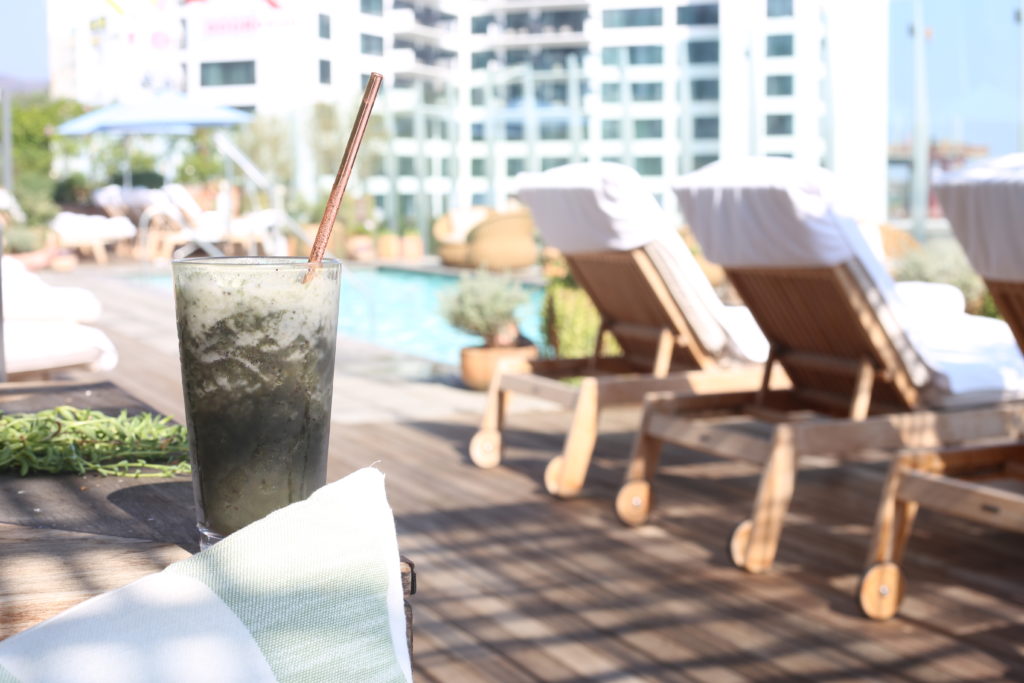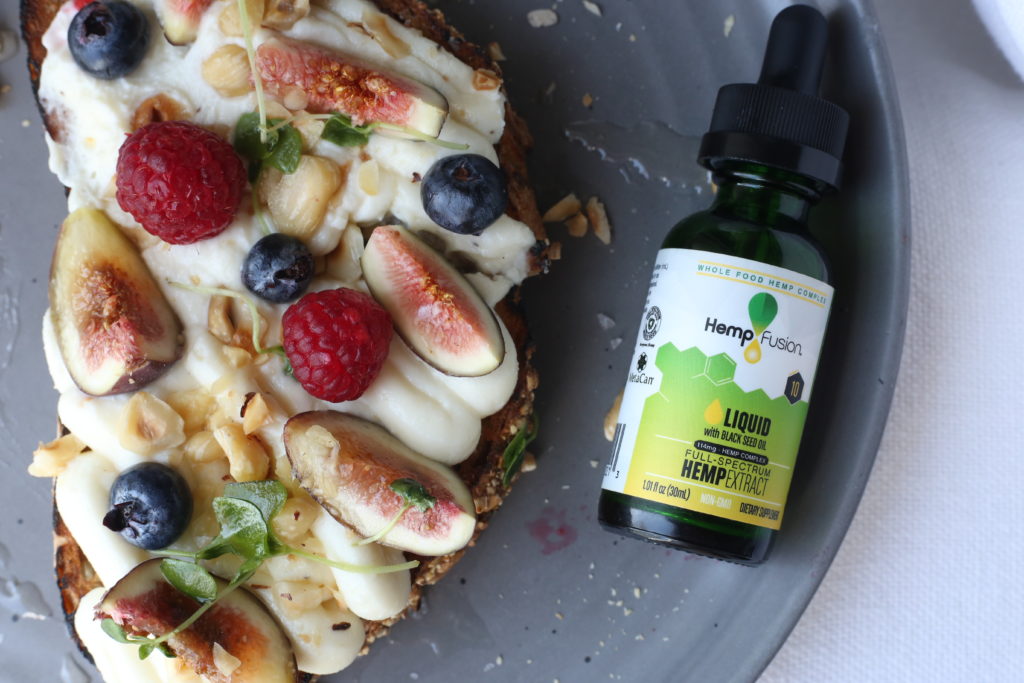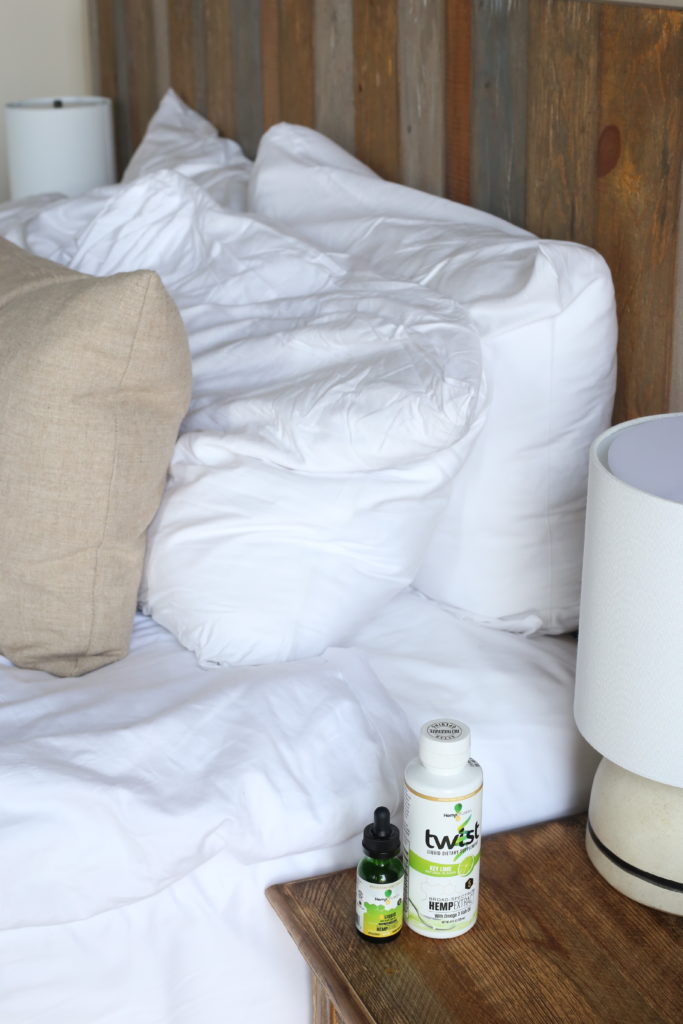 The bed was, of course, extremely comfortable – pillows, sheets, mattress all of it. The phone was frustrating because I couldn't figure out how to dial reception and it was because the phones are automatically off when not in use and you need to press a certain button to turn the phone "on". The lights in the room are not strong to save energy, so during the night there isn't too much light. The walk in marble shower was fantastic, with strong water pressure and natural bath & body products available.
All in all, a great stay, though for the price per night this may not please all luxury lovers. For those who believe in conscious consumerism and mindful travel, a stay here will inspire you to look at all areas of your life in which you can practice sustainability.