19 Best Beauty Supplements for Skin and Hair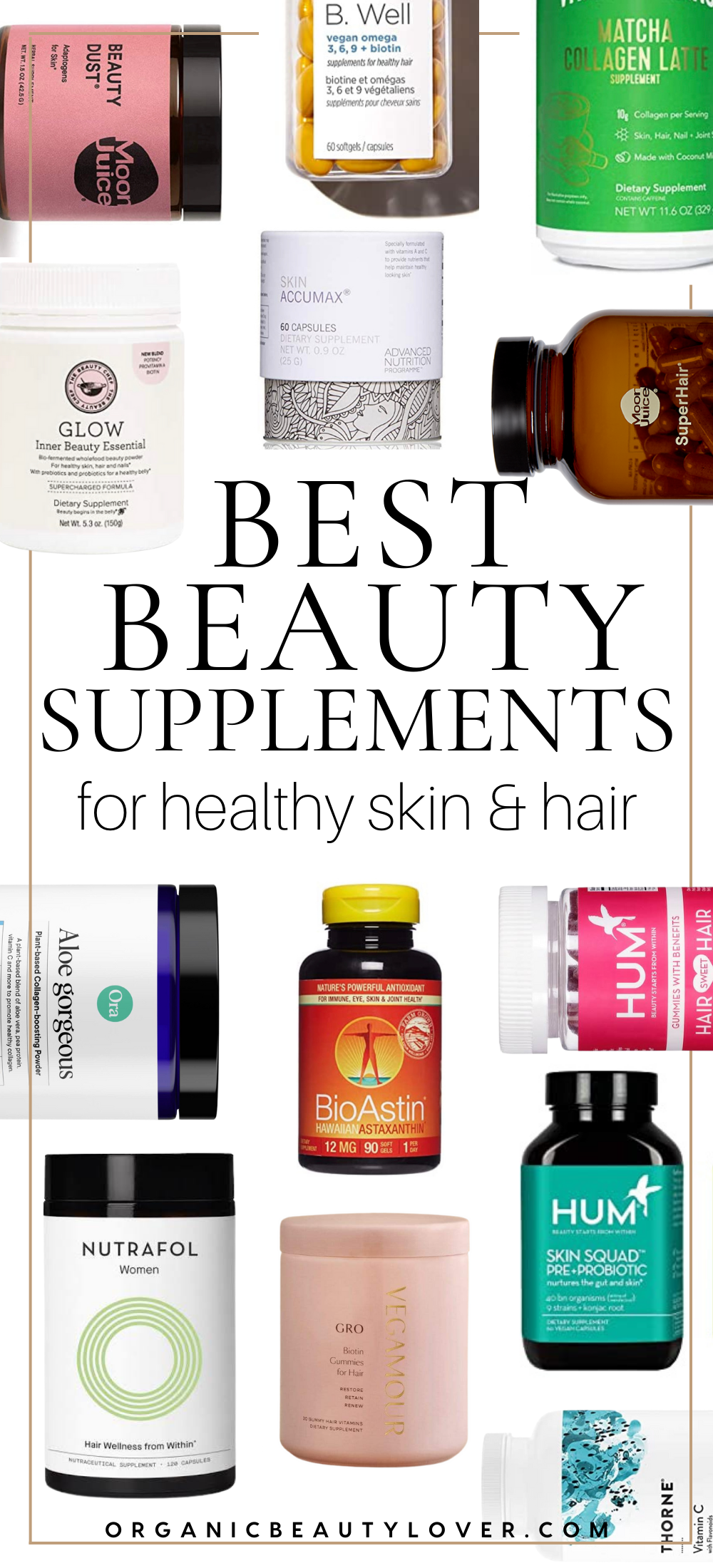 The age old adage beauty starts from within may be referring to food, but it also rings true for skin supplements in today's fast-paced, shortcut-obsessed world. Beautiful skin and thick hair might not be achieved through natural supplements & hair growth vitamins alone, but it certainly doesn't hurt when we're not always able to get in the right amount of daily protein, fats, vitamins and minerals. Supplements for acne aren't just about taking Vitamin C, but approaching beauty from a holistic standpoint – adaptogens to reduce stress, probiotics for gut health, sun-care antioxidants to build your skin's natural defenses, etc. Popular wellness brands like Moon Juice and Vital Proteins may have reached cult status thanks to being the beauty supplements used by celebrities, but there's also plenty of niche, high-quality beauty supplement brands you haven't discovered yet. Read on for the best beauty supplements for skin and hair that will enhance your beauty from the inside out.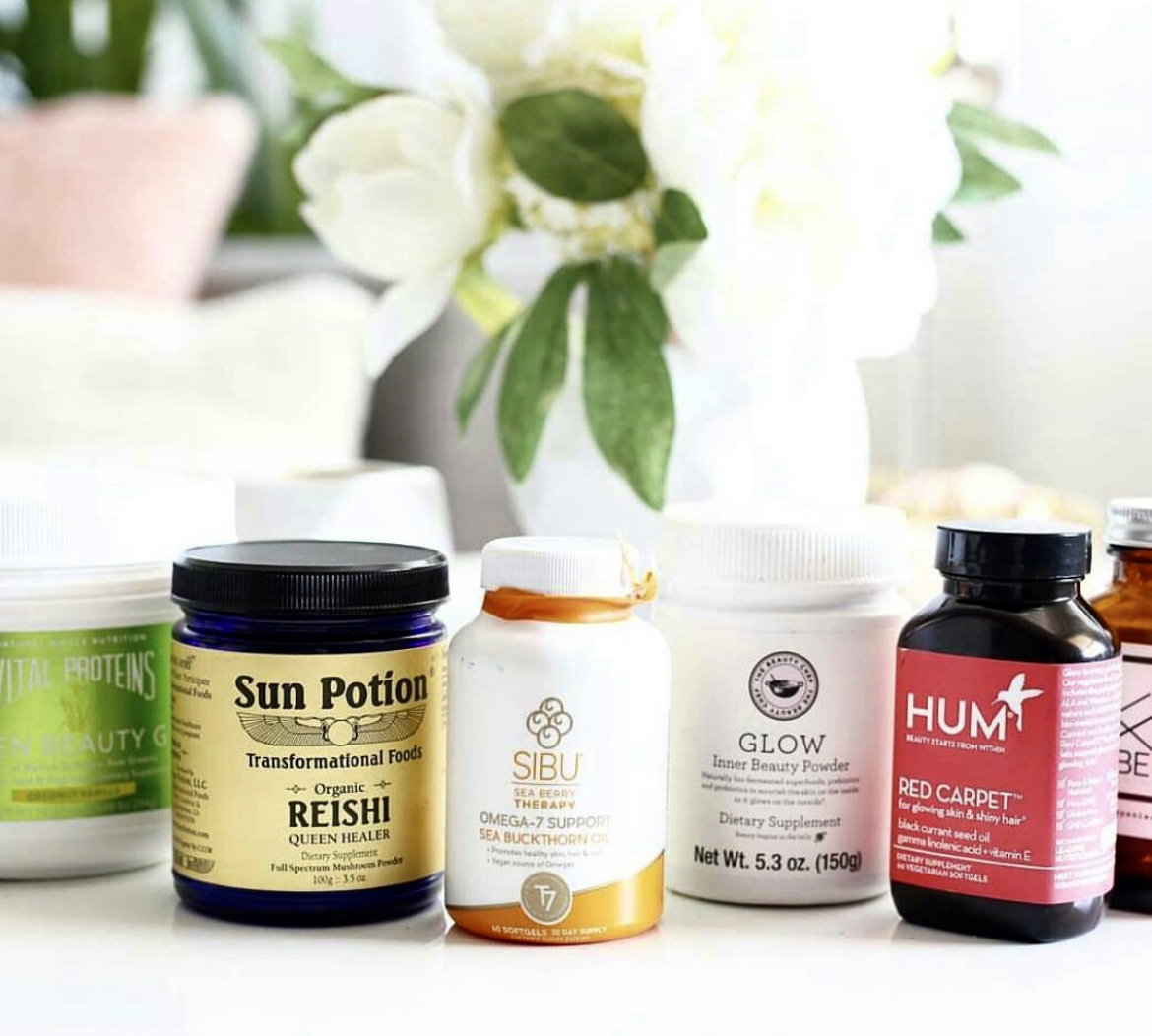 Please note that these skin supplements and hair growth vitamins are not a replacement for your diet. The best vitamins for healthy skin come from real (ideally organic) food in its raw, original form.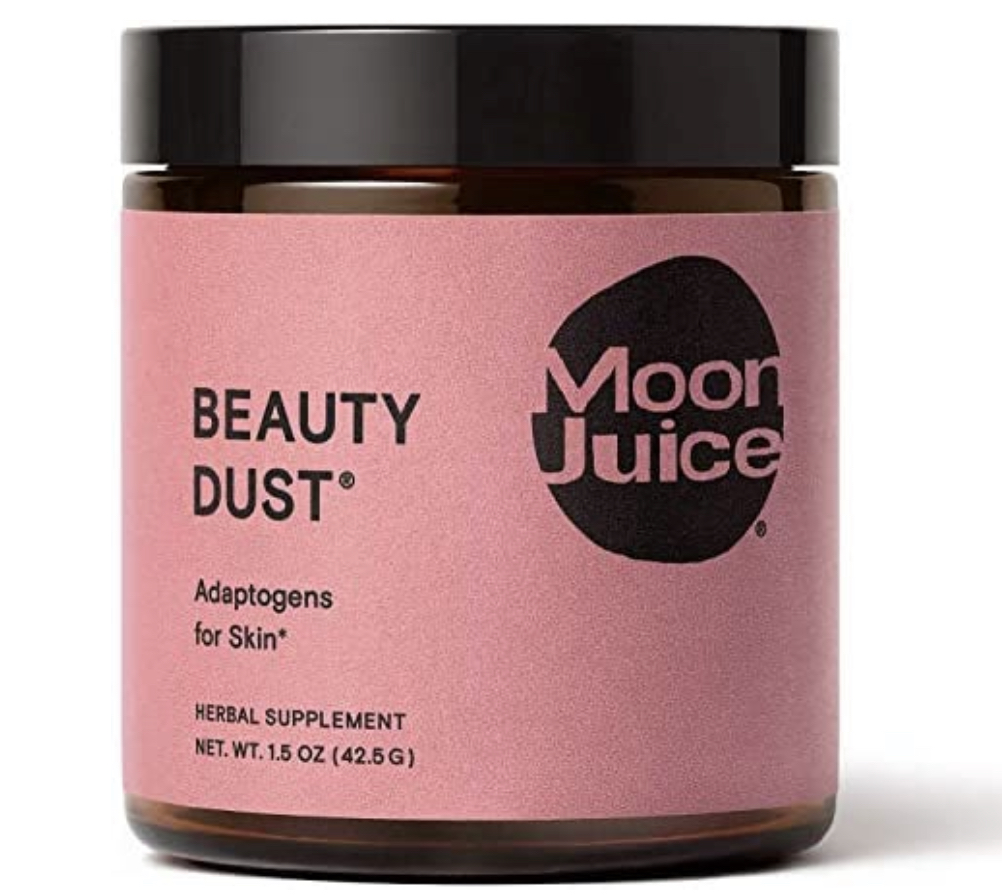 Moon Juice Beauty Dust is a blend of adaptogens and herbs that target stress to improve skin clarity and help protect from free radicals and accelerated aging. Inspired by Traditional Chinese Medicine and Ayurveda, Moon Dust contains Schisandra, Amla, Ashwagandha, Rehmannia, Goji, and Pearl.
Venice Beach, CA- based Moon Dust was created by a mother, chef, and alchemist to harness the healing power of plants, and to nourish body, beauty, and consciousness from the inside out.
SAVE: Discount code OBL saves 15% at Moon Juice
A tastier alternative to taking capsules, you get the equivalent of up to 15 beauty supplements in one yummy bar with Glow Beauty Fuel. Made only with premium quality ingredients, including chocolate crafted by a chocolatier using the bean-to-bar method and organic, ethical cocoa beans, the Glow Beauty Fuels bars contain full doses of bioactive collagen (non-vegan flavors), essential ceramides, hyaluronic acid, hibiscus flower acid, and vitamin C.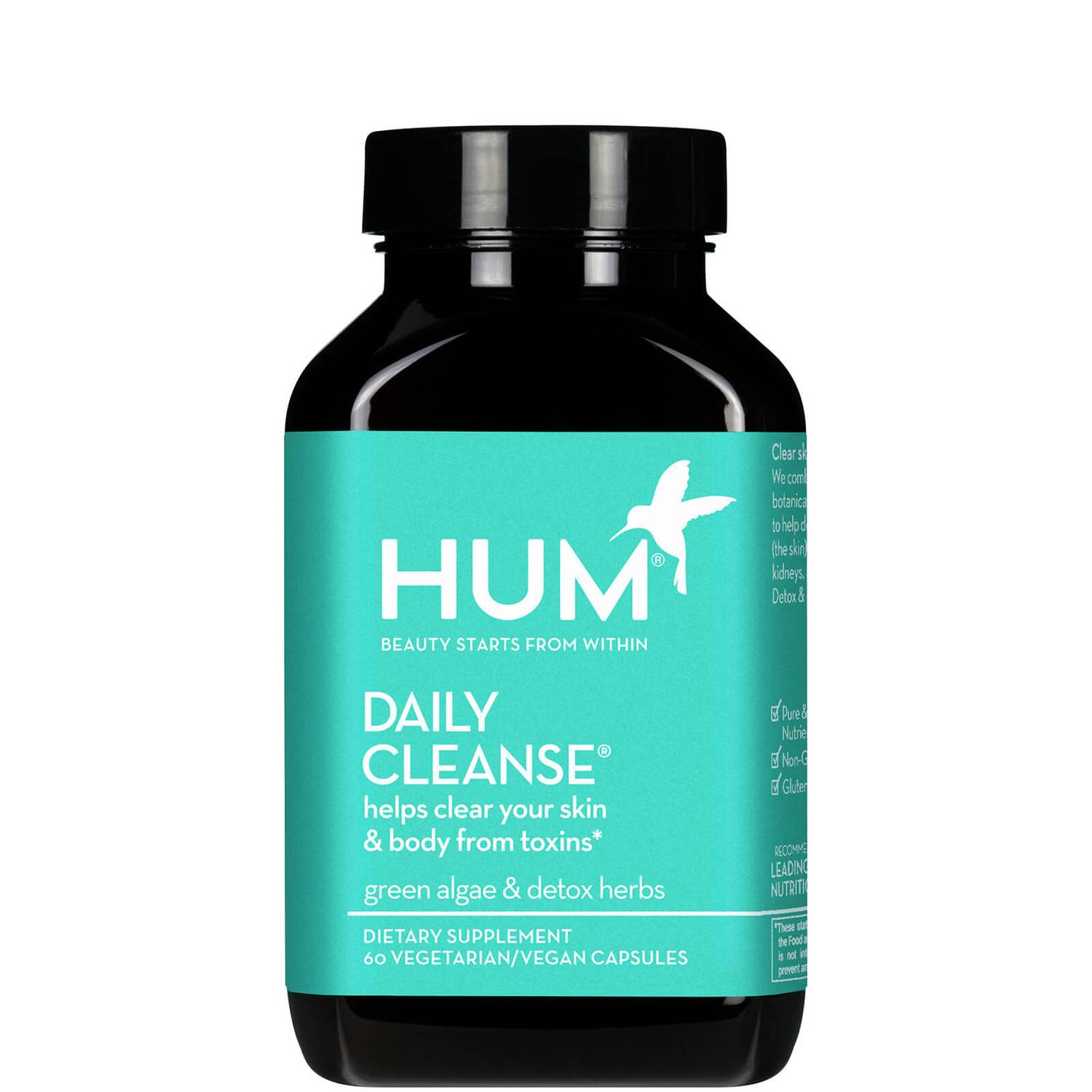 Helping your body rid itself of toxins is key to healthier skin, and HUM Daily Cleanse contains 14 detoxifiers to help clear skin. It's a great beauty supplement for acne to consider adding to your skincare routine. In fact, people suffering from acne tend to have poor liver detoxification compared to others. HUM Daily Cleanse's herbal blend helps to detoxify your skin, liver, bowels, kidneys, lungs and the lymphatic system. HUM Nutrition supplements are triple tested for purity and are verified by independent labs.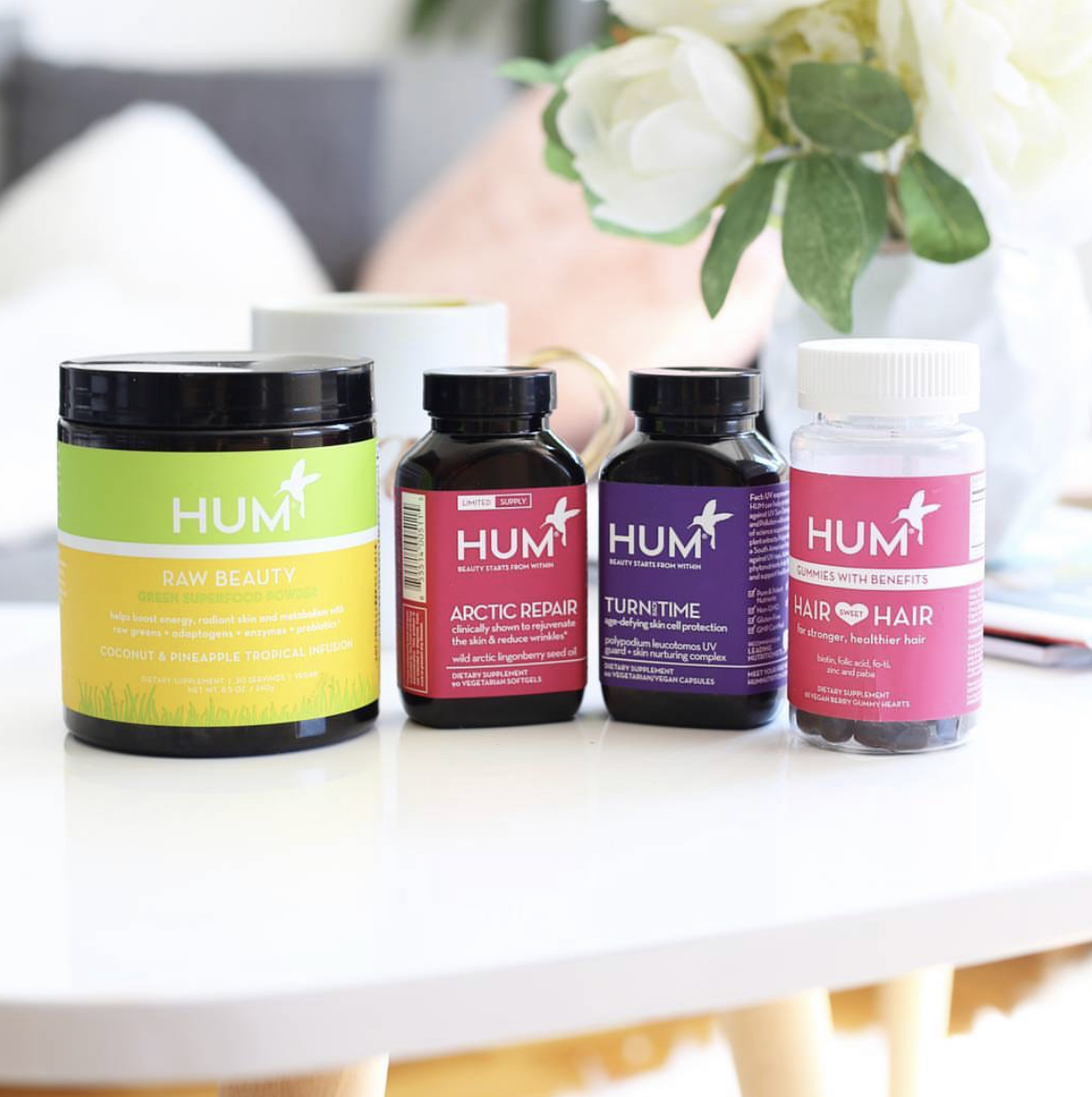 HUM has a wide variety of beauty supplements each targeting a different concern.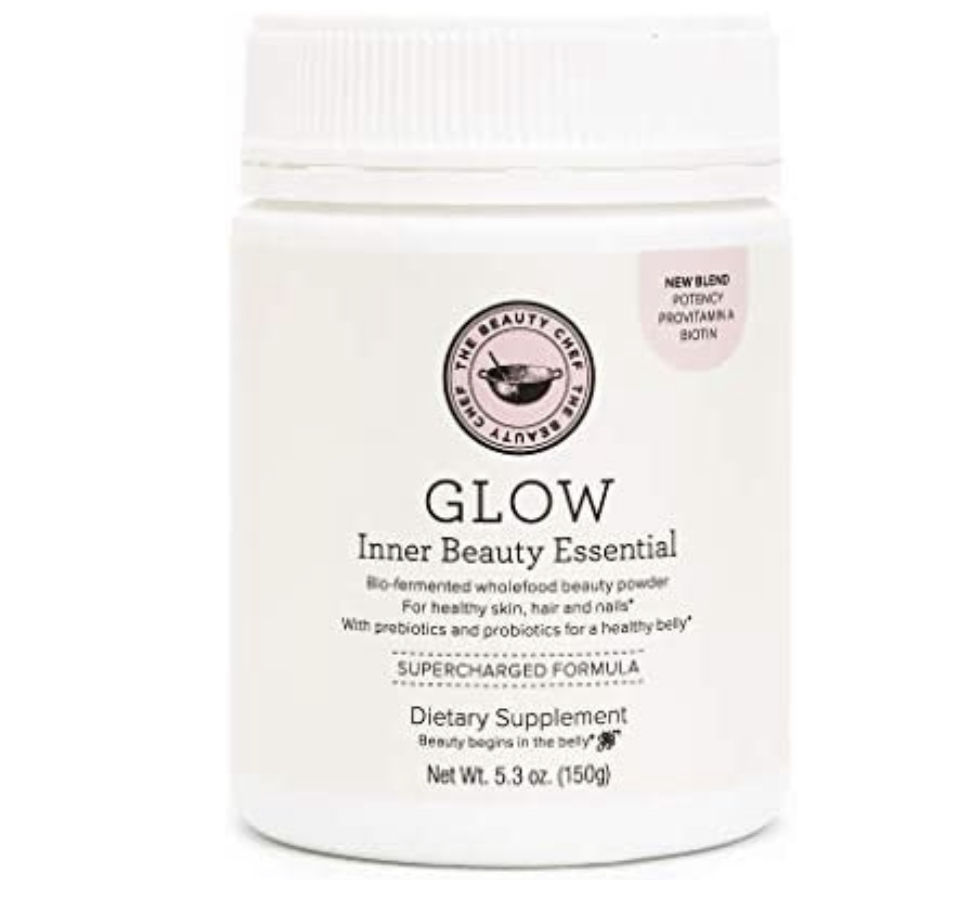 The Beauty Chef is designed to support both gut health + collagen production for beautiful skin, hair, and nails. Glow Inner Beauty Essential uses whole-food ingredients, bio-fermented nutrient blend, seeds, vitamin C, provitamin A, biotin, and probiotics and prebiotics. It has a decent berry flavor that isn't overly sweet.
Ingredients: Bio-Fermented Nutrient Blend With Flora Culture™ (Chickpeas, Mung Beans, Brown Rice, Orange Sweet Potato, Lentils, Queen Garnet Plum, Turmeric, Buckwheat, Millet, Quinoa (Chenopodium Quinoa), Lemon Juice, Trace Minerals, Flax Seed, Pumpkin Seed, Sunflower Seed, Maqui (Aristotelia Chilensis) Berry Powder, Molasses, Agave, Ginger Powder), Quinoa (Chenopodium Quinoa) Sprout, Pomegranate Fruit Peel Extract, Dunaliella Salina, Stevia Leaf Extract, Saccharomyces Boulardii, Lactobacillus Rhamnosus Gut5y™, Kakadu Plum Fruit, Guar Galactomannan, Colored With Black Carrot Juice, Grape Color Extract, Citric Acid, Natural Wild Berry Flavor.
WelleCo is a global wellness company founded in 2014 by Australian supermodel and entrepreneur, Elle Macpherson, and Andrea Bux. The company is committed to creating high-quality, all-natural, plant-based health supplements and products that focus on nourishing the body from the inside out. The Super Elixir is a blend of over 40 carefully selected ingredients, including vitamins, minerals, antioxidants, whole foods, and herbal extracts, designed to support overall health, energy levels, and well-being.  WelleCo's dedication to using only the finest, all-natural ingredients is apparent through the 18 industry awards it has won, including the 2023 Beauty Shortlist Awards for 'Best Wellbeing Product'.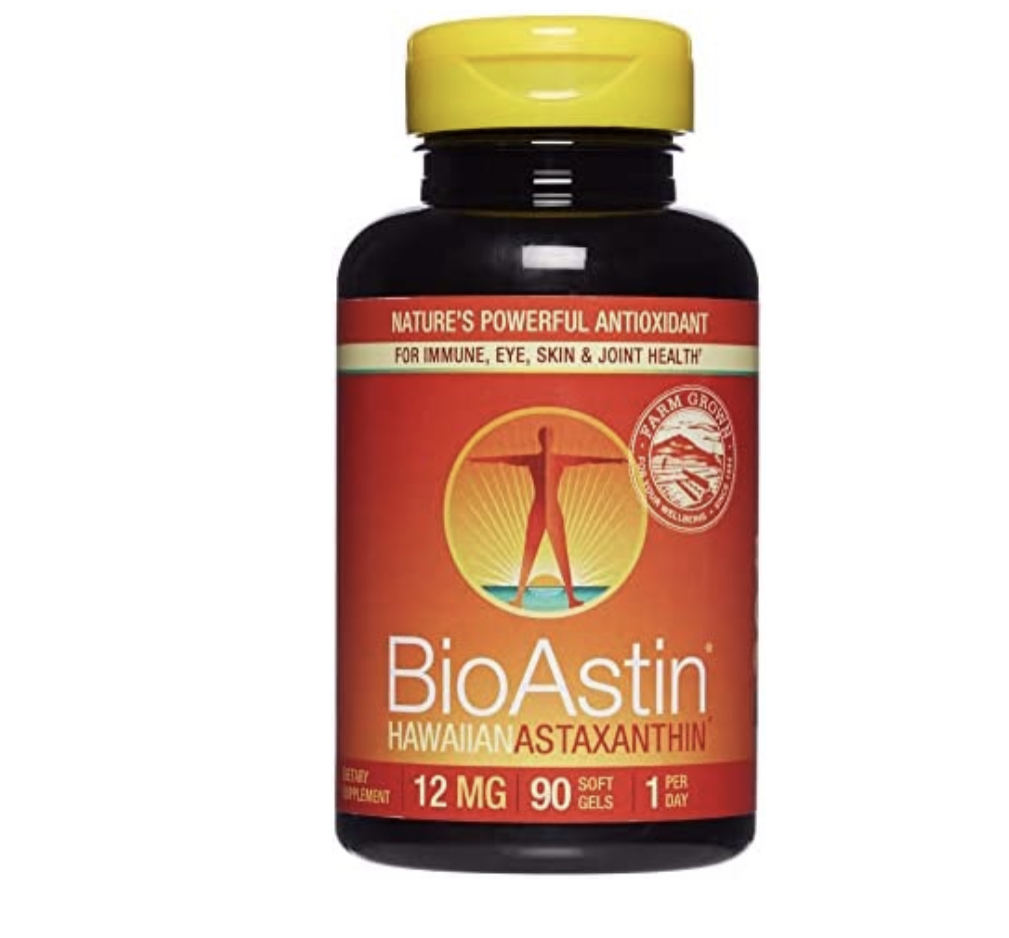 Astaxanthin is a staple in my skincare supplement routine, and for good reason. Astaxanthin is a whopping 800x stronger than CoQ10, 6000x stronger than Vitamin C and 100x stronger than Vitamin E. BioAstin's Natural Astaxanthin is sourced from their very own Hawaiian farm in Kona Hawaii since 1991.
For a budget option I also like taking NOW Food's Astaxanthin.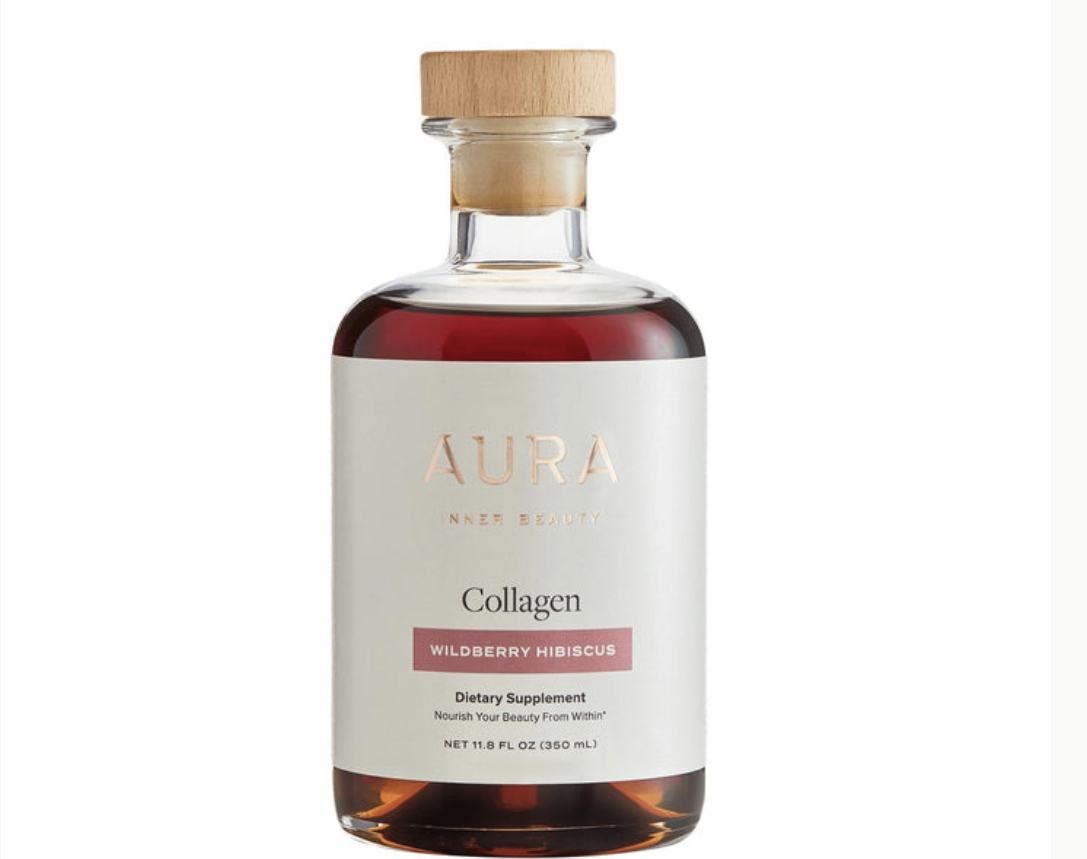 Aura Inner Beauty is a marine collagen liquid Elixir that can be mixed into your water, coffee, juice, smoothie, and cocktails. Wild Berry Hibiscus Collagen contains hydrolyzed marine collagen sourced from wild-caught fish from Canada and organic wildberry and hibiscus for a subtle berry flavor. There's also a coconut flavored version and passion fruit flavored version.
Ingredients: Hydrolyzed marine collagen (wild-caught fish from Canada, (cod, haddock, pollack) 4500 mg, water/aqua, organic palm-free glycerin, potassium sorbate (from mountain ash berries), Vitamin C as absorbic acid, organic wildberry flavour, organic hibiscus extract.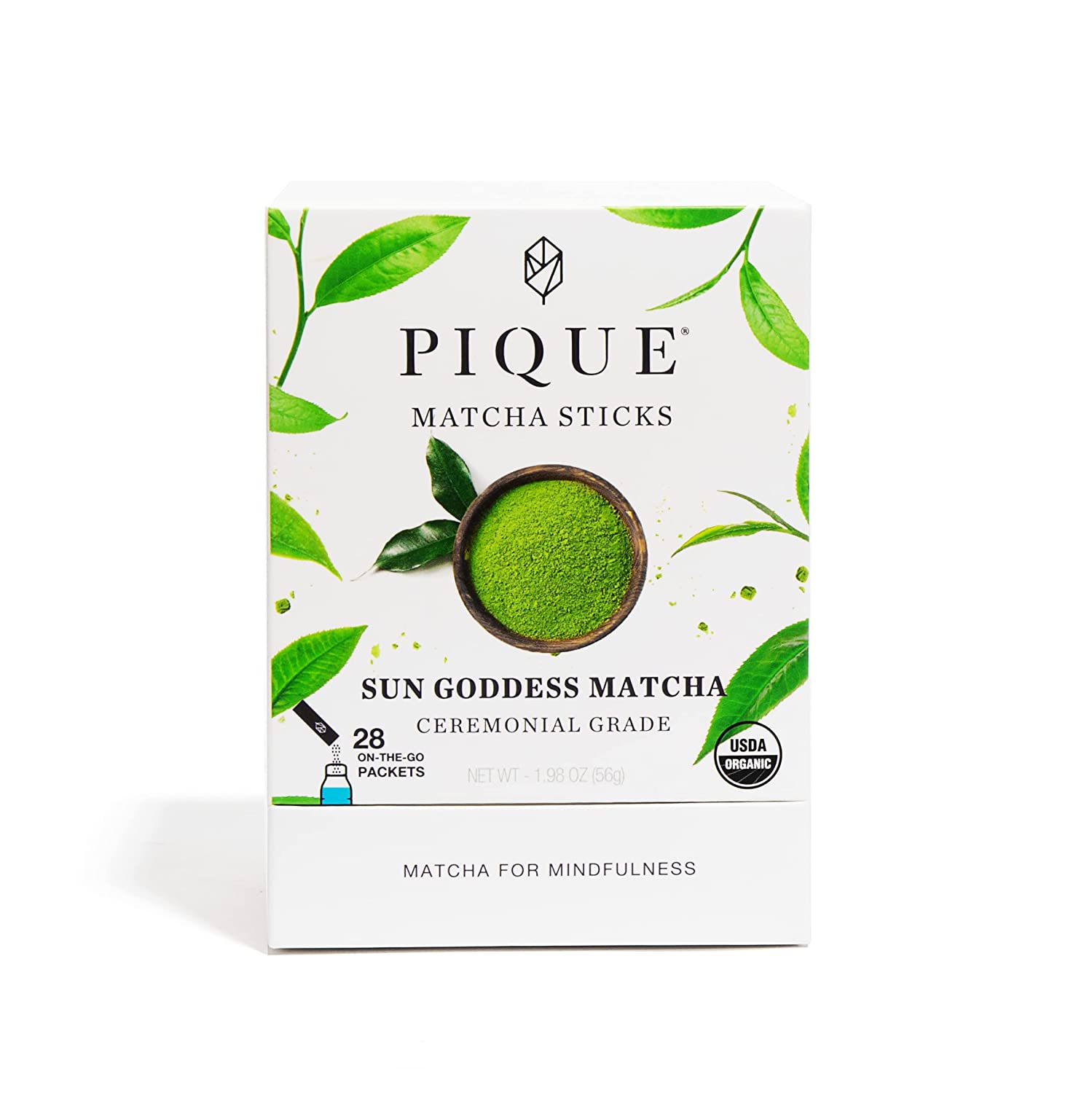 The secret to why Japanese women never age — matcha. Matcha has incredible benefits for skin and bodily health overall, and it also happens to be social media's favorite wellness drink. One of my favorite matcha brands is Pique. Founded in 2014 in San Francisco, Pique Tea offers the purest, healthiest tea that are available in the form of crystals that dissolve in both hot or cold water. Pique tea crystals are triple screened for toxins like heavy metals, mold, and pesticides to ensure quality. Sun Goddess Matcha is sourced from Kagoshima, at the southernmost tip of the Japanese archipelago, the furthest distance from environmental toxins.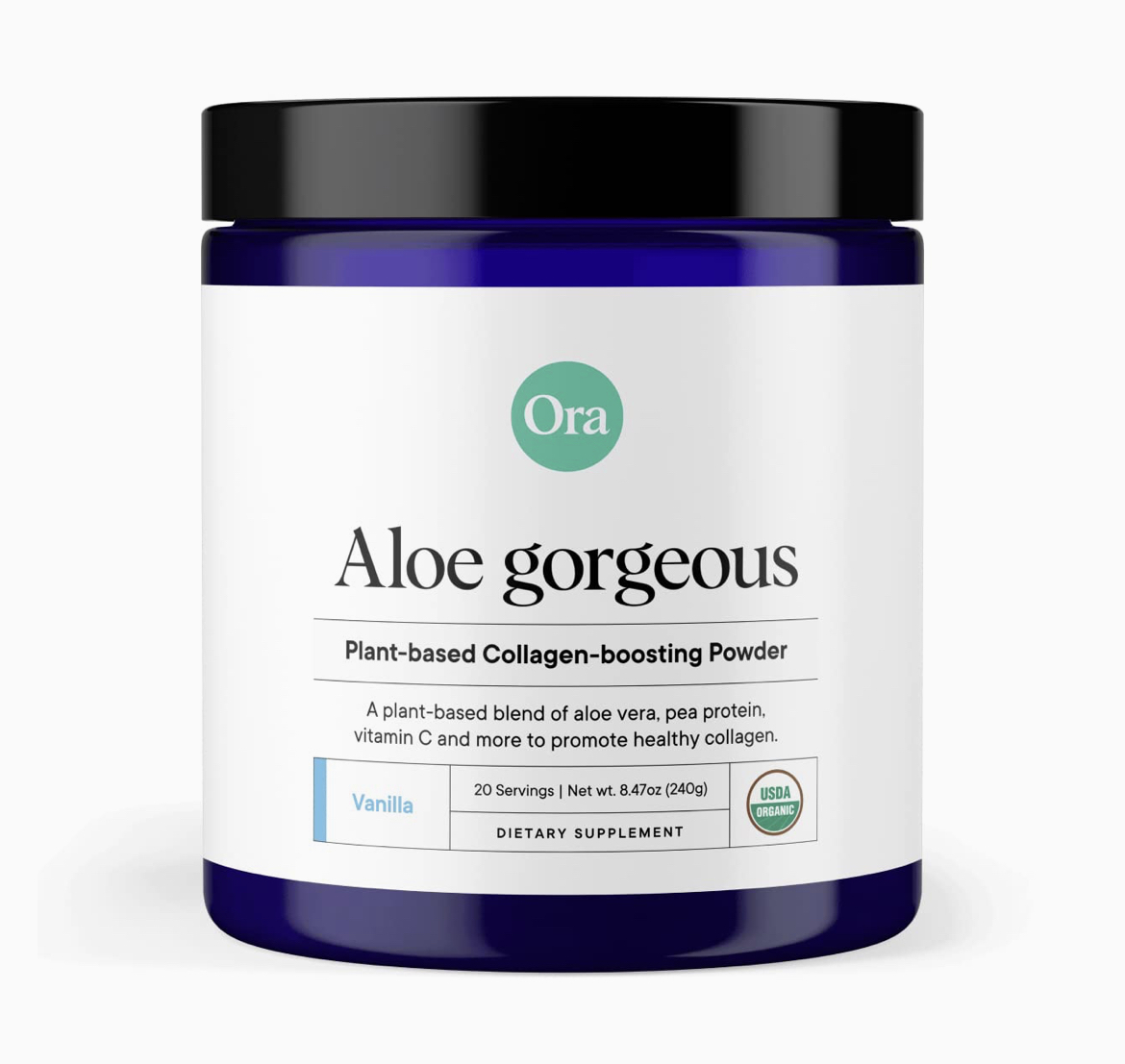 Ora Organic collagen-boosting powder Aloe Gorgeous doesn't contain any animal collagen. Instead, this Organic and Vegan Collagen-boosting Powder is packed with aloe vera, protein, silica, and vitamins C and E. This blend of amino acids, vitamins and nutrients help support your body's natural collagen-making ability
Vanilla Organic Pea Protein, Organic Acerola Cherry Extract, Organic Aloe Vera Gel Powder, Organic Bamboo Whole Plant Extract, Sunflower Vitamin E, Organic Coconut Sugar, Organic Coconut Milk, Natural Vanilla Flavor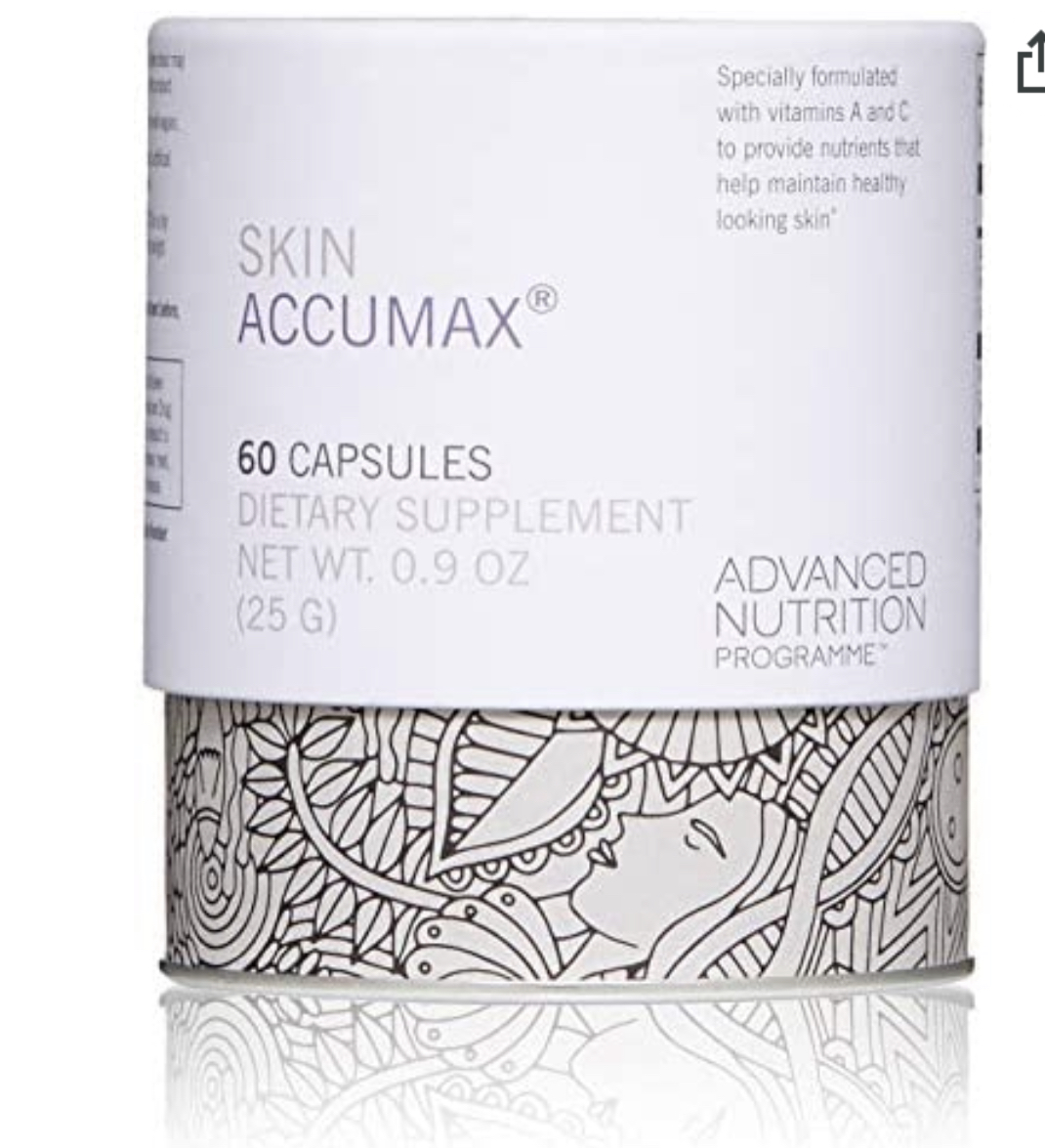 For problem and acne prone skin, Advanced Nutrition Programme is a science-led, results-driven, high-quality range of supplements with full traceability back to their origins.
It contains a cocktail of antioxidants along with vitamins A, C and E to promote collagen production, protect cells from oxidative stress and maintain a healthy complexion.Advanced Nutrition Programme also contains BioResponse DIM – a patented, active plant compound found in cruciferous vegetables.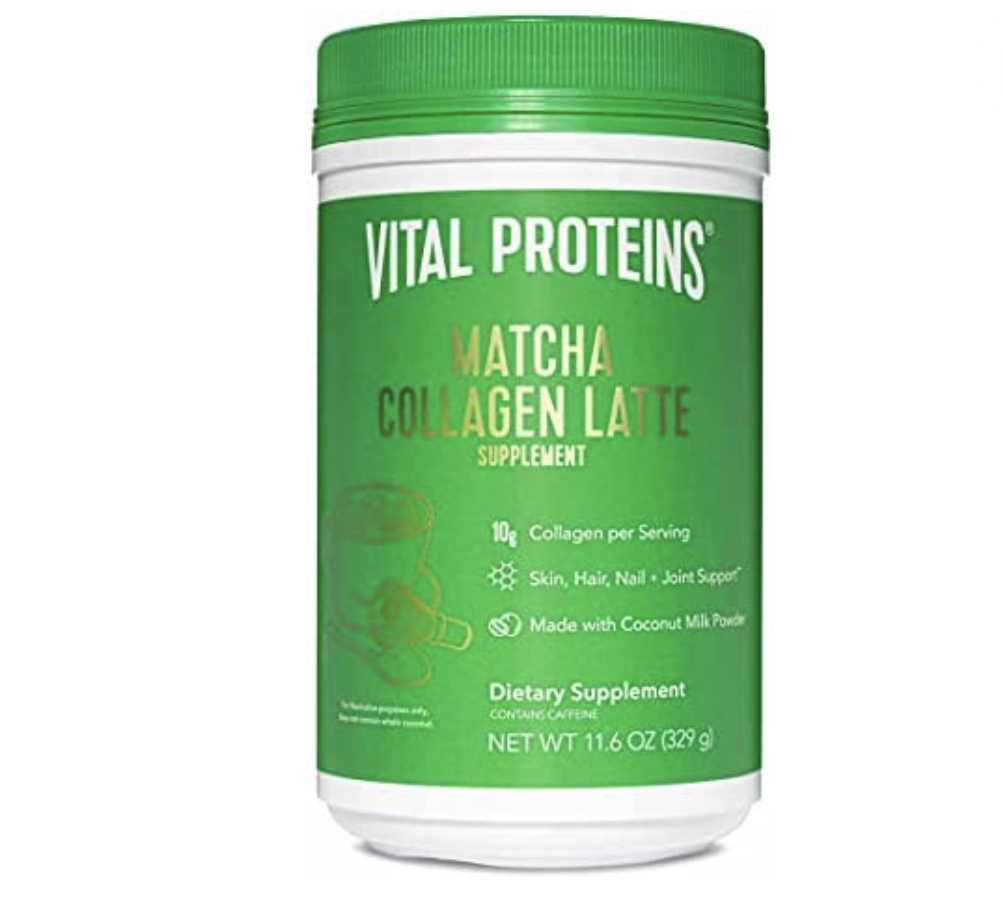 You can count on the controversy around collagen to continue, but whichever study, finding or doctor you believe or don't, there will still always be those who stand firmly behind collagen. With Jennifer Aniston as the spokesperson for Vital Proteins, the brand has become bigger than ever.

Vitamin C is a vitamin that the body can't produce, so you need add it either by diet or by supplementation. From a beauty standpoint, Vitamin C is important collagen production and fighting free radicals (causes aging). Thorne's Vitamin C with Flavonoids contains ascorbic acid and naturally occurring citrus flavonoids. The flavonoids provide greater antioxidant capacity than Vitamin C does alone, thus better scavenging free radicals within the body.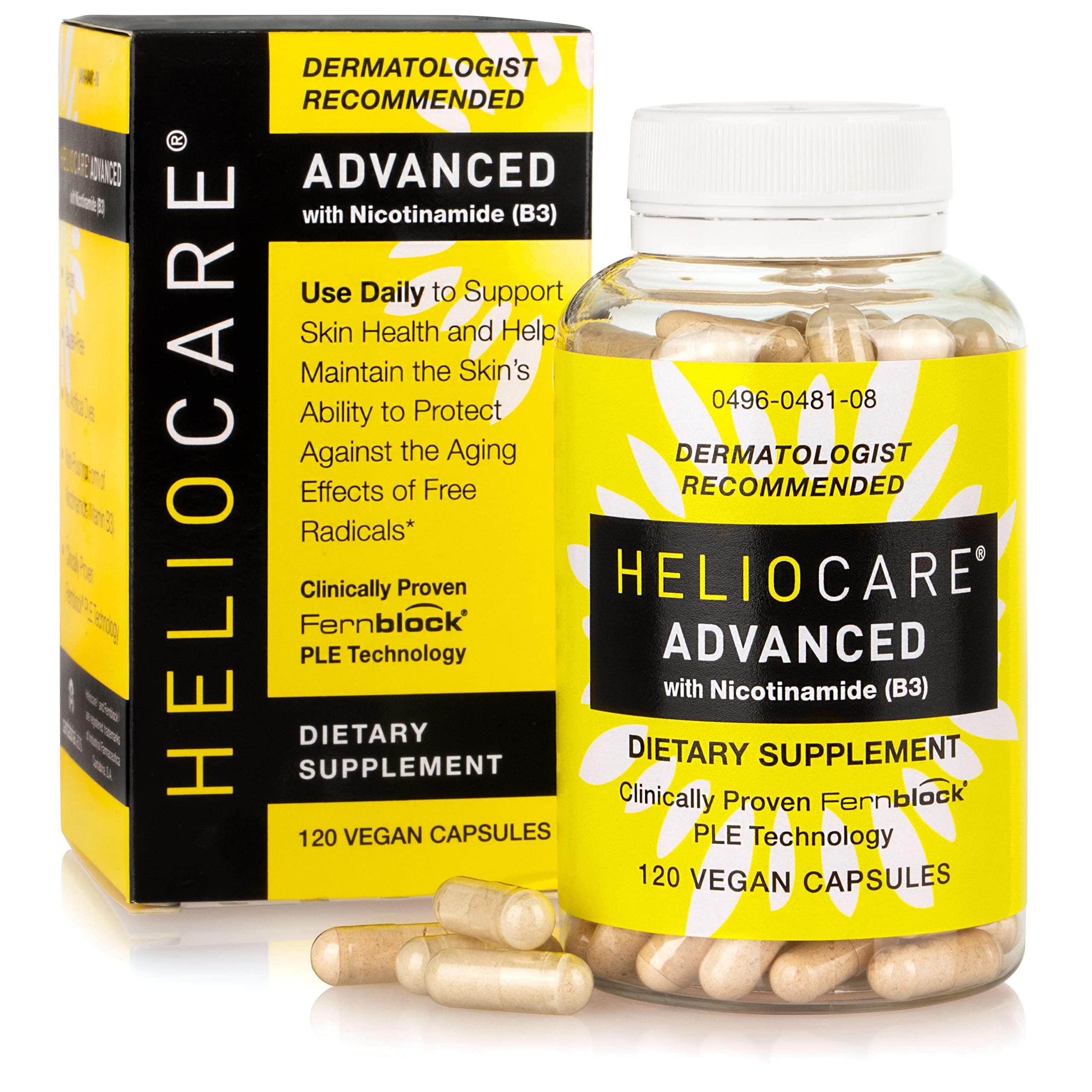 To shore up the skin's natural defenses against the sun, look into a sun-care supplement like Heliocare. Heliocare harnesses the antioxidants found in the polypodium leucotomos fern and uses their proprietary Fernblock PLE Technology to help maintain the skin's ability to protect against the harmful effects of free radicals.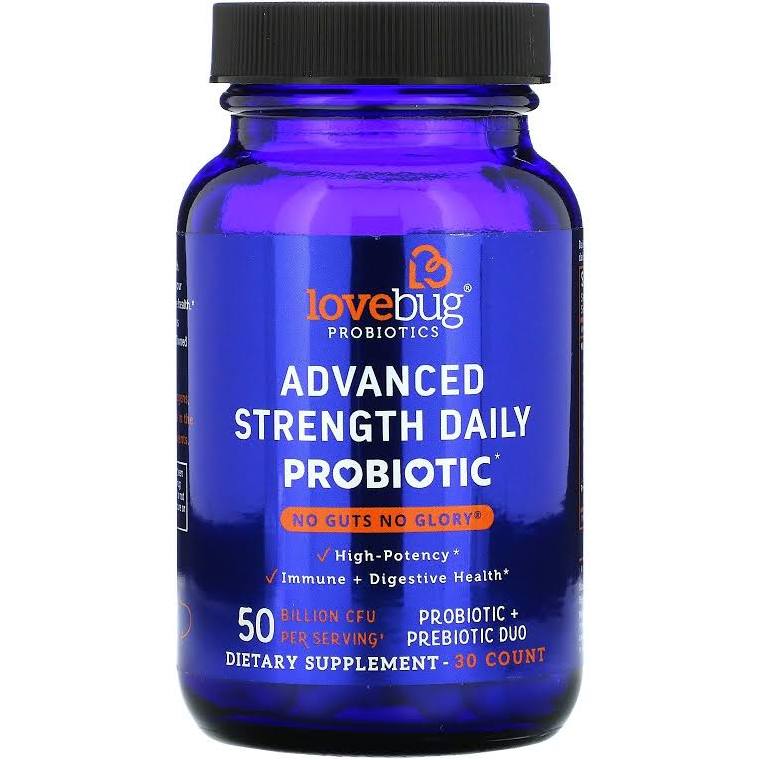 Made by a mom for moms, Lovebug Probiotics is an award-winning probiotics line that's great for adults as well. LoveBug Probiotics supplements feature BIO-tract, a patented delivery technology scientifically developed to protect the tablets against stomach acids and other rigors of digestion, so they can reach the gut to perform their work. They include a blend of superior probiotics strains instead of just one and undergo rigorous 3rd party testing.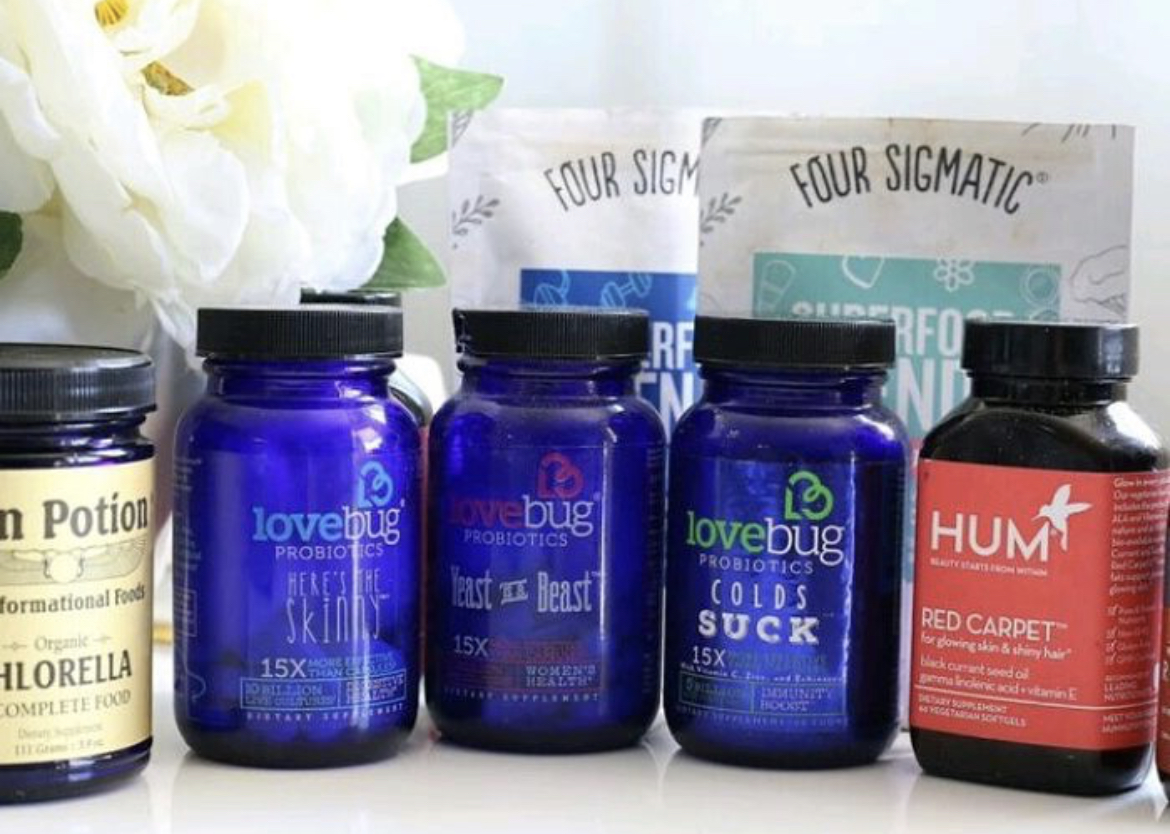 Hair Growth Vitamins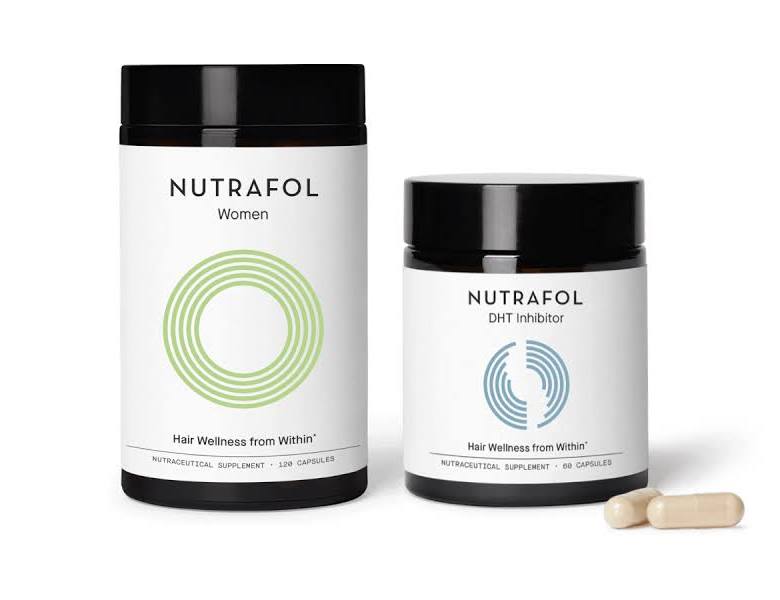 One of the most clinically backed and tested natural hair growth supplement is Nutrafol. It's formulated to target the root causes of thinning hair, like stress, environment and nutrition. Using only natural ingredients Nutrafol helps with thicker, stronger hair growth and less shedding. Nutrafol uses high quality, clinically-tested and patented botanical nutraceutical ingredients, meaning that during the extraction and purification process, the ingredients are held to exacting pharmaceutical-grade standards.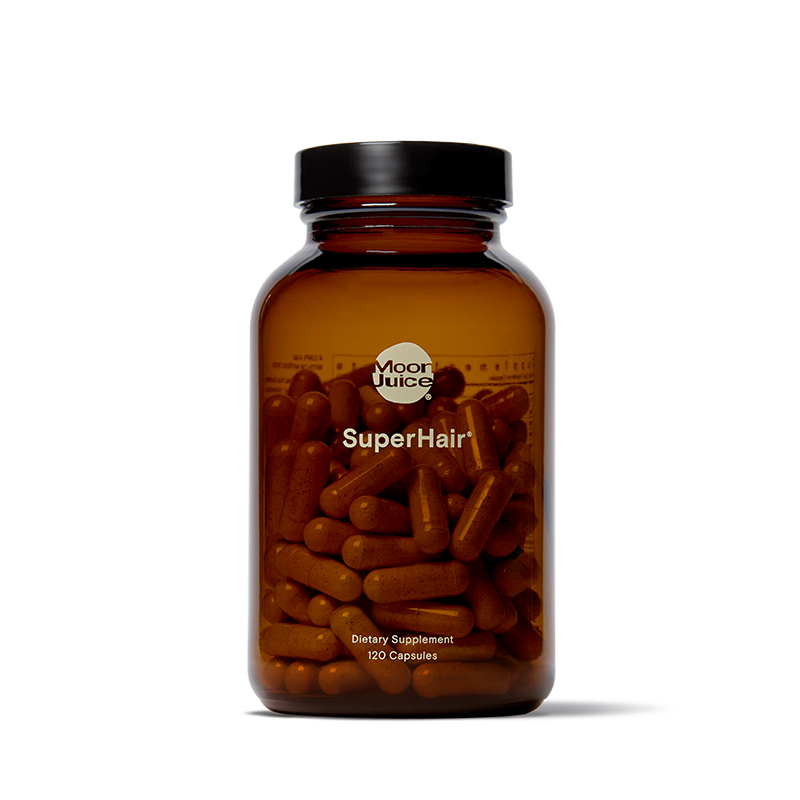 Organic and vegan hair supplement SuperHair by Moon Juice is made up of Biotin, Kelp, Saw Palmetto & Horsetail plus full spectrum extractions of Ashwagandha and Ginseng.  It helps to promote healthier, thicker, stronger hair via four different ways: targeting stress with adaptogens, replenishing nutritional deficiencies, providing follicle protection, and boosting critical hair micronutrients. Iodine sourced from the sustainable kelp forests of Iceland, Horsetail wild-grown from Spain and Organic Ashwagandha from Madhya Pradesh, India are some of the 10 bioavailable vitamins in Moon Juice's SuperHair hair multivitamin.
SAVE: Discount code OBL saves 15% at Moon Juice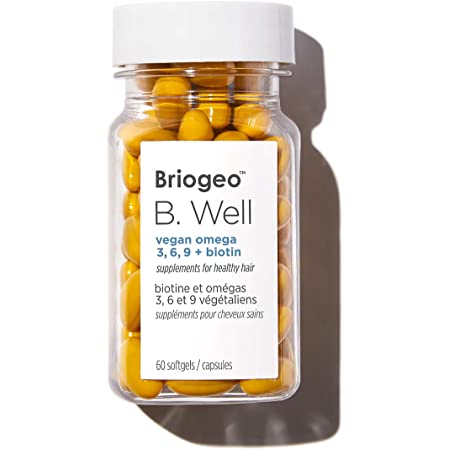 For a vegan algae-derived omega supplement that doesn't come from animals, check out Briogeo's Vegan Omega 3, 6, 9 + Biotin. This fish oil alternative contains a proprietary blend of Ahiflower Oil, the highest source of SDA, omega-3-6-9 fatty acids from a single plant, biotin and a micro-algae- derived DHA complex rich in omega-3. It also contains Niacin, Copper, DHA, Silica and a blend of vitamins.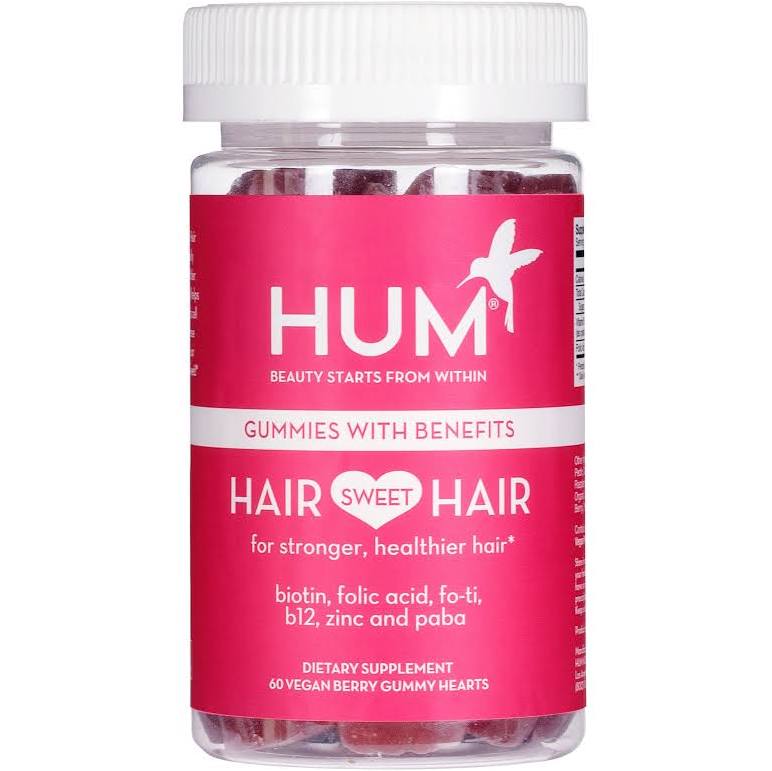 HUM Hair Sweet Hair is a berry-flavored vegan hair gummy that contains zinc, biotin, folic acid and Fo-Ti, which is used in traditional Chinese medicine to support healthy hair growth and boost natural hair color.
The Vegamour GRO Biotin Gummies for Hair are delicious once-a-day strawberry-flavored gummies packed with ingredients that work from the inside out. The gummies come in a beautiful glass pink jar that looks so elegant and are loaded with vegan biotin and folic acid, vitamins B-5, 6 and 12 and vitamins C, A and E. The GRO Biotin Gummies are actually one of the more affordable products in the Vegamour line at just $24, and if you opt for their 3 or 5 month bundles you receive built-in savings.
SAVE: Affiliate Discount code OBL saves 20%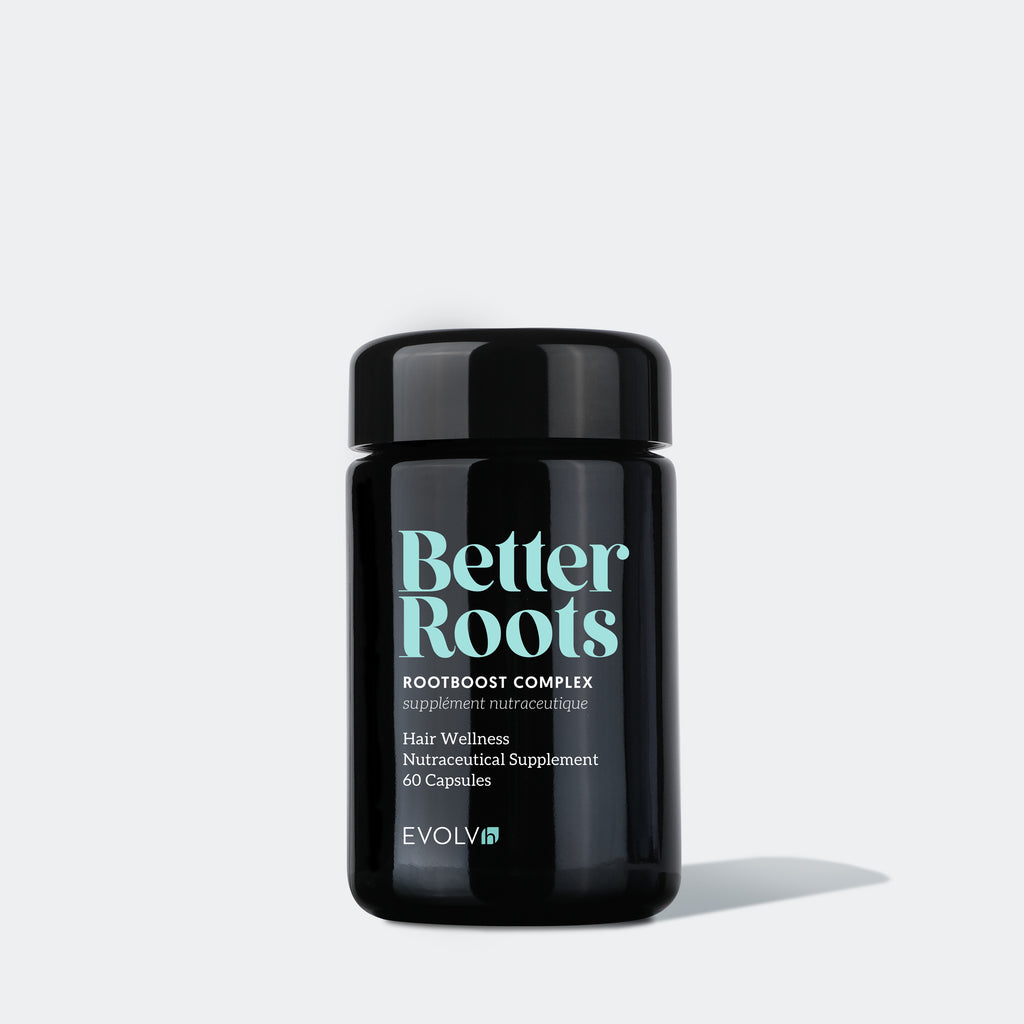 Better Roots Rootboost Complex
Launched in 2022, EVOLVh's Better Roots RootBoost Complex is a nutraceutical blend of vitamins, minerals, and amino acids scientifically proven for healthy hair regrowth. It contains a bioavailable pea sprout extract – AnaGain Nu. Their AnaGain Nu isextracted from Organic pea shoots and stimulates the hair follicle by encouraging the activity of the two signaling molecules responsible for new hair growth.
The Better Roots supplement is intentionally formulated without high-dose Biotin and common adaptogens like Ashwagandha that have been known to interfere with the function of SSRI and thyroid medications.
SAVE: Affiliate Discount code OBL saves 15%
Be sure to Pin if you liked this!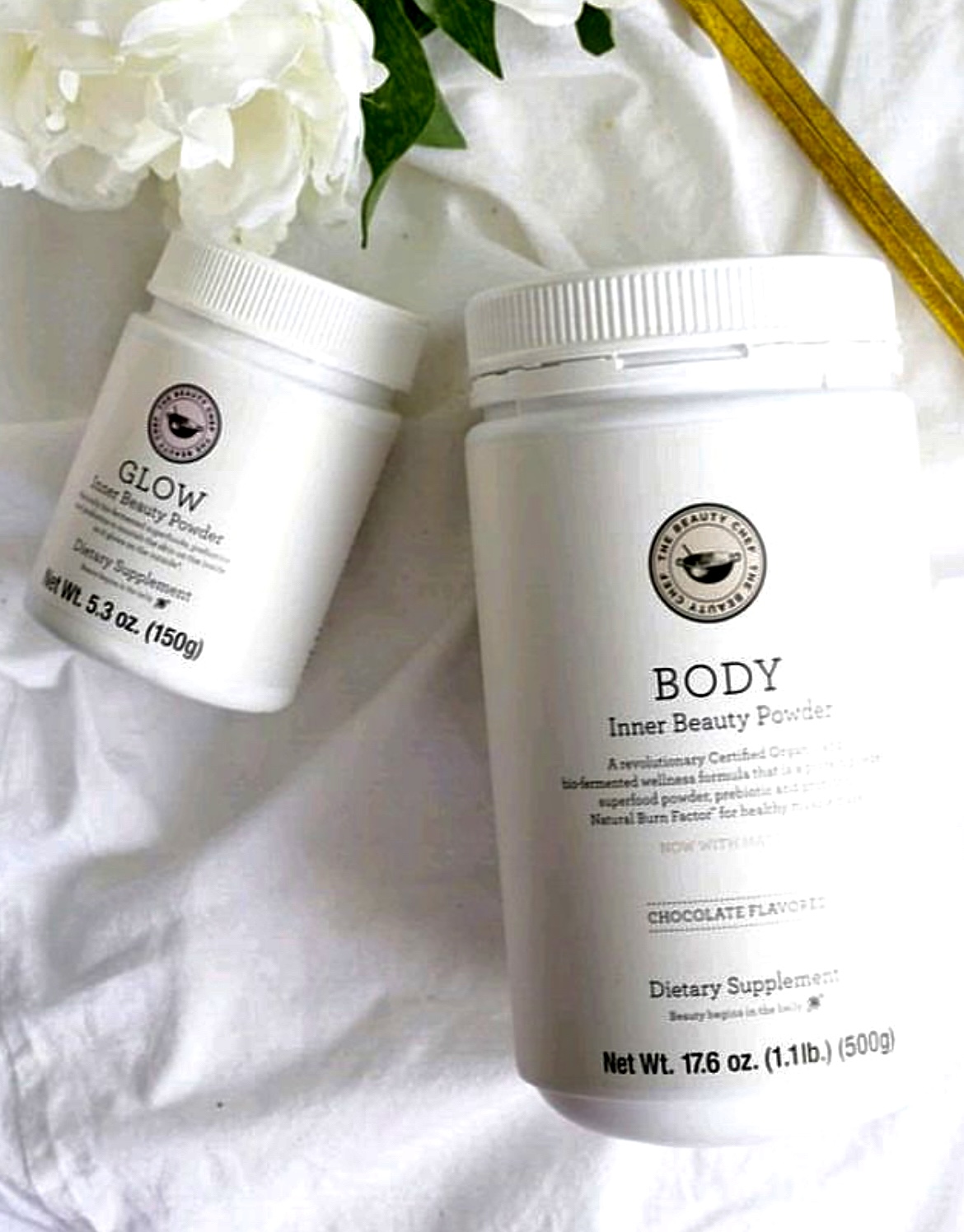 These statements have not been evaluated by the Food and Drug Administration. This product is not intended to diagnose, treat, cure, or prevent any disease.