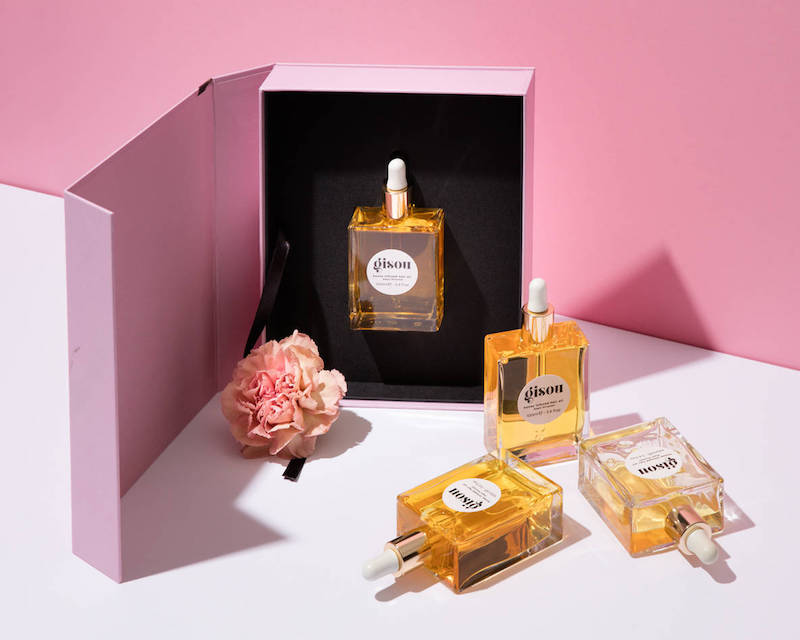 Image Source: Nawo.com & Thoughts in Style
Influencers starting brands is a common phenomenon these days, and while I totally support women making money moves and being their own boss (heck it's my dream too!), I was sorely disappointed with gisou. Started by mega fashion blogger, Negin Mirsalehi, Gisou is a haircare line featuring natural honey from her family's business, the Mirsalehi bee garden, as the key ingredient. Gisou advertises itself as a blend of minerals, vitamins, amino acids and anti-oxidants formulated to rebuild and repair the hair from the core. While I don't pay too much attention to the continuous launch of new conventional brands, gisou's beautiful packaging and design caught my eye. I thought it might have a natural focus since it boasts honey and being sulfate-free, but looking past its flawless exterior, I was sorely disappointed by the ingredients.
For a steep $84 price tag, gisou sure has a lot of terrible ingredients. The first ingredients of gisou's Honey Infused Hair Oil are silicones: Dimethiconol & Cyclopentasiloxane.  Cyclopentasiloxane is a cheap alternative to organic compounds like vegetable glycerin and acts to lubricate & offer a temporary shine. But those aren't the worst offenders – they're simply to keep production costs low & profits sky high. Below I'm breaking down some of its worst ingredients: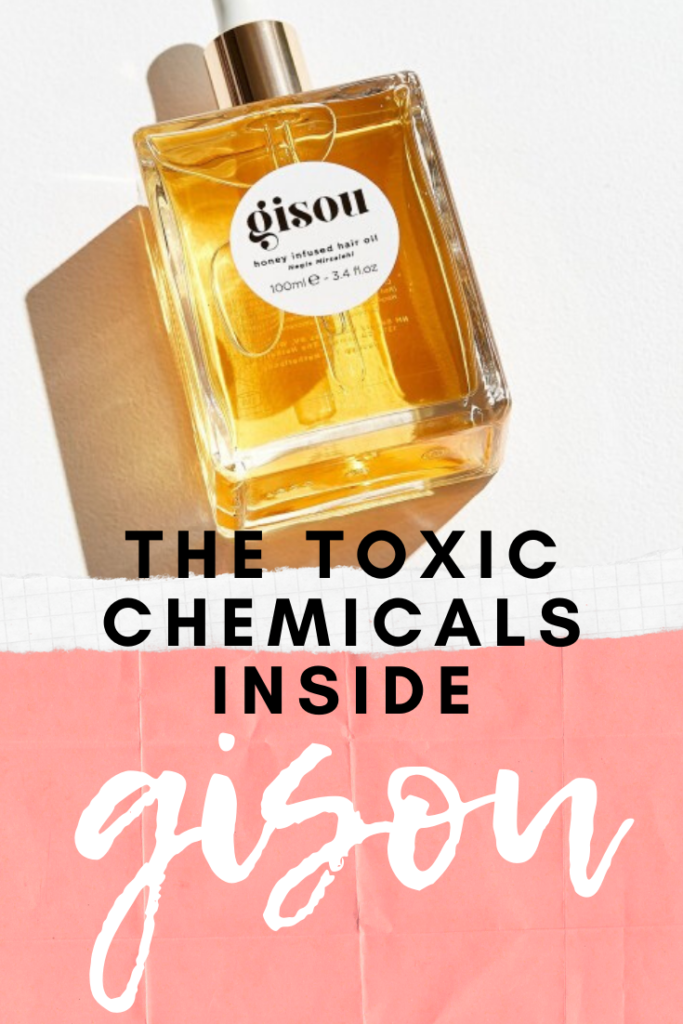 BUTYLPHENYL METHYLPROPIONAL (also known as LILIAL) functions as a fragrance & masking ingredient, is linked to possible bioaccumulation, organ system toxicity, endocrine disruption, allergies, and contact dermatitis.
COUMARIN is a synthetically produced fragrance that gives perfumes, shower gels, lotions and deodorants a tangy scent of lavender or moss. It can damage the liver of particularly sensitive individuals & in animal experiments high concentrations of the substance have triggered cancer.  No coumarin should be used in cosmetic products for infants and toddlers. Just by using products containing coumarin, we may be exceeding the tolerable daily intake (TDI) just by using cosmetics.
BHT (synthetic antioxidants used as a preservative) is classified as a possible human carcinogen by The International Agency for Research on Cancer & the European Commission on Endocrine Disruption has also listed BHA as a Category 1 priority substance based on evidence that it interferes with hormone function. It has been shown to cause liver, thyroid and kidney problems in rats & mice with long-term exposure and can act as a tumor promoter.
CI 26100, which can also be listed as D&c Red No. 17, Solvent Red 23, and Red 17 (CI 26100), is a danger to human health and was added to the List of Toxic Substances by Canada's government in 2017. When the chemical bonds of CI 26100 break, it releases a classified carcinogen called 4-aminoazobenzene.
It also contains CI 47000 Yellow 11, which is part of Environmental Working Group's Unacceptable List for Personal Care products, to give this product its beautiful hue. It's rated slightly lower in toxicity than CI 26100, but it may be toxic to the liver and upper respiratory tract. and multiple exposure may be damaging to organs.
The Honey-Infused Hair Oil's younger baby sister Honey-Infused Hair Perfume contains many of the same ingredients in the hair oil, and lists Benzophenone-4 (shown to lead to several kinds of tumors) and other chemical colorants in its ingredient list. Benzophone-4 is often used as a photoprotectant to extend product shelf life and to protect the color in products. It is linked to cancer, endocrine disruption, developmental and reproductive toxicity,  organ system toxicity, irritation, and is toxic to aquatic organisms. Though there isn't sufficient evidence to classify it as a known human endocrine disruptor, the European Food Safety Authority classifies benzophenone as a known toxicant because it can cause liver hypertrophy in rats even at low doses.
And of course, on top of all that, fragrance which can be a mixture of up to 4000 endocrine-disrupting chemicals.  The Breast Cancer Prevention Partners, for instance, tested the product Summer's Eve Freshening Spray & they discovered several toxic chemicals used to make up the product's scent, including DEHP — a widely known phthalate linked to reproductive and developmental harm, & banned in Europe. DEHP was not listed on the label.
The list of ingredients for both products:
Honey-Infused Hair Oil: Cyclopentasiloxane, Dimethiconol, Mirsalehi Honey, Prunus Amygdalus Dulcis (Sweet Almond) Oil, Argania Spinosa (Kernel) Oil, Cocos Nucifera (Coconut) Oil, Passiflora Incarnata (Seed) Oil, Gardenia Tahitensis Flower Extract, Parfum (Fragrance), Tocopheryl Acetate, CI 47000 (Yellow 11), Tocopherol, BHT, CI 26100 (Red 17), Butylphenyl Methylpropional, Coumarin, Hexyl Cinnamal, Hydroxyisohexyl 3-Cyclohexene Carboxaldehyde, Limonene, Linalool
Honey-Infused Hair Perfume: Alcohol Denat., Aqua, Parfum, Mirsalehi Honey, Argania Spinosa Kernel Oil, Butylphenyl Methylpropional, Citral, Coumarin, Geraniol, Hexyl Cinnamal, Hydroxyisohexyl 3-Cyclohexene Carboxaldehyde, Limonen, Linalool, Benzophenone-4, Sodium Hydroxide, CI 13015, CI 16255.
The problem with these products is you're not only dousing yourself in harmful ingredients that have long term health implications, but you're also only temporarily making your hair look healthy and making it worse in the long run. Even worse if you're causing product build up and not properly clarifying your hair. If you're looking for a healthy organic hair oil that will actually nourish your hair from root to strand, look into these better options that have high-nutrient ingredients for half the price.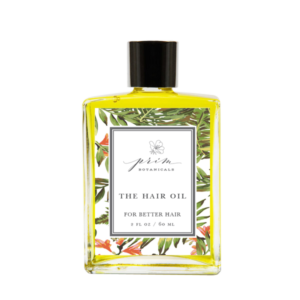 My personal favorite! The scent is the most sublime scent of any hair oil I've tried. It's medium rich and neither overly heavy or too light and does a great job of nourishing my strands.

A deeply rich blend of seven organic oils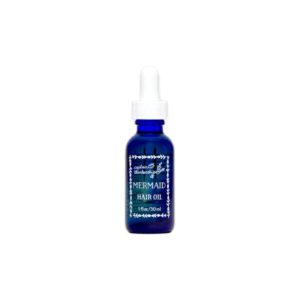 Organic Argan Oil, Organic Kukui Nut Oil, Organic Jojoba Oil, Organic Sunflower Oil, Wildharvested Wild Sweet Orange Essential Oil, Organic Fir Needle Essential Oil, Organic Rosemary Essential Oil & Organic Cedarwood Essential Oil.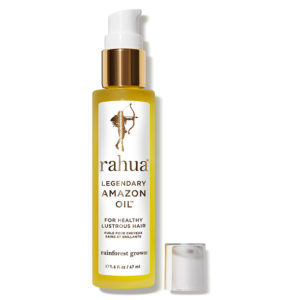 Organic Calendula Officinalis Flower Oil, Organic Decolorized Aloe Barbadensis Leaf Oil, Organic Cocos Nucifera (Coconut) Fruit Oil, Organic Rosmarinus Officinalis (Rosemary) Leaf Extract, Oenocarpus Bataua (Rahua Ungurahua) Oil, Mauritia Flexuosa (Morete) Fruit Oil, Plukenetia Volubilis (Sacha Inchi) Seed Oil, Aroma, Gardenia Jasminoides (Gardenia Enfleurage) Oil
Pure Persea Gratissima (Avocado), Prunus Armeniaca (Apricot) Kernel, Cananga Odorata Var. Genuina (Ylang Ylang), Achillea Millefolium (Yarrow) Oil, Citrus Aurantium Var. Dulcis (Orange Blossom) Oil & Citrus Aurantium Var. Amara (Bitter Orange) Oils.