Nutrafol Review: Must Read Before Buying in 2023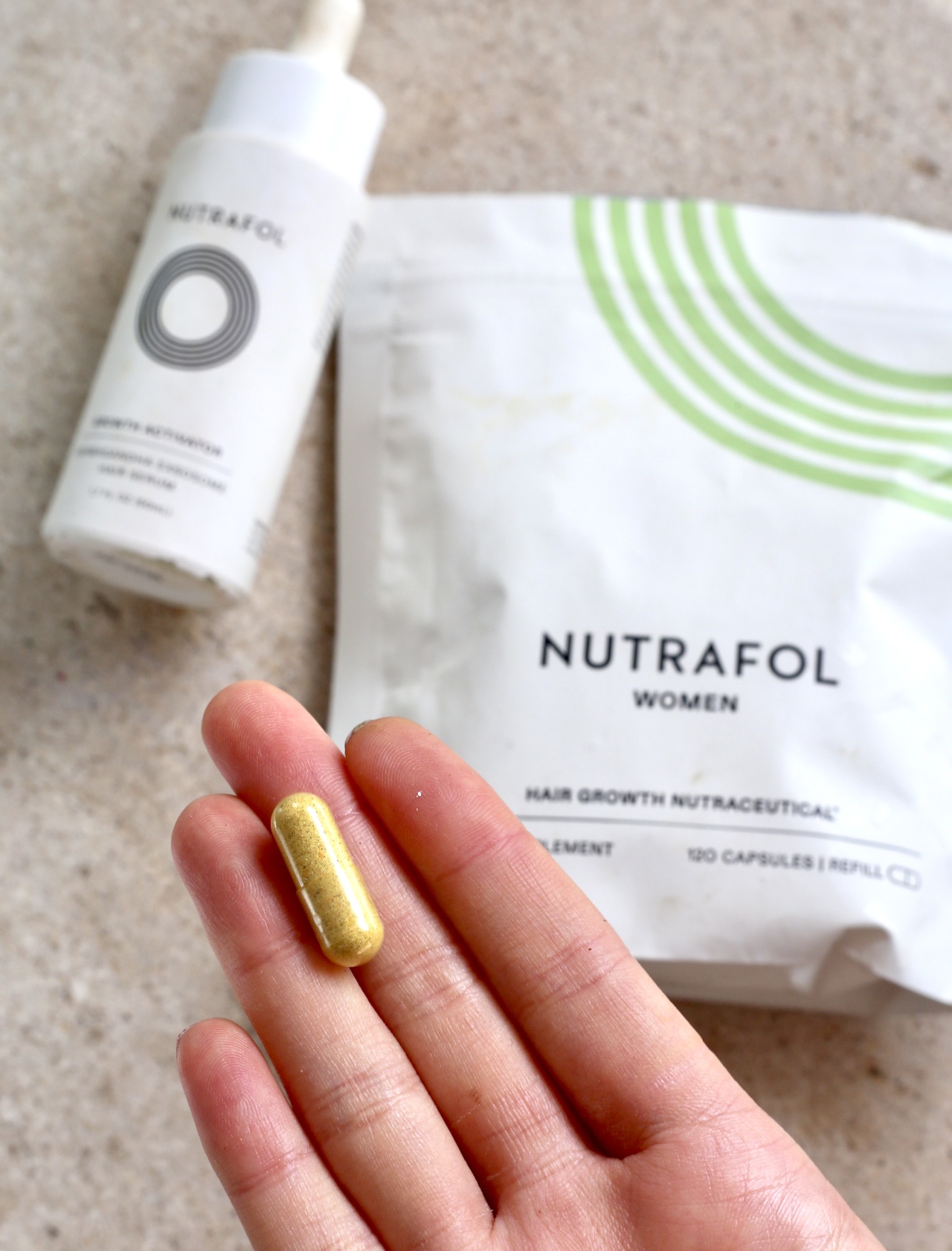 Nutrafol does NOT work for everyone – I just want to set your expectations straight right away.
Nutrafol is perhaps the top natural hair growth supplement available today and a brand I got to discover at Indie Beauty Expo 2020. But for $88 does Nutrafol actually work to regrow hair?
In the last few years, Nutrafol has gone from launching one supplement product to an entire line of hair growth supplements for every stage of life and even a Nutrafol hair care line. In today's post I'm sharing my in-depth Nutrafol review.
Nutrafol is considered better because they use an all natural and holistic approach and are clinically backed and patented when most hair growth products are prescription drug treatments with unwanted side effects. Being clinically proven to improve hair regrowth by 80% is a pretty bold statement to make. Read on for my thoughts in this brutally honest Nutrafol review.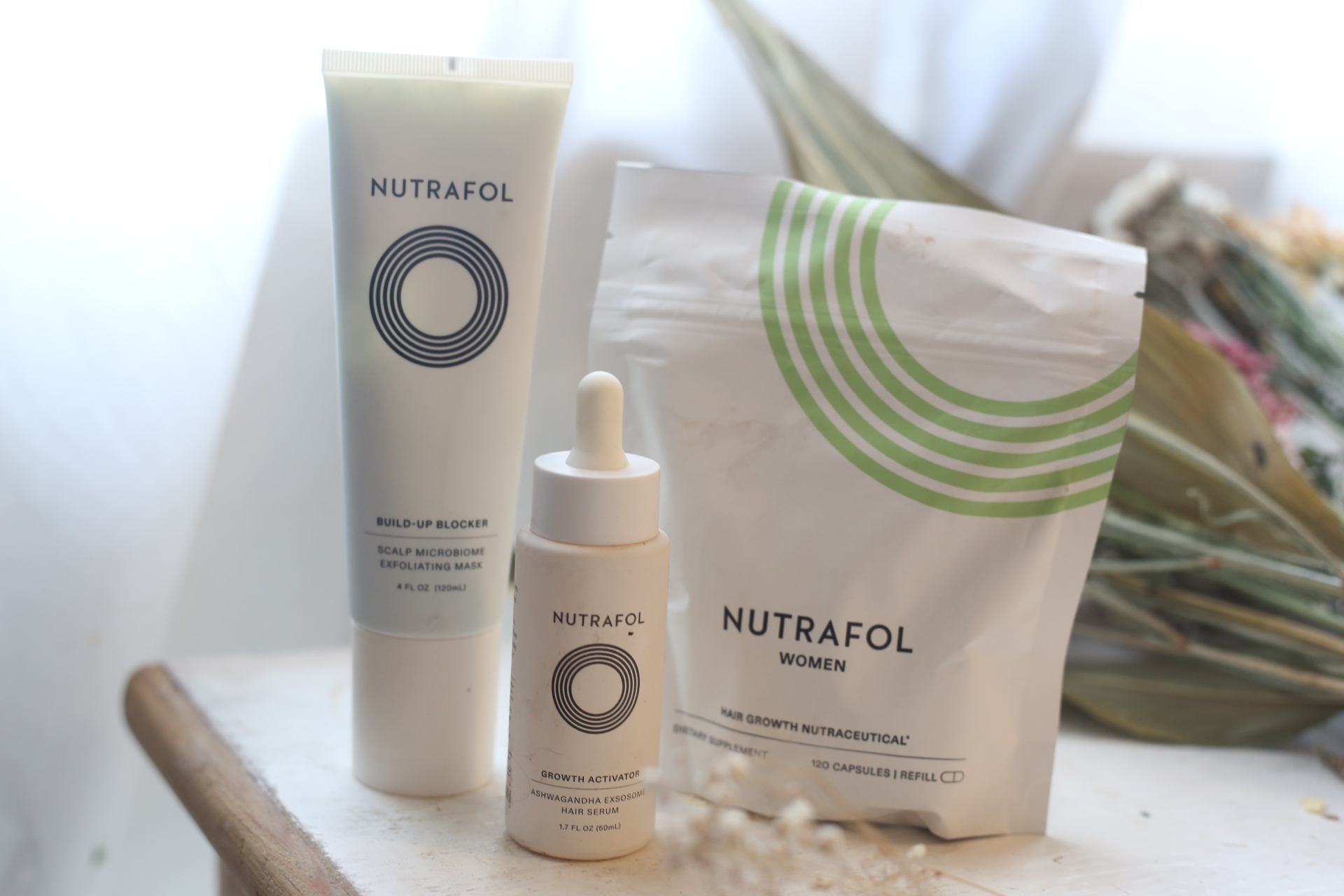 Does Nutrafol Hair Actually Work?
I myself have tested Nutrafol, I've had my 68 year old mom try it and readers have written in about their personal experiences with Nutrafol and here's what I think.
I'd be wary of anyone saying it's a "miracle worker" as they're just trying to sell you the product.
I'm pretty certain it's not going to work on your aging parents who have had hair thinning or hair loss for decades. It did not work for my nearly 70 year old mom.
For you, it may or may not work. This is always going to be a hit or miss type of product.
Everyone's body is so different, so while your friend may have transformative results, you may experience nothing.
It really just depends on how your body reacts to these nutraceuticals.
However, it clearly works for enough people for the brand to continue to thrive. It's quite an expensive product to take a chance on at $88.
Either your body will respond well to Nutrafol or not at all.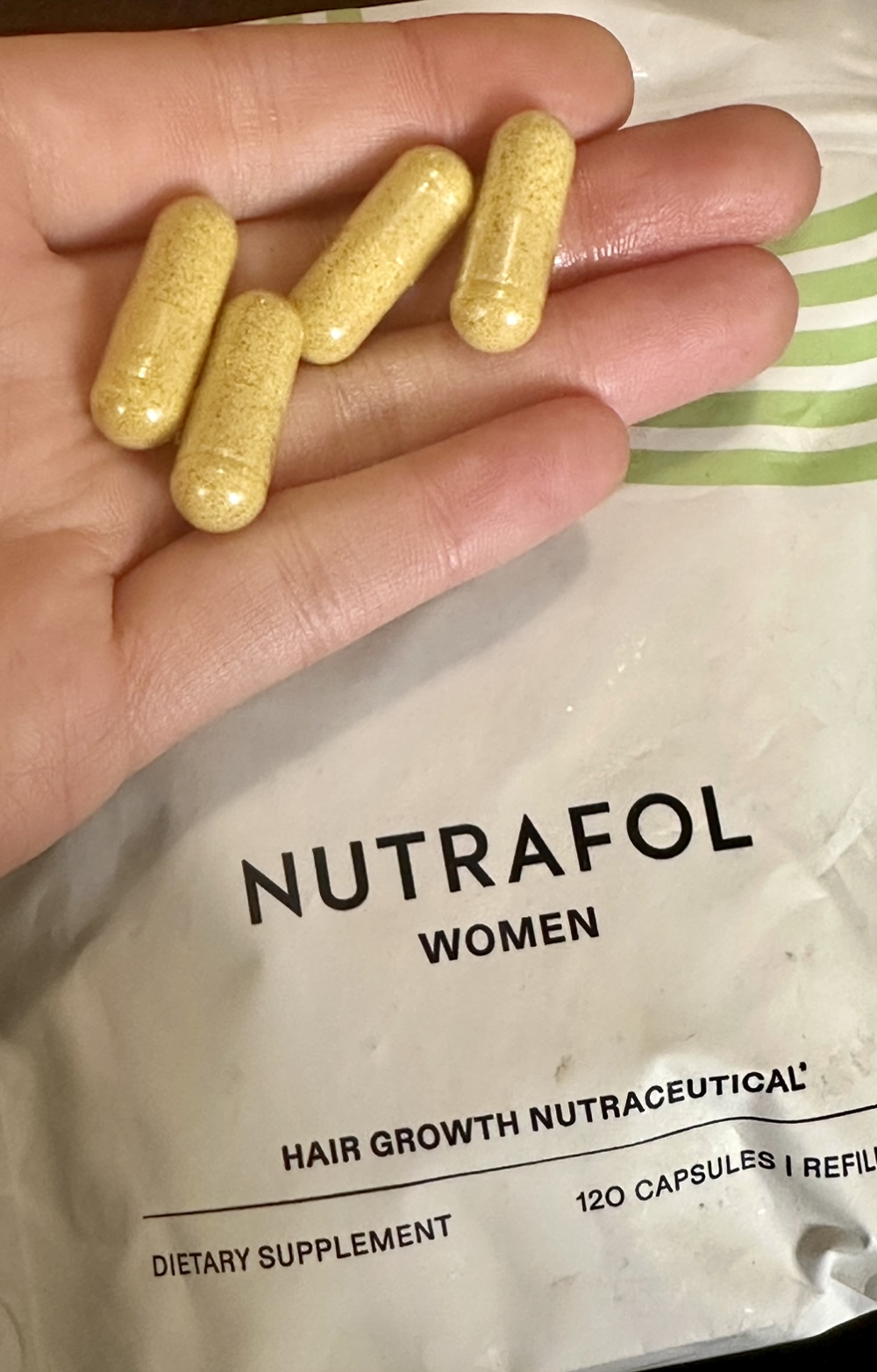 Nutrafol's Holistic Approach to Hair Loss
A bit about Nutrafol's whole body, holistic approach to hair thinning. Nutrafol targets six factors that can cause hair thinning:
Stress
Hormones
Metabolism
Nutrition
Age
Lifestyle
Stress causes cortisol to signal to hair follicles to switch from growth phase to rest phase, during which they cannot grow. Over time it can even increase nutrient deficiencies and wreak havoc on your health overall. Stress is a MAJOR culprit for many of our ailments and can be brought on by anything from a demanding job to family troubles or a painful breakup to moving homes.
Your hormones, specifically an androgen hormone called DHT that is produced in the scalp, can cause hair thinning. It's much more common in men as this hormone is what's responsible for the development of male traits, but it's also somewhat present in women. Genetics and lifestyle most commonly cause a DHT imbalance or DHT sensitivity but can also be brought about by motherhood and menopause.
Lifestyle includes what you surround yourself with and put into your body, including food, products used and environmental pollution. Exposing your hair follicles to toxins (another reason to switch to clean hair care!) causes oxidative stress to damage the hair follicle and disrupt the hair follicle cycle.
A hair follicle has 20 different types of cells that need energy in order to grow hair. If your body is unable to provide that energy efficiently to those hair cells, hair thinning and hair loss can occur. Many different factors can cause poor metabolism like aging, poor diet and hormonal imbalance.
Perhap the most obvious factor is nutrition – without it your hair doesn't have the building blocks for healthy hair. Even if you are getting enough nutrients, your body may not be absorbing the properly due to stress.
As I say often, scalp IS skin. It loses collagen and elastin just like our faces do as we age. This means fewer blood vessels, lipids and nerve endings to help replenish nutrients needed for hair growth.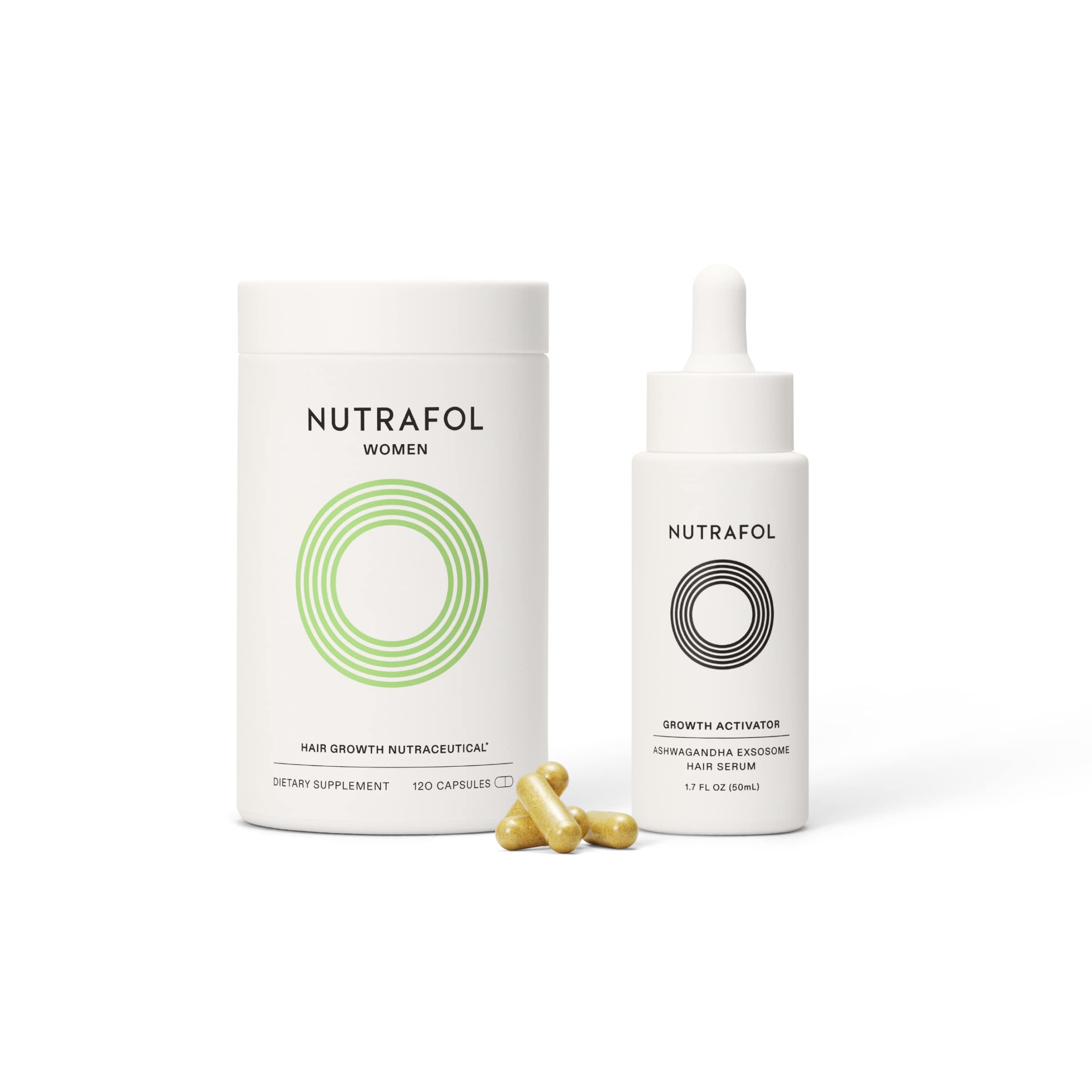 Does Nutrafol Work to Regrow Hair?
Besides taking what they like to call a whole-body approach (aka holistic approach) to hair loss, Nutrafol also strives to do better than other brands through the following ways:
Clinical studies on the finished product, not just the individual ingredients
Patented ingredient complex called Synergen Complex
Peer reviewed and published, which is usually for pharmaceutical methods
Physician formulated
How well the product works is going to depend on how well the ingredients interact with your body. Their Synergen Complex is a blend of:
Sensoril Ashwagandha
Marine Collagen Peptides
Tocotrienol Complex (sourced from sustainably grown palm trees in Malaysia)
Curcumin
Saw Palmetto
The other key actives are nothing I haven't seen before in hair supplements – Kelp minerals, horsetail, L-Lysine, Hyaluronic Acid, Biotin, Selenium, Capsicum. Even the Saw Palmetto, Curcumin and collagen peptides in their patented Synergen Complex are nothing new. They do use a special kind of Ashwagandha and Vitamin E though.
I think much of the appeal of Nutrafol is that it feels trustworthy, is high quality and has been vetted by so many people. Now the hair growth supplement has reached a level of credibility where people are willing to blind buy it to see if it works for them. But I would take their "proven to improve hair regrowth by 80%" with a grain of salt and understand that Nutrafol may not work for you.
Nutrafol also has a line of scalp products that use concentrated plant extracts, but note that not all products are totally clean.
I've been growing out my natural hair after decades of chemically bleaching and processing it and have been investing in scalp health & hair health products. One of these includes the Nutrafol Scalp Serum which has patent-pending Ashwagandha Exosomes, Irish moss Peptides, Maca, Pea Sprouts, Kelp, Horsetail, Sea Buckthorn and more.
I like their ingredients, which I feel are a step up from most of what's available on the market, and feel like it's been supporting a healthy scalp.
Serum Ingredients: Aqua, Glycerin, Melaleuca Alternifolia (Tea Tree) Leaf Water, Propanediol, 1,2- Hexanediol, Niacinamide, Panthenol, Hydroxyethylcellulose, Lepidium Meyenii (Maca) Root Extract, Maltodextrin, Capryl- hydroxamic Acid, Equisetum Arvense (Horsetail) Extract, Hippophae Rhamnoides (Sea Buckthorn) Fruit Extract, Laminaria Saccharina (Neptune Kelp) Extract, Chondrus Crispus (Seaweed) Extract, Sodium Metabisulfite, Alcohol, Arginine, Phospholipids, Lactic Acid, Melatonin, Potassium Sorbate, Lactobacillus Ferment, Pisum Sativum (Pea Sprout) Extract, Phosphate Buffered Saline, Withania Somnifera Seed Exo Extract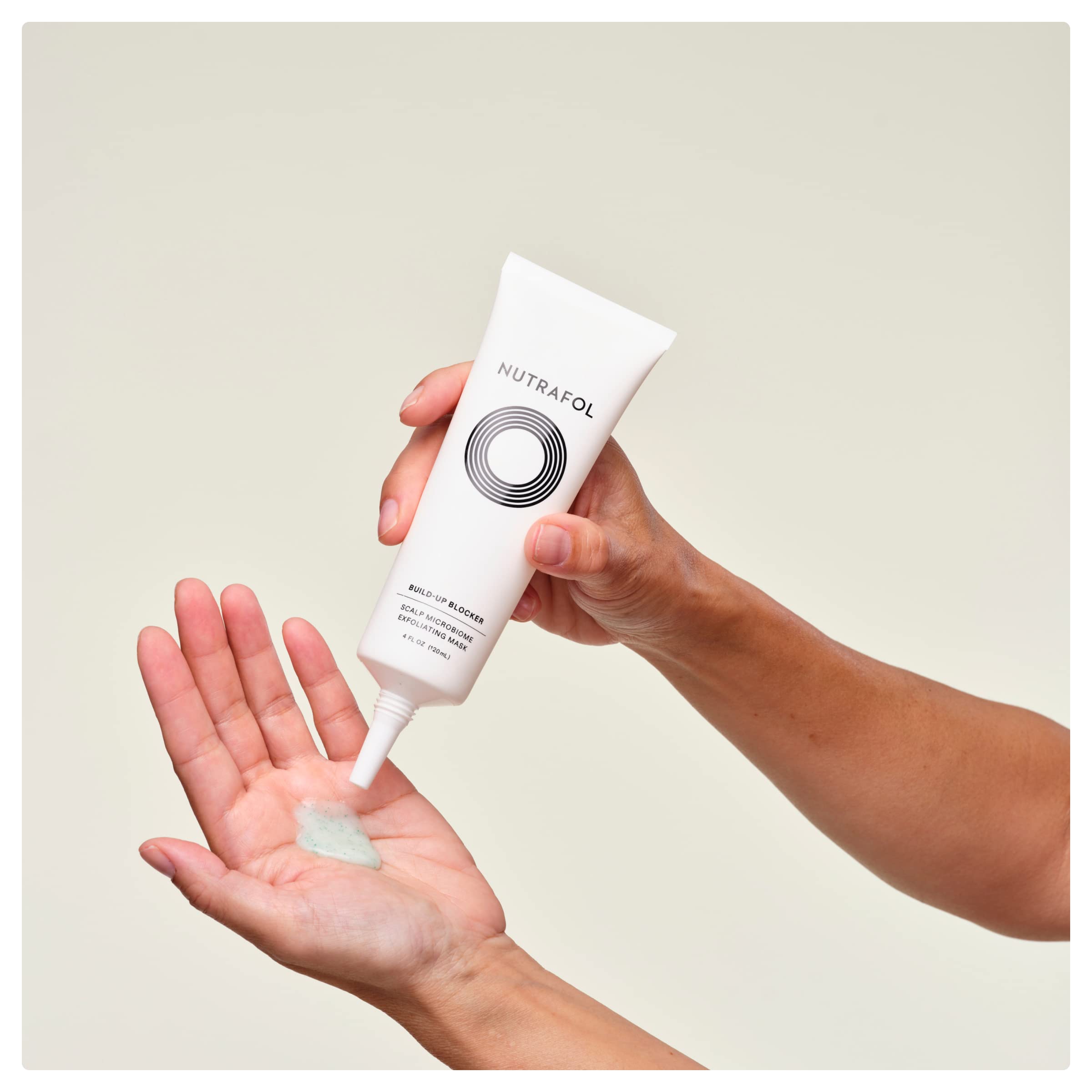 The concept of a scalp mask hardly even existed a few years ago I feel. I used to swear by a hair detox mask made by Rahua (called Hair Detox & Renewal Treatment Kit) that was discontinued, and since then, I haven't find one as good as theirs. I think Rahua was just early for their time.
I saw Nutrafol had an exfoliating scalp mask called Build-up Blocker and decided to give it a go, and while it's not like my beloved Rahua one, I feel like it does help. It has Australian Wild Berries, AHA Acids, Chia Seeds, Sarcosine and more.
I've tried the Briogeo scalp mask, as well, and the Nutrafol feels creamier with a thicker consistency, but does cost more than Briogeo. I think the Build-Up Blocker does a good job at clarifying and detoxifying my scalp (with steam), but I am still looking for something as effective and pure as Rahua's discontinued product.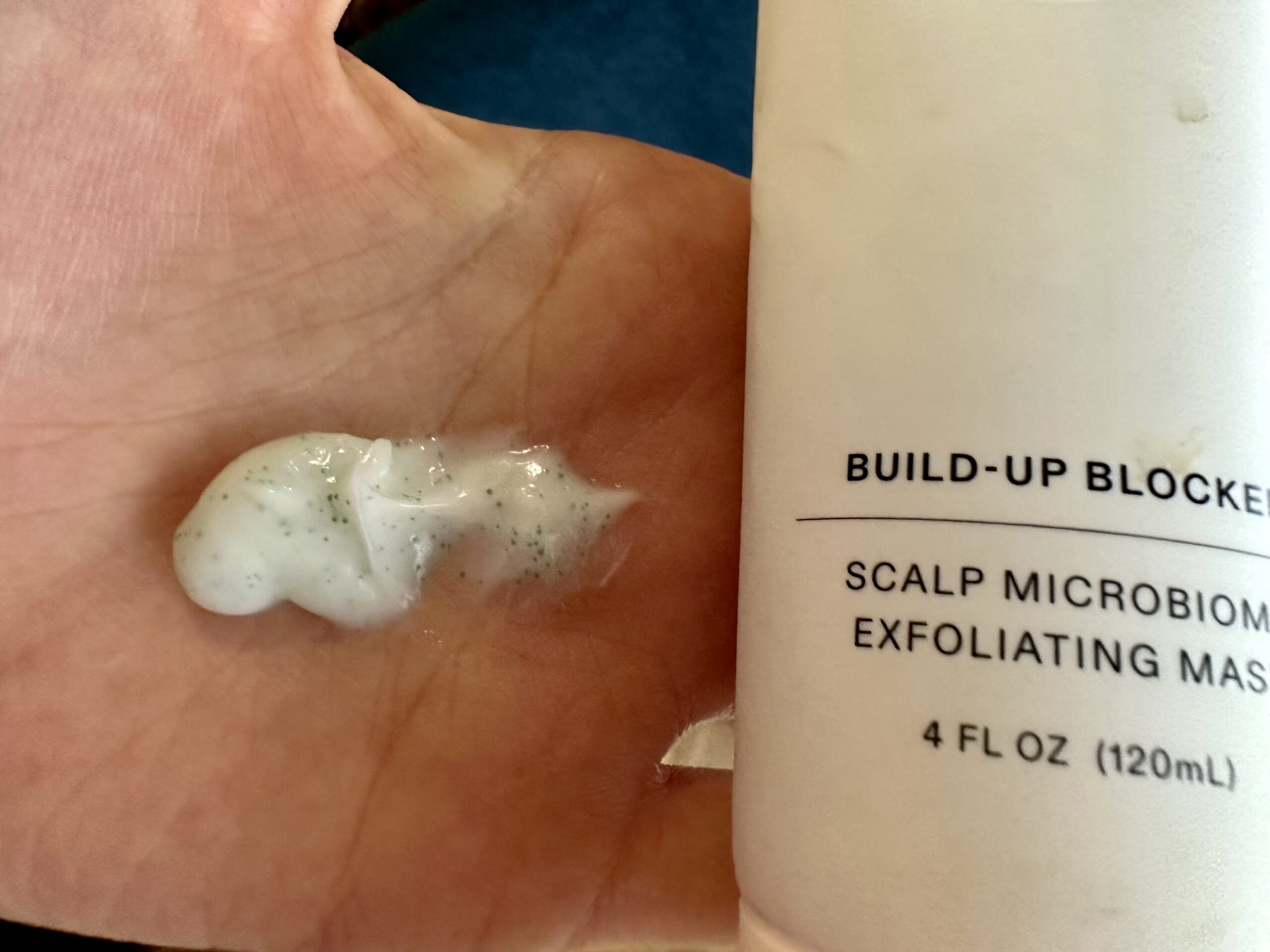 The great thing about the Rahua hair detox mask was that it was also designed to detox your hair lengths not just your scalp – and it was made entirely of natural and organic ingredients. I've found that a product like theirs can make my hair completely lightweight and bouncy, as if it's been detoxified from whatever buildup is still there.