Allies of Skin Review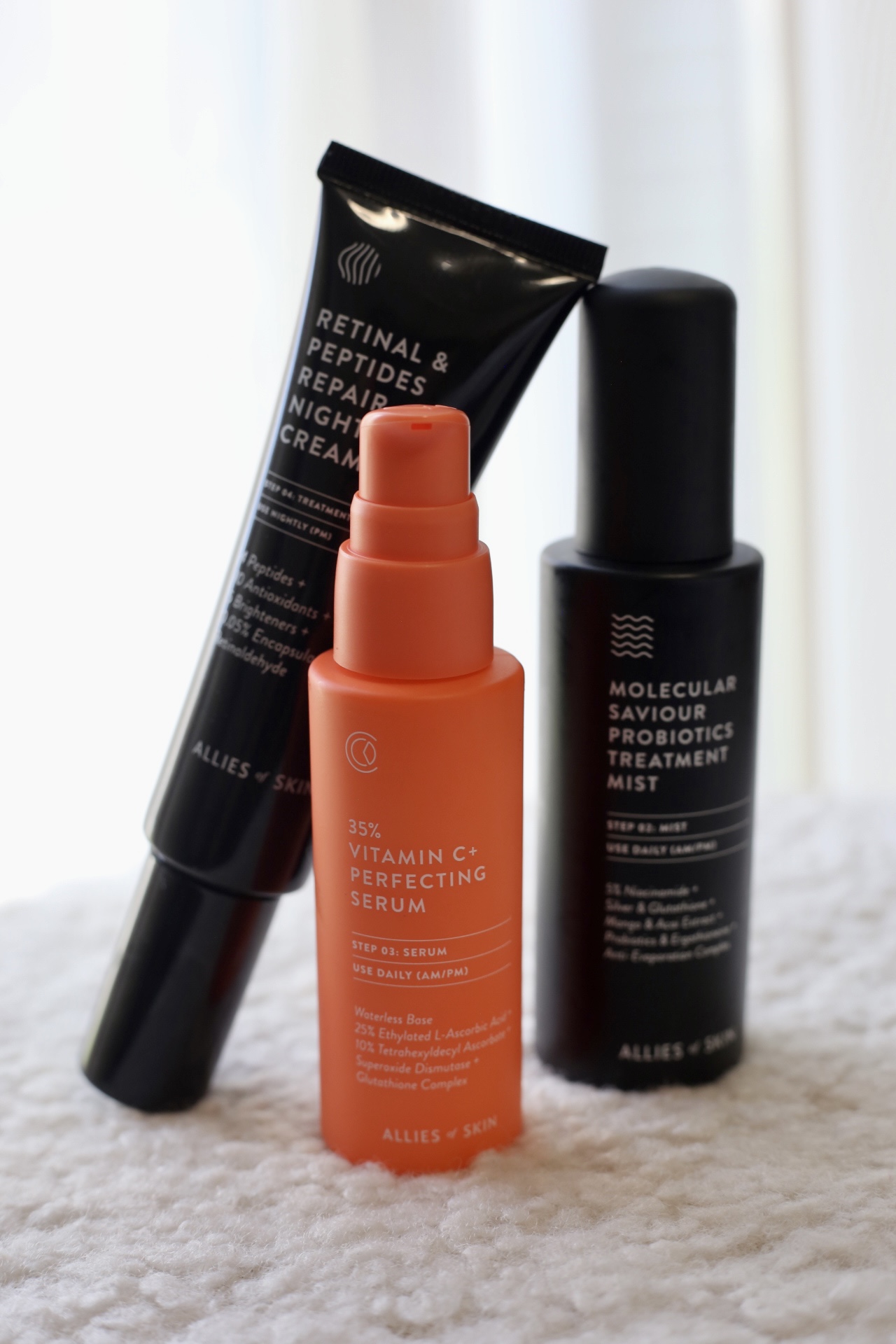 Allies of Skin combines supercharged concentrations of clinically proven actives into smart, biocompatible formula. This brand reminds me of The Ordinary but the luxury , anti-aging version that's more appropriate for an older demographic. Allie of Skin's focus is on potent formulations that are multi-tasking and time-saving. Allies of Skin products feels like prescription skincare you'd get out of a clinic or med spa. Allies of Skin doesn't market themselves as a clean beauty brand, but their formulas are honestly cleaner than pleeeenty of brands who loudly market themselves as clean beauty these days.
The prices of Allies of Skin products range between $100-$200. Currently they're having a Buy 1 Get 1 free sale on their website.
Starting off the 35% Vitamin C Serum with a warning for people who don't like oil serums and have sensitive skin. This is an oil-based not water-based serum and it's extremely strong and can cause irritation if you have sensitive skin. You may be better off with their 20% Vitamin C serum.
The Allies of Skin Vitamin C Serum is made of 25% Ethylated L-Ascorbic Acid + 10% Tetrahexyldecyl Ascorbate, along with an antioxidant complex of Superoxide Dismutase + Glutathione, which helps ensure and strengthen the potency of the Vitamin C while providing additional benefits to the skin.
This products helps:
brighten and firm skin
shield against environmental aggressors
smooth skin texture
Though most people prefer a water-based consistency than an oil-based, the advantage of a waterless base is that it ensures that this formula stays clear and potent. If you've noticed your water-based Vitamin C serums change in color and turn more yellow, that's because it's oxidized and lost its potency, something that's guaranteed to happen with Vitamin C serums, and quickly.
Despite the oily consistency, it does absorb well and doesn't feel too heavy on my skin.
I've seen Superoxide Dismutase in some very high-end green beauty brands and am glad to see it in this serum. I love that it has Glutathione, which I don't see too often and feel that it's often overlooked. This is an antioxidant that's great for photoaging and dark spots and helps brighten the skin.
I like to use this serum as part of my morning routine, but try to cycle it in and out as I feel like it causes my skin to become sensitised when I use it consecutively for longer than my skin can handle.
Ingredients
25% Ethylated L-Ascorbic Acid. A newer, more stable form of Vitamin C. Fades imperfections, boosts collagen production, and provides excellent photoprotection underneath sunscreen.
10% Tetrahexyldecyl Ascorbate. An oil-soluble form of Vitamin C that can better penetrate the skin's epidermis. It combats free radicals, protecting the skin from harmful environmental aggressors, like UV rays and pollution.
Superoxide Dismutase. A potent antioxidant, naturally produced in our cells, that fights against formation of free radicals. Evens out complexion and combats signs of premature ageing and dullness.
Glutathione. A potent antioxidant that helps target photoageing, battles oxidative stress, and reduces the concerns associated with exposure to free radicals. Leaves the skin looking clearer, firmer, and more even.
Full ingredients: Ethoxydiglycol, 3-O-Ethyl Ascorbic Acid, Tetrahexyldecyl Ascorbate, Dimethyl Isosorbide, Isodecyl Neopentanoate, Glutathione, Superoxide Dismutase, Ethylhexylglycerin, Caprylyl Glycol, Phenoxyethanol.
Allies of Skin retinol cream is packed with Encapsulated Retinaldehyde, 4 Peptides, 10 Antioxidants and 5 Brighteners, but I would expect no less from a moisturiser that costs $120.
It contains Allies' patented Ally-R™, an encapsulated form of Retinaldehyde that smooths the appearance of fine lines and discoloration.
The Retinal Repair Night Cream is a rich, creamy cream with a light yellow hue, and it's meant for nightly use only. If you use Vitamin C during the day and this retinol at night, you're already doing great.
Its other ingredients include:
10 Antioxidants. Ergothioneine, Glutathione, Ellagic Acid, Arctic Cranberry Seed Oil, Rosemary Leaf Extract, Phenylethyl Resorcinol, Phenyl t-Butylnitrone, Resveratrol Dimethyl Ether, Albizia Julibrissin Bark Extract, Indian Ginseng Root Extract.
Multi Peptide Complex. A blend of Palmitoyl Tetrapeptide-7, Palmitoyl Tripeptide-38, Glutathione and Palmitoyl Tripeptide-1 that supports collagen production, improves skin elasticity and promotes firmer-looking skin.
5% Nutrient-Rich Oil Blend. An antioxidant blend comprised of Organic Argan Oil, Arctic Cranberry Seed Oil and Cloud Berry Seed Oil, that nourishes, moistures and soothes skin while shielding it from free radicals.
Indian Ginseng Root Extract. Comes from a shrub found across India and the Middle East. It has soothing and antioxidant properties, reduces signs of premature ageing, and reinforces the skin's natural defence mechanisms.
There's no scent or added fragrance to this formula. The Retinal Repair Night Cream is without a doubt an impressive formula and has the the ideal combination of strong plant-based ingredients and advanced actives for skin that needs something strongly anti-aging.
Ingredients: Aqua (Water), Glycerin, Caprylic/Capric Triglyceride, Propanediol, Argania Spinosa Kernel Oil, Sodium Acrylates Copolymer, Hydrolyzed Candida Saitoana Extract, Sodium Stearoyl Glutamate, Albizia Julibrissin Bark Extract, Dimethyl Isosorbide, Galactoarabinan, Palmitoyl Tetrapeptide-7, Palmitoyl Tripeptide-1, Caprooyl Tetrapeptide-3, Cassia Angustifolia Seed Polysaccharide, Oxycoccus Palustris Seed Oil,Rubus Chamaemorus Seed Oil, Niacinamide, Withania Somnifera Root Extract, Citrus Aurantium Dulcis Callus Culture Extract, Retinal (Retinaldehyde), Ellagic Acid, Phenylethyl Resorcinol, Sodium Hyaluronate, Resveratrol Dimethyl Ether, Phenyl t-Butylnitrone, Ergothioneine, Glutathione, Mirabilis Jalapa Flower/Leaf/Stem Extract, N-Hydroxysuccinimide, Chrysin, Glutamylamidoethyl Imidazole, Lonicera Caprifolium Flower Extract, Lonicera Japonica Flower Extract, Lavandula Hybrida Oil, Pentylene Glycol, Butylene Glycol, Cyclodextrin, Caprylyl Glycol, Steareth-20, Gluconolactone, Ethylhexylglycerin, Citric Acid, Xanthan Gum, Dextran, Acetyl Tributyl Citrate, Calcium Gluconate, Sodium Benzoate, Potassium Sorbate, Phenoxyethanol, Limonene, Linalool
The Allies of Skin Treatment Mist also has a clinically advanced formula like the rest of their products. This isn't just feel good skincare, but another step that works at improving skin and protecting the skin barrierwith silver, glutathione, niacinamide, probiotics and more. There's something about the black bottle and the way the mist comes out that turns me off though.
While there's plenty of great actives in here, I wish the first ingredients weren't water and polysorbate. Rose water or aloe would have made this even better and I'm not sure why the preservative had to be so high up the list (ie it's the 2nd most present ingredient after water).
What's interesting about this mist is that even goes so far as to include a special anti-evaporation molecule so that it clings to the skin's surface instead of simply vanishing, a universal but less talked about issue with skincare.
Do you really need a $70 face mist just because it has skincare actives? Of course not. It's not going to make or break your routine. I feel like this product is mainly for the skincare nerds and those who want a complete full routine from a single brand.