You might have heard beauty editors raving about Le Prunier's new sunscreen, Plumscreen SPF 31, or seen it on social media, and I'm finally sharing my thoughts on this highly anticipated and buzzy launch. Is Le Prunier Plumscreen worth $78? It's got to be the most expensive sunscreen I have ever come across. Le Prunier is an eco-luxe skincare brand that uses upcycled pits and kernels of their plums from their multi-generational family farm. The company grows, harvests and presses everything on their farm, meaning they're able to control and oversee every part of the ingredient's life cycle. They later shot to fame with sky high praises from Chrissy Tiegen over their Plum Beauty Oil. Read on for my honest Plumscreen review along with pros and cons of Le Prunier Plumscreen.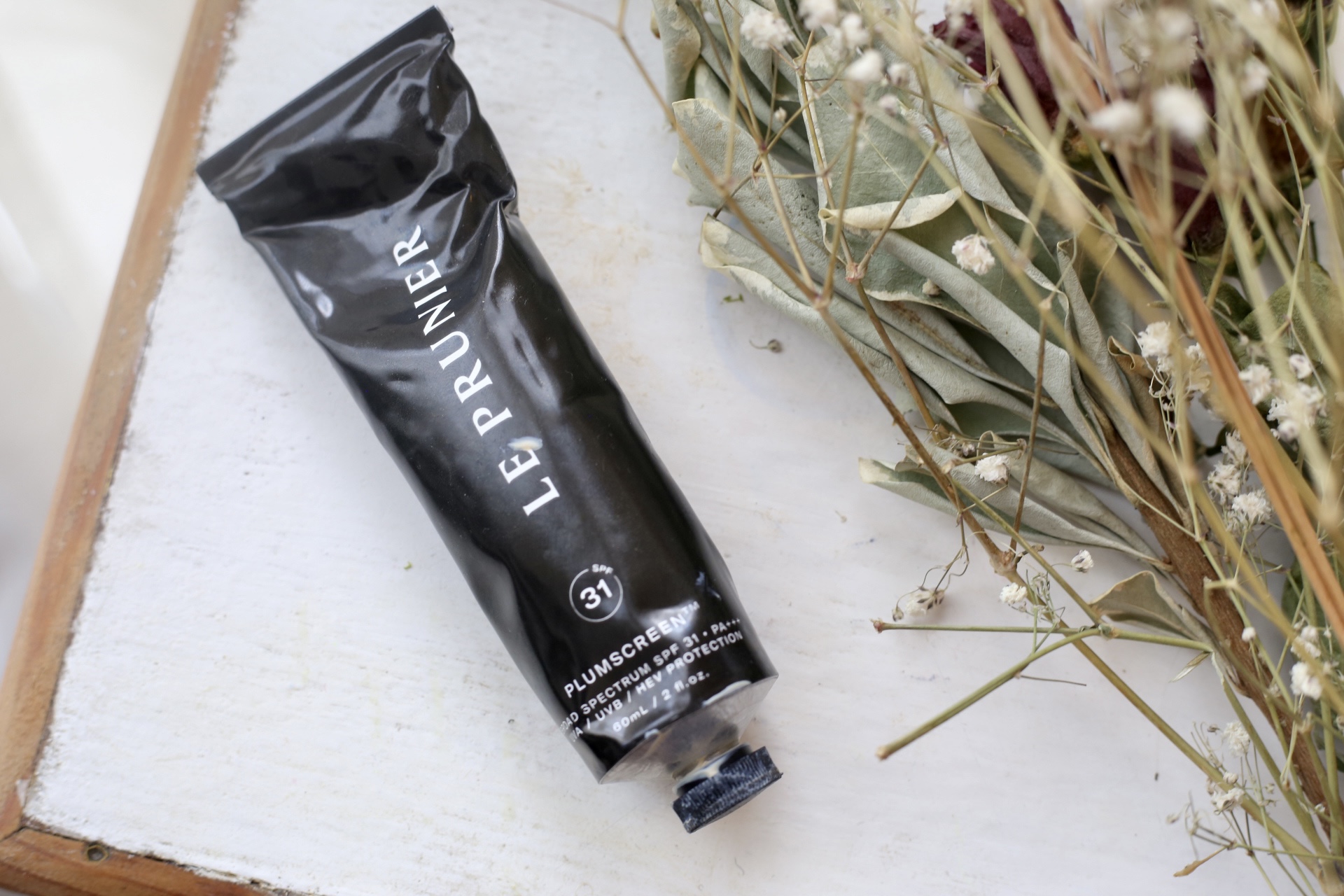 First off, Plumscreen's price point is wildly inaccessible, so right off the bat most people are not going to be able to afford it, and I'm not trying to push anyone who can't afford it to buy. This is a hyper luxury product for people who don't mind spending almost a hundred on a product that gets used up very quickly.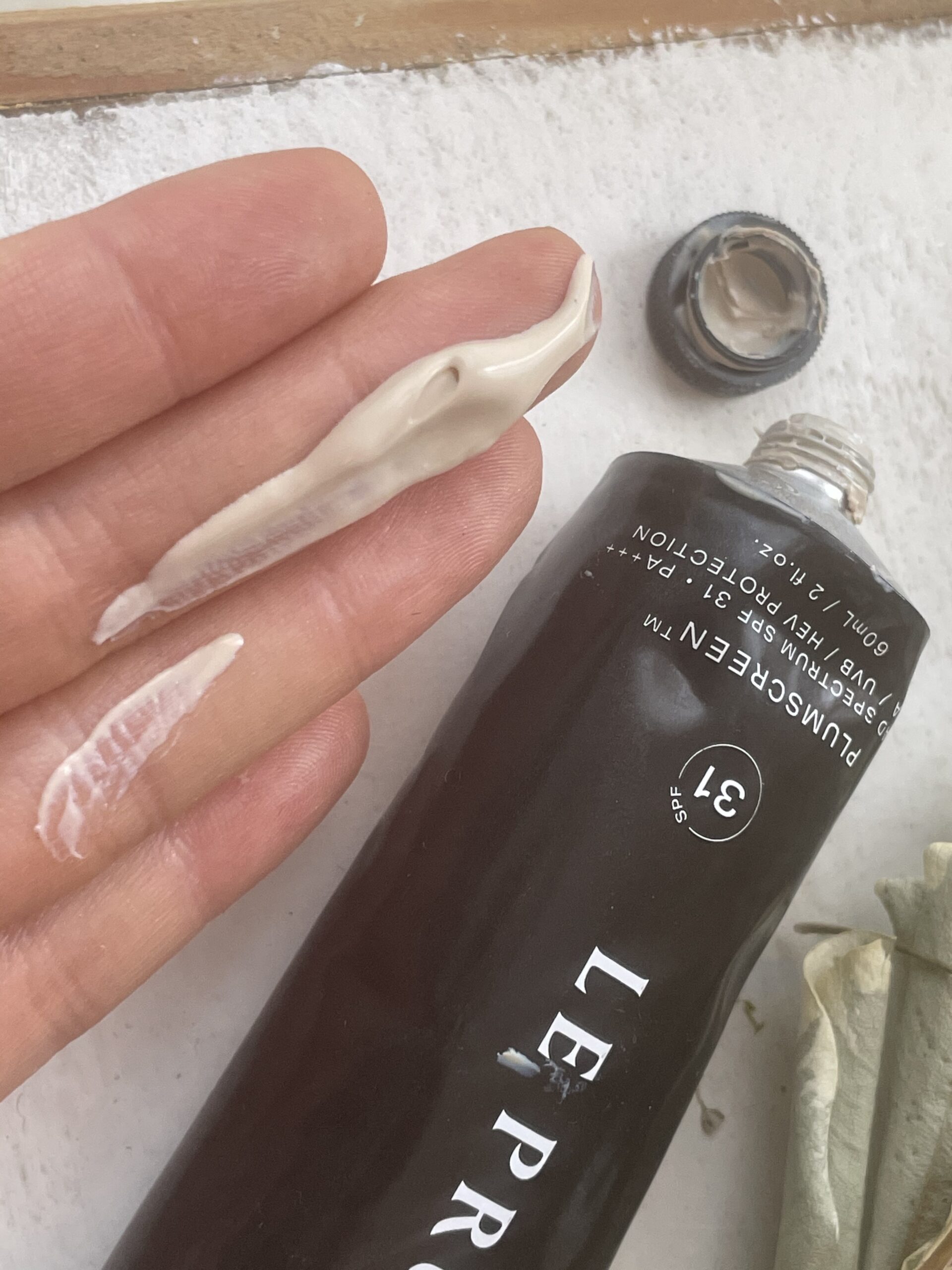 Here is the basic rundown of Le Prunier Plumscreen:
4.7% non-nano Zinc oxide
Protects against UV, blue light and pollution
Vegan & reef-safe
Contains Plum oil, seaweed and proprietary Plum Complex
Not water-resistent
Light beige / off white shade (sheer) to offset white cast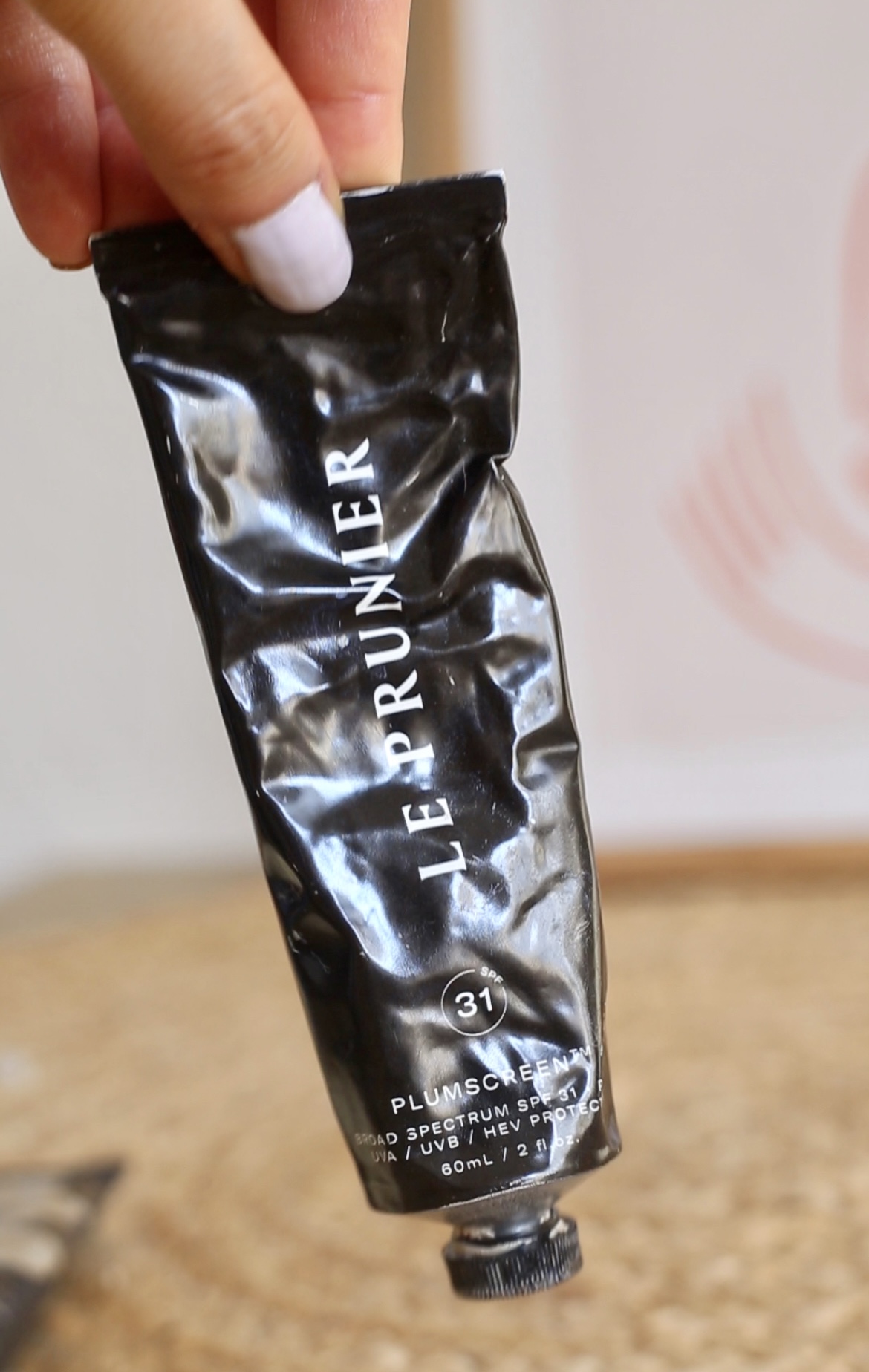 I think Plumscreen is a very cosmetically elegant sunscreen product (aside from low zinc oxide). It has a relatively simplified formula yet still gracefully avoids just about everything people hate about mineral sunscreens — too heavy, ghostly white cast, pulling, the feeling of "sitting on your skin." It's the sunscreen for mineral sunscreen haters in my opinion, as long as they can afford it. It's so easy to enjoy this sunscreen, you could almost forgive its only downside.
Plumscreen's con is the low 4.7% zinc oxide percentage. If this is something you don't care about, then I'm not here to change your mind. I personally just wouldn't use this if I'm going outdoors without a stronger sunscreen underneath that's at least SPF 50.
Side note, if you love Josh Rosebrook's Nutrient Day Cream SPF, you will most likely enjoy this formula as well. True to being a sustainable and upcycled beauty brand, Le Prunier opted for recyclable aluminum tube packaging. If you're in the market for an eco-luxe sunscreen, Plumscreen is a top choice, but if $78, $68 or even $48 for a sunscreen you wear everyday is impractical for you, then there are plenty of other great mineral sunscreens on the market that are more affordable like Saint Jane Beauty Luxury Sun Ritual SPF 30.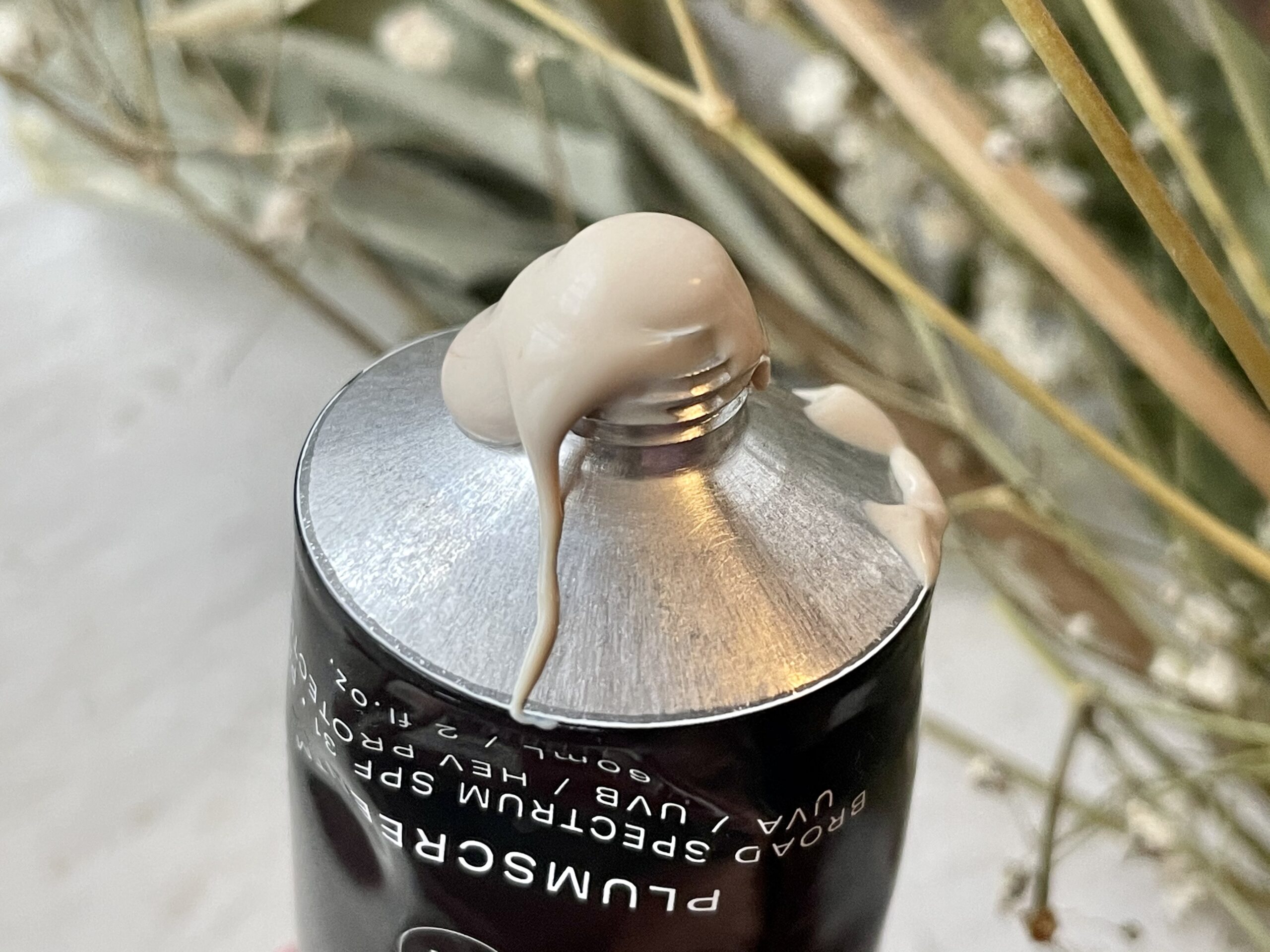 Plumscreen Consistency
Very light and hydrating lotion in a water base. It's very silky, delicate and goes on invisible.
What's the finish like?
On my dry skin I get a very natural finish that's neither dewy or matte. It's just right down the middle.
What does Plumscreen smell like?
It has a very very subtle scent that's almost non distinguishable unless you held it right up to your nose. It's reminiscent of marzipan. I even want to say it sometimes reminds me of mochi or sweet rice.
Why is the zinc oxide % so low?
One thing that raised a red flag immediately was Plumscreen's very low zinc oxide content. While all dermatologists will advise that your sunscreen should have at least 10% zinc oxide, Le Prunier Plumscreen has less than half of the doctor's recommended amount at 4.7%.
Le Prunier does address this on their website, and according to them, their proprietary Plum Superfruit Complex provides extra UV protection:
Plumscreen™ is the first and only SPF 30+ to utilize the all-natural Power Of Plum® by way of our patent-pending Plum Superfruit Complex™ to provide clinically demonstrated skin benefits along with broad-spectrum sunscreen and blue light protection. 

Take from that what you will, but I personally would rather not mess with my skin, and use this as a second sunscreen layer or indoor sunscreen. Basically, I would not rely on Plumscreen alone on sunny or outdoor activity-filled says.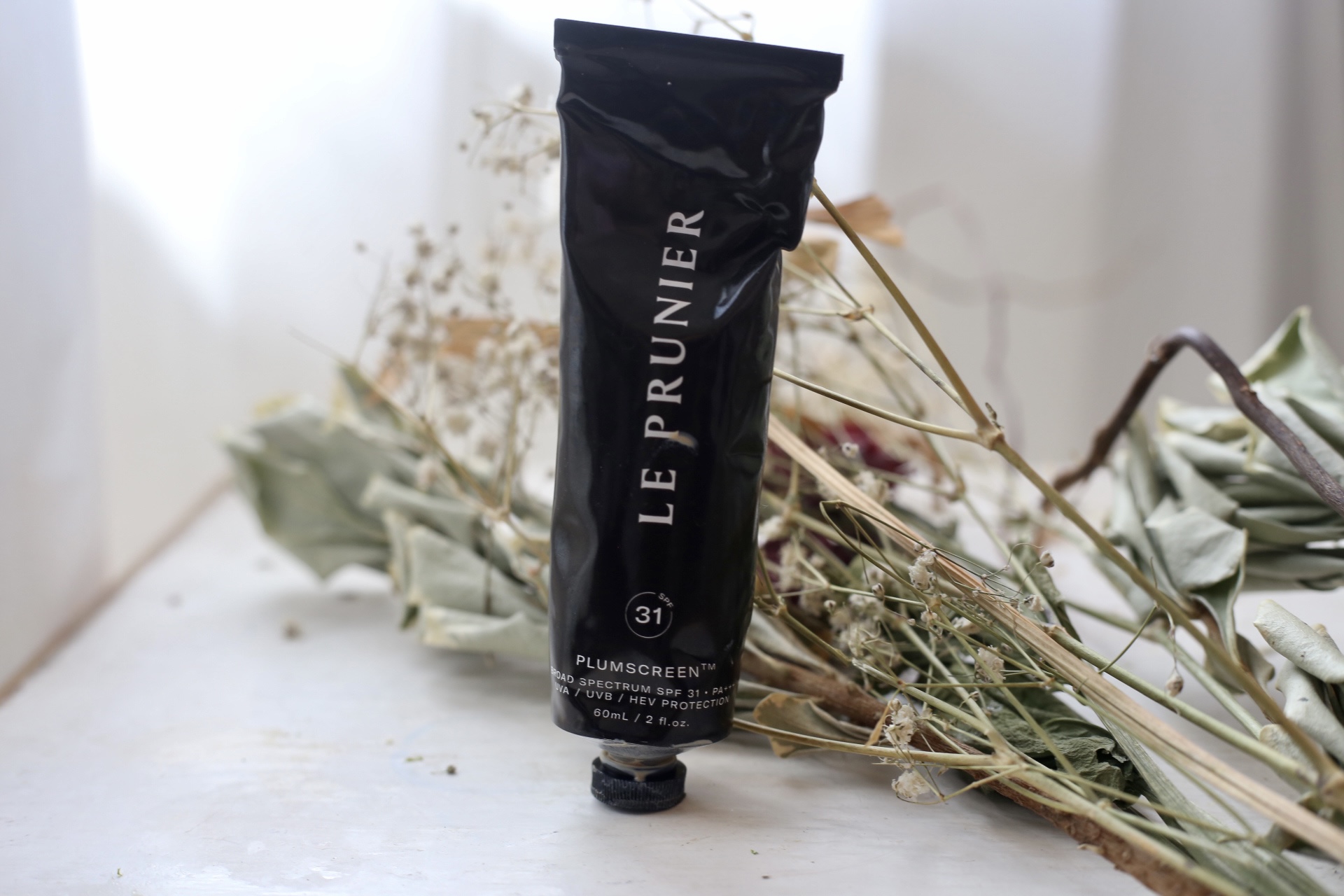 Plumscreen Pros
Plumscreen is an ideal sunscreen for someone who hates all sunscreens (you know who you are).
Moisturizer + SPF
Perfectly easy to apply
Feels weightless without any sensation of product sitting on your skin
Feels hydrating
No white cast
2 oz of product which is more than the usual 1.7 oz
Plumscreen Cons
Zinc oxide content is too low for me
Plumscreen Ingredients
Full Ingredient List:
Active Ingredient: 4.7% Non-Nano Zinc Oxide
Other Ingredients: Water (Aqua), Coco-Caprylate/Caprate, Prunus Domestica Seed Oil, Prunus Domestica Extract, Hydrolyzed Prunus Domestica Fruit Extract, Glycerin, Cetearyl Alcohol. Ceterayl Olivate, Sorbitan Olivate, Propanediol, Zonaria Tournefortii Extract, Sodium Stearoyl Glutamate, Silica, Xanthan Gum, Tetrasodium Glutamate Diacetate, Polyhydroxystearic Acid, Caprylhydroxamic Acid, Caprylyl Glyceryl Ether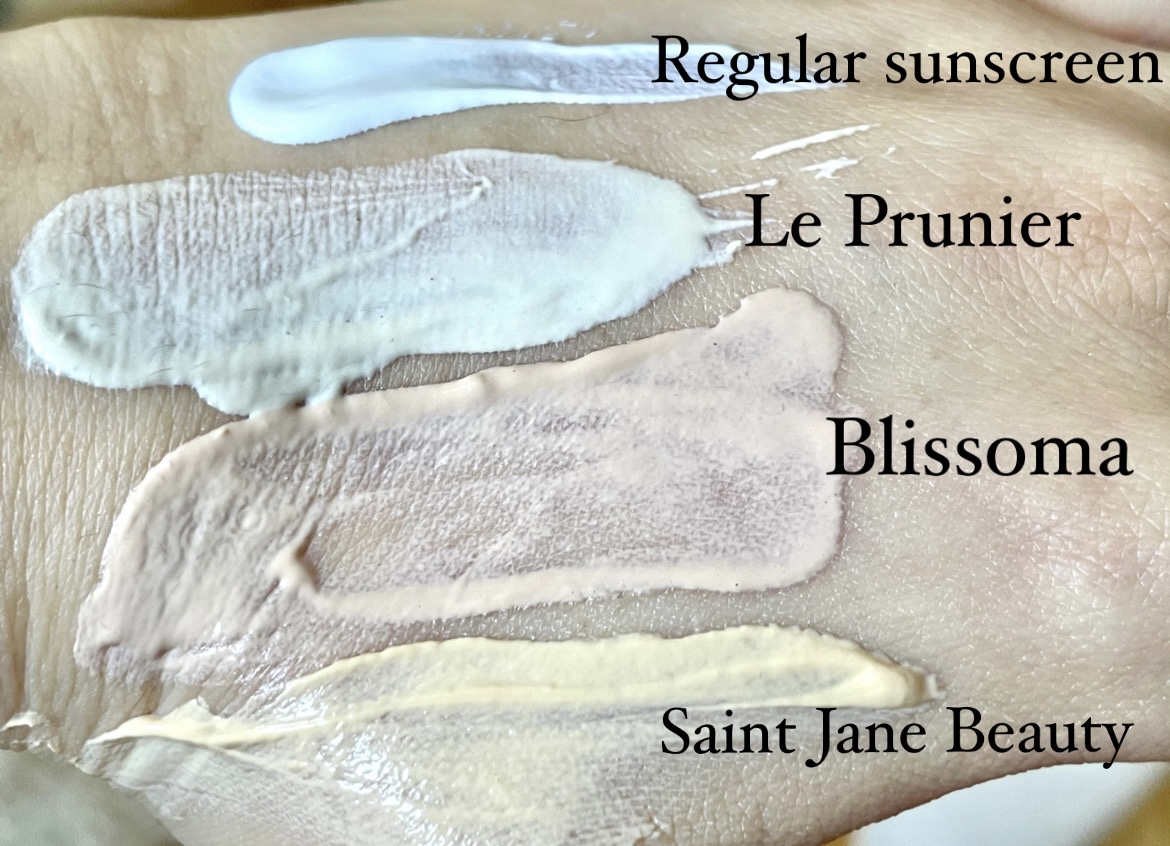 Is Plumscreen worth it?
If the $78 price tag doesn't make you flinch, then yes, Plumscreen is worth it and then some. If this doesn't make sense for your budget, then check out these more affordable SPF moisturizers that are similar: