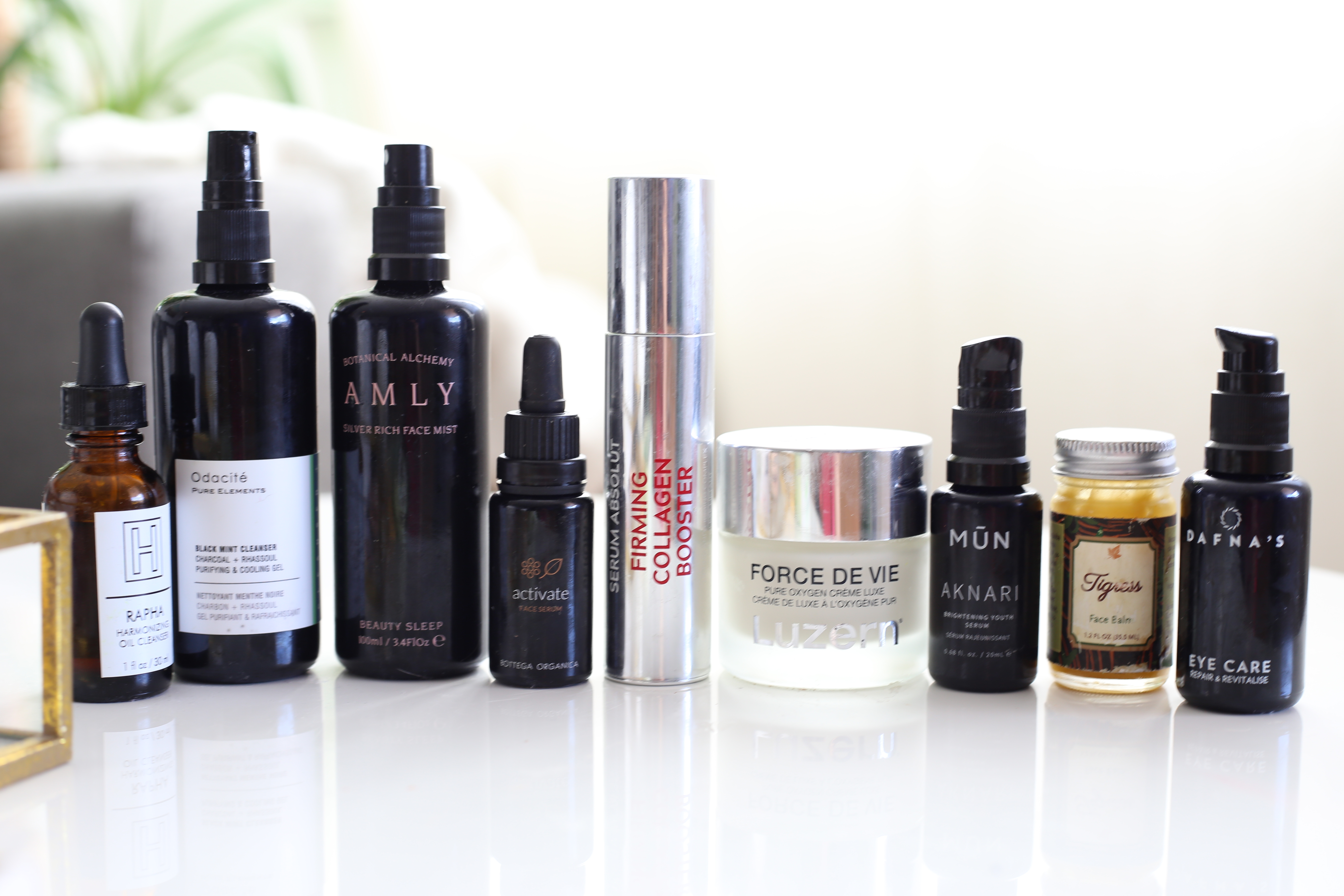 It has been a while since I`ve done a Current Favorites post! I honestly don`t think I can even fit everything I`m currently enjoying into one post without overwhelming you. I won`t be going into depth with these products and I apologize in advance for that.
H is for Love (from Boxwalla Subscription Box) RAPHA: This has a beautiful sweet herbal scent and contains Certified Organic Olive, Hemp, Pumpkin, German Chmomile, Calendula and Frankincense oils
Odacitö Black Mint Cleanser: a purifying and cooling gel to foam cleanser that was just launched by the brand and contains Rhassoul Clay and Activated Charcoal to detoxify pores
AMLY Silver Rich Face Mist (from Boxwalla Subscription Box): a very luxurious and high-end face mist that boasts silver and is designed for use before sleep
Bottega Organica Activate Face Serum: This is a glycerin-based face serum with a deep brown tint to it. This is an unusual serum for me but I find it very moisturizing
Luzern Labs Firming Collagen Booster: Very high-end Swiss face serum that rebuilds and increases collagen adn elstain production with Marine Algae, Pullulan, range stem cells, Hexapeptide-10 and naturla active molecule Polyose dervived from oats
Luzern Labs Force de Vie Luxe Moisturizer: Designed to optimize cellular energy, moisture balance and nutrient utilization with Liposome-Delivered Biodyne TRF, Coenzyme Q10, Liposome-Delivered Vitamins C and E, Alpha-lipoic Acid, Bio-Swiss Organic Buddleja Davidii, Thyme, Green Tea & Ginger Extracts
MUN Skincare AKNARI (from Boxwalla Subscription Box): Contains Organic Prickly Pear Seed Oil and Argan oil to smooth wrinkles, repair sun damange and soothe inflammation
Earthwise Beauty Tigress Face Balm (affiliate code OBL saves): a new creation by Earthwise Beauty designed for acneic skin, this balm  melts on contact and is full of unique and unusual ingredients as per usual with EWB like Ucuuba butter, Kokum butter,Sapote oil, Babassu Oil,Green Coffee Bean, Spikenard EO,Usnea Lichen extract,
DAFNA`s Eye Care (from Boxwalla): An indie cult fave in Spain, this is a gel serum eye product that contains 16 natural actives and utilizes biotechnolog to deliver the ingredients in sequence.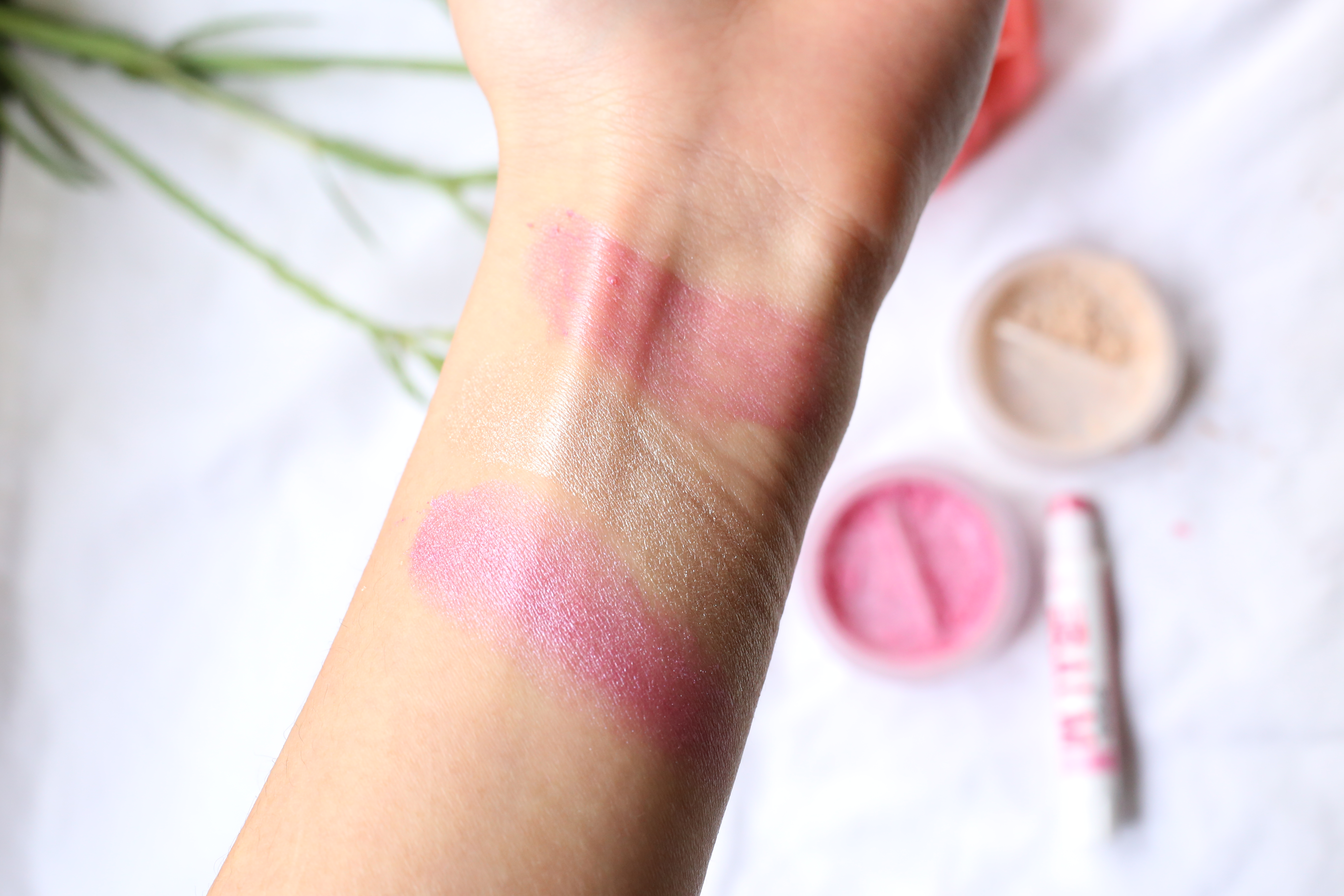 Root swatches from Top to Bottom: Tinted Lip Balm in Ballet, White Gold Illuminator, Mineral Blush in Posey
I recently tried out Root natural makeup, which is a super affordable line from Iowa, and particularly loved the Tinted Lip Balm in ballet. They offer such a wide selection of shades that they probably have the one you`re looking for.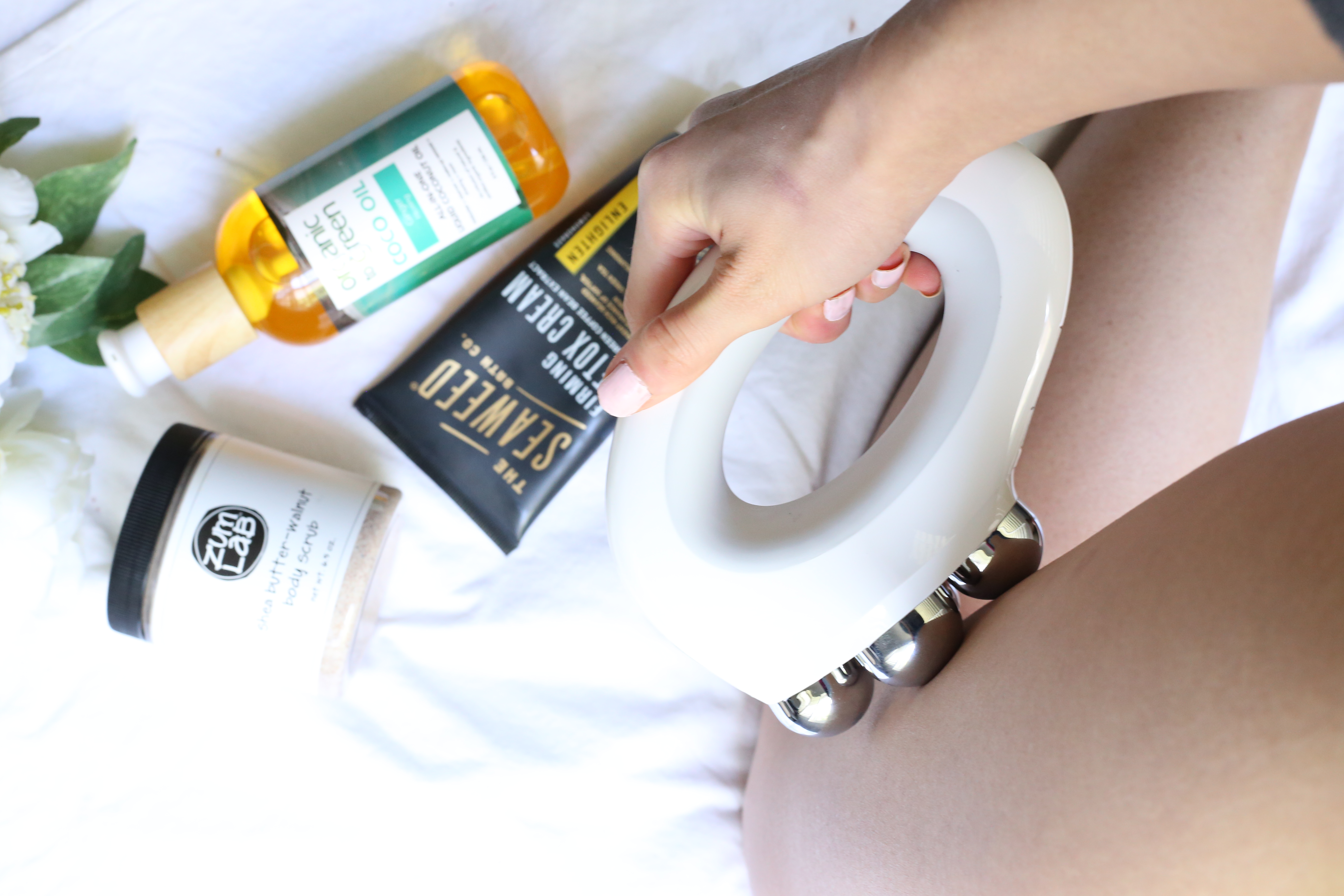 I have been diligently using the new NuBody Toning Device a few times a week to maintain smooth toned skin on my legs and arms. I donßt have any major skin concerns but like with skincare I think prevention is key and I would love to be proud of the skin on my body well into my 30s and 40s- which means maintaining how it looks in its 20s. It has 3 different power settings and is 3 times more powerful than the NuFace Trininty Facial Toning Device.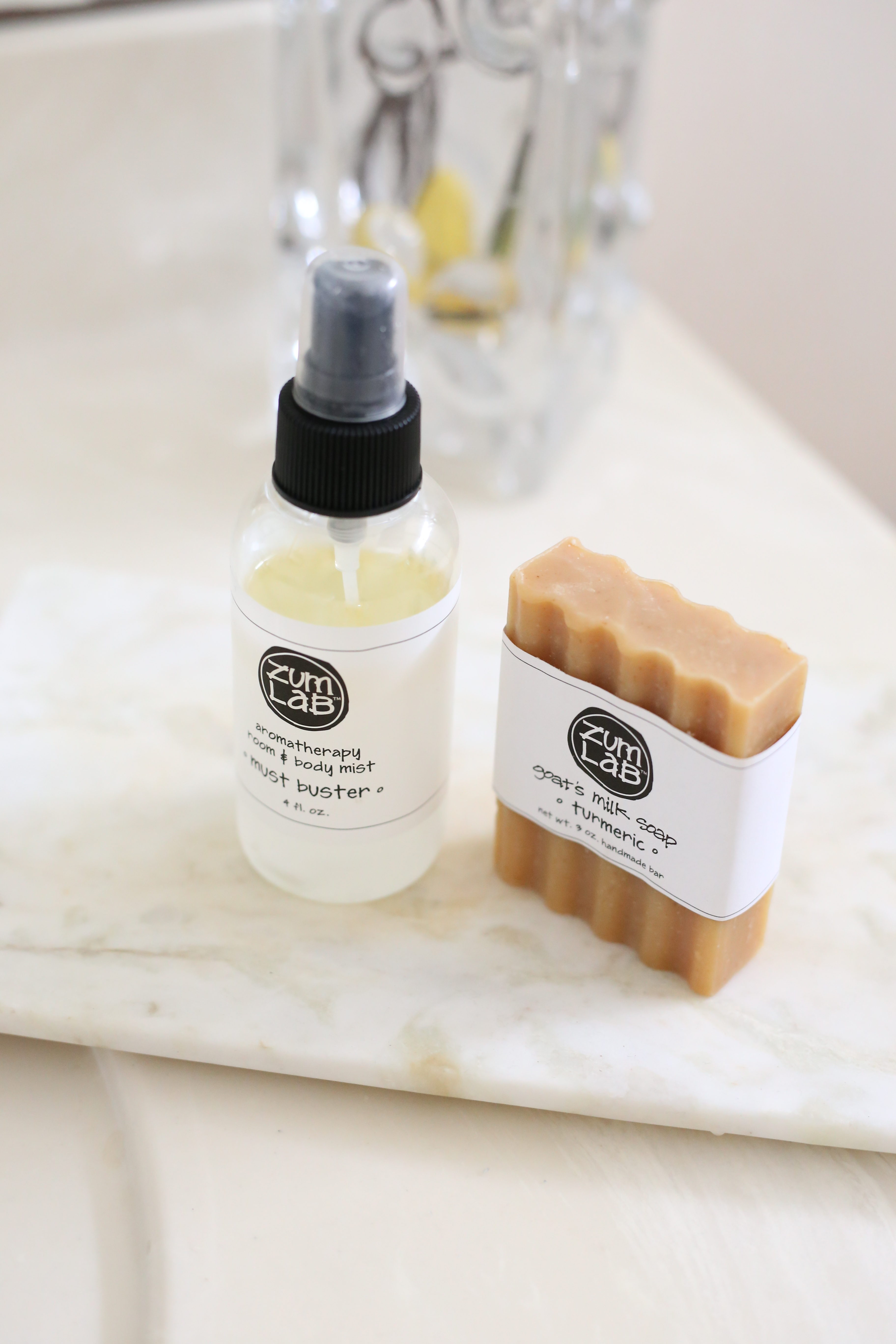 Non-beauty related, but I am loving the Must Buster and Goat`s Milk Soap by Indigo Wild. The Must Buster is perfect in the bathroom for after a shower or a dump and has a spicy cinnamon scent. The soap is very moisturizing and the scent is so fragrant it practically fills the bathroom with each use.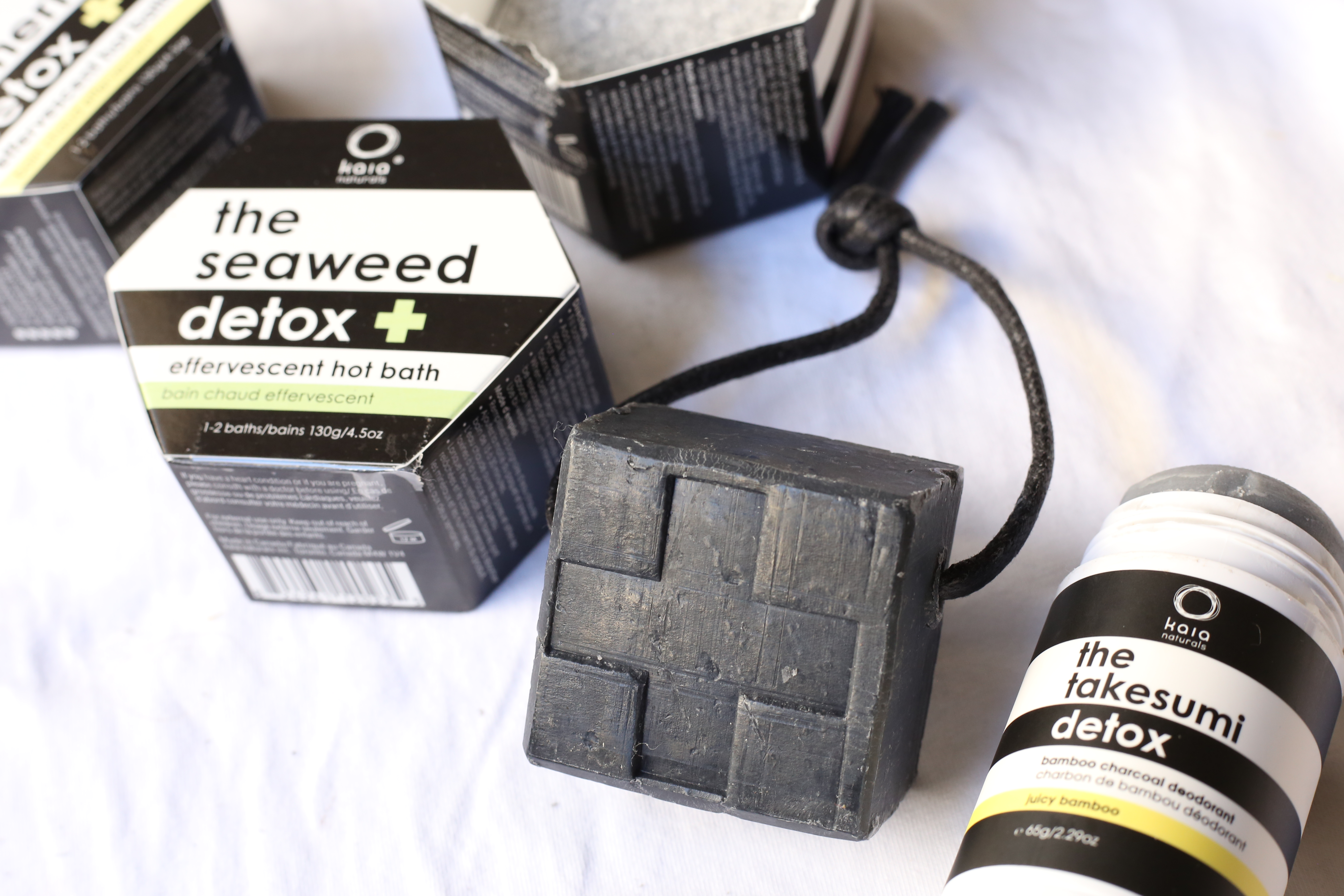 I used the new Kaia Naturals Effeverscent Hot Baths after my long haul flights to help my body detox from all the radiation while in flight. Apple Cider Vinegar works to destroy odor causing bacteria and Activated Charcoal draws out toxins. They all have a strong peppermint scent and come in Seaweed (turns the bath a nice green shade), Charcoal and Turmeric. The Booster Bar is fantastic in conjunction with your deodorant because it works to eliminate odor-causing bacteria not just help you smell great and comes with a sturdy rope for you to easily hang the bar without having it slip and slide.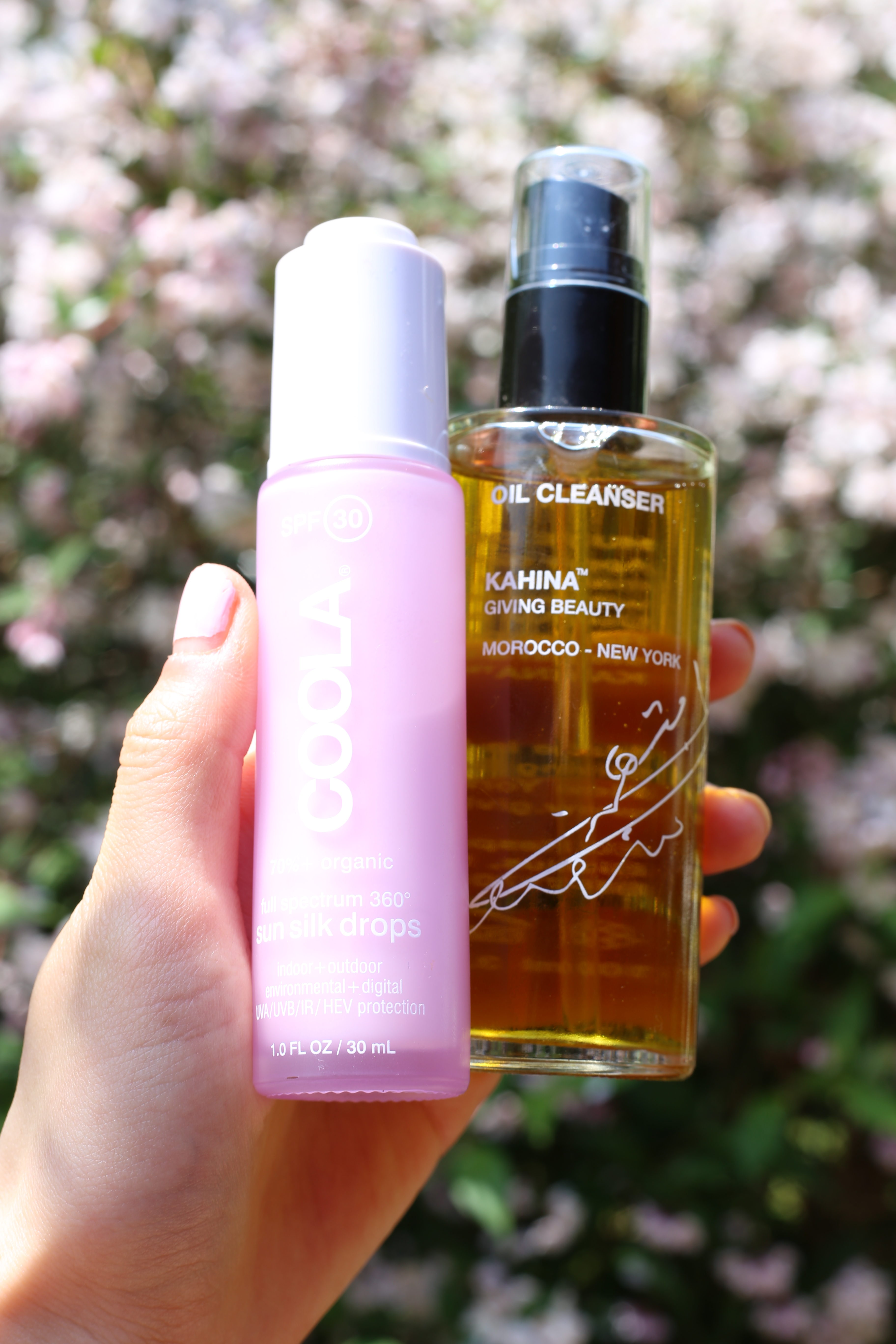 2 NEW products by @coola and @kahinagivingbeauty sent to me-The SPF 30 Sun Silk Drops & Oil Cleanser! Please note this specific product by Coola is not for purists due to chemical blockers-I'm simply sharing my opinion on the product. The Sun Silk Drops protect you from harmful blue light emitted from laptops & cell phones (can be more harmful than UVA&UVB rays), SPF 30 protection & environmental toxins. .
Research indicates that blue light can reach deeper into our skin than UVA and UVB rays, passing through both the epidermal and dermal layers to reach the subcutaneous tissues—and perhaps even deeper. One study suggests that blue light may be as harmful to skin as UVA and UVB light combined.
.
➖70%+ certified organic ingredients
➖Liposhield® HEV Melanin to mitigate skin damage caused by HEV light (Blue Light Waves)
➖Elix-IR™ has shown in clinical studies to mitigate IR-induced skin damage
➖LightWaves Defense (patented complex of Jasmine Sambac +Mangosteen) to mitigate the damage caused by (Blue Light Waves)
➖Can be worn alone or blended in
.
@naturisimo now carries @coola with FREE global shipping (this one's not yet there)
.
My experience:
IT's a very fluid like milk (I take the dropper and apply directly to my face and it runs down), fast absorbing & hydrating for my DRY skin. Doubt oily skin will like it. It can run though & sometimes gets into my eyes and causes mild burning. It can be mixed into foundation but I don't feel I'm applying enough SPF so I prefer it on its own. Because it's like water, the product gets used up super fast esp since I re-apply SPF every few hours. Overall a highly innovative creative product but I wish they chose zinc oxide/titanium dioxide as the UV blocker.
.
The @kahinagivingbeauty Oil Cleanser was launched in celebration of their 10th anniversary and is a blend of super hydrating, antioxidant rich plant oils & healing Calendula, Turmeric and Blue Tansy to calm and detoxify skin. It has a sweet neroli/floral scent. No complaints-it removes my makeup and softens my skin. It's water soluble and can be removed just with water.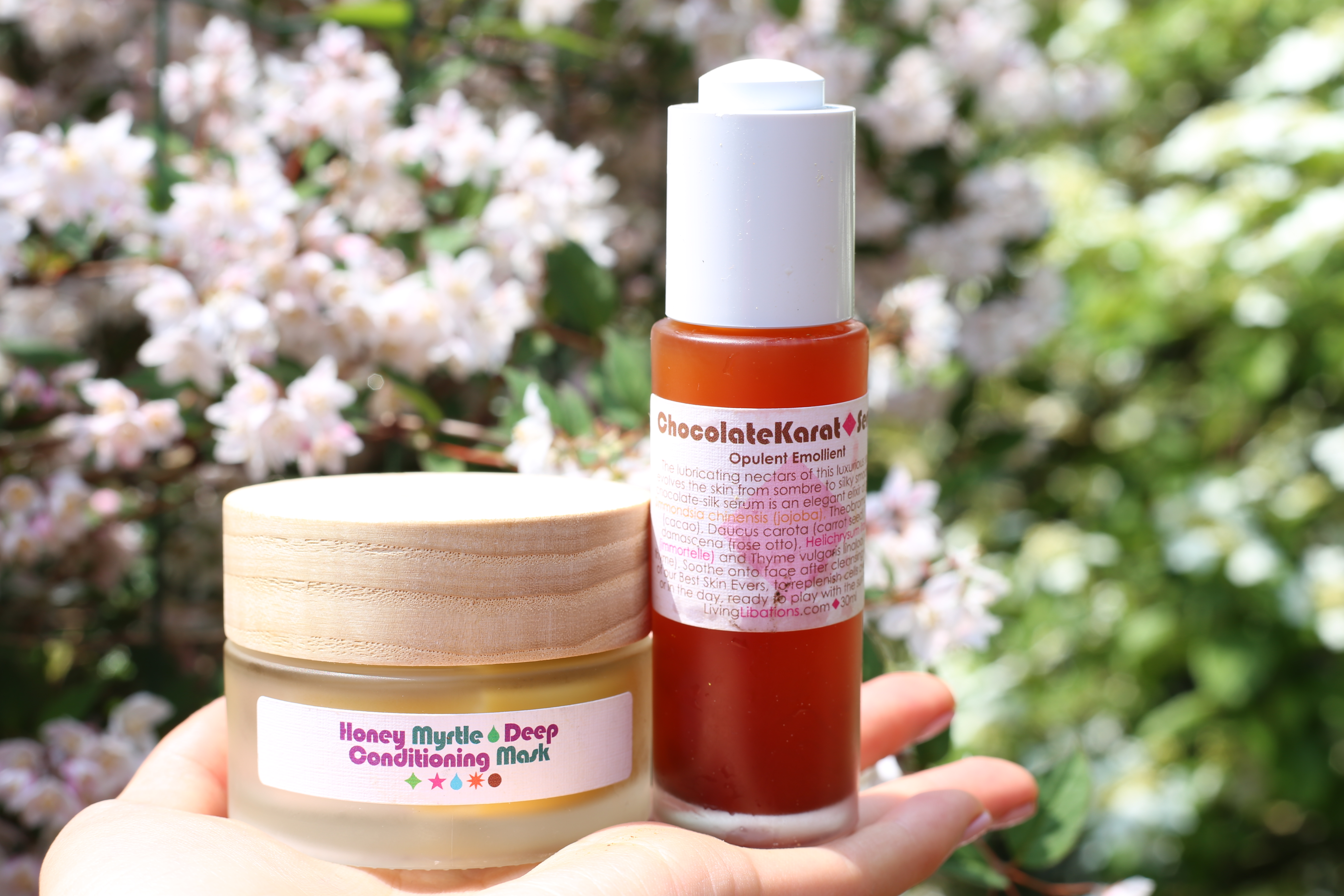 I am super happy I am finally trying out Living Libations, which I have heard of a little here and there, but it seems to be the indie brand of the indie world. Am on my 2nd use of the Honey Myrtle Deep Conditioning Mask and while after the first use I saw no difference I feel like there is some benefit after the 2nd use. The jar is so small that I use this as a scalp treatment mask overnight to reap the most benefits while leaving in camellia or coconut oil to my hair length. The Chocolate Karat Serum is a blend of Jojoba and Carrot Seed Oil primarily with Cacao, Rose Otto and Immortelle. It is a lightweight oil great for summer and so far I am using this mainly at night and sometimes a few drops in the morning after moisturizer. (Affiliate code OBL saves)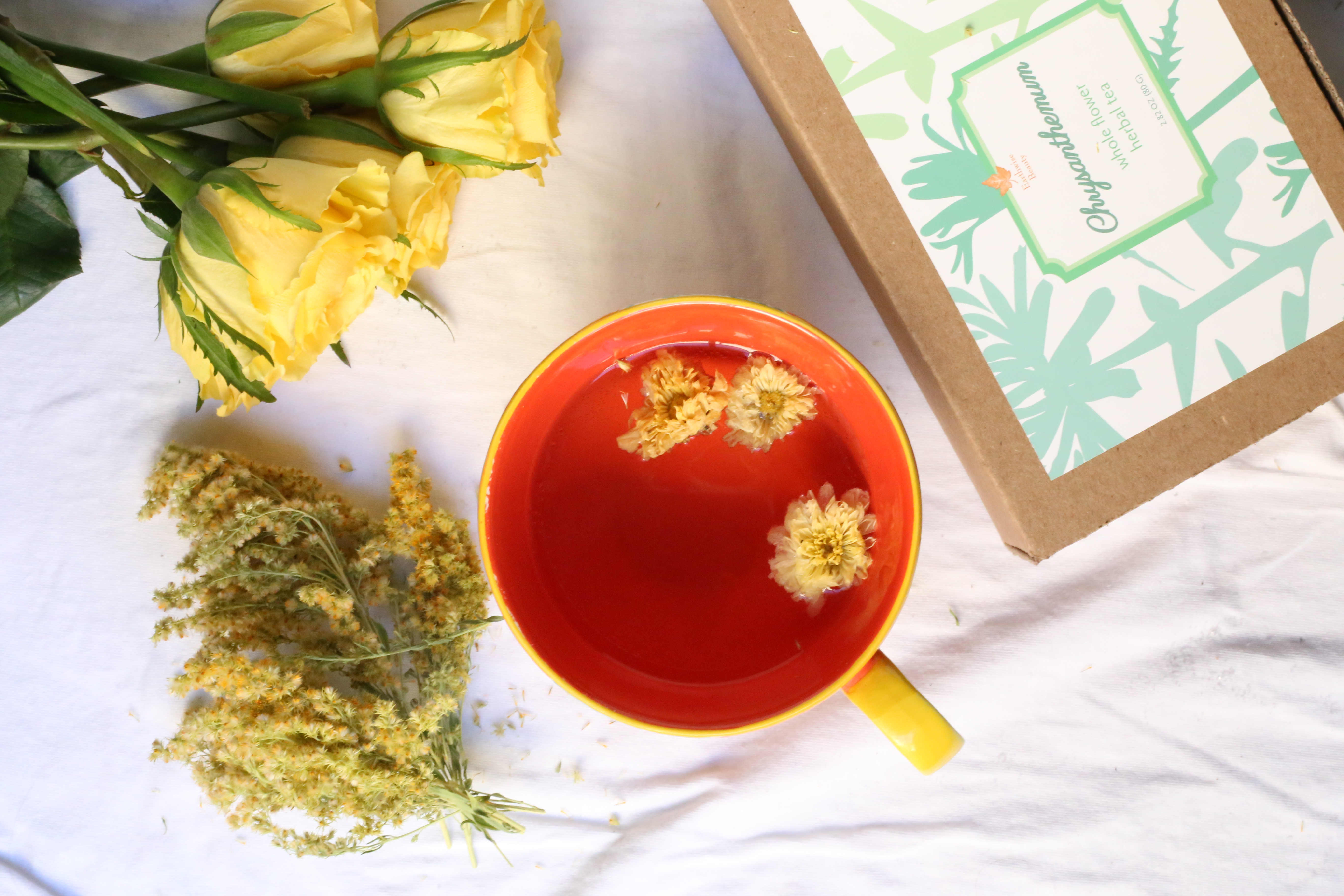 Maybe not the most exciting product offered by Earthwise Beauty, but I have been enjoying their new Chrysanthemum Whole Flower and Goldenrod Herbal Teas. Goldenrod is a kidney balancer and helps prevent urinary tract infections and help clear bouts of "kidney acne". Chrysanthemum is traditionally used in China for ongoing health and wellness and particular great for its calming effects before bedtime. It can also help with inflammatory skin conditions.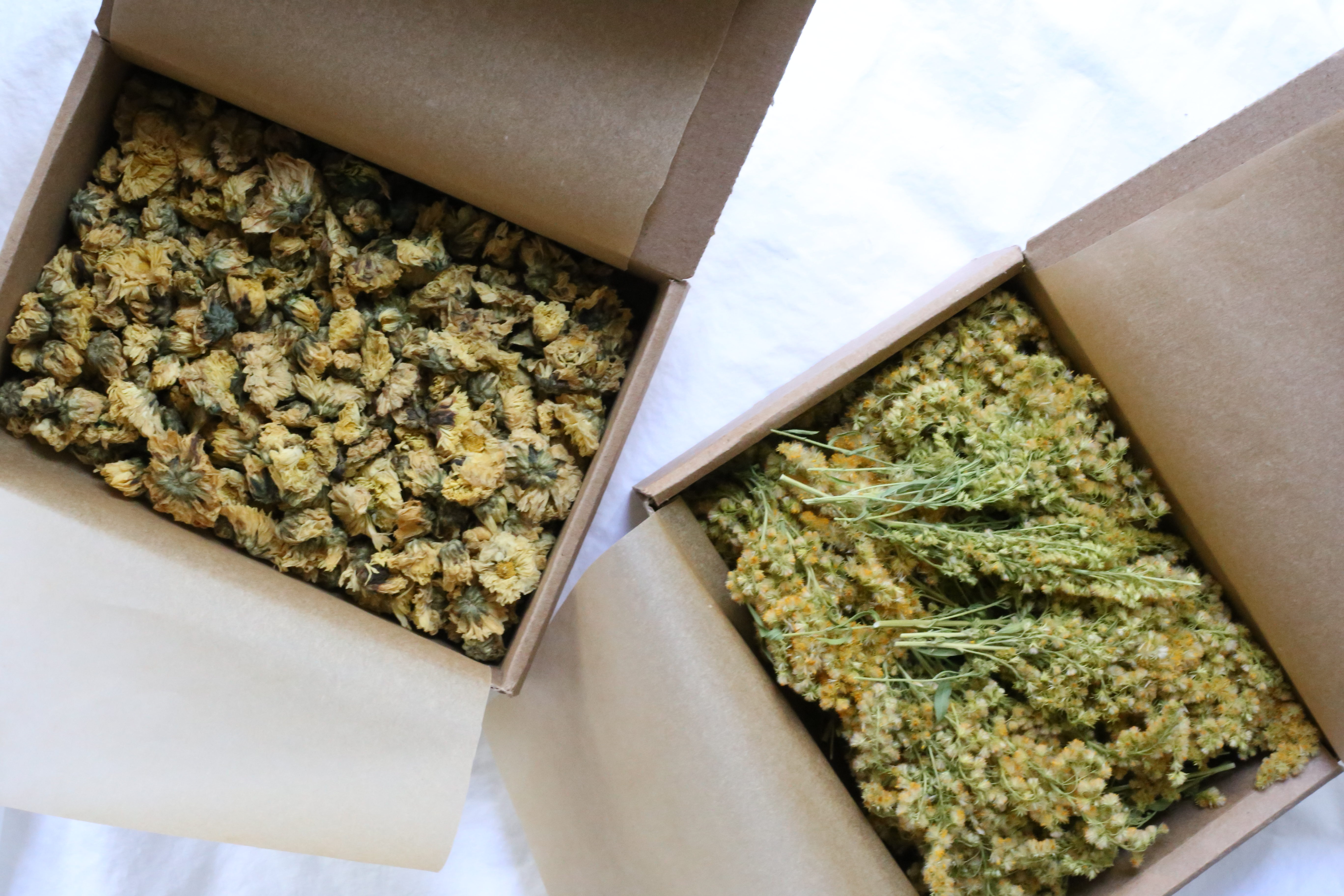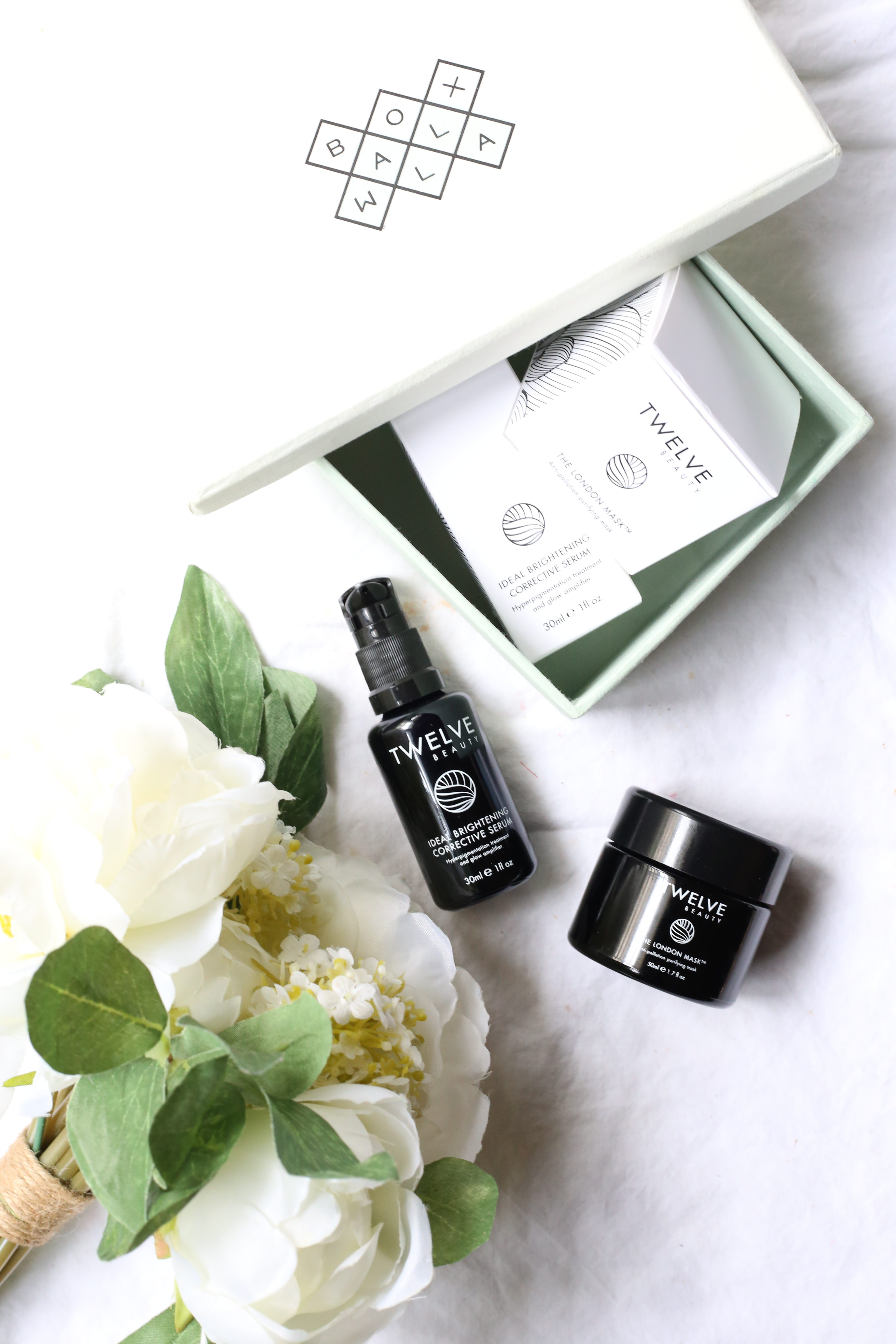 Thanks to the April Boxwalla box I was able to start trying out Twelve Beauty London Face Mask and Ideal Brightening Corrective Serum by this British-Spanish brand.With a PhD in Natural Skincare Formulation, Pedro Catala (founder, pharmacist, botanist & cosmetologist) created Twelve Beauty.His London Mask ($92 value) combats pollution's damaging effects with kaolin, mallow flower extract, Vitamin B & more. It's hand-blended over 3 days to reach its exquisite texture. The Ideal Brightening Corrective Serum (value $90) is a hydrating serum/antioxidant treatment/light moisturizer/glow booster oil rolled into one and contains 12 carefully selected herbs that function synergistically to reduce intensity of dark spots from sun damage or acne and correct uneven complexion I have used it several times now and find the mask texture to be highly unique- like whipped and airy marshamallow- and it does a great job of cleansing and toning my skin with each use. The serum which I have only used a week is a gel-like serum that has an oat scent that I hope will diminish my sun damage or at least prevent new signs from showing up.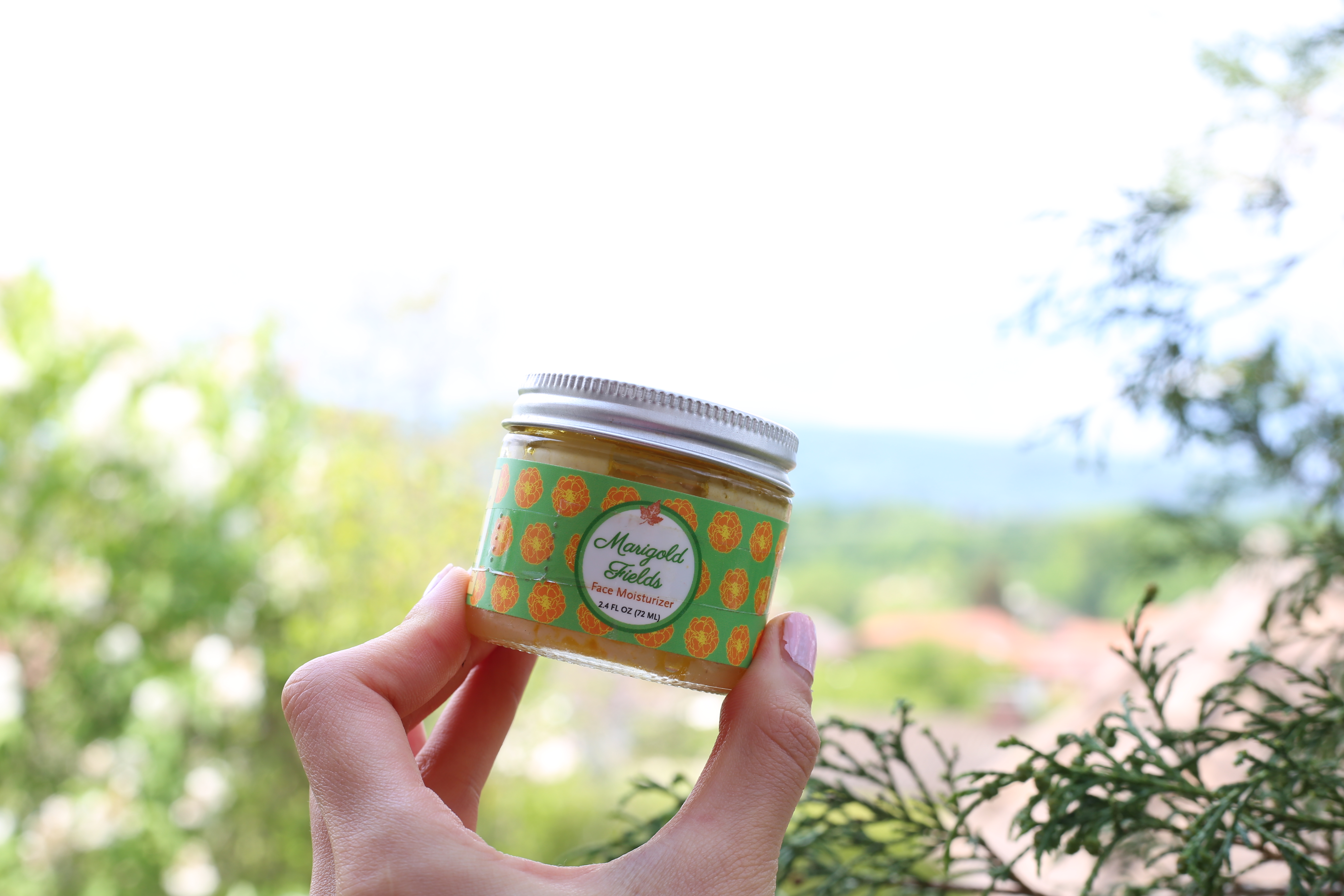 Earthwise Beauty Marigold Fields Face Moisturizer is a product that took a little while for me to get used to. Being used to a smooth white look of a moisturizer the lumpy separated and yellow look of this moisturizer was off-putting at first. But as summer approaches I am enjoying the hydrating plus moisturizing effect of this product thanks to the high Aloe Juice and oil content, not to mention it contains Calendula Flowers,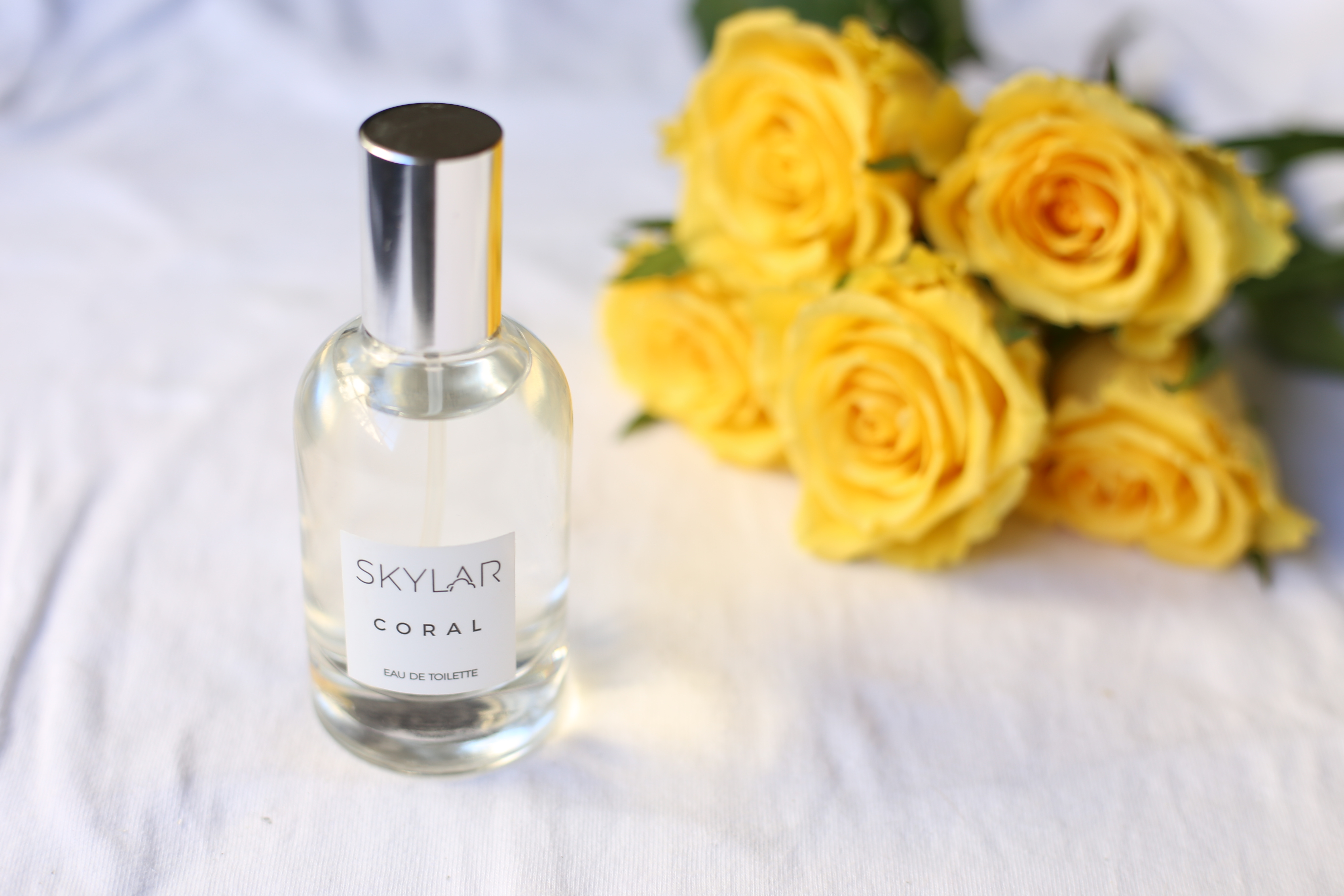 Skylar is a new cruelty-free, natural and hypoallergenic fragrance brand that offers 4 different scents. I received the Coral scent in the winter and love the bright, fruity yet sophisticated scent. Ingredients: organic sugar cane alcohol, distilled water, black currant, sandalwood, patchouli, benzoin resin, parfum (Skylar Body's own fragrance blend with natural and essential oils).