Prim Botanicals Review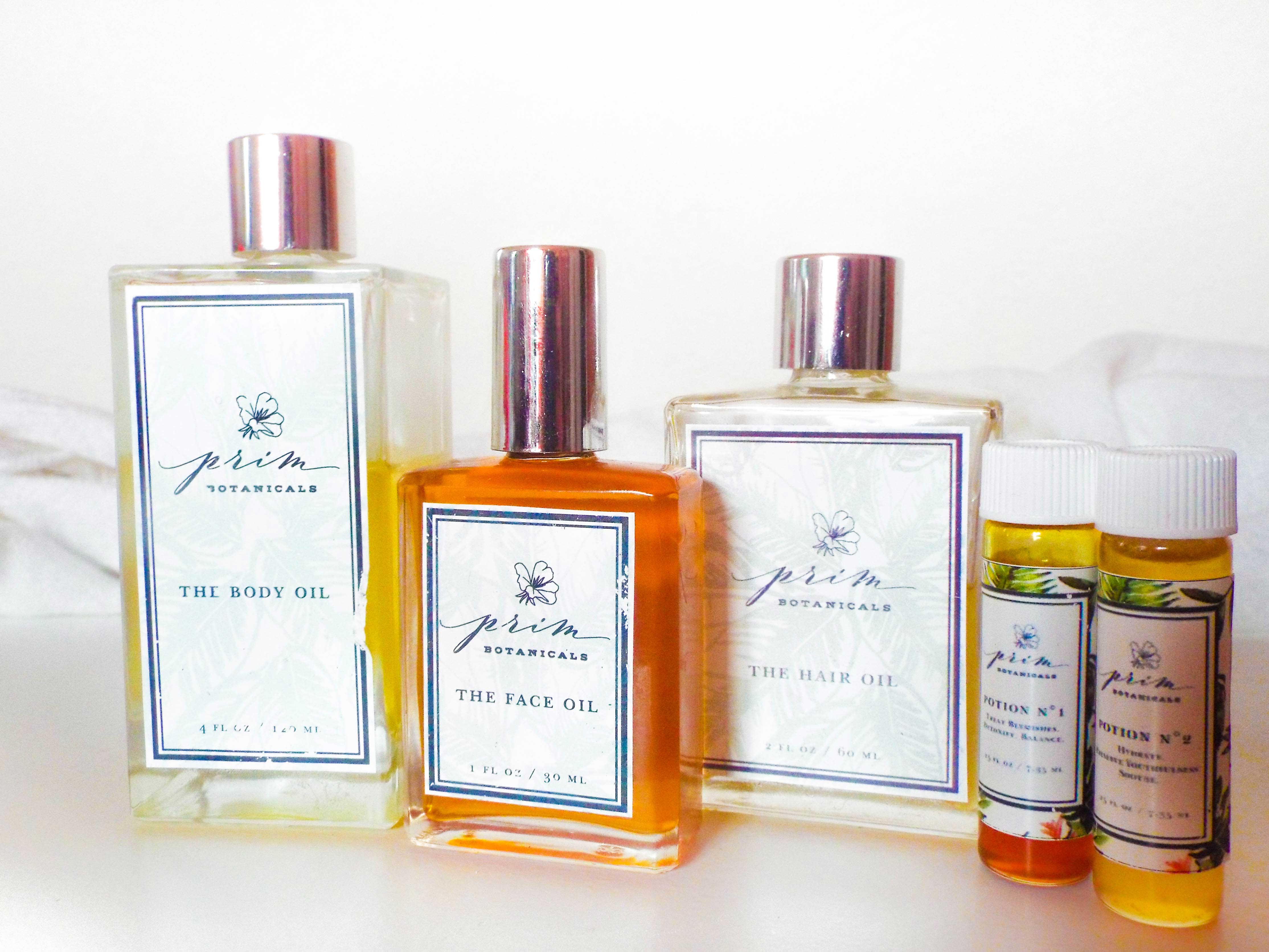 Behind Prim Botanicals
Prim Botanicals is a beautiful line of all-natural and carefully researched blends that truly perform. The brand was started by Stefanie and Victoria, 2 childhood friends who decided to create a line that would put an end to adult bad hair days and breakouts. Read on for my experience with each of their products.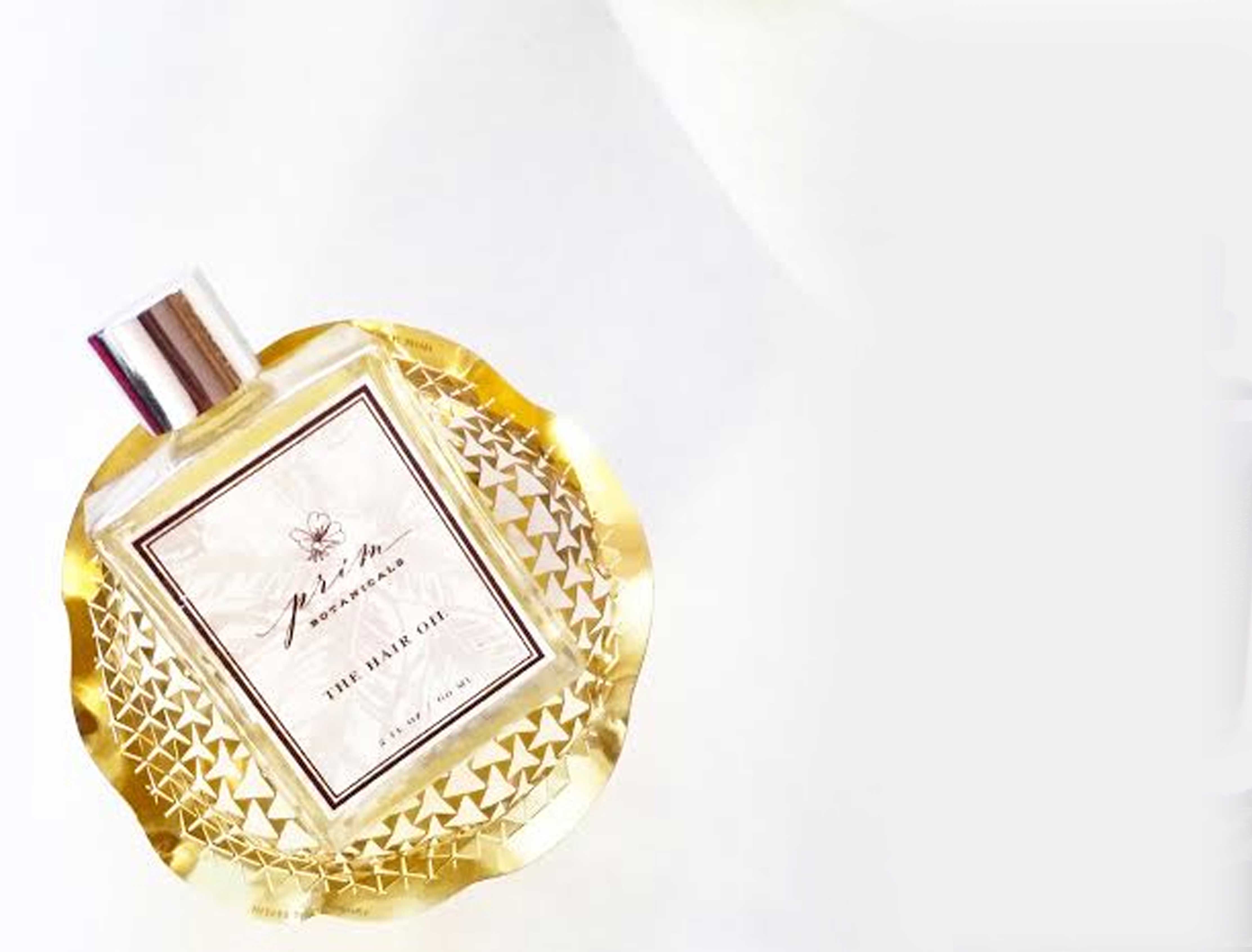 The Hair Oil 
While everything in their line is a star product, The Hair Oil is a definite standout. Treasured by many green beauty bloggers, The Hair Oil is a luxurious experience across all aspects – ingredients, texture, scent, packaging and it is my fave Prim Botanicals product. If this scent were a perfume, I would wear it for life.
All-Natural Ingredients:
Coconut Oil – Camellia oil – Argan Oil –
Moringa – Evening Primrose Oil – Tamanu
Marula Oil – Blackseed Oil
Blend of Lavender, Rosemary, Orange Bitter & Vanilla
This hair oil is highly versatile – I've used it in a variety of ways:
Hair Defrizzer: I use just a few drops to tame frizzy hair
Leave-In Treatment: After showering I rub a tiny amount through damp hair and airdry.
Hot Oil Treatment: I press the oil into my scalp and work a small amount through the entire length of my hair. Then I put on a shower cap and blow dry my hair for about 5-10 minutes. I let it sit for an hour or 2 if I can and then shampoo it out.
Overnight Treatment: I work the oil through my scalp and hair and sleep with it in and shampoo the next morning. The overnight treatment yields the most dramatic results for me.
After continuous use of this hair oil for the past few months, I've actually noticed an improvement in the health of my hair. I have always struggled with keeping my hair healthy and shiny because I do a lot of heat styling and highlighting at the salon and I noticed dramatic effects with this oil. This is a must-have product in your haircare routine.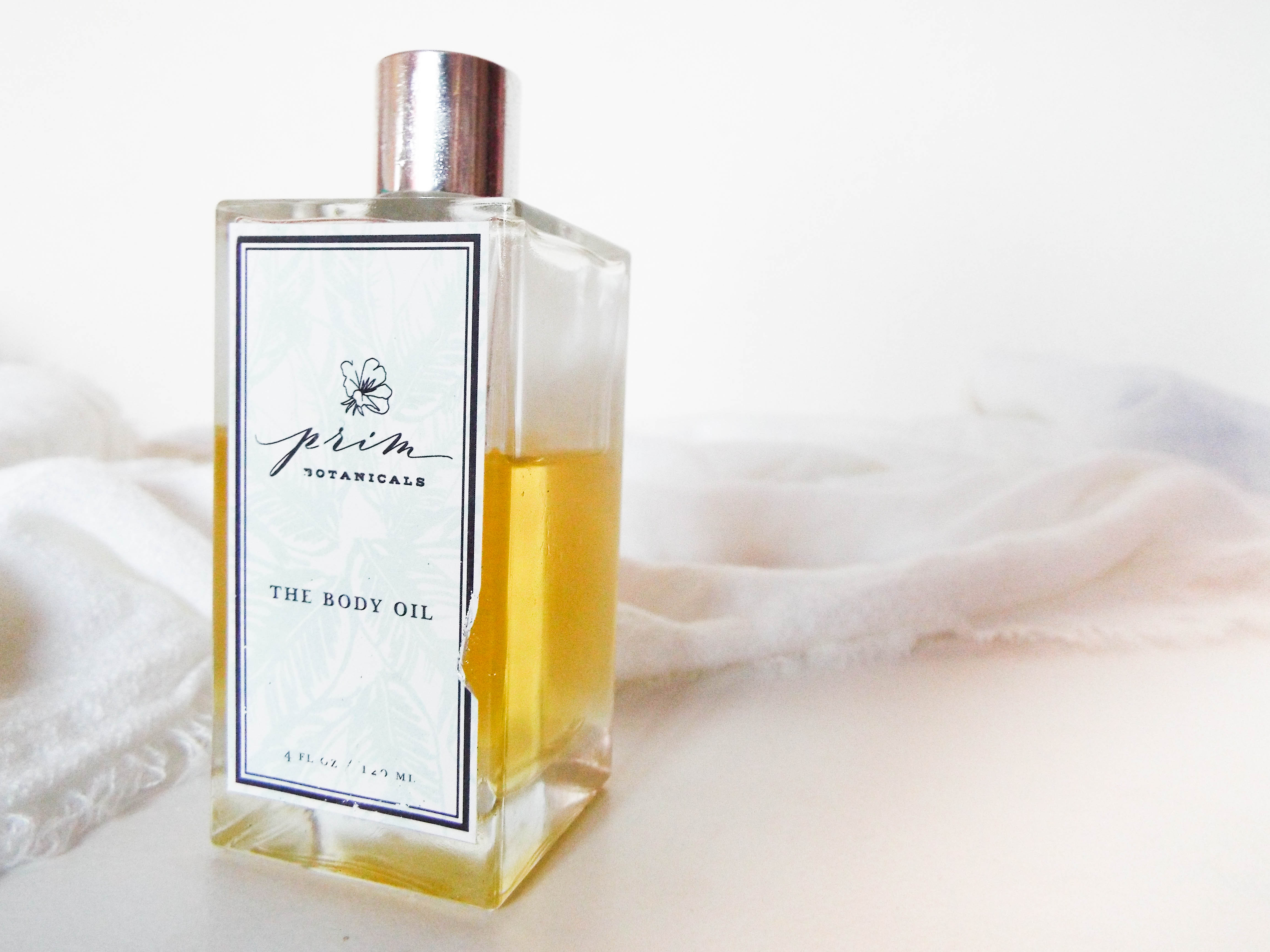 The Body Oil
The Body Oil is another luxurious treat with a sensual, exotic scent and nourishing ingredients blended to give you a complete pampering experience. I prefer body oils to lotions because the hydration effects are much more intense as lotions contain mostly water.
All Natural Ingredients:
Hazelnut Oil – Camellia Oil – Almond Oil
Andiroba Oil – Pracaxi Oil
Blend of: Jasmine, Rose, Black Pepper. Bergamot, Rosemary
After I step out of the shower, I shake the bottle and rub small amounts on damp skin. I wait about 5 minutes before putting my clothes on to allow the oil to absorb. (I had already used it almost daily for a month when I took this pic which is why there's 3/4 left.)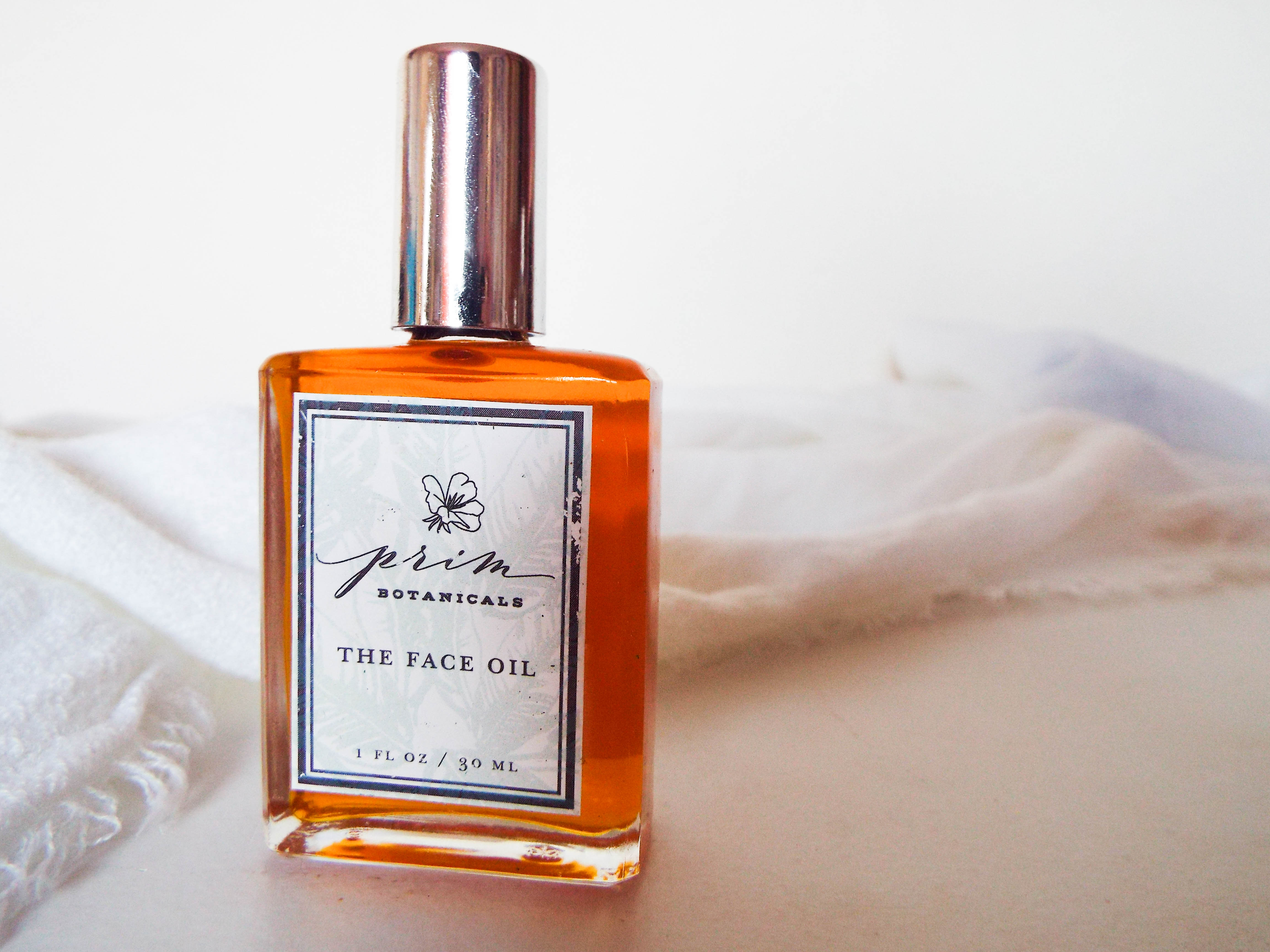 The Face Oil
The Face Oil is designed for sensitive, blemish-prone skin and reduces signs of aging, inflammation and congestion. I normally break out when I first start using a facial oil but I experienced none with this. It boasts a powerful blend of ingredients that soothe, hydrate, and improve skin. You just need the tiniest amount of oil, which I recommend pressing into your skin rather than rubbing it around for maximum absorption.
All Natural Ingredients:
Evening Primrose oil – Meadowfoam Seed oil
Sunflower oil – Tamanu – Moringa – Marula oil
Blackseed oil – Sea Buckthorn oil
Blend of Lavender, Geranium, Bergamot, Rosemary

I had super blotchy skin and leftover blemishes and scarring from bad breakouts when I started using this product and even after a few days of use I started noticing my skin had calmed down and the blemishes were fading.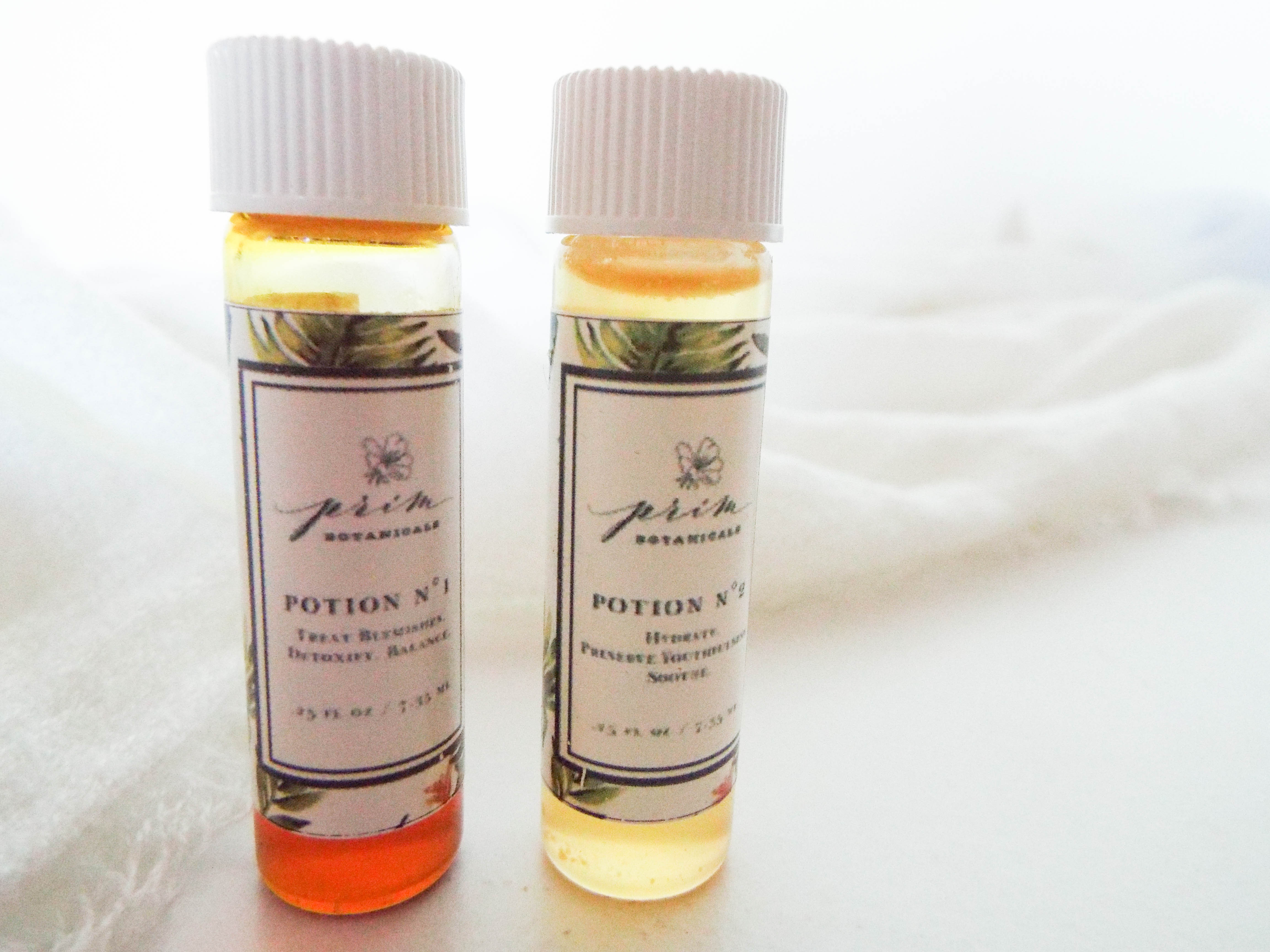 Potion No 1 & Potion No 2
These potions are designed to be layered with the Facial Oil to target specific conerns. Potion No 1 is designed to prevent breakouts and contains Blackseed, Tamanu and Sea Buckthorn Oil. Potion No 2 adds extra hydration and soothing oomph to The Face Oil and contains Andiroba, Pracaxi and Marula Oil. These potions can be used on their own too, but work best layered with The Face Oil.
organicbeautylover