20+ Types of Ear Piercings: How To Choose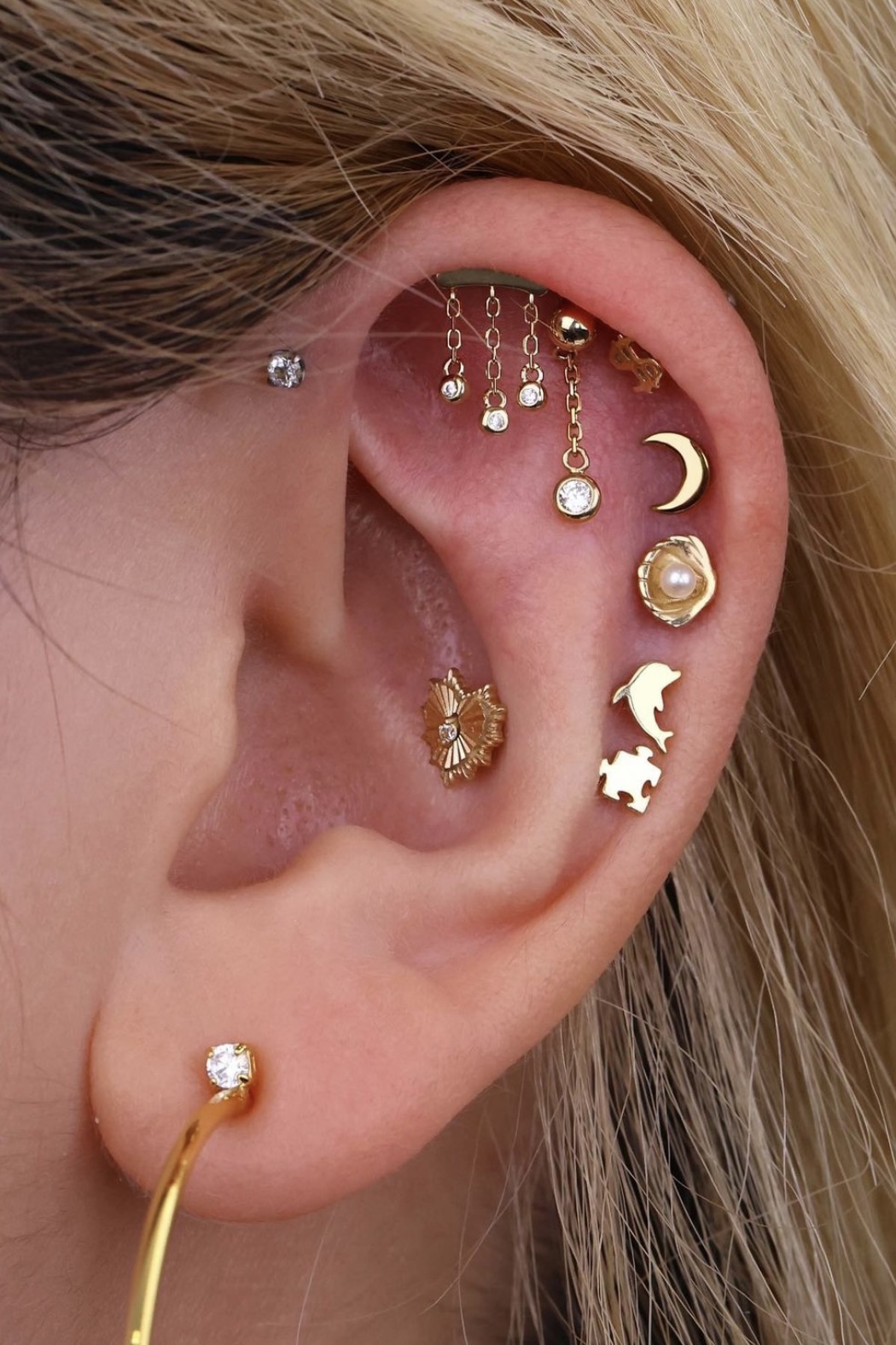 @mankittattoo
Eyebrow piercings and septum piercings might not be welcome at your workplace, but there is plenty that you can do with just your ear. More than 20 to be exact! With so many different types of ear piercings to choose from, plus the endless variety of ear bling, it can get a little overwhelming. We've broken down each type of ear piercing, including their pain level and healing time to give you a better idea of what you're in for. Explore the least painful ear piercings like the lobe to the most painful ear piercings like the industrial piercing and snug piercing. This ear piercing guide will explore the latest ear piercing trends and help you find the perfect piercing (or two!) to express your individual style. From classic lobe piercings that never go out of style to daring cartilage piercings that push the boundaries, we're leaving no piece of flesh unturned.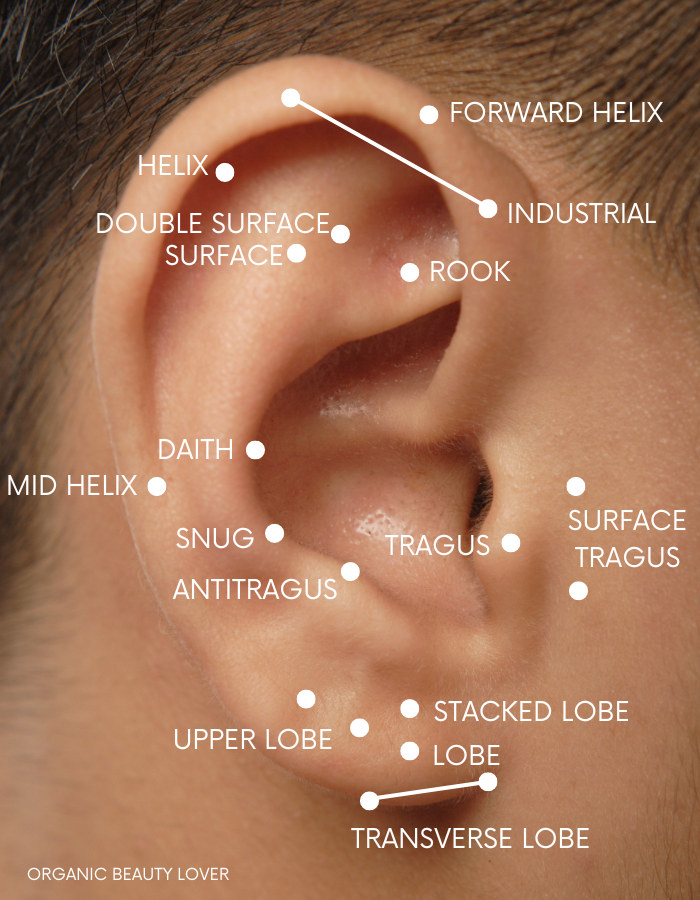 Lobe Piercings
HEALING TIME: 1-2 months
PAIN LEVEL: Low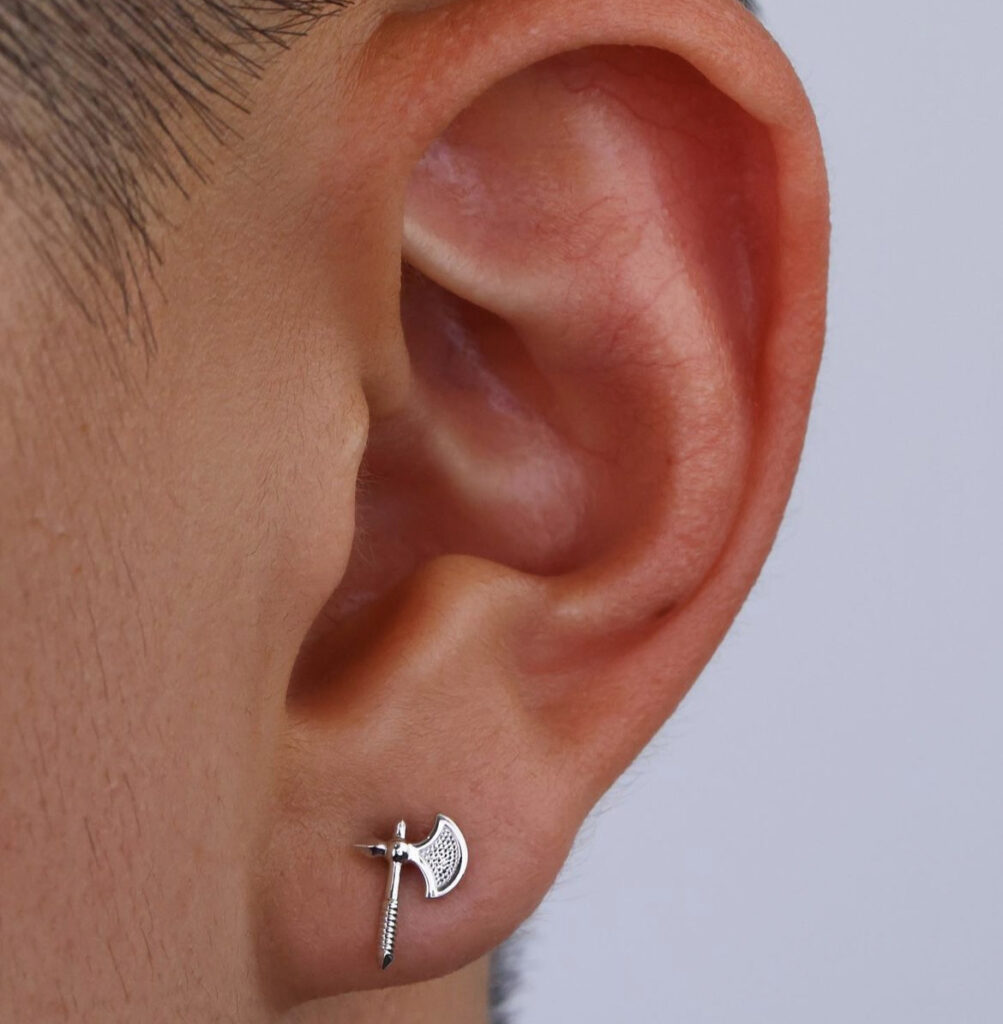 @mankittattoo
Classic Lobe Piercing
This is the least painful piercing you can get! One of the most popular ear piercings that everyone and anyone is already familiar with is the classic lobe piercing. It's a versatile choice that suits everyone, regardless of age or style. The lobe is the soft, fleshy part of your earlobe, making it the perfect canvas for a variety of earring options.
A classic lobe piercing involves creating a small hole in the lower part of the earlobe. It's a relatively painless process that can be done quickly with minimal discomfort. For those who are new to piercings, the lobe is an excellent starting point due to its thin skin and rich blood supply, which aids in the healing process.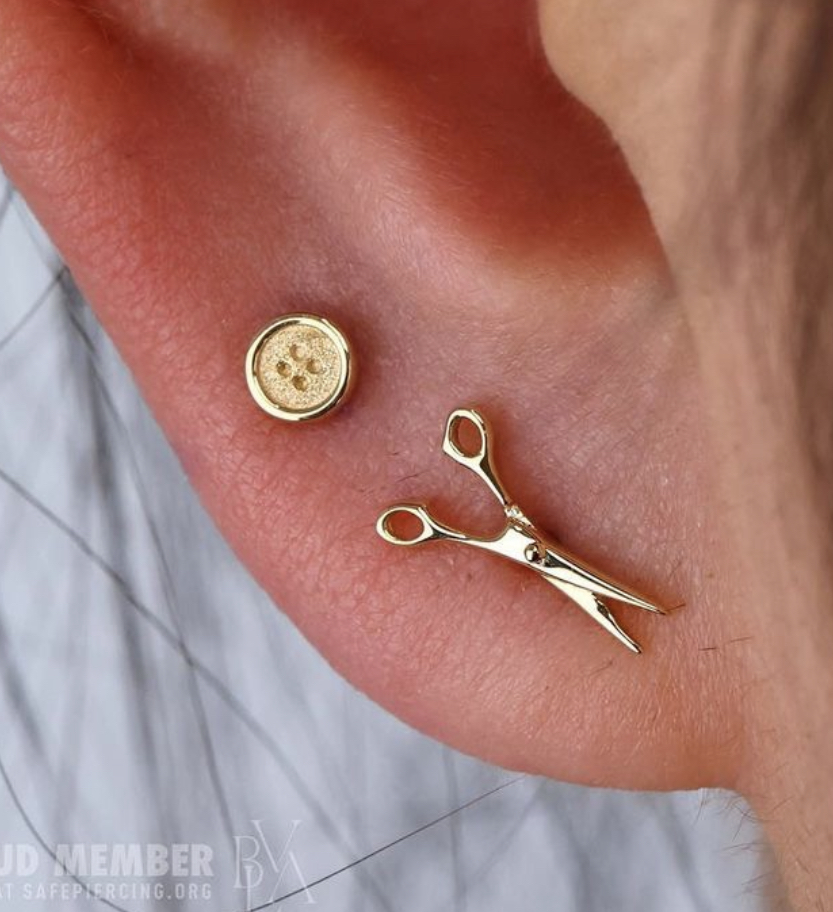 @mankittattoo
Upper Lobe Piercing
What makes the classic lobe piercing so beloved is its flexibility. You can opt for a single lobe piercing for a subtle and elegant look, or go bold with multiple piercings, like an upper lobe piercing or triple lobe piercing.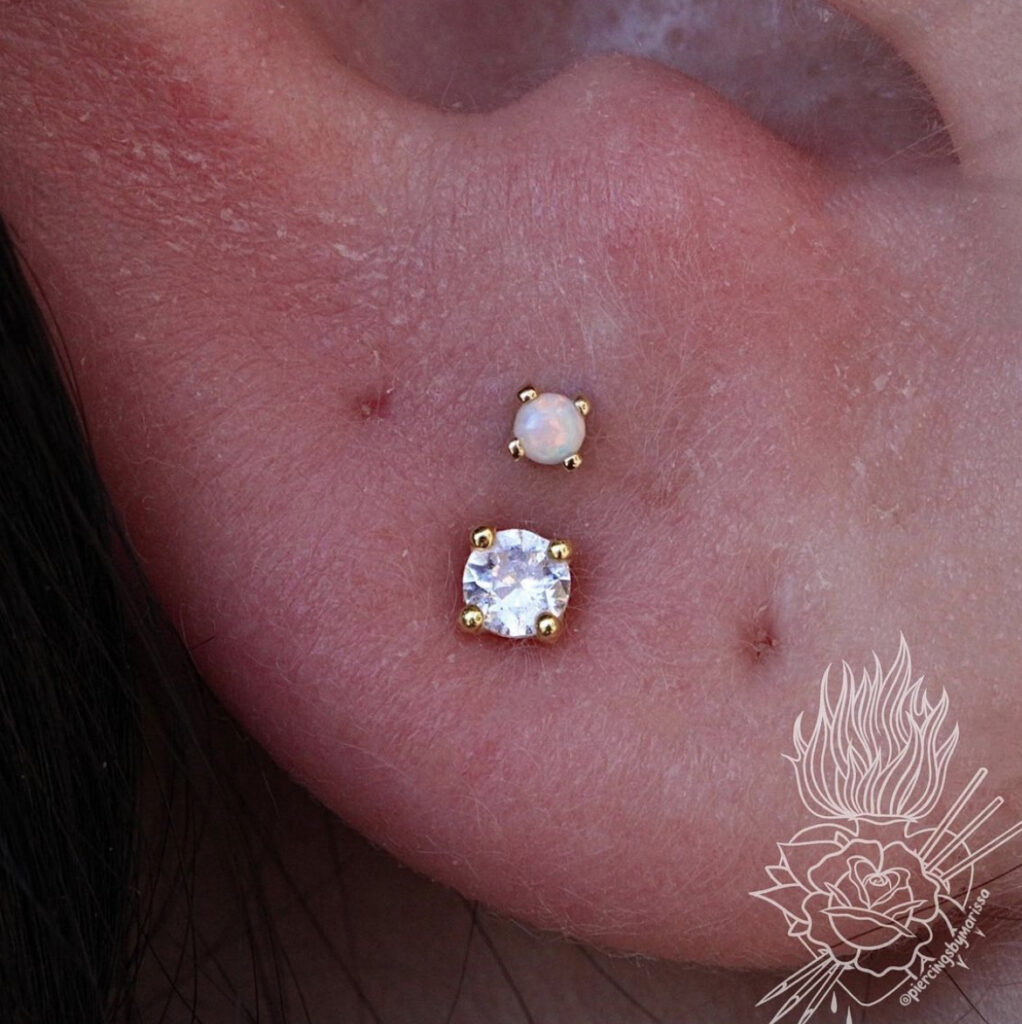 Stacked Lobe
You can stack lobe piercings vertically and at different angles to create the look of a constellation!
Triple Stacked Lobe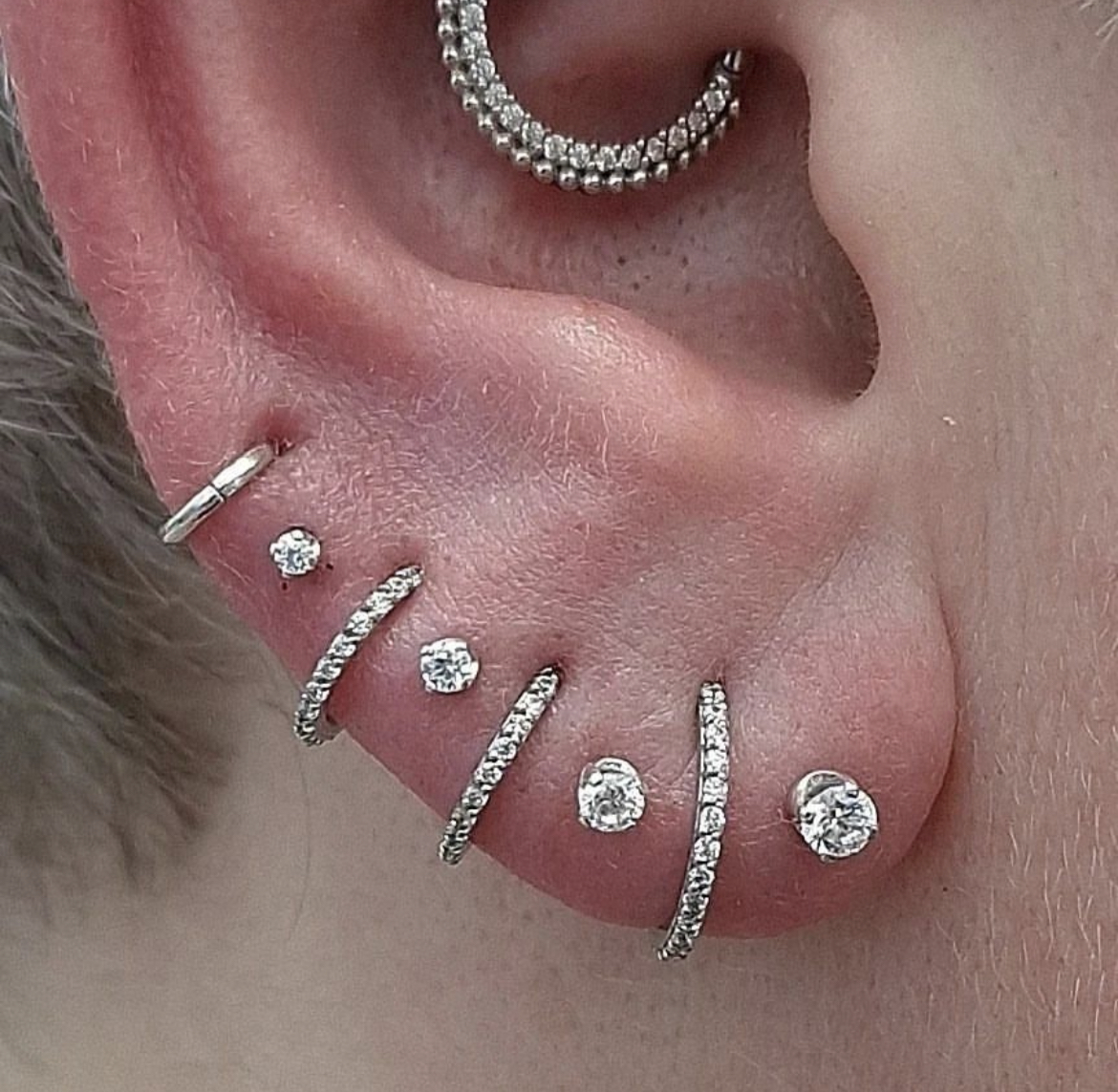 4x Stacked Lobe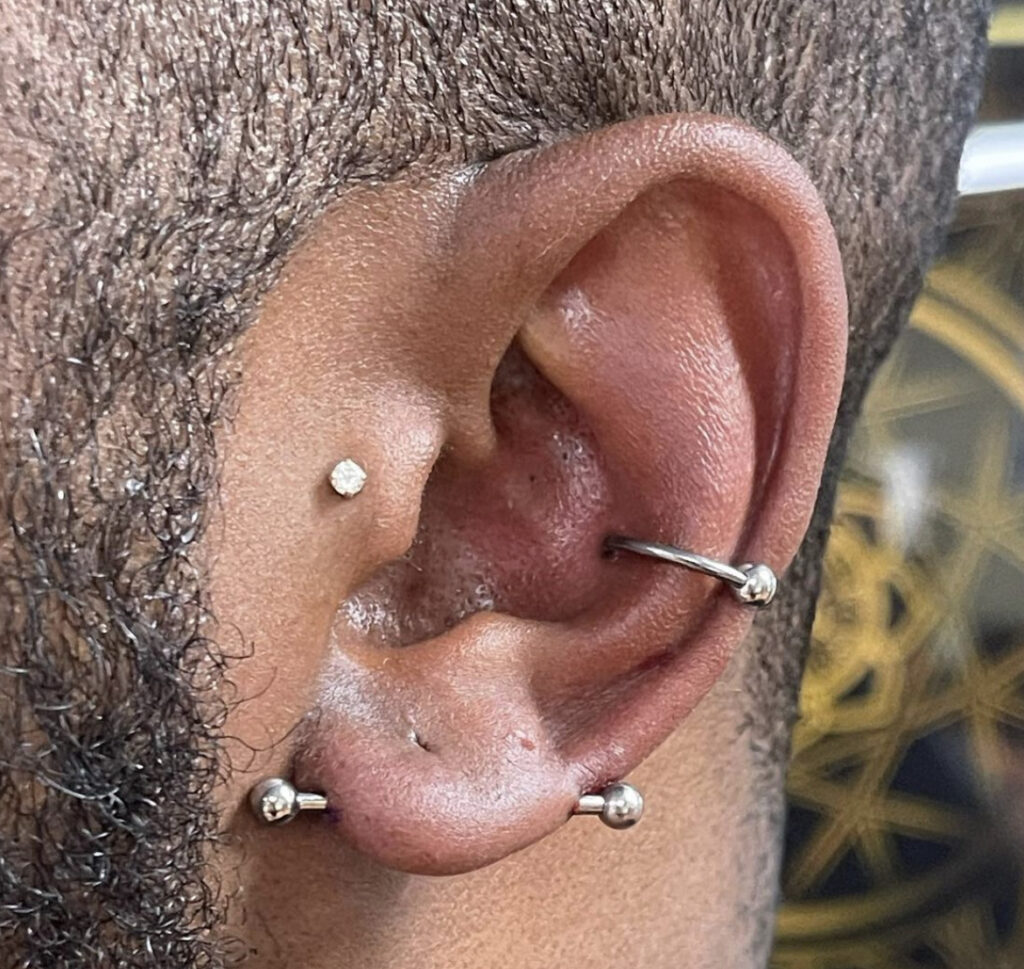 @dg_piercing
Transverse Lobe Piercing
HEALING TIME: 2-10 months
The Transverse lobe piercing transverses from one end of the ear lobe to the other end and takes much longer to fully heal.
Helix Piercings
HEALING TIME: 6-12 months
PAIN LEVEL: Medium
This is where things start getting more interesting. Whether you're a piercing aficionado or a newcomer to the world of ear adornments, the helix piercing offers a fresh and exciting way to express your individuality. There are various classic piercing styles for the helix as well as some trendier alternative ones.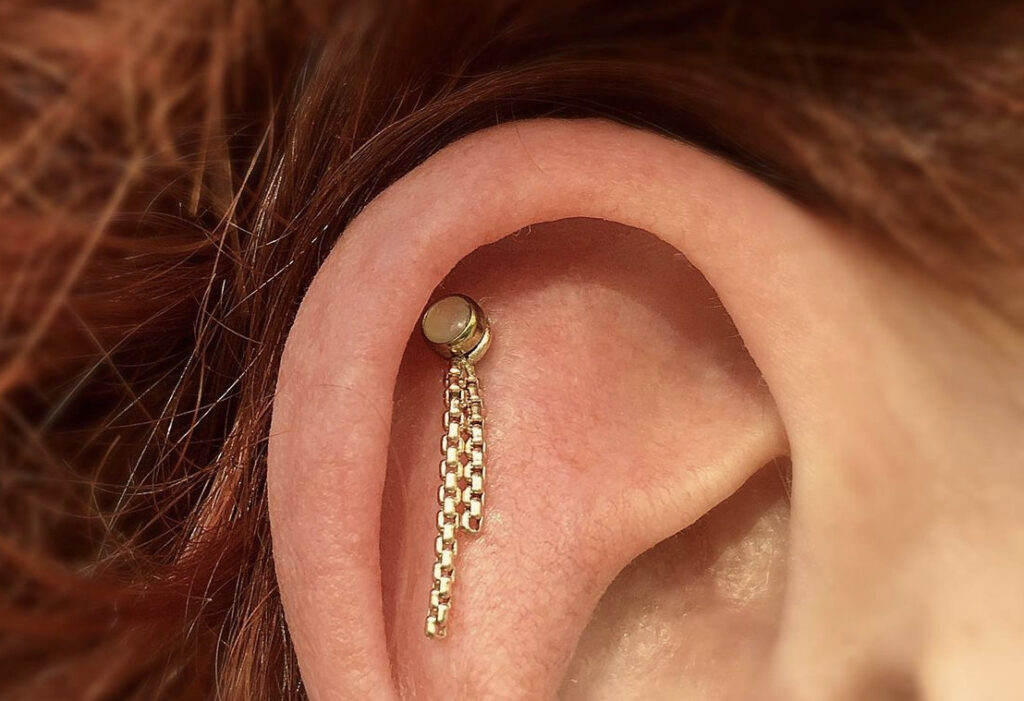 Helix Piercings
Helix piercing is a type of ear piercing that involves the upper cartilage of the ear. It's called a helix piercing because it's located on the helix, which is the outer rim of the ear. This piercing can be positioned anywhere along the helix, allowing for endless possibilities in terms of placement and style.
Forward Helix Piercing
One popular option is the forward helix piercing, where the jewelry is inserted at the front of the ear, closest to the face. It creates a striking and unique look that can be enhanced with different types of jewelry, such as studs, rings, or even clusters of tiny gemstones.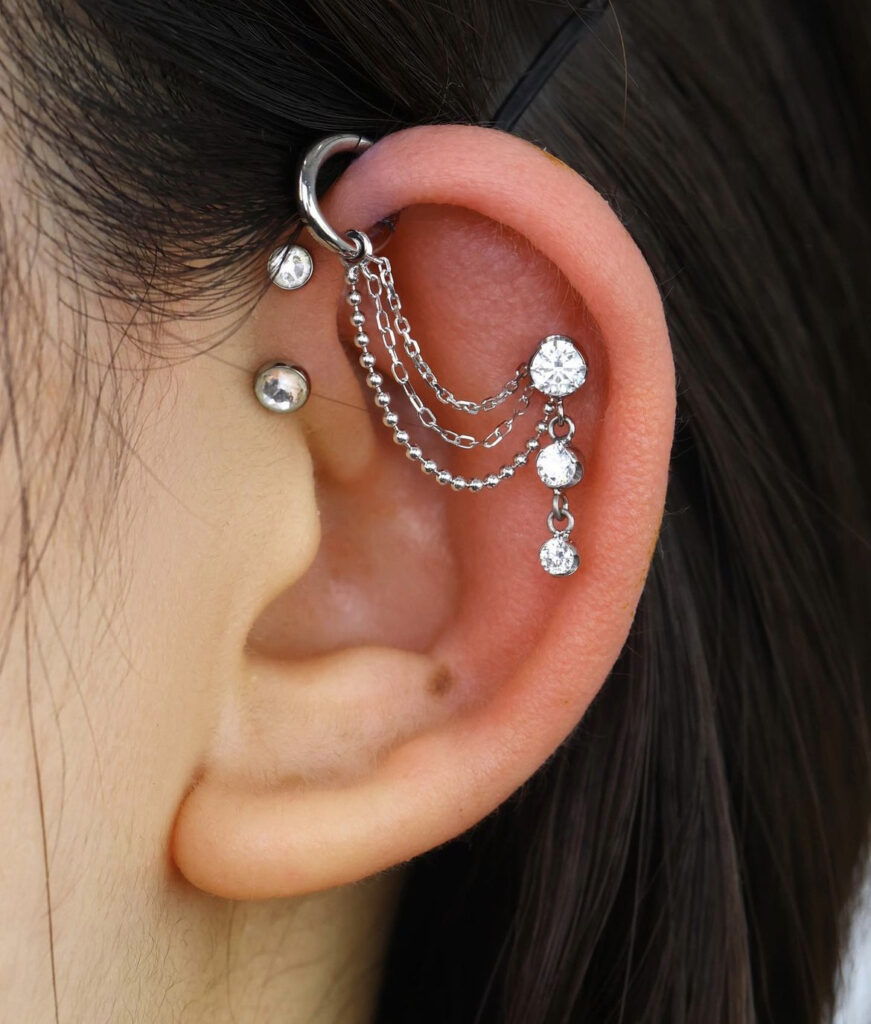 @mankittattoo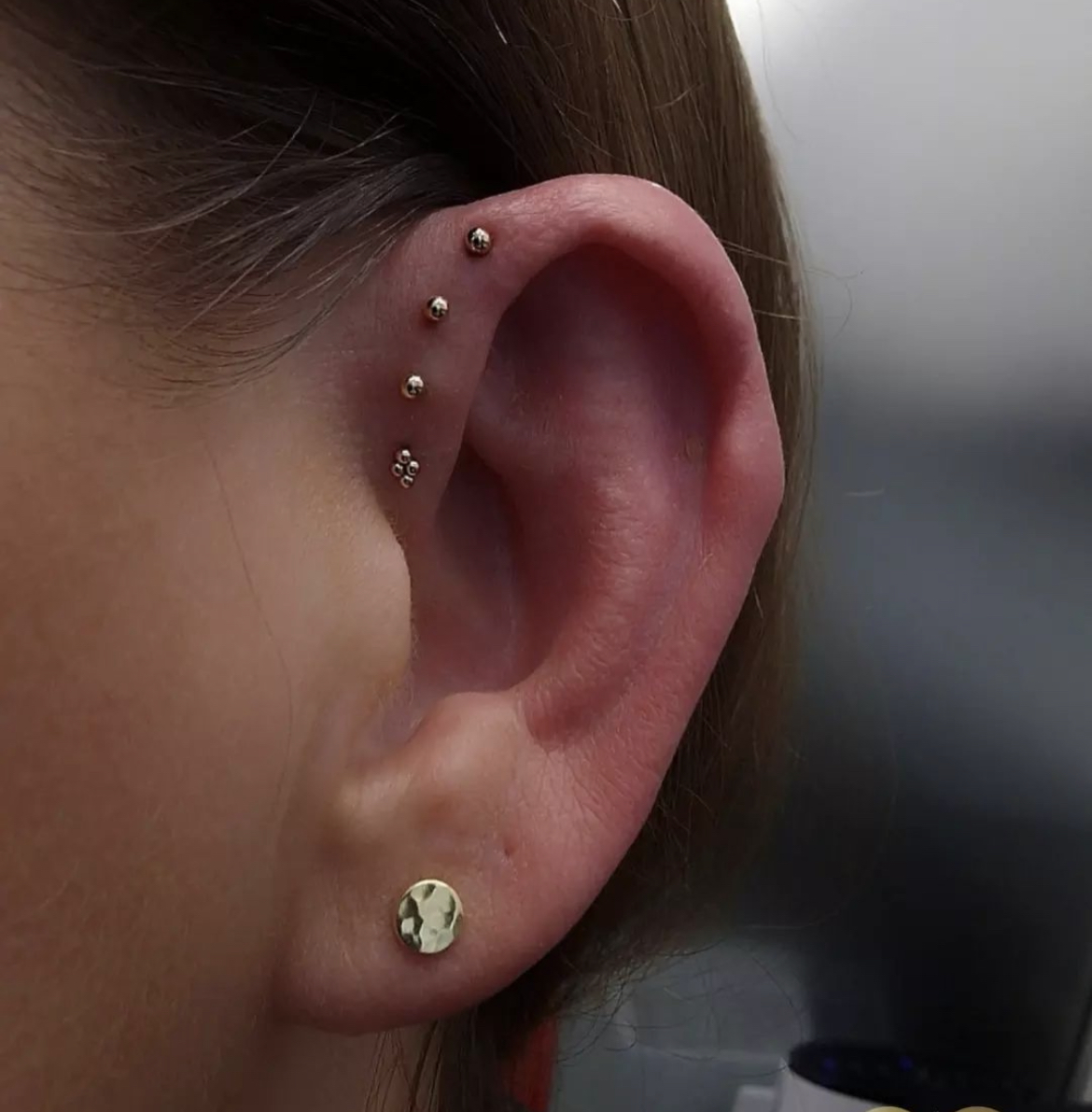 4x Forward Helix Piercing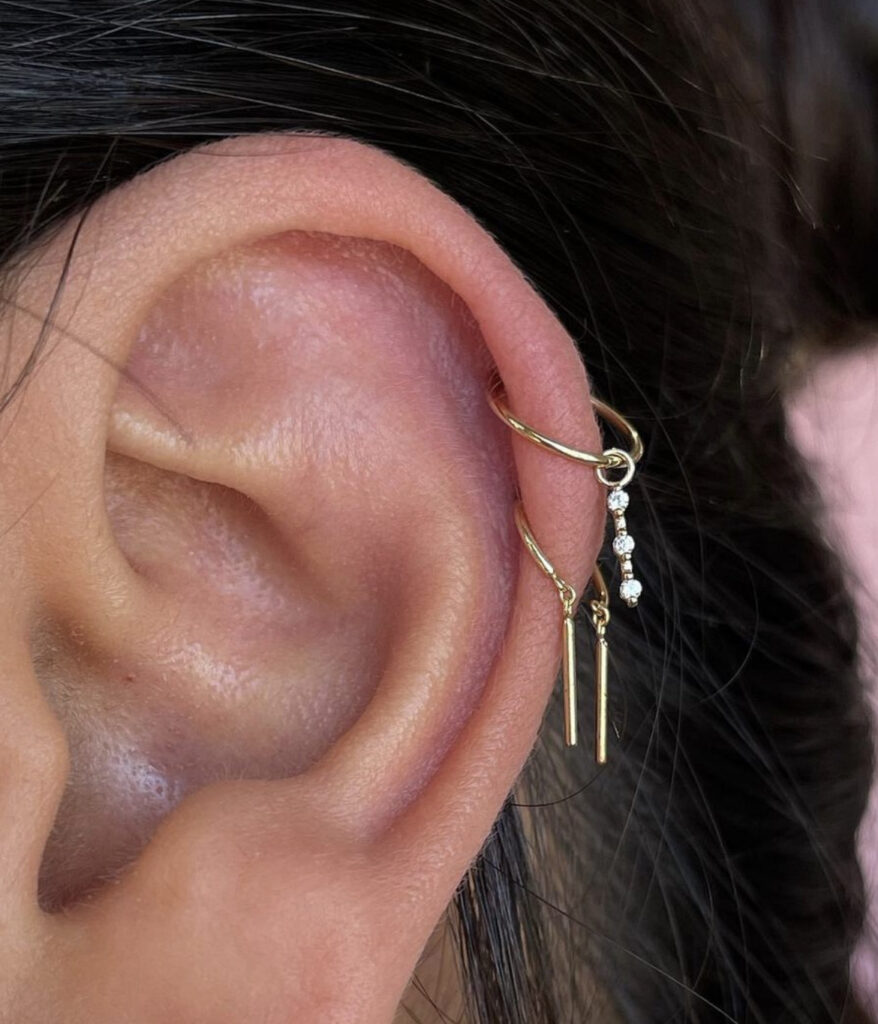 Double Helix Piercing
Another trendy helix piercing is the double helix piercing, which involves two piercings placed along the helix. This creates a symmetrical and visually appealing design that can be customized with various types of jewelry. Matching studs or small hoops can be used for a subtle and elegant look, while more elaborate designs with dangling charms or chains can add a touch of whimsy and individuality.
@salvationtattoocoralsprings
Mid Helix Piercing
The piercing along the middle of your cartilage is called a mid helix piercing.
Image: @mankittattoo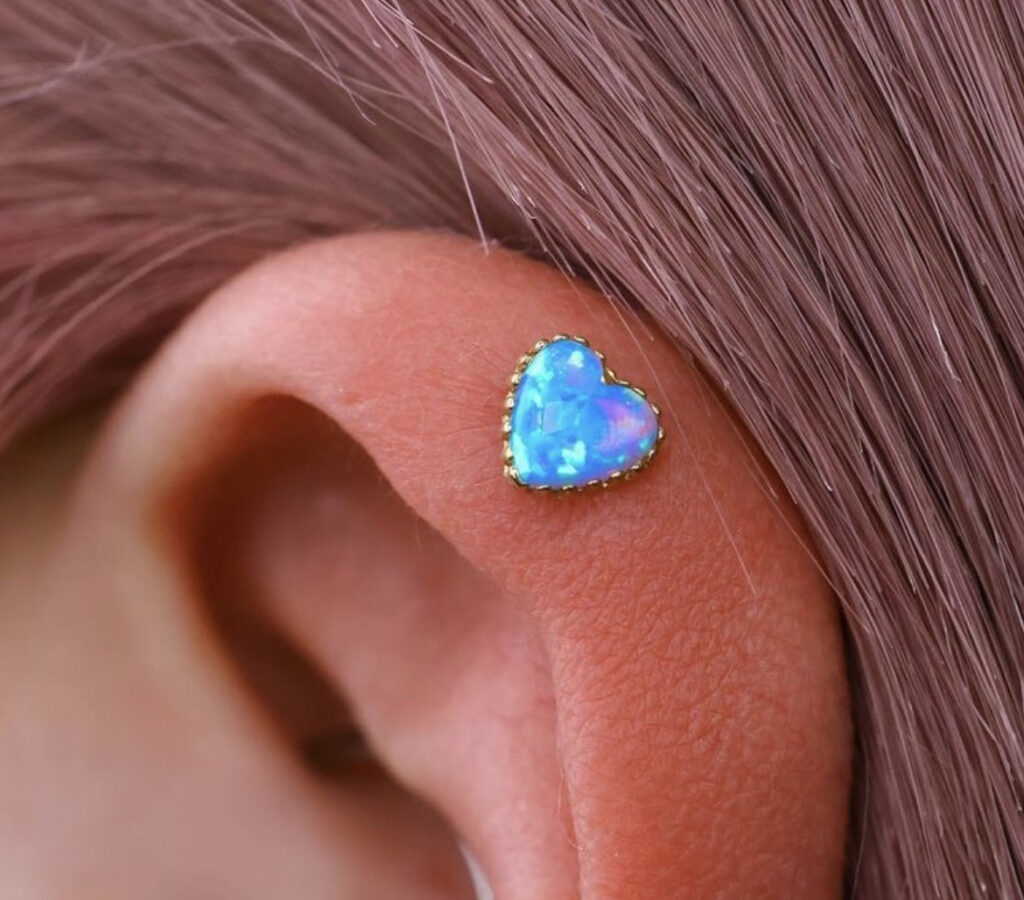 @mankittattoo
Floating Helix
Tragus Piercings
HEALING TIME: 6 months – 1 year
PAIN LEVEL: Medium High
Nestled right in front of the ear canal, the tragus is the small cartilage projection that provides the perfect canvas for expressing your unique style.
@ryandreyfuss
Tragus Piercing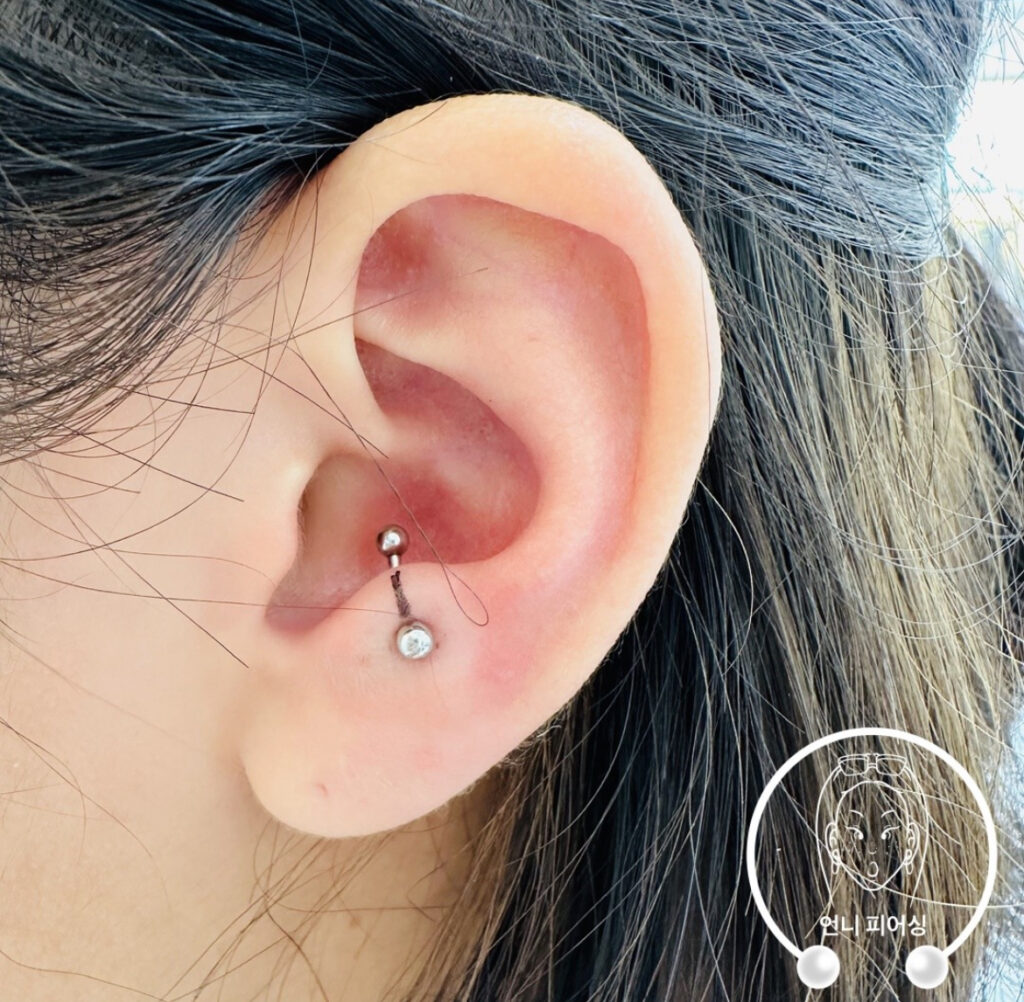 @unni_piercing_pyeongtaek
Anti-Tragus Piercing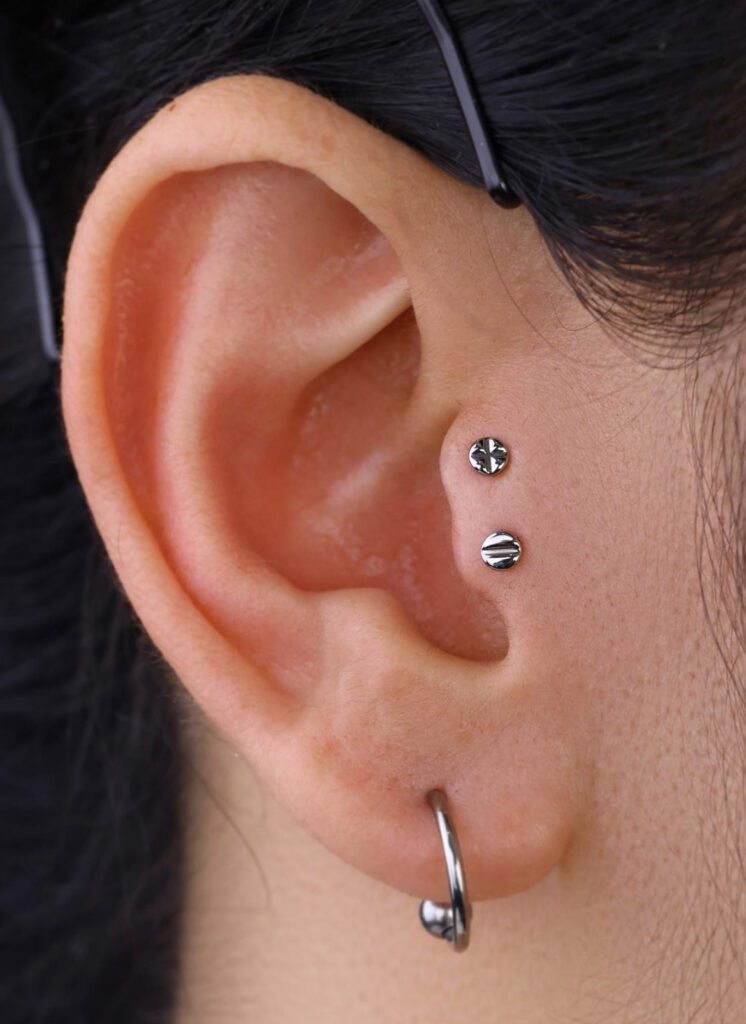 @mankittattoo
Surface Tragus Piercing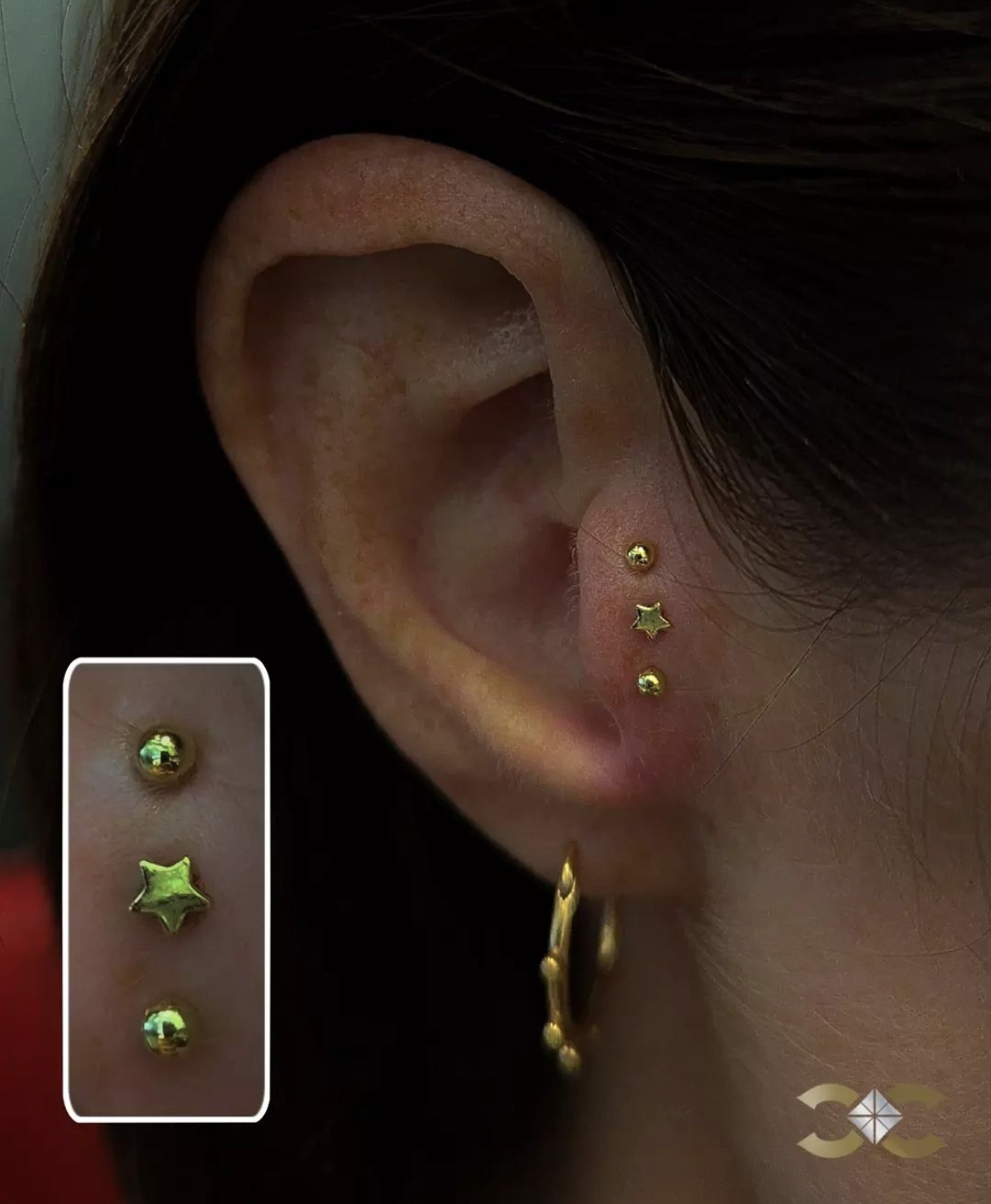 Triple Surface Tragus Piercing
Flat Piercings
Flat piercings provide plenty of opportunity for more earscaping. It's the flat area of the cartilage below the rim of the ear that offers a generous amount of space. You can get a single flat piercing, double or even triple.
HEALING TIME: 3 – 10 months
PAIN LEVEL: High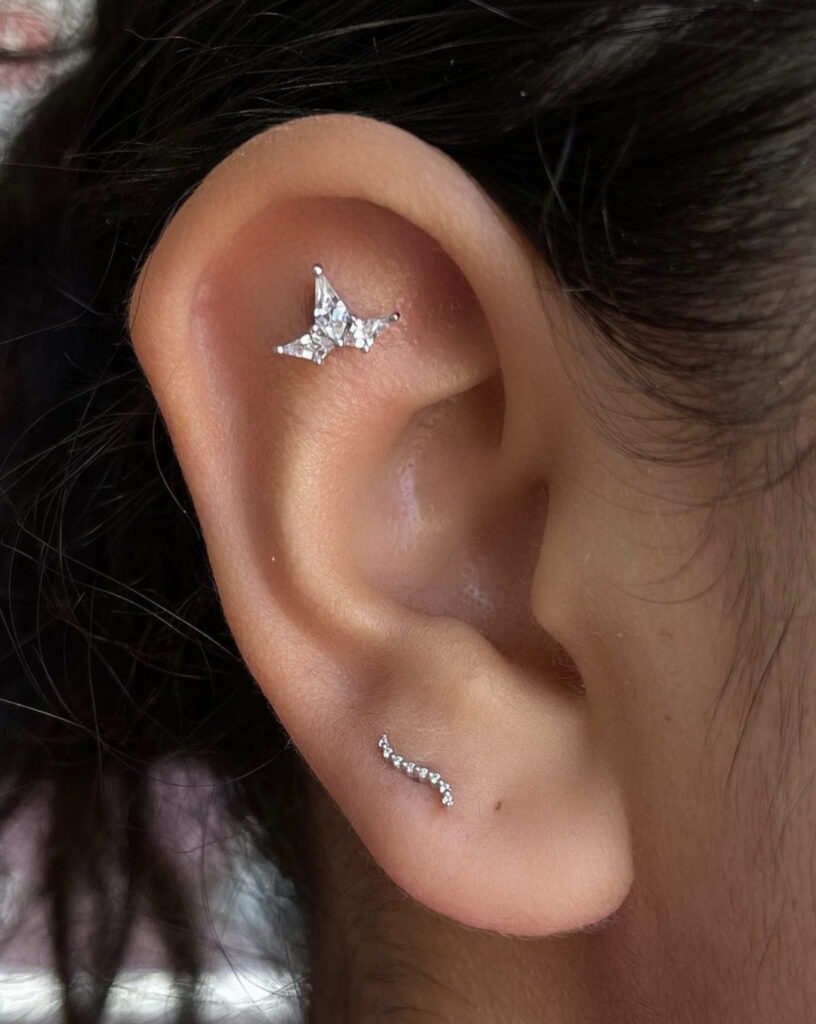 @bpyesworld
Flat Piercing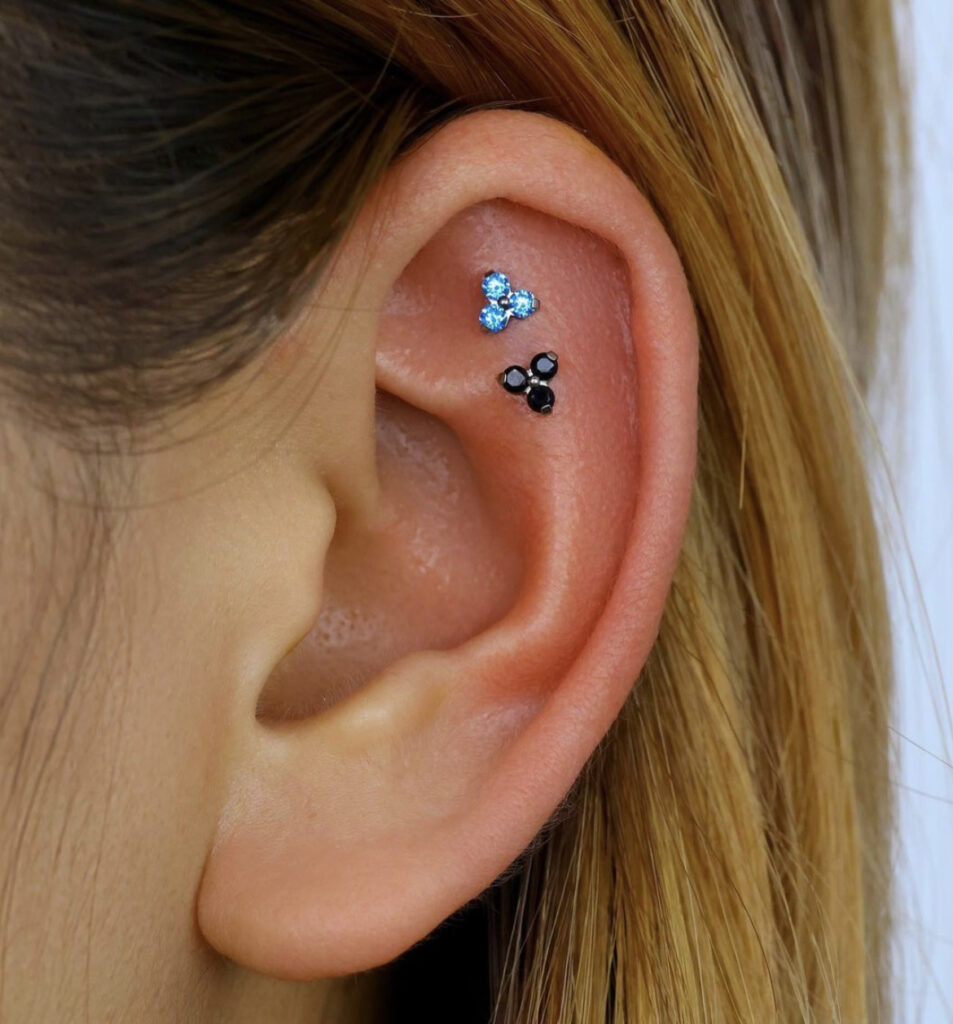 @mankittattoo
Double Flat Piercing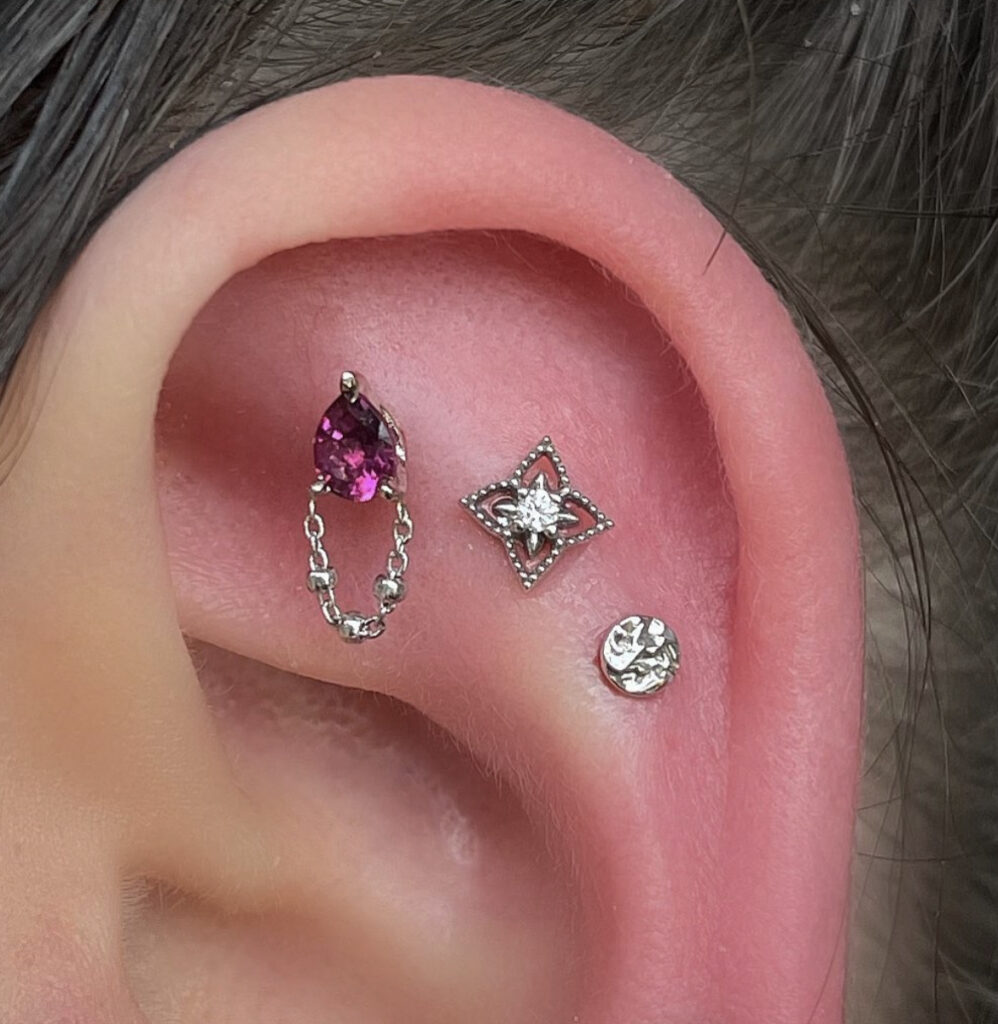 @bpyesworld
Triple Flat Piercing
Industrial Piercings
HEALING TIME: 9 months – 1 year
PAIN LEVEL: High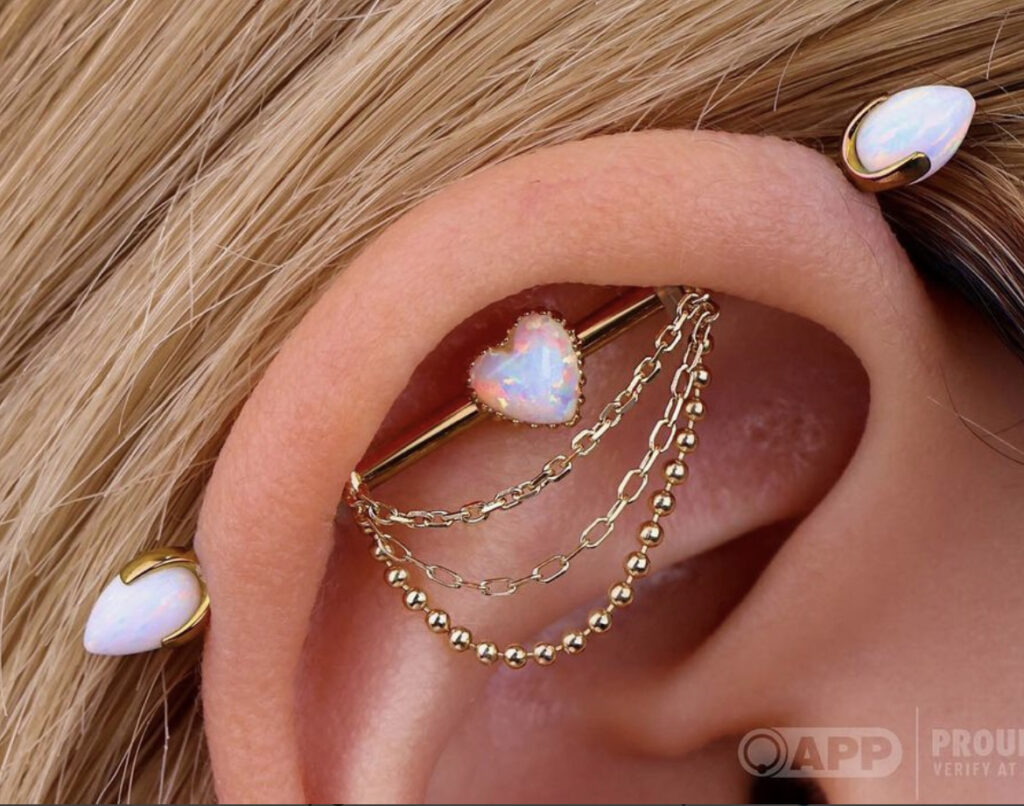 Image: @mankittattoo
Industrial Piercing
The industrial piercing, also known as the scaffold or construction piercing, is an edgy style that involves connecting two separate piercings with a single piece of jewelry. Typically, the piercing spans the upper cartilage of the ear.
The process of getting an industrial piercing involves carefully piercing two holes—one near the top of the ear and the other near the helix—and then inserting a barbell or a curved scaffold between them. It's important to note that this piercing requires particular precision and expertise.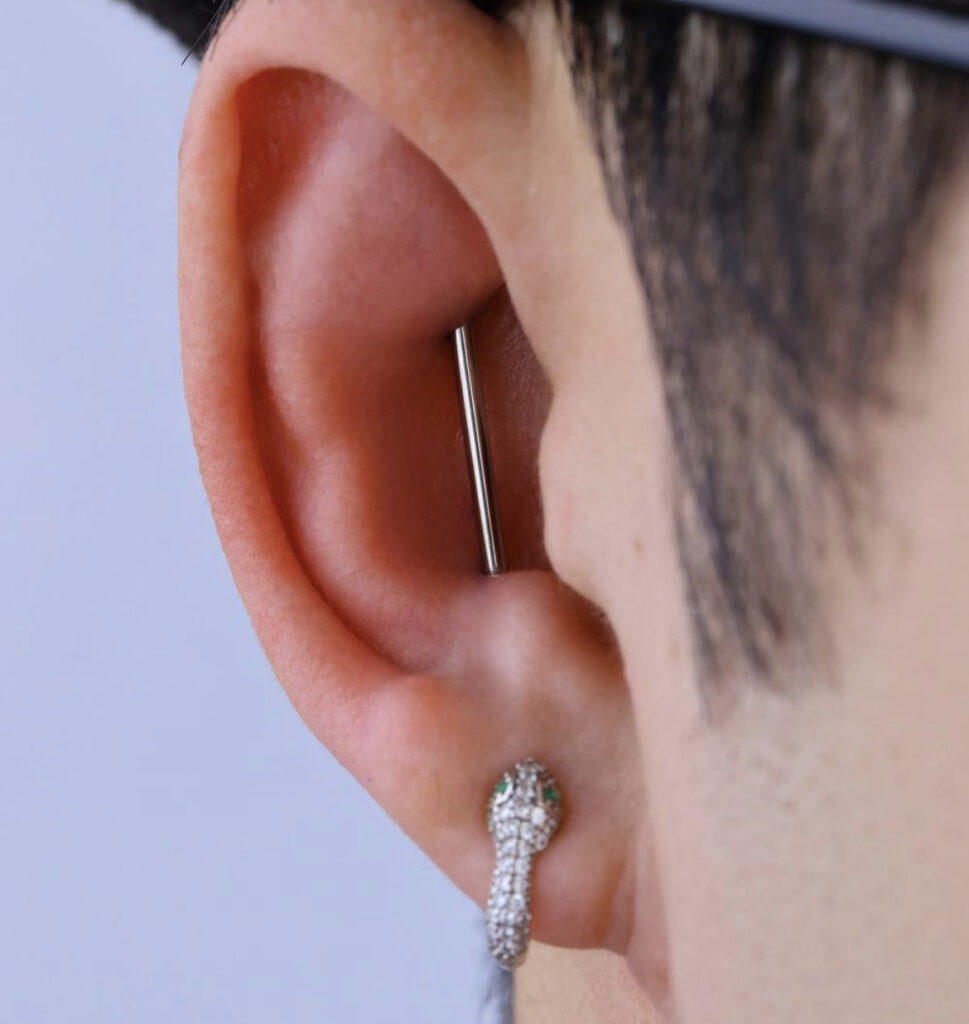 Image: @mankittattoo
Vertical Industrial Piercing
Due to the nature of the piercing passing through multiple areas of cartilage, it can take longer to heal compared to other ear piercings. It's essential to follow proper aftercare procedures, including cleaning the piercing with a saline solution and avoiding any excessive touching or twisting of the jewelry.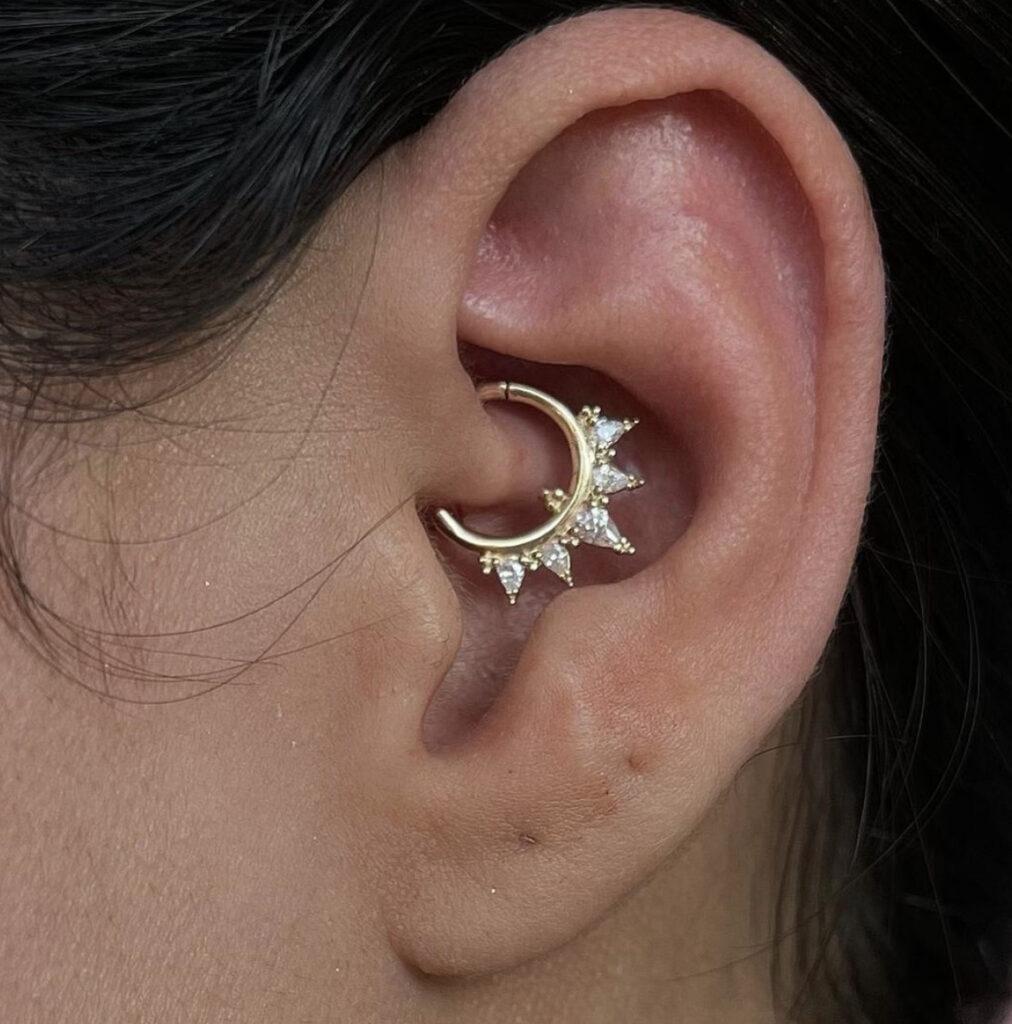 @mankittattoo
Daith Piercings
HEALING TIME: 6-9 months
PAIN LEVEL: Medium
The daith piercing is located in the innermost fold of the cartilage, just above the ear canal. The process involves a skilled piercer using a small, hollow needle to puncture the desired spot and insert the jewelry. Typically, a curved barbell or captive bead ring is used.
For some people, daith piercings help release anxiety and migraine symptoms. Others also believe it helps unblock the energy gateways in the body.
Conch Piercings
HEALING TIME: 3-9 months
PAIN LEVEL: Medium
The conch piercing gets its name from the seashell since this particular fold of the ear resembles the spiral of a conch.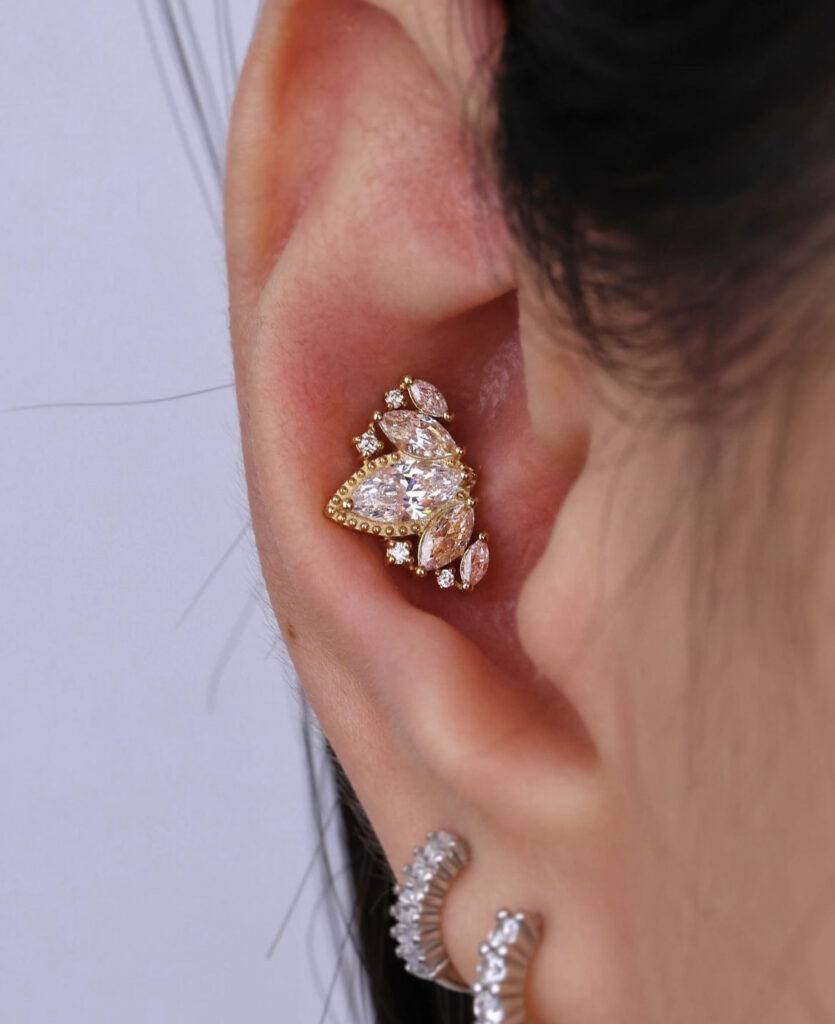 Conch Piercing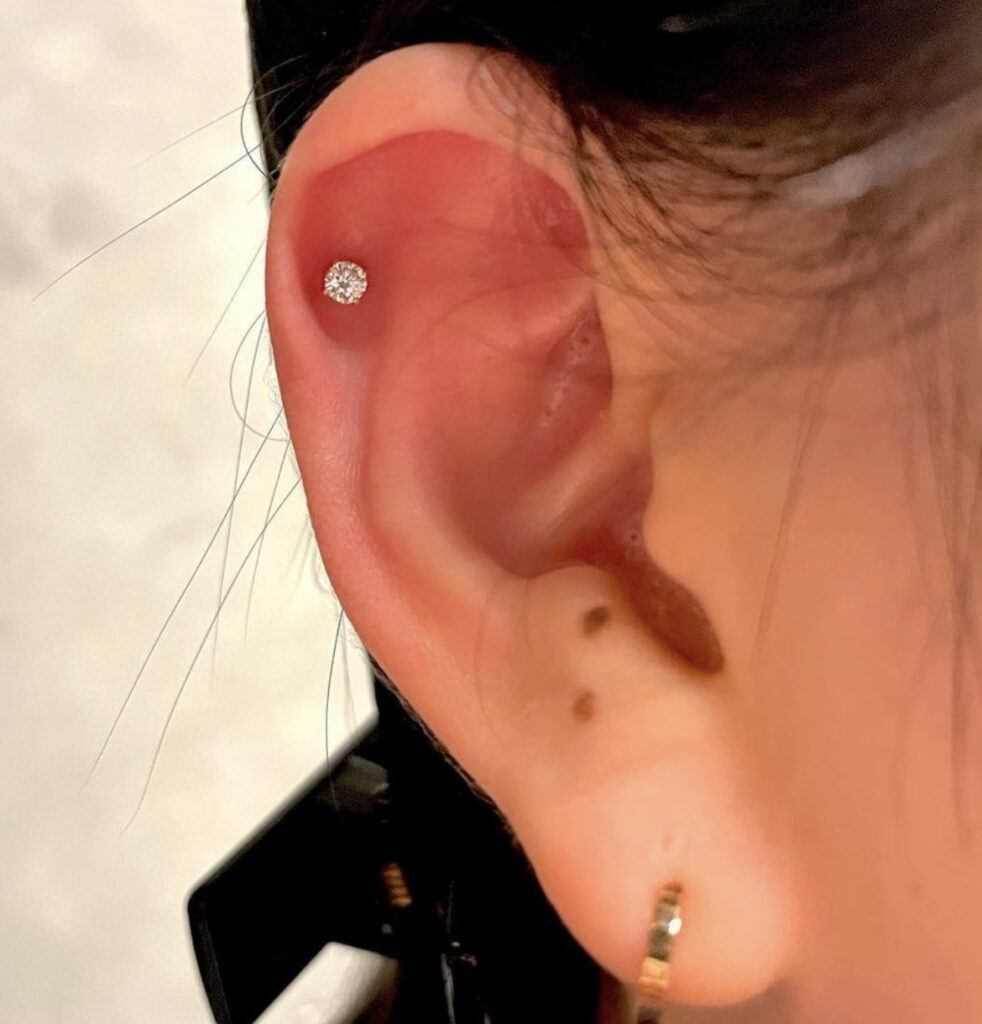 @tani_piercing
Outer Conch Piercing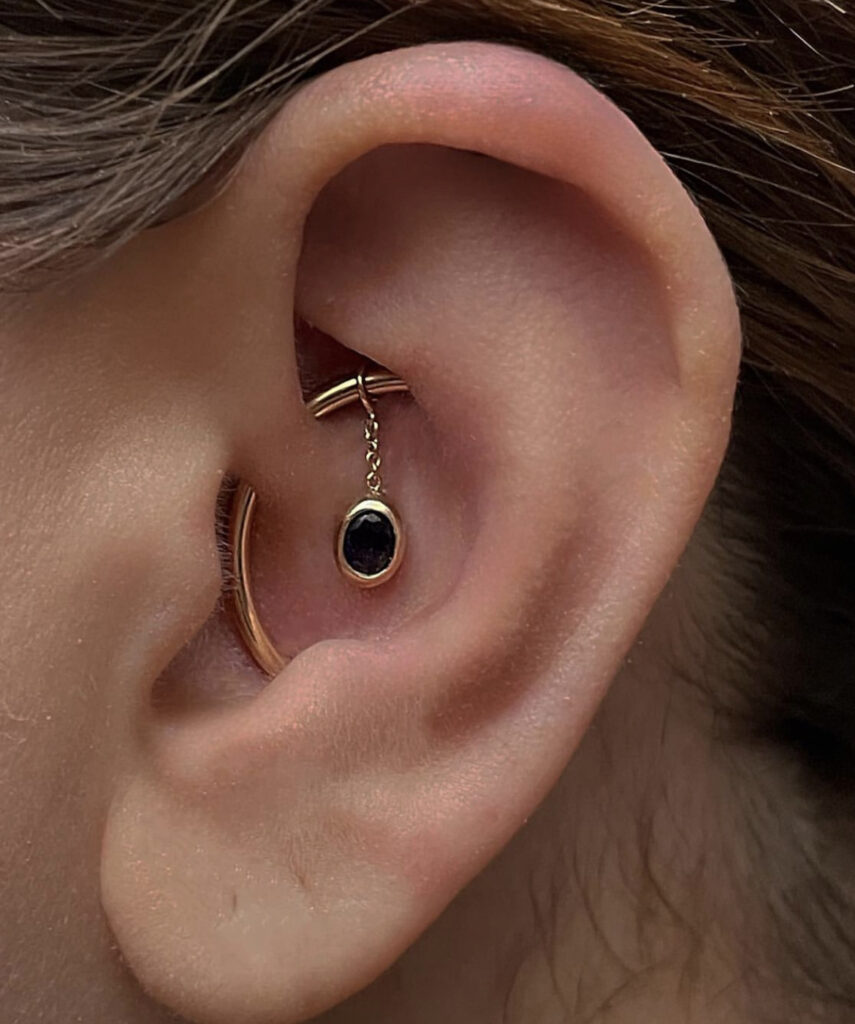 Orbital Conch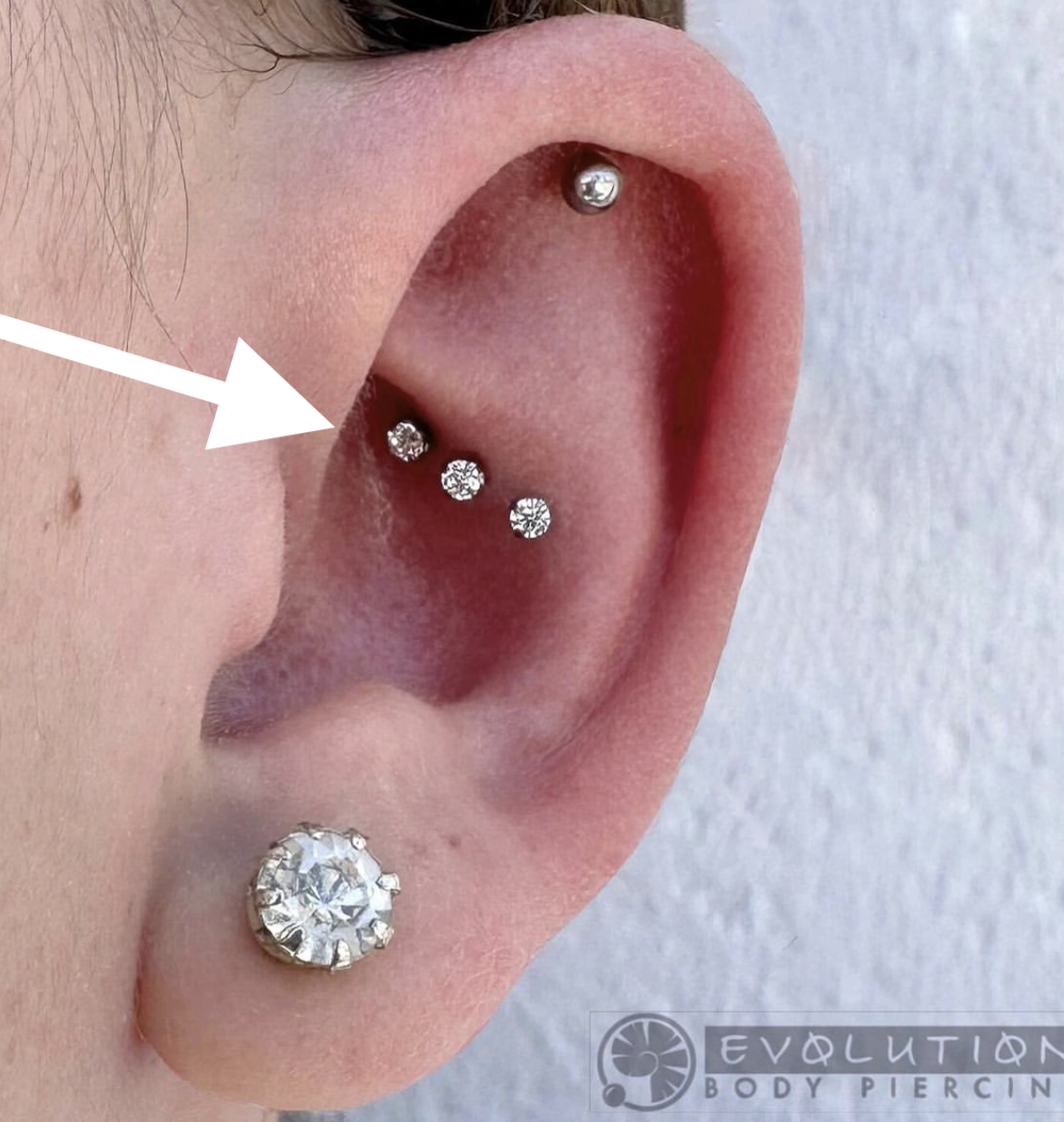 Triple Conch
An orbital conch piercing is like a reverse daith piercing, except instead of just two punctures this one involves four.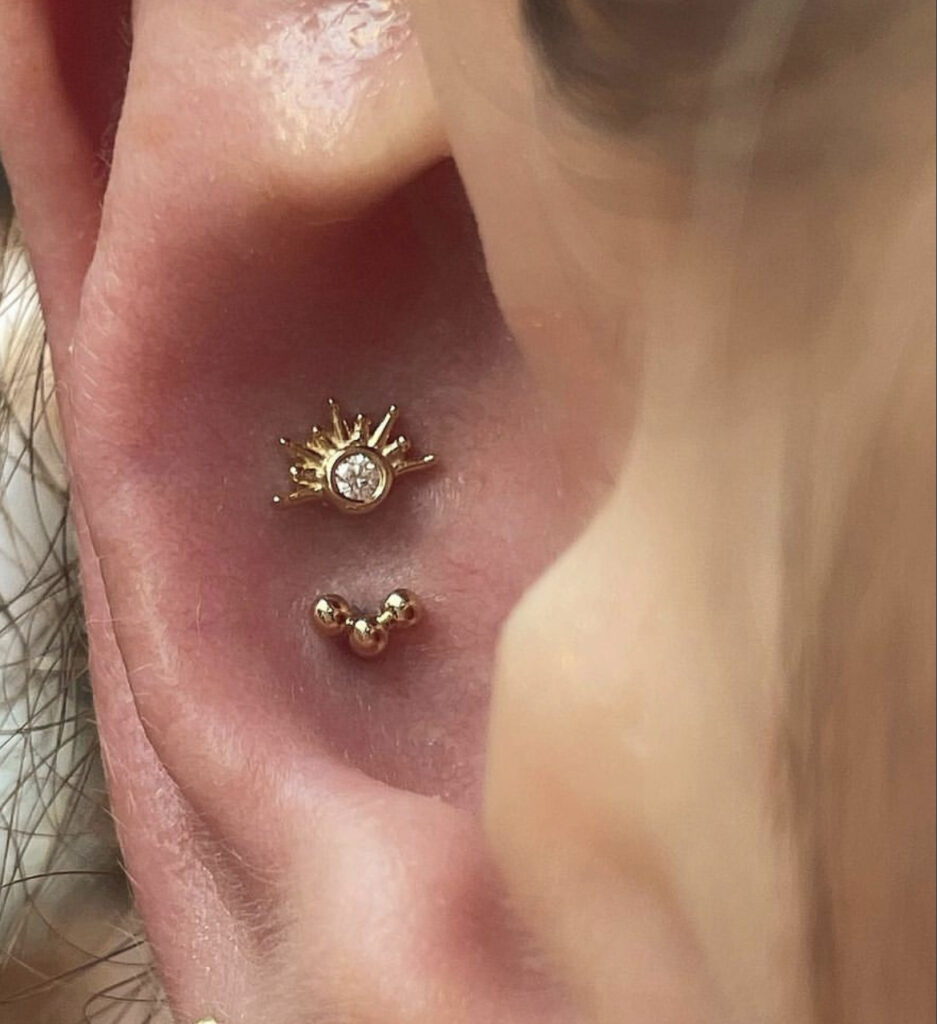 Double Conch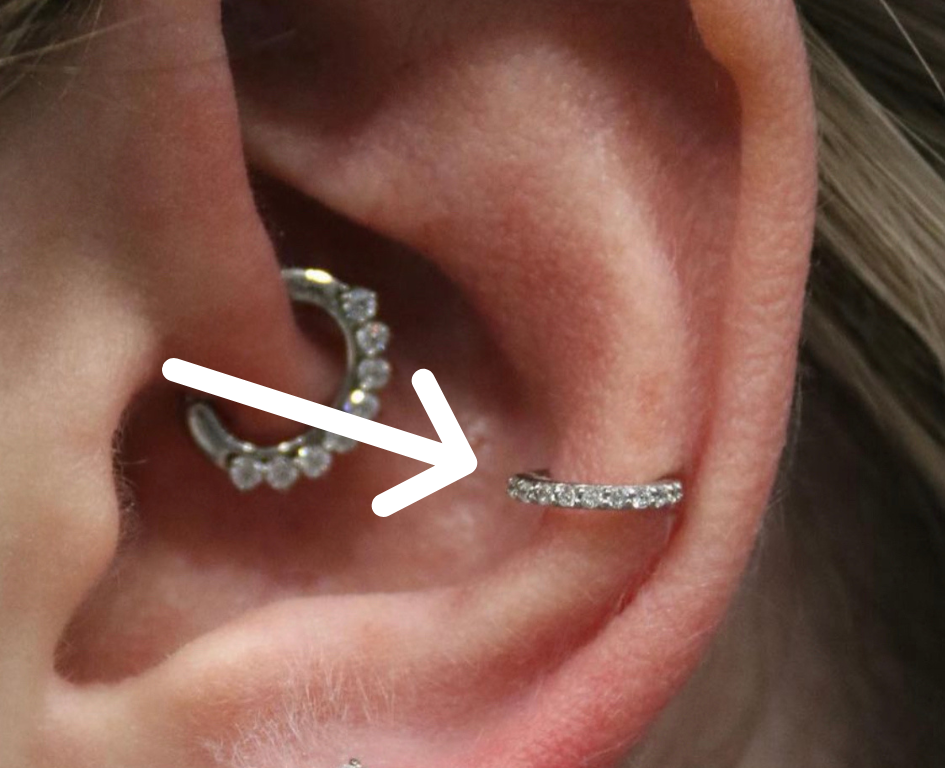 Snug Piercing
HEALING TIME: 4 – 6 months
PAIN LEVEL: High
The snug piercing is a horizontal piercing just above the anti-tragus.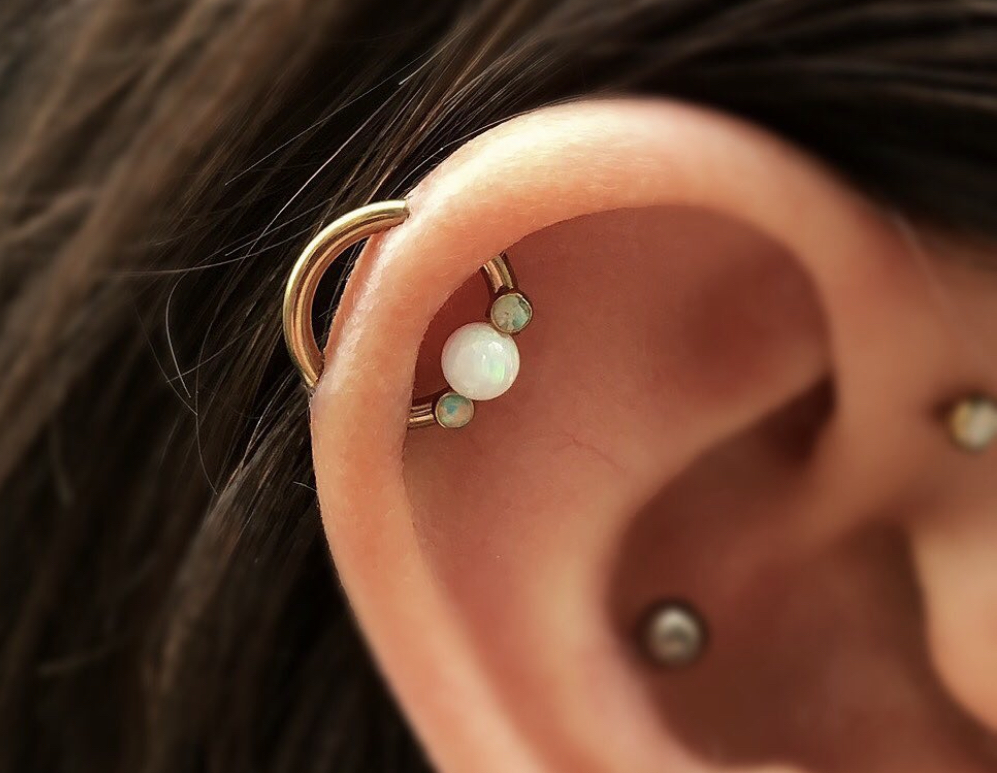 Orbital Piercing
HEALING TIME: 2 – 3 months
PAIN LEVEL: Medium
Usually located in the helix area, an orbital piercing features two holes connected by a piece of jewelry.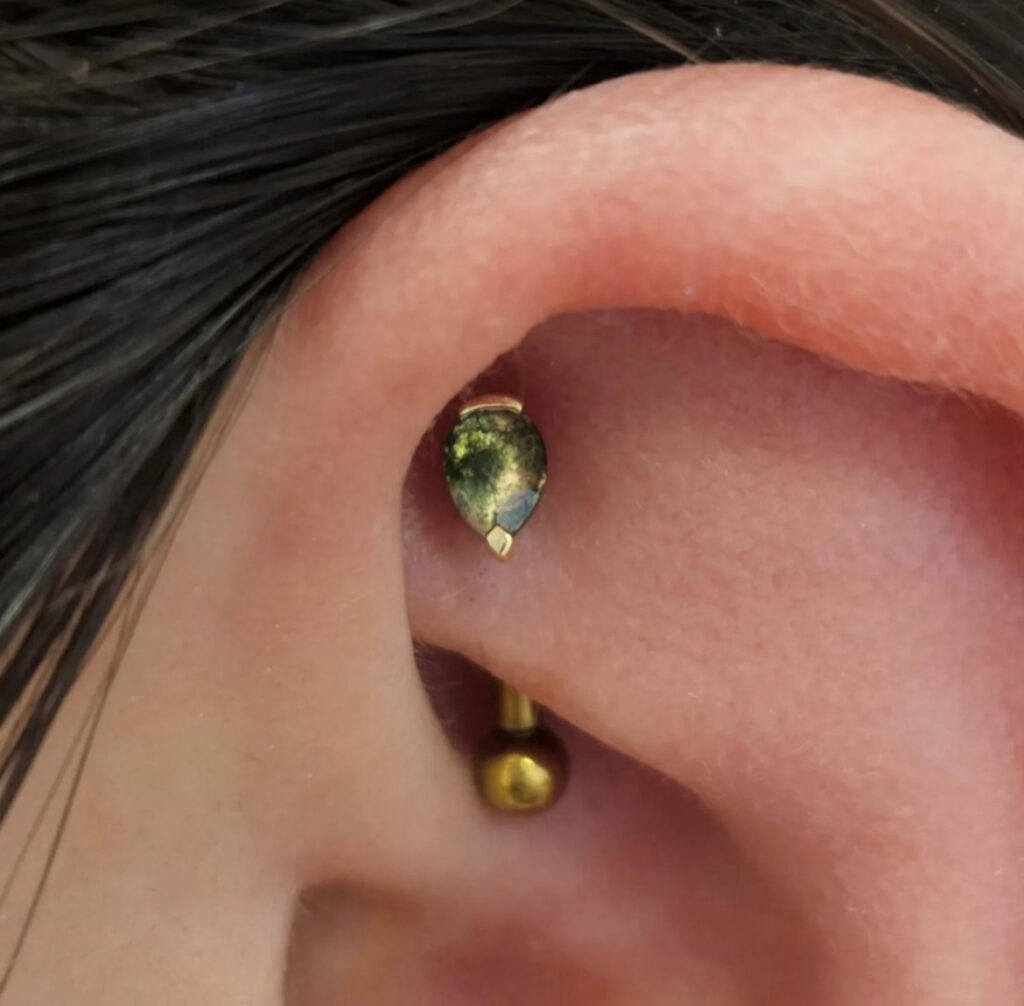 Rook Piercings
HEALING TIME: 3 – 10 months
PAIN LEVEL: Medium
Similar to the daith piercing, the rook piercing is also situated in the inner cartilage of the ear, but instead of passing through the innermost fold of the cartilage like the daith piercing, the rook piercing is placed right above the tragus in the upper part of the antihelix. You can go subtle or bold with your rook piercing. A small, dainty stud can add a touch of elegance, while a statement hoop can create a bolder and more dramatic look.
Celebrity Ear Piercing & Instagram Inspo