Dime Beauty Review: Best & Worst Products (Must Read Before Buying)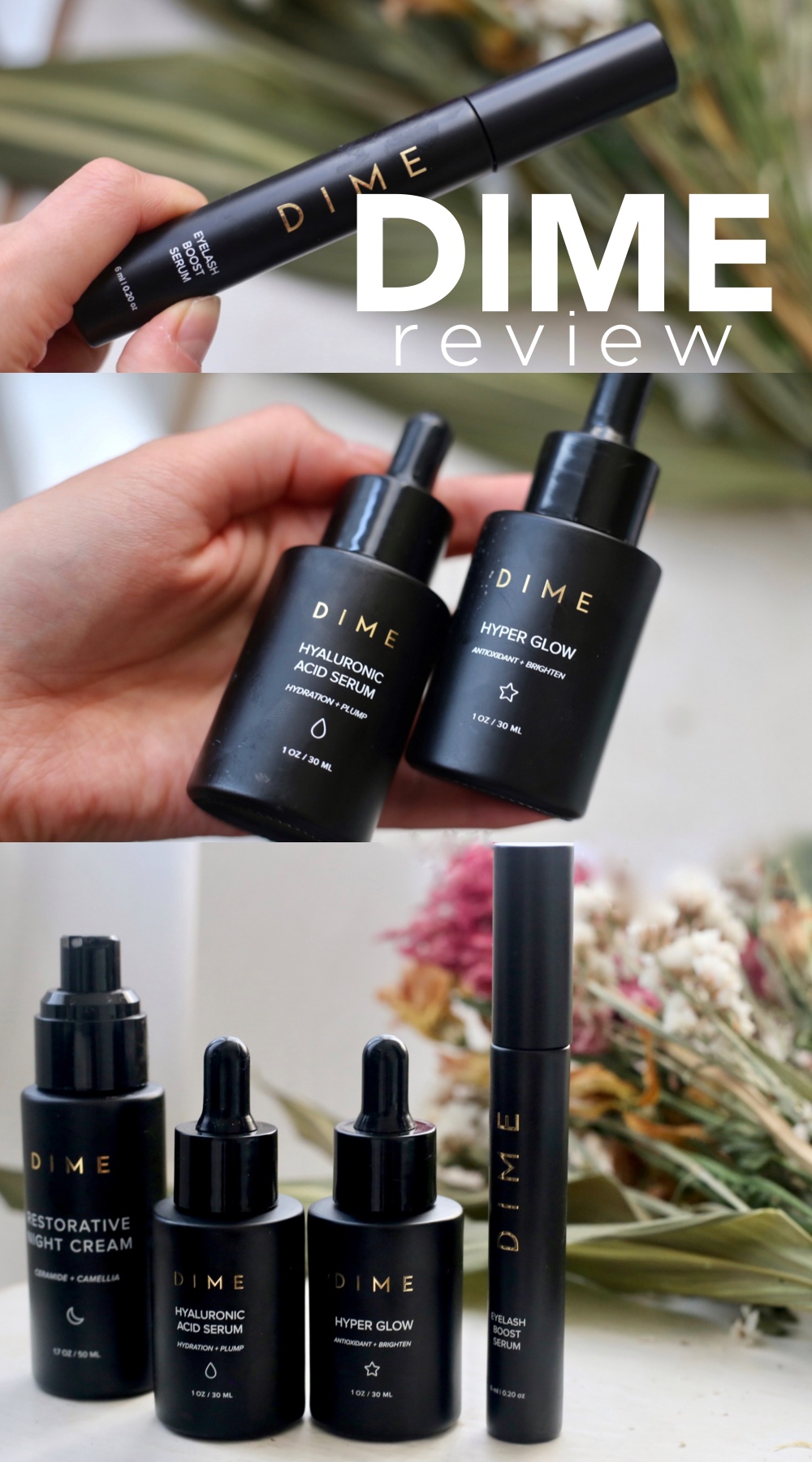 I finally purchased and tested DIME Beauty products because of all the questions I'd receive about them. With DIME Beauty we have an esthetician-founded line of "clean, luxurious, affordable skincare that actually works." Mostly known as a skincare brand, DIME has expanded to offer a number of makeup, wellness and fragrance products. While many small clean beauty brands have been closing their doors due to inflation and tough economic conditions, DIME Beauty is clearly doing well. I tried DIME's bestsellers like their serums and cream as well as their Eyelash Boost Serum. I'm sharing my honest DIME Beauty review, so pour yourself a glass of organic vino and keep reading. DIME Beauty is only available through their Amazon store or website where they offer free global shipping.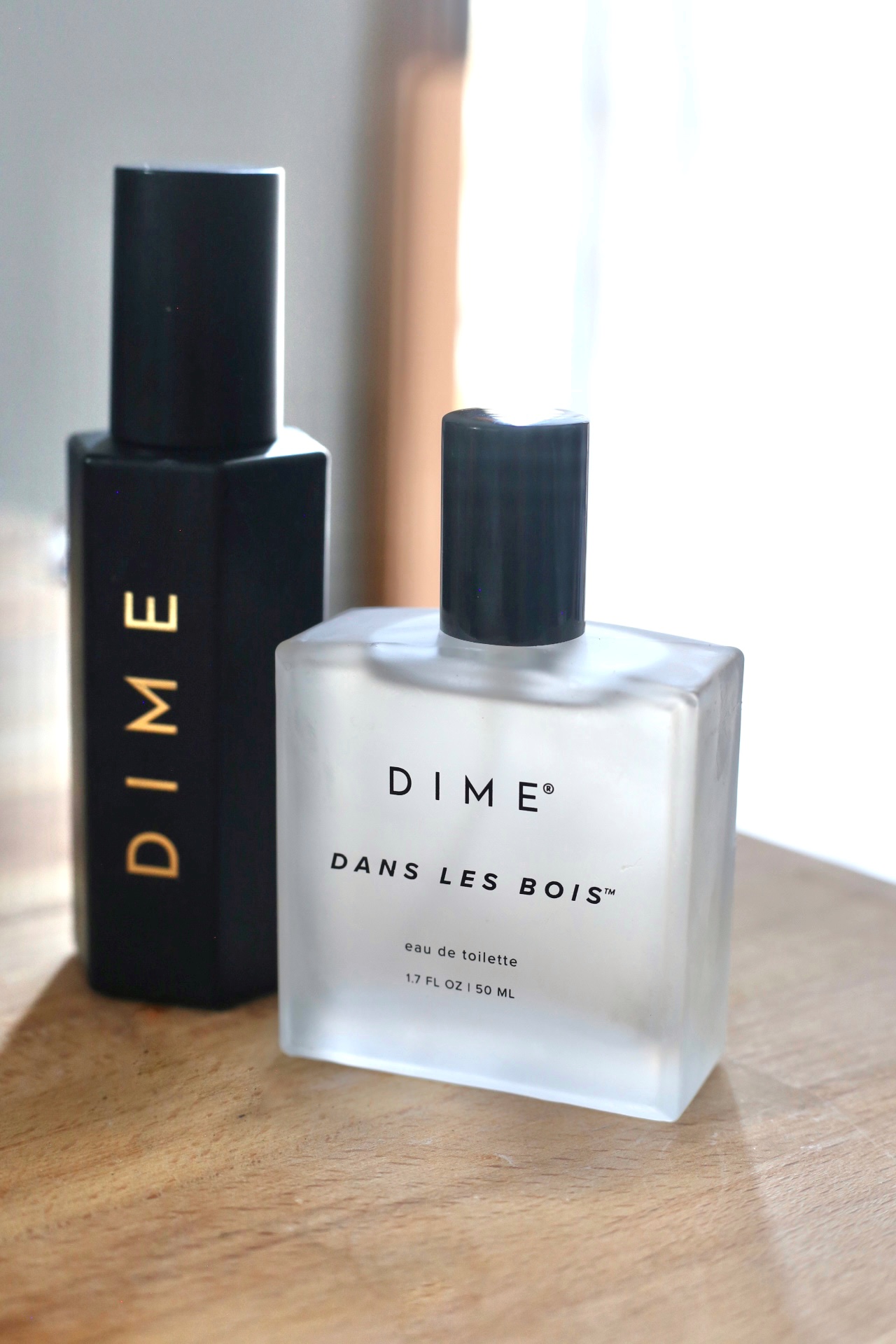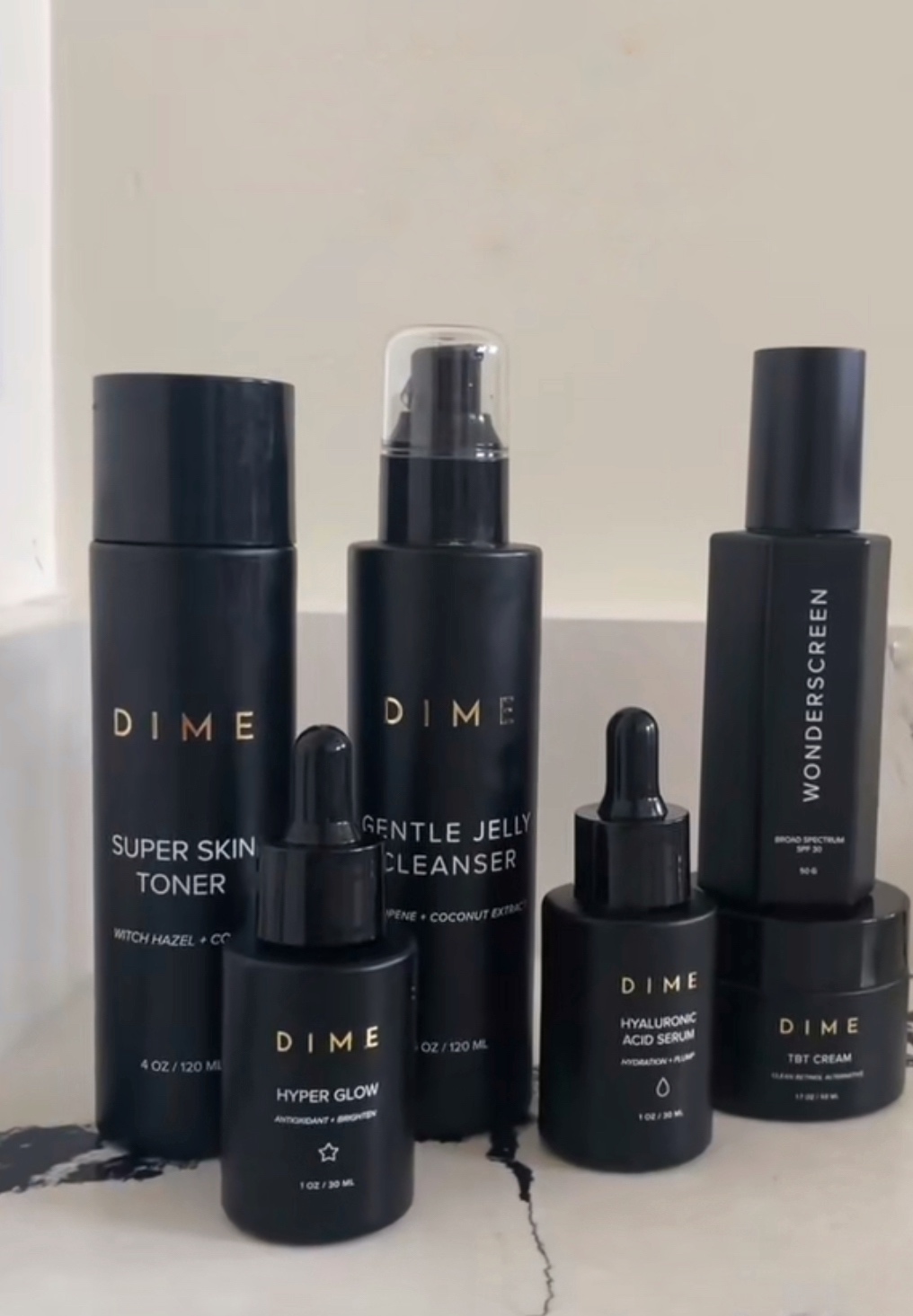 Who Owns DIME Beauty?
DIME Beauty Co. was founded by Baylee and Ryan Relf. The brand was created to provide a clean & optimized skincare alternative for anyone and everyone. As a skincare and beauty advocate herself, Baylee wanted to learn more about skincare, which prompted her to become a licensed Master Esthetician. During her time in training, her mom searched for clear and radiant skin while trying to reverse the effects of time. Soon after, Ryan landed a job as a product development specialist in the beauty industry and their business idea was born. Baylee worked closely with world-class chemists and formulators to come up with clean, vegan, cruelty-free products that worked for Baylee's mom as well as accommodating all skin types.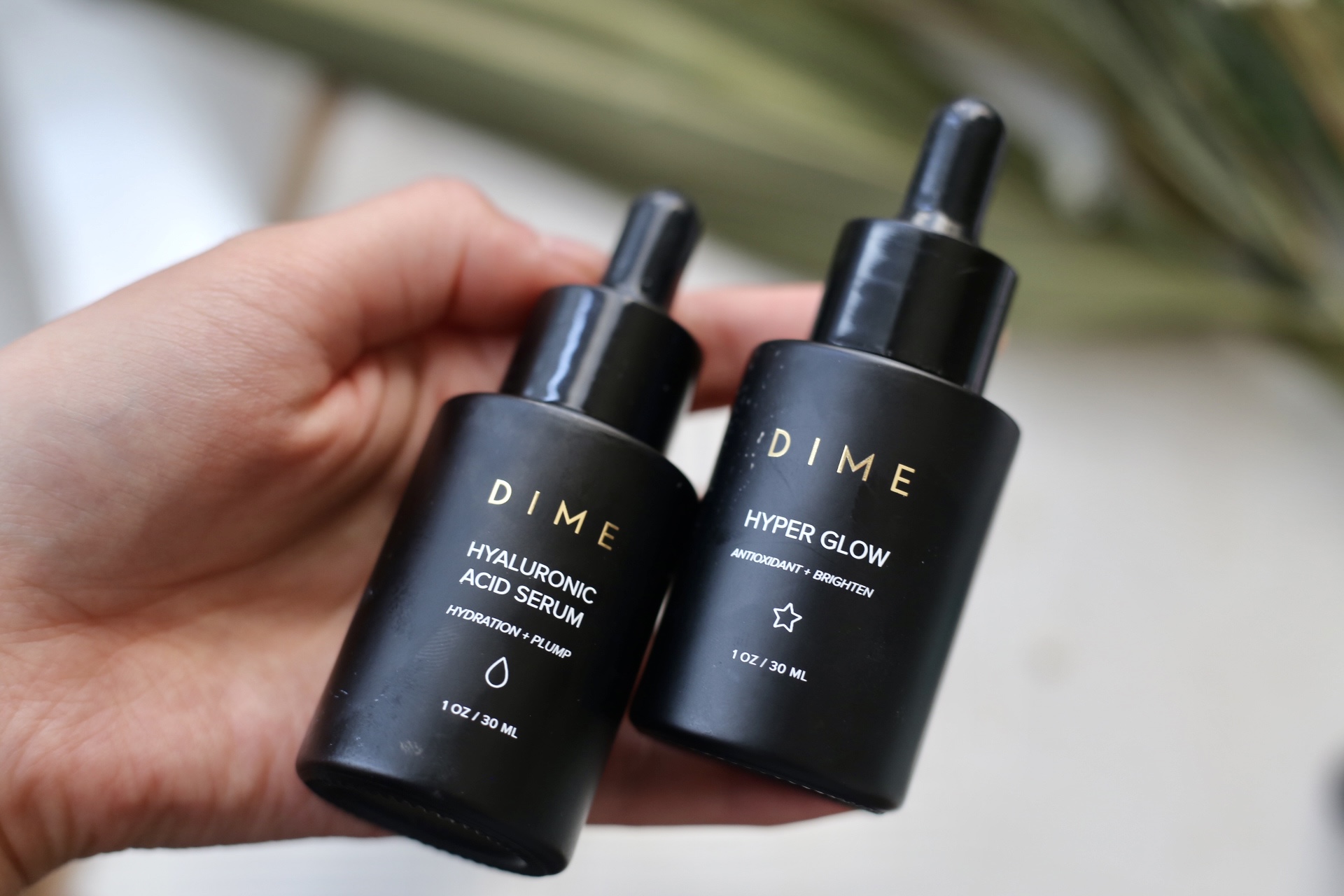 Is DIME Beauty Actually Clean?
Clean means something to different to each individual and to each brand. I always try to note when a brand uses Phenoxyethanol as their preservative and DIME Beauty does use this chemical. DIME Beauty is also not 100% natural and does use various synthetics in their formulas.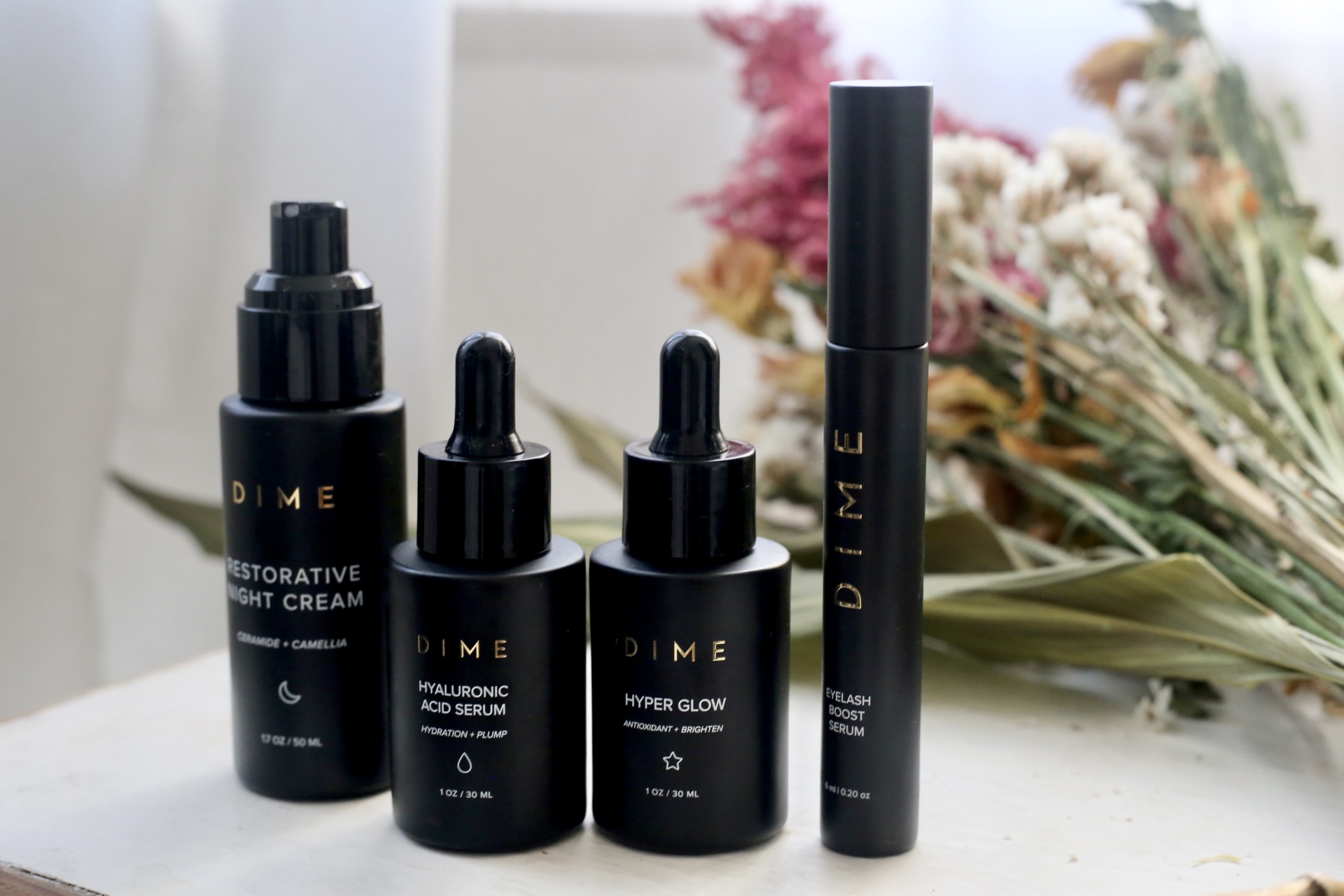 About DIME Beauty Reviews Online
I think most of the DIME reviews out there are pretty misleading. They pretty much all state DIME Beauty is "clean and non toxic" without really understanding or delving into what "clean"actually means to DIME, to themselves or to others. This is why "clean beauty" has such a terrible rep. Also, many of these reviews are written by non-clean beauty bloggers – I see a book blog and a hair blog stating it's their favorite skincare brand. I even saw one review stating it's an unpaid review in the title, yet there's an affiliate code and affiliate links once you click to read. Overall, a lot of sketchiness around their press. Most of the articles you read online aren't sponsored, but they're still affiliated to the brands included, and yet they don't all state "unpaid" in their titles. I have no issues with people promoting affiliate codes and links all they want (I do it too), but adding "unpaid" to the title of an affiliated article seems unethical. That being said, trust no one and as always, do your own due diligence.
DIME Beauty Prices
Most DIME Beauty products are under $40. Their serums are $30 and face cream $38.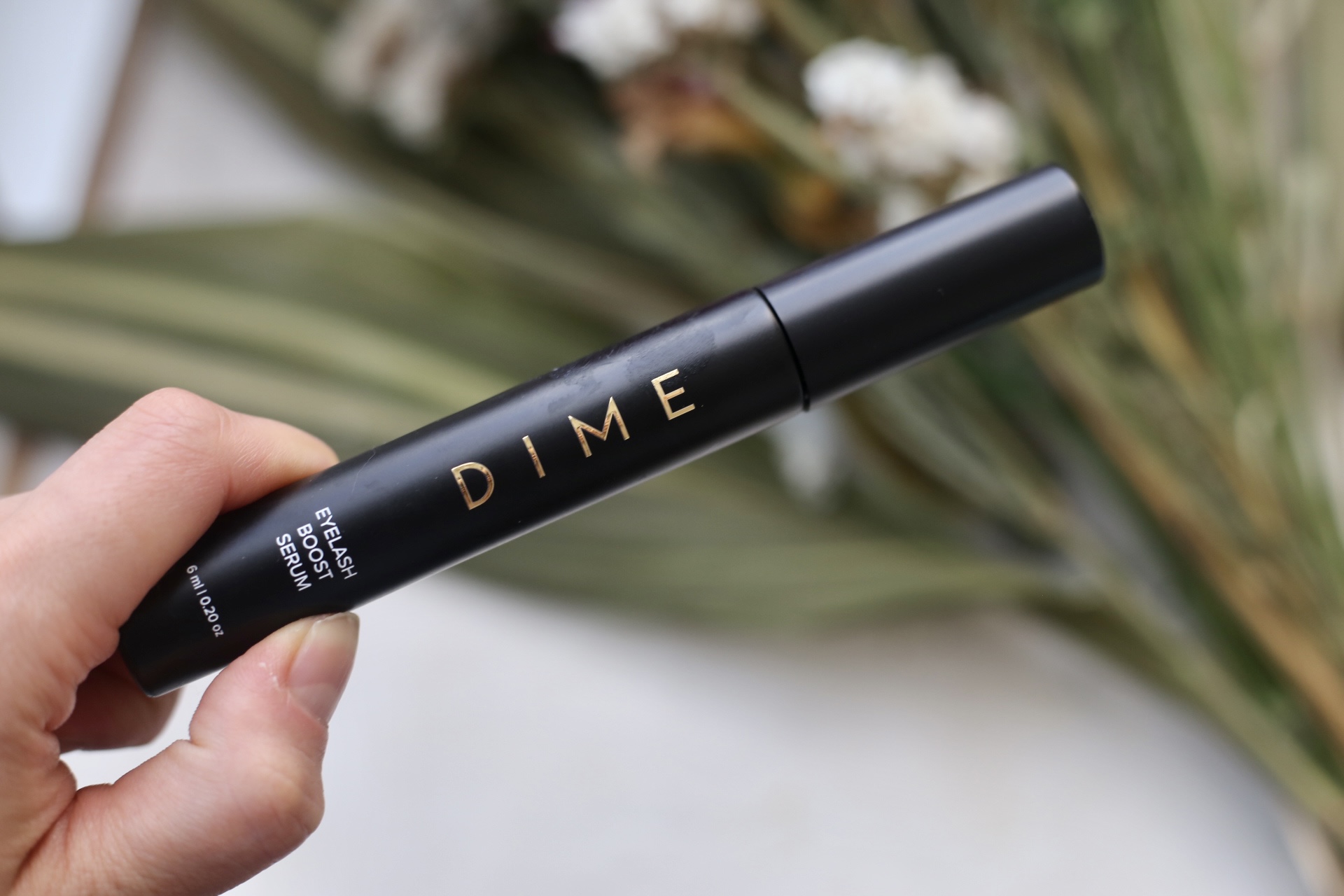 Where Can You Buy DIME Beauty?
Besides their own website you can buy DIME at:
DIME Beauty is not sold at Sephora.
DIME Beauty Pros:
Vegan and cruelty free
Affordable luxury
All packaging is ethically sourced, free of BPA's & BPS', and 100% recyclable
Transparent ingredients list
No fragrance added (natural and synthetic)
The reason I think so many people are DIME Beauty fans is because the line offers a product for every skincare step and makes it easy to understand how to build a full skincare routine.
DIME Beauty AM Routine:
DIME Beauty PM Routine:
Best Dime Beauty Products
Everyone's opinion will differ but I think the best Dime Beauty products are the Hyperglow Vitamin C serum, Dans Les Bois perfume, and Wonderscreen SPF 50.  
As is common with perfumes and sunscreens, what one person loves the next will hate so take what I say with a grain of salt. I can picture plenty of people not liking the perfume (it does have a synthetic smell to it and fades quickly) and the sunscreen does have a white cast.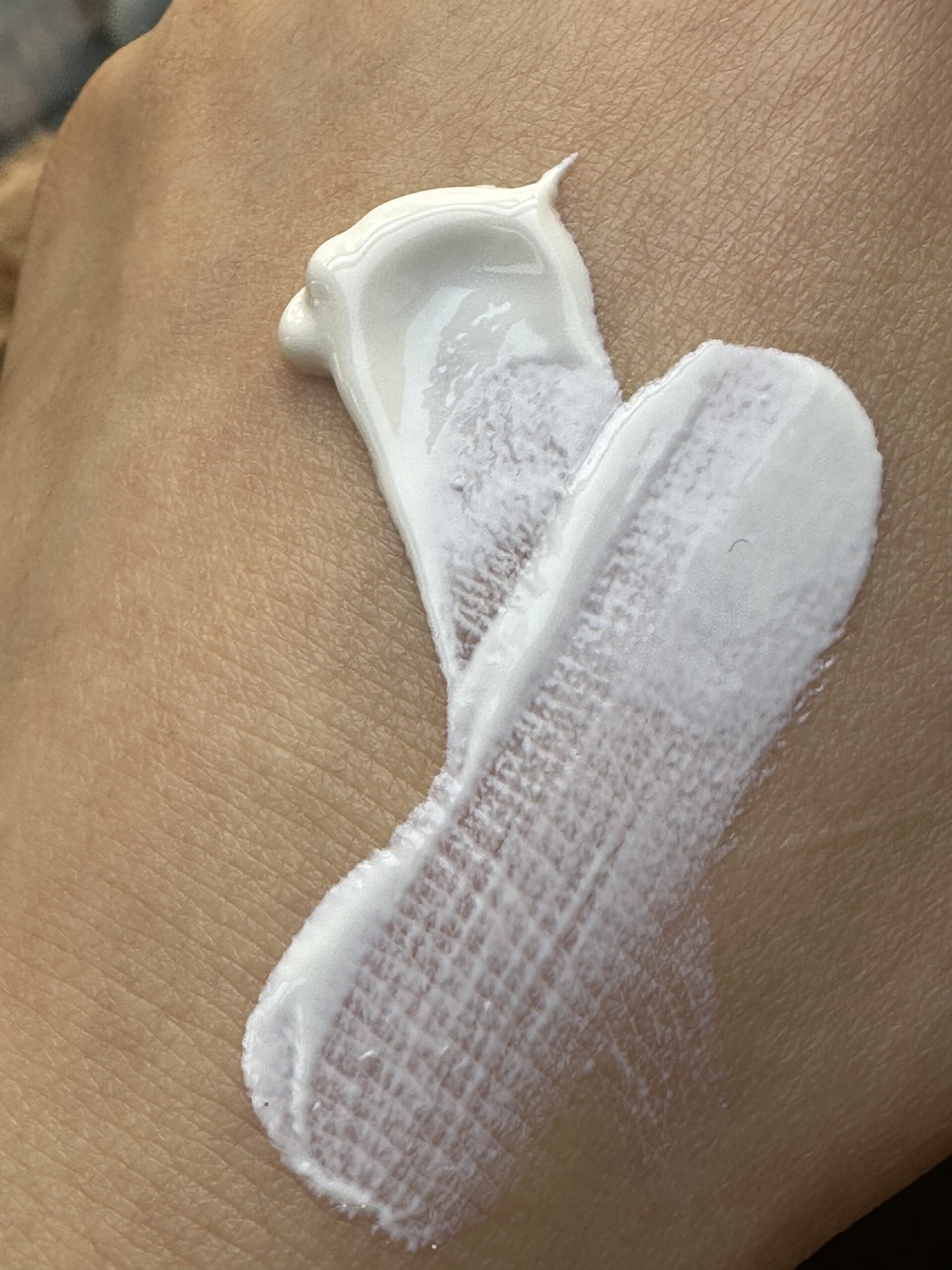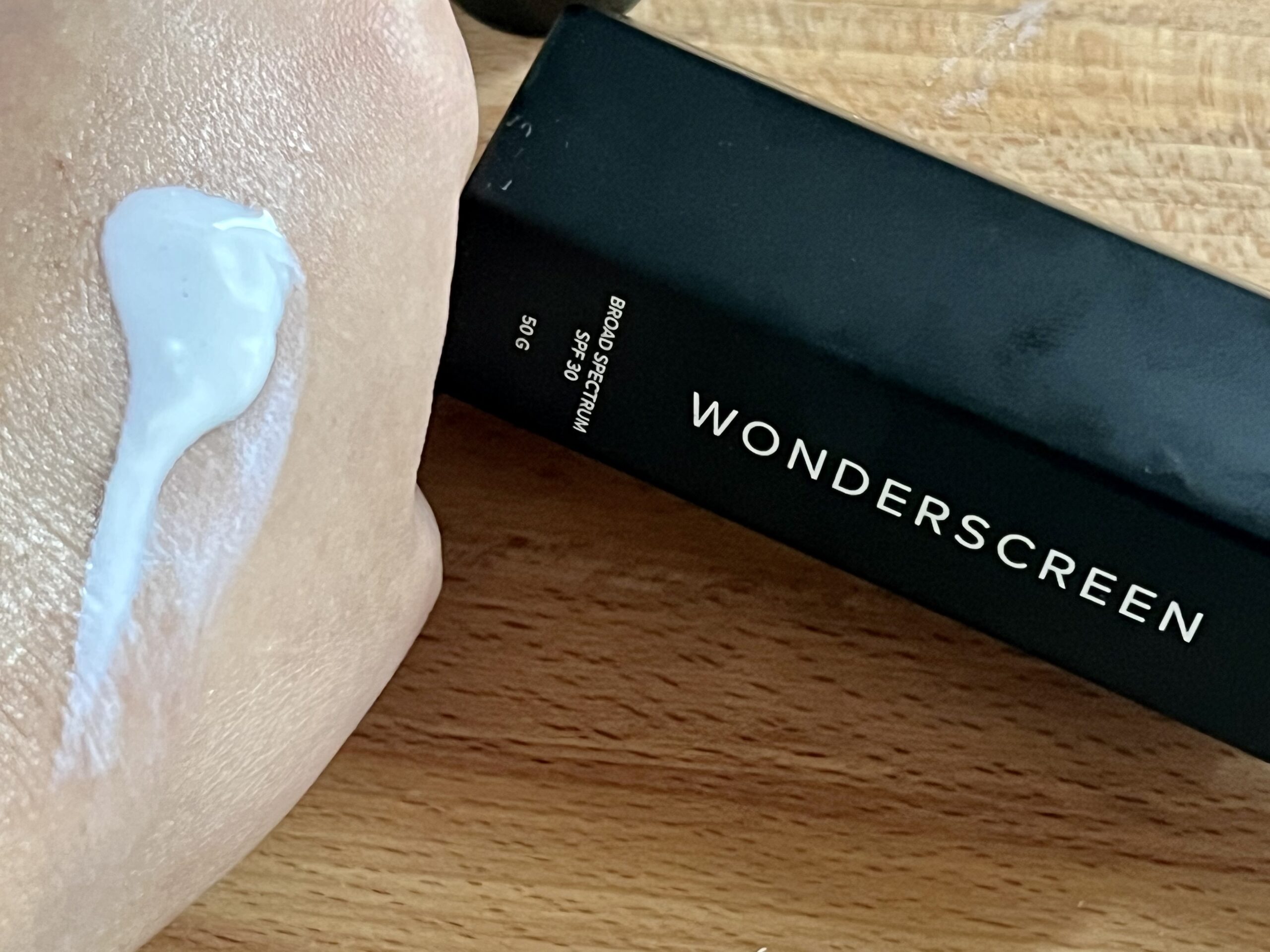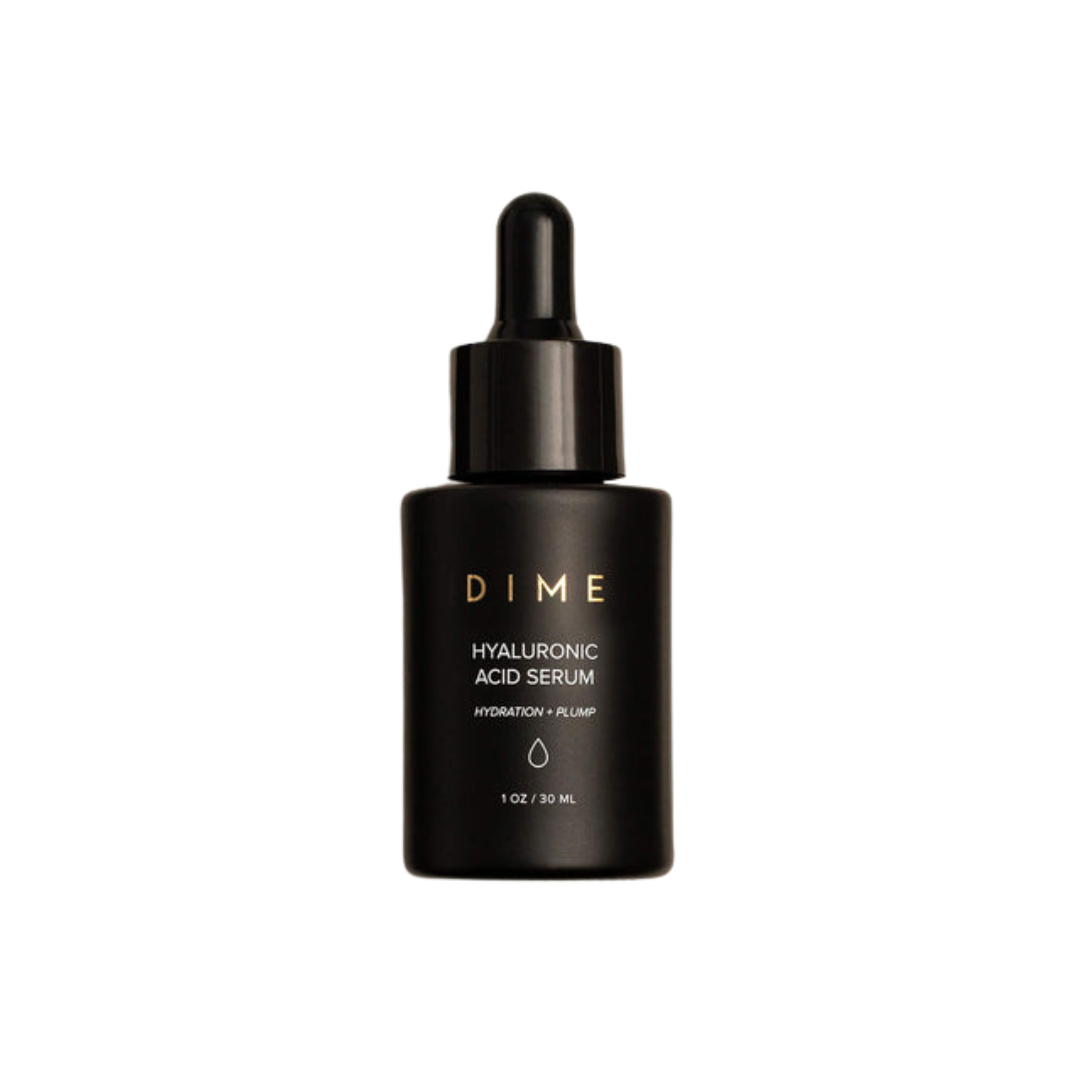 DIME Hyaluronic Acid Serum
The DIME Beauty Hyaluronic Acid serum is made of just a few ingredients, making it one of the simplest formulas I've seen. It's basically water, sodium hyaluronate and preservative. While there's nothing wrong with a simple formula, I find that the markup is too high. At $30 you are essentially paying for the packaging because you can find the same formula in other highly affordable brands. In my experience you can easily find more hard-working formulas that are clean, vegan and sustainable for around the same cost.
Ingredients: Water, Sodium Hyaluronate, Phenoxyethanol, Ethylhexylglycerin

DIME Hyper Glow Serum
The Hyper Glow Serum is a Vitamin C + E + Ferulic Acid serum, which is the formula I most appreciate out of the DIME Beauty line. The Vitamin C content is a high 20%, and the serum also contains free radical fighting ingredients like Sweet Orange Extract, Magnolia Bark Extract, and Grape Seed Extract. This is what I'd actually consider to be "affordable luxury" and not just a marketing slogan. The DIME Beauty vitamin C serum is thin and lightweight with a silky feel. There's no sticky residue or oily sensation and helps to smooth and brighten skin.
Ingredients: Water, Vitamin C (as ascorbic acid), Ethoxydiglycol, Glycerin, Aloe Barbadensis Leaf Juice, DL-Alpha Tocopherol (Vitamin E), Ferulic Acid, Organic Lecithin, Sodium Hyaluronate (Hyaluronic Acid), Vitis Vinifera (Grape) Seed Extract, Resveratrol, Magnolia Acumintata Bark Extract, Phenylpropanol, Sodium Metabisulfite, Tetrasodium EDTA (Ethylenediaminetetraacetic Acid Tetrasodium Salt), Xanthan Gum, Sodium Hydroxide, Ethylhexylglycerin

DIME Eyelash Boost Serum
There has been no clean eyelash serum that has ever wowed me. The difference is so subtle with all the eyelash serums I've tried that only I could ever probably notice the difference IRL. The same goes for DIME Beauty's eyelash serum. I didn't notice any major difference.
Key Ingredients
Amino Acids: Collagen is rich in amino acids that your body needs to build keratin, the protein that makes up the hair. These are the building blocks of hair and most of our bodies.
Biotinoyl Tripeptide-1: Biotinoyl Tripeptide-1 has been shown to have positive effects on hair follicles by promoting scalp micro-circulation and reducing the appearance of follicle atrophy and aging.
Formulated Without
Prostaglandins: A common ingredient in eyelash serums that often causes irritation, redness, inflammation, and itchiness. It can also darken the color of the iris permanently. DIME Lash Boost Serum is prostaglandin free, so there's no need to worry about intense irritation or changing of eye color.
Ingredients: Water, Glycerin, Amino Acids (Sodium PCA, Sodium Lactate, Arginine, Aspartic Acid, PCA, Blycine, Alanine, Serine, Valine, Proline, Threonine, Isoleucine, Histidine, Phenylalanine), Panthenol, Aloe Leaf Extract, Niacinamide, Purslane, Cherbulic Fruit Extract, Apple Fruit Extract, Tocopherol, Hexanediol, Biotinoyl Tripeptide-1, Myristoyl Pentapeptide-4.

DIME TBT Cream
DIME Beauty's version of a retinol alternative cream, the TBT Cream contains a proprietary blend of Orobanche Rapum Extract and Bakuchiol. It's a rich and dense cream that dry skin types would enjoy. But other than the few extracts included and Bakuchiol, there are no other notable skincare ingredients in this formula. There's a lot of synthetics and silicones like dimethicone, which some of you may be trying to avoid. Naturally these ingredients are going to make the cream glide more smoothly and have a more pleasant texture. For the formulation, I would say the DIME Beauty cream is overpriced at $38. There are a lot of other affordable options I've come across with more skin-beneficial ingredients in their formulas.
Ingredients: Water, Cetyl Ricinoleate, C.C.S Triglyceride, Glycerin, Pentylene Glycol, Isododecane, Polyglyceryl-6 Stearate,Polyglyceryl-6 Behenate,C.C.M.S. Triglyceride,Dimethicone, Apple Extract, Bakuchiol, Olive Unsaponifiables, Orobanche Rapum Extract, Phytosterols, Behenyl Alcohol, C.C. Triglyceride, Glyceryl Stearate, Linoleic Acid, Phospholipids, Stearyl Dimethicone, Octadecene, VP Copolymer, Propanediol, Hydroxyacetophenone, Dimethicone Crosspolymer, Xanthan Gum, 1.2 Hexanediol, Tetrasodium G.D.
Free worldwide shipping is available through their site.