VEGAMOUR Review: Before and After Photos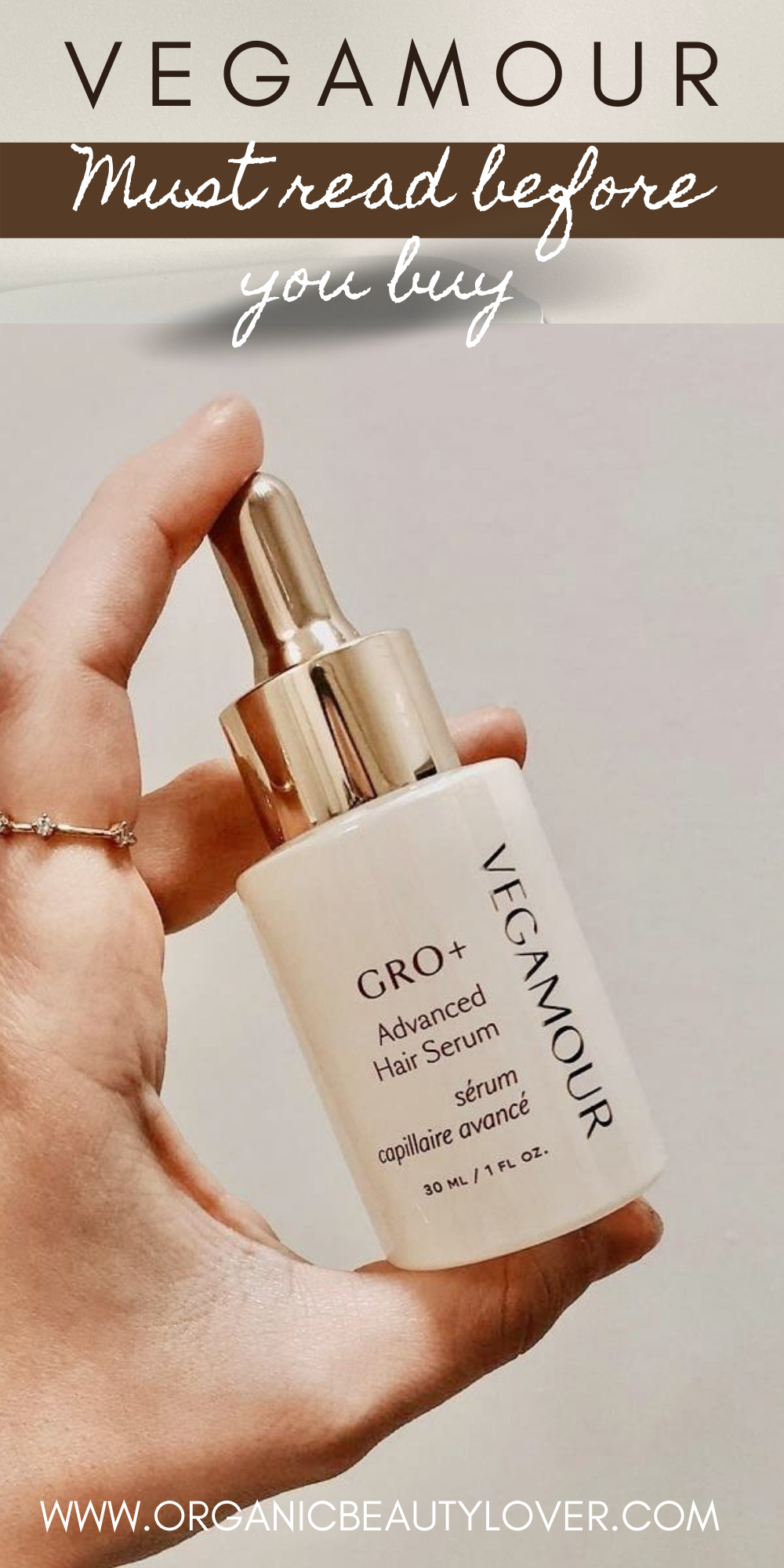 I tried out the popular VEGAMOUR hair growth serum to see if VEGAMOUR actually works for hair loss and hair thinning. I'm sharing my honest thoughts after using VEGAMOUR, including its pros and cons and before and after photos. VEGAMOUR's hair growth serum has been raved about by thousands to help with alopecia and hair thinning and their before and after photos are so impressive, I had to try it out myself. If you decide to try VEGAMOUR, you can save 20% using my VEGAMOUR discount code OBL.
VEGAMOUR is a sustainability focused clean and vegan haircare brand that uses clinically studied ingredients that are proven to work for hair loss and thinning. Specifically, they boast results of subjects noticing up to 52% more density and 76% less shedding. Now thanks to the pandemic, it seems like every woman out there has been experiencing hair side effects from pandemic pain and stress. In this VEGAMOUR review I'll be sharing my experience specifically with their main hero product the VEGAMOUR GRO Hair Serum including before and after photos.
Black Friday: 30% off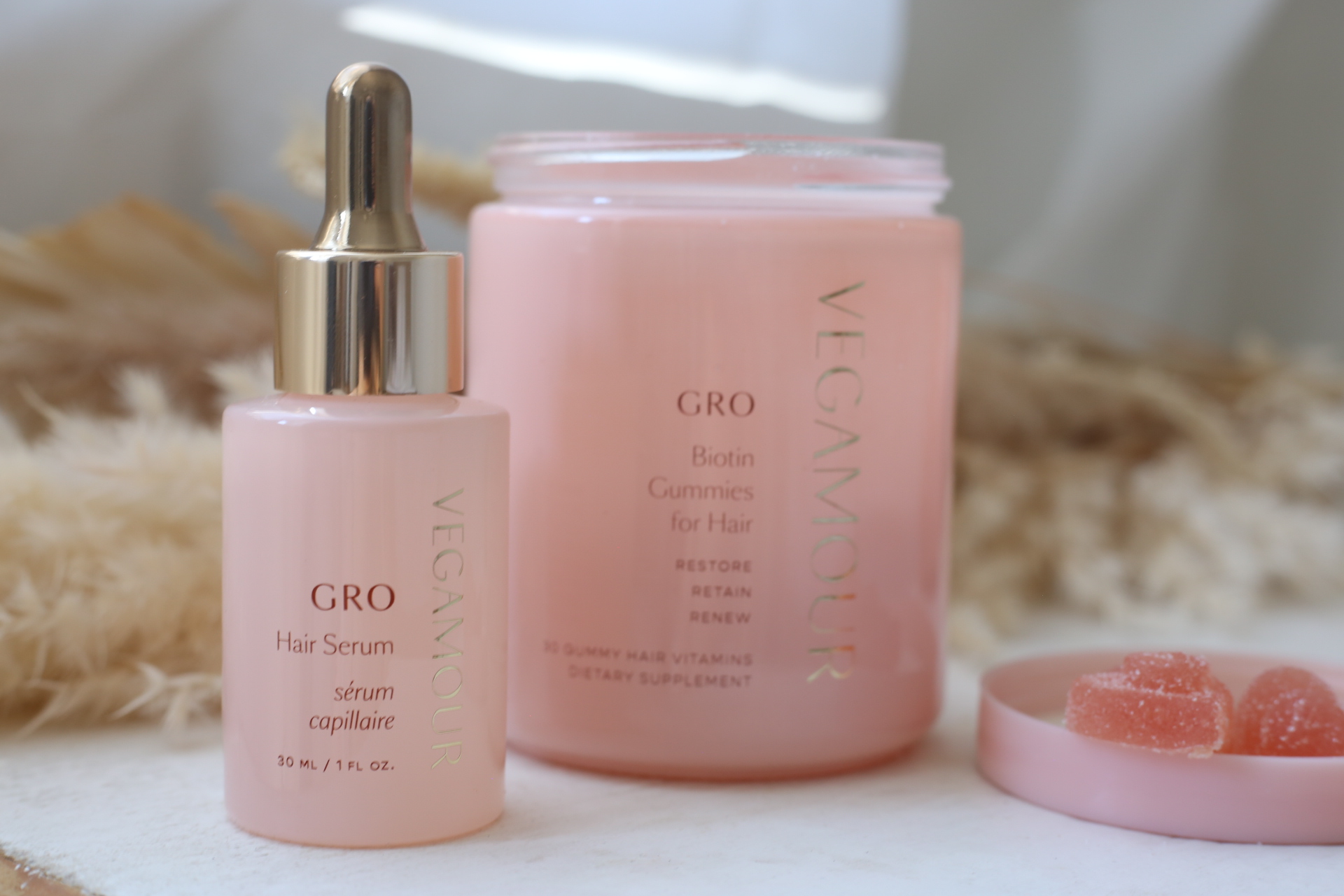 As with any hair growth product that makes promises, I was truly skeptical at first. Too often brands will claim they're all natural or clean  only to have several questionable ingredients lurking in the ingredients list. Using products like these that promise a quick fix can harm your hair and health in the long run are best to avoid. Vegamour is strictly committed to being toxin free and are:
Prostaglandin-free
Gluten-free
Paraben-free
Toxin-free
Dye-free
Synthetic fragrance-free
Phthalate-free
Castor oil-free
PEG-free
Petrolatum-free
All natural and cruelty-free, VEGAMOUR uses clinically researched and backed ingredients, meaning these ingredients have shown in clinical studies to improve hair growth. The serum's four hero ingredients are Red Clover, Mung Bean, Curcumin, and Nicotiana Benthamiana⁠. The serum comes in a dropper bottle and has the consistency of water and contains no oils, so there's no having to deal with greasiness.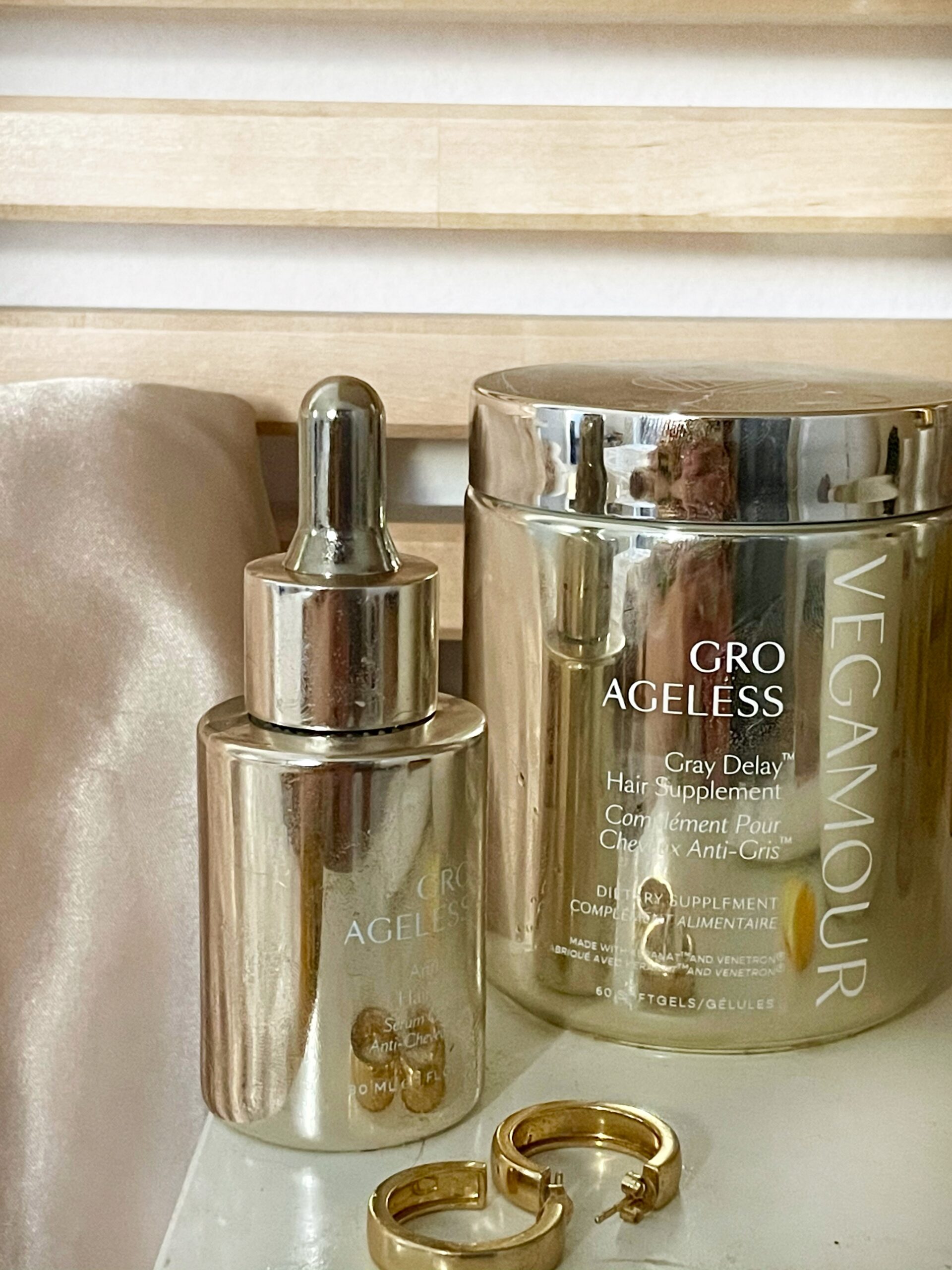 Vegamour set out to create a product that uses 100% clinically validated ingredients that are organically grown and sustainably sourced. For instance this study shows that applying red clover extract to the scalp may help reduce hair loss. Red clover is a rich source of isoflavones, which are water-soluble chemicals that act like estrogens, helping to prolong the growth cycle of the hair follicle.
Red clover also contains beneficial nutrients like calcium, chromium, magnesium niacin, phosphorus, potassium, thiamine and Vitamin C. Red clover also helps inhibit DHT, short for dihydrotestosterone, which the human body produces and is also found in your hair follicles. DHT shrinks the androgen receptors in the hair follicles in the scalp which progressively shortens the hair growth cycle over time, causing hair loss to worsen.
What I Don't Like About Vegamour
What I didn't like about VEGAMOUR is that it requires three months of use to see visible results, but the bottle contains enough for only 1 month of use. This would mean one would already need to buy 3 bottles from the beginning which seems wasteful in packaging and shipping. I think it would make much more sense for both the consumer and the environment to sell in packaging that would last the buyer three months of use instead of one.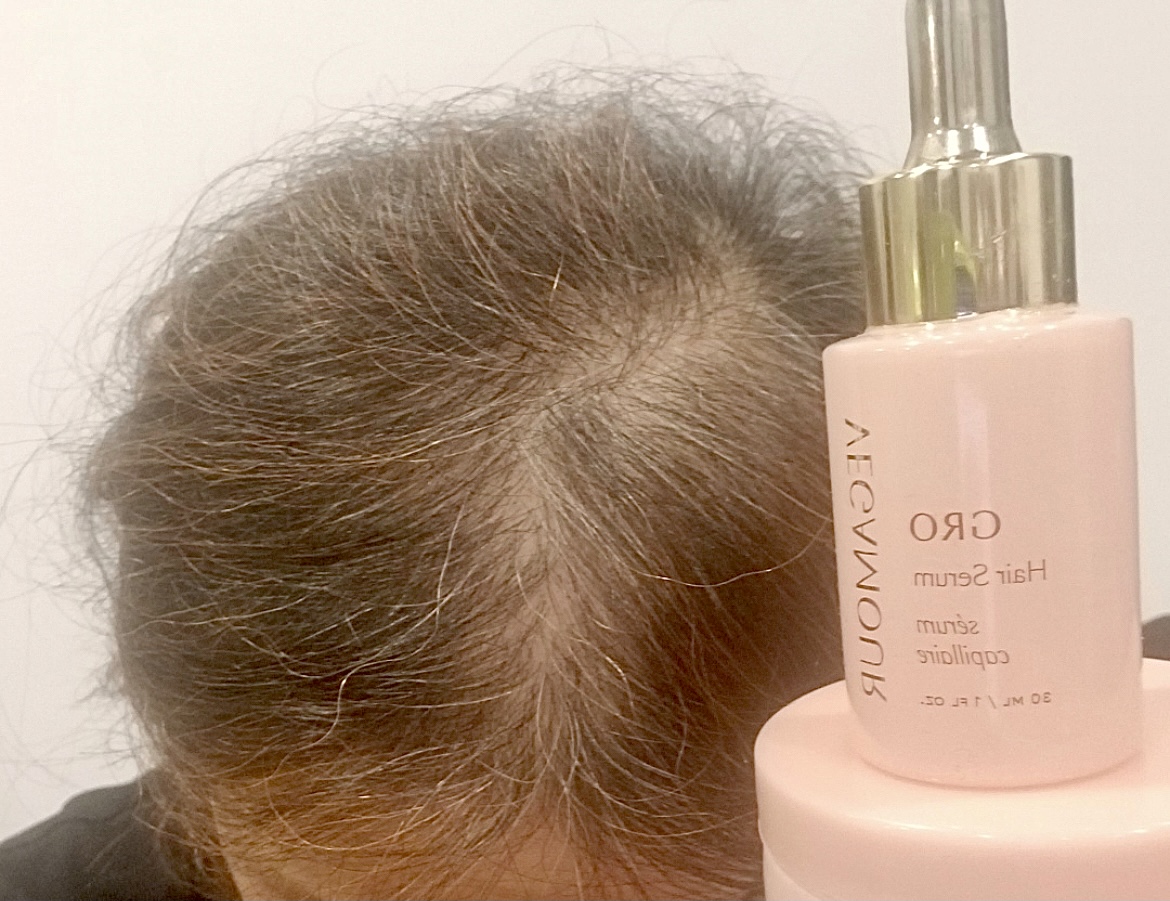 There is also the fact that Vegamour will not work for everyone. This is nothing against the product, but everyone's hair and body is so different that while for some Vegamour may work miracles for others it may not have any effect. I had my mom, who is in her late 60s and has suffered from severe and long-term hair thinning, test Vegamour GRO serum, and she did not notice much of a visible difference. Her thoughts are that it may not be effective if your hair loss is long-term but perhaps more so if hair thinning has just begun.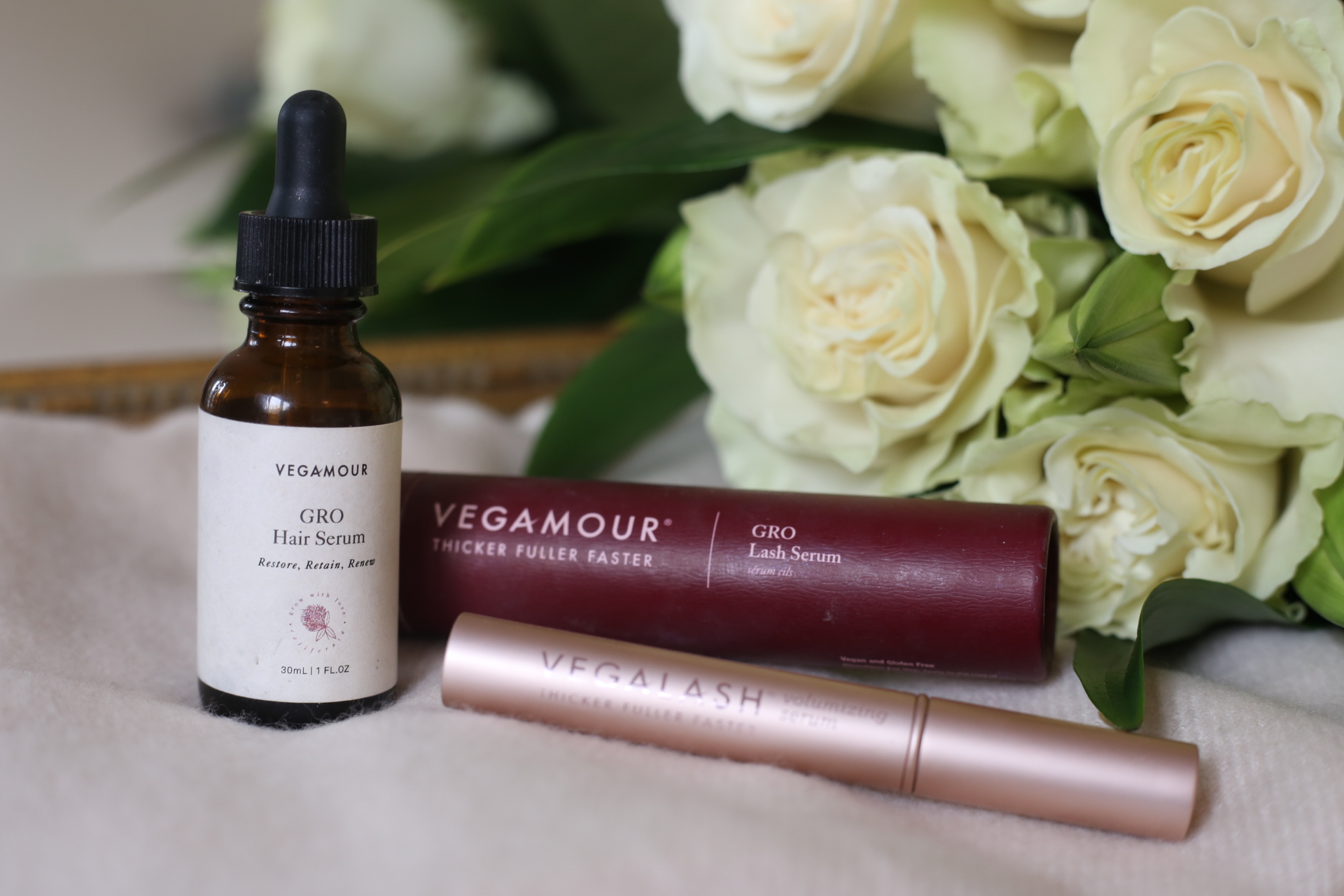 How To Use Vegamour For Best Results
How do you apply Vegamour Hair Serum?
For best results, apply the serum to dry or towel-dried hair. Start by parting your hair into three different sections (left, middle, right). Apply 2-3 drops in each section then, evenly disperse the serum and massage into scalp to help increase circulation ⁠
How many droppers should you use?
Use 1-2 full droppers
How often should you apply Vegamour hair serum?
Use Vegamour once a day in the morning or at night⁠.
What are the key ingredients in Vegamour hair serum?
Red Clover, Mung Bean, Curcumin, Nicotiana Benthamiana⁠
What do the ingredients in Vegamour hair serum do?
Red Clover- contains hair-boosting isoflavones, a class of flavonoids that exhibit antioxidant, antimicrobial, and anti-inflammatory properties.⁠
⁠
Mung Bean – strengthens the connection to the hair follicle. Mung beans contain copper, which is a very important mineral for a healthy scalp and thick hair.⁠
⁠
Curcumin – derived from Turmeric, this powerful ingredient increases the length of the anagen (growth) phase of the hair.⁠
⁠
Nicotiana Benthamiana – strengthens and increases the density of existing hair, while reducing hair loss from combing and washing.⁠
How long does it takes to see results using Vegamour?
Used as directed, you can expect to see thicker, fuller-looking hair by month three, with the maximum appearance of increased hair density by month four.⁠
Does Vegamour Really Work?
I've noticed positive results with Vegamour and also had a friend try at the same time as me who also noticed changes. I think it does require a ton of commitment AND cash to maintain results. I also don't think there's such thing as any one product being magic in a bottle. Improving one's hair for the long term requires a 360 degree holistic approach
Vegamour Before and After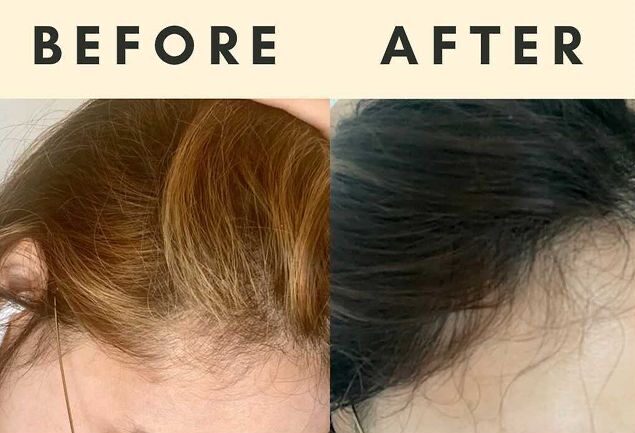 I focused mainly around my hairline and temples because I've noticed that my hairline has been receding due to age and my baby hairs have been thinning.
The Vegamour Gro+ Advanced serum is significantly pricier than the Gro serum because of the addition of micro-encapsulated full-spectrum hemp oil.  Hemp oil has been scientifically proven to enhance blood circulation and reduce inflammation. Vegamour took it a step further by reducing the size of its molecule which allows it to reach hair follicules at the root level. The Gro+ Advanced serum is designed to increase the growth cycle of your hair to make it stronger and thicker. I haven't tried this one so I can't say whether it works more effectively than the regular Gro serum.
Vegamour Discount Code – OBL saves 20%
Save 20% on VEGAMOUR sitewide with my affiliate code OBL. 
Free shipping worldwide is a huge plus that Vegamour offers. I can also vouch for how fast theIr global shipping is, at least to Switzerland from Los Angeles it only took less than a week to arrive!
Vegamour has expanded their line to include an entire hair growth-focused range of shampoos, styling products, scalp products and hair supplements. Check out my review of their hair care here.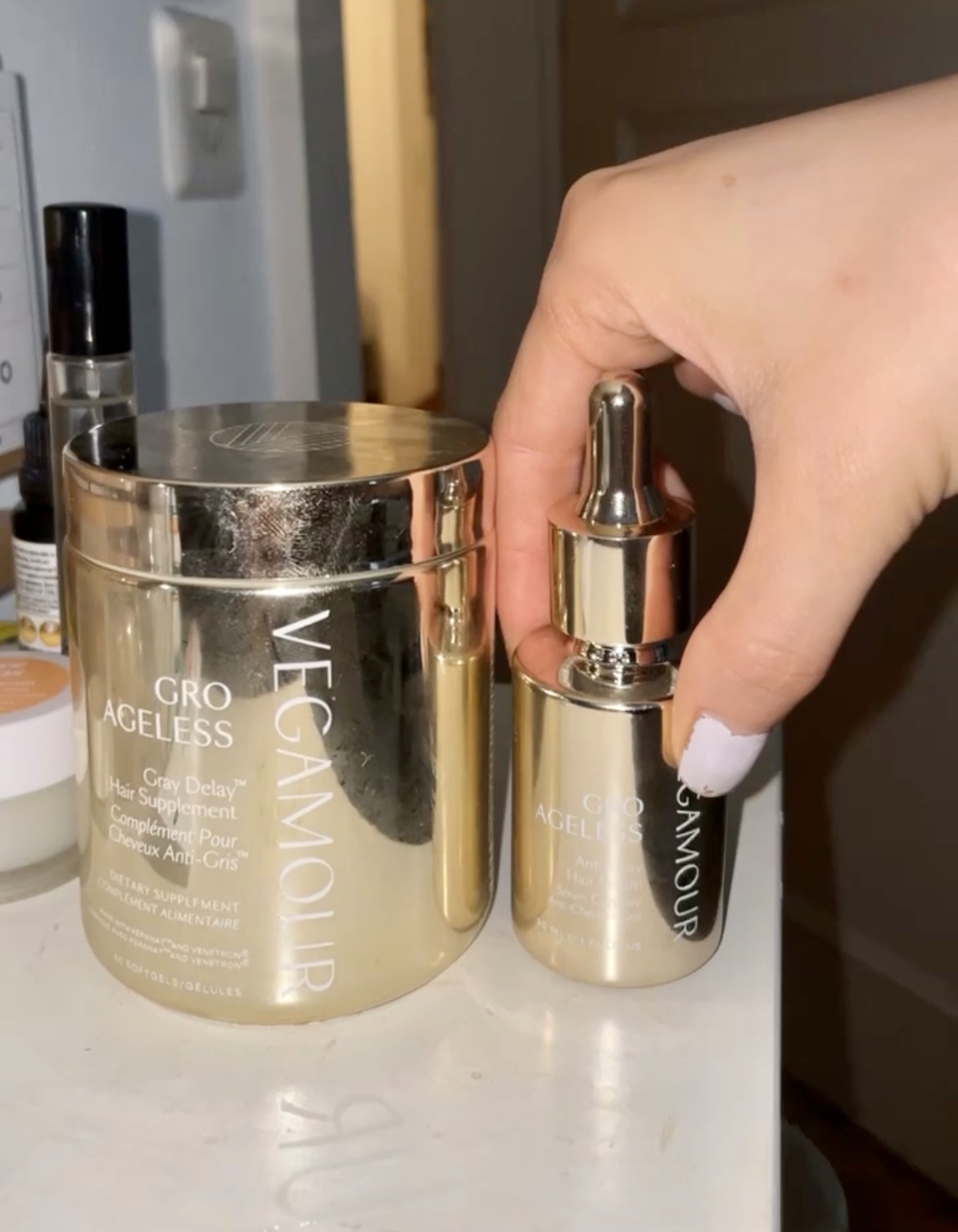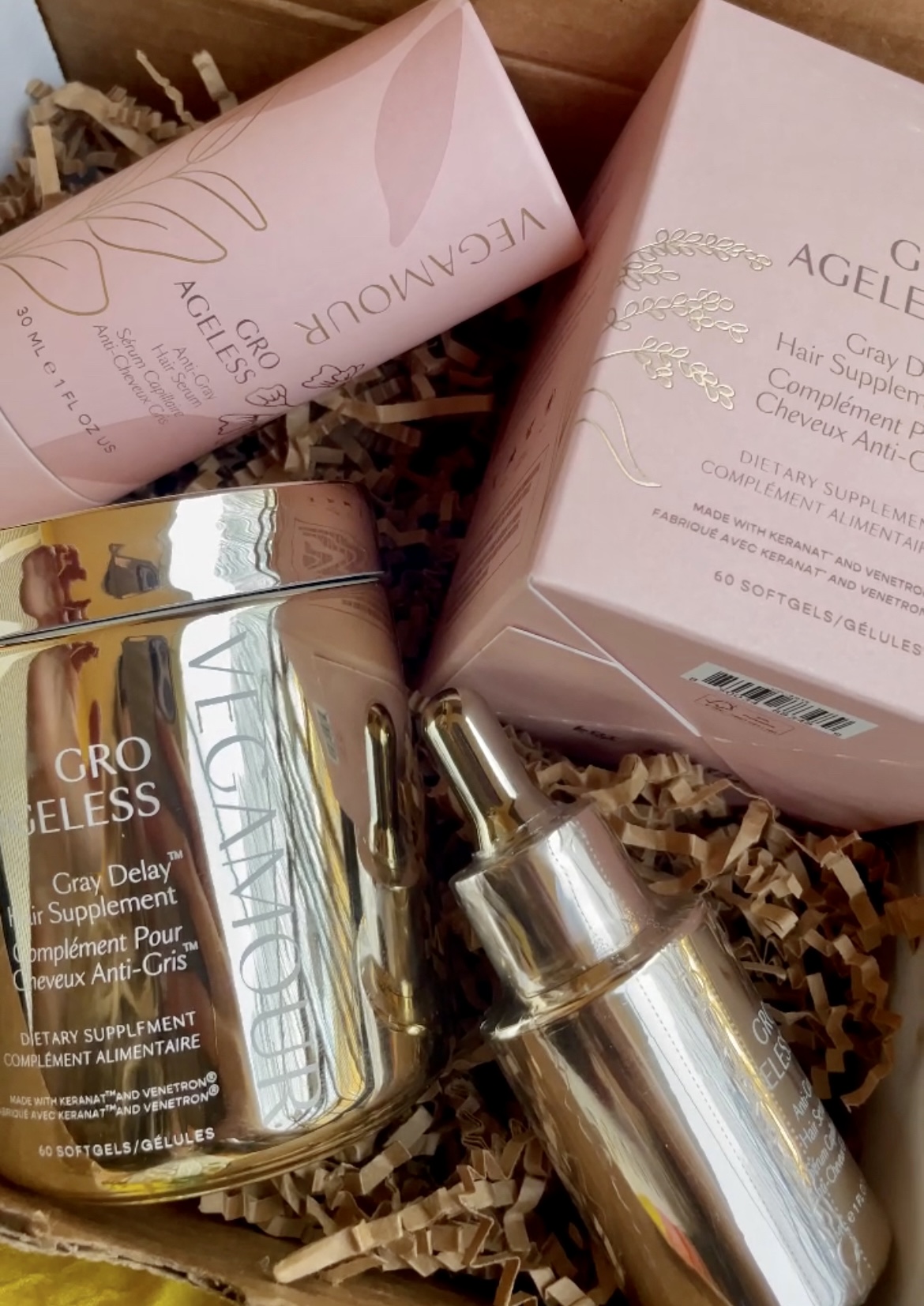 Tips for Hair Growth and Thickness
It would be remiss of me to not say that a hair serum alone cannot transform your hair. If you're not feeding your body the proper nutrients, it simply is not possible to have healthy hair. Below I'm sharing the best foods for hair growth and thickness. Be sure to add these and quality hair products for healthy hair growth!
Eggs
Berries
Spinach
Fatty Fish
Sweet Potatoes
Avocados
Nuts
Seeds
More Hair Growth Tips
These are the practices that have helped me grow my hair in a healthier way:
Get regular haircuts to get rid of dead hair and split ends
Wash hair with lukewarm or cold water, never hot
Avoid heat styling as much as possible
Swap out all toxic hair products for clean products
Make sure none of your products contain the hair loss causing preservative DMDM Hydantoin