After meeting Inika Organics a few years ago, I'm excited to share my thoughts in this Inika makeup review. Inika is among the best natural makeup brands, and their standout products are the Inika BB cream, Inika foundation and Inika Long Lash Mascara. When it comes to certifications, ingredients and lifestyle friendliness, Australian brand Inika sets the bar so high, you wonder how they achieved it all.
100% of the ingredients used by Inika Organic are ethically sourced, natural and derived from botanicals or minerals. If that isn't impressive enough, Inika makeup is also certified organic and natural by multiple organizations, so you can be certain that 70%+ of the ingredients in each product is organic.
Inika Makeup has some of the highest standards when it comes to organic and vegan makeup. A true green beauty brand, Inika's pots and tubes are made of recycled materials and all packaging is recyclable. I have not tried the newly launched Inika skincare, but I'm very intrigued given the performance and formulation of their makeup. You can save 25% off Inika makeup at Skinstore with my affiliate discount code OBL!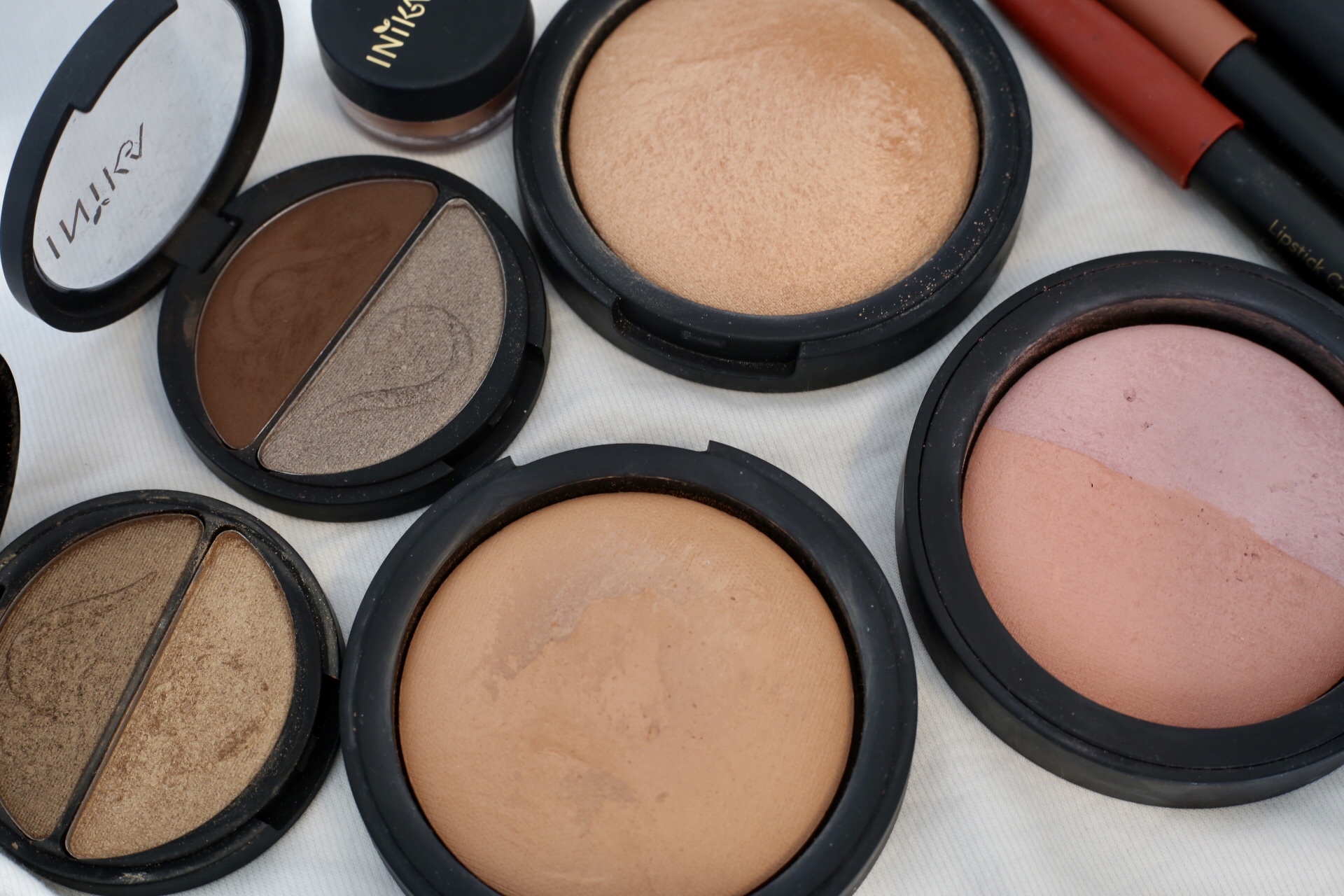 IINIKA Organic makeup caters to every lifestyle:
Certified Vegan
Certified Cruelty free
Certified Halal
70%+ Organic ingredients
100% Natural
I want to take this opportunity to point out that, today, the definition of clean makeup has become blurry. While consumers may think clean makeup means 100% pure and natural, companies oftentimes have a different take on what they think clean beauty is.
In reality, many popular clean makeup brands combine synthetic ingredients with natural ingredients. While this is ok for many of us, for some who are trying to completely avoid or are allergic to synthetic ingredients, this is misleading marketing. There are so many different standards of "clean beauty" that digging into the ingredients and philosophy of each brand is necessary to ensure it suits your needs.
Purists can breath easy, because INIKA Organic creates truly clean makeup that's pure, natural and ethical. Here is what they promise to never include in their products: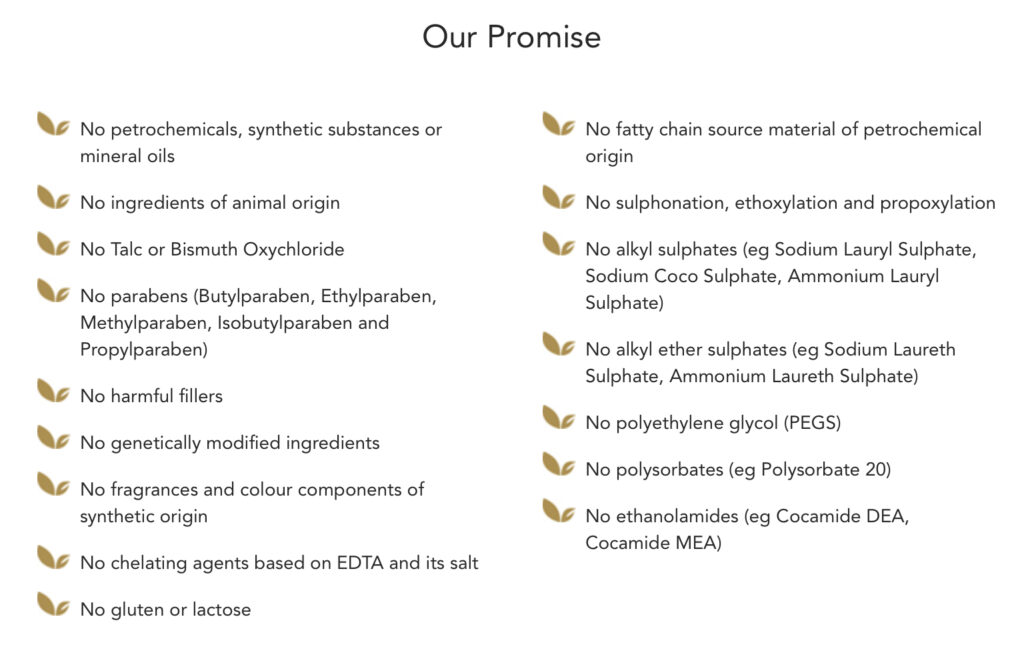 If you're seeking the highest standards when it comes to clean makeup and quality ingredients, Inika Organic is a brand you should try.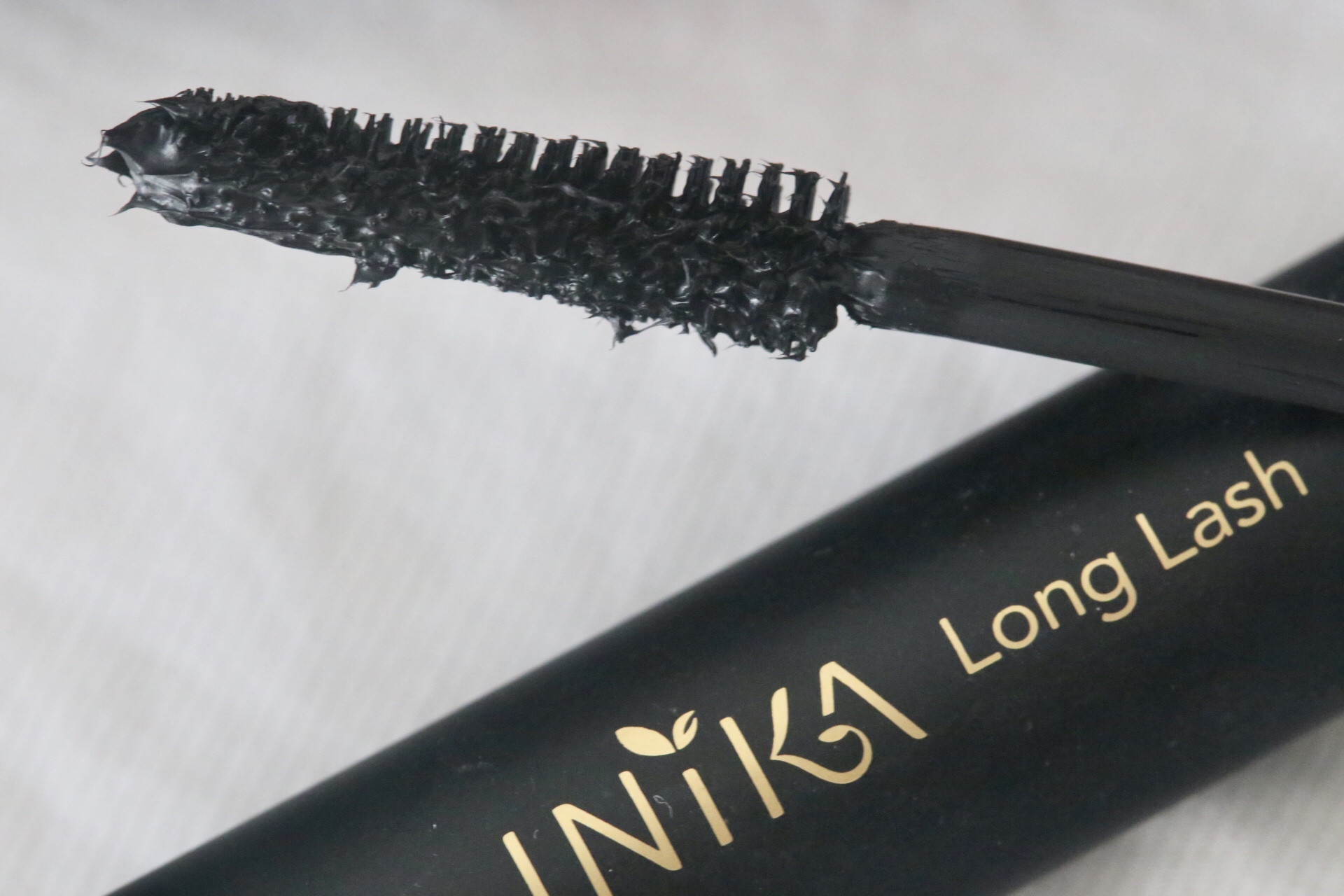 The INIKA Long Lash Vegan mascara is one of the best organic mascaras available in my opinion. With this magic wand, my thin barely there lashes transform into lush, bold lashes with just a few coats. If you have Asian lashes, you know how hard it is to find a mascara that actually works. The results aren't just noticeable with Inika's mascara, they're dramatic.
The formula is creamy and fast-drying, doesn't clump or turn flaky and involves zero to minimal smudging. The thick and tightly packed bristles do a great job at transferring product generously and evenly while keeping lashes separated. The creaminess of the formula is detectable in the photo above and has the perfect consistency, not too dry and not too wet.
I don't experience any runny, itchy or irritated eyes while wearing or removing this product. And I'm sure this is thanks to its organic and thus gentle formula of 100% plant-derived ingredients. The Carnauba Wax boosts volume and length; Magnolia Bark Extract is not only anti-inflammatory but also astringent and Vitamin E provides added nourishment.
Inika mascara is one of my top choices among organic mascaras (save 25% off with code OBL)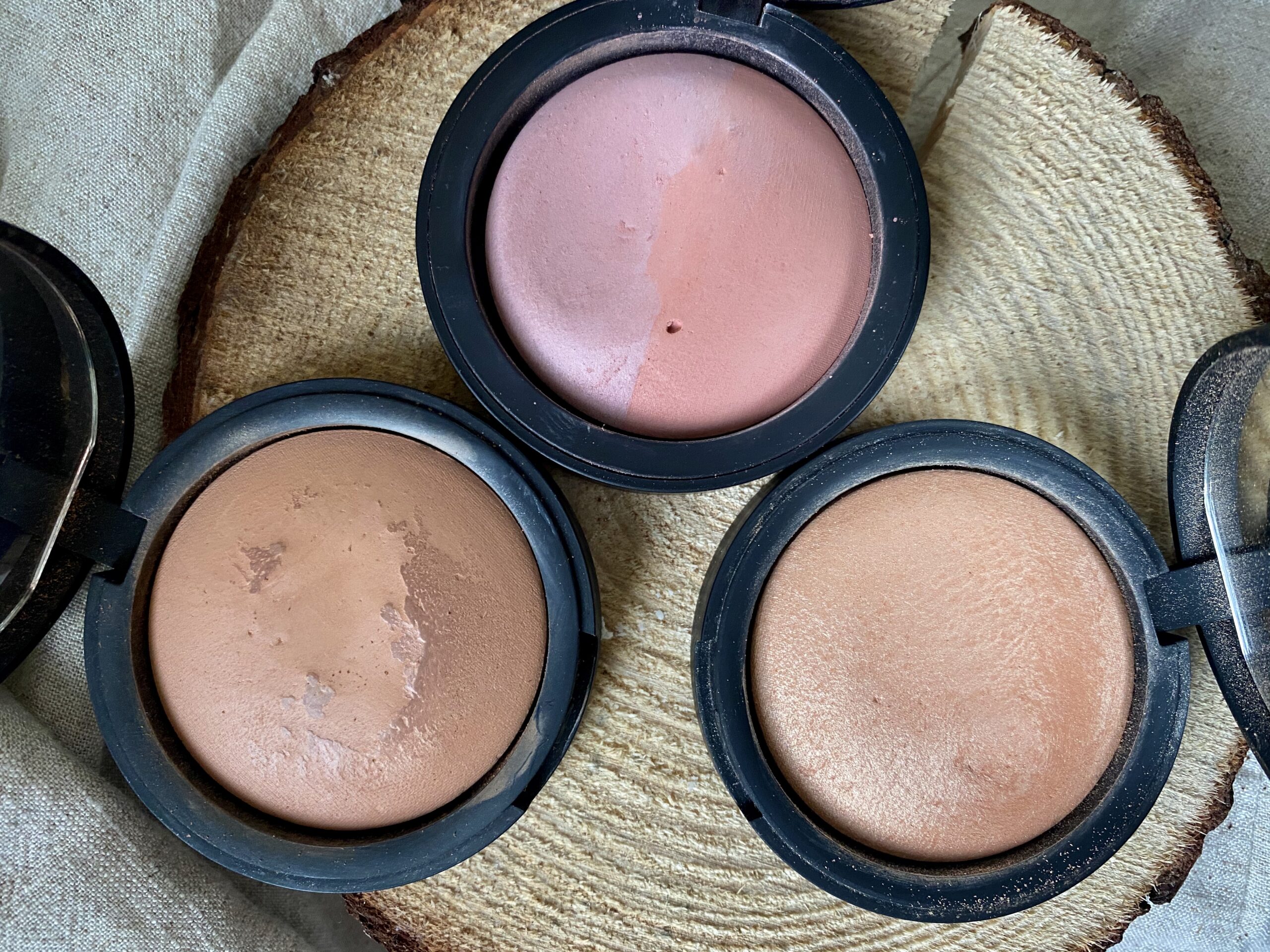 The trio above is the Inika Baked Bronzer in shade Sunkissed, Blush In shade Pink Tickle and Baked Mineral Illuminisor from left to right respectively.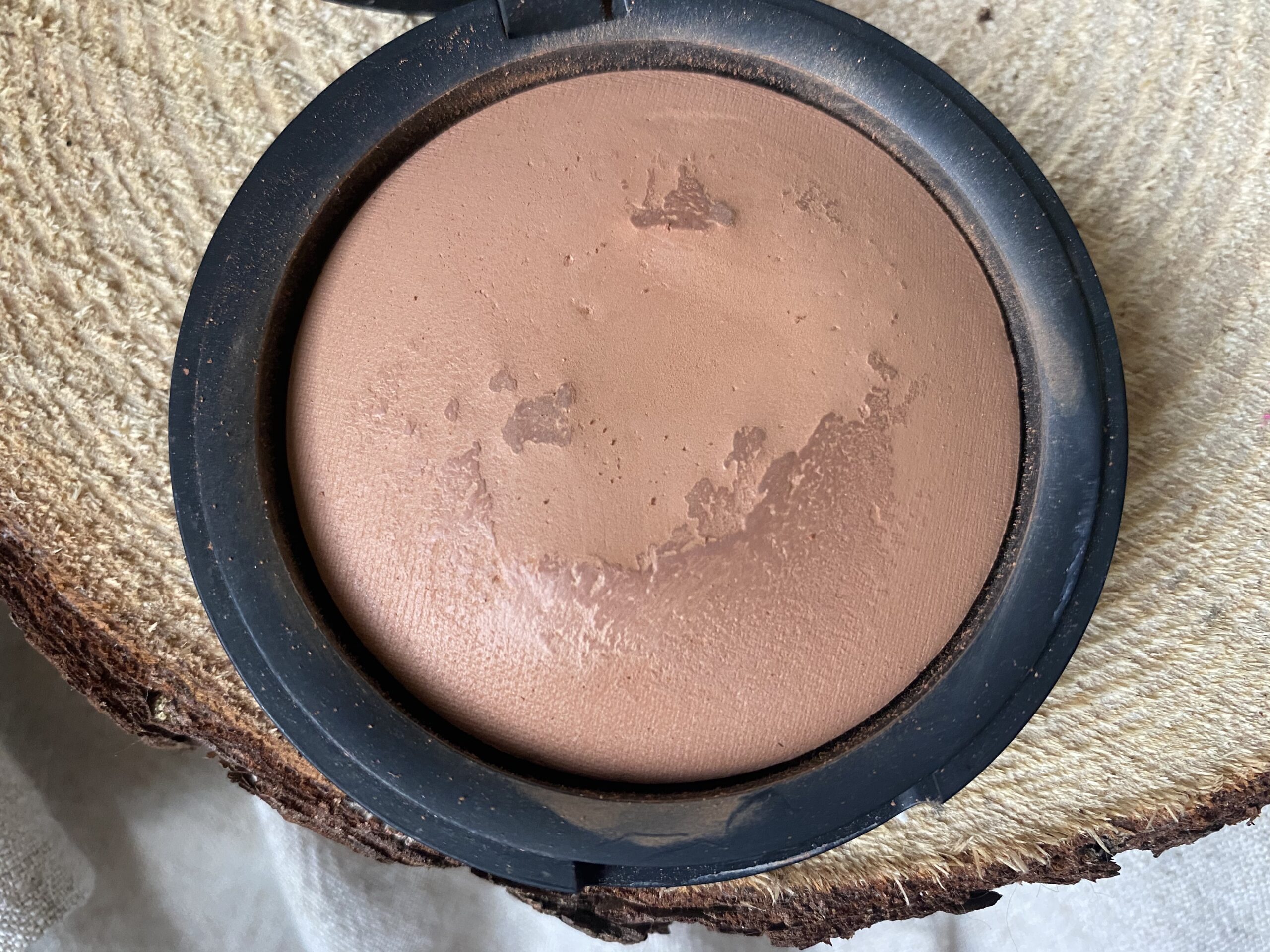 Inika Baked Bronzer in Sunkissed is a totally matte bronzer that's probably only a few shades darker than my actual skin tone (See swatches below). Like with all bronzers, it comes out lighter once applied, so I wouldn't expect any major contouring usage from this.
It adds some more color to my Olive skin, but I'm not able to use this to contour which is what I mainly use my bronzers for. The Inika bronzer in shade Sunkissed feels more like a deeper face powder rather than a true bronzer for my skin tone.
For very fair skin tones, Inika's Sunkissed would serve better as a traditional bronzer. For deeper skin tones, Inika has a darker bronzer called Sunbeam. Shop Inika bronzers here.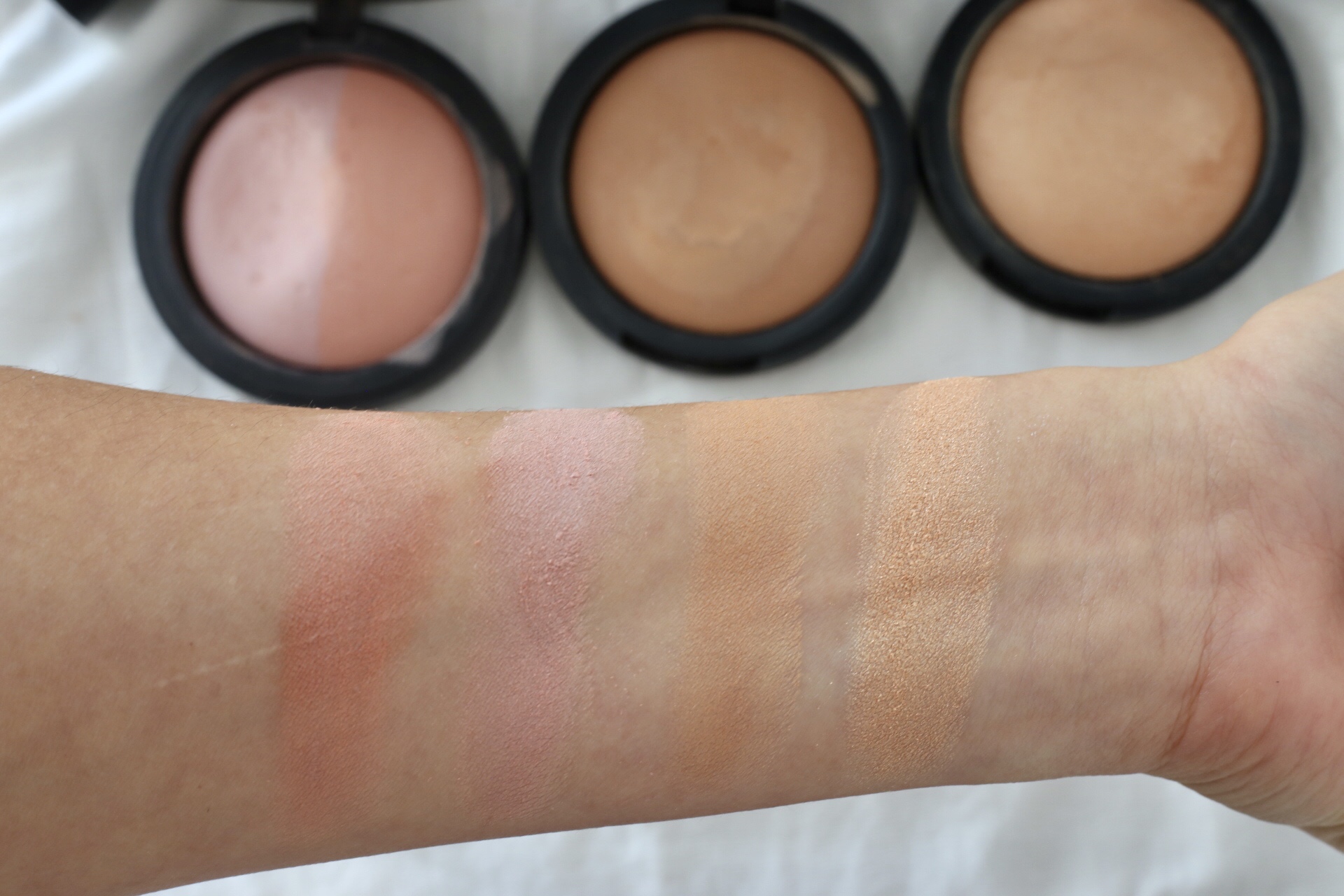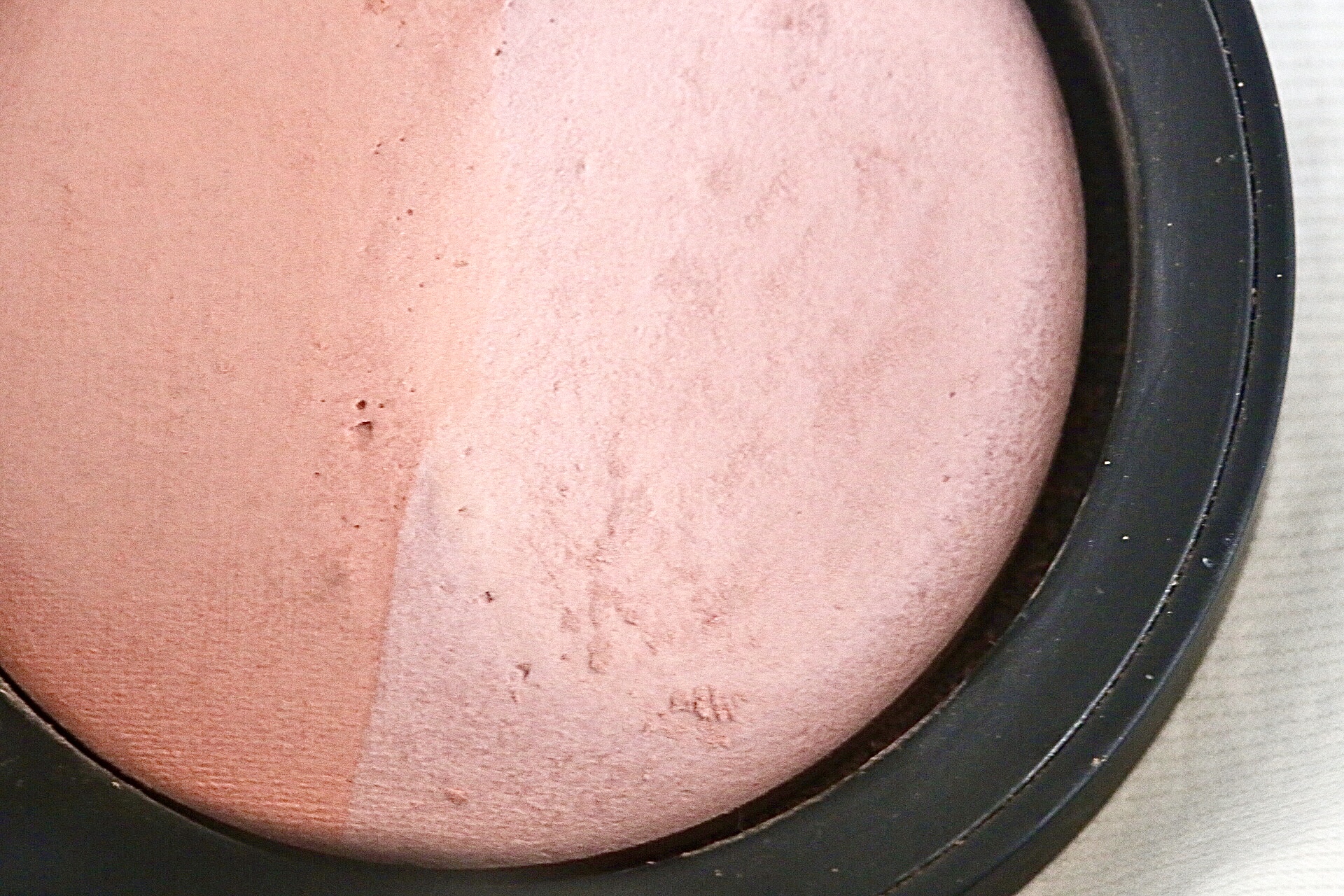 The Inika baked blush has been one of my go-to blushes this past year. While I enjoy cream blushes, I prefer powder blushes because the application is easier and I like a matte look. The Inika blush is a duo of two shades that add a subtle yet buildable rosiness to my cheeks. If I wear this in the morning, it does start to wear off by the late afternoon if I'm out and about.
This is also a totally matte blush with no visible shimmer to it. One shade is a true feminine pink while the other is a deeper watermelon hued pink. As you can tell from my photos, the blush isn't what I'd describe as bold or highly pigmented. Instead, the words simple, sophisticated and subtle come to mind.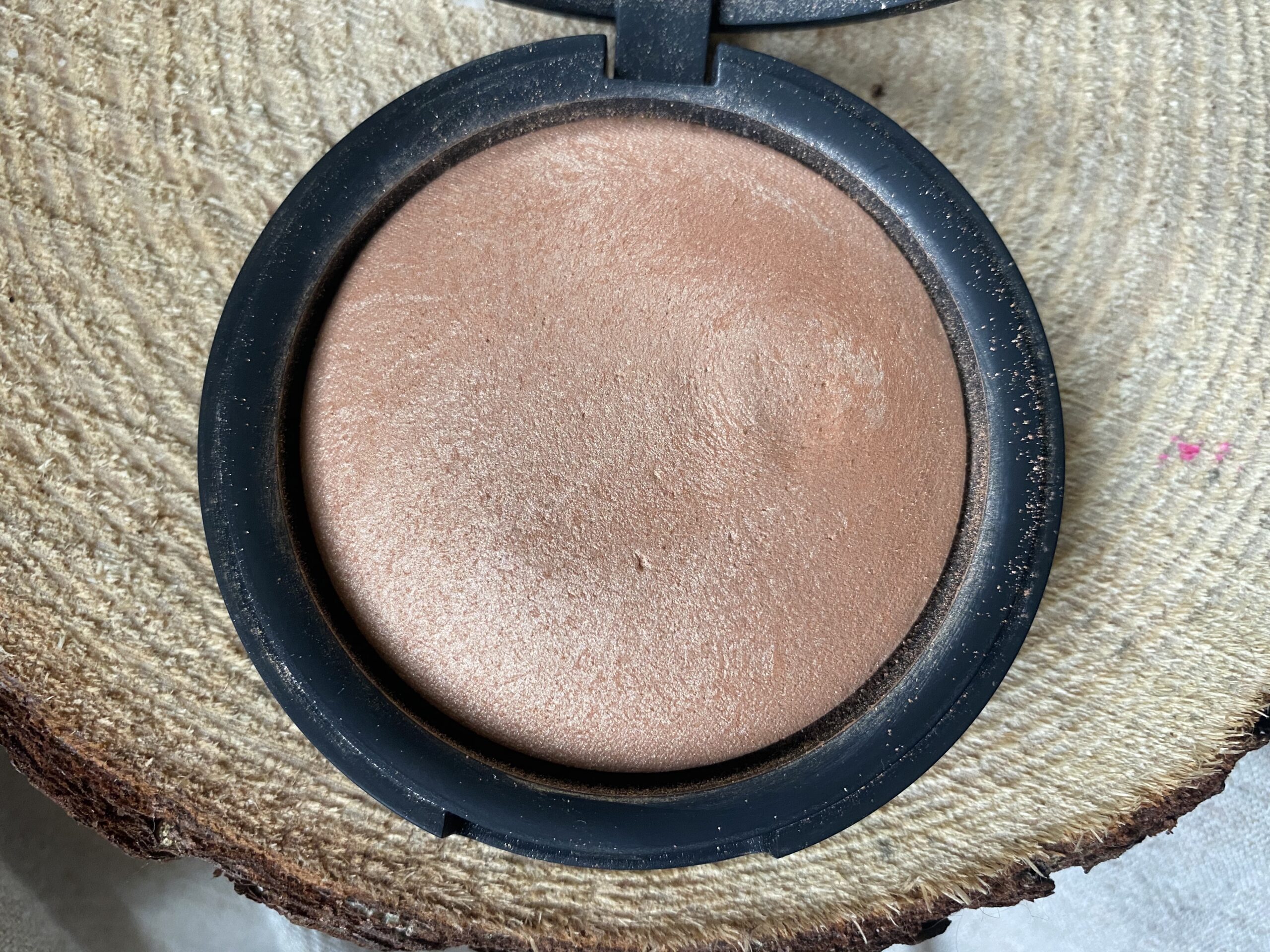 The Inika Baked Illuminisor is a beautiful warm golden shade with a significant amount of shimmer. This highlighter adds both warmth and iridescence wherever it's applied. Because it does have a high amount of shimmer, I need to be careful to not overapply.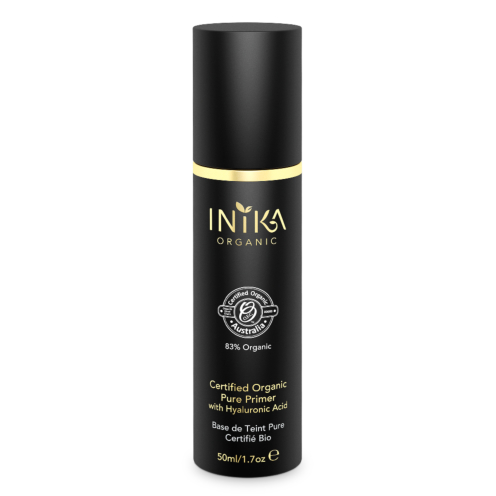 One of the cleanest primers available is the Inika Organic Pure Primer with an impressive formula of 81% organic ingredients. This is a lightweight primer with a lotion consistency that serves to increase the longevity of your makeup throughout the day. It helps your foundation adhere better and prevents it from wearing out.
Remember that for primers to work, proper exfoliation of the skin is necessary.
I use just 1 or 2 pumps to create a very thin base layer. If you apply a separate sunscreen product, it's recommended to apply this before you apply primer. On days I use primer and a foundation or BB cream, I prefer to mix in my Earthwise Beauty Farizad's Veil SPF powder so I'm not applying too many different face products.
The Inika primer creates a nice canvas for the rest of my makeup application, but I'm not sure how oily skin types would enjoy this product. This primer is focused on hydration and does not have a mattifying effect and is, in fact, formulated with a number of oils like Apricot Kernel Oil, Coconut Oil, Soybean Oil, Jojoba Oil and Lavender Oil.
For oily skin types I would suggest looking into Inika's Matte Primer instead.
Inika Pure Primer boasts:
81% Organic formula with Hyaluronic Acid and a blend of soothing and nourishing Certified Organic essential oils including Apricot, Coconut, Jojoba and Lavender Oils
Creates a silky-smooth, flawless base to ensure effortless makeup application
Lightweight lotion-like formula
Ingredients: Aloe Barbadensis Leaf (Aloe Vera) Juice*, Glycerin*, Cetearyl Alcohol, Cetearyl Olivate, Aqua, Prunus Armeniaca (Apricot) Kernel Oil*, Cocos Nucifera (Coconut) Oil*, Simmondsia Chinensis (Jojoba) Seed Oil*, Sorbitan Olivate, Sodium Levulinate, Glycerol Monocaprylate, Glycerin, Tocopherol (Natural Vitamin E), Cetearyl Glucoside, Hyaluronic Acid, Sodium Anisate, Lactic Acid, Glycine Soja (Soybean) Oil, Citrus Aurantium Bergamia (Bermagot) Fruit Oil, Backhousia Citriodora (Lemon Myrtle) Leaf Oil*, Lavandula Angustifolia (Lavender) Oil 
*Certified Organic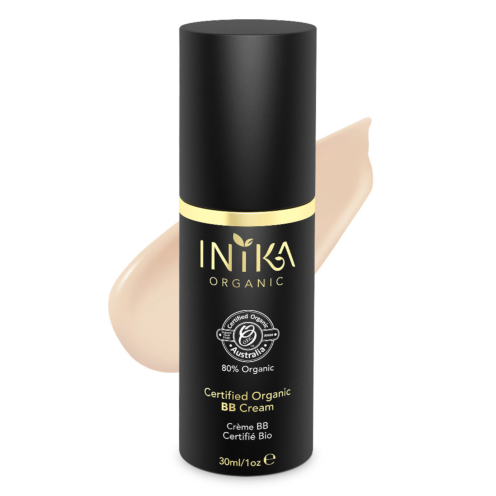 Surprisingly enough, for such a popular makeup category, there are hardly any good organic BB cream options available. There's only one other BB cream that I recommend, but it's a super thick formula so I know it isn't going to be everyone's cup of tea.
Thankfully, Inika Organic has an excellent BB cream that is suitable for most everyone with its silky lightweight formula and superb organic ingredients. This certified organic BB cream applies beautifully and evenly and provides light coverage that blurs imperfections. I feel like my skin can breathe through this formula and looks like its natural self but better.
Inika BB cream gives a subtle dewy finish and works in 3 ways: as a primer, moisturizer and foundation. If you don't like a dewy finish you can add foundation powder or setting powder on top. With this product I can minimize the amount of prepping in the morning and skip my moisturizer and primer, which is so convenient when I'm in a rush or feeling lazy. I wouldn't expect any major coverage from this product as it gives skin more of an airbrushed look.
Inika Certified Organic BB cream boasts:
One of my favorite skincare ingredients Prickly Pear Oil
Pomegranate seed oil reinvigorates your skin promoting a young looking appearance.
Silky-smooth consistency for easy application.
80% Organic ingredients
Ingredients: Aloe Barbadensis (Aloe Vera) Leaf Juice*, Citrus Aurantium Amara Flower Water*, Ricinus Communis (Castor) Seed Oil*, Vitis Vinifera (Grapeseed) Seed Oil*, Helianthus Annuus Seed (Sunflower) Oil*, Cetearyl Olivate, Sorbitan Olivate, Simmondsia Chinensis (Jojoba) Seed Oil*, Persea Gratissima (Avocado) Oil*, Punica Granatum (Pomegranate) Seed Oil*, Rosa Canina (Rosehip) Seed Oil*, Argania Spinosa Kernel (Argan) Oil*, Glycerin*, Opuntia Ficus Indica (Prickly Pear) Seed Oil*, Pelargonium Graveolens (Geranium) Flower Oil*, Lavandula Angustifolia (Lavender) Oil*, Citrus Limon (Lemon) Leaf Extract*, Citrus Aurantium Bergamia (Bergamot) Fruit Oil*, Lactobacillus Ferment, Cetyl Alcohol, May Contain (+/-) Titanium Dioxide (CI 77891), Iron Oxides (CI 77491, CI 77492, CI 77499), Ultramarines (CI 77007). *Certified Organic
I tried a sample tube of the Inika Foundation with Hyaluronic Acid and got several good uses out of it. The foundation seems to have more of a drier, thicker formula though it's obviously focused on hydrating with all natural and organic ingredients like Hyaluronic Acid, Aloe Vera Leaf Juice and a blend of oils.
Inika Liquid Foundation gives a little bit more coverage than their BB cream, but I would still consider the coverage to be light and maybe medium for some skin. The formula dries very quickly and leaves a matte finish.
If you're looking for a lightweight foundation that's 100% natural (73% organic), Inika's foundation is still a great option to try. If you're unsure and are looking to try a few of their foundations and primer, Inika offers foundation samples in the form of an introductory trial kit directly on their website. The Inika Foundation Trial Pack includes 2 Mineral Foundation Powder samples, 1 Certified Organic Liquid Foundation sample and 1 trial tube of Certified Organic Pure Primer for just $15.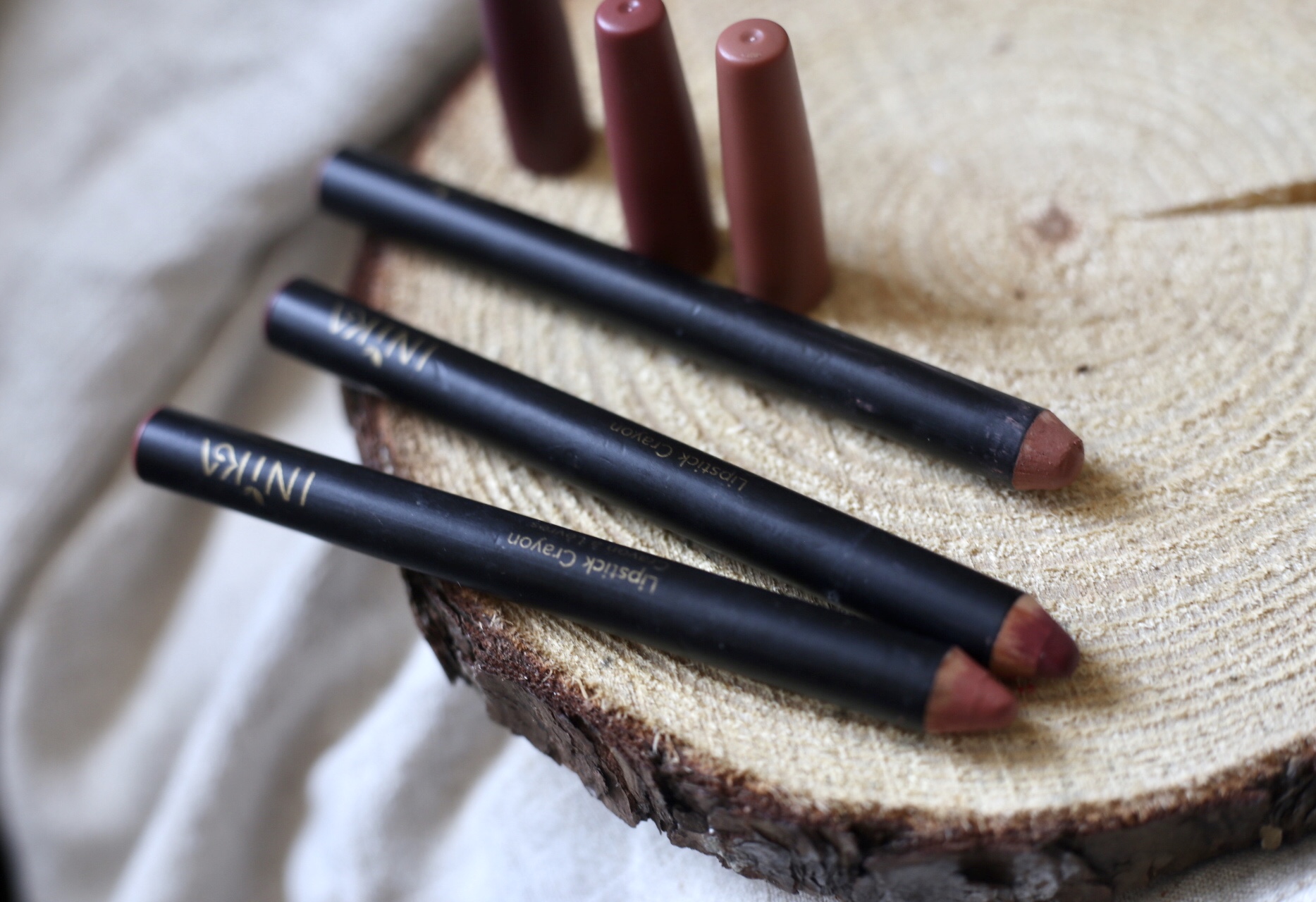 The new Inika Lipstick Crayons are creamy, super pigmented, and come in 6 different wearable shades. My favorites are the Tan Nude and Pink Nude shades for their wearability. Overall, the lipstick crayons are a whole lot deeper in shade than what I normally wear.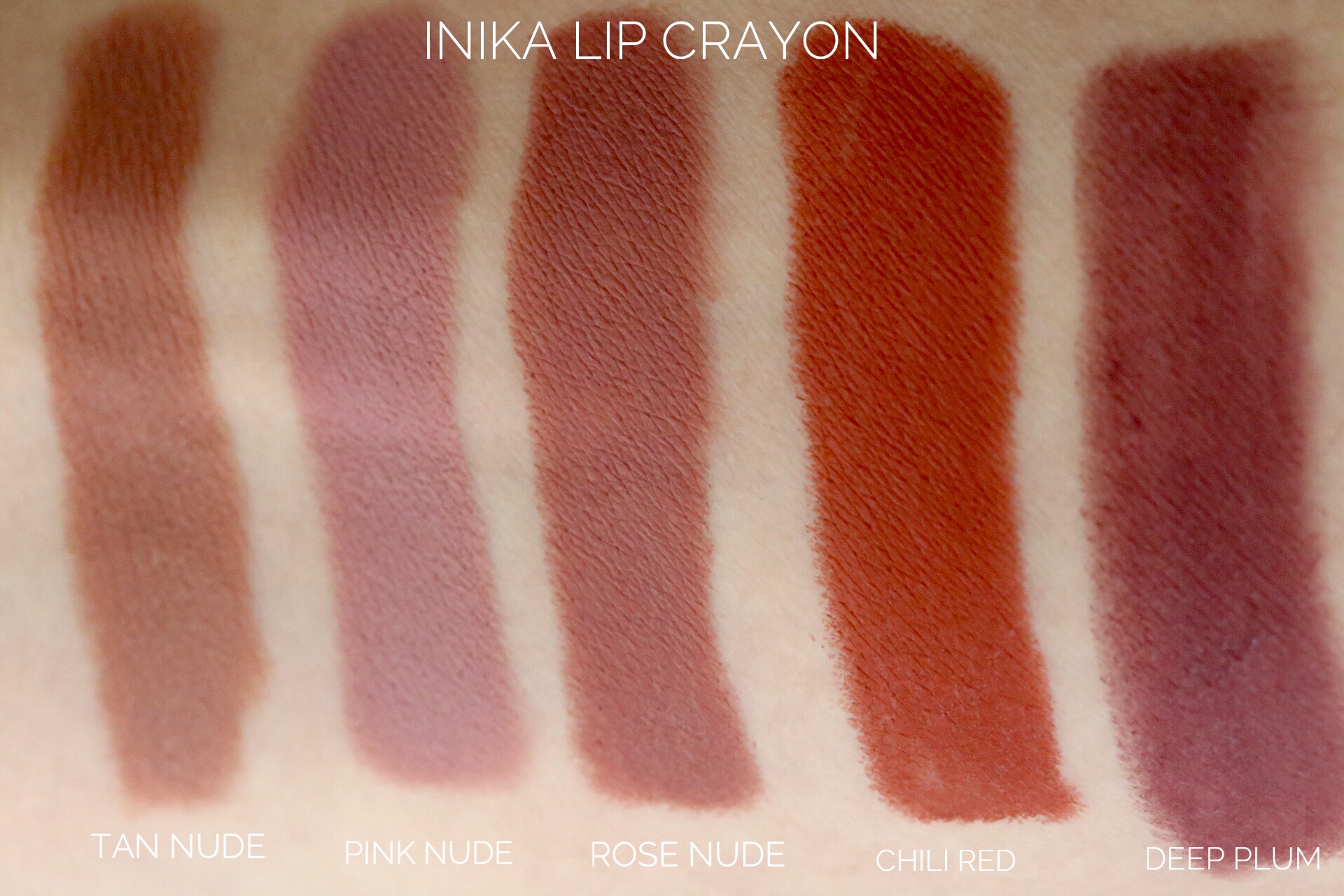 These lip crayons are also highly versatile and can be used as a lip tint, by adding just a small amount to the lips and blending out, on the cheeks as blush and even eyeshadow. I like using these as a lip liner to outline the edges of my lips to make them look just a little bit fuller. Applied all over my lips I get a very matte lip with my fine lines a little more noticeable.
As with all Inika products, these crayons are all natural and enriched with coconut oil, vitamin E and Carnauba Wax.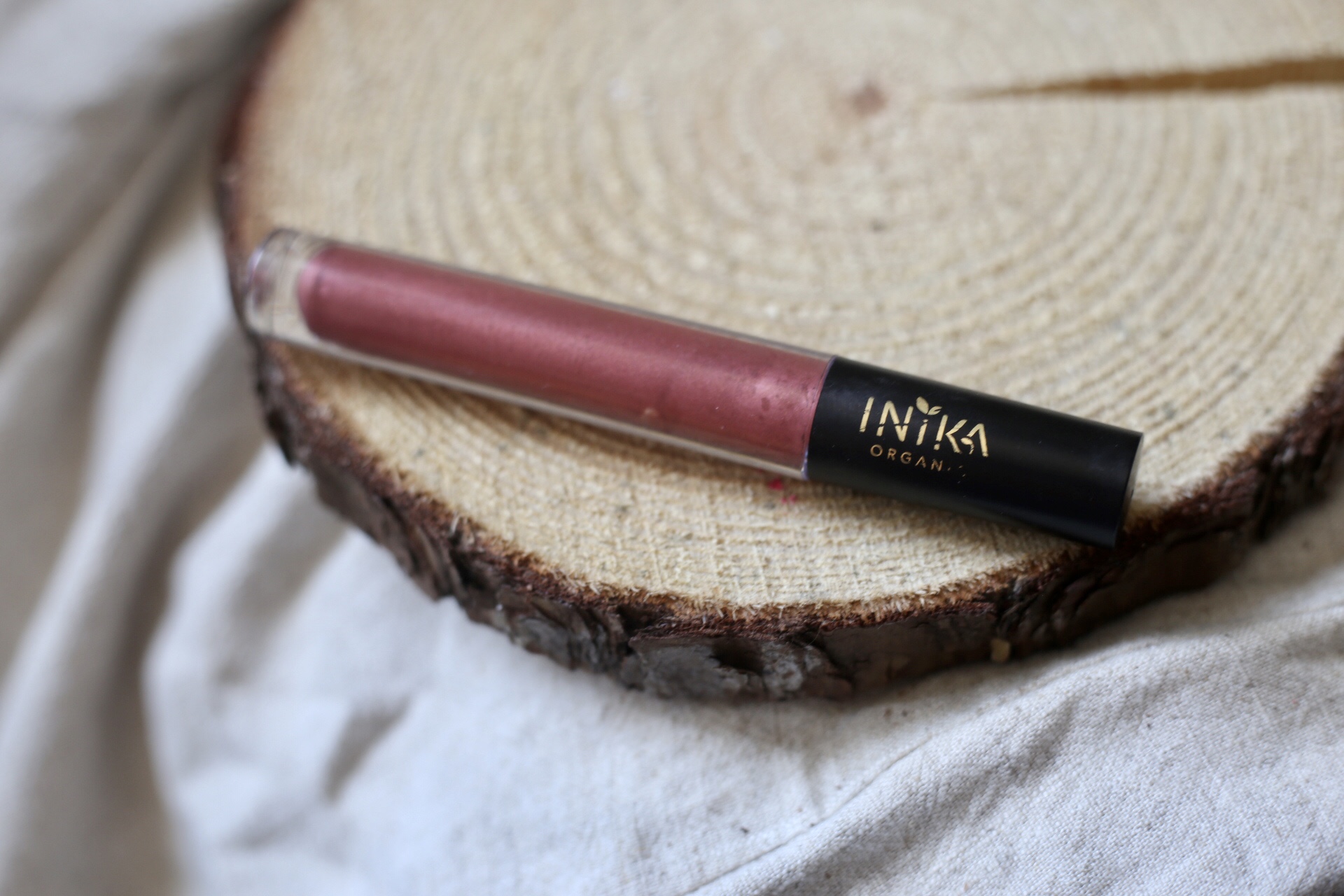 The Inika Lip Glaze is a high shine, high shimmer lip gloss with nearly 80% certified organic ingredients. I love a lip gloss with a good does of shimmer as opposed to matte because it makes my lips pop and look fuller, and the Inika lip gloss has a beautiful metallic finish. They come in 7 shades.
The Inika lip glosses wear like a lip oil instead of a creamy lip gloss and are boldly pigmented. It almost feels like I'm applying a thin liquid lipstick. Because the formula is so thin Inika lip glosses feels weightless on lips. I tried Rosewood which is a deep rose shade that looks metallic. I'm not sure if the metallic aspect applies to all the other shades or if it's just Rosewood.
Inika's Lip Glazes boast:
Certified Organic Shea Butter, Rosehip and Jojoba Oils, and Candelilla Wax help to provide a more nutrient-rich gloss
Silky thin formula that feels like a lip oil
Certified Organic Orange Essential Oil for a subtle citrus scent
Nourishing plant and mineral-based ingredients moisturize lips
77% Organic ingredients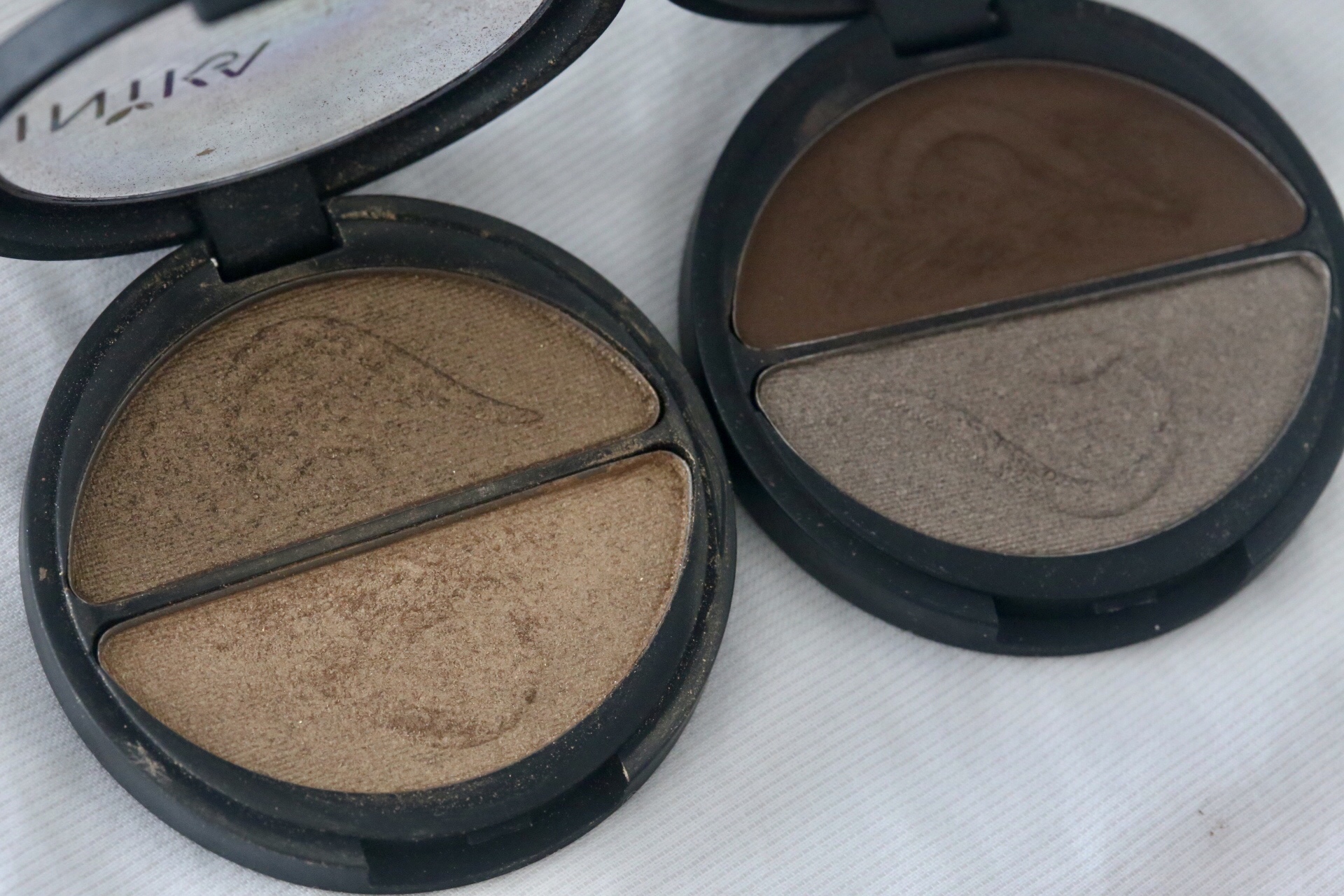 I tried the Inika Eyeshadow in Gold Oyster (left) and Choc Coffee (right) and found them to be great at brightening the lid and adding subtle color. I wouldn't consider these to be highly pigmented. They contain a good amount of shimmer, but I find myself needing to build up multiple layers if I want to achieve a "look."
The pots are larger than average eyeshadow pots and since they come with 2 colors, you're actually getting 2 eyeshadows in 1 product. If you're looking for a shimmery eyeshadow that enhances eyes and are avoiding shadows that deposit too much color, the Inika Eyeshadow Duo is a good option to look into.
Inika Eyeshadow Duos come in 7 different combinations.
INIKA MAKEUP DISCOUNT CODE (25% OFF)
Skinstore carries the INIKA makeup line and you can save 25% off all products with affiliate code OBL!