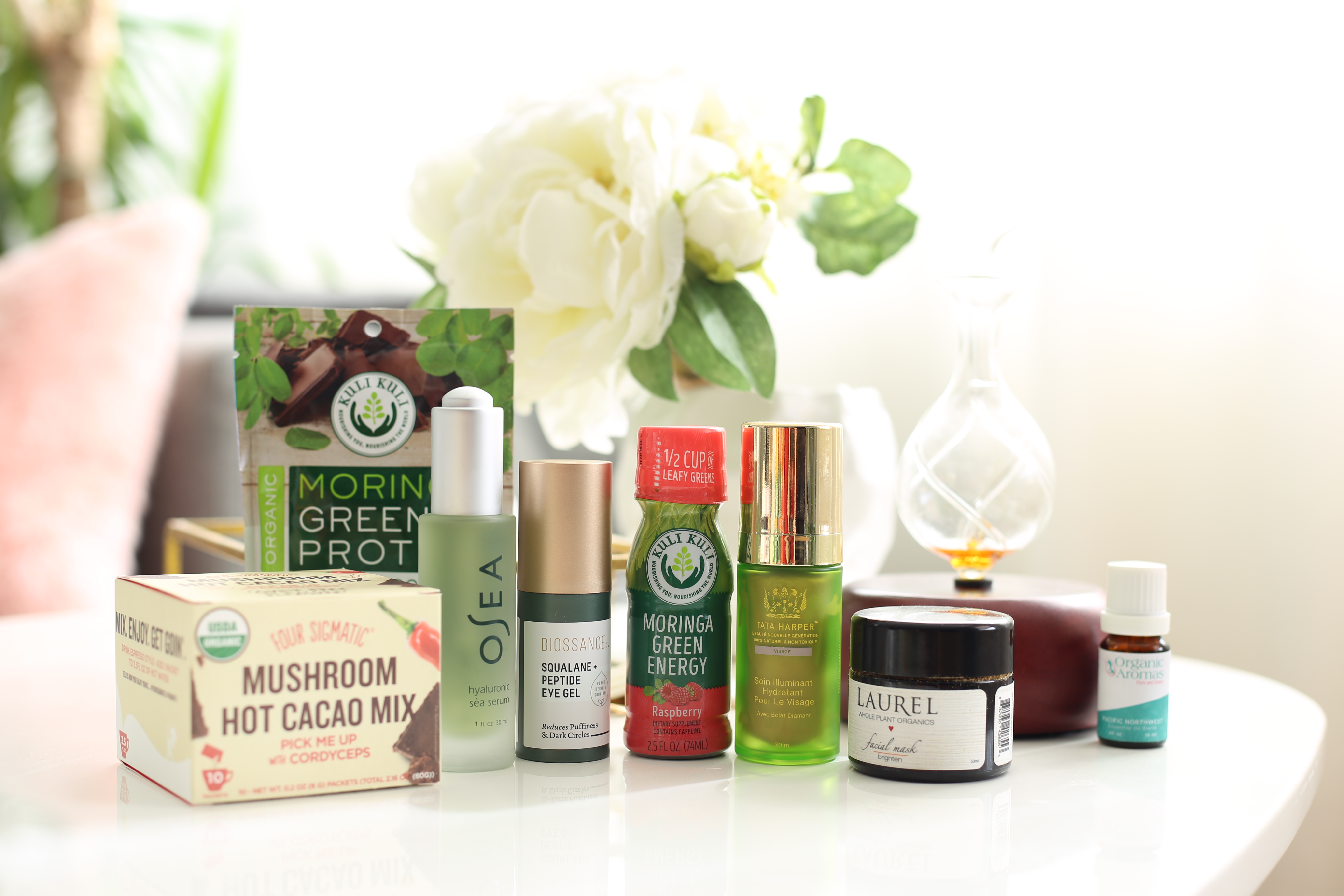 Welcome to my Fall Favorites post and if you've been following me in my IG stories you'll have seen me trying out a plethora of new-to-me products and launches. As always I try to cut out all the fluff and marketing language and get straight to my actual thoughts though I do try to provide a certain amount of info about the product. If you have any specific questions please feel free to ask me on my Instagram (@organicbeautylover) as I didn't want to make this post overy lengthy.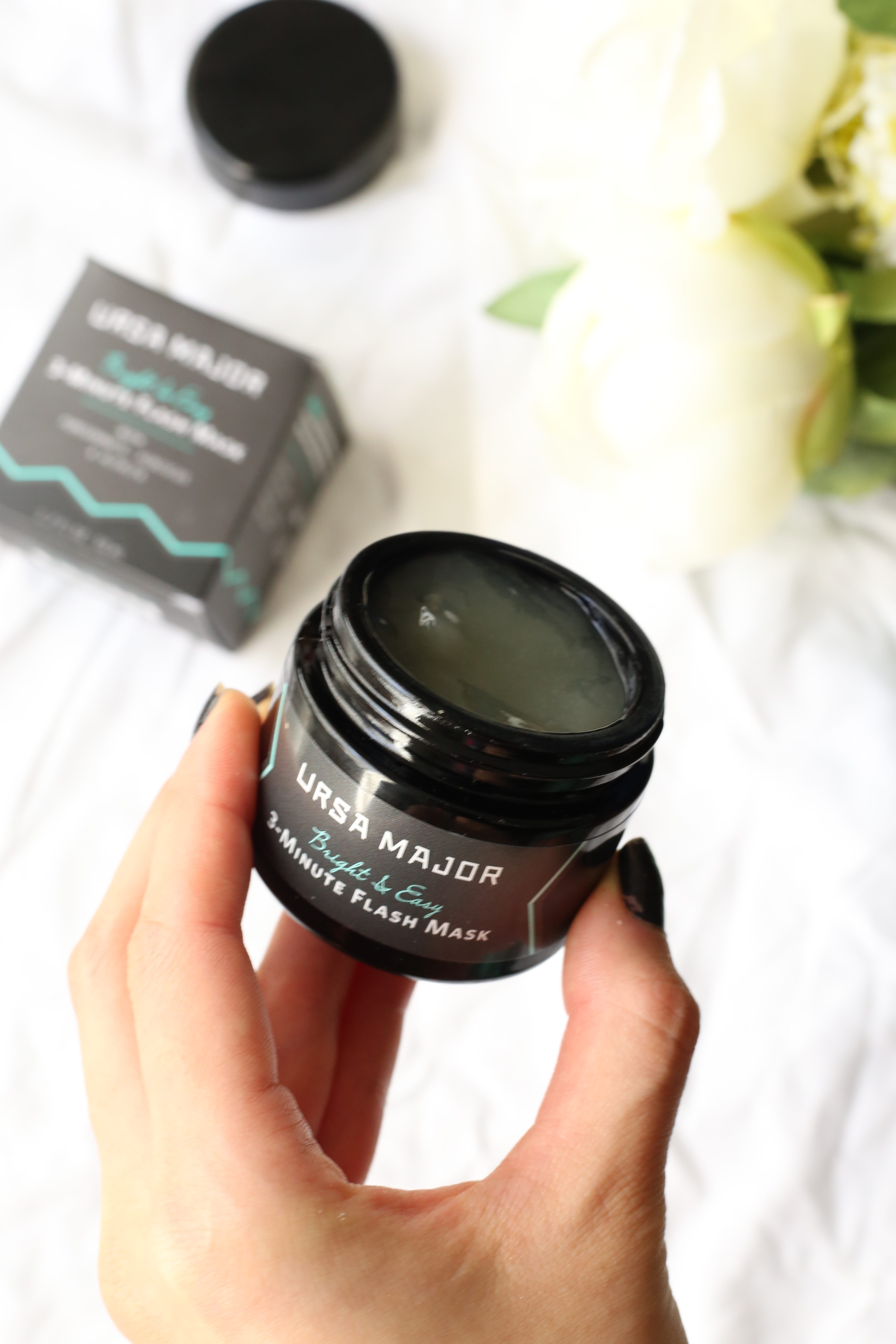 82% organic, this NEW probiotic-infused Bright & Easy Flash Mask by Ursa Major ($44) provides my skin with a boost of hydration more than anything and with a subtle glow. It has a delicate cucumber scent and very lightweight bouncy gel-like texture. I use a quarter size amount and spread it over dry skin either during or right after a shower and wash it off after a few minutes. The mask is characterized as a "flash" enzyme face treatment that exfoliates dead surface skin while accelerating turnover to enhance the appearance of skin's tone, elasticity, luminosity and firmness.
Ingredients
Aloe barbadensis (aloe vera) leaf juice*, hamamelis virginiana (witch hazel) leaf juice*, alcohol*, glycerin, sodium levulinate, sodium anisate, lactobacillus/punica granatum ferment extract, populus tremuloides (aspen) bark extract, sclerotium gum, pectin, water/aqua/eau, sodium hyaluronate, medicago sativa (alfalfa) extract*, hibiscus sabdariffa flower extract*, salix alba (willow) bark extract, copper PCA, caprylic/capric triglyceride, rose extract, vanilla planifolia fruit extract, cucumis sativus (cucumber) fruit extract, santalum album (sandalwood) wood extract, passiflora incarnata fruit extract, prunus armeniaca (apricot) fruit extract, rubus idaeus (raspberry) fruit extract, cananga odorata flower extract, cucumis melo cantalupensis fruit extract, coffea arabica (coffee) seed extract, cocos nucifera (coconut) fruit extract, citrus aurantium dulcis (orange) peel extract, prunus amygdalus (sweet almond) fruit extract, citrus limon (lemon) peel extract, ananas sativus (pineapple) fruit extract, citrus grandis (grapefruit) peel extract, aniba rosaeodora (rosewood) wood extract, lavandula angustifolia (lavender) extract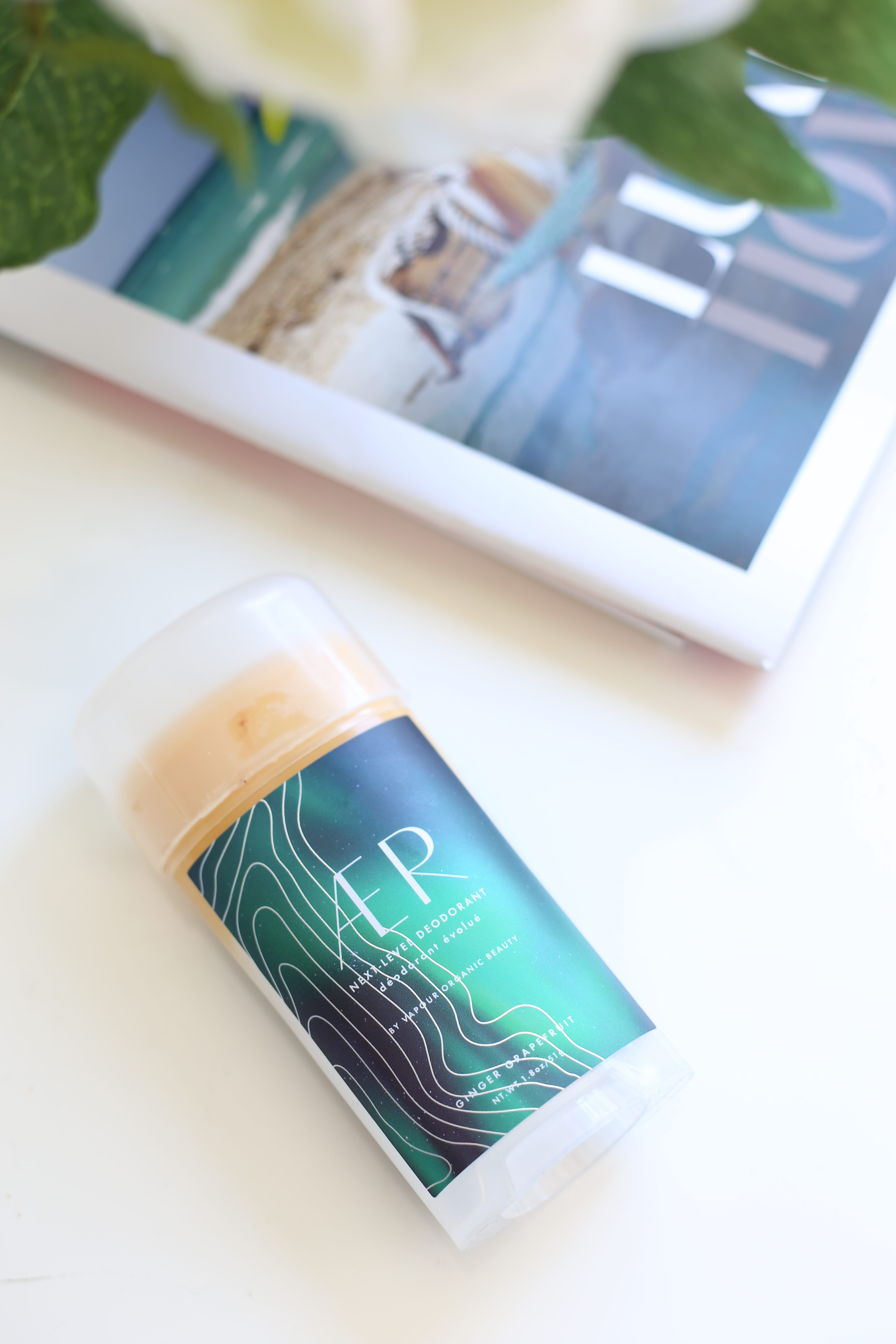 Many of you have asked me for my thoughts on Vapour Beauty's newest product launch the AER Next Level Deodorant. This product took them over a year to formulate and I have to admit that I'm impressed because it mimics a traditional deodoant in almost every aspect except of course there's no dangerous ingredients. This deodorant has an intense natural fragrance that I enjoy and the shape of the container fits perfectly to the shape of your armpit. I only tried the Ginger Grapefruit which smells amazing but I'm sure the other 2 scents are also fantastic. It's also a twist up container much like the deodorants I used to use where the product came out in small holes. The innovative gel-to-powder formula means it comes out as a gel and dries to a powder. It's at a high price point but if you're looking for a heavy-duty deodorant this may be a great contender.
Ingredients
Organic Maranta Arundinacea (Arrowroot) Root, Organic Helianthus Annuus (Sunflower) Oil, Sodium Bicarbonate (Baking Soda), OrganicVirgin Cocos Nucifera (Coconut) Oil, Silica, Glyceryl Undecylenate (Castor and Canola Oils)*, Organic Cera Alba (Beeswax), Vapour's Proprietary Blend of Essential Oils, Tocopherol (Non GMO Vitamin E – Soy), Organic Ocimum Sanctum (Tulsi) Leaf Extract, Wildcrafted Commiphora Myrrha (Myrrh) Gum Extract, Organic Oreganum Vulgare (Oregano) Leaf Extract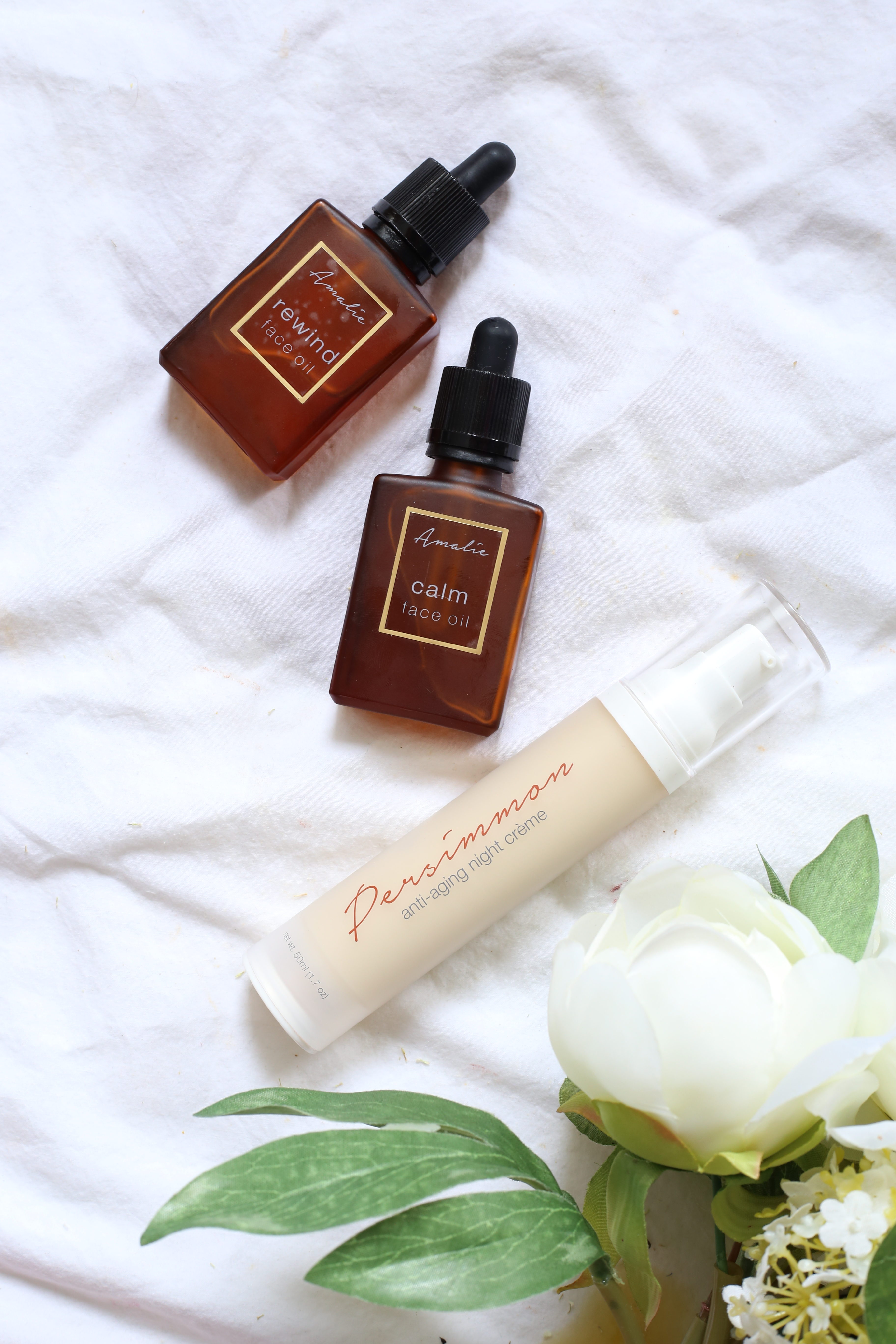 Amalie Beauty's new Farm to Face collection features the Persimmon Anti-Aging Night Cream, rewind face oil & calm face oil, all highlighting homegrown organic ingredients. The night cream is very lightweight yet hydrating and has a unique subtle persimmon scent as the first ingredients are persimmon leaf water and persimmon leaf extract. I like that the ingredients list is simple and does not include water. It's also a perfect morning moisturizer because I can layer skincare and makeup without weighing my skin down. The Calm oil is designed to reduce redness and irritation with Yarrow oil and the Rewind oils works to reduce the appearance of fine lines and aging and help skin maintain elasticity and moisture. Both have beautiful scents and boast the farm to face approach wherein the brand oversees every aspect of production from seed to final formulation.
Ingredients
Night cream: Diospyros virginiana (Persimmon) leaf water**,  Organic Diospyros virginiana (Persimmon) leaf extract**, Organic Cucurbita Pepo (Pumpkin) Seed Oil, Ceterayl Olivate (and) Sorbitan Olivate, Juglans nigra (black walnut) oil, Organic Squalane (from organic olives), Hydrogenated castor oil, Hyaluronic acid, Persimmon fragrance, Phenoxyethanol.
Rewind:  Organic Jojoba (Simmondsia Chinensis) Oil, Organic Squalane (from organic olives), Organic Pomegranate (Punica Granatum) Oil, Organic Honeysuckle (Lonicera Japonica) Flower Extract**, Organic Lavender (Lavandula Angustifolia) Flower Extract**, Organic Sage (Salvia Sclarea) Leaf Extract**, Organic Spearmint Extract**, Organic Rose (Rosa Damascena) Extract**.
Calm: Organic Jojoba (Simmondsia Chinensis) Oil, Organic Squalane (from organic olives), Organic Yarrow (Achillea Millefolium) flower Extract**, Organic Lavender (Lavandula Angustifolia) Extract**, Organic Sage (Salvia Sclarea) Leaf Extract**, Organic Spearmint (Mentha Spicata) Leaf Extract**, Organic Honeysuckle (Lonicera Japonica) Extract**. 
**Denotes an ingredient grown on our Indiana farm.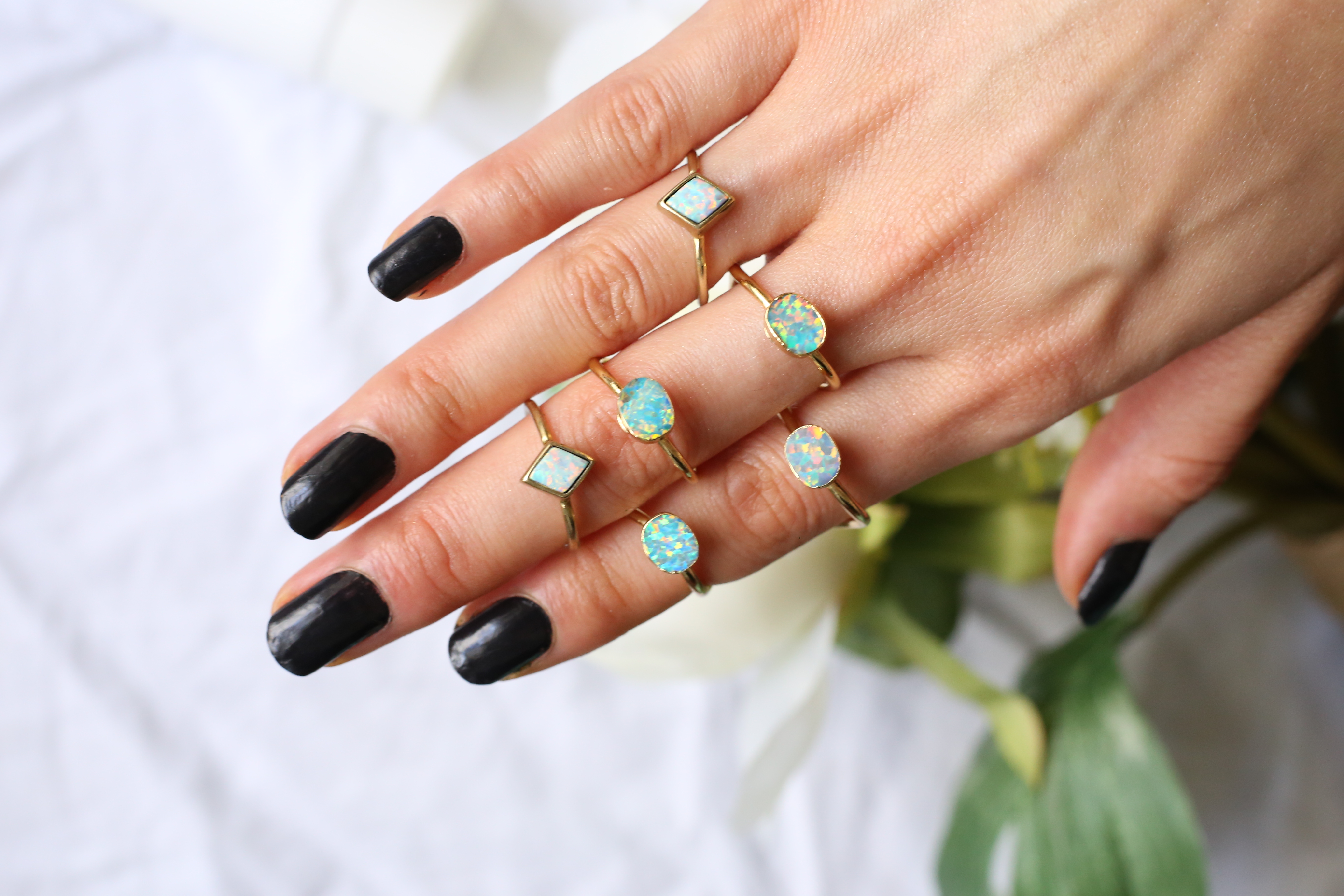 I recently had a giveaway for these stunning opal rings by Leslie Francesca and had to include them here. This is a recycled brass and synthetic opal ring that comes in a variety of shapes.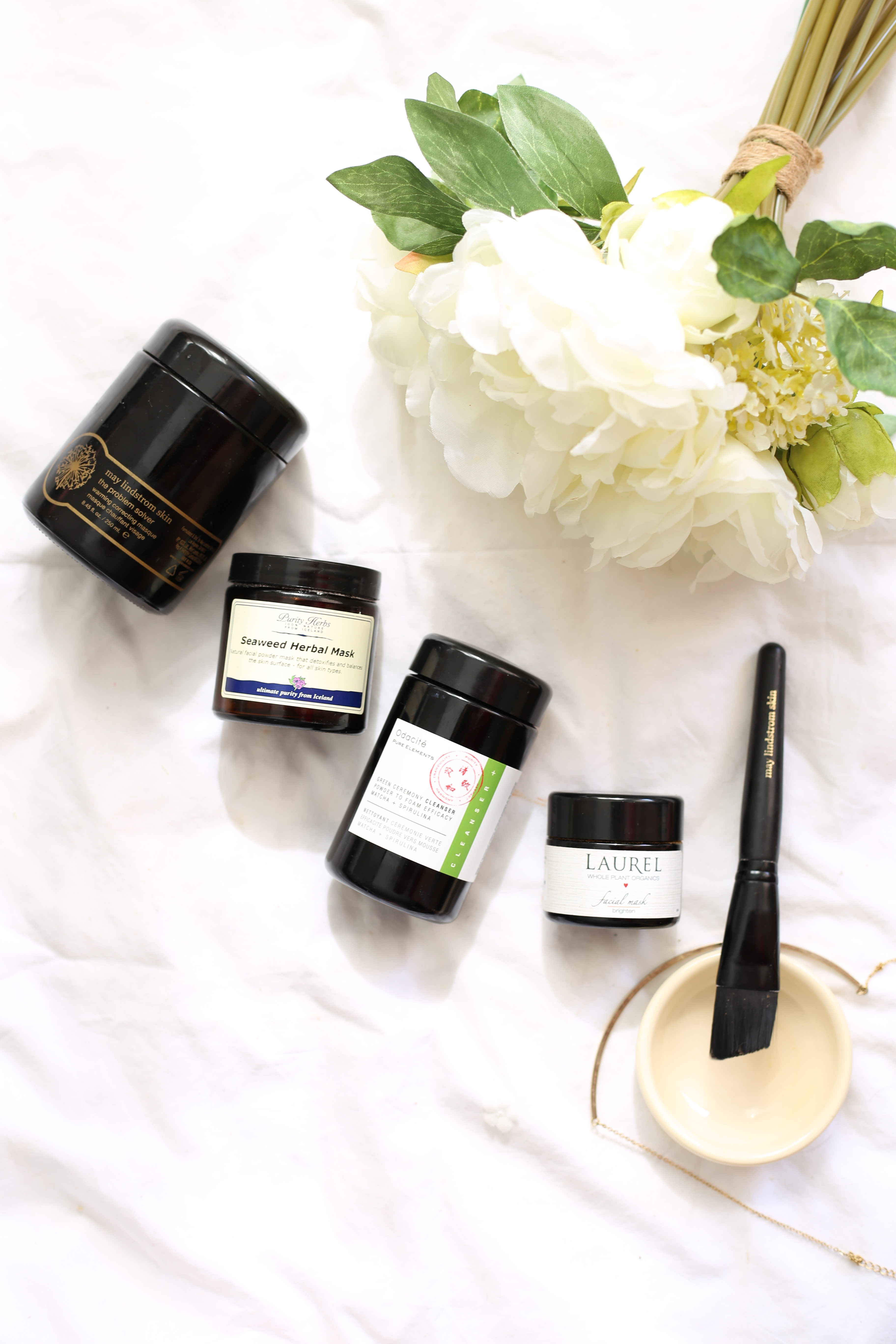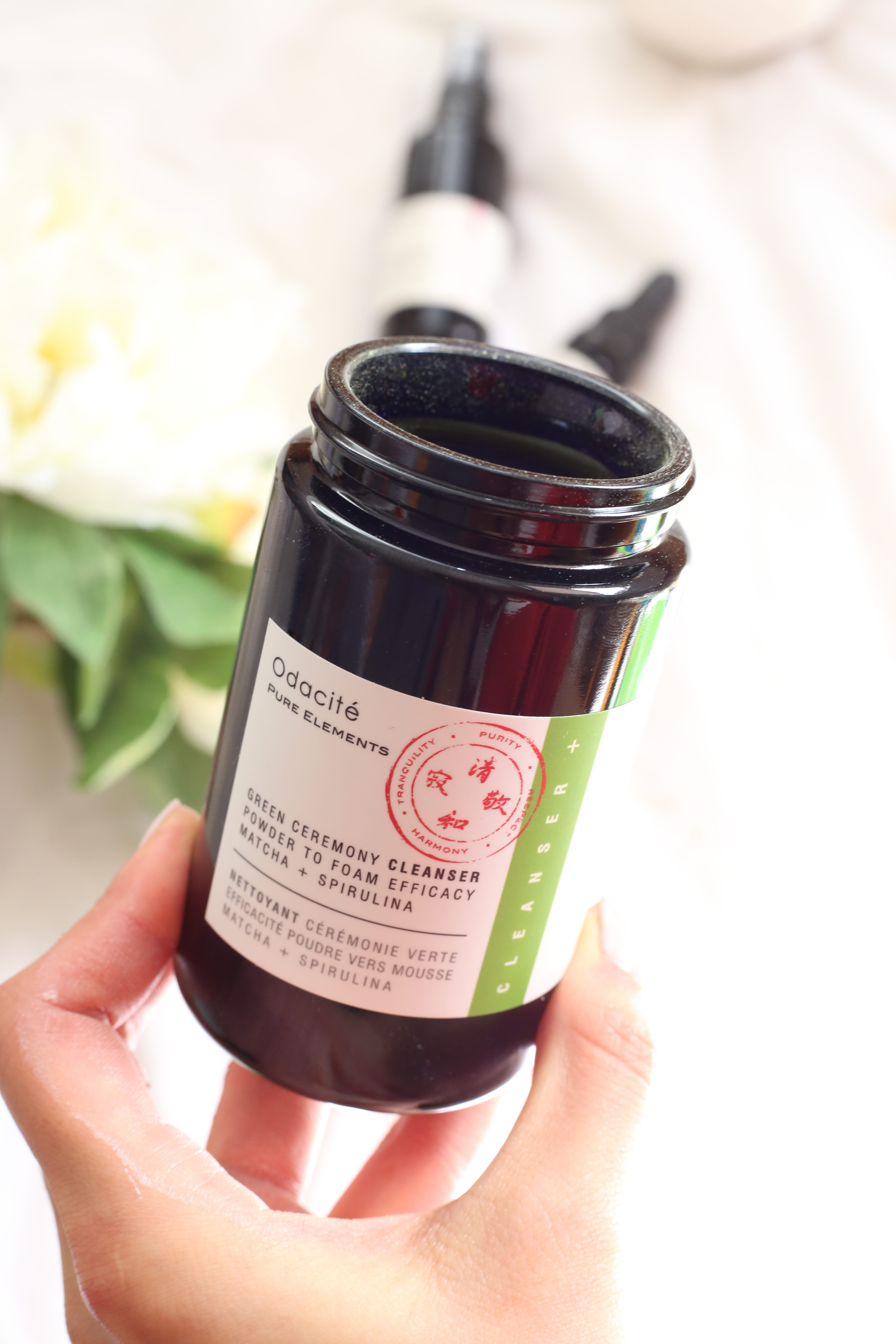 I'm using Odacité's newest product the Green Ceremony Cleanser as a 2nd cleansing step just a few times a week as I have dry skin. Featuring matcha and spirulina, this product is a powder to foam formula that transforms into a wet foam once you had a few drops of water. It isn't ideal for sensitive skin types because it contains citric acid and baking soda. It seems like too much of a waste to rinse all these nutrient-rich ingredients off right away so I try to turn it into a mini mask session by making sure all traces of makeup and dirt are removed first and leaving on the Ceremony Cleanser for at least a few minutes depending on how much free time I have. My skin feels smooth and clean after but not stripped and I love being able to incorporate superfoods like matcha and spirulina into my skincare routine.
Ingredients
Cocoyl Isethionate [Baby Foam], Sodium Bicarbonate [Food Grade Baking Soda], Honey, Fructose & Maltodextrin [Honey] powder, Citric Acid, Camellia Sinensis [Premium Grade Matcha] leaf powder, Spirulina Platensis [Spirulina*] powder, Aloe Barbadensis [Aloe Vera*] powder *organic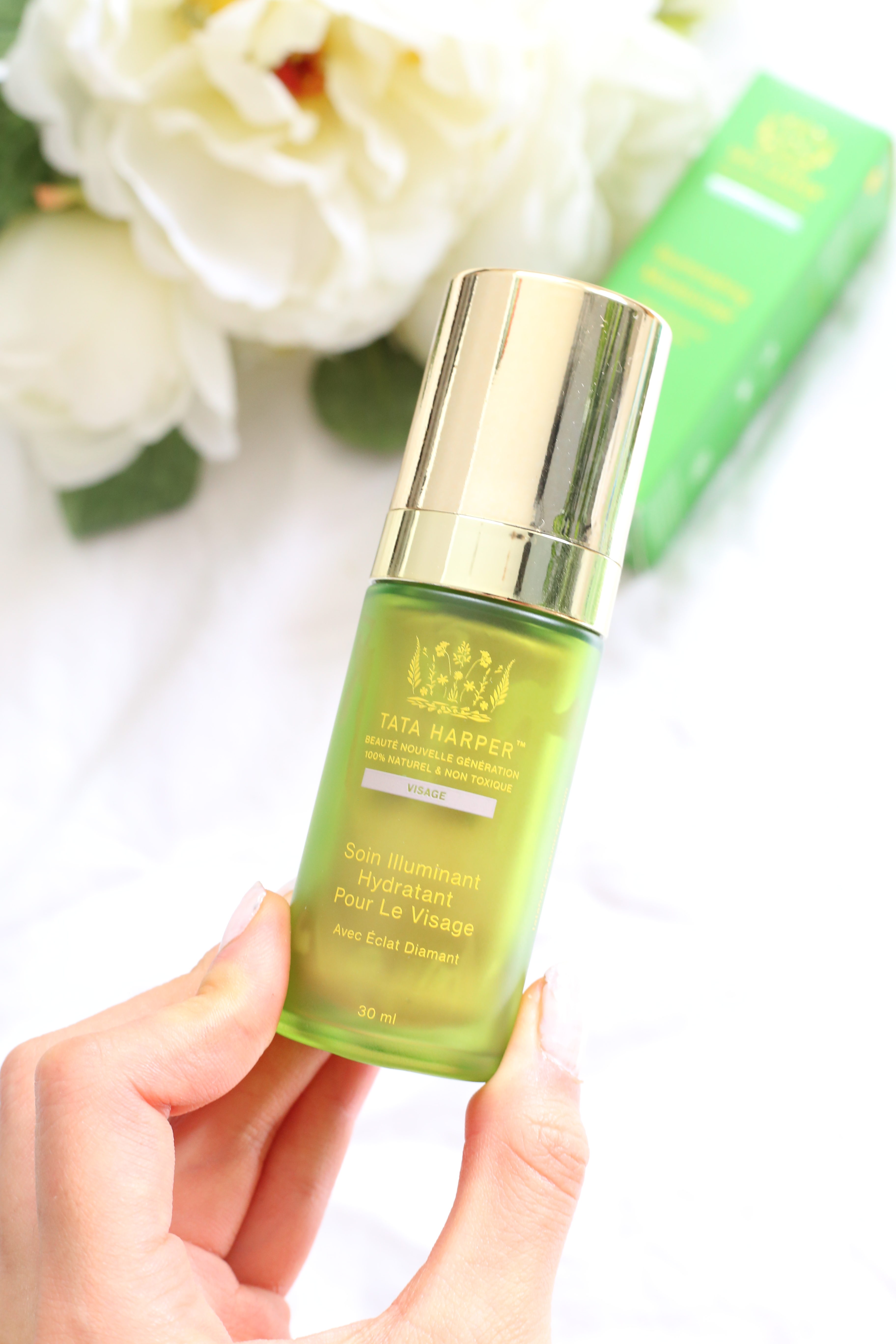 The Tata Harper Illuminating Moisturizer is a lightweight daytime moisturizer that's tinted with light-reflective pigments from diamond dust that give your skin a subtle glow. It's a bit of a confusing product because it's not quite moisturizing enough to be called a moisturizer yet because of its tint I feel like I'm applying a makeup product. The proper name for this product is more like "Liquid Illuminator." But if my skin is looking dull or I haven't had enough sleep I like to apply this but let's just say I'm not reaching for it everyday. As a huge admirer of Tata Harper I did have to include the product in this post though.
Ingredients
Aloe barbadensis Leaf Juice*, Aqua/Water, Shea Butter Ethyl Esters, Carthamus tinctorius (safflower) Oleosomes*, Caprylic/Capric/Triglyceride, Mangifera Indica (Mango) Seed Butter, Glycerin, Rosa damascena Flower Water*, Simmondsia Chinensis (Jojoba) Seed Oil*, Olea Europaea (Olive) Oil*, Cetearyl Olivate, Leuconostoc Ferment Filtrate, Oryza sativa (Rice) Extract*,  Mel/Honey, Lactobacillus/Arundinaria Gigantea Ferment Filtrate, Theobroma Cacao (Cocoa Seed) Butter, Hyaluronic Acid, Sodium Hyaluronate, Diamond Powder, Lavandula stoechas (Spanish Lavender) Extract, Salix alba (Willow) Bark Extract, Arnica montana (Arnica) Extract*, Borago officinalis (Borage) Leaf Extract*, Medicago sativa (Alfalfa) Extract*, Spiraea Ulmaria Flower Extract*, Calendula officinalis (Calendula) Flower Extract*, Sambucus Nigra Fruit Extract, Menyanthes trifoliata (Buckbean) Flower Extract, Leuconostoc/Radish Root Ferment Filtrate, Sorbitan Olivate, Sclerotium gum, Cetyl Palmitate, Sorbitan Palmitate, Propanediol, Sodium Phytate, Superoxide Dismutase, Soybean Peroxidase, Mica, Iron Oxide (C.I. 77891, C.I. 77491), Aroma**, Citral, Citronellol, Eugenol, Geraniol, Limonene, Linalool *Ingredients from Organic farming ** Clinical grade essential oils blend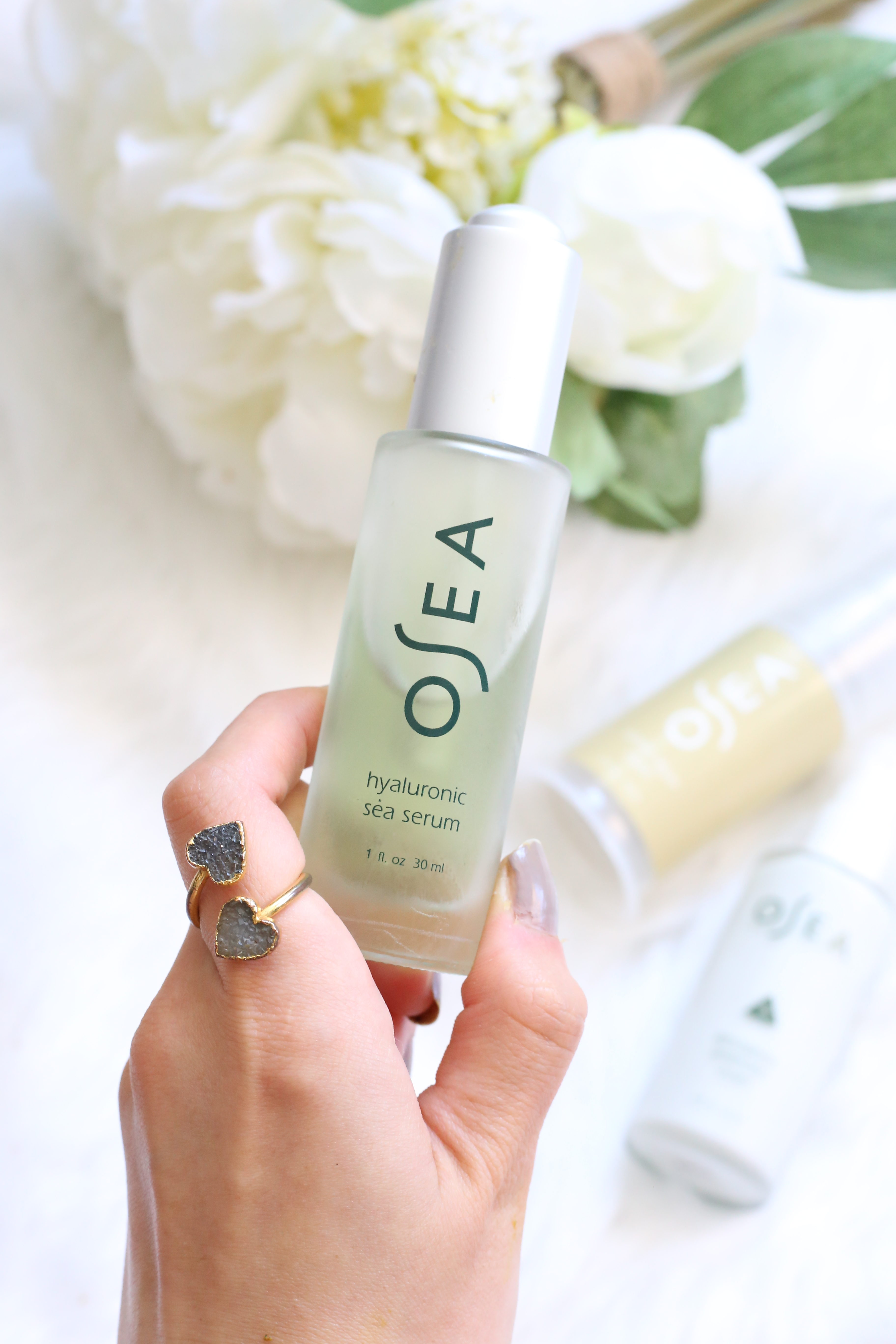 One of OSEA's newest products is their Hyaluronic Sea Serum and I'm totally in love with it. While there's always tons of hyped up ingredients and superfoods that we love applying to our skin, Vitamin C and Hyaluronic Acid are one of the main staples. Hyaluronic Acid attracts up to 1,000 X its weight in water, strengthening the skin's moisture barrier for visibly improved firmness & elasticity. This product is impressive in that it contains 3 molecuar weights of hyaluronic acid along with 3 types of Organic seaweeds:
Gigartina Skottsbergii Extract a red algae that deeply hydrates skin and promotes the appearance of youthful volume and firmness.
Undaria Pinnatifida Extract a brown marine algae rich in iodine, iron, potassium, calcium and vitamins B1, B2, B3, B6 and B12. Contains Fucoidan, a particularly hydrating compound that promotes a youthful, plump appearance.
Macrocystis Pyrifera Extract a brown algae abundant in vitamins, minerals, antioxidants and essential fatty acids. Helps minimize the appearance of surface impurities and irritation and visibly diminishes uneven skin texture.
I apply this serum AFTER my targeted serums because it helps deliver the nutrients deep into the layers of my skin. I highly recommend watching out for their live stories with the OSEA global educators as they have a wealth of knowledge and explain the products better than their website do.
Ingredients
Aqua, Gigartina Skottsbergii Extract*, Macrocystis Pyrifera Extract*, Undaria Pinnatifida Extract*, Sodium Hyaluronate, Hyaluronic Acid, Potassium Sorbate, Citric Acid, Lonicera Caprifolium Extract, Lonicera Japonica Extract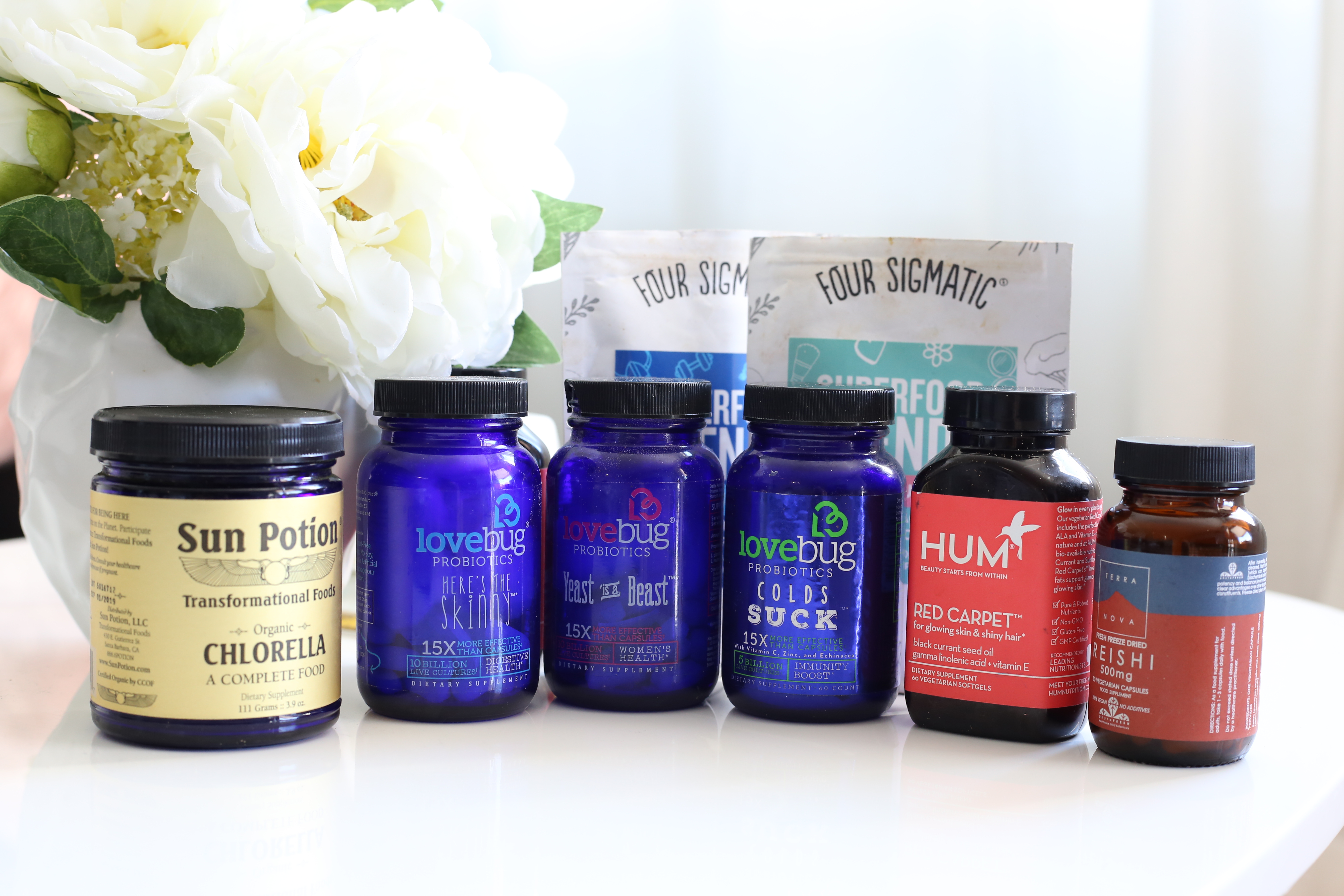 The spotlight has been on probiotics a lot lately as people are learning gut health has an enormous impact on your overall health. In fact, 70% of your immune system is your gut. Another interesting fact is up to 90% of serotonin is produced not in the head, but in the gut. I always thought it was the brain that produced it! Anyways I've been taking Lovebug Probiotics who differentiate themselves by their patented  BIO-tract®delivery technology that delivers 15x more live probiotic organisms past stimulated stomach acids compared to standard capsules. It's also designed to gradually over an 8–10 hour period and contains no gluten, soy, sugar, GMOs or other unnecessary, undesirable ingredients. The brand also works with leading scientists including Jonathan Weiss, a healthcare expert with degrees from Oxford University, Stanford University and the University of Chicago.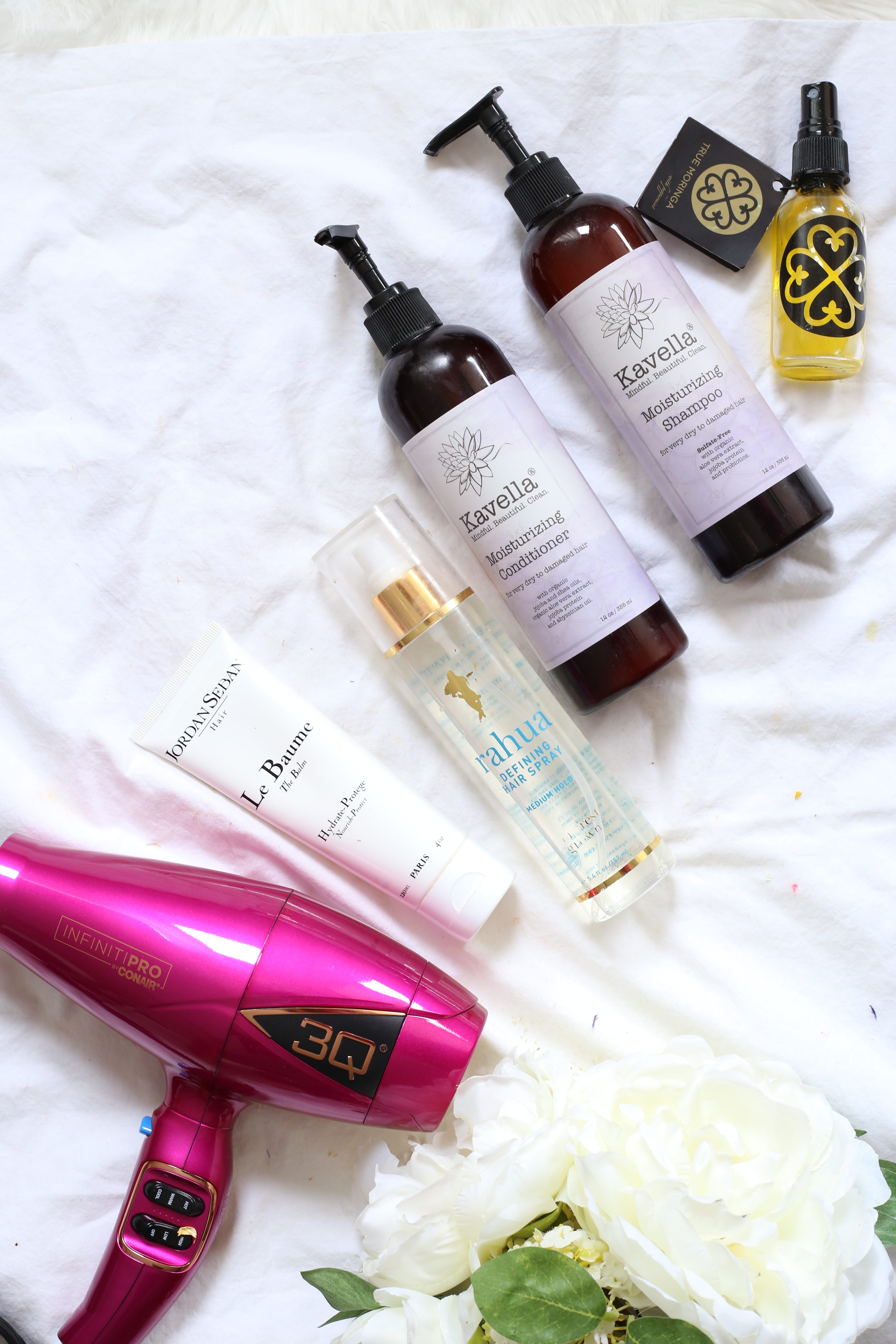 Kavella is a new nontoxic, vegan haircare line that avoids synthetic fragrances, gluten and other potential irritants. I tried the Moisturizing Shampoo, Conditioner & Recovery Mask and found that the products worked well for my dry hair. I'm not a huge fan of the scent but the shampoo lathers and cleans well, the conditioner is buttery and nourishing and the Recovery Mask has a more intense moisturizing effect than the conditioner. The key ingredients are Organic Aloe Vera Extract, Organic Vegetable Glycerin, Coconut Fruit Extract, Hydrolyzed Jojoba Protein, Cationic Guar Gum, Lactobacillus Probiotic, Abyssinian Oil. The Recovery Mask contains Organic Aloe Vera Extract, Organic Vegetable Glycerin, Organic Grape Seed Oil, Hydrolyzed Baobab Seed Protein, Organic Sunflower Seed Oil, Organic Safflower Seed Oil, Panthenol (provitamin b5), Olive Wax and it's extremely affordable at $22.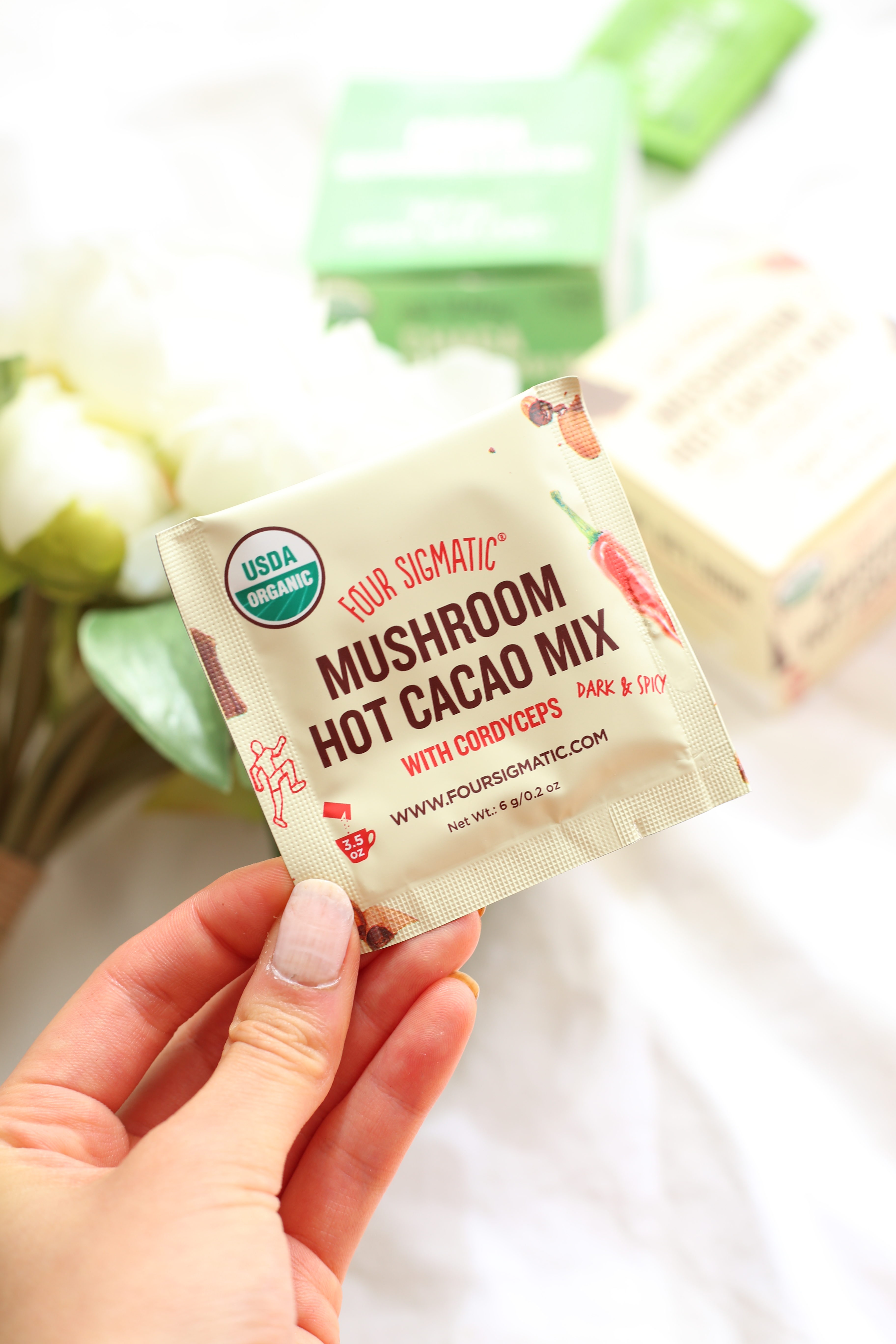 Four Sigmatic is a superfood company that harnesses the amazing health benefits of the mushroom kingdom through functional mushrooms like Reishi, Chaga, Cordyceps, and Lion's Mane, as well as superfoods and adaptogens like rhodiola, eleuthero, and schisandra. They offer a variety of Mushroom Coffees, Mushroom Superfood Blends, and Mushroom Elixirs and my favorite is the Mushroom Hot Cacao Mix. It tastes delicious with nut milk and has a spicy kick from the chili.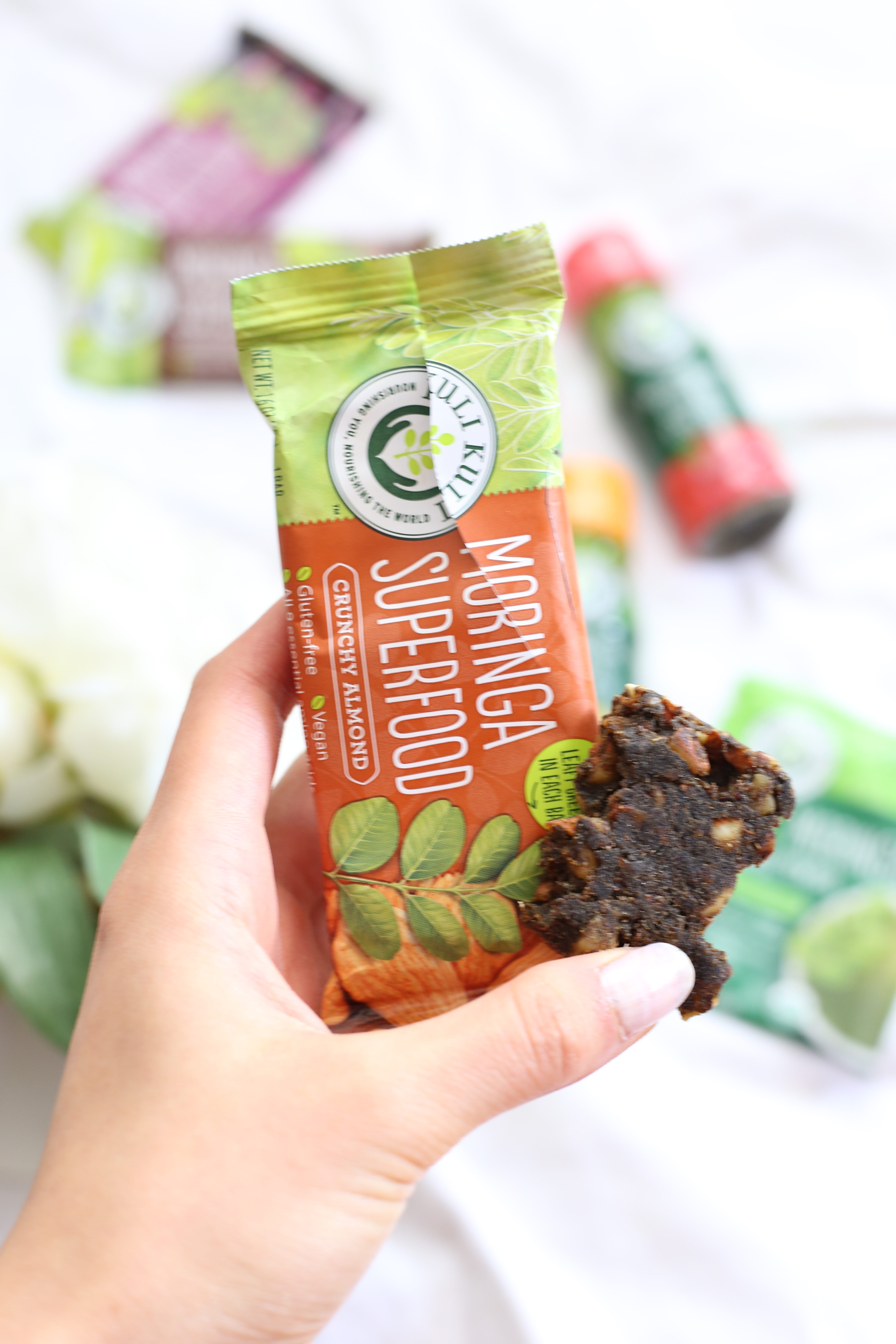 Lately I've been obsessed with moringa which is one of the most nutritious plants on earth and is rich in iron, calcium, vitamins, and antioxidants. Kuli Kuli is a brand that hand-harvests only fresh, young leaves and offers a range of Moringa Superfood Bars, Pure Moringa Powder, Energizing Moringa Herbal Tea, and Moringa Green Energy shots. Most of us don't consume nearly as much greens as we should so it's necessary to supplement our diet with these kinds of products.