Glow Beauty Fuel Bars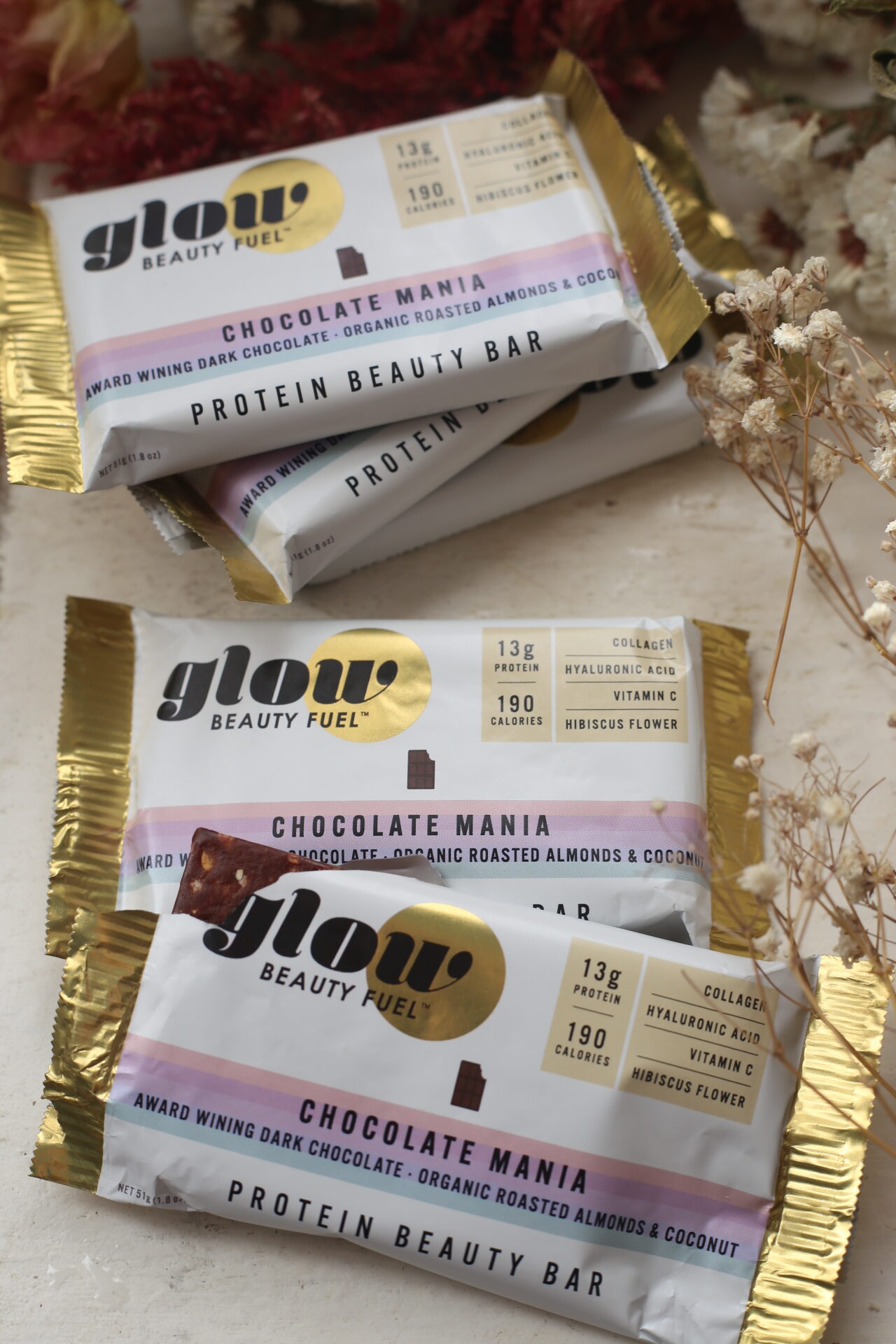 If you're wanting to enjoy a delicious bar and get your beauty supplements in at the same time, Glow Beauty Fuel makes it easier to get your collagen (and more) in without any of the hassle.
A tastier alternative to taking capsules, you get the equivalent of up to 15 beauty supplements in one yummy bar with Glow Beauty Fuel. Made only with premium quality ingredients, including chocolate crafted by a chocolatier, the Glow Beauty Fuels bars contain full doses of bioactive collagen (non-vegan flavors), essential ceramides, hyaluronic acid, hibiscus flower acid, and vitamin C.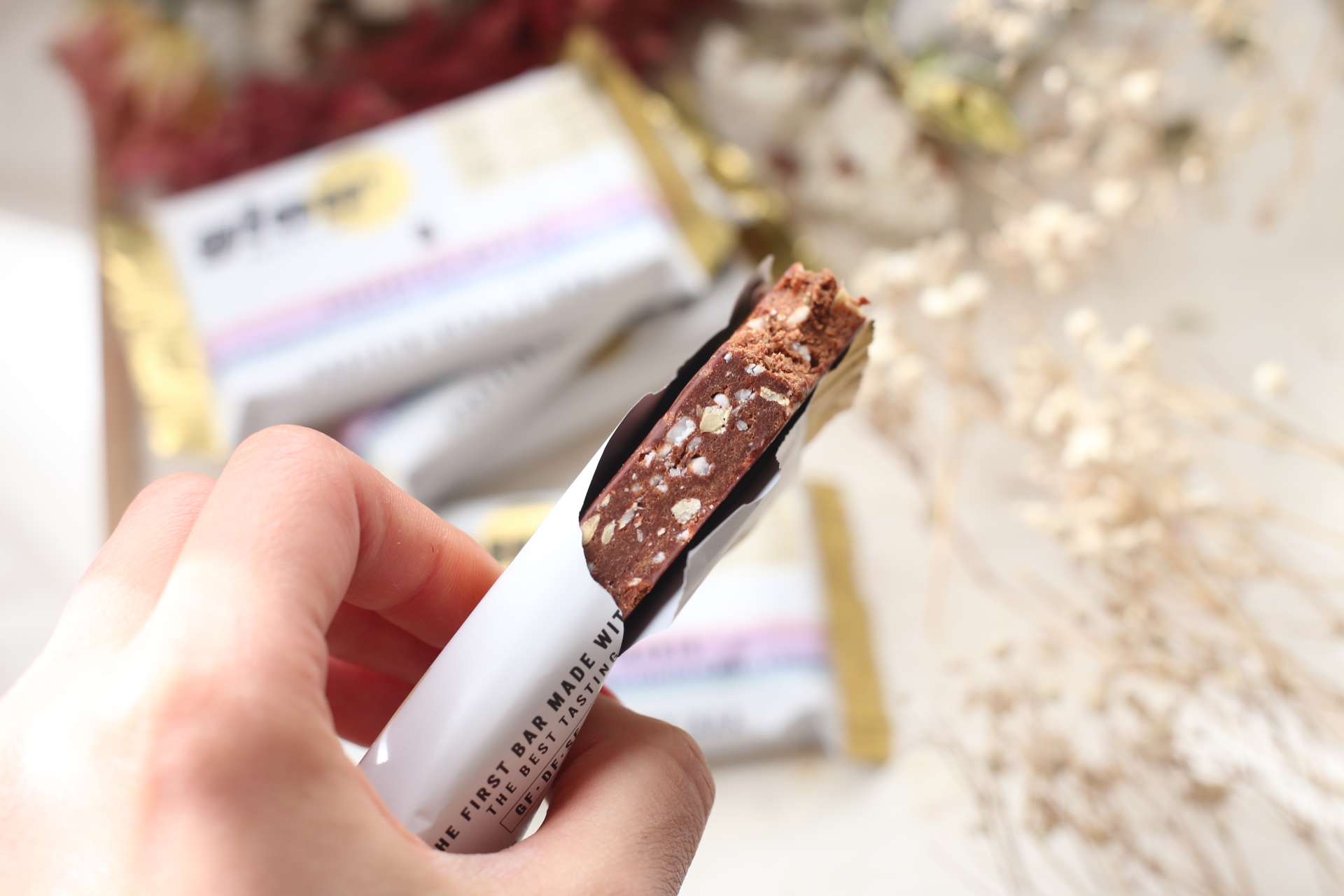 Glow Beauty Fuel's chocolate is not bulk-sourced chocolate but made by a small batch, craft chocolatier, created with the bean to bar method – made straight from the cocoa beans. The bean is roasted, hand sorted, refined and tempered in one chocolate workshop. These are organic and ethically sourced- certified Transparent Trade, which is even more supportive of grower-producers than Fair Trade.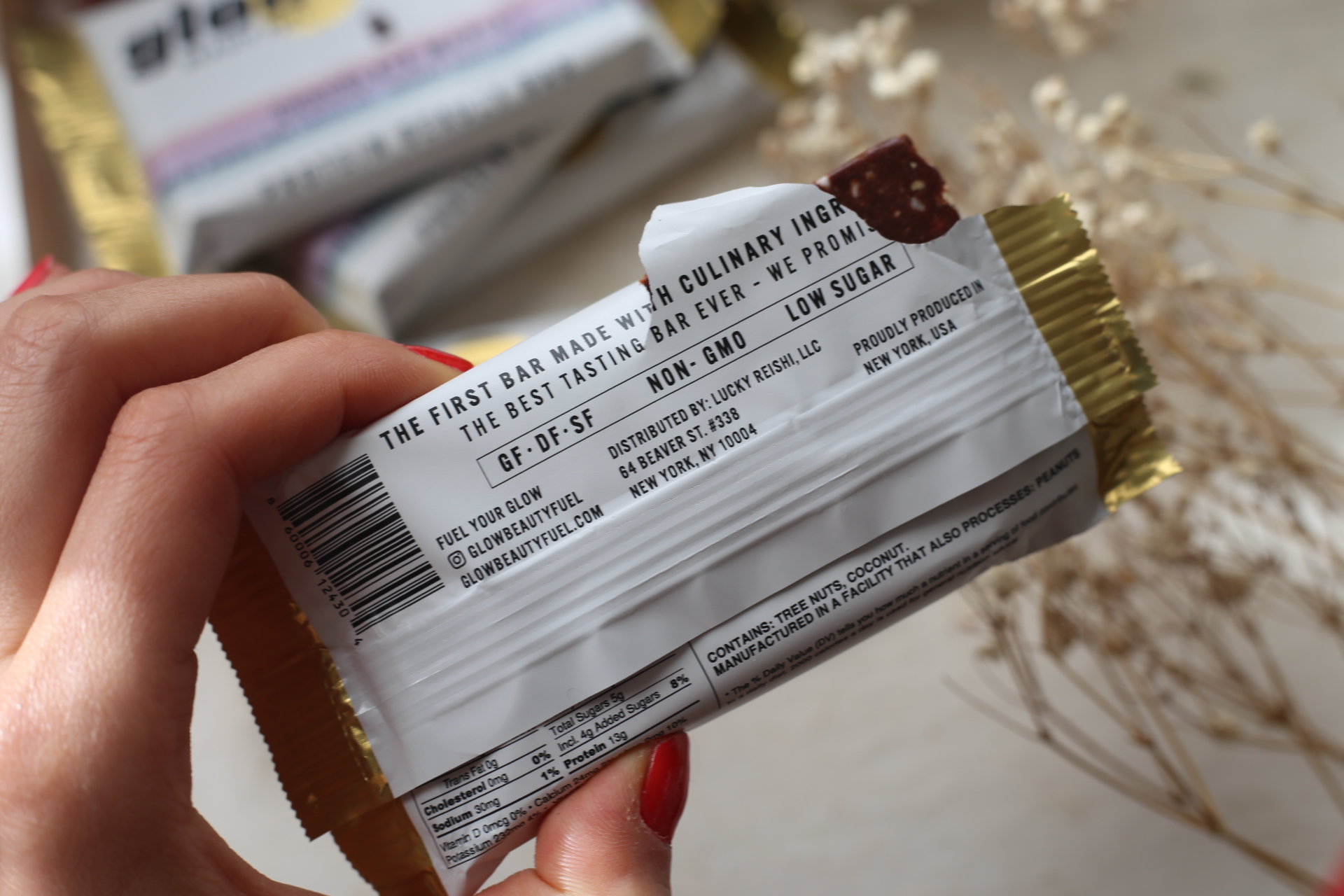 Glow Beauty Fuel Bars contain:
6 grams Unheated Collagen Peptides

Unheated collagen is key, as when collagen is heated it greatly diminishes the beauty benefits. Our bars are never heated, and we recommend that collagen peptides are never added to hot beverages.

120 mg. Hyaluronic Acid
400 mg. Hibiscus Flower Extract

protects collagen and elastin

91 mg. Vitamin C
The bar features:
Bioactive Unheated Collagen:  ethically and sustainably sourced, grass-fed and pasture-raised from a single source, and kosher certified.
Less than 200 calories each
Gluten/Dairy/Soy Free/Non-GMO
12g Protein
Improved Gut Health with Prebiotic Fiber
Plant-based Antioxidants and Phytonutrients
Low Sugar: allulose is used to sweeten the bars, a naturally occurring sugar found in fruit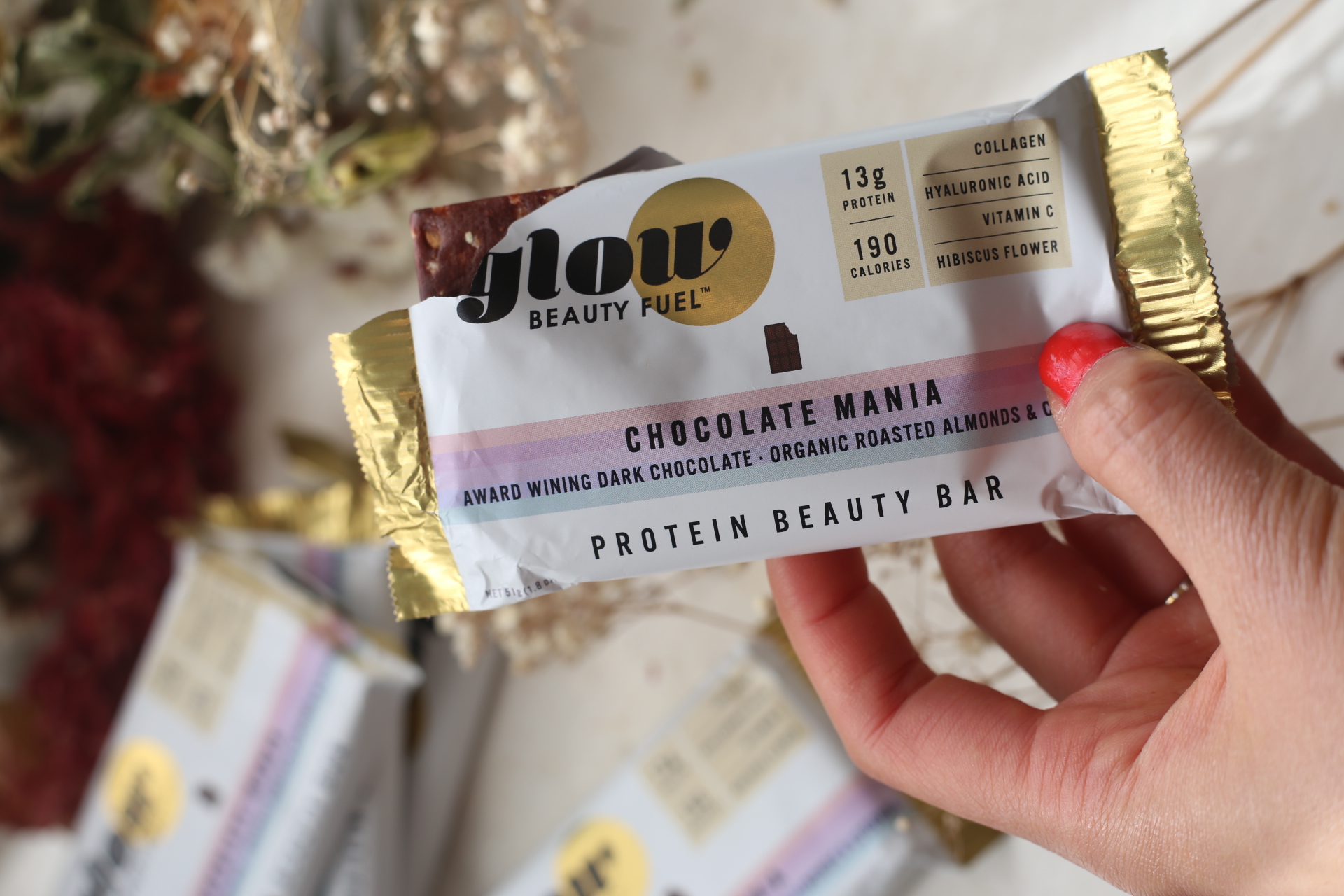 Glow Beauty Fuel bars are tasty, not overly sweet and guilt-free without any of the funky taste of collagen. If you hate having to pour collagen powder into your drinks, this is a great alternative. If you're not a fan of eating big bars, these are pretty small in size too.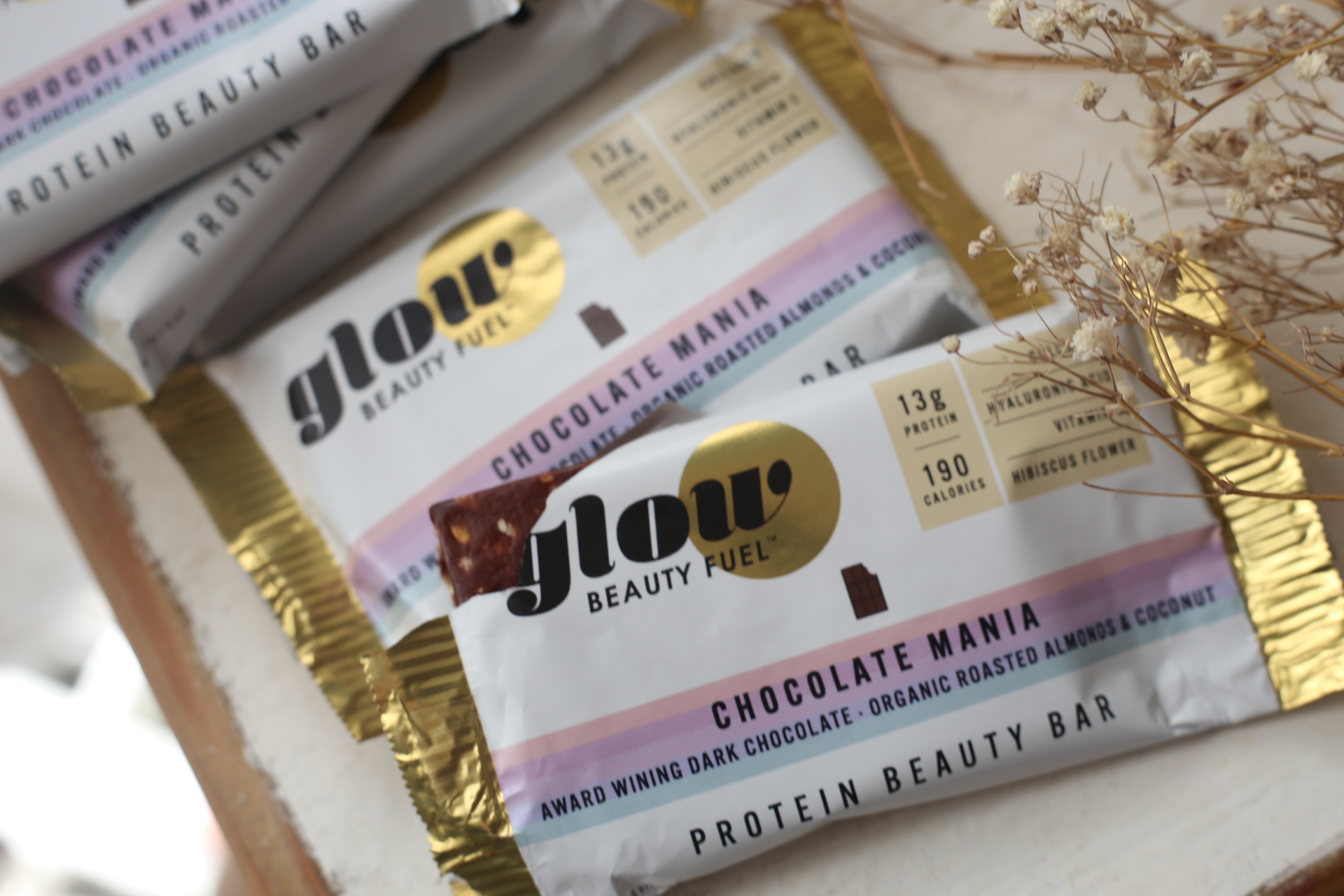 Vegan Bar Launching Soon
Glow Beauty Fuel has a 100% vegan Peanut Butter Chocolate Chip Crunch Beauty Protein Bar available for pre-order. This bar has full doses of essential ceramides, hyaluronic acid, hibiscus flower acid, and vitamin C.