Commodity Fragrances Review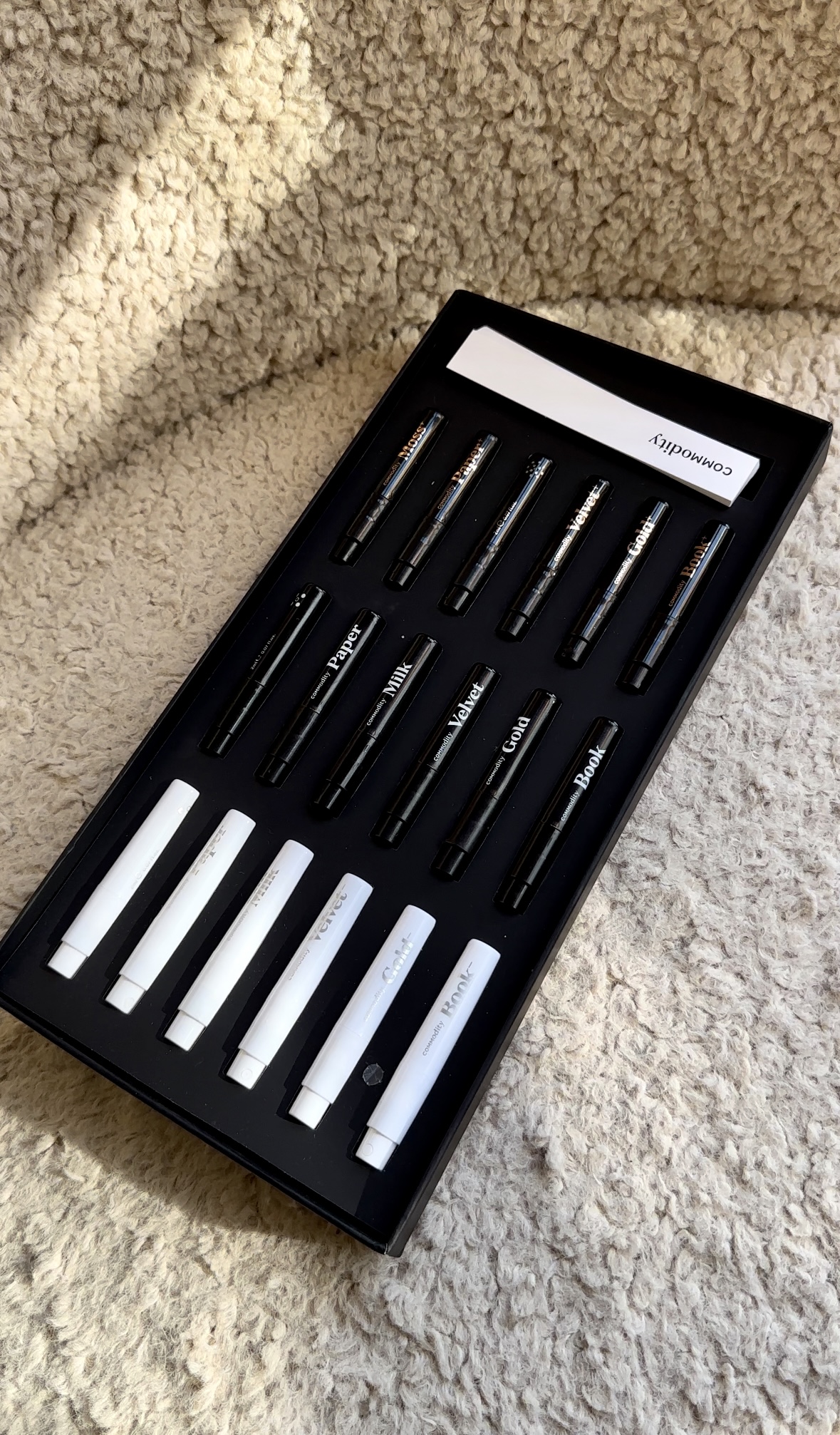 Commodity Fragrances is a clean perfume brand (that includes synthetics) with three kinds of perfumes for each of their scents, offering a unique purchasing experience for each customer. Widely available at Sephora, Commodity's vegan fragrances are formulated at 15-25% concentration and are phthalate-free, so will not have the same kind of projection as conventional perfumes (for more info on this you can check out my in-depth guide to clean perfumes here.) They're meant to be re-applied throughout the day as a safer way to enjoy perfumes. If there's a specific scent or two you're drawn to, you can grab the sample pack that include the 3 variations of each, Personal, Expressive and Bold. Let's dive into each of their Scent Space fragrances: Moss, Paper, Milk, Gold, Velvet and Book.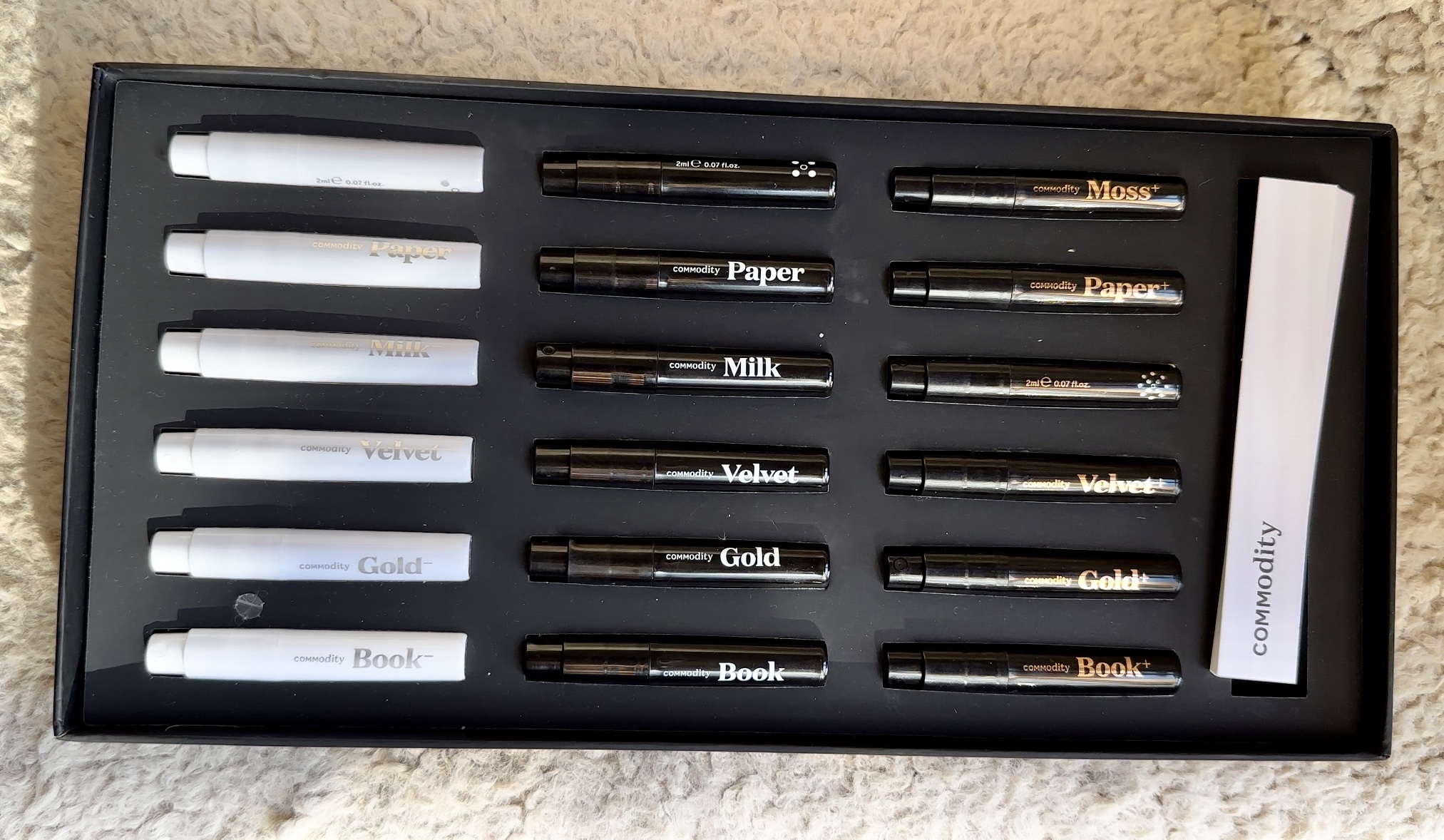 Personal, Expressive and Bold
Commodity has an interesting offering of 3 types of each of their 6 signature fragrances. Expressive is their starting point for all the fragrances and the main range. You can then go up in intensity (Bold) or lower in intensity (Personal), with both offering slightly different compositions with the addition of new notes.
Personal: when you want to share your signature with those nearby without overpowering any space
Expressive: when you want your scent to only be noticed by you and the few you allow close to you
Bold: when you want to exude confidence and trailblaze with your scent
By their own description I assumed that each variation just meant different concentrations/strengths,  but it's actually more complex than that. They add different notes to the Personal and Bold versions, which turns them into a different scents even though it's the same scent at the foundation.
The Personal versions don't seem to stray far from the original Expressive version, but I would say the Bold versions are quite different. The Bold variations can turn the scents into a much more masculine version.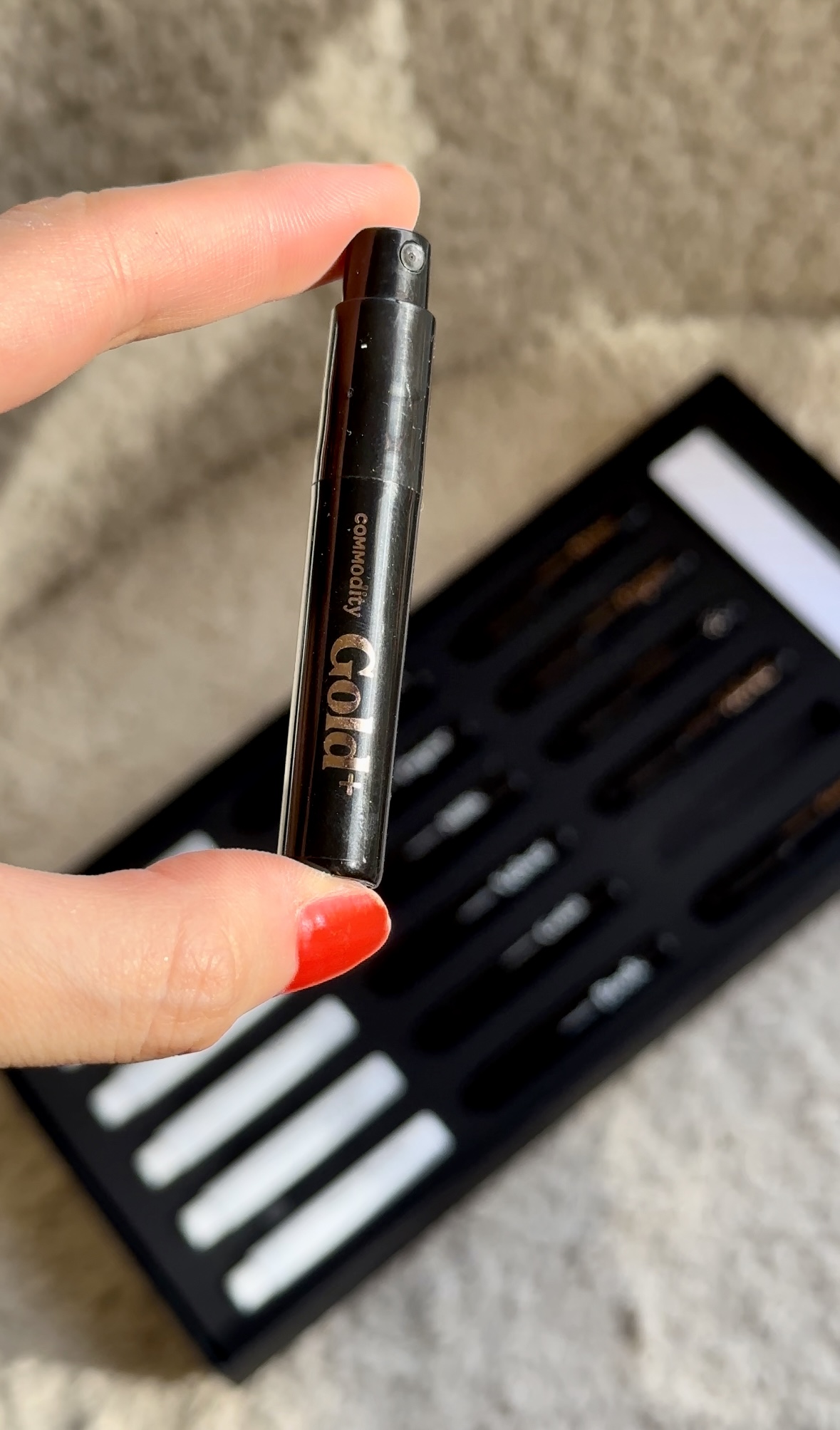 Overall, most of these fragrances are sweet and more suitable for women even. though the line is branded as a unisex brand. Velvet and Moss are Commodity's more masculine fragrances.
I personally like Book and Paper the most and can see myself purchasing those..mayyybe Milk for the winter.
I also found it interesting that there isn't just one perfumer behind all the scents, but a different perfumer for each.
Gold was the first scent I reached for and it's a yummy gourmand scent with a strong vanilla and amber theme.  Sandalwood makes this even more of a creamy vanilla scent.
Interestingly, I did not like the Personal and Bold versions and only enjoyed the original Expressive Gold. Bold Gold almost smells like an entirely different type of perfume. It's much more Oriental, spicy, dirty.
The Perfumer's Inspiration for Gold
"Gold has a rich history of being associated with gods, power, beauty and wealth. It's strong, sleek and polished. Its purity exudes luxury and demands a rich sensuality when capturing its essence in liquid form. With its grandeur, Gold was truly established around a feeling of indulgence and the ability to draw attention from across a room."

– Donna Ramanauskas
Notes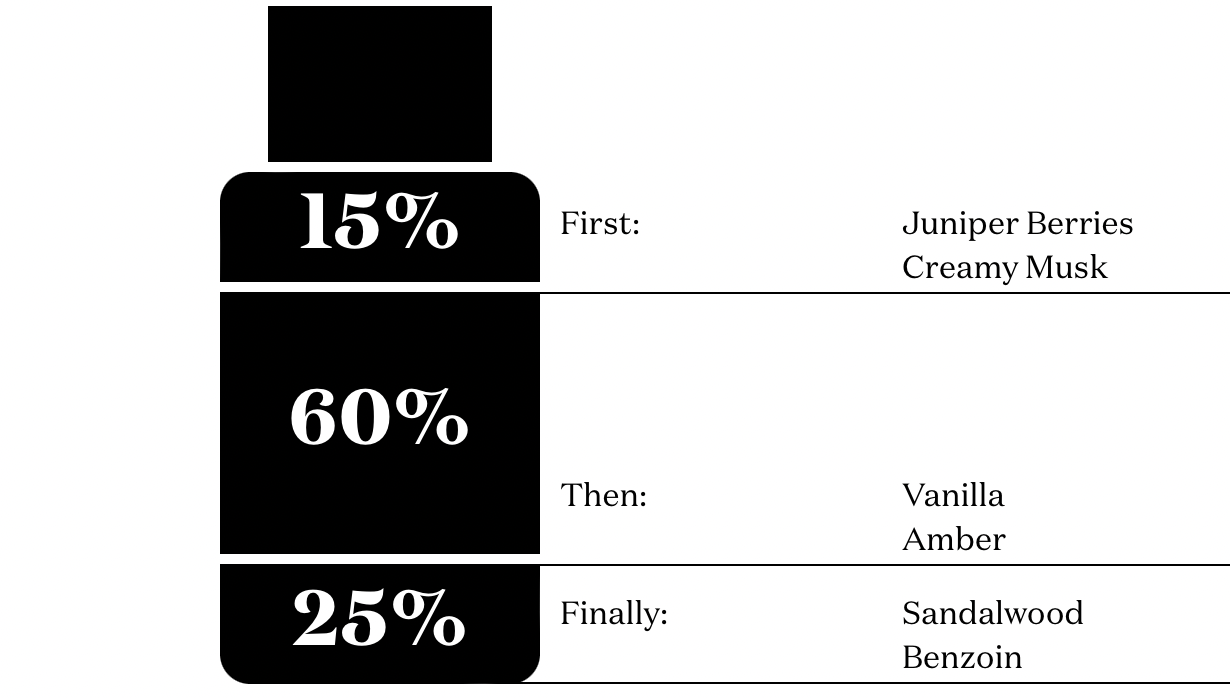 Personal and Bold Note Additions
Personal: Iso E Super
Bold: Nutmeg, Saffron and Patchouli
I really like the combination here of violet, bergamot and lots of woodsy notes with yummy amber. This leans much more feminine than it does masculine. The Personal version has watery quality while the Bold version feels muskier but not all that different from Expressive.  Overall, Book is sweet, warm, powdery and woodsy.
The Perfumer's Inspiration for Book
"My most cherished scent memories as a child were in the library experiencing real books which created a world of wonder and exploration. Living now in a technological world filled with iPads, Commodity Book takes you into the New York Public Library to recapture the experience of yesterday: turning the pages and breathing in the smell of dry paper mingling in with the open fresh air."

-Ketrin Leka
Notes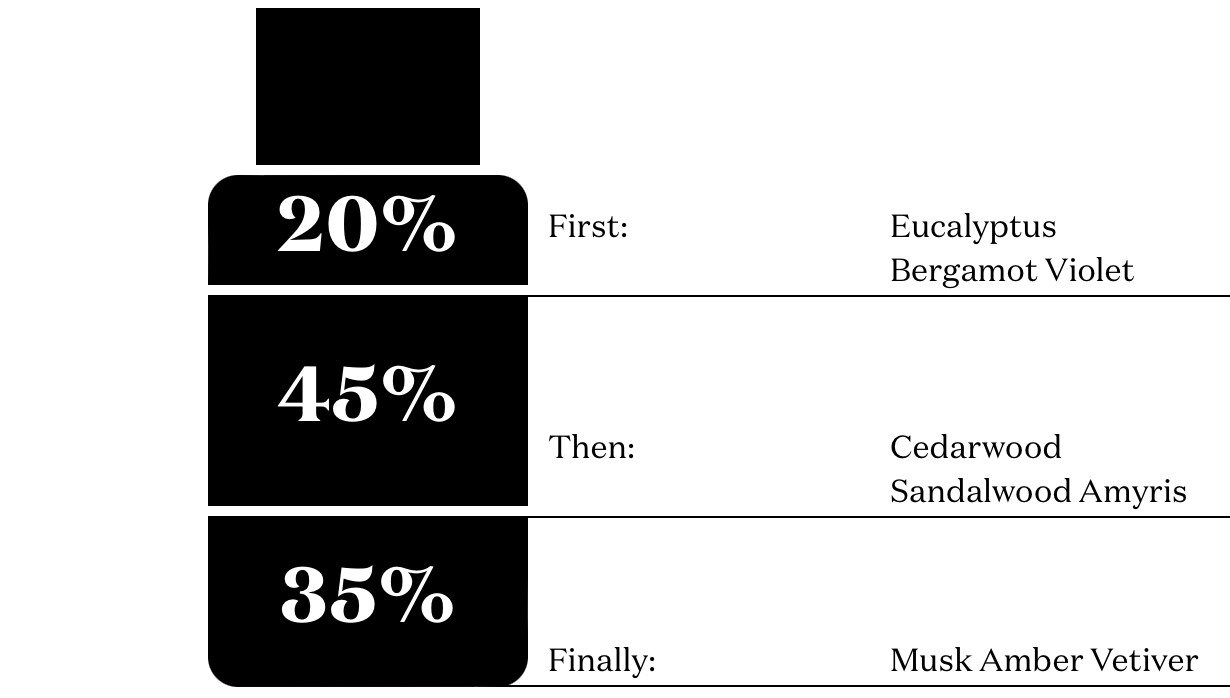 Personal and Bold Note Additions
Personal: black tea and skin musk
Bold: smoky, velvety musks

Another gourmand scent, Milk is definitely more out-of-the-ordinary compared to Commodity's other scents. It starts off with a Cold Milk accord, which is a new note for me and develops into a very warm, yummy vanilla scent with a heaping serving of marshmallows. I disliked the Bold version of Milk due to the addition of Firewood. This is a note that I'm generally never drawn to.
The Perfumer's Inspiration for Milk
"In creating Milk, I was inspired by the memory of a family vacation in the Fall, when we spent hours around hot wood-fires, telling stories and making s'mores. I wanted to capture the intimate nostalgia of this moment in a fragrance. Milk is a balance of sweet, milky, marshmallow elements contrasted with a firewood accord. Smoked Mahogany wood, cold milk and Siam benzoin are also all essential olfactive facets in this memory of mine."  – Christella Laprade
Notes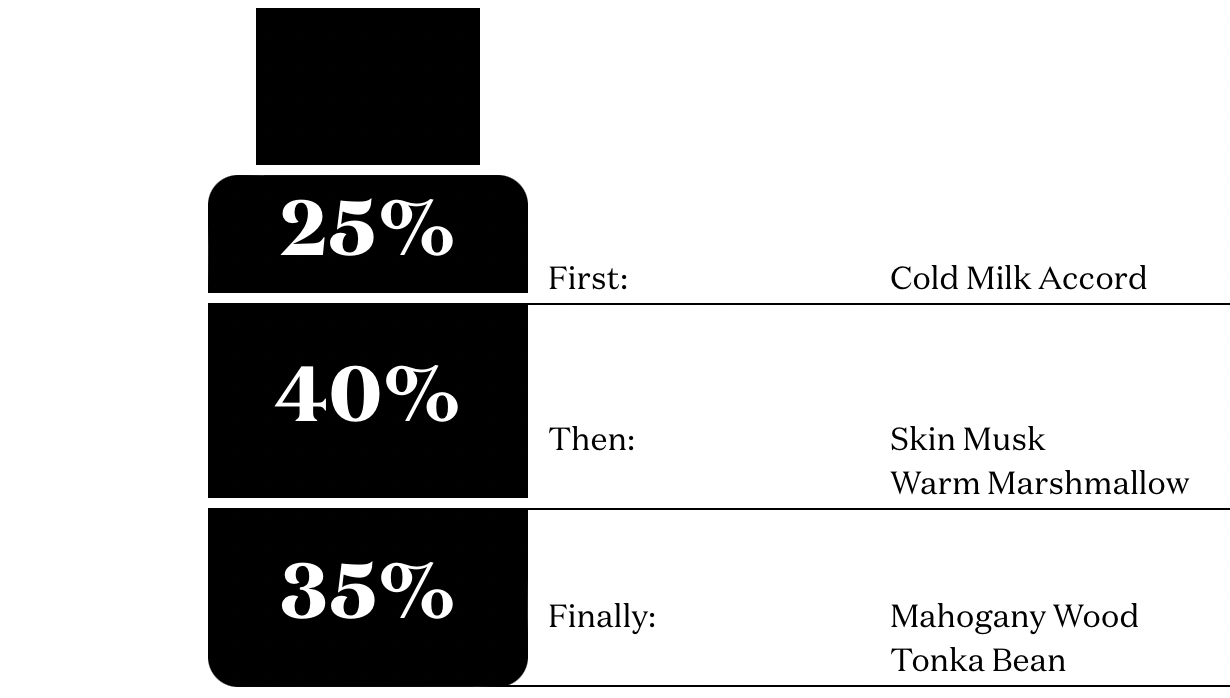 Personal and Bold Note Additions
Personal: Skin Musk and White Cedar
Bold: smoky Firewood and sweet Amber

Paper is a skin scent with a woodsy theme. This feels like the lightest scent in the Commodity range and fades quicker than the others. It's a super simple blend, but that's what actually makes it quite beautiful, especially if you love sandalwood. I can see how a lot of people would be frustrated with how quickly it fades though. I prefer Expressive and Bold over the Personal version.
The Perfumer's Inspiration for Paper
"My inspiration for Paper comes from writing a letter to a loved one. Deep in thought, remembering the memories, the heartfelt scent of Paper was created by a combination of rich cedarwood, sandalwood and amber enhancing that warm and cozy feeling while writing." –Donna Ramanauskas
Notes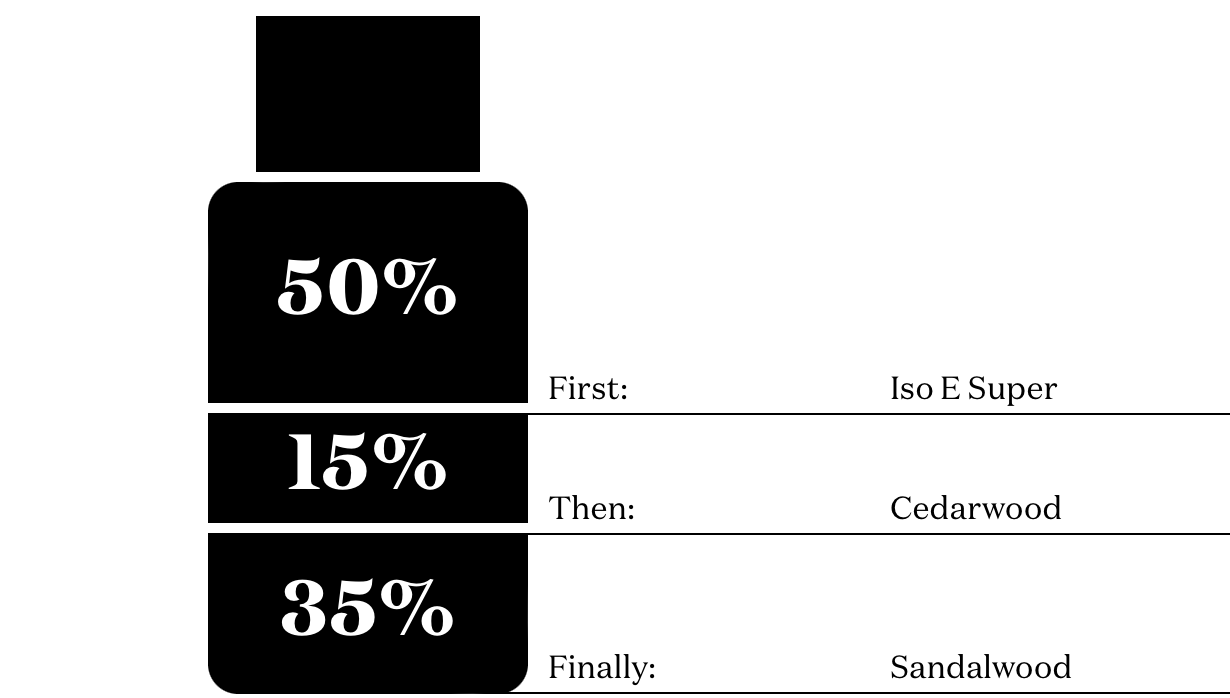 Personal and Bold Note Additions
Personal: molecular Amber
Bold: Vetiver and wet woods

Velvet is a masculine-leaning scent that's warm, woodsy and floral. It smells a lot like a white birch-scented candle I own that's great during winter. I would say Expressive Velvet is probably a bit too sweet for men, but Bold Velvet would be a great cologne choice.
The Perfumer's Inspiration for Velvet
"I love working with rose. It is simultaneously dewy fresh and petally soft. For Commodity Velvet, I was inspired by the image of vibrant pink Turkish Rose Petals floating gently over a mysterious, dark background of richly warm vanilla and black amber with a delicious touch of roasted almond drifting in the air." – Jerome Spinet
Notes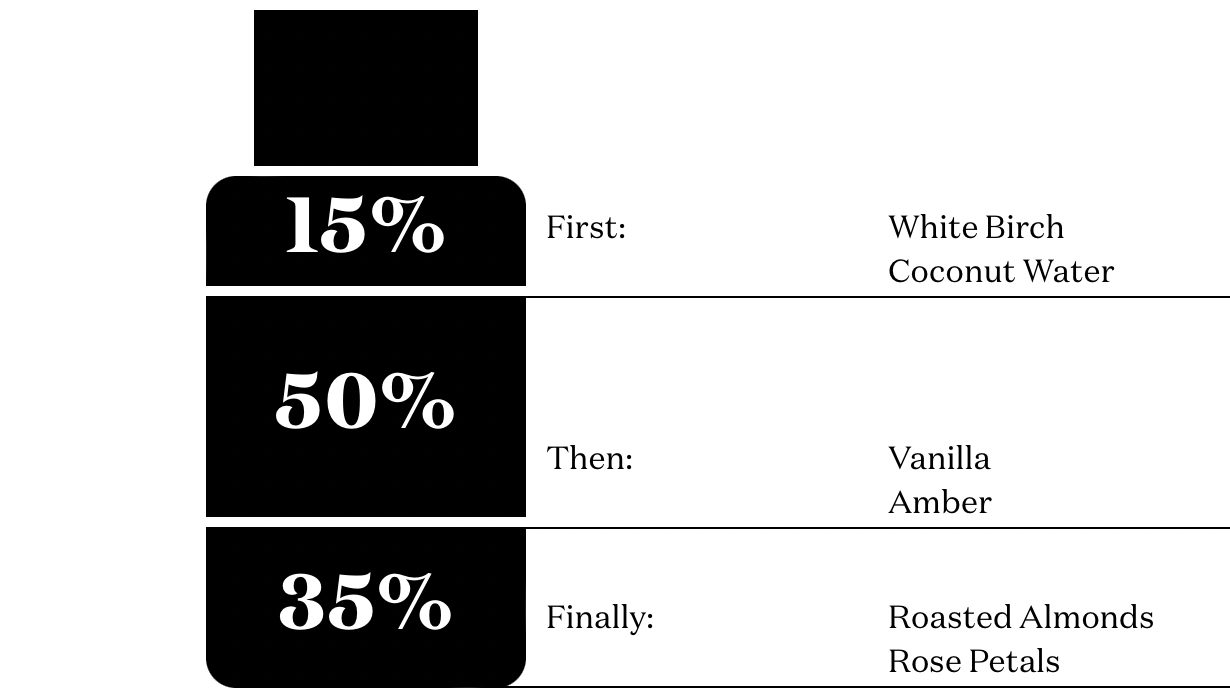 Personal and Bold Note Additions
Personal: Skin musk
Bold: Amber, Patchouli and Labdanum

As you can guess from the name, Moss is a green cologne that leans pretty masculine. It's a zesty, fresh and earthy forest scent with a fresh, bright opening thanks to Bergamot. There's some sweetness from the Orange Blossom, but Oakmoss and Petitgrain dominate.
Notes