Glow Recipe Review: Best and Worst Glow Recipe Products 2023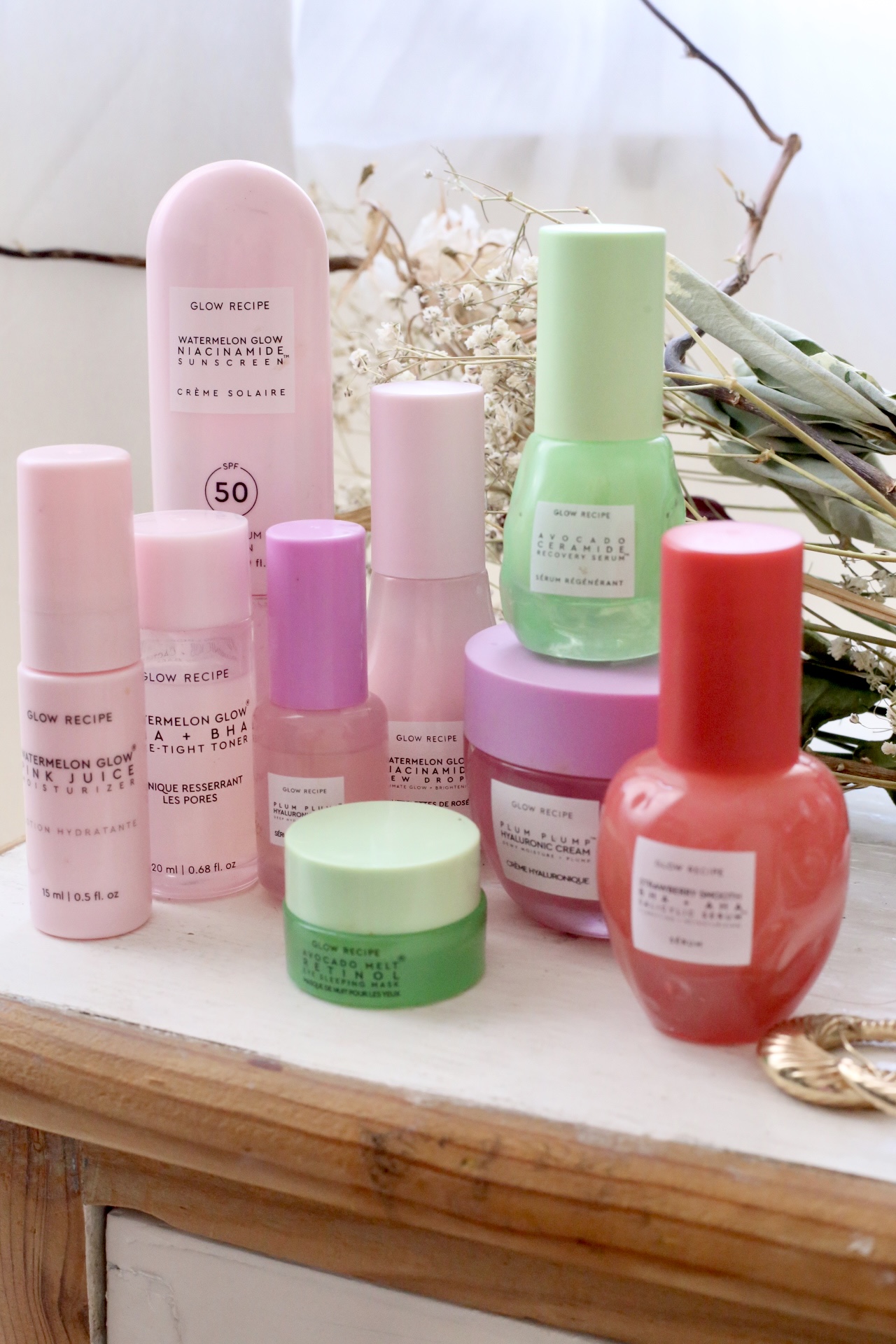 Glow Recipe is a K-beauty inspired clean skincare line that could best be described as fruity fun. Started in 2017 in New York, Glow Recipe shot to fame with their watermelon skincare and later on their viral Glow Recipe toner. From a watermelon sleeping mask to avocado eye cream and banana soufflé cream to plum serum, Glow Recipe has added a fruity twist that's as skin-beneficial as they are addictive. One thing you must know before you buy Glow Recipe, especially if you must use completely clean products for health reasons, is that Glow Recipe does use a small % of fragrance in most of their products. Having known Glow Recipe for years before they became the Glow Recipe of today, I'm excited to finally share my honest thoughts. I've tried nearly every product in the Glow Recipe line and I'm sharing the best and worst Glow Recipe products in this Glow Recipe review.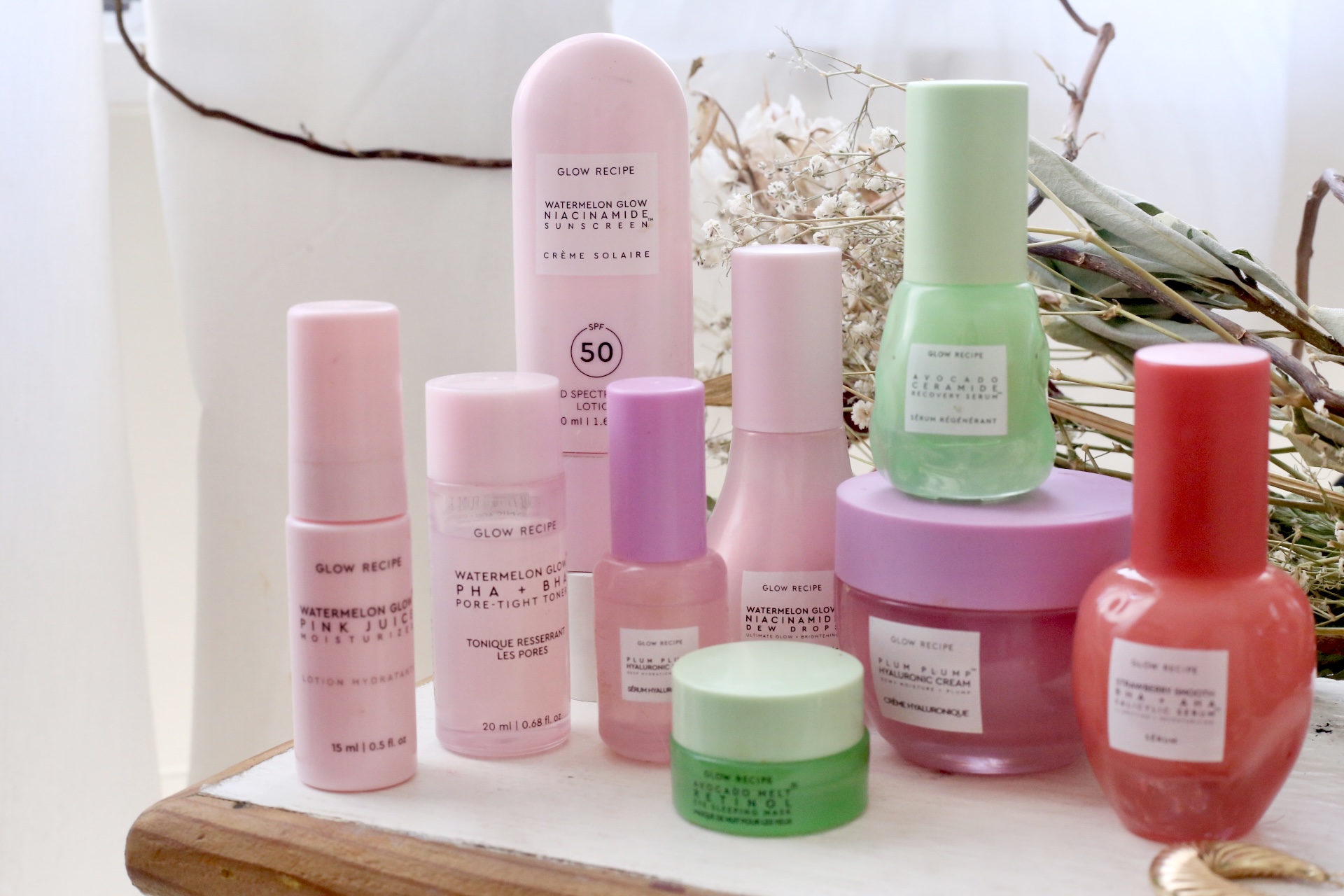 I'll be sharing my favorite and least favorite Glow Recipe products in this review, but first a little on the story behind this mega popular brand. I've actually known Glow Recipe from their very early days when they first became known through appearing on Shark Tank to pitch the idea of Glow Recipe. In the beginning years Glow Recipe was a small startup funded by the young founders who were former colleagues back in Korea. They launched Glow Recipe as a K-beauty online store selling skincare products from Korea that weren't easily accessible in the US. Fast forward a few years and Glow Recipe launched their first namesake product, the Watermelon Glow Sheet Mask (now discontinued), and it caused a frenzy selling out multiple times.

Today, Glow Recipe brings in multiple 7 figures annually and is sold at Sephora stores. The Glow Recipe founders Sarah Lee and Christine Chang utilize the Korean skincare industry's know-how with actives popular in the US (niacinamide, acids, retinol) to make fruit-powered skincare for all.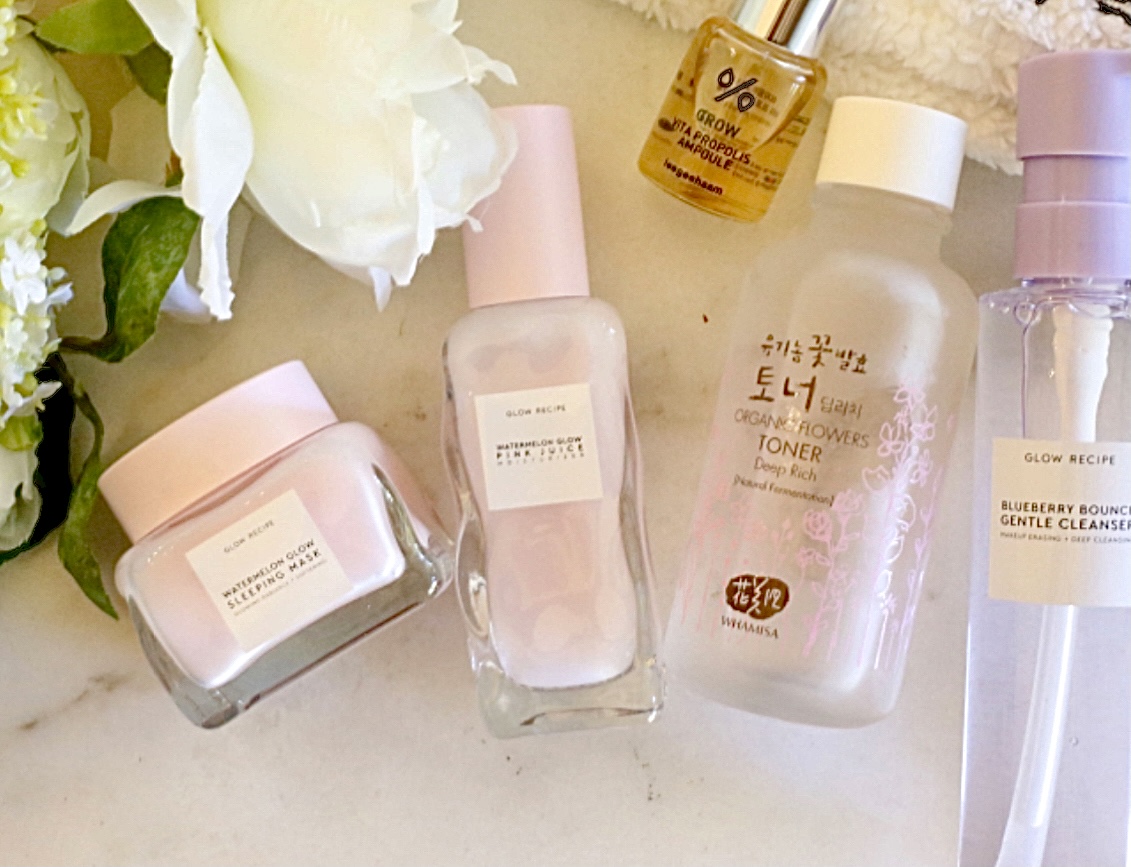 Is Glow Recipe Natural?
I want to point out that Glow Recipe is not an organic or 100% natural skincare brand. Articles on the web saying so are misleading. They do use synthetics in certain products and many Glow Recipe products contain fragrance. The artificial scent is very noticeable to me, and I don't understand why they add this in when natural scents are so much more enjoyable than fake. If you're looking for certified organic Korean skincare, my go-to brand is Whamisa  (code ORGANICBEAUTYLOVER saves 20%)
Here's what Glow Recipe states about their fragrance:
We formulate using the minimum amount of fragrance, when needed, to create a sensorial, enjoyable skincare experience. Fragrance is always less than 0.5% of our formulations, and all fragrances are vegan and free of PCM compounds, acetone, and much more.
There is one more thing about Glow Recipe that doesn't sit quite right with me, and it's that for a Korean American brand, they do very little to uplift Asian American voices and might as well not be AAPI-founded. Their most recent PR influencer trip had but one token Asian American influencer. SheaMoisture would never. If you pay attention to Glow Recipe's marketing, you can tell that the major influencers they choose to officially work with (and actually pay) are…not Asian American. They hardly invite any AAPI creators to their big PR trips and choose to align with creators like Alix Earle and similar people instead.
In an industry where Asian Americans are but an afterthought and never considered the beauty standard, it feels like they're only perpetuating the norm instead of challenging it. I find this unsettling, especially during a time when violence towards Asian Americans is at an all time high due to the pandemic. For a major global brand that is strongly rooted in Korean heritage and inspired by K-beauty, Glow Recipe can and should do better to showcase Asian faces and uplift AAPI voices (if they won't do it who will). I love how Cocokind, another Asian American founded brand, hires Asian Americans into their social media team to be the face of the brand and redefines the beauty standard in their own way for their community. So that's my TED talk for today.
Best Glow Recipe Products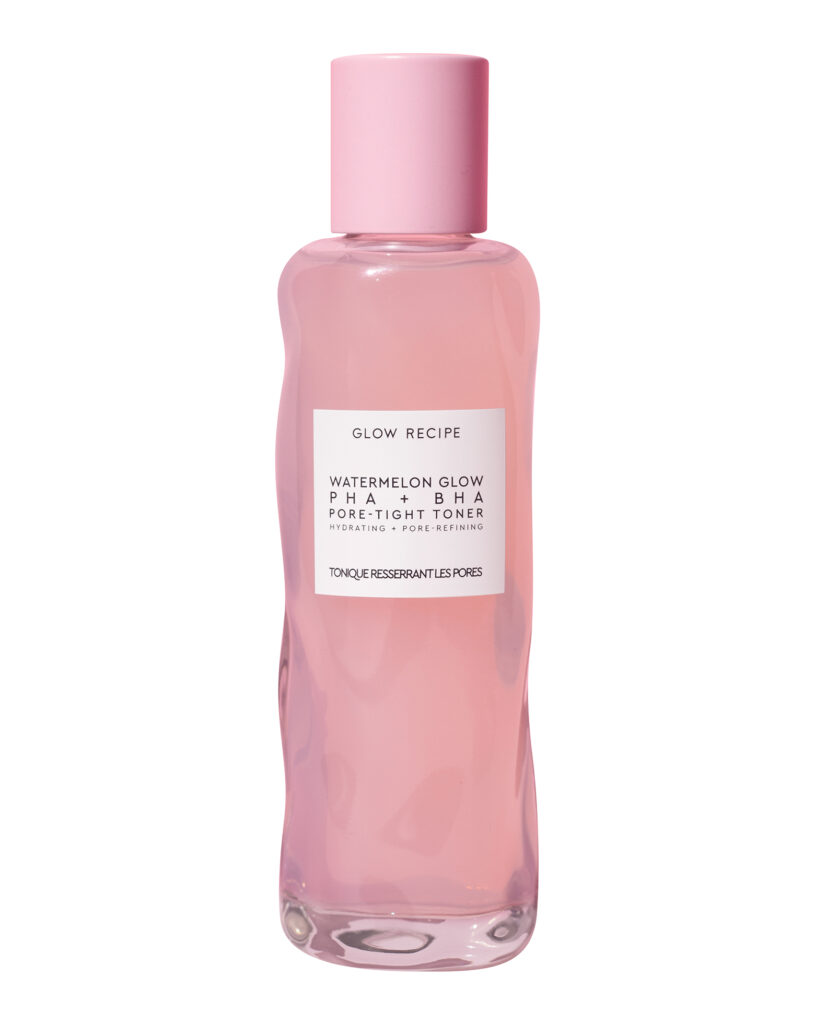 The Watermelon Glow PHA BHA Pore Tight Toner is the perfect marriage of hydrating and exfoliation. If you find acid toners too drying, the Glow Recipe toner is the ideal solution. The Watermelon Glow PHA BHA Pore Tight Toner begins in a base of cactus water and has plenty of additional hydrating ingredients like Watermelon Extract and Hyaluronic Acid high up in the ingredients list. It's a bouncy liquid that feels denser than a typical toner but still is lightweight. I find the scent very sweet and slightly herbal with a hint of cucumber.
The acid strength is the Watermelon Glow PHA BHA Pore Tight Toner is not the strongest compared to other acid toners so if you're looking for strong pore clearing power, I wouldn't recommend the Glow Recipe one. There's no tingling sensation from the acids. But if you want a super hydrating toner with a side of gentle exfoliation, the Watermelon Glow PHA BHA Pore Tight Toner is worth trying. If you're not looking for acids at all in your toner, the bounciest organic Korean toner ever is the Whamisa Organic Flowers Deep Rich Essence.
Ingredients: Opuntia Ficus-Indica (Cactus) Extract, Citrullus Lanatus (Watermelon) Fruit Extract, Glycerin, Hyaluronic Acid, Gluconolactone, Sodium Polyglutamate, Betaine Salicylate, Salix Alba (Willow) Bark Extract, Melaleuca Alternifolia (Tea Tree) Extract, Hibiscus Sabdariffa Flower Extract, Lactobacillus/Watermelon Fruit Ferment Extract, Cucumis Sativus (Cucumber) Fruit Extract, Saccharum Officinarum (Sugarcane) Extract, Glycyrrhiza Glabra (Licorice) Root Extract, Scutellaria Baicalensis Root Extract, Paeonia Suffruticosa Root Extract, Brassica Oleracea Capitata (Cabbage) Leaf Extract, Ipomoea Batatas Root Extract, Sorbitan Oleate, Levulinic Acid, Sodium Levulinate, Fragrance/Parfum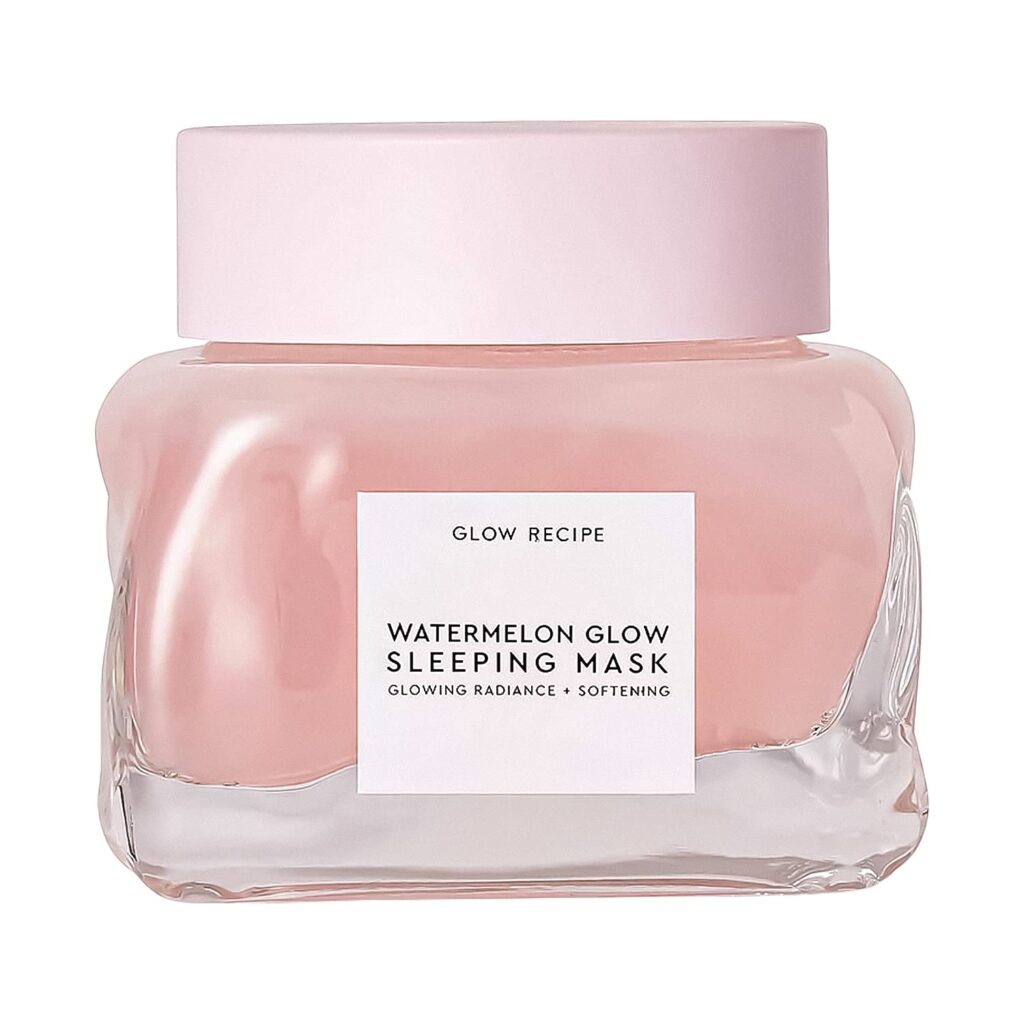 It's hard to find a hydrating mask that I like, but I was immediately taken with the Glow Recipe Watermelon Glow Sleeping Mask. It's a hyaluronic acid mask with a goopy consistency and super silky texture. I love slathering this mask on as a moisturizer replacement. Other than fragrance, The Glow Recipe Watermelon Glow Sleeping Mask has a very clean fruit-filled ingredients list with extracts of Watermelon, Pumpkin, Banana and Pomegranate and actives like hydrating Hyaluronic Acid and pore refining AHAs.
Ingredients: Aqua/Water/Eau, Sodium Hyaluronate, Glycerin, Caulerpa Lentillifera (Seaweed) Extract, Simethicone, Citrullus Lanatus (Watermelon) Fruit, Silica, Propanediol, Glycolic Acid, Lactic Acid, Cucurbita Pepo (Pumpkin) Fruit Extract, Punica Granatum (Pomegranate) Fruit Extract, Musa Sapientum (Banana) Fruit Extract, Paeonia Suffruticosa (Peony) Root Extract, Glycyrrhiza Glabra (Licorice) Root Extract, Brassica Oleracea Capitata (Cabbage) Leaf Extract, Ipomoea Batatas (Sweet Potato) Root Extract, Scutellaria Baicalensis (Skullcap) Root Extract, Betaine, Beta-Glucan, Hydroxyethylcellulose, Xanthan Gum, Alcohol, Fragrance/Parfum.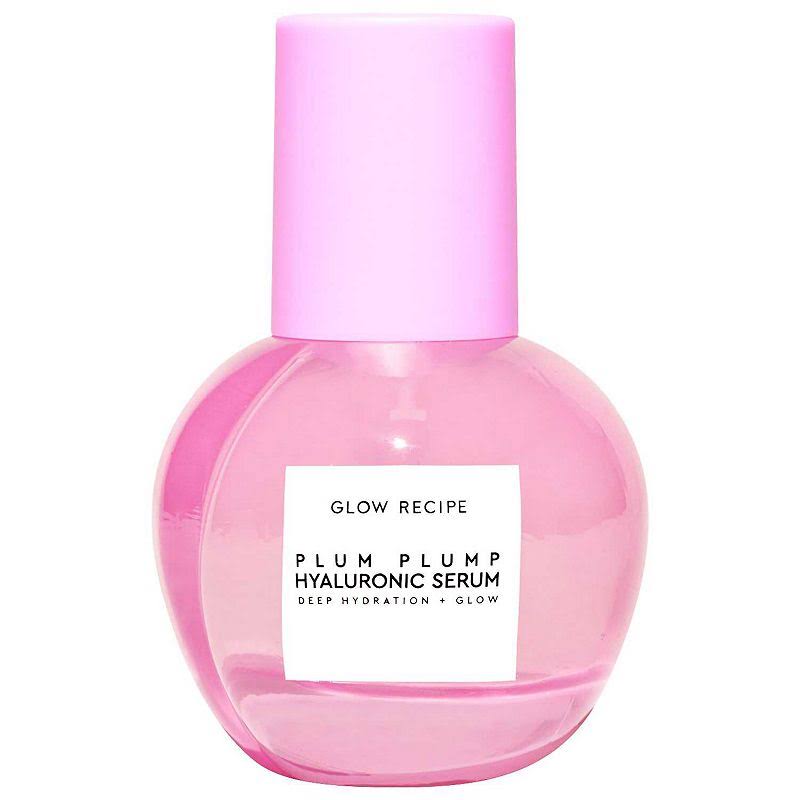 I feel that Plum Plump Hyaluronic Serum is one of Glow Recipe's best products because of its innovative formulation. Plum Plump Hyaluronic Serum feels hydrating, silky and pleasant in all the ways you want your hyaluronic serum to feel, but I'm most impressed by the ingredients chosen. Plum Plump Hyaluronic Serum contains five molecular weights of next-generation hyaluronic acid. The formula further impresses with the addition of Kakadu Plum which has the highest source of natural Vitamin C in the world, vegan collagen and vegan silk protein.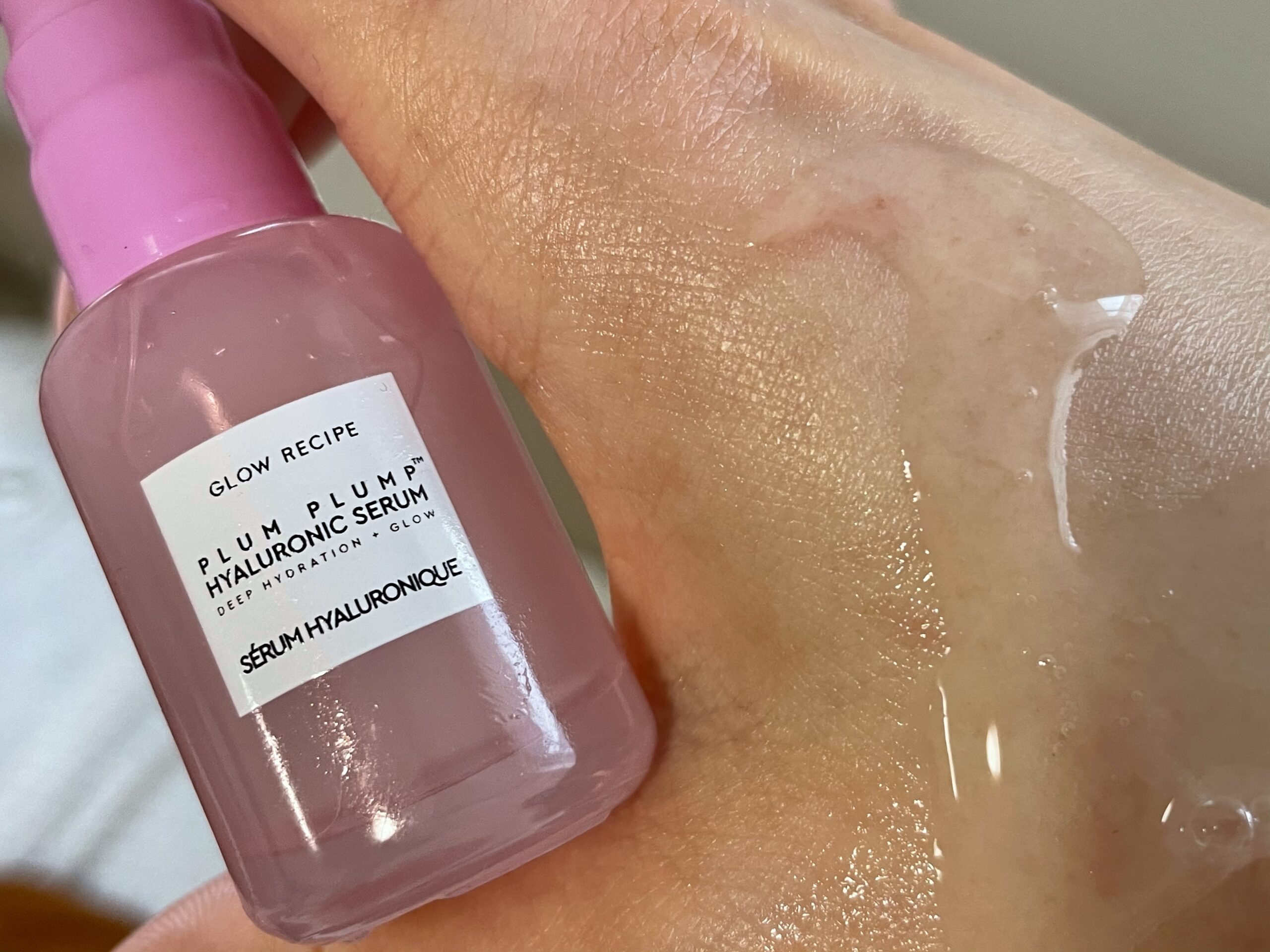 Plum Plump Hyaluronic Serum is a Glow Recipe product that contains natural fragrance and not chemical fragrance. 
• Multi HA has multiple molecular weights in one ingredient, and forms a 3-D sponge like film to hydrate each layer of your skin
• Tremella HA is obtained from fermentation of Tremella mushroom and is super high molecular level to reduce moisture loss on your skin's surface
• Flashfill HA is a next-gen of HA that improves the bioavailability of the Hyaluronic Acid in the skin and lasts longer in the skin
• Bio HA is a powerful HA with moisturizing properties to help water retention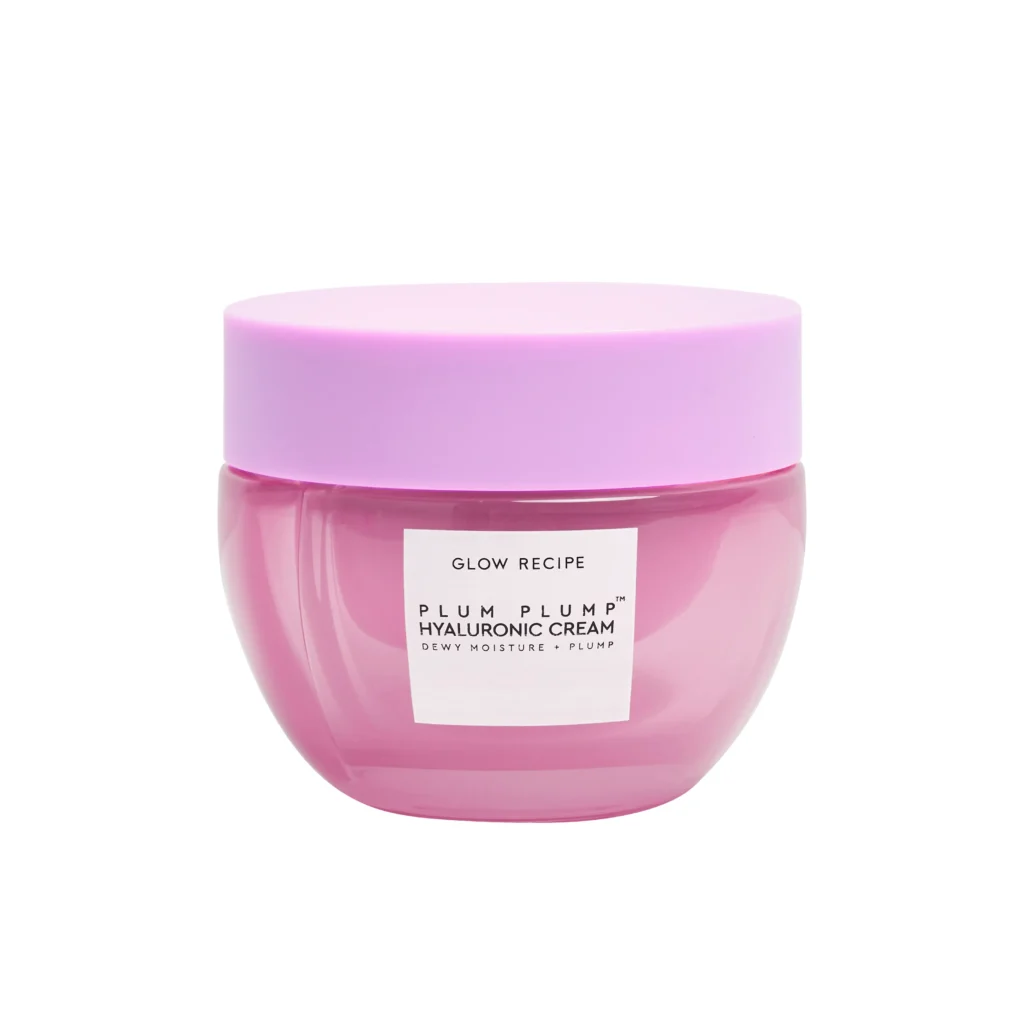 The purple hued Plum Plump Hyaluronic Cream is also one my favorite picks from the Glow Recipe line. I typically find mass manufactured face creams pretty lackluster or seem to have a waxy aspect to them. The Plum Plump Hyaluronic Cream has fantastic hydrating power along with moisturization capabilities. It's a medium weight gel cream hybrid that feels like silky, whipped pudding. Thicker than most gel creams I've tried, I found the Plum Plump Hyaluronic Cream adequate for my dry skin.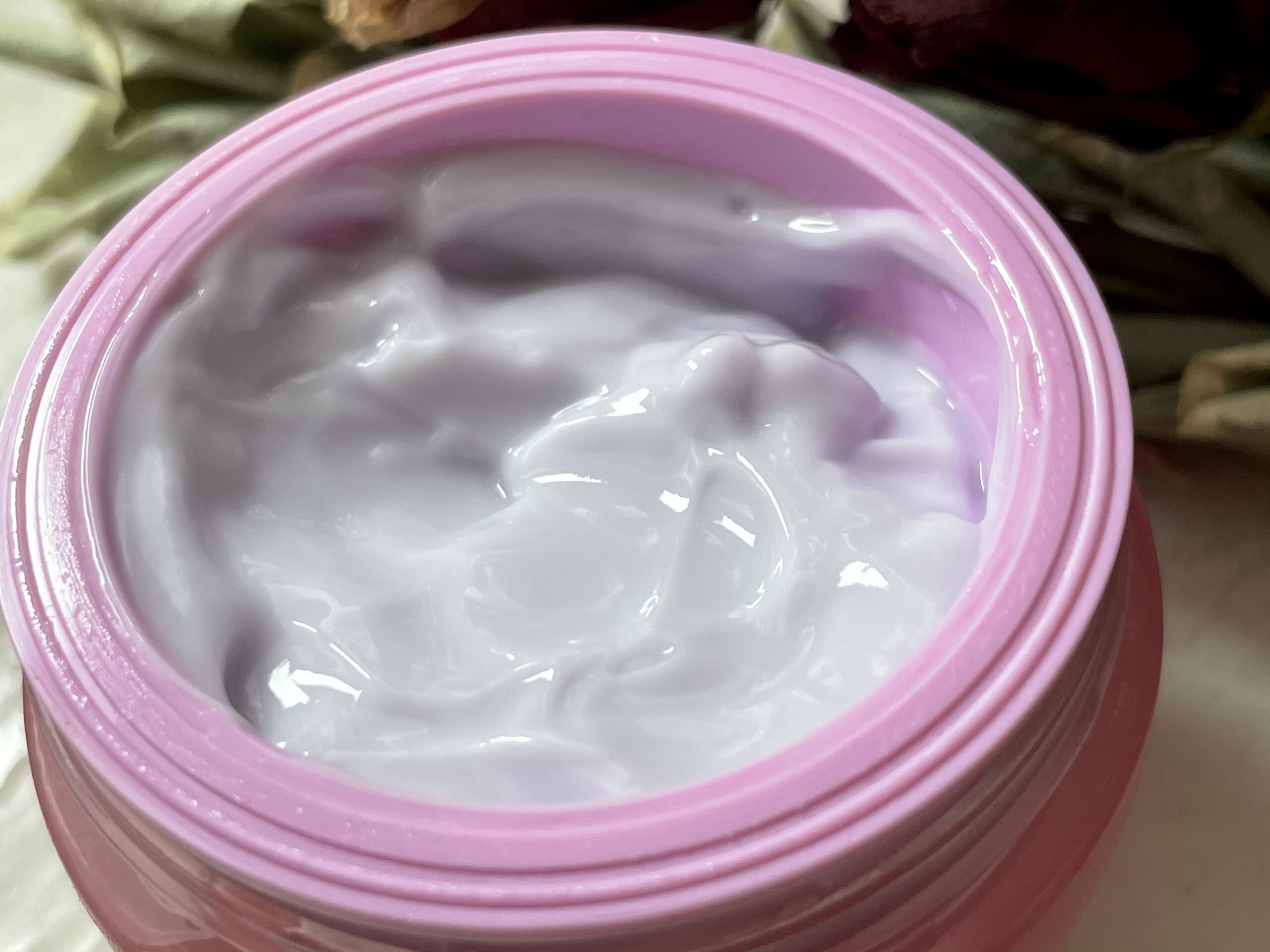 Neither heavy nor lightweight, Plum Plump Hyaluronic Cream falls somewhere in the middle and sinks in quickly.
Plum Plump Hyaluronic Cream contains:
polyglutamic acid: moisturizing peptide

5 weights of hyaluronic acid
Kakadu plum
ice willowherb: Organically and sustainably sourced from the Alps
A major plus is that Plum Plump has the most sustainable packaging in the Glow Recipe line with a refillable pod that you can replace without having to buy a whole new jar.
Worst Glow Recipe Products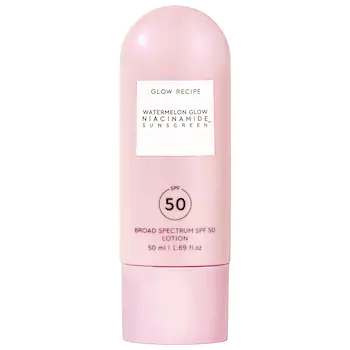 I totally understand why my "worst" picks might be someone else's "best." I have a full review of the Glow Recipe Watermelon Glow Niacinamide Sunscreen here. While there's many pros to this sunscreen it didn't work well consistently for me. Besides having pilling issues, the Glow Recipe Sunscreen also had a difficult time working well over my morning skincare routines. Too dewy for my personal preference as well. I go more in-depth in my Glow Recipe Watermelon Glow Niacinamide Sunscreen review.
Check out the Glow Recipe Watermelon Glow SPF 50 Sunscreen by jumping to the 0:57 mark in my natural sunscreen YouTube below: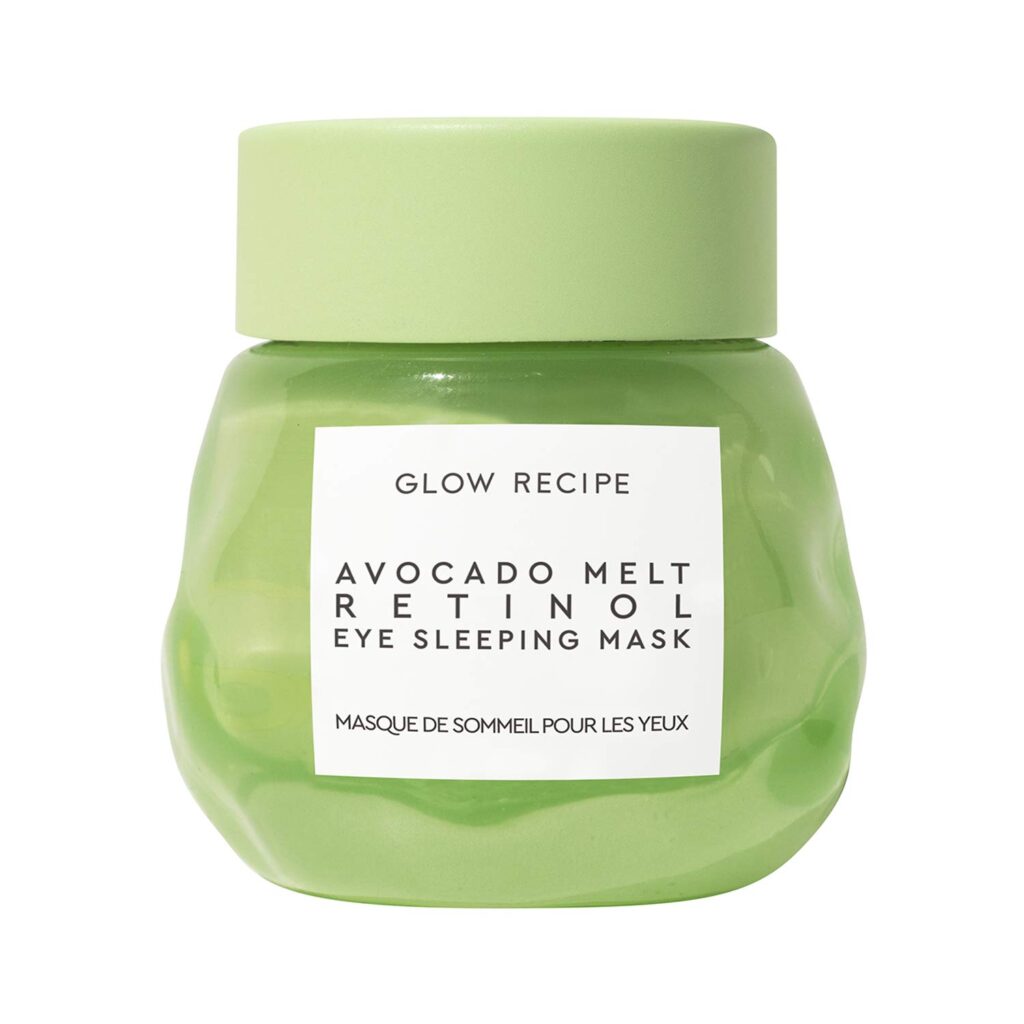 Unfortunately I wasn't impressed by the Glow Recipe eye cream. While it's very thick and moisturizing, I did not feel it was anything more than a heavier moisturizer. I would personally prefer an eye serum as serums are specially formulated to penetrate and deliver actives. So either something that's able to penetrate or the other extreme of an eye product that is extremely rich like an eye oil or balm. As someone approaching their mid 30s, this eye cream is just not something I would pay money for.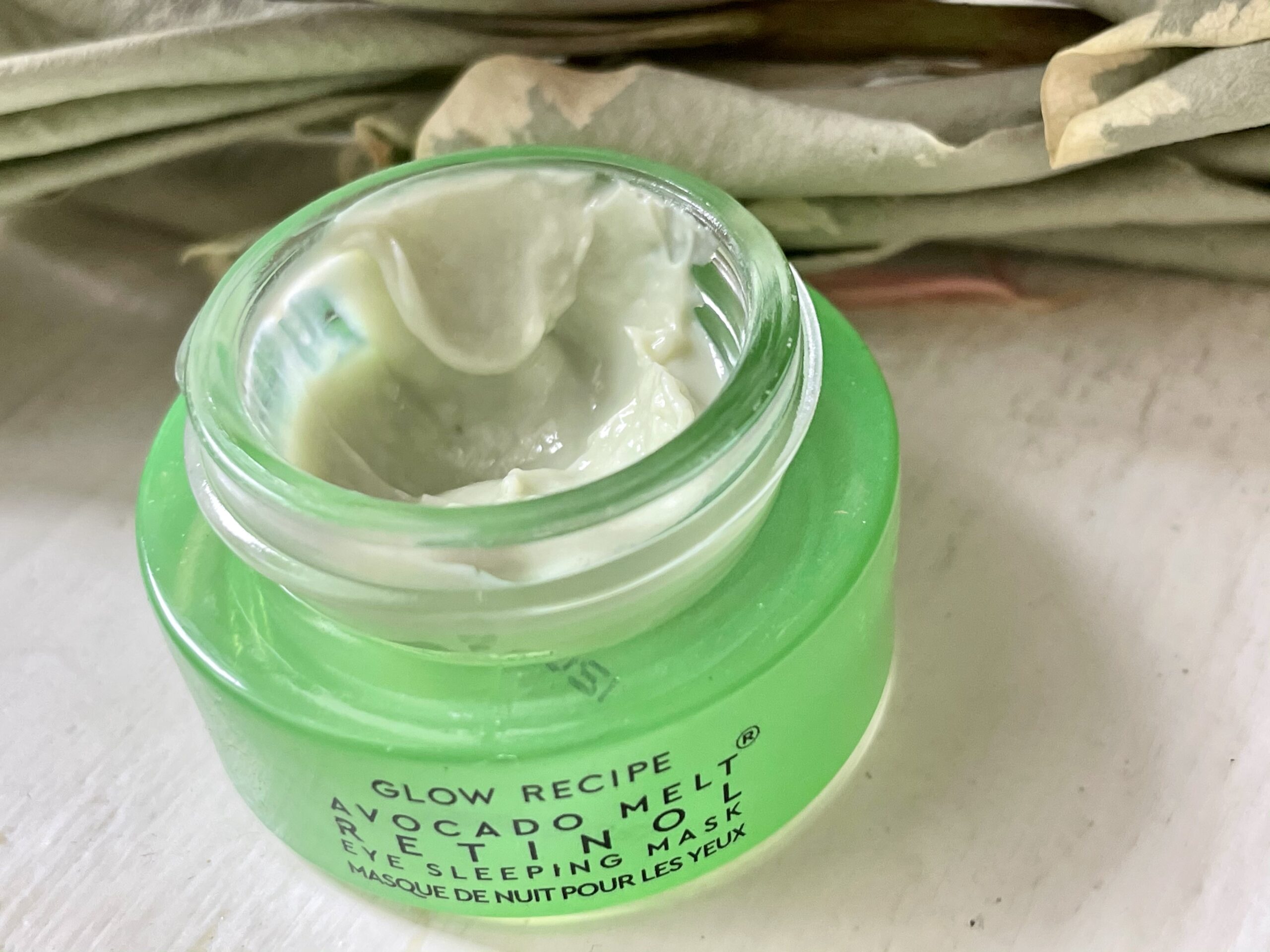 Okay Glow Recipe Products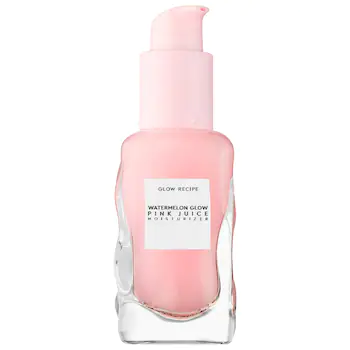 Watermelon Glow Pink Juice Moisturizer is a lightweight gel moisturizer made mostly of watermelon fruit juice that really does feel like you're applying juice to your skin. Watermelon Glow Pink Juice Moisturizer feels more like a serum or even an essence than a true moisturizer. While it feels very hydrating I would prefer to leave these consistencies for my serums, toners and essences and lock them in with a thicker occlusive layer. If you want a very light hydrating serum-like moisturizer for summer though, it's worth checking out if you enjoy sweet watermelon scents.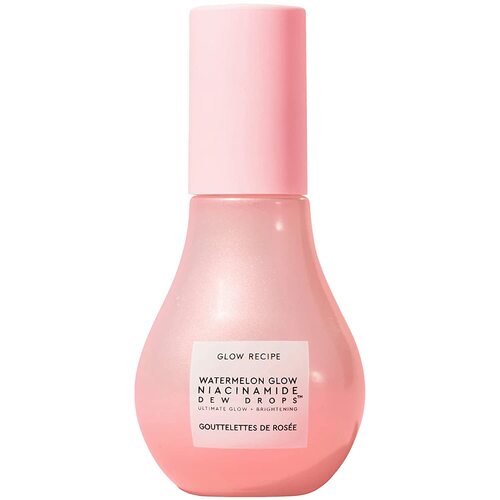 Glow Recipe's first skincare makeup hybrid product, Watermelon Glow Niacinamide Dew Drops is a highlighting serum, formulated without mica, glitter, or pearls. This serum feels a little thicker than the Pink Juice Moisturizer  and it also contains many more synthetics than Glow Recipe's other products which are more natural. I think it would be better to just apply one of Glow Recipe's serums or moisturizer that have a high percentage of fruit juice and apply an organic highlighter for the same effect.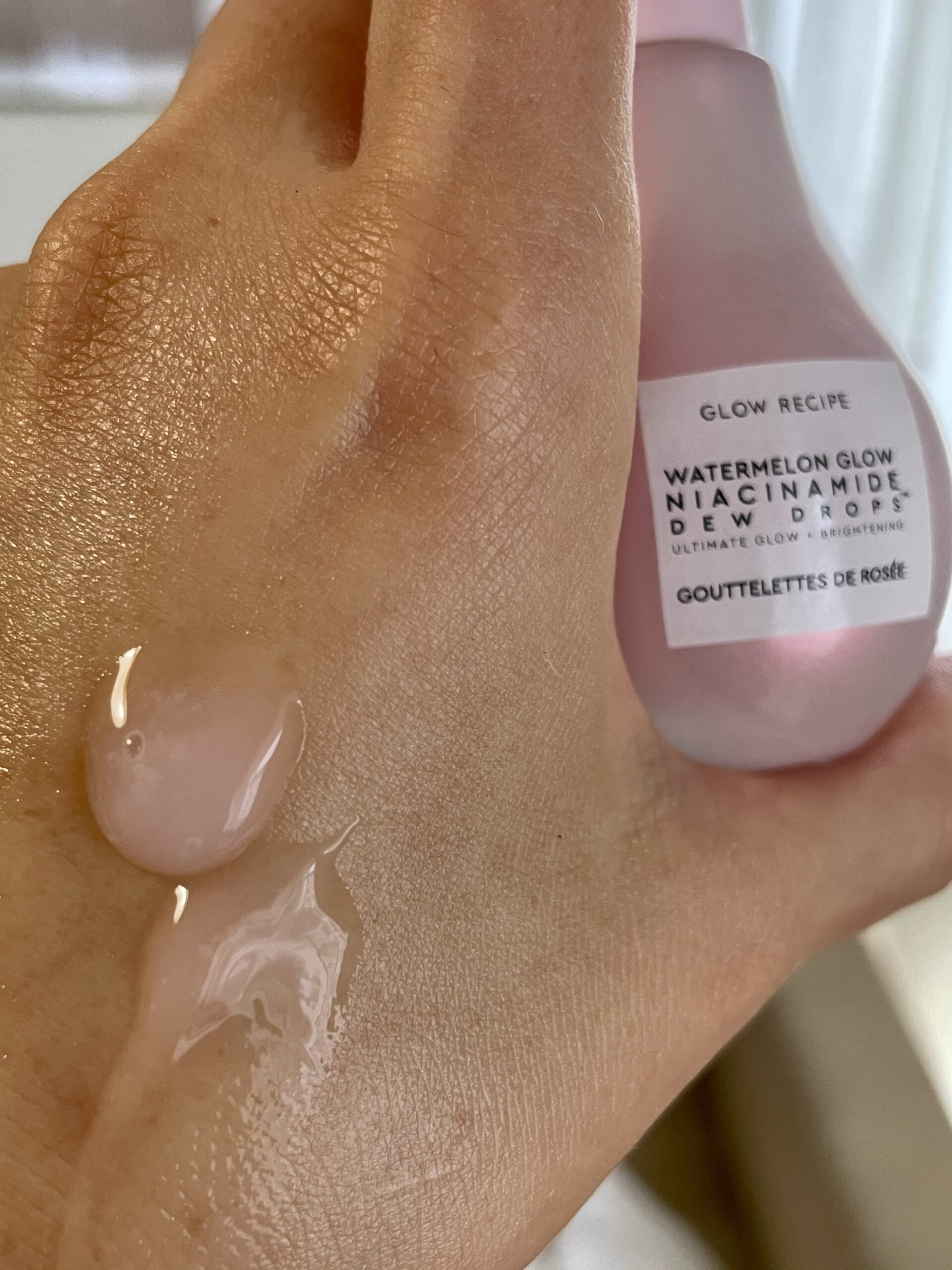 Aqua/Water/Eau, Propanediol, Glycereth-26, Glycerin, Niacinamide, 2,3-Butanediol, 1,2-Hexanediol, Cetyl Ethylhexanoate, Citrullus Lanatus Fruit Extract, Sodium Hyaluronate, Eclipta Prostrata Extract, Melia Azadirachta Leaf Extract, Polyglyceryl-3 Methylglucose Distearate, Tromethamine, Glyceryl Stearate, Carbomer, Acrylates/C10-30 Alkyl Acrylate Crosspolymer, Ethylhexylglycerin, Xanthan Gum, Polyquaternium-51, Moringa Oleifera Seed Oil, Fragrance/Parfum, Benzyl Benzoate.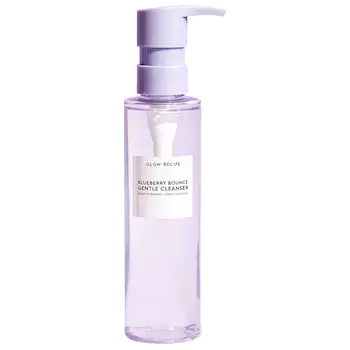 I don't really have anything bad to say about the Blueberry Cleanser. It's a straightforward clear gel cleanser that does its job and feels hydrating. I'm not a fan of the fragrance in it especially as I take the most time cleansing out of any step in my skincare routine. With the Glow Recipe products that have synthetic fragrance, I can immediately notice the fakeness  of the scent, and it's particularly noticeable with the Blueberry Cleanser. While it doesn't fit my personal taste, my younger family members enjoy it.