Phlur Perfume Review 2023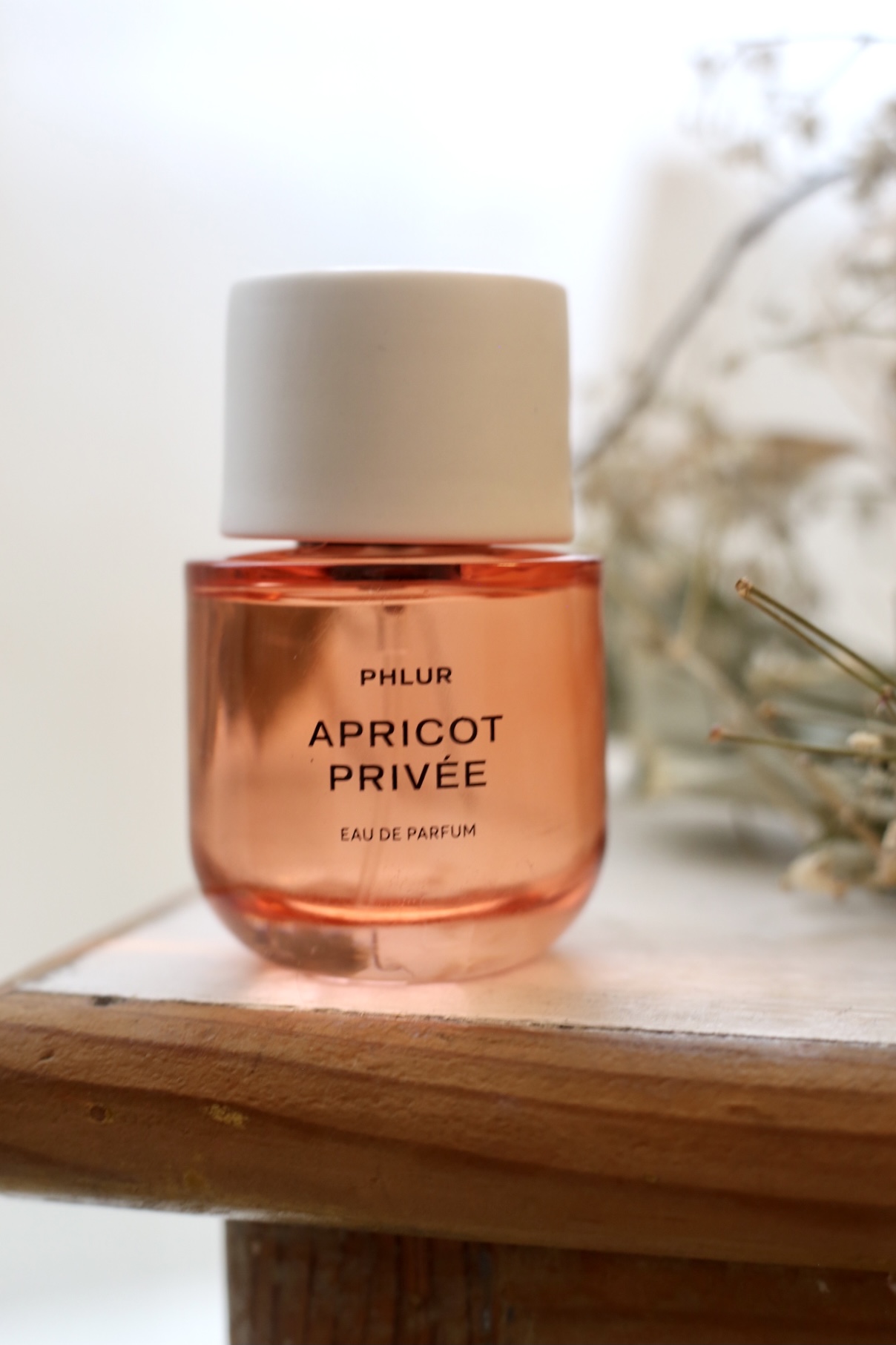 I was just beginning to discover the original Phlur when the perfume company did a whole re-brand with fashion influencer Chriselle Lim as the new owner. Phlur caught my attention because it was a clean perfume brand that was carried at Credo. With the new rebrand, they still maintain the same ingredients standards but do not label themselves as a clean perfume brand anymore. I tried the newest scent by Phlur Apricot Privée and am sharing my thoughts in this Phlur review.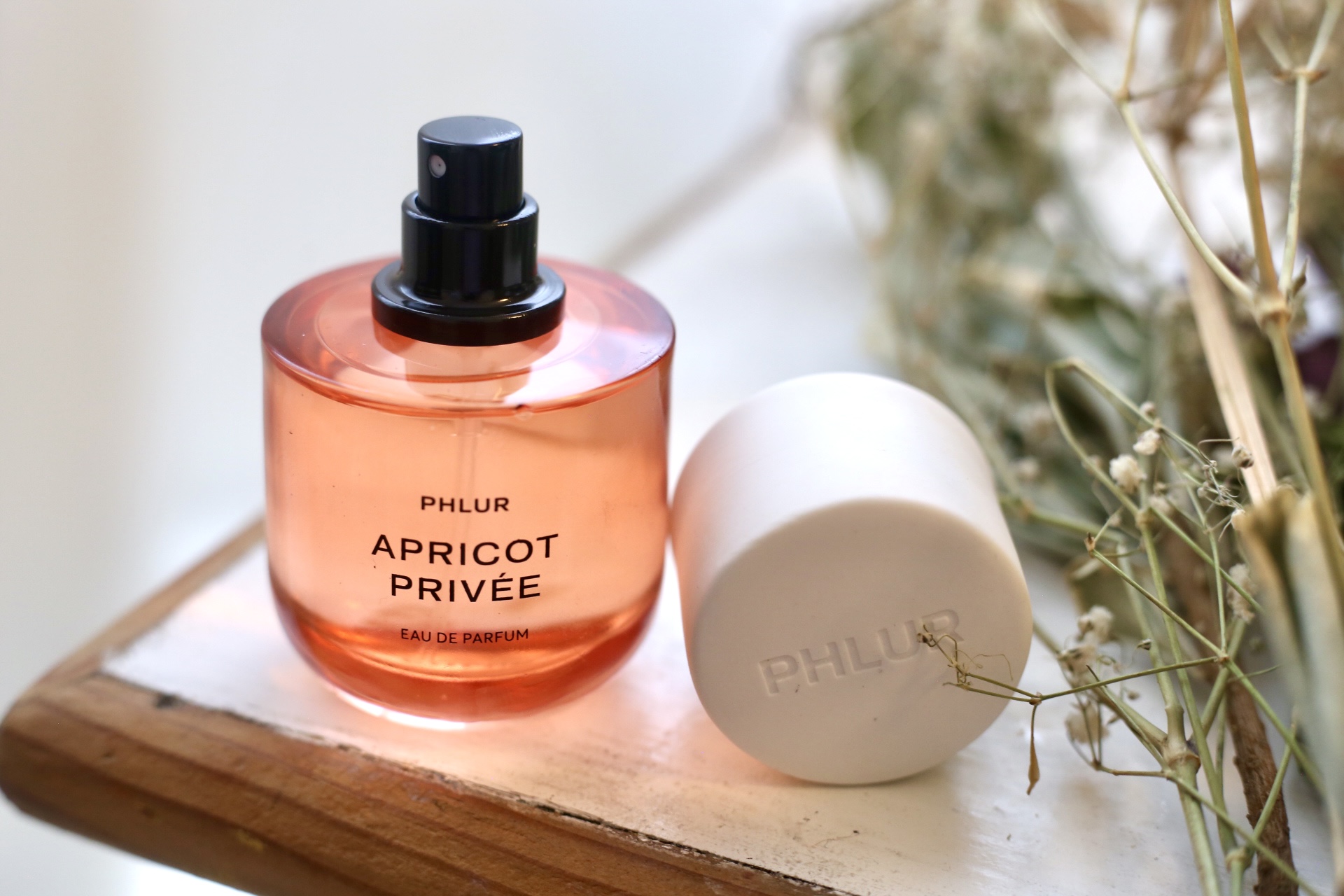 Why Phlur Doesn't Use the Word "Clean" Anymore
Phlur has always been a very forward-thinking brand and that will not change. Our philosophy on formulations, ingredients, transparency and sustainability will remain the same.

What does need to change is the language we use to describe who we are as a brand.

Historically, Phlur is known as a "clean" brand, but that is a word that means different things to different people. Within the beauty industry the word "clean" isn't regulated. I also believe in some instances, "clean" language can be negative and create unnecessary or unvalidated concerns among consumers.

As opposed to focusing on what ingredients are not in our formulas, I'd rather focus on the ingredients we choose to use and why. I hope this gives our customers the opportunity to decide for themselves what is important to them. – Chriselle Lim, Phlur owner
Phlur Apricot Privée is described as apricot and velvety plum dusted in cardamom with a bouquet of peonies and jasmine in a warm base of rich tonka, creamy sandalwood, and agarwood.
This is a woodsy fruity and floral scent. Initially, I definitely get apricot as the top note, though it's clearly a synthetic rendition of apricot. I have an organic Apricot body oil from Providence Perfume Co that's made of essential oils, fractions and natural isolates that is as naturally close to real apricot as you'll get. The fruity scent gradually subsides, while the florals and smokiness become more noticeable during the dry down. It's a subtle mix of sweet and sultry that's actually perfect for summer.
While it's a pleasant scent, Phlur Apricot Privée doesn't fit into my personal taste unfortunately, so I can't see myself repurchasing it. I HAVE gotten compliments while wearing Apricot Privée though, so it is a people pleasing scent.
From a clean beauty perspective, I can definitely smell right away Phlur perfumes have a higher % of synthetics than some other clean perfume brands. If you're sensitive to synthetic scents, this brand might not for you. Check out the best all natural & organic perfumes here.
Performance
Phlur is not a conventional perfume and doesn't perform the way designer fragrances do. With clean perfumes you don't get the same projection or sillage. You can't spray once or twice and have it last 8 hours like with toxic fragrances. If I'm comparing Phlur to other similar clean perfume brands like By Rosie Jane, Skylar, Ellis Brooklyn etc, Phlur has more projection and longevity. But you can't get away spritzing once and expect performance. Phlur needs a good 4-5 sprays for it to last 6+ hours. Just a few spritzes and you'll notice less longevity.
Ingredients
Organic Sugarcane Alcohol
Denat. Fragrance/Parfum*
Water/Eau/Aqua.
Fragrance Ingredients: Tetramethyl Acetyloctahydronaphthalenes, Dipropylene Glycol, Pogostemon Cablin Leaf Extract, Methyl dihydrojasmonate, Citrus Aurantium Bergamia (Bergamot) Fruit Oil, Pentamethylcyclopent-3-Ene-Butanol, Gamma-Undecalactone, Citrus Aurantium Dulcis (Orange) Peel Oil, Ethyl Linalool, Isobutyl Methyl Tetrahydropyranol, Methoxyhydratropaldehyde, Methylcyclohexenylpropyl-Cyclopentanone, Gamma-Decalactone, Coumarin, Ethyl Trimethylcyclopentene Butenol, Vanillin, Ethyl Hydroxypyrone, Gamma-Dodecalactone, Alpha-Methyl-Alpha-Ionone, Hexyl Acetate, Alpha-Isomethyl Ionone, Anise Alcohol, Benzyl Cinnamate, Citral, Citronellol, Coumarin, Eugenol, Farnesol, Geraniol, Limonene, Linalool.
Packaging
The packaging is minimal chic with a beautiful heavy white porcelain cap that's magnetic.
tinted-coral, translucent glass bottle
porcelain cap with magnetic closure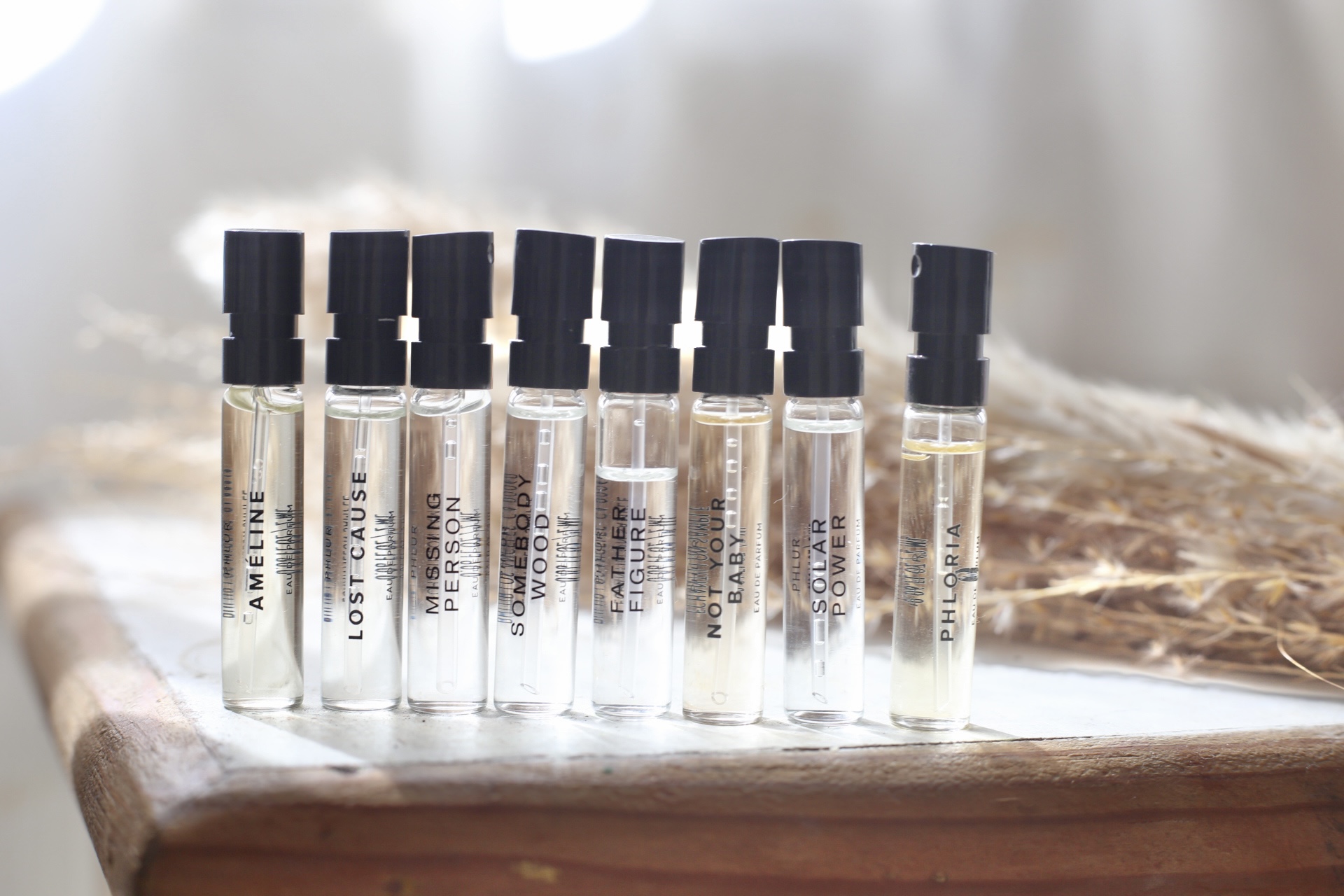 Missing Person: This is a musky skin scent with just a hint of sweet fruitiness. It's very light and subtle compared to Phlur's other scents. Not in love.
Phloria: So far the one I've found the most alluring. It's a sumptuous creamy white floral.
Father Figure: Woodsy and dark with creamy fig. Not in love.
Not Your Baby: A synthetic smelling, candied violet scent with a creamy vanilla base that might be too juvenile depending on your taste. I do not get much spice even though they describe it as a spicy floral. Not in love.
Lost Cause: a fresh white floral. smells too synthetic for me and the dry down reveals a soapy quality. Not in love.
Somebody Wood: unexpected bright lemon opening that dries down to a warm, cozy woody scent. An easy scent but not interesting.
Ameline: rich, peppery jammy rose. one of the more bolder scents in the line.
Check out: