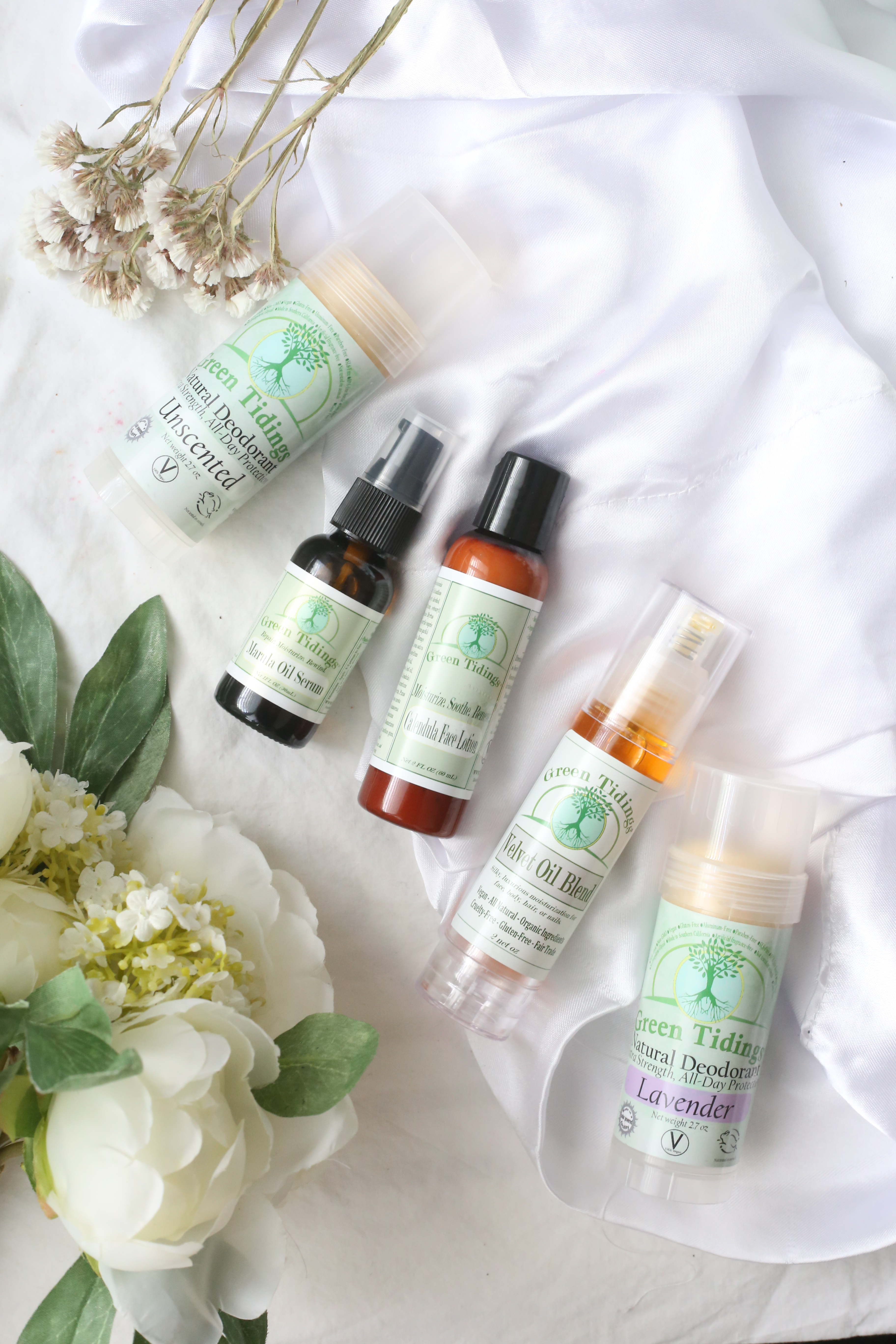 Green Tidings is a brand I have used and known for years and they even launched an OBL CLUB campaign to have dozens of members test and review their products. You can see what the OBL community thought here. The line was started by Jenny, who after losing her sister to cancer when she was 19, studied natural health and nutrition as a means of preventative health. After having her first child, she created a nontoxic deodorant and since then has expanded Green Tidings into a well-rounded bodycare and facecare line. Their products are nontoxic, vegan, cruelty-free and organic- made in a solar-powered facility and packaged by a nonprofit who provides meaninglful employment to people with disabilities.
The deodorant comes in Lavender or Unscented and is a nontoxic, organic, vegan deodorant made right in Southern California. After using it different seasons and climates, I've found that the consistency varies and it can be anywhere between a bit dry/grainy to soft/mushy, especially in very hot weather. There has been some major heat waves lately around the world! A lot of product tends to come off so really only 1 or 2 swipes is needed per armpit. Please note it's not an anti-perspirant so you WILL still sweat. Even through super hot days I found myself stink-free at the end of the day (personally I do not have terrible B.O. unless I am under a lot of stress!).
Ingredients
Tapioca Powder (Deodorizes, antibacterial, absorbs moisture and great for dry, sensitive skin)
Organic Virgin, Unrefined Coconut Oil
Baking Soda
Organic Shea Butter (Unrefined, Fair Trade)
Magnesium Oil
Wildcrafted Candelilla Wax 
This is a multi-purpose thick oil made of a blend of carefully selected oils for face, hair, nails, or body. True to its name, it does make your skin feel velvety after use and works as a great hair-defrizzer. The scent is not feminine or floral – it smells largely of sesame seed oil (it's 2nd ingredient) and doesn't contain essential oils to change the scent.
Judging by its name I assumed this would be a pretty standard face oil serum containing marula and some EO, but it has an interesting ingredients list with Watermelon Seed oil, Black Currant seed oil, Balloon Vine extract (anti-inflammatory and helps with eczema, dermatitis, and psoriasis) and Neroli Flower oil among others. I love Neroli so I definitely appreciated the inclusion of this ingredient. The Marula oil is a lightweight, hydrating oil that absorbs very well and has a sweet neroli and herbal scent that isn't overpowering.
On the thicker side, this face lotion hydrates, soothes and calms skin with ingredients like Myrtle Leaf, Calendula, Borage Seed, Oat Bran, Foraha Fruit, Palmarosa Leaf and more. It has a yellow tint to it but does not tint the skin at all and I greatly appreciate the first ingredient is Aloe leaf juice NOT water. There is no skimping here. I think this is a great product, but the packaging detracts from the overall experience. It's a disk top cap similar to shampoo bottles, because this is a small bottle it's hard to squeeze the product out because it's not a liquid gel. A pump bottle would be a better alternative.
All Green Tidings products are:
Non-toxic

Non-GMO

Vegan

Certified Organic ingredients

Gluten-Free

Paraben-Free

Solvent Free

Preservative Free

Certified Cruelty Free
VELVET OIL INGREDIENTS
Organic Jojoba Seed Oil:  Anti-bacterial and anti-inflammatory. Very hydrating; keeps moisture in while keeping bacteria out. Helps to reduce wrinkles and stretch marks. Hypo-allergenic.
Organic Sesame Seed Oil: Known as the "Queen of oils."  High in linoleic acid, which is anti-inflammatory and anti-bacterial, and may help with eczema, psoriasis, dermatitis, acne, and irritated skin.  Contains antioxidants, which fight free radicals, and are anti-aging.  Rich in Vitamins E, D, and B Complex, which have been shown to reduces scars and skin rashes. Anti-bacterial.  May repair damaged skin cells.  Moisturizes and softens skin.
Poppy Seed Oil:  Super silky, it is high in fatty acids such as linoleic acid, which can help eczema, psoriasis, and inflammation. May help with dandruff. Highly moisturizing, and great for dry, aging, and mature skin. Has skin barrier and protective properties.
Tung Wood Oil and Brassica Campestris Oil Blend:  A purified blend of two oils, which provide natural moisturizing and skin conditioning, with great humectant properties.
Organic Olive Fruit Oil: High in fatty acids and antioxidants, an extremely rich moisturizer.  Neutralizes free radicals. Smoothes wrinkles. Helps with skin cracking and callouses
Carrot Seed Oil:  High in antioxidants, which protect against free radicals, and are antiaging, and may help with rejuvenating, firming and toning skin. Moisturizes without clogging pores.  Contains carotol, which can rejuvenate the look and feel of skin. Helps with age spots and circulation.
Vegan Vitamin E: Antioxidant. Repairs damaged skin, fights wrinkles, helps heal scars. Natural preservative.
Sunflower Seed Oil:  High in essential fatty acids and Vitamin E, and is moisturizing, anti-bacterial, anti-microbial, and reduces inflammation.  It is great for wrinkles, and helps improve skin clarity.
Organic Calendula Flower: A great moisturizer for dry, chapped, or split skin.  Rich in organic compounds, including glycosides, saponins, and other powerful anti-inflammatory and antioxidant compounds, as well as anti-viral and anti-bacterial compounds, which help with cuts, insect bites, scrapes, red patches, eczema, dermatitis, and helps speed healing.  Can help reduce appearance of wrinkles, age spots, and scars. A gentle and hydrating moisturizer.