If you're looking for Plant alchemy skincare infused with vibrational medicine, reiki, intuition, loving intention, and nutrient-rich whole plants, keep reading for my Heart of Gold skincare review. I was first introduced to Heart of Gold skincare in 2019 and since then I've fallen in love with the brand and products. Heart of Gold skincare is based out of Portland, Oregon and founded by Ally Draizin, an herbalist and holistic esthetician with over two decades of experience as an esthetician and seven years as a bioregional herbalist.
Stay tuned until the end of the review for a mini interview with founder Ally Draizin! Heart of Gold skincare products are available on their website and at Boxwalla, which ships internationally for free with orders $100.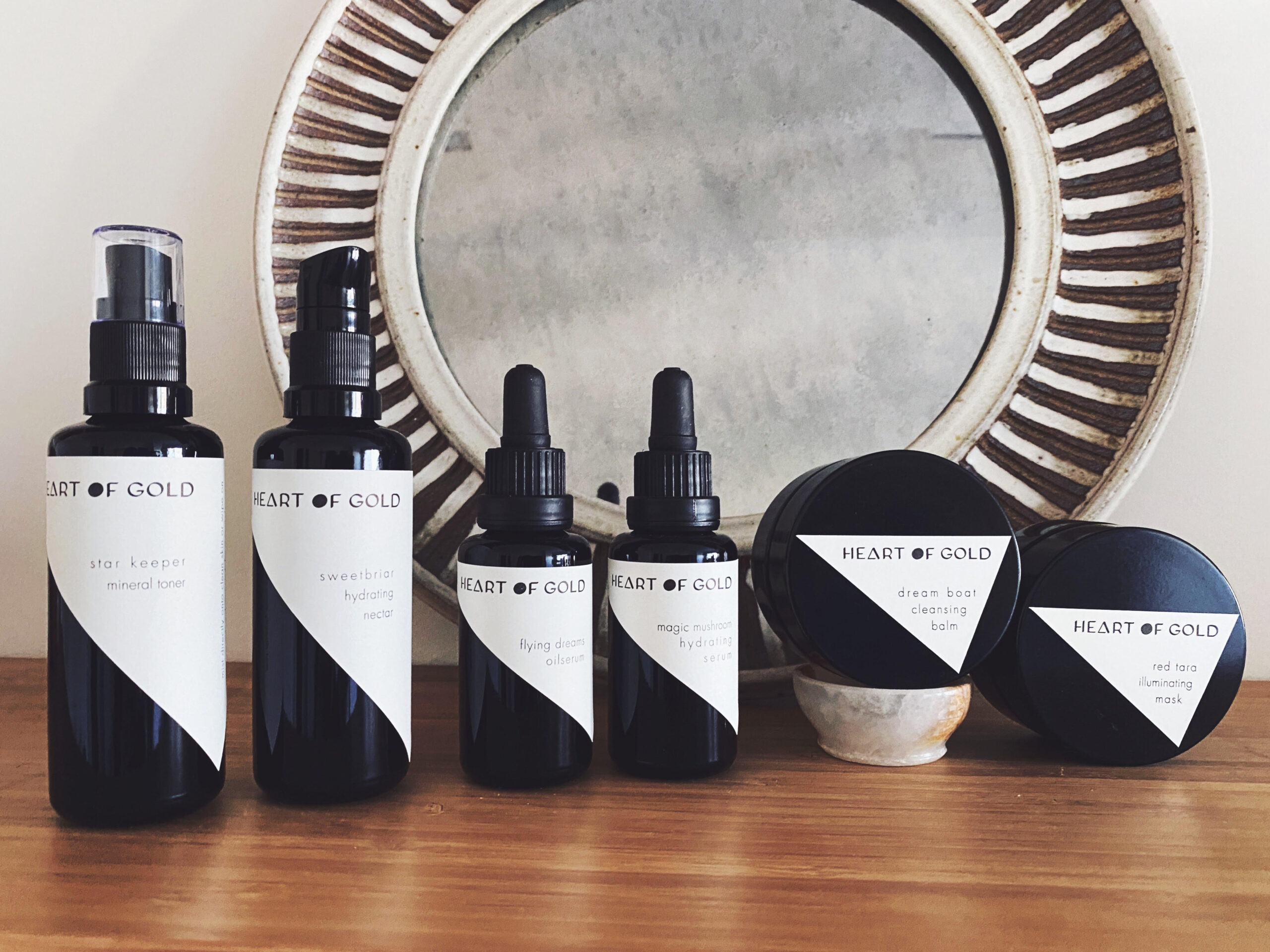 Heart of Gold Skincare is the epitome of artisanal green beauty, bringing together the most vibrant virgin cold-pressed oils, farm-fresh or wildcrafted botanicals, as well as high quality, traceable active ingredients to create natural skincare that's as effective as they are soulful. Their products are handmade in small batches and are meant to be used immediately and consistently to reap the most benefits out of the fresh ingredients.
For an artisanal line, I was surprised by the number of products Heart of Gold offers as most small batch artisanal lines have only a handful of products that they focus on. This is because large brands have extensive budgets to expand their line and create new launches regularly, while smaller brands simply don't have the capacity and choose to do around 5 products or even fewer really well.
Not only does Heart of Gold offer a variety for each product type, founder Ally also launches limited edition products that tend to fly off the shelves immediately. To me, Heart of Gold skincare is like skin food but it reminds me of the molecular multi-sensory gastronomy kind.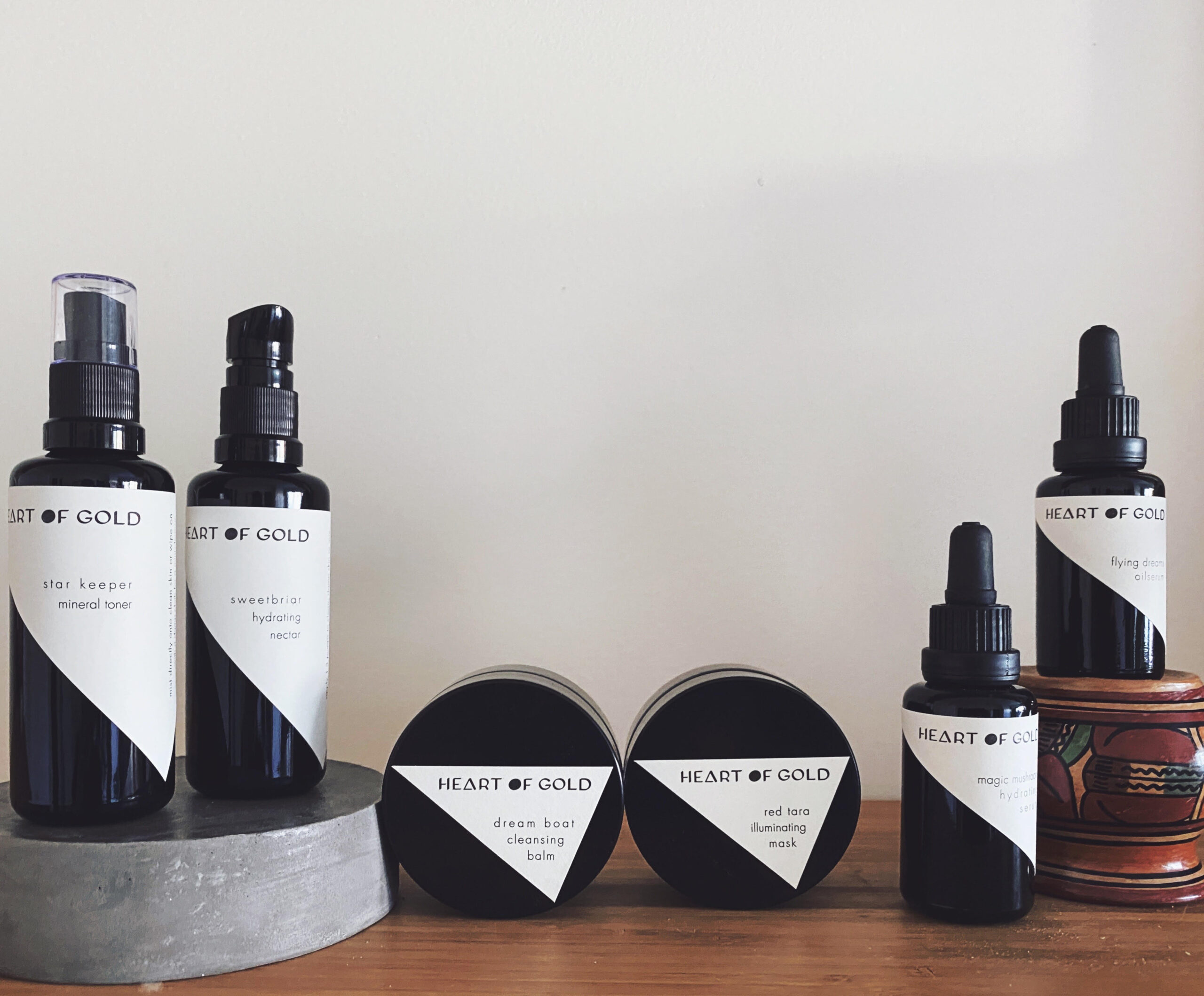 Cleansing balms come in all kinds of consistencies and I love the dense, rich consistency of Heart of Gold's Sea Change Cleansing Balm. When you first scoop it out, the balm is hard but melts immediately upon contact with the skin. Ideal for dry, dehydrated, puffy, aging & delicate skin, this cleansing balm is undoubtedly effective at taking off makeup and sunscreen. It has an elegant and therapeutic citrus and floral scent from grapefruit and chamomile.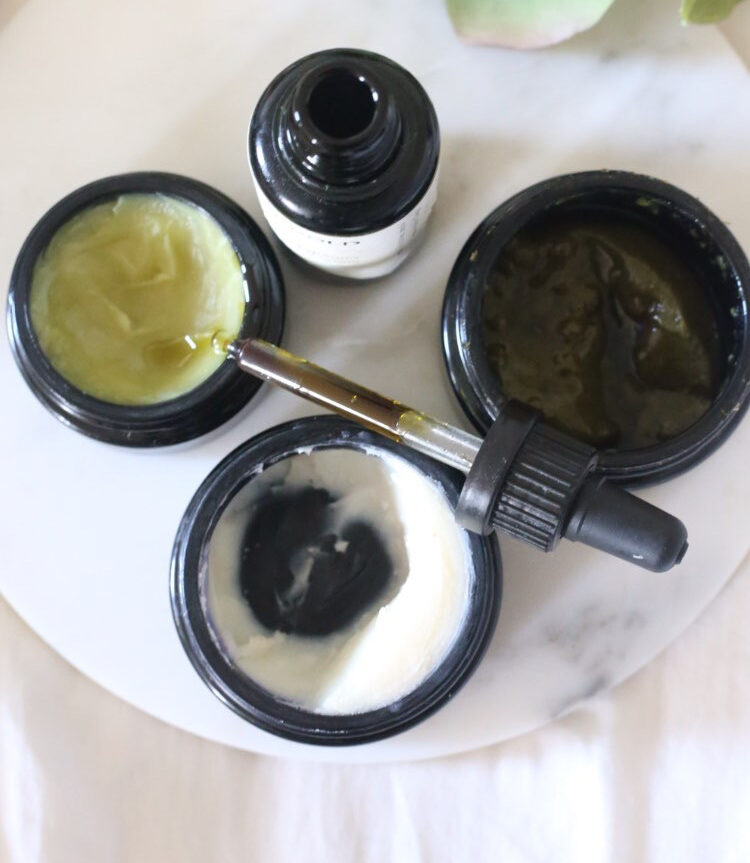 The Sea Change Cleansing Balm is a rinse-off balm that turns into a milky liquid with warm water. The blend of moringa and meadowfoam oils, sal & shea butters help strengthen the skin barrier while fennel seed, grapefruit, and chamomile fight lymphatic stagnation and puffiness.
Ingredients: sal butter, shea butter, meadowfoam seed oil, virgin moringa oil, di-PPG myreth-10 adipate, glyceryl stearate & cetearyl alcohol & sodium stearoyl lactylate, castor oil, essential oils of fennel seed, grapefruit peel & roman chamomile
Fallingwater Winter Balm
Though this small-batch treasure of a balm is designed for winter, I've actually used it throughout all four seasons. Wonderfully lightweight yet balmy of course with a beautiful pale green shade, Fallingwater Winter Balm sinks into skin immediately and fortifies skin with powerful antioxidant-rich oils and butters.
Fallingwater Winter Balm is no longer available but Heart of Gold's latest balm creation called Moon River Night Renewal Balm looks equally divine. Moon River Night Renewal Balm is designed to speed up cell turnover, so great for aging skin, and contains slow-infused tulsi, hydrating shatavari root, firming gotu kola, reviving rose petal, and whole frankincense resin (retinol analog) to improve cell turnover, target inflammation, energize, firm, and illuminate.
INGREDIENTS: orbignya oleifera (babassu) seed oil, astrocaryum tucuma butter, theobroma grandiflorum (cupuaçu) butter,  virgin cold-pressed daucus carota (carrot seed) oil, persea gratissima (avocado) oil, ribes nigrum (black currant) seed oil, oenothera biennis (evening primrose) seed oil, camellia oleifera oil, argania spinosa (argan) oil, moringa oleifera oil, extracts of plantago major (plantain leaf), melissa officinalis (lemon balm) & echinacea purpurea, mixed tocopherols (non-gmo sunflower-derived vitamin e), essential oils of michelia alba (magnolia), citrus bergamia (non-photosensitizing bergamot), salvia sclarea (clary sage) & ferula galbaniflua (galbanum), viola odorata leaf extract
Heart of Gold's Flying Dreams Oil Serum is a calming and illuminating serum made with a botanical blend of shiso leaf, mountain lavender & azulene-rich blue yarrow to support calm, glowing skin and shade-grown Matcha, lavender, yarrow, comfrey & plantain to support the skin's innate healing process.
The texture is impossibly silky, the consistency lightweight and the shade a prismatic deep green. My skin drinks this up and my skin tone and texture is soft and clear in the mornings.
INGREDIENTS: perilla frutescens (shiso seed) oil infused with camellia sinensis (matcha), symphytum officinale (comfrey), lavandula officinalis (lavender), plantago major (plantain) & achillea millefolium (yarrow), silybum marianum (milk thistle) seed oil, olive squalane, virgin cold pressed daucus carota (carrot) seed oil, lavendula angustifolia (lavender) essential oil, perilla frutescens (green shiso) leaf essential oil, achillea millefolium (blue yarrow) essential oil
Heart of Gold's Sweet Briar Hydrating Nectar sounds like it comes right out of an English novel and is fittingly a rose and aloe moisture milk that's as light as a serum but can be used in all kinds of ways: moisturizer, face mask, undereye serum or bespoke emulsion when mixed with Heart of Gold's oils. Sweet Briar has an elegant and subtle rose scent and is ultra lightweight making it ideal for hot summer months or if you prefer a lighter moisturizer followed by heavier face oils and balms.
INGREDIENTS: rose hydrolat, distilled water, organic aloe vera juice, leuconostoc/radish root ferment filtrate & lactobacillus & coconut extract, meadowfoam seed oil, xylitol, organic sunflower lecithin, extracts of rosa canina (wild rose), ligustrum vulgare (wild privet), ribes nigrum (black currant) & sorbus domestica (juneberry), d-ribose, bergamot (bergapten-free) essential oil, apothecary rose absolute, xanthan gum, gum arabic, potassium sorbate.
Q: What inspired you to start your own skincare line and what do you envision for Heart of Gold in the next 5-10 years?
I've dreamed of having a skin care line since I was about 7 years old. I was always making perfumes and potions in the yard. When I was 11 I developed cystic acne, and that really sealed the deal for me. My search for the root cause(s) of acne eventually led to esthetics school. After several years of practicing esthetics, I realized that the body is intrinsically interconnected, and I knew I needed to learn more.
I went to a really in-depth massage school where I studied anatomy & physiology, pathology, clinical rehabilitative massage, and really focused on learning as much as I could about the human body. I spent 23 years in the treatment room, learning hands-on what works and what doesn't, how different skin issues present, how to treat them, and their common causes.
All this time it was my dream to eventually start a skincare line, and I knew I would use every ounce of my education and experience to make it really exceptional and unique. Honestly, I probably would have kept putting it off forever because I was really happy in the treatment room. Then I was in a car accident and received a serious concussion. I say "received" because I believe it was a gift. I had been working like a maniac for years, and it wasn't sustainable.
The concussion made it clear that I couldn't continue. I was exhausted, anxious and depressed. My recovery took years, and during that time it was really hard to keep up in the treatment room. I kept trying to make it work, but after a while I just couldn't do it. I closed my esthetics practice for a year, studied bioregional herbalism, and spent every day making skin care, slowly learning how to formulate.
My experience in the treatment room gave me a very high level of discernment, and I always use it as my guiding star. As for the future of HG, I recently bought a house on a half acre of land, I plan to utilize the garden to grow my ingredients as much as possible. Beyond that, I will continue to focus on sustainability, local sourcing, and keeping a healthy work/life balance.
2. What are the main foundations/principles that you've built Heart of Gold on?
Plants are sentient beings. Heart of Gold products aren't formulated by me alone, they're an intuitive co-creation between me and medicinal plants.
Intuition. Maintaining a solid intuitive practice allows me to connect with the plants. Intuition is my guiding compass, and I feel that it makes Heart of Gold products really unique.
Simplicity. A formula can only add up to 100%, so the more ingredients there are in a formula, the less of each ingredient is actually in the formula. Imagine a formula as a pie, and each ingredient is a slice. The slices get smaller and smaller the more ingredients you add. That means that each individual ingredient has less of a chance to actually make an impact on the skin. More ingredients doesn't mean better. I have a little Tim Gunn on my shoulder, reminding me to edit, edit, edit. Simplicity is efficacy. Simplicity is elegance.
3. Tell us more about how you choose the ingredients for Heart of Gold's products.
We work with local & organic farmers when possible to lower our carbon footprint and support our local community. We use wild plants only in tiny-batch limited edition products to honor our ethical wildcrafting rules. We avoid using endangered plants, and do our best to avoid using plants that are vital to a fragile ecosystem. We care about soil regeneration, habitat restoration, and uplifting marginalized people. Sustainability also applies to the people tending the plants- are they able to live comfortably? Considering the livelihood and safety of everyone involved is an important step towards real sustainability.
4. What is the Heart of Gold product(s) that you tend to use the most and why?
I cleanse with Dream Boat Cleansing Balm and mist with a seasonal hydrolat or Star Keeper Mineral Toner twice per day. I mix a few drops of Ghost Nebula Oilserum mixed with a pump of Sweetbriar Hydrating Nectar for my daytime moisturizer. I use a few drops of Resonant Frequency Glow Serum followed by Moon River Renewal Balm as my night moisturizer. My skin really loves colloidal minerals and frankincense resin, and tends towards dehydration.