Odacite Skincare is a natural and organic skincare line where understated luxury and high performance go hand in hand. Odacite has a certain je ne sais quoi, like the effortless beauty that French women seem to possess but in the form of a skincare line. Hailing from California, Odacite Pure Elements has been around since before clean beauty became "clean beauty" and remains a staple in my beauty routine to this day. Now it's a celeb favorite with Gigi Hadid loving Odacite's Moringa Petitgrain serum concentrateand Naomi Watts a fan of the Rose + Neroli Hydra Vitalizing Treatment Mist. It's been five years since I first introduced my skin to Odacite's highly active formulas, and in this full Odacite skincare review, I am finally sharing my thoughts on the products I've tried over the years. You can save 15% with my Odacite discount code OBL, as always.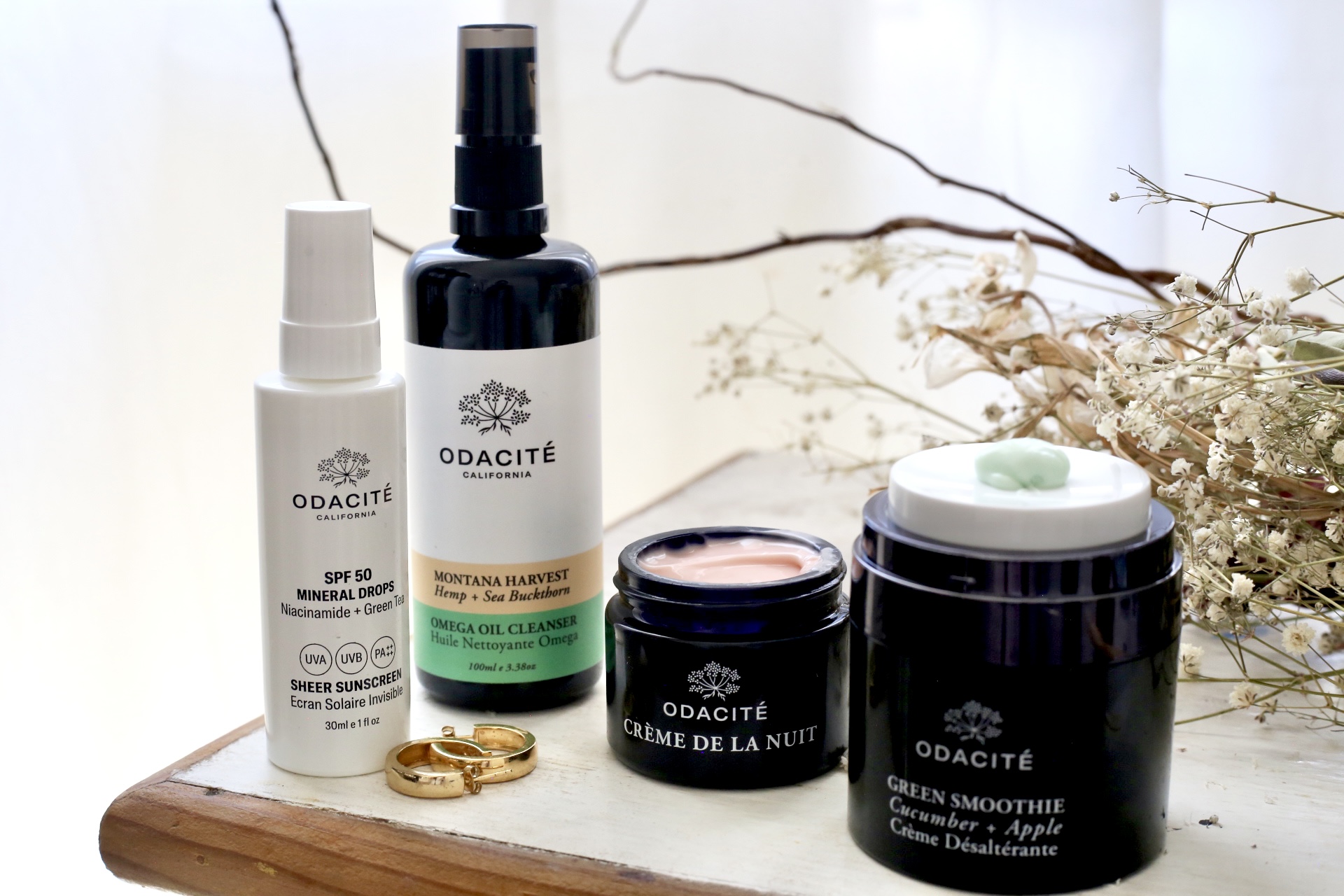 The founder of Odacite began custom creating skincare for herself and a private clientele as a result of her battle against cancer and journey towards a toxin-free, green lifestyle. You'll find only the highest quality natural ingredients and wild-crafted organic botanicals in the purest formulas without any fillers, preservatives, synthetic substances, petrochemicals or phenoxyethanol.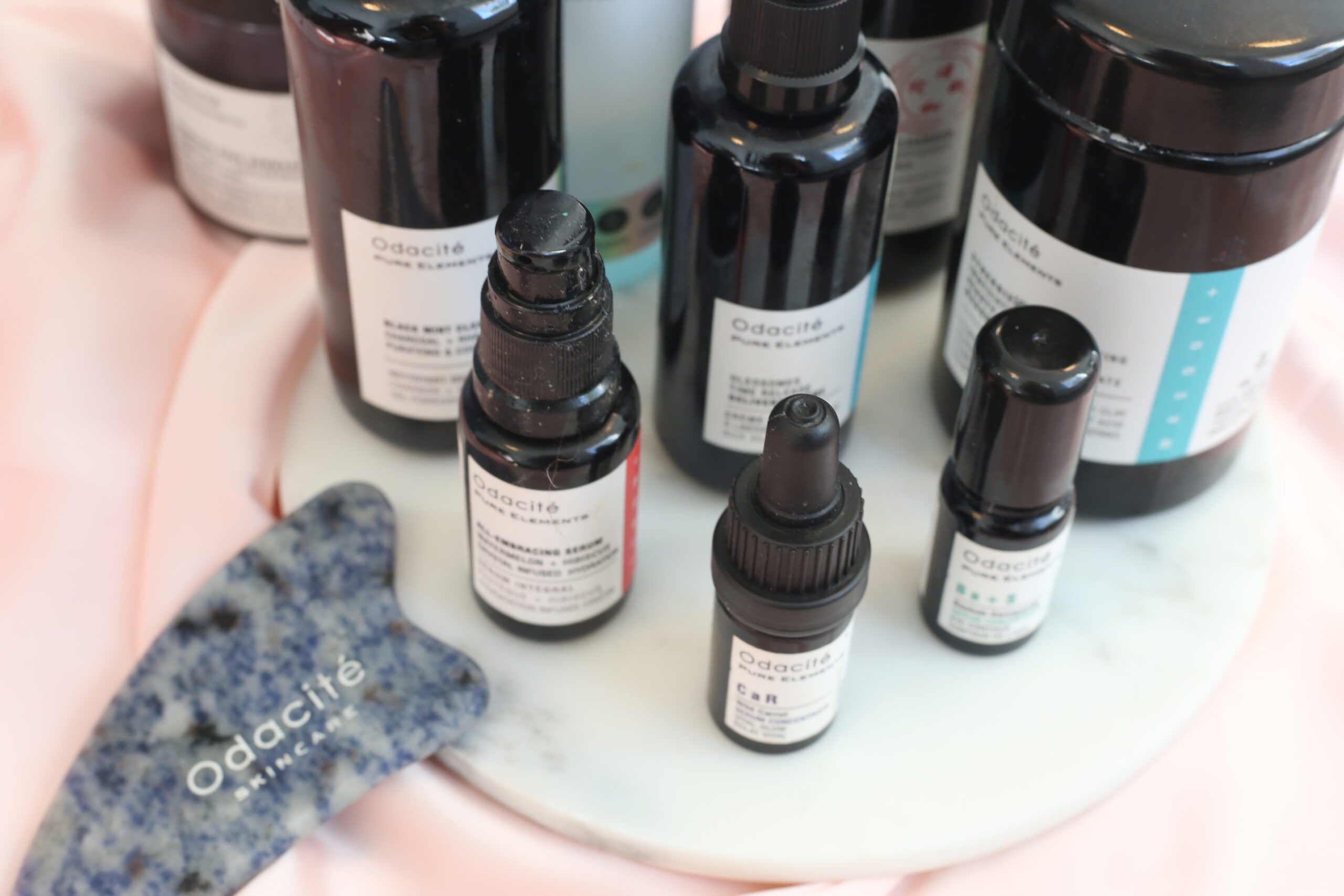 I've used Odacite Pure Elements Skincare for over five years now – how has it been that long already! They first came on my radar with their serum concentrates, which are highly concentrated serums that can be mixed in with your current skincare or used on their own in small amounts. The innovative product type intrigued me and I became hooked on these small yet mighty little bottles of skincare wonder. Odacite is now widely available and sold at Nordstrom, Bloomingdales, The Detox Market and of course their own website www.odacite.com.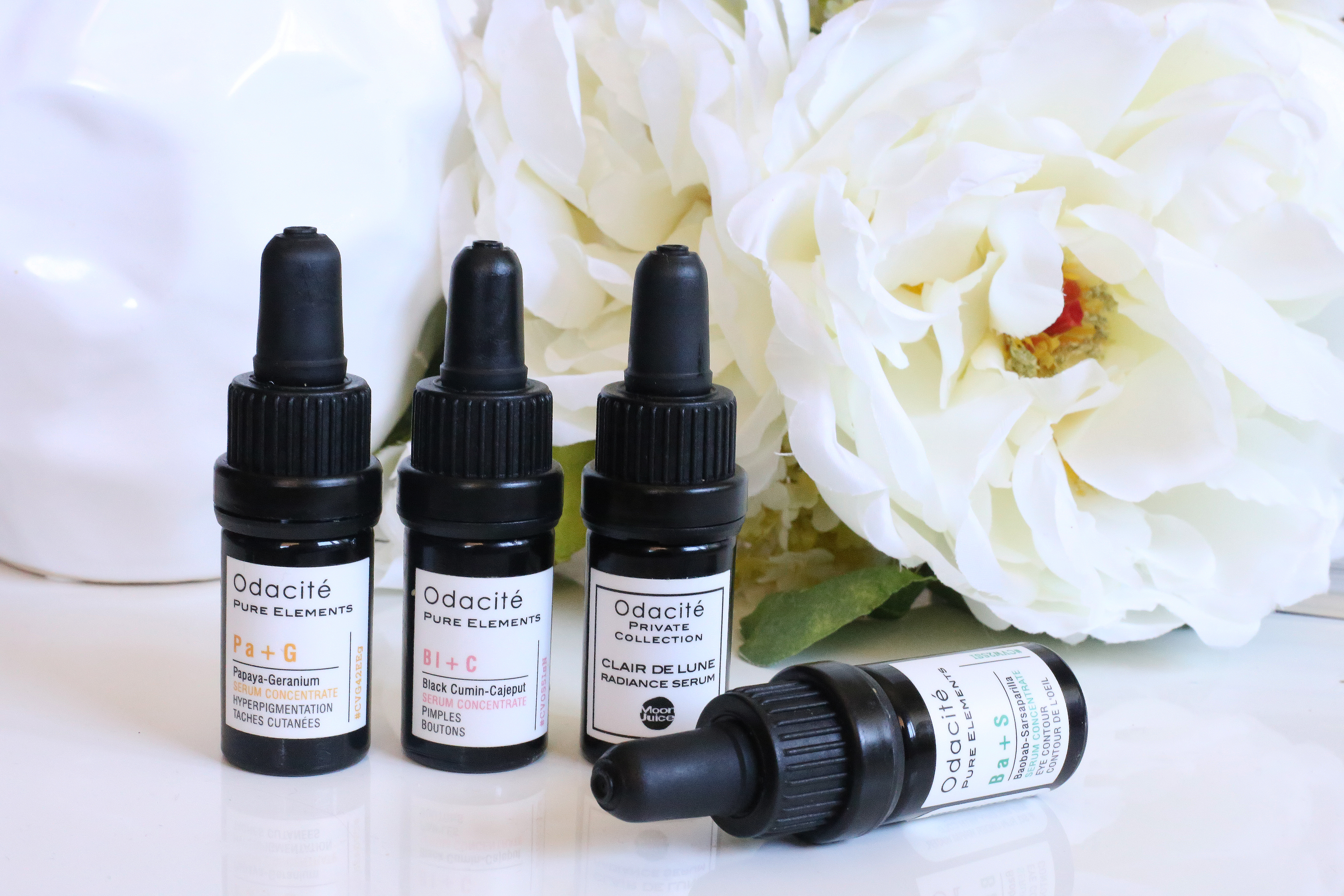 Odacite Serum Concentrates
Over the past years, Odacite has grown immensely and each new launch adheres to their high standards of quality and innovation. My favorite Odacite line has to be their serum concentrates. These bottles of highly concentrated actives are so powerful, you only need 2-3 drops a day to begin seeing results.
With 18 different serum concentrates available, there is an Odacite serum concentrate for every skin concern: extreme dryness, pimples, hyperpigmentation, dullness, clogged pores, deep wrinkles, sagging, elasticity and fragile capillaries. They are also highly versatile and allow you to target evolving skin concerns with precision. You can use specific serums on specific areas of your face, supercharge your existing skincare with a few drops of the targeted serum, use as a spot treatment, or simply use a few drops all over the face.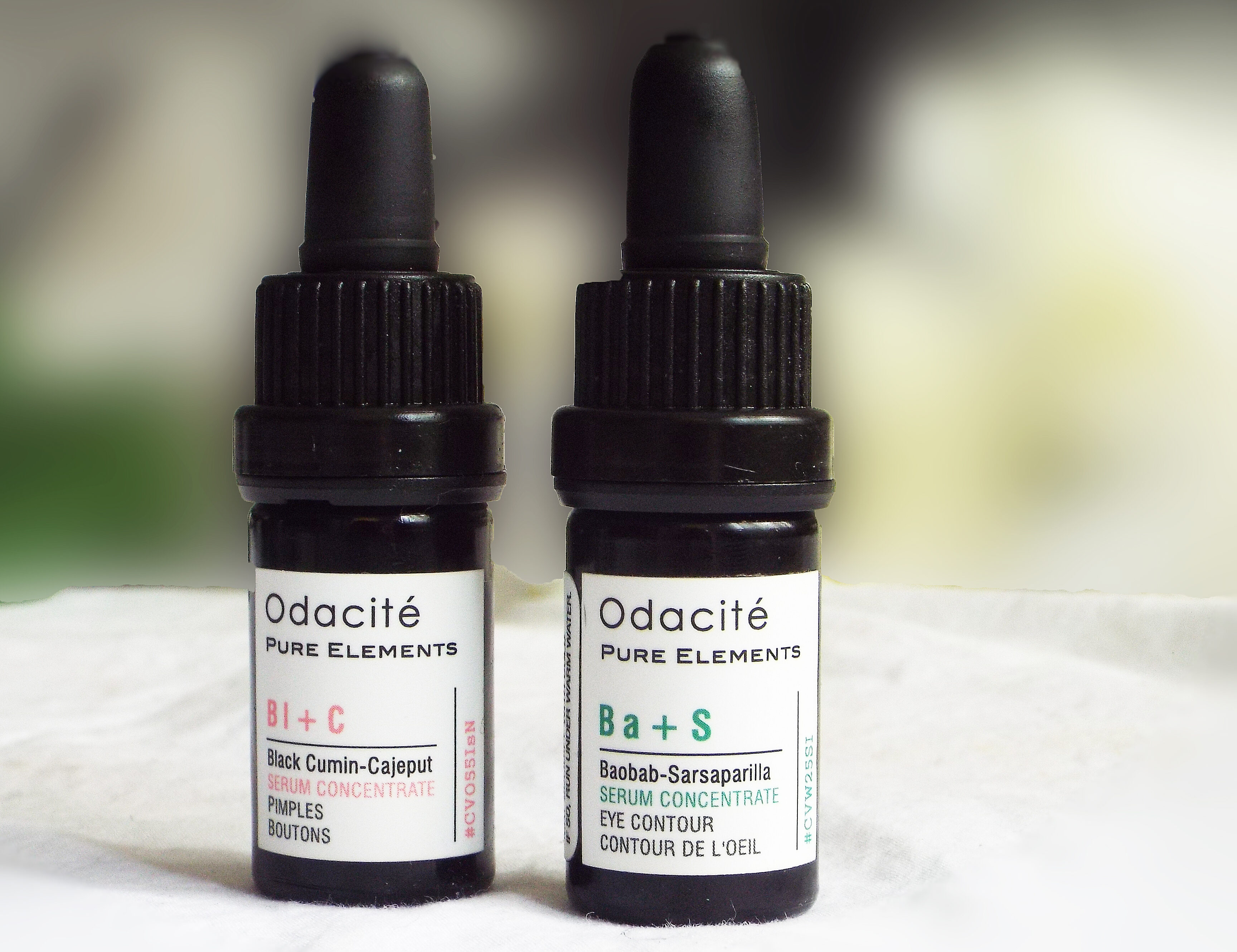 Each Odacite serum is a concentrate of two or more highest-grade cold-pressed oils. My favorites are the
Baobab Sarsaparilla Serum Concentrate Eye Contour Serum with rollerball
Black Cumin + Cajeput Serum Concentrate for Pimples
Wild Carrot Serum Concentrate for Vital Glow
Green Tea Lemongrass Serum Concentrate for Radiance Effect
If you're looking for a natural and organic spot treatment that effectively prevents and heals pimples, I swear by the Byrdie award-winning Odacite Black Cumin Cajeput Serum Concentrate. This is a tried and true pimple serum that has helped not only me but many others. Black Cumin helps purify the skin and cajeput supports a blemish free complexion.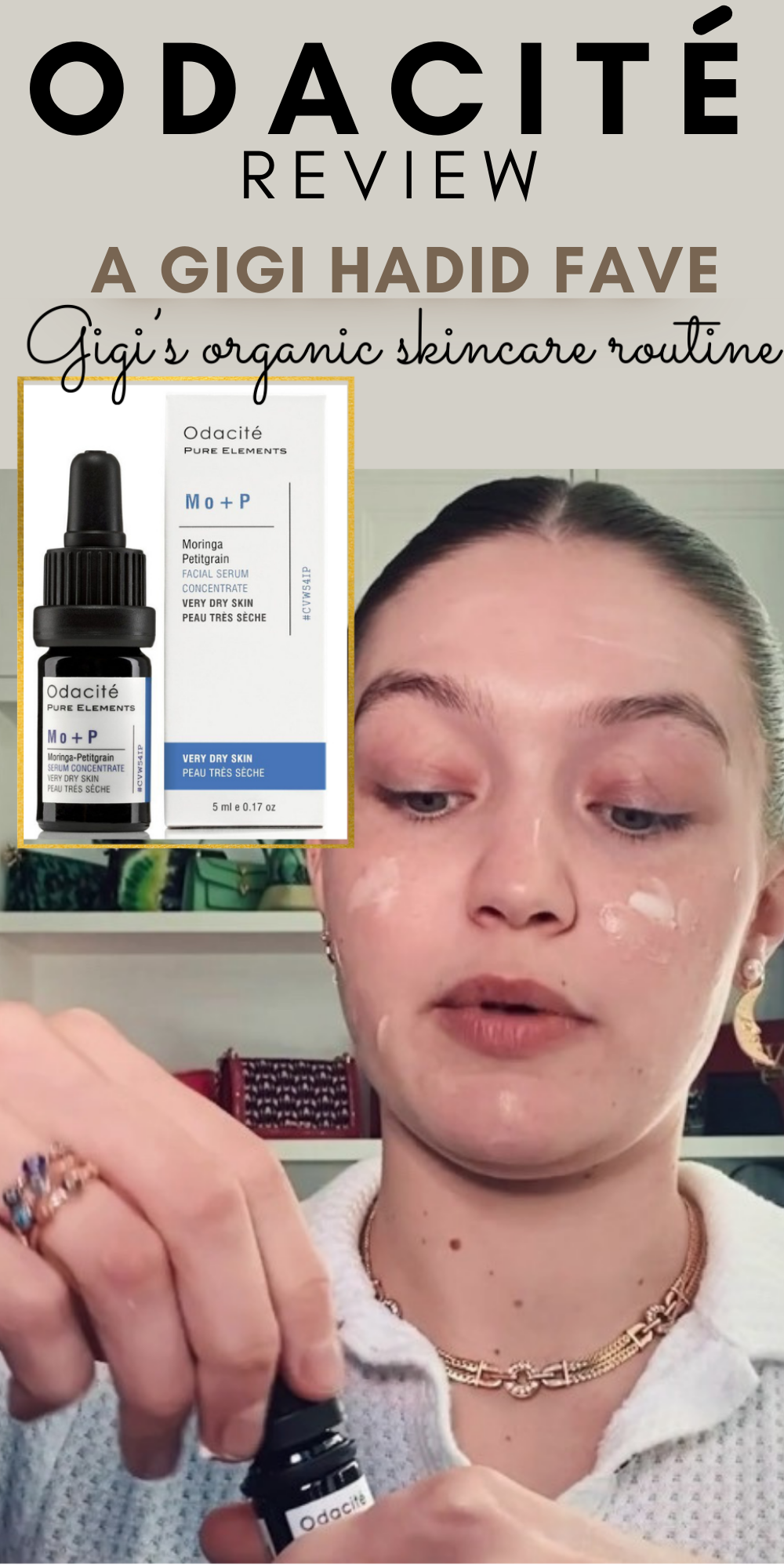 Gigi Hadid uses the Odacite Moringa Petitgrain Serum for Very Dry Skin. In her Vogue feature she says she always has very dry skin and she goes through bottles of Odacite's Moringa Petitgrain Serum.
One of Odacite's newest launches is their first face balm! If you find May Lindstrom's $180 The Blue Cocoon out of your budget, the $48 Odacite blue hued balm reminds me a lot of The Blue Cocoon though they are both still very different in many ways. The Blue Balm is a very soft balm with the blue shade coming from German Chamomile. It contains a Repair Complex and Soothing Complex.
The Repair Complex is extracted from Squalane, Shea Butter, and an omega-rich trio of Hemp, Jojoba, and Almond Oils. The Soothe Complex combines  the soothing property of German Chamomile with Turmeric and calming Triterpenes found in Shea Butter.
The Blue Balm feels like a soft salve and melts into skin immediately. It's a great product as a last skincare step AFTER moisturizer and face oils to help lock everything in and further nourish the outer skin.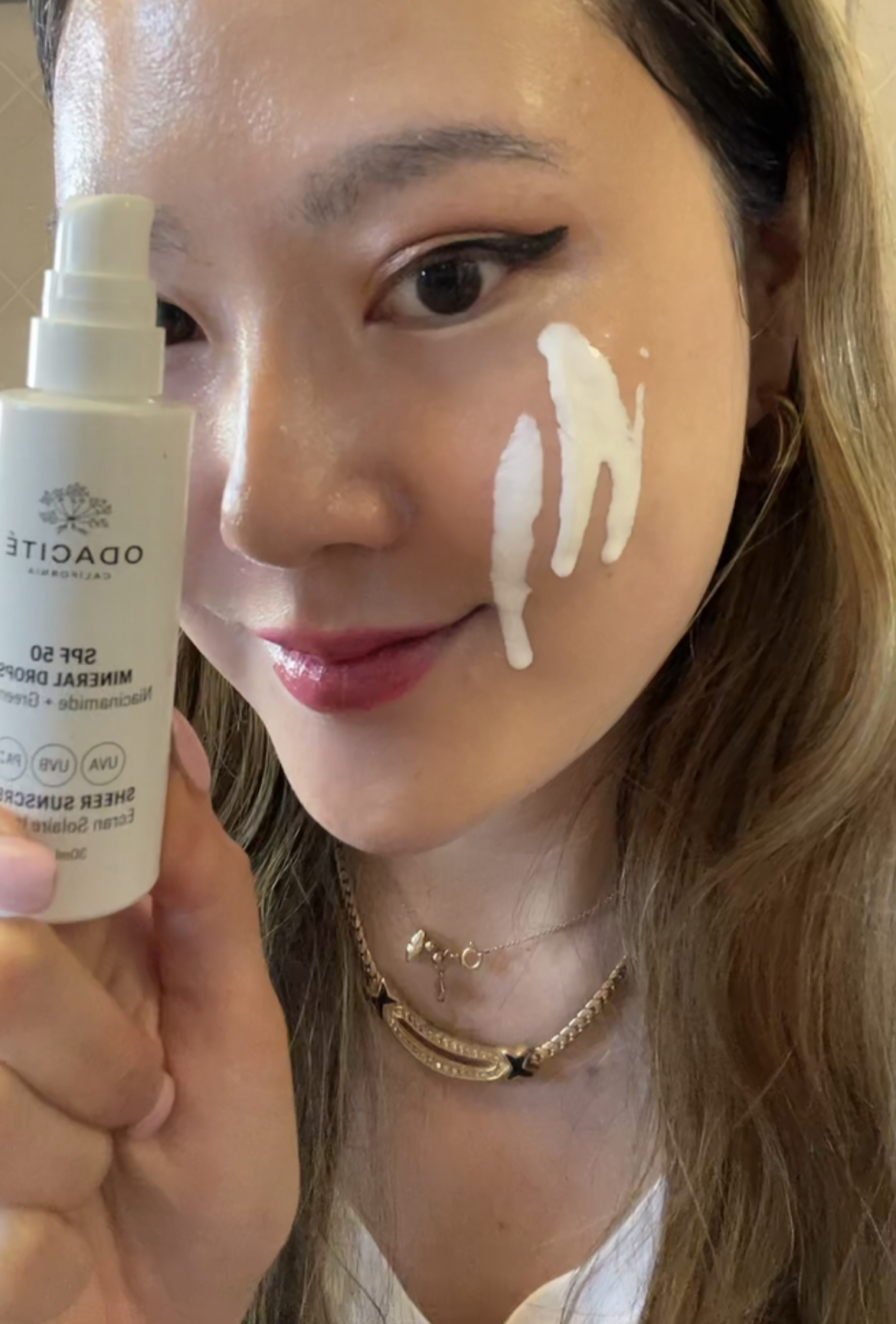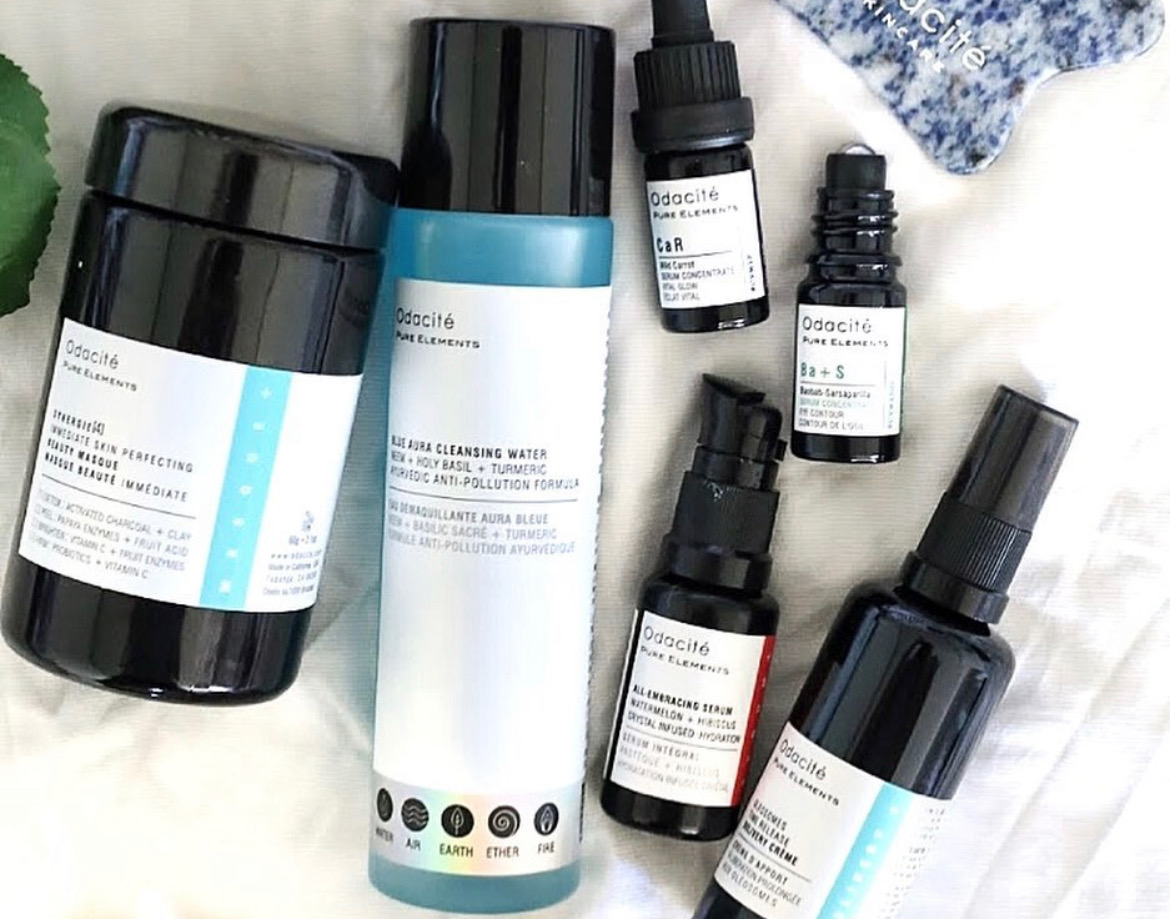 Odacite Cleansers
Out of the four Odacite cleansers available I've tried three and my favorite is the Blue Aura Turmeric + Holy Basil Cleansing Water. This is essentially a micellar water inspired by Ayurveda that effectively removes skin impurities and makeup using the power of Micelles – tiny balls of cleansing oil that attract dirt and oil.
Odacite's Blue Aura Cleansing Water is a great option for those who have sensitive skin or find that most cleansers dry out their skin. The formula begins with an organic Aloe Leaf Juice and Witch Hazel water base with added skincare benefits of Neem Extract, Ivy Gourd Extract, Eggplant Extract, Holy Basil Extract, Turmeric and Basil Extract. I love how effectively this cleanses my skin and also leaves my skin feeling fresh and hydrated!
Odacite Black Mint Clarifying Cleanser
Odacite's Black Mint Clarifying Cleanser is a very strong, deeply purifying cleanser that would be great for oily and acne-prone skin. If your skin is neither of these you do not need this cleanser. The first thing I noticed when using this Gel cleanser was the minty strength of the Peppermint and Tea Tree. The carefully chosen astringent ingredients target excess oil, pollution and impurities to help clear out pores and minimize their appearance. Because this cleanser is so potent I found my eyes would sting and I didn't find myself reaching for this cleanser often.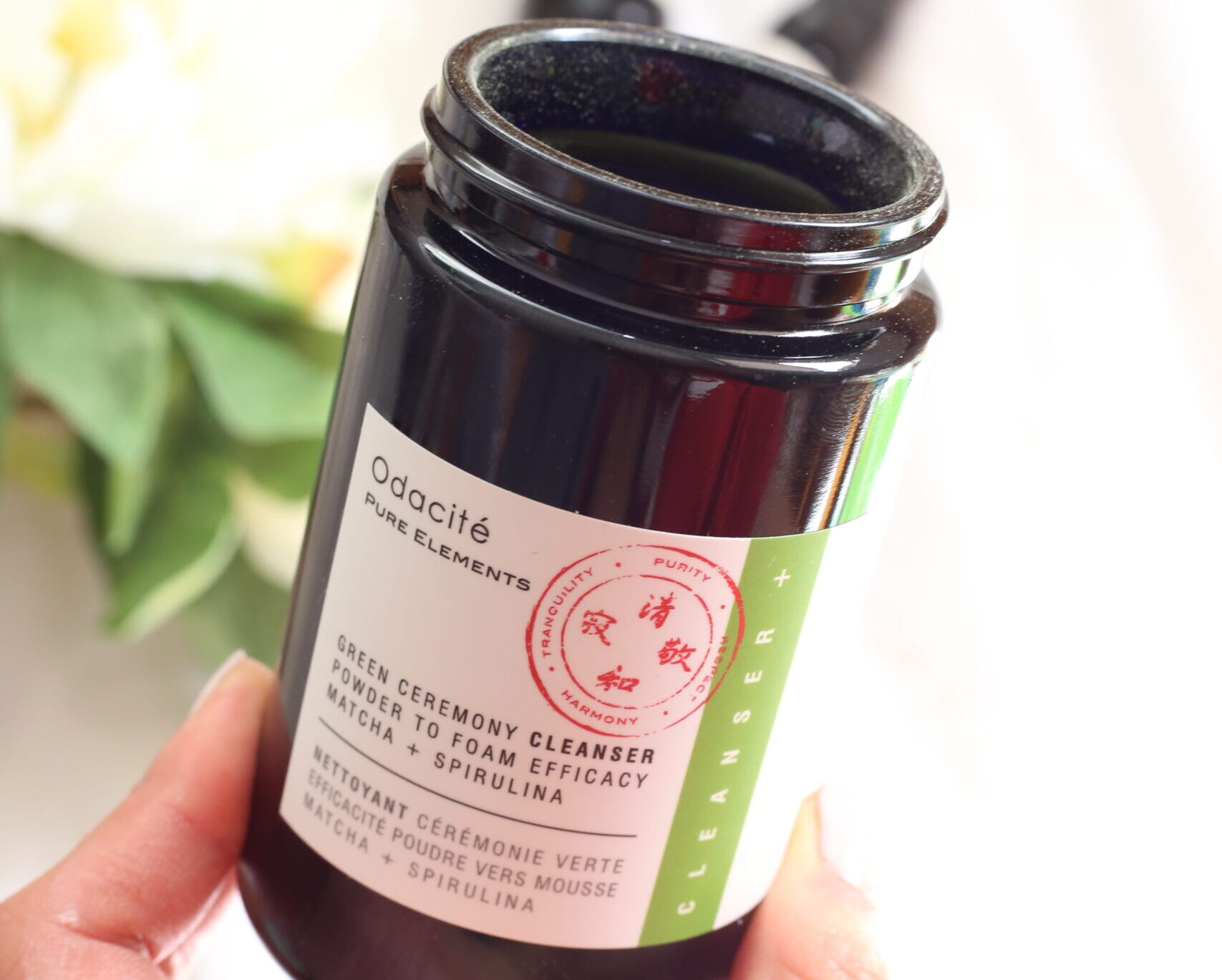 Green Ceremony Cleanser
Odacite's Green Ceremony Cleanser is not your typical cleanser! This Japanese tea ceremony-inspired cleanser is actually a green powder that instantly foams when mixed with water. Its green shade comes from Matcha and Spirulina, ingredients chosen to deliver antioxidants and remove toxins from the skin.
The Green Ceremony Cleanser makes for a fun and fizzy cleansing experience, but I do prefer a straightforward traditional cleanser. so I didn't find myself reaching for this very often. One thing to note is the foam and fizz action comes from food grade baking soda, which may be an ingredient your skin might not like.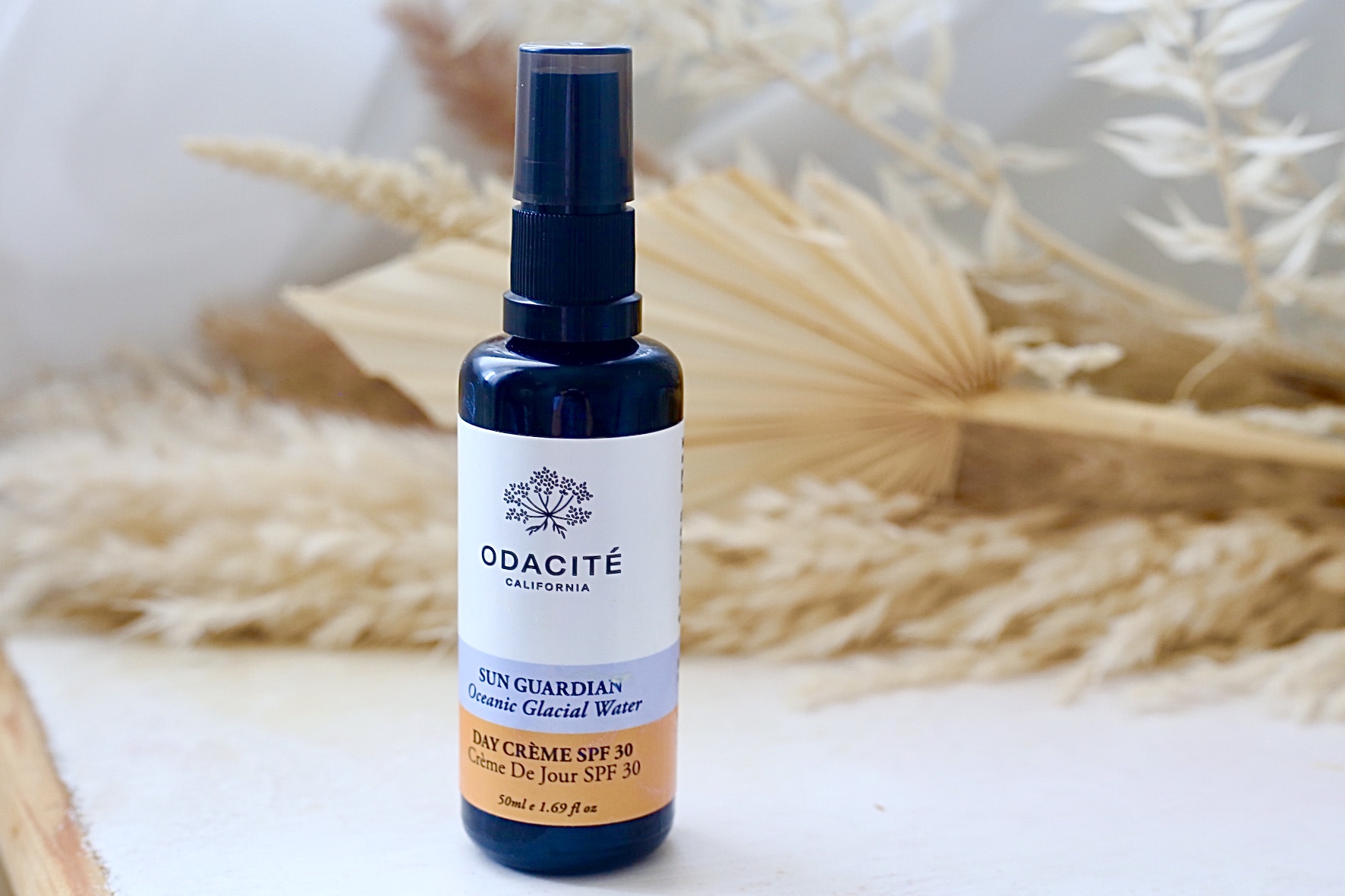 The new Odacite sunscreen that launched in summer 2021 is as luxurious as thoughtfully formulated as the rest of the line. Sun Guardian Oceanic features nutrient dense oceanic glacial water sourced from the pristine North Pacific coast of Canada, along with aloe vera, calendula, green tea and Vitamin E.
Odacite Sun Guardian is a hydrating lotion that's very lightweight and perfect for those who don't like rich or heavy sunscreens. What I love most about this new sunscreen is that it combines a generous 22% zinc oxide AND titanium dioxide. I rarely come across clean and organic sunscreens that use both of these UV blockers as most mineral sunscreens will only use zinc oxide. This extra protection is reassuring to me that Odacite's SPF factor is actually accurate, especially amidst the recent 2021 sunscreen scandals of incorrect SPF labeling.
Its con is that Sun Guardian does require some effort to rub in all the way so it's not the easiest application. I suggest also checking out their new Mineral Drops SPF 50 which is a fluid serum like sunscreen.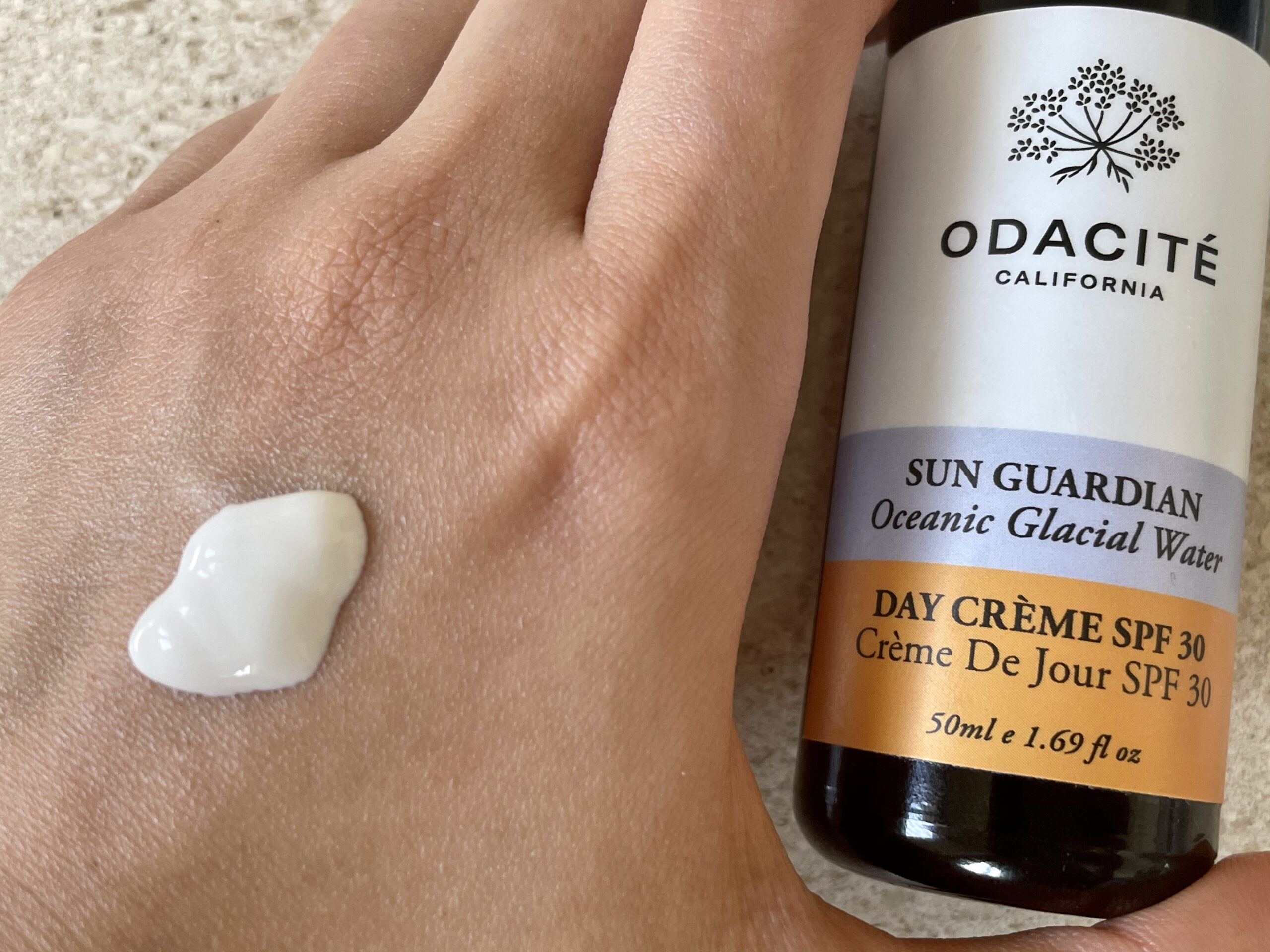 About Odacite Sun Guardian sunscreen:
22% zinc oxide + 2.3% titanium dioxide
Consistency: Lightweight lotion
Texture: Silky smooth
Scent: Fragrance free and has no detectable scent
For face and neck only
This is not a sport sunscreen with water resistance
Blends in pretty sheer (zinc oxide sunscreens will never be completely transparent or sheer)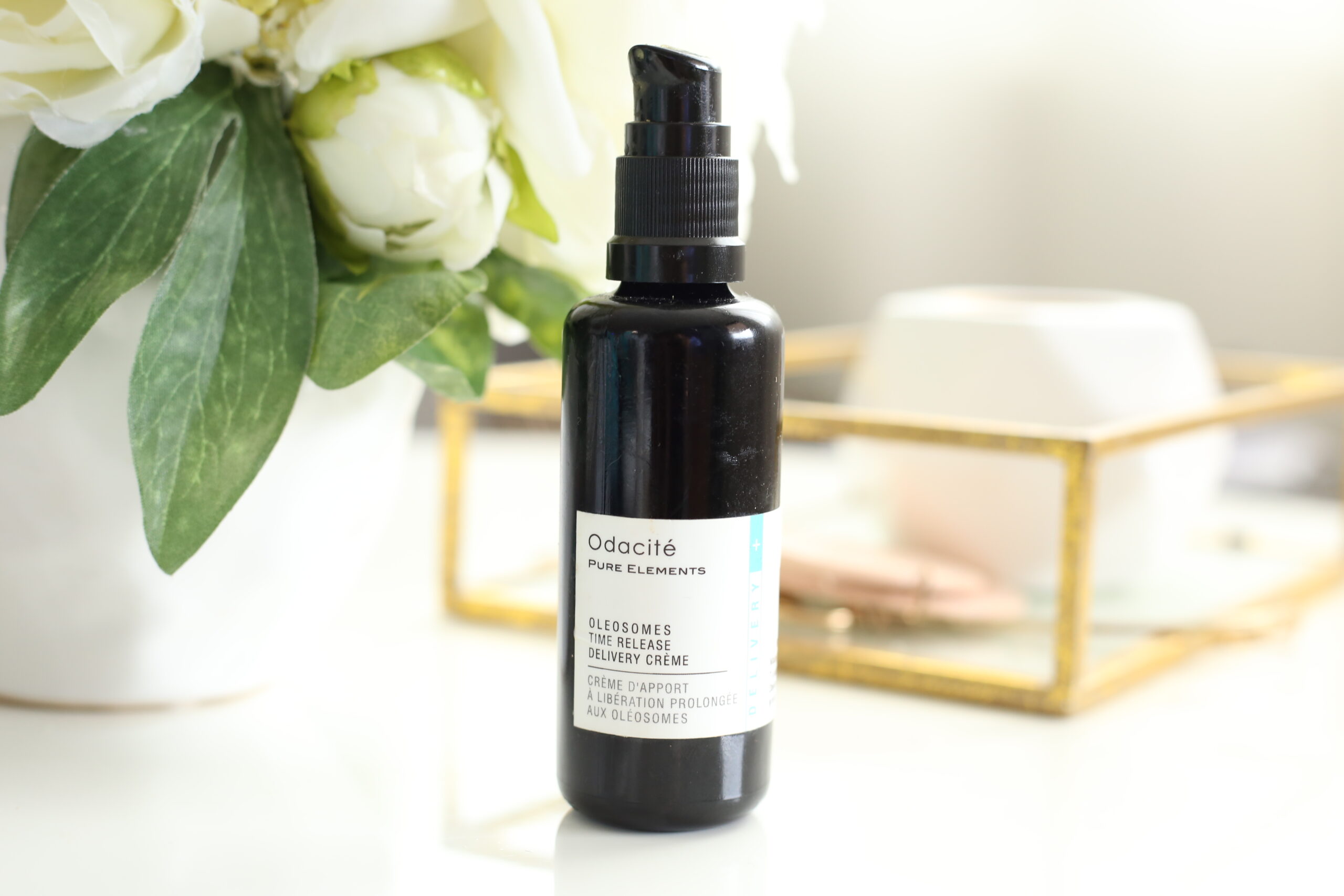 Odacite Oleosomes Time Release Delivery Creme is truly and honestly a beautiful moisturizer with a perfect silky texture, 83% Organic ingredients, and a unique time-release formulation. Oleosomes are energy storehouses found naturally in seeds and steadily release their contents upon contact with the skin for continuous delivery of actives and hydration.
This soothing formula begins with an organic aloe leaf juice, calendula extract and white tea base with the added skincare benefits of Hyaluronic Acid and Carrot Seed Oil. The Odacite Cream is perfect for sensitive skin that needs long lasting hydration.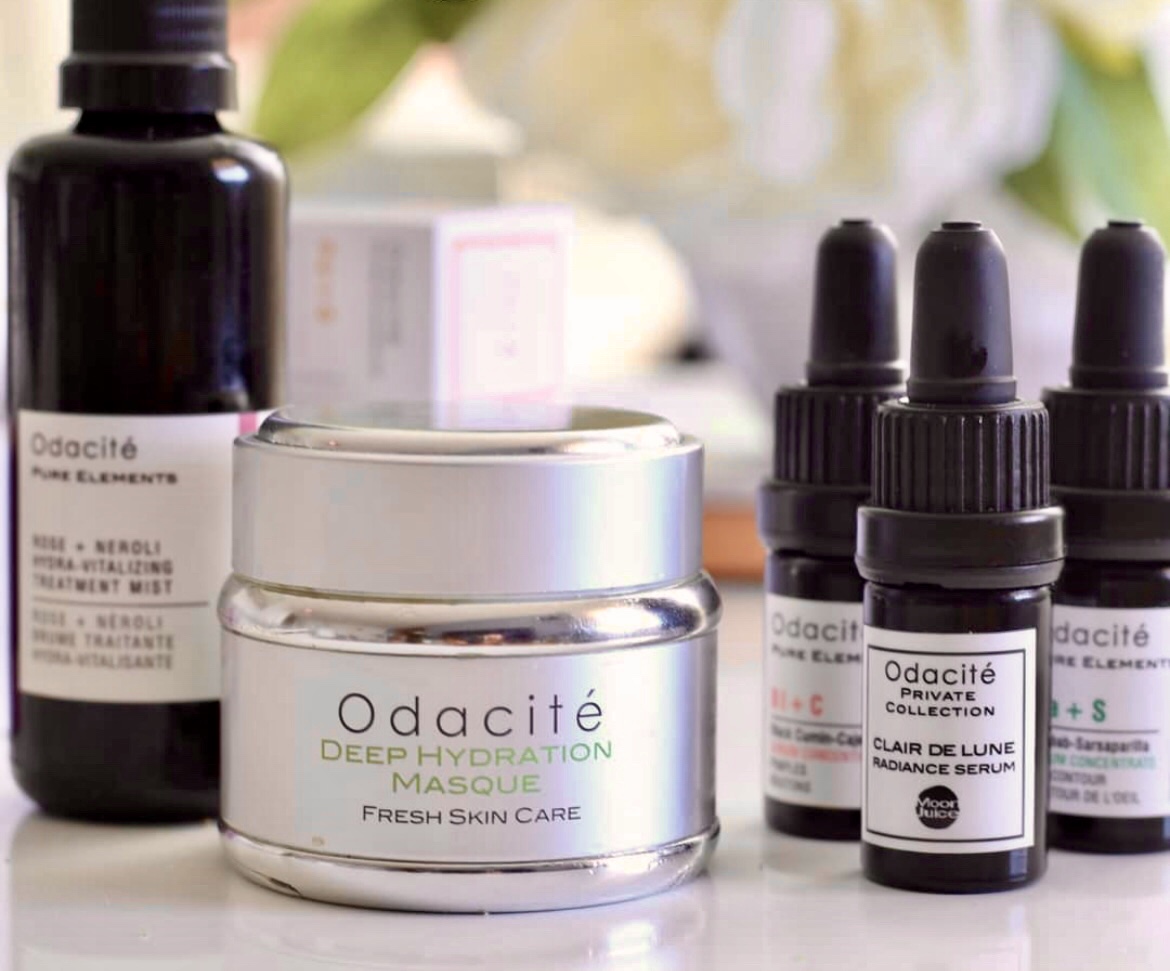 Odacite offers three face masks: an exfoliating mask, a clay mask and a hydration mask. Out of all three my favorite has been the Deep Hydration Masque. Hydration masks are tricky products for brands to get right and I've heard mixed reviews on Odacite's, but this mask worked so well for me.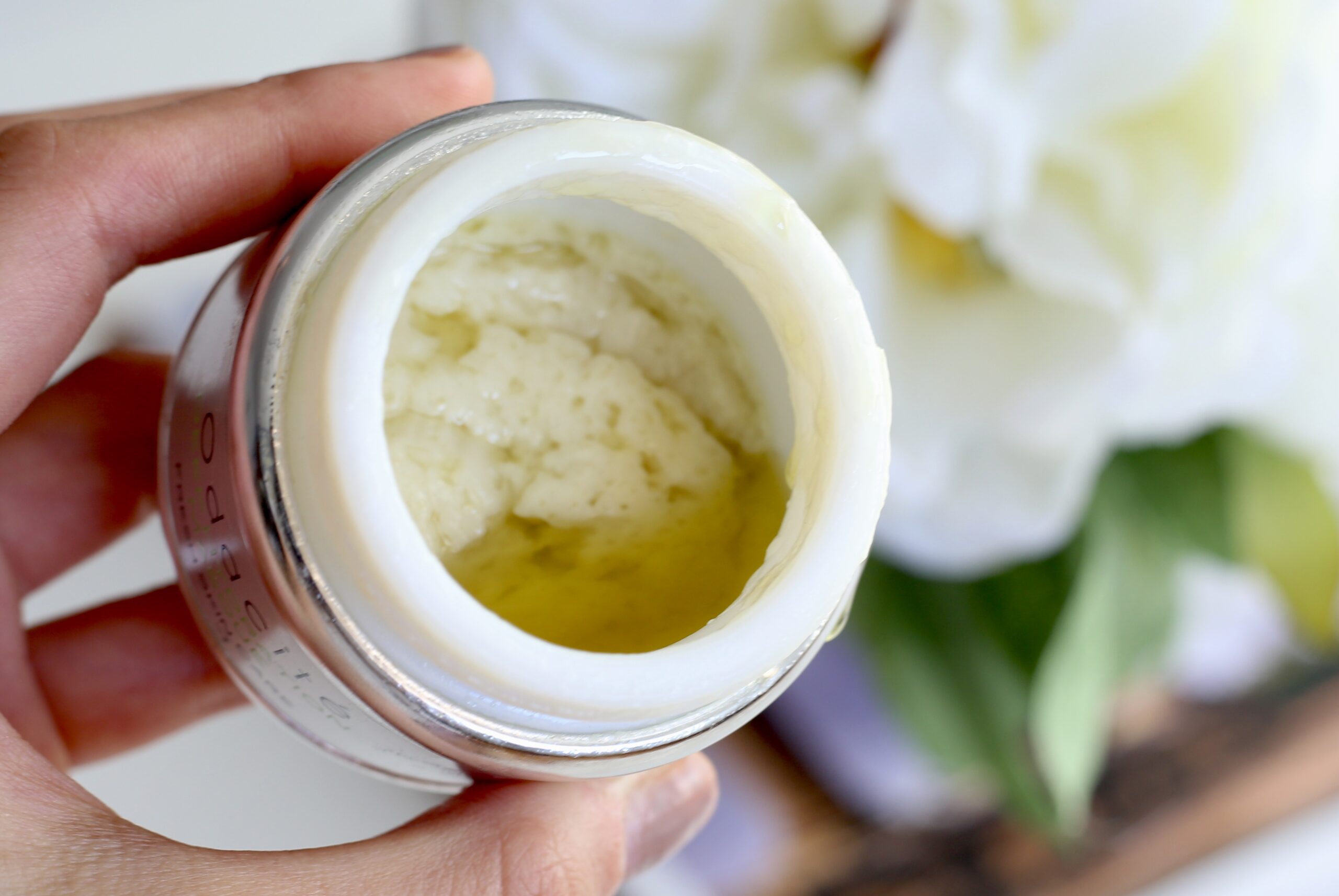 Odacite Deep Hydration Masque
The Odacite Deep Hydration Masque is a cream-oil hybrid mask with a yellow hue that gives my skin a major dose of hydration and a noticeable glow. I know not everyone is going to enjoy a hydration mask with this type of texture and consistency so take what I say with a grain of salt. I always used this mask as an intensive overnight treatment to reap as much of the benefits I possibly could.
The consistency is interesting – neither a cream nor a gel but a lightweight goopy consistency that you'd need to give a nice stir to keep the ingredients together. It's very hard to describe.
The ingredients include Organic Olive and Jojoba Oils in an Aloe Juice base with Hyaluronic Acid, White Tea Extract, Calendula Flower Extract, Evening Primrose and Rosehip Seed Oil.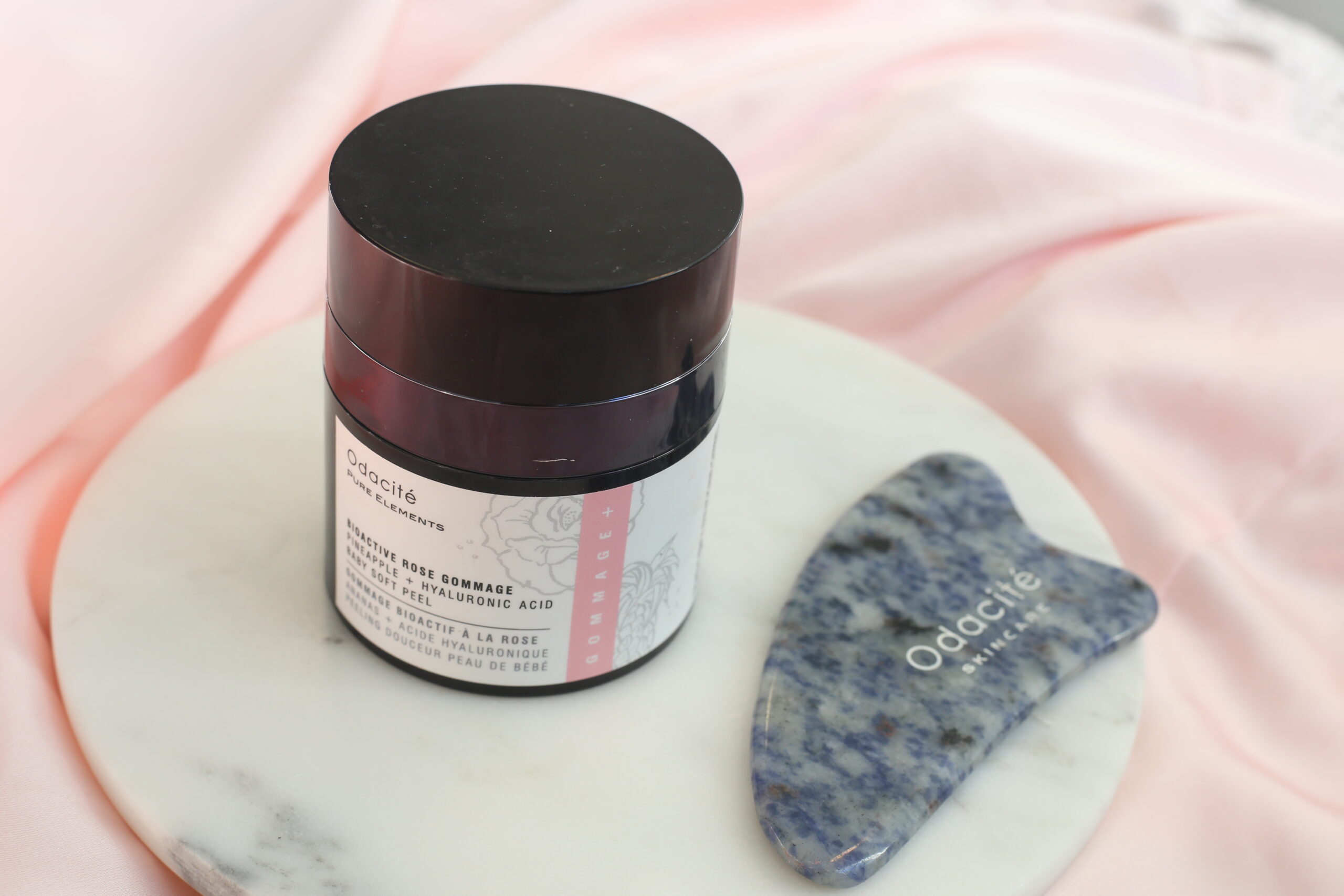 Odacite Bioactive Rose Gommage
I tried the Odacite Bioactive Rose Gommage last summer and this is a feminine, elegant and gentle resurfacing treatment. If a mask could be an aesthetic it would be Odacite's Rose Gommage. This product is an enzyme-rich gel with a clear pink shade that eats away at dead skin cells with pineapple and papaya enzymes. The Rose Gommage also doubles as a mini hydrating mask with Rose Water, Hyaluronic Acid and Konjac root.
I apply a thin layer and wait for it to dry, then rinse off. I noticed subtly smoother, hydrated and supple skin after use. I would say this is a luxurious and beautifully formulated mask, but not the most powerful in terms of resurfacing. If you are looking for a gentle resurfacing product that's good for sensitive skin types, this may be a product to consider.
Odacite Synergie Immediate Skin Perfecting Beauty Masque
Odacite's Synergie Beauty Masque is the brand's most versatile face mask designed to accomplish 4 skincare tasks: Detox, peel, brighten and boost firmness.
Active Charcoal and Clay detox the skin by removing toxins from pores
Papaya Enzymes and fruit acids slough off dead skin cells
Vitamin C works with papaya enzymes helps brighten skin
Probiotics Work with Vitamin C to help firm skin
This mask is a super fine and soft grey powder that can be mixed with water, yogurt, apple cider vinegar (and more) to create the concoction that will best serve your skin's needs. It comes in a beautiful large dark glass jar and lasts FOREVER. The jar is huge! I find this to be a gentle mask that's not at all drying, and I notice instantly toned and smoother skin.
Odacite's unique All-Embracing Serum with Watermelon and Hibiscus is a crystal-infused watermelon-inspired hydrating and anti-aging oil serum. The star ingredient is Watermelon Seed Oil, a luxurious and lightweight oil that effectively hydrates and nourishes skin with its concentration of Vitamins A, B and E. I was pleasantly surprised by the addition of Oatmeal powder, Hibiscus Flowers and Amethyst infusion. Odacite's formulators really thought of it all in their skincare labs!
Naturally, this oil serum sinks in and absorbs beautifully, has an elegant orange blossom scent and imparts a glow to my skin.
Odacite Blue Soladite Gua Sha
Odacite's Gua Sha tool has been my favorite gua sha tool I've used thus far in my skincare journey. I found theirs to be larger and thicker in size than most, making for a very hefty gua sha tool that covers a large surface area and fits most comfortably in my hand.
Gua sha has been raved about all over the internet, but I must say whenever I use this tool after my skincare steps, my skin feels beyond invigorated and I have a rush of blood circulation throughout my face. I genuinely love using this tool and have for years now.
Odacite Discount Code
If you'd like to discover Odacite's world of pure and effective skincare, my affiliate code OBL saves 15% at Odacite's website.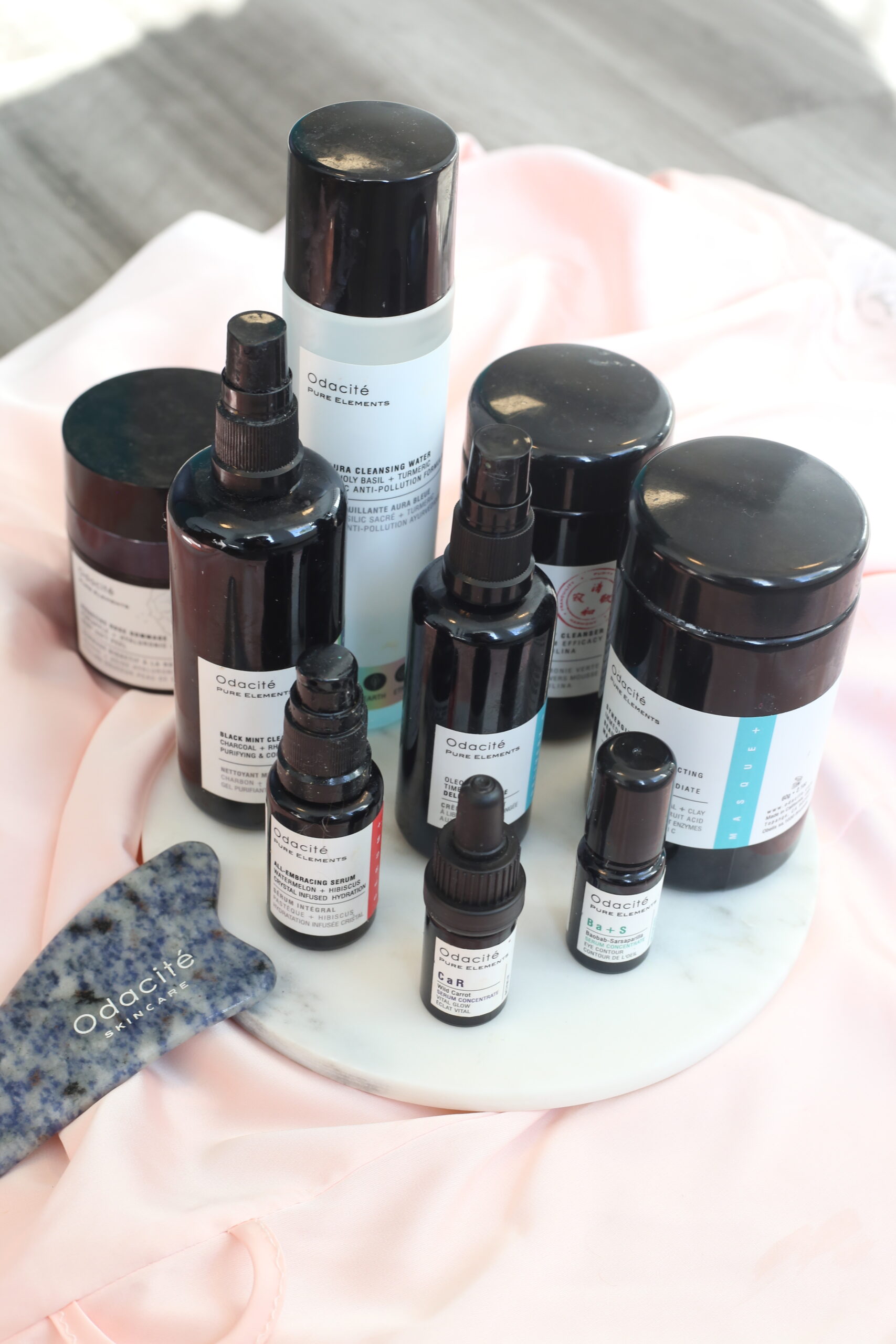 ≈