I'm so excited to introduce a new clean beauty brand that offers affordability, quality and sustainability – BYBI Beauty! This British brand was started by two female entrepreneurs and skincare formulator friends who sought to create products that they themselves wanted to use but couldn't find in the market (hello Bakuchiol Booster!). And this is why I found many of their product offerings unique and also — they just make a whole lot of sense. Read on for my BYBI Beauty review!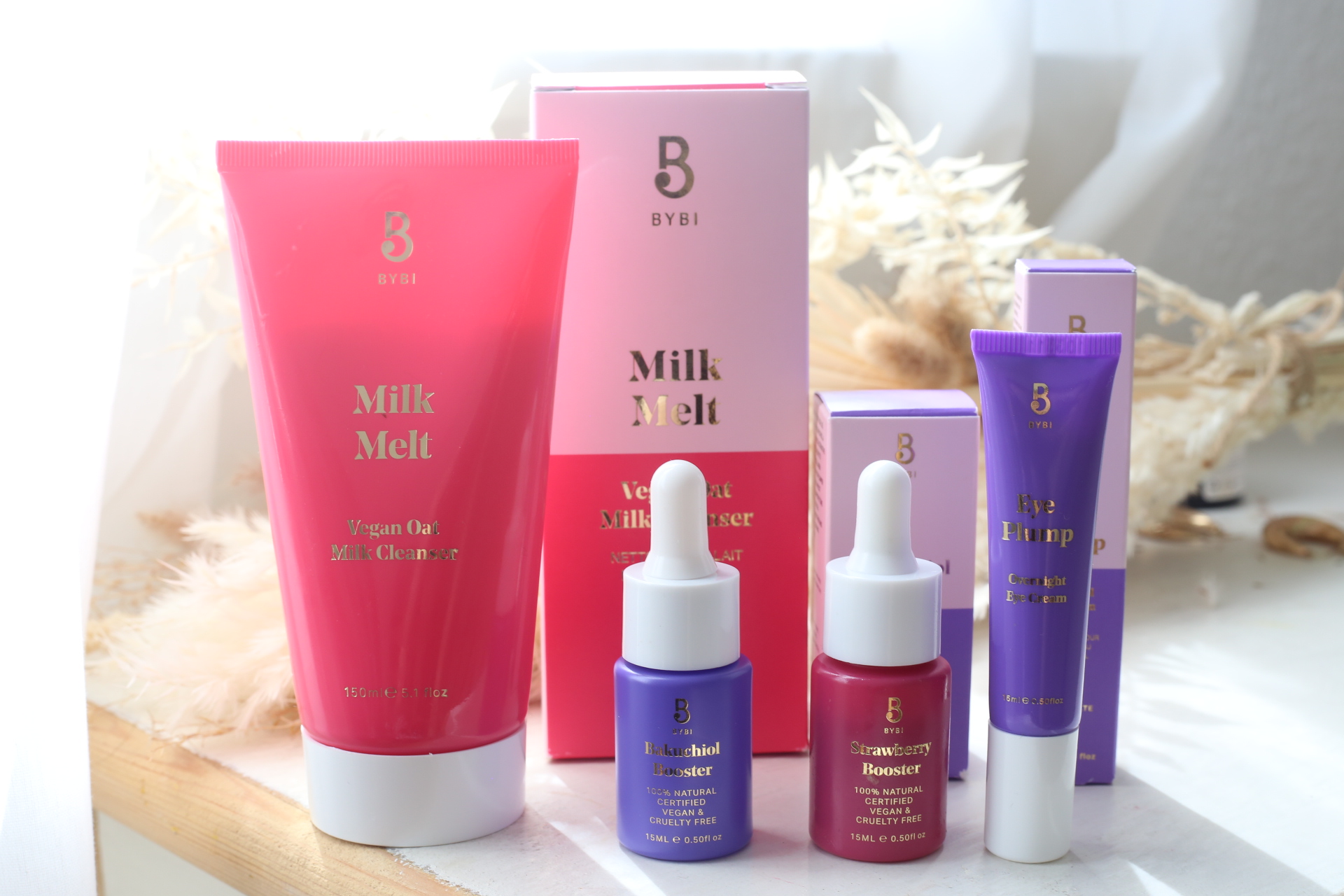 BYBI Beauty is truly with the times. They seem to understand exactly what consumers want in terms of ingredients that are natural, vegan and cruelty free, prices that are insanely affordable (almost the entire line is between $10 and $20) and packaging that's both as cute as it is eco-friendly. Did I mention this brand actually cares about the environment. BYBI uses tubes made of sugarcane derivatives that are both recyclable and industrially compostable, glass which is infinitely recyclable), and they avoid the use of labels wherever possible for easier recycling. The carbon footprint of every ingredient, supplier, and production process step is assessed to be able to deliver a product that brings the most results with the least negative impact to the environment.
But BYBI's sustainability mission goes way beyond that. BYBI has pledged to be a net zero carbon brand, meaning they will achieve carbon neutrality across their entire supply chain by balancing our carbon emissions with carbon removal. They also want to make their previous wrongs right and will also be offsetting all historic carbon emissions.
Huge retail stores have also taken notice of BYBI, and the brand is now widely available at Target, Sephora, and clean beauty stores like Credo. I was able to try out a selection of BYBI products after the brand reached out to me via social media and will be sharing my honest thoughts in this BYBI review.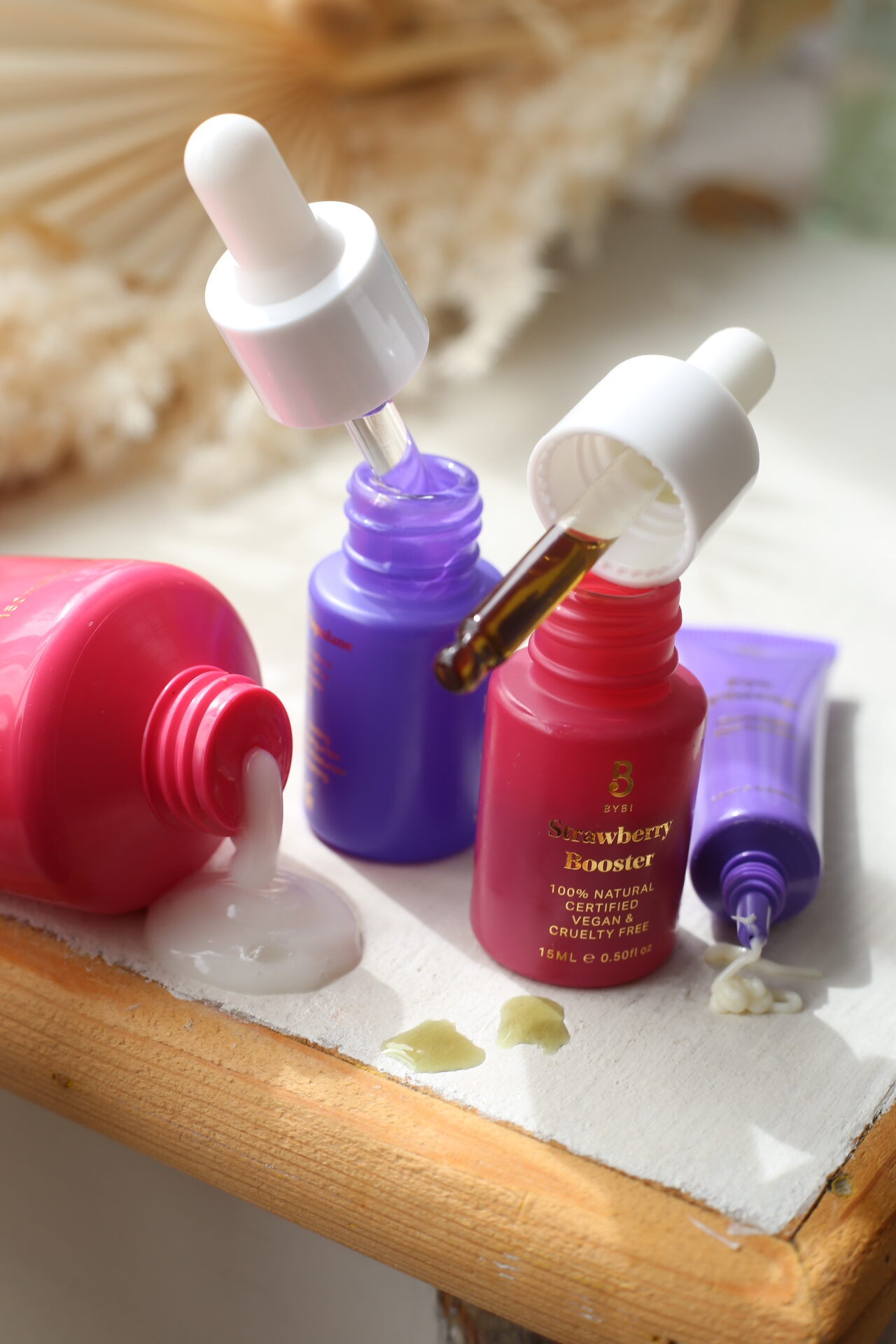 BYBI's Bakuchiol Booster  is one of their bestsellers and is purely made of squalane (derived from olives) and bakuchiol. If you're not familiar with Bakuchiol, it's currently a very trendy ingredient in the skincare world for being a natural alternative to retinol (vitamin A) that's more gentle and does not cause irritation. Bakuchiol is dervived from the Babchi plant and is widely used in Ayurvedic and Chinese medicine. In terms of skincare, Bakuchiol can help stimulate collagen which is what we need to keep our skin looking plump and smooth.
Bakuchiol Booster comes in a small mini bottle and is meant to be used in different ways not just as a standalone skincare product. You can mix it into your serum, masks or moisturizer. I do not find Bakuchiol to be a replacement for retinol in any way, but it can help mimic retinol's effects and improve the skin so I do highly appreciate this ingredient. If you're under 30 years old, adding retinol-like ingredients such as Bakuchiol is a good way to start as retinol can be highly irritating and unnecessary for young skin.
BYBI offers three types of cleanser – milk, gel and oil. I tried out the Milk Melt Vegan Oat Cleanser which retails at just $17 and I enjoyed the consistency, texture and efficacy. Comparing this to Cocokind's Oil-to-Milk Cleanser, I much prefer BYBI's because of its lightweight consistency and ultra smooth texture.
I would describe BYBI's milk cleanser not as milky but more of a balm-like texture. It's a very fluid balm so it feels somewhere between a balm and a milk and slightly emulsifies to easily rinse off. There is no scent to it and it feels very gentle on the skin, removing Sunscreen, oil and makeup with its oat milk base while Probiotic coconut yogurt re-balances the skin's microbiome. Simply yet effective, I highly recommend!
The Vegan Oat Cleanser's only downside is that it's not a pump cleanser so having to unscrew and screw back on the cap is a little bit inconvenient for me.
Strawberry seed oil as its own product is something I've never encountered before in all my years of testing skincare so this has been a great new addition to my skincare routine. What's great about BYBI's Strawberry Oil Booster is that they use seeds that are a by-product of the juicing industry and would otherwise be thrown away. The oil is cold-pressed and great if you have dry, irritated or flaky skin.
If you're looking to give skin more antioxidants, Strawberry seed oil is a rich source of ellagic acid, a powerhouse antioxidant that helps repair skin damaged by environmental stressors such as UV rays and pollution. This can help target concerns like discolouration, hyperpigmentation and loss of firmness. A plus is the deliciously fruity strawberry scent!
BYBI's Eye Plump is a concentrated eye cream with a combination of cold-pressed broccoli seed oil, squalane and evening primrose to deeply nourish, Bakuchiol to regenerate and Hyaluronic Acid to plump. This eye cream is lovely during the day and hydrates the eye area for me, but I don't find it strong enough as an overnight eye treatment for someone in their 30s and beyond. Rather than a true cream, the consistency of this is between a serum and cream and effortlessly applies and sinks into your skin immediately. There is no added scent to BYBI's eye cream other than the natural scent from the blend of ingredients.
SHOP BYBI HERE