Herbal Face Food is a line of 100% plant serums made of 50 of the world's most powerful botanicals and the top 20 rarest, most expensive plant concentrates. It's a culmination of the founder Michael Zenn's mission to create the most powerful serum ever that would solve years of tanning bed damage deemed irreversible by professionals. Herbal Face Food serums are multi-correctional and target ten signs of aging: wrinkles, large pores, dryness, redness, discoloration, loss of skin tone, firmness, smoothness, radiance, and  brightness. LeAnn Rimes loves it for her melasma! There's no fancy marketing with Herbal Face Food, just raw, active products that can actually correct skin issues and have long been a cult favorite with South Korea's elite. Read on for my Herbal Face Food review and an Herbal Face Food discount code – save 20% with code OBL sitewide.
Be sure to enter my Herbal Face Food serum giveaway for $500 worth of products on my Instagram!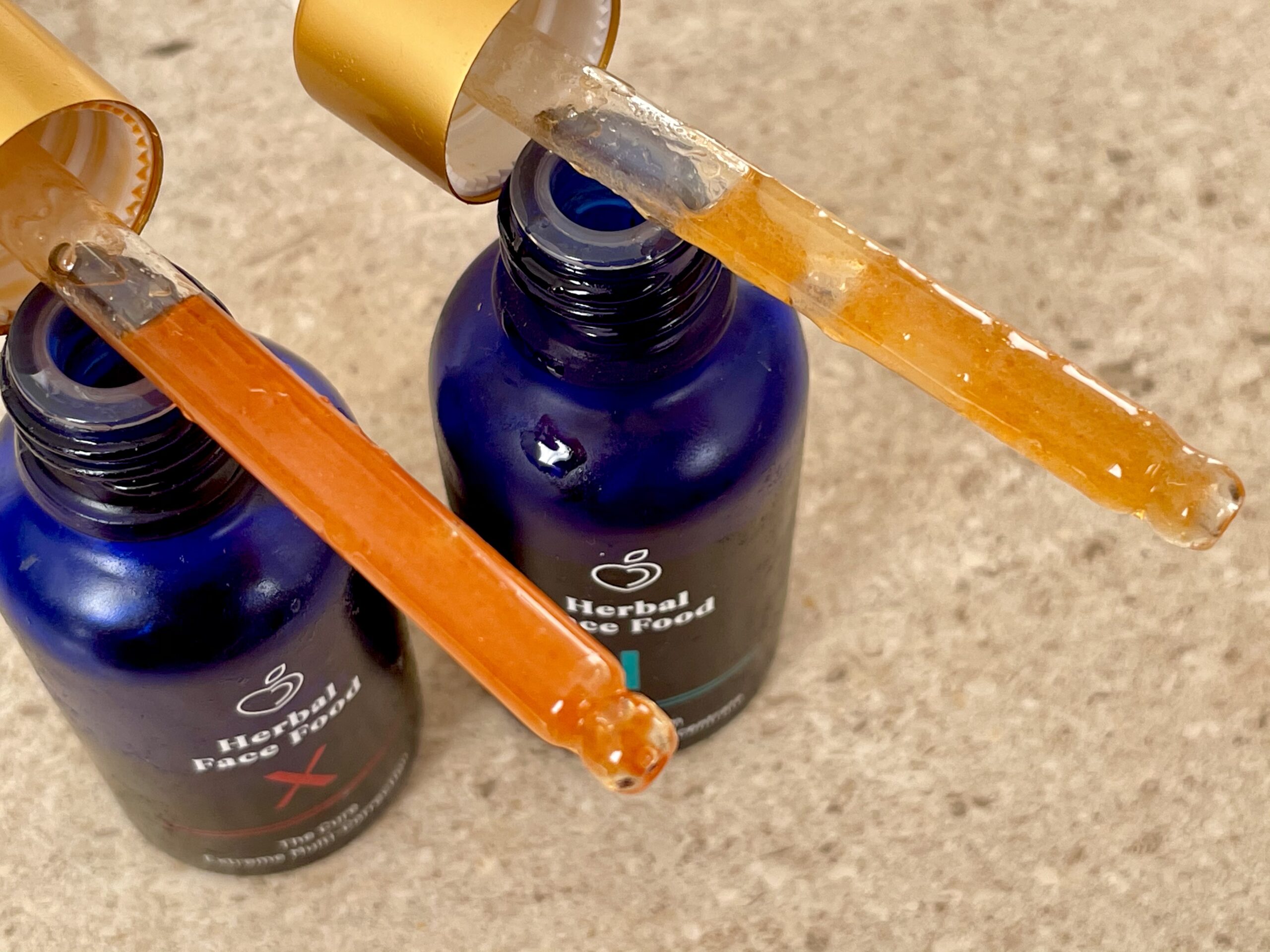 Herbal Face Food serums are not for the faint of heart. If you're under 27 I seriously doubt you would even need a product this strong. A serum of this potency level I would recommend for mature skin or skin that's in need of serious corrective help. Though Serum I is suitable for sensitive skin I would advise to proceed with caution if you are sensitive or have sensitized skin!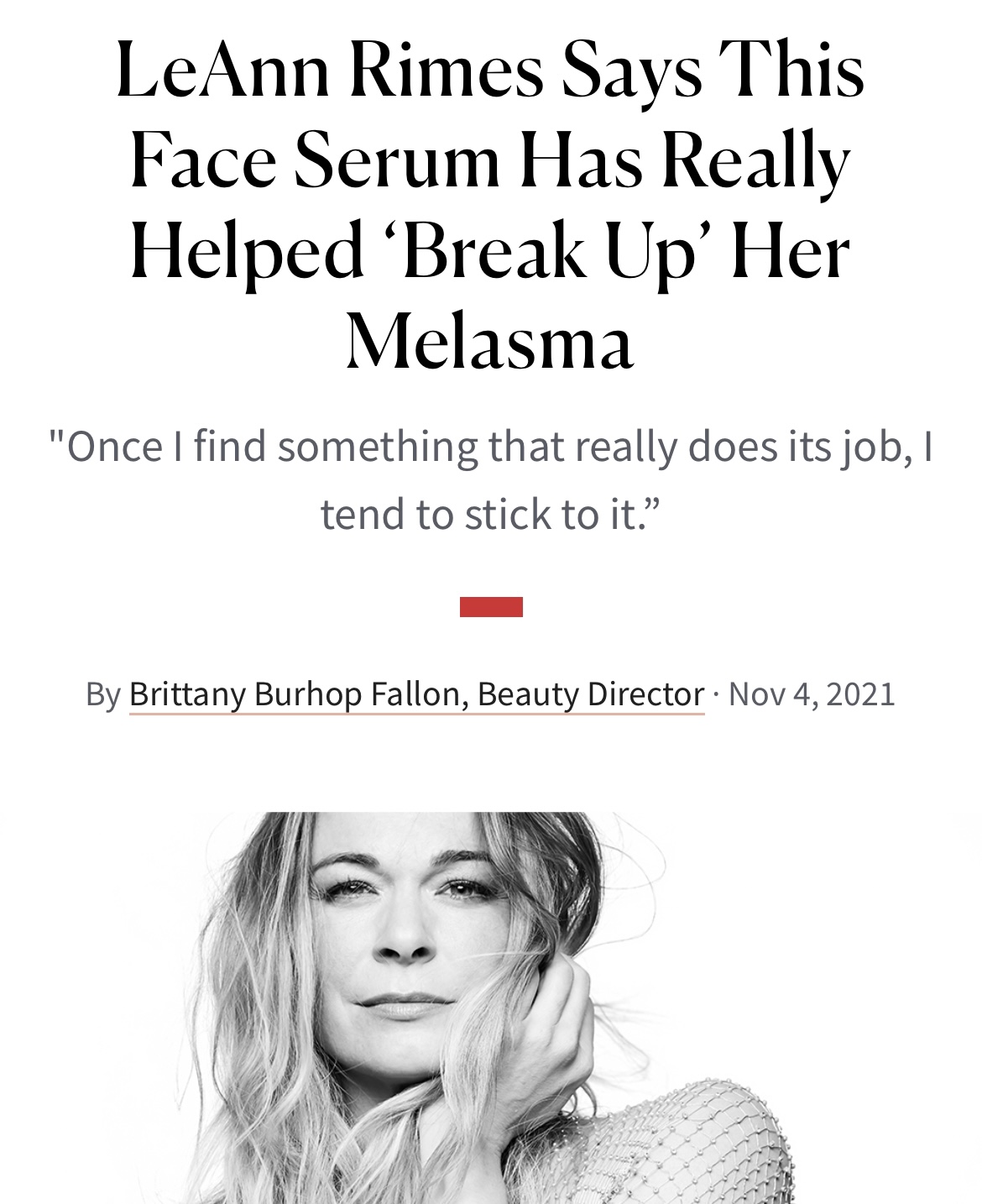 The reason Herbal Face Food calls themselves the strongest anti-aging serums on the market is because the antioxidant level of products can be measured and their serums have the highest "score". There is a scientific method for measuring the antioxidant / anti-aging power of a given ingredient or plant-chemical combination— and it's called an Oxygen Radical Absorbance Capacity (ORAC) rating. Check out the chart below to see how Herbal Face Food's rating compares to other cult anti-aging serums.

Herbal Face Food is a line of four serums labeled numerically as:
The Serum I
The Serum II
The Serum III
The Cure
The Cure XX (accessible through this direct link only)
The numbers indicate concentration levels with Herbal Face Food's The Serum I being suitable for skincare beginners and The Cure having the highest concentration of active ingredients out of all the serums. As you go up from The Serum I to The Serum II then Serum III you'll find the concentrations gradually increase. There's absolutely no fillers, synthetics, and not even plant-based ingredients — just organic plants.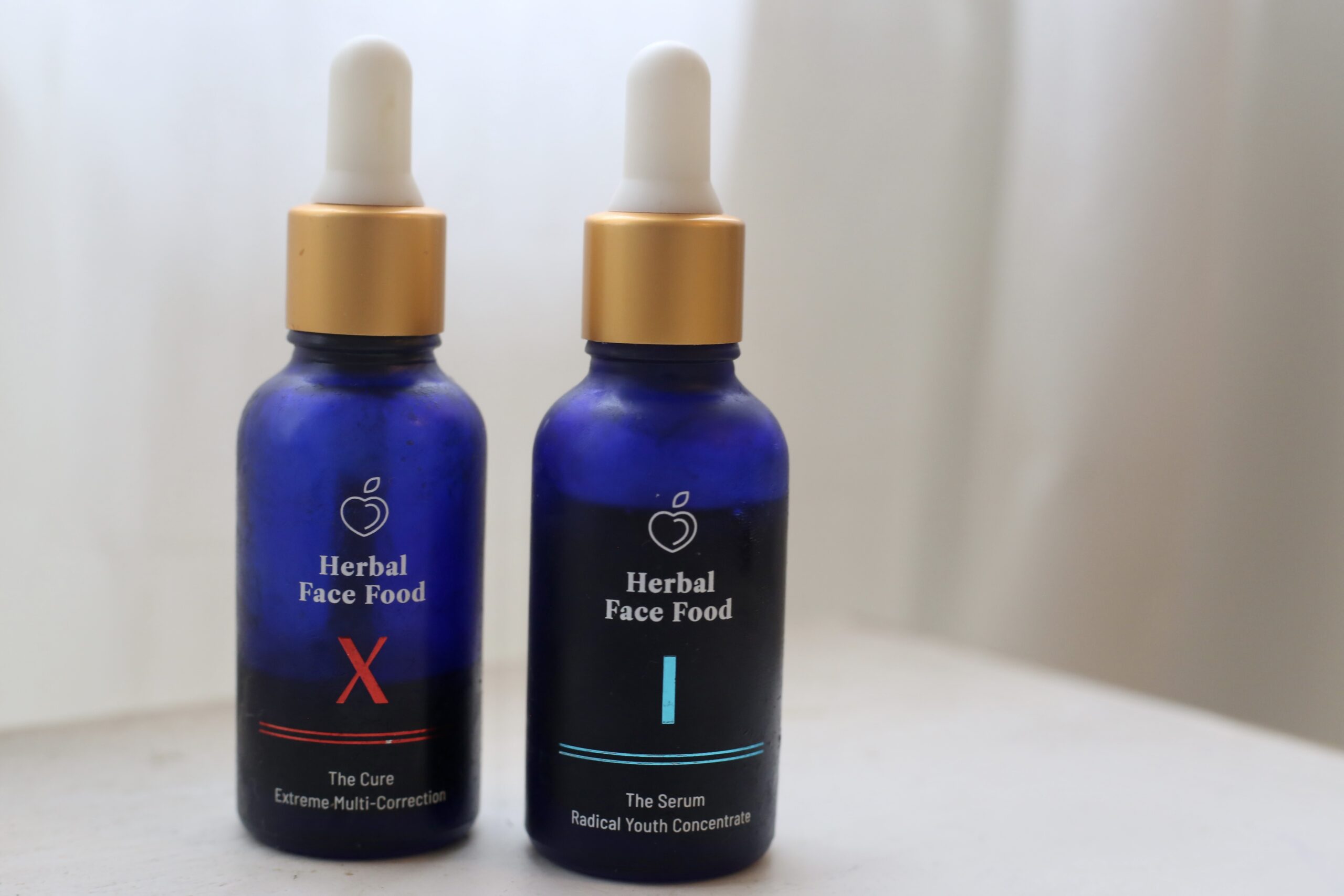 Herbal Face Food The Serum I contains 25 of the world's most powerful botanicals including the top 5 rarest, most expensive plant concentrates on the planet. All serums come in 10ml, 30ml and 50ml sizes.
I personally found The Serum I very powerful on its own but Herbal Face Food's The Cure is on an entirely different level. With all Herbal Face Food serums I can feel them "getting to work" immediately with a warming sensation from the active plants.
I notice an immediate tightening and firming sensation with my skin. It also helps even out my skin tone and reduce some of the hyperpigmentation. Many of the plants in the Herbal Face Food serums are great at healing and reducing scars, so I've also been applying it to a recent raised scar of mine and the hardened scar seems to be softening and diminishing.

Herbal Face Food The Cure is the line's most potent serum for extreme multi-correction. I find this serum much stronger than many budget and mid-range Vitamin C serums I've tried.
50 of the world's most powerful botanicals and the top 20 rarest, most expensive plant concentrates stimulate your skin cells and stop oxidation from occurring.
• Acne
• Rosacea
• Eczema 
 – Psoriasis
• Melasma
• Extreme Sun Damage
• Deep Wrinkles
• Dark Circles
• Moles / Skin tags
• Warts / Cold Sores
• Scarring
• Lesions
• Dermatitis
With The Cure I feel an intense "burning" sensation for a good five minutes. Herbal Face Food says this is The Cure reversing damage. This dermal warming experience (Thermo-phytochemical reaction) allows plant nutrients into the skin for anti-aging, cellular generation, elasticity, resiliency and to restore collagen and elastin to the dermis.
You can see the difference in color intensity between Herbal Face Food Serum I and The Cure, the latter being a much more deep orange shade. I found The Cure is effective at brightening, tightening and toning the skin. It's like a clinical treatment made entirely of plants and properly exfoliating beforehand is recommended just like with a professional in-clinic facial.
Give Herbal Face Food serums a good shake before applying.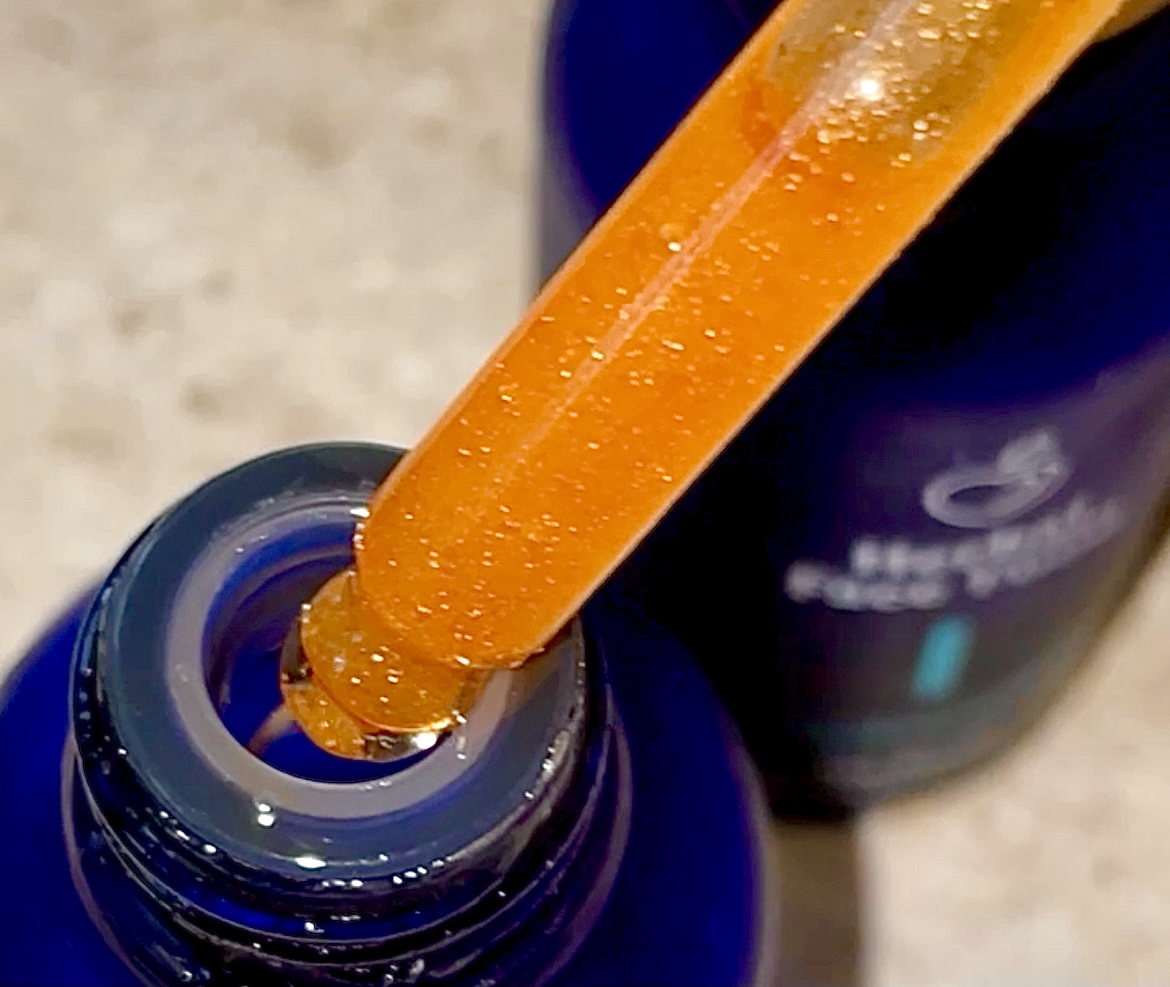 Herbal Face Food Ingredients
Aloe Barbadensis Leaf Extract, Simmondsia Chinensis Seed Extract, Haematococcus Pluvialis Extract, Helichrysum Stoechas Flower Extract, Lavandula Angustipolia Flower/Leaf/Stem Extract, Origanum Vulgaris Flower Extract, Eugenia Caryophyllus, Thymus Vulgaris Flower/Leaf Extract, Commiphora Myrrha Leaf/Cell Extract, Jasminum Officinale Flower/Leaf Extract, Vetiveria Zizanioides Root Extract, Cananga Odorata Leaf Oil, Pogostemon Cablin Leaf Extract, Santalum Album Extract, Elettaria Cardamomum Seed Extract, Citrus Nobilis, Citrus Medica Limonum Leaf Peal Stem, Cymbopogon Flexuosus Leaf Oil, Boswellia Carterii, Croton Lechleri, Daucus Carota Sativa (Carrot) Seed Oil, Ormenis Mixta, Rose Damenscena, Leptospermum Scoparium Leaf Extract, Callitris Intratropica, Vanilla Planifolia Bean Extract
The star of the Herbal Face Food serums are the plants chosen of course. I wanted to highlight some of the most unique ones below:
Asataxanthin
very powerful antioxidant, many times more potent than vitamin E
helps protect the skin, throughout the dermal layers, from the free radical damage
helps to protect the skin from the sun's damaging UV rays
improves the elasticity of the skin by aiding healthy skin cell function
Niaouli
Helps to reduce oiliness, acne and outbreaks of blemishes
Effective for toning and tightening the skin
stimulates new cell growth promoting regeneration of damaged tissue
Melissa
traditional herbal medicine used widely as a mild sedative, spasmolytic and antibacterial agent
has antioxidant, anti-aging, and disease fighting properties.
Dragon's Blood
helps to protect the cells of the skin, and reduces redness and swelling.
Blue Mallee Eucalyptus
used to treat many skin infections & skin problems including acne
An active ingredient in Eucalyptus is called Cineole which is a great antiseptic for wounds
Save 20% with my affiliate discount code OBL on all Herbal Face Food serums.
There is a secret Herbal Face Food product that is not visible on the site unless you have the direct link. It's available only in very limited quantities and is called The Cure XX. It has 4x the potency of The Cure so proceed with caution.