Herbal Face Food Review (Before & After Photos) 2023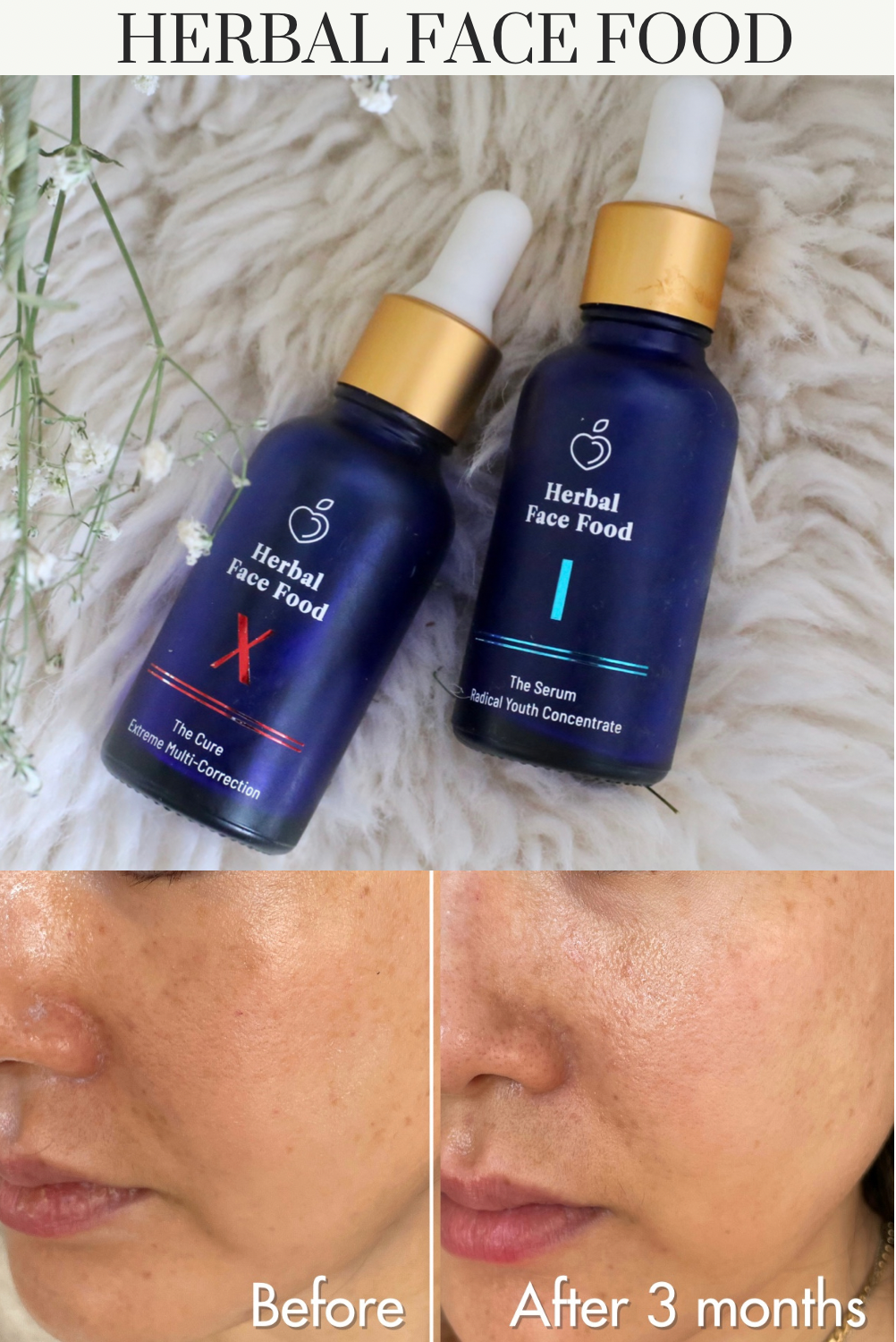 Skincare brand Herbal Face Food makes 100% plant serums using 50 of the world's most powerful botanicals and the top 20 rarest, most expensive plant concentrates. Herbal Face Food serums are multi-correctional and target ten signs of aging notably sun damage, dullness and texture in my experience. 100% organic and made entirely from plants without filler ingredients, the Herbal Face Food serums are VERY powerful and have increasing levels of concentration to suit your skincare needs. LeAnn Rimes loves it for her melasma! There's no fancy marketing with Herbal Face Food, just raw, active products that can actually correct skin issues and have long been a cult favorite with South Korea's elite. Read on for my Herbal Face Food review, before and after photos and use Herbal Face Food discount code OBL for 20% off at www.herbalfacefood.com.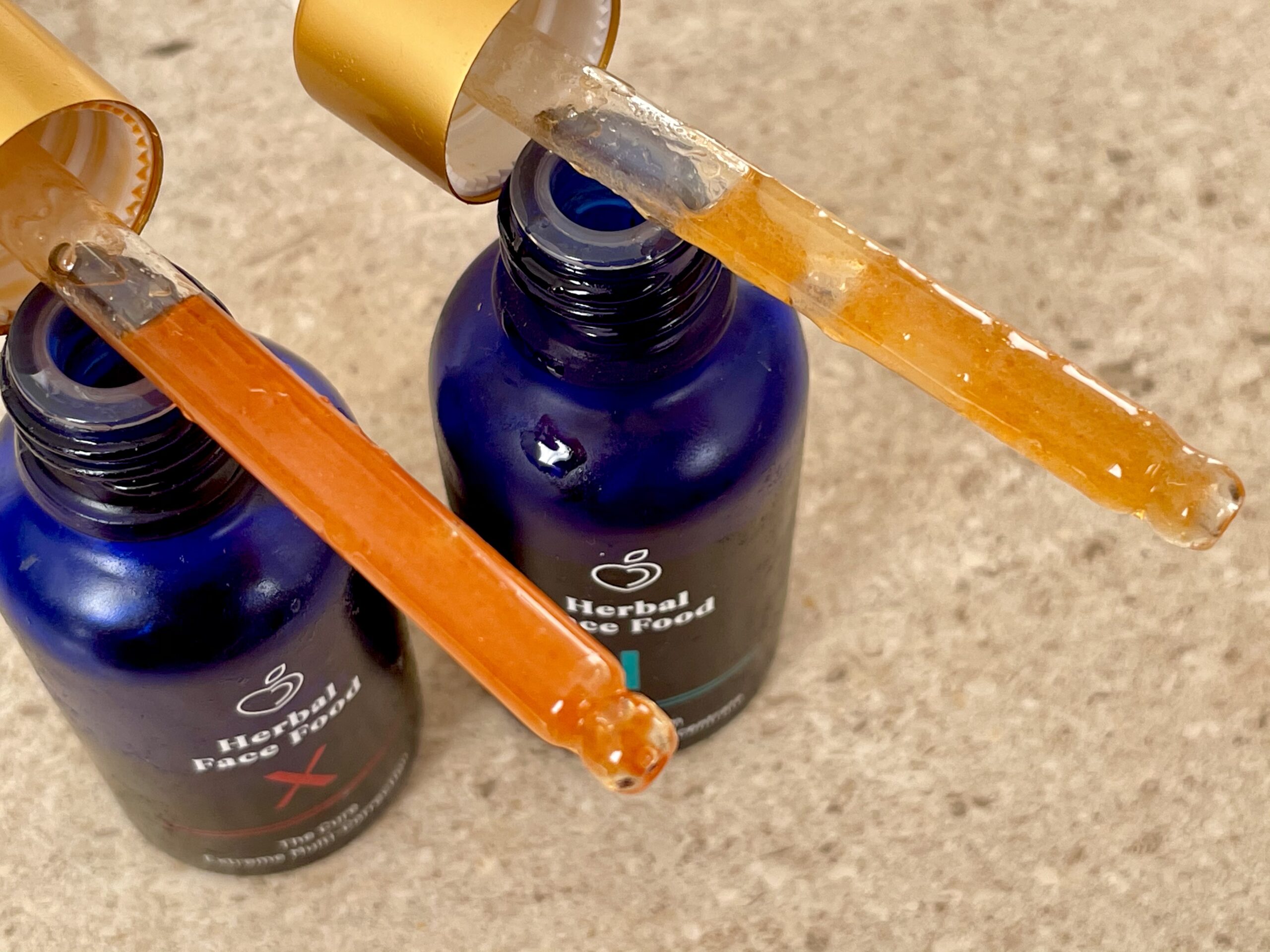 Herbal Face Food is a culmination of the founder Michael Zenn's mission to create the most powerful serum ever that would solve years of tanning bed damage deemed irreversible by professionals. He was tired of gimmicky and watered down products that would take forever to work. If you're tired of products not doing what they claim to do or just aren't strong enough to solve your skin issues, Herbal Face Food just might be the face serum you need.

Herbal Face Food Before and After Photos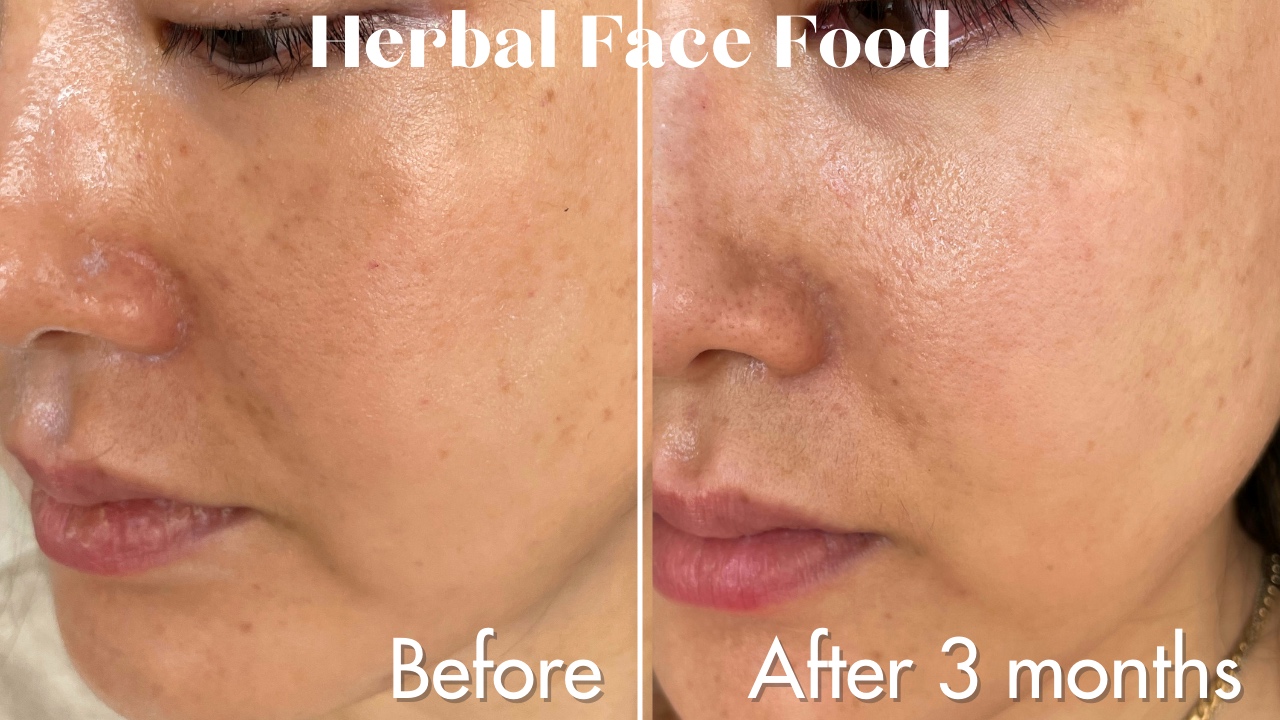 I notice a definite improvement in skin texture and skin tone when using Herbal Face Food serums. These photos were taken in the same spot in my home in the same lighting and have not been edited. It's important to remember that serums are the only product in your skincare routine that will be corrective and actively fix skin issues, not your moisturizer.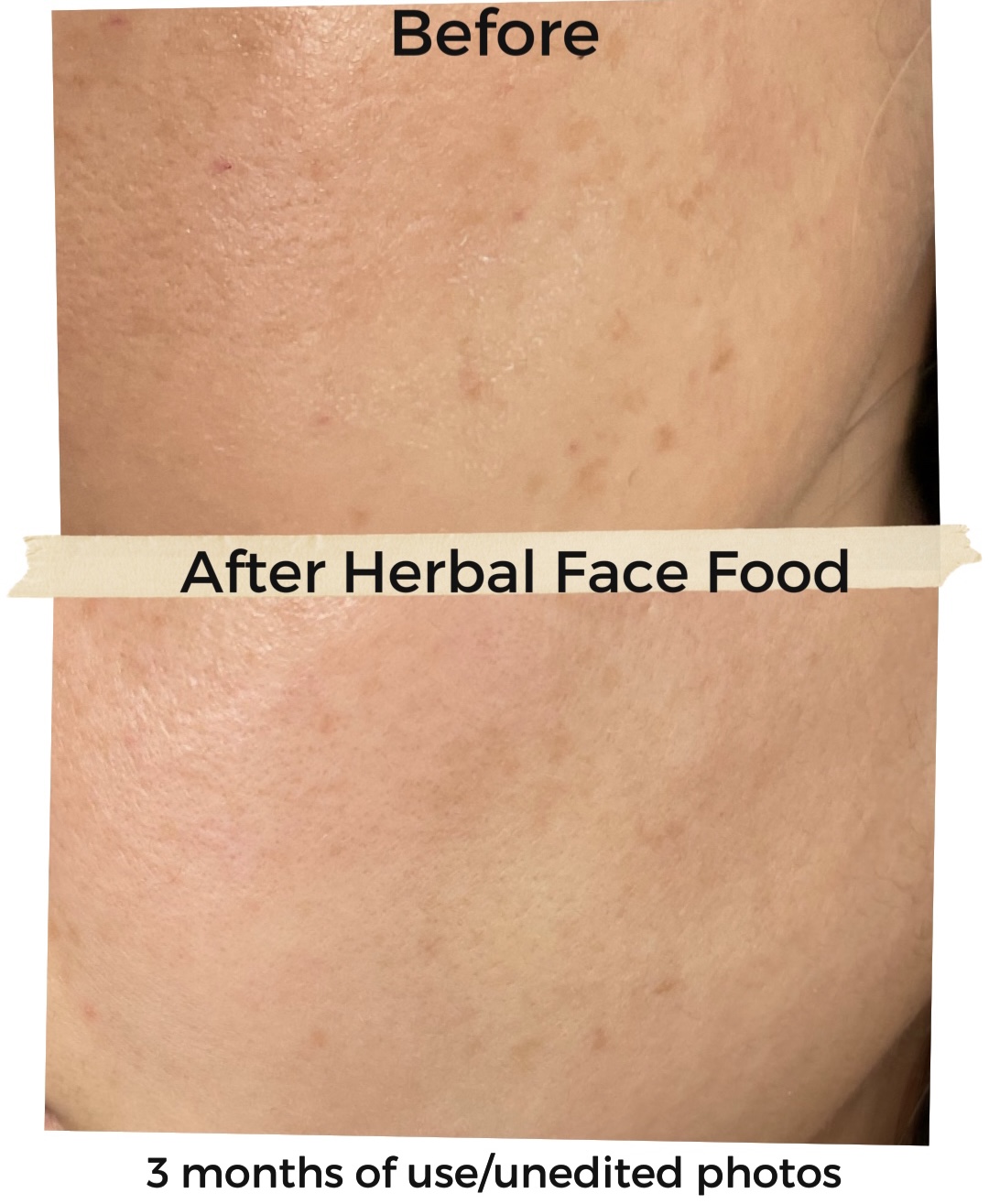 In this close-up before and after photo comparison, my skin tone looks to be more even and the texture has smoothed out subtly. Herbal Face Food serums are so strong that if you're 26 or under, I seriously doubt you would even need a product this strong or I would only suggest using Serum I. Though Serum I is suitable for sensitive skin I would advise to proceed with caution if you are sensitive or have sensitized skin. While Herbal Face Food recommends starting with Serum I and working your way up to Serum II, Serum III and The Cure, my skin was fine with incorporating The Cure right away. If your skin isn't sensitive, I'd suggest going ahead and using the strongest serums.

6 Month Before and After
Again, I have not adjusted brightness, contrast, or added a filter of any sort. But, there are some things to be aware of before drawing conclusions. You need to take into account:
The before picture was taken after summer when my skin is tanner (darker) + sun damage is most visible. My skin tone is lighter now, because I lose my tan during the winter and spring, when I get almost no sunshine. While I'm sure the product provides brightening benefits, the lighter skin tone is due to winter/spring and not Herbal Face Food.
Even though I'm taking these photos in the same spot in my home at roughly the same time of day to try to get the same lighting, photos are not going to be 100% accurate.
I am not doing the same exact same skincare routine throughout 6 months. During this period I've also been diligently testing different retinol products and I think that the combination of potent antioxidant skincare plus retinol has been gold.
I stopped using Herbal Face Food for a while to give my skin a break and have started using Extreme Cure XX.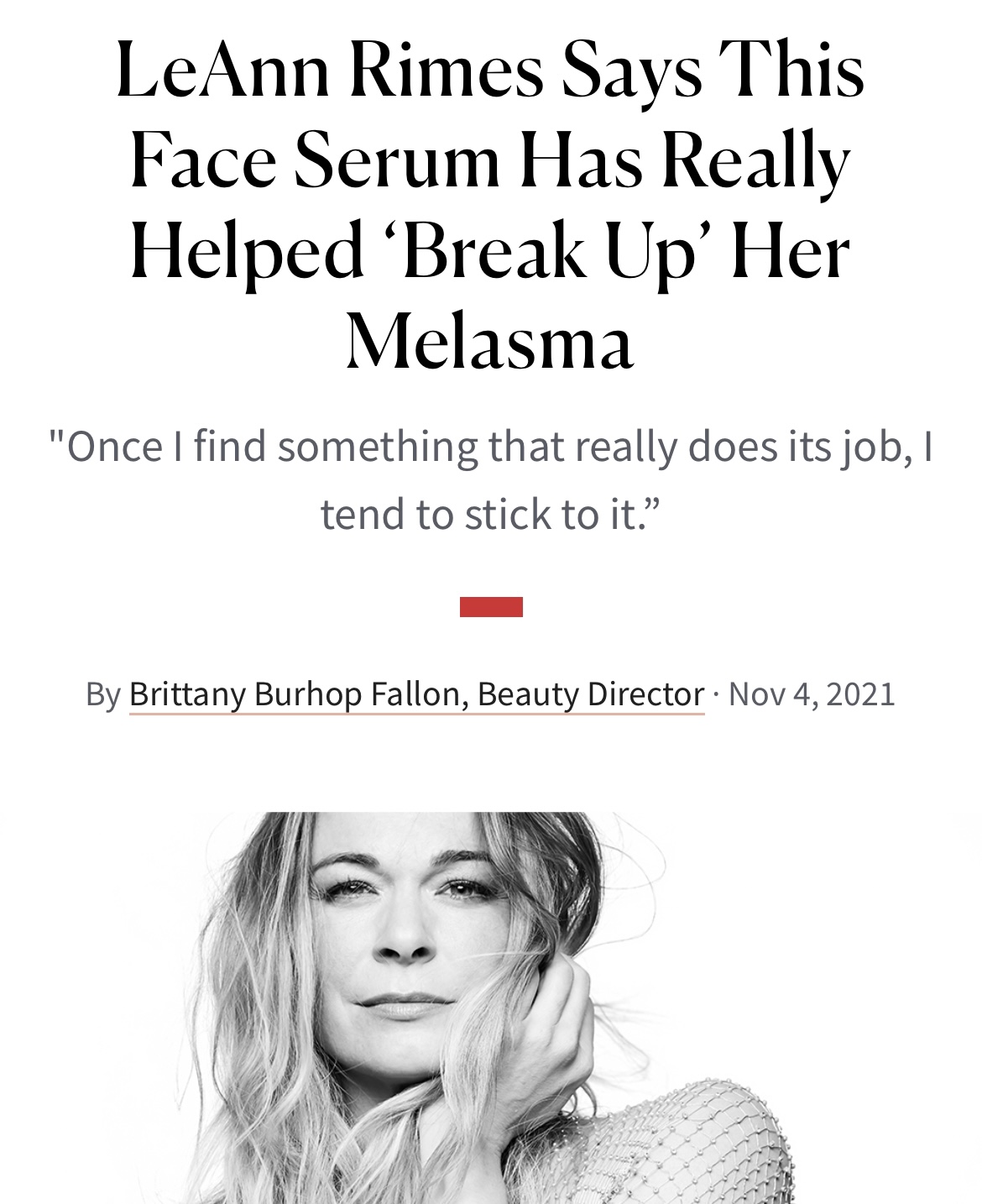 The reason Herbal Face Food calls themselves the strongest anti-aging serums on the market is because the antioxidant level of products can be measured and their serums have the highest "score". There is a scientific method for measuring the antioxidant / anti-aging power of a given ingredient or plant-chemical combination— and it's called an Oxygen Radical Absorbance Capacity (ORAC) rating. Based on this, Herbal Face Food serums supposedly have 100,000 times the antioxidant power of Vitamin C.

    Herbal Face Food is a line of now five serums labeled numerically as:
The Serum I
The Serum II
The Serum III
The Cure
The Cure XX (hidden product and accessible through this direct link only)
The numbers indicate concentration levels with Herbal Face Food's The Serum I being suitable for skincare beginners and The Cure having the highest concentration of active ingredients out of all the serums. As you go up from The Serum I to The Serum II then Serum III you'll find the concentrations gradually increase. There's absolutely no fillers, synthetics, and not even plant-based ingredients — just organic plants.
Herbal Face Food Serum Price
Herbal Face Food serums are pricey and would be an investment in your skin. Herbal Face Food Serum I retails for $60 for 10ml, $130 for 30ml and $170 for 50ml. Herbal Face Food The Cure retails for $95 for 10ml, $200 for 30ml and $285 for 50ml. (My discount code OBL will take off a chunk at checkout). Domestic shipping is free and International buyers can enjoy free shipping on $199+ orders. The fact that so many people put their hard-earned money into these blue bottles I think attests to the fact that more often than not, the serums work.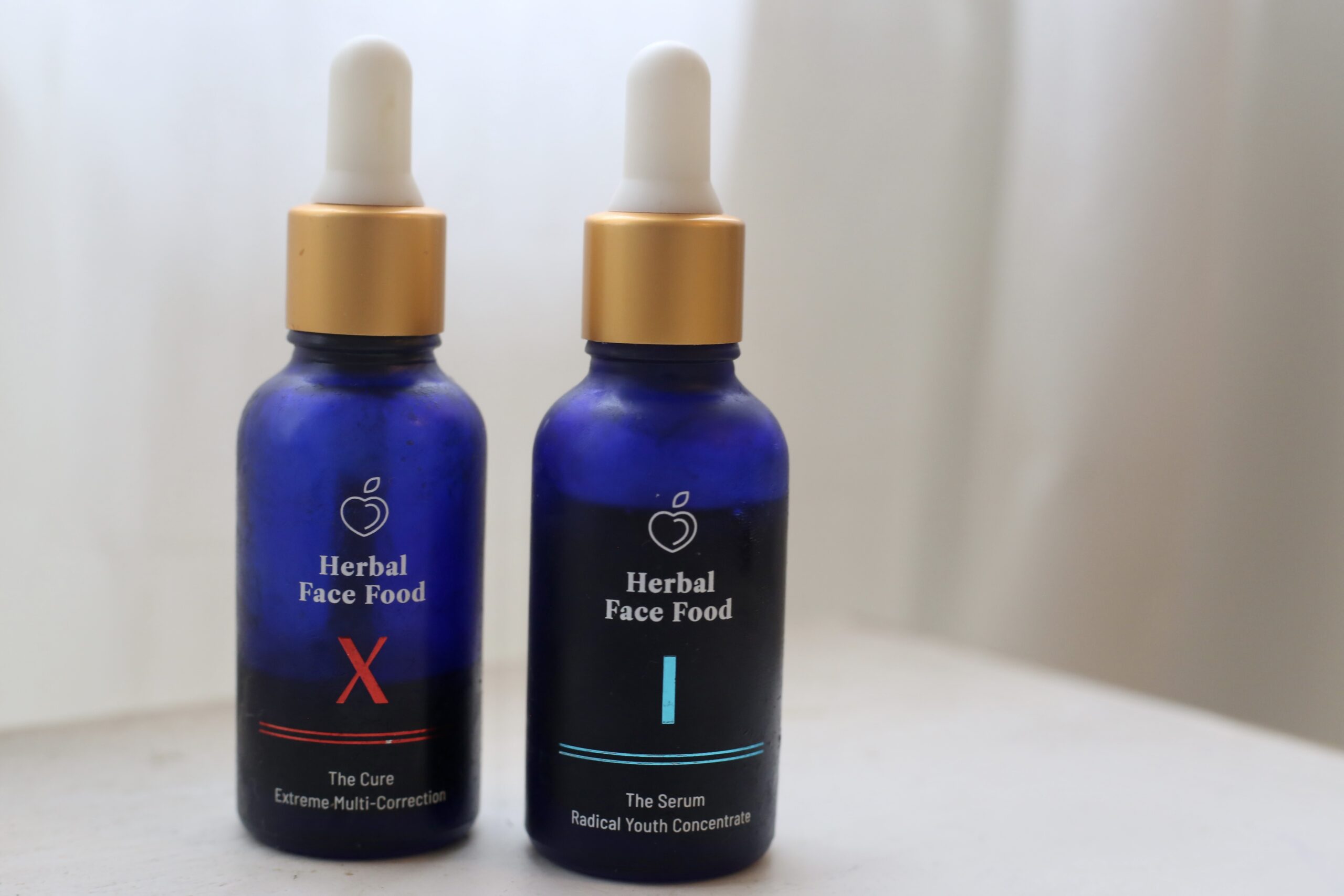 Herbal Face Food The Serum I contains 25 of the world's most powerful botanicals including the top 5 rarest, most expensive plant concentrates on the planet. All serums come in 10ml, 30ml and 50ml sizes. I personally found The Serum I very powerful on its own but Herbal Face Food's The Cure is on an entirely different level. With all Herbal Face Food serums I can feel them "getting to work" immediately with a warming sensation from the active plants. The scent is strongly medicinal and herbal. I notice an immediate tightening and firming sensation with my skin. It also helps even out my skin tone and reduce some of the hyperpigmentation. Many of the plants in the Herbal Face Food serums are great at healing and reducing scars, so I've also been applying it to a recent raised scar of mine and the hardened scar seems to be softening and diminishing. Because the Herbal Face Food serums feel astringent, I feel like oily and acneic types will enjoy this serum. If your skin is dry, I recommend also using a hydrating or hyaluronic acid serum on top of the Herbal Face Food serum.
How Do You Use Herbal Face Food Serums
It's recommended to use Herbal Face Food serums twice a day, morning and night. I use one full dropper all over my face, including my eyelids, for each use. Important: Give Herbal Face Food serums a good shake before applying. I also highly recommend properly exfoliating before using these, or better yet, getting a professional facial done to make sure you're not applying the Herbal Face Food serums to dead skin. You want to maximize the chances of these ingredients reaching deep into the skin to work at the cellular level, especially for their price. A professional facial will ensure that you've reset your skin so your products can get to work.

Herbal Face Food The Cure is the line's most potent serum for extreme multi-correction. I find this serum much stronger than many budget and mid-range Vitamin C serums I've tried. 50 of the world's most powerful botanicals and the top 20 rarest, most expensive plant concentrates stimulate your skin cells and stop oxidation from occurring.
• Acne • Rosacea • Eczema 
 – Psoriasis • Melasma • Extreme Sun Damage • Deep Wrinkles • Dark Circles • Moles / Skin tags • Warts / Cold Sores • Scarring • Lesions • Dermatitis
With The Cure I feel an intense "burning" sensation for a good five minutes. Herbal Face Food says this is The Cure reversing damage. This dermal warming experience (Thermo-phytochemical reaction) allows plant nutrients into the skin for anti-aging, cellular generation, elasticity, resiliency and to restore collagen and elastin to the dermis.
You can see the difference in color intensity between Herbal Face Food Serum I and The Cure, the latter being a much more deep orange shade. I found The Cure is effective at brightening, tightening and toning the skin. It's like a clinical treatment made entirely of plants and properly exfoliating beforehand is recommended just like with a professional in-clinic facial. If you're not sensitive at all and need serious corrective help, I say go for the strongest Herbal Face Food serum.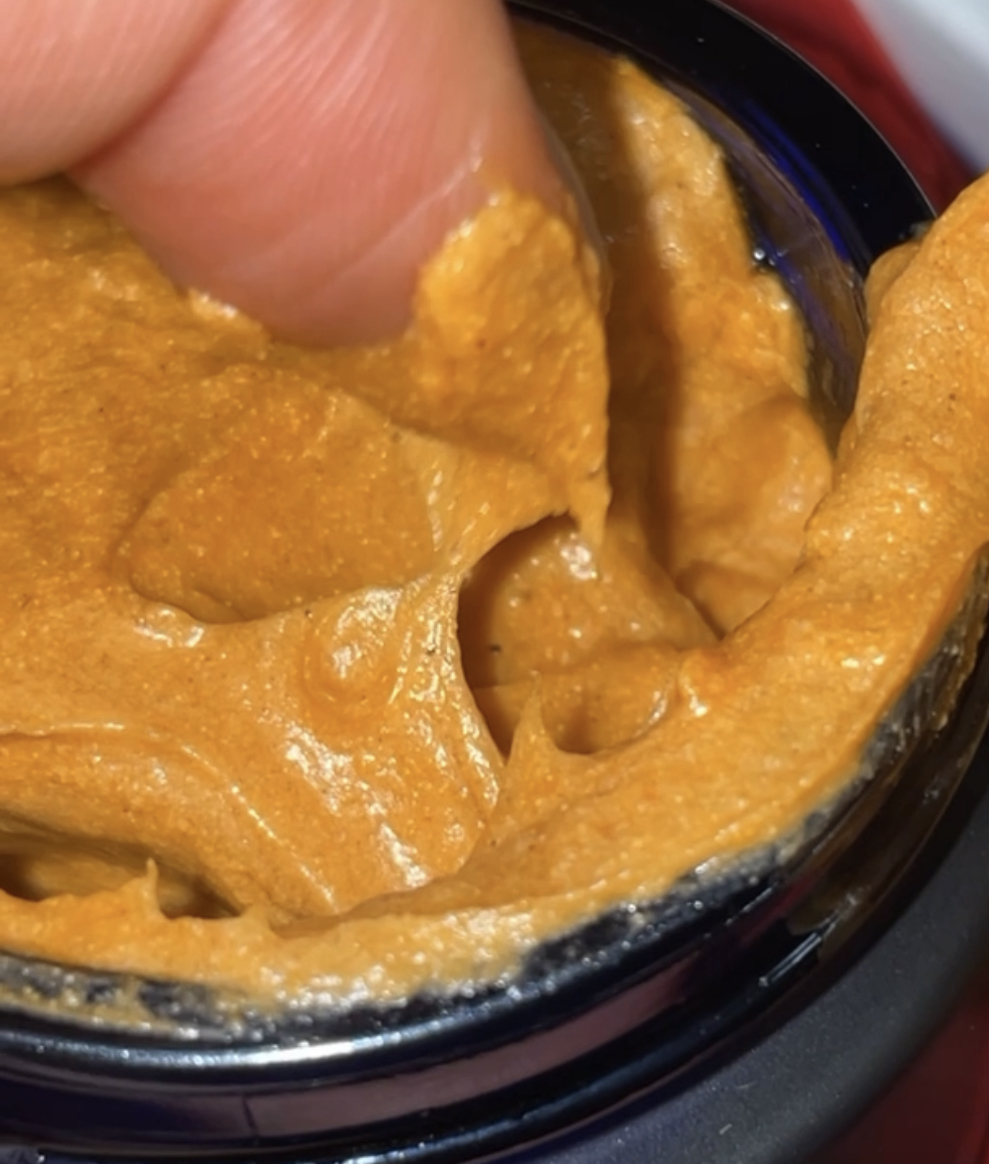 New: The Cream
This super light whipped and mousse-like cream contains 102 of the world's most powerful Anti-Aging botanicals including the top 20 rarest, most expensive plant concentrates on the planet. I only use this at night because it has an intense orange hue. It doesn't have the same hot sauce burning sensation but there is a dull burn for the first few minutes. Much more subdued and tolerable though. This is a cream that eventually softens to an oily layer – there are no emulsifiers and binders in this formula.
Save 20% with my affiliate discount code OBL on all Herbal Face Food serums.
US shipping is always free. International shipping is free with orders $199+.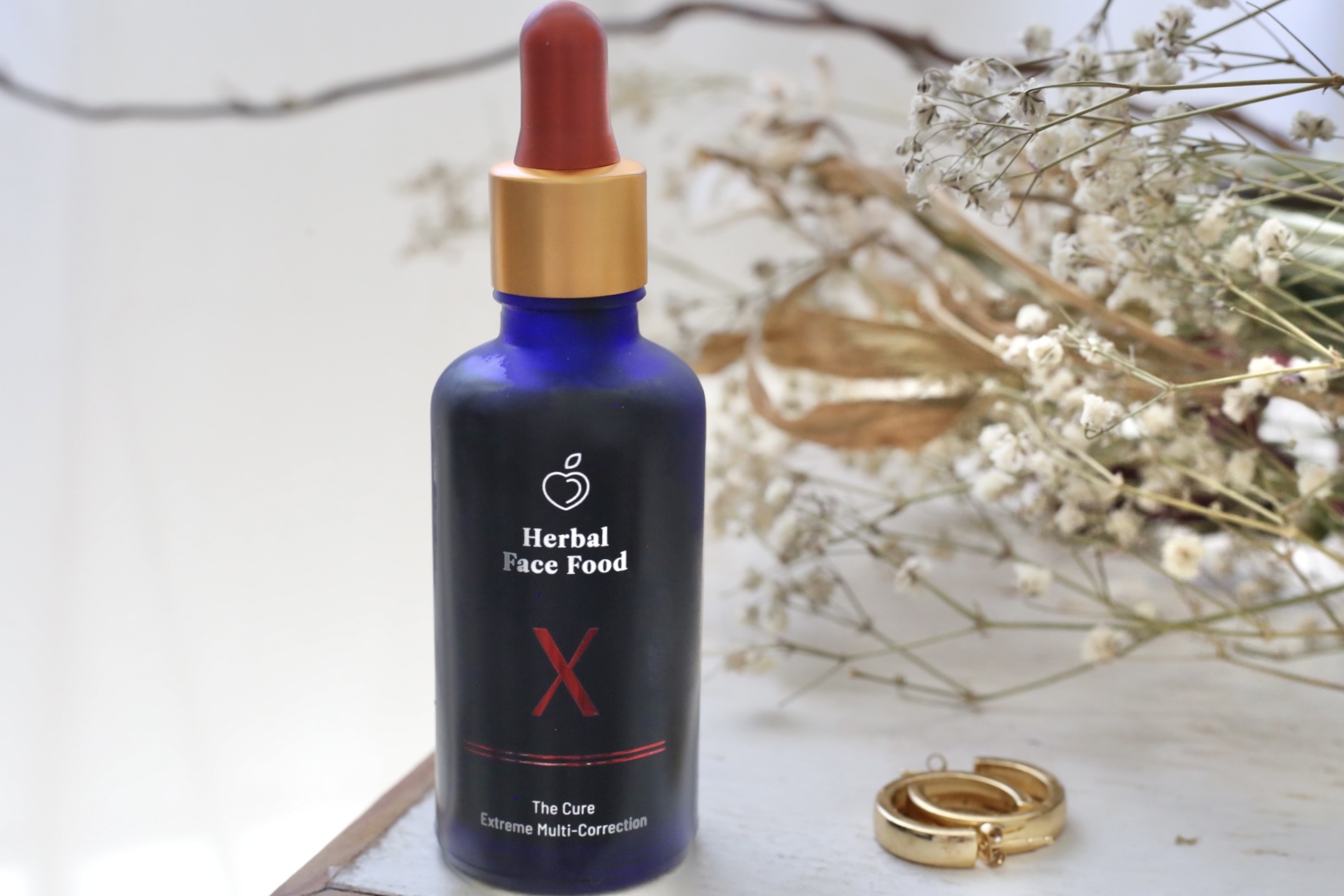 There is a secret Herbal Face Food product that is not visible on the site unless you have the direct link. It's available only in very limited quantities and is called The Cure XX. It has 4x the potency of The Cure. I currently am testing Extreme Cure XX and will update this post in a few months.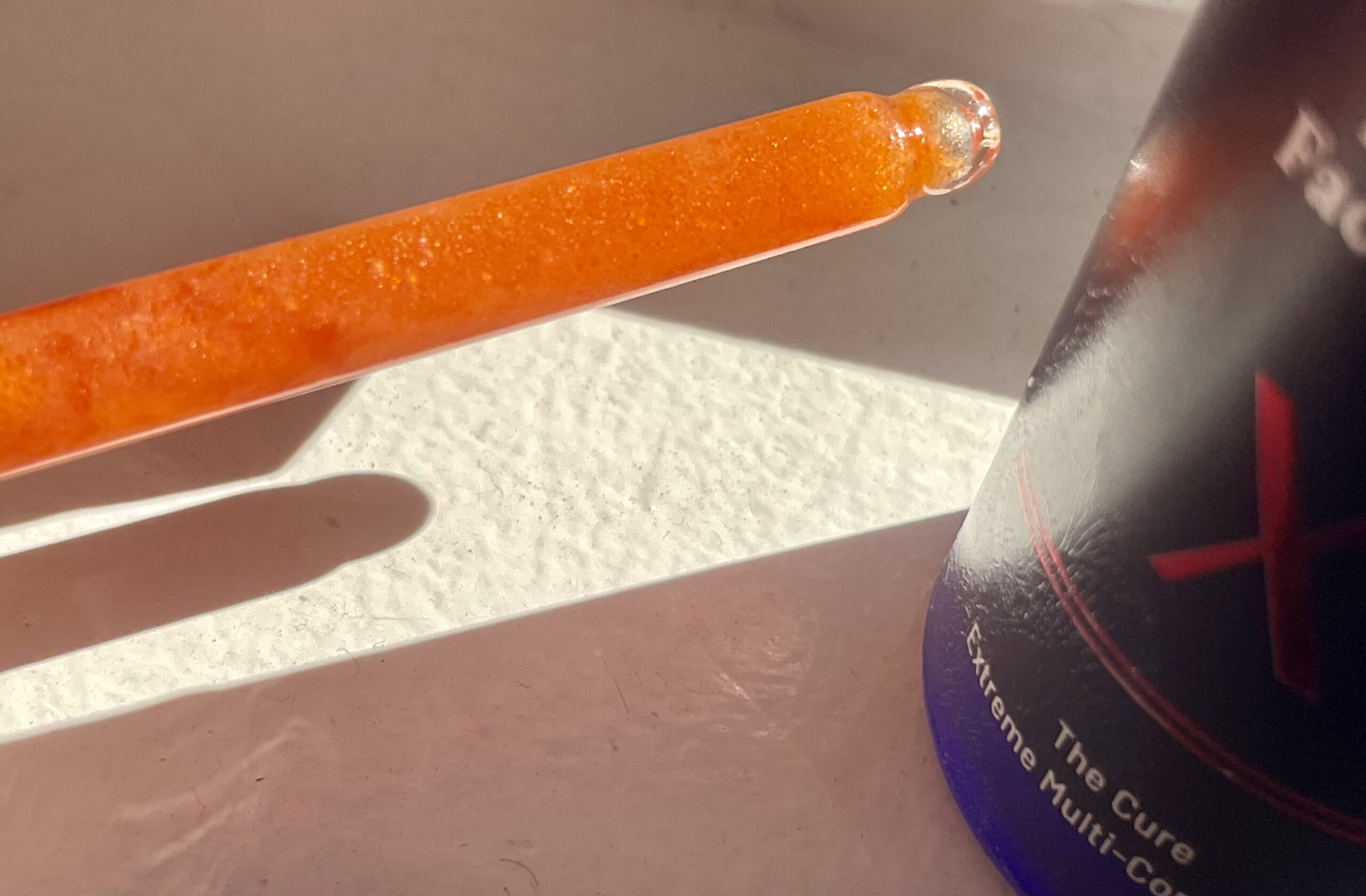 Is Herbal Face Food Pregnancy Safe?
I asked Herbal Face Food if the serums are safe during pregnancy and here is what they replied with:
"We have many pregnant and nursing parents that use the products. We have heard from several pregnant and nursing parents that they have been given the approval from their healthcare provider to use our products, but we recommend that you reach out to yours before incorporating anything new to your routine when pregnant or nursing. We want you to be sure that your healthcare provider is comfortable with you using our 100% plant products as some providers have different preferences. So while one provider may be okay with you using it, another may want to be more cautious of any new products that you begin using. Nothing is more important than a little one, so we want our customers to be fully confident in what they choose to put in and on their bodies."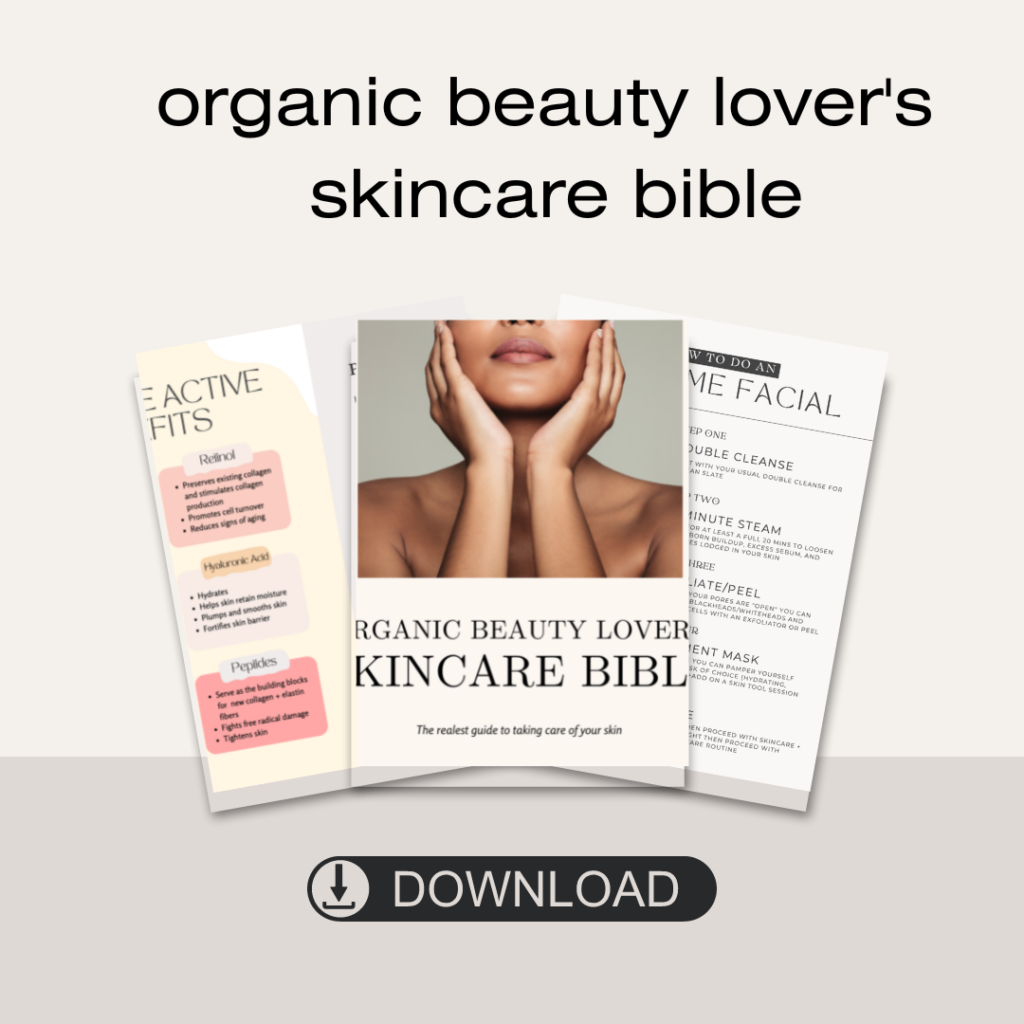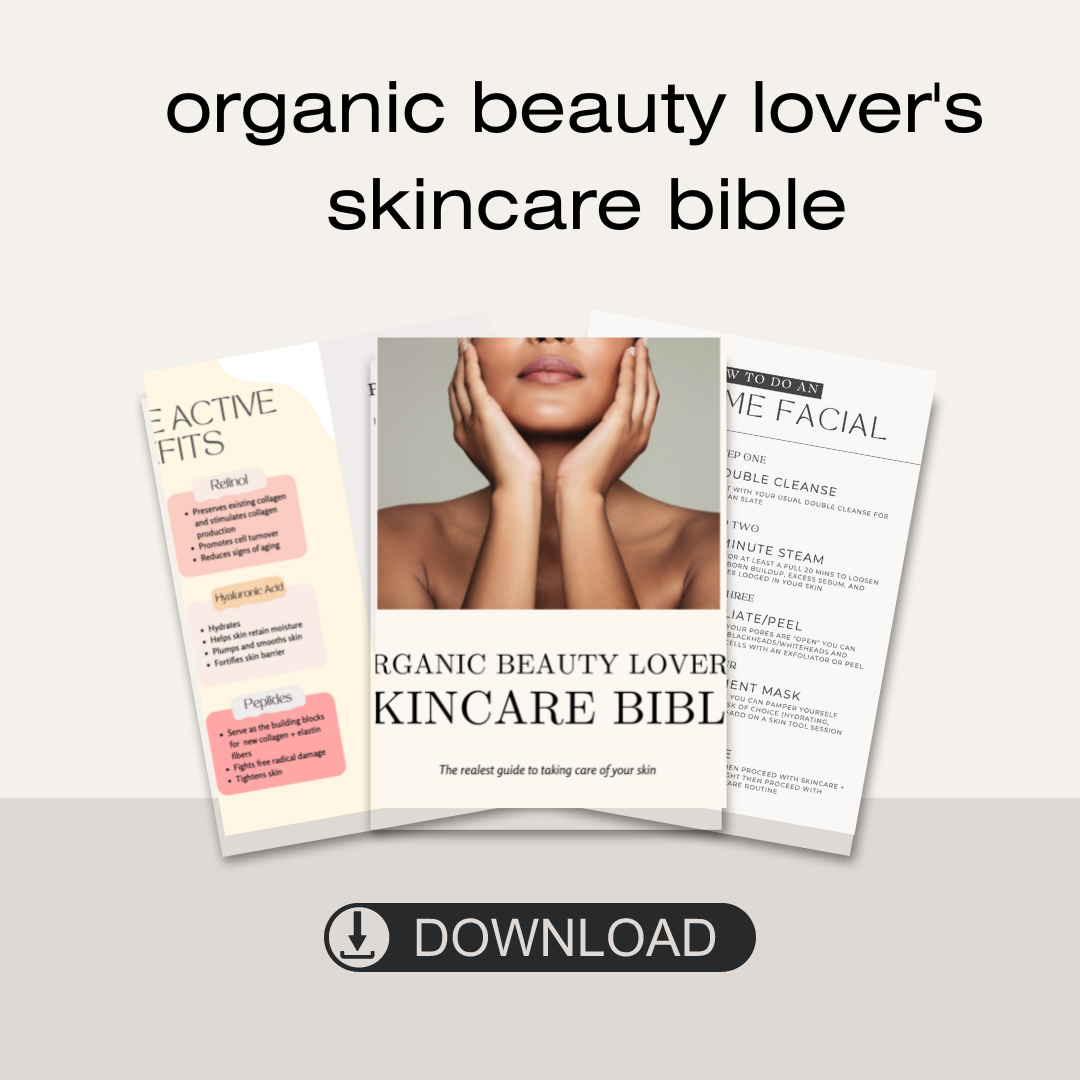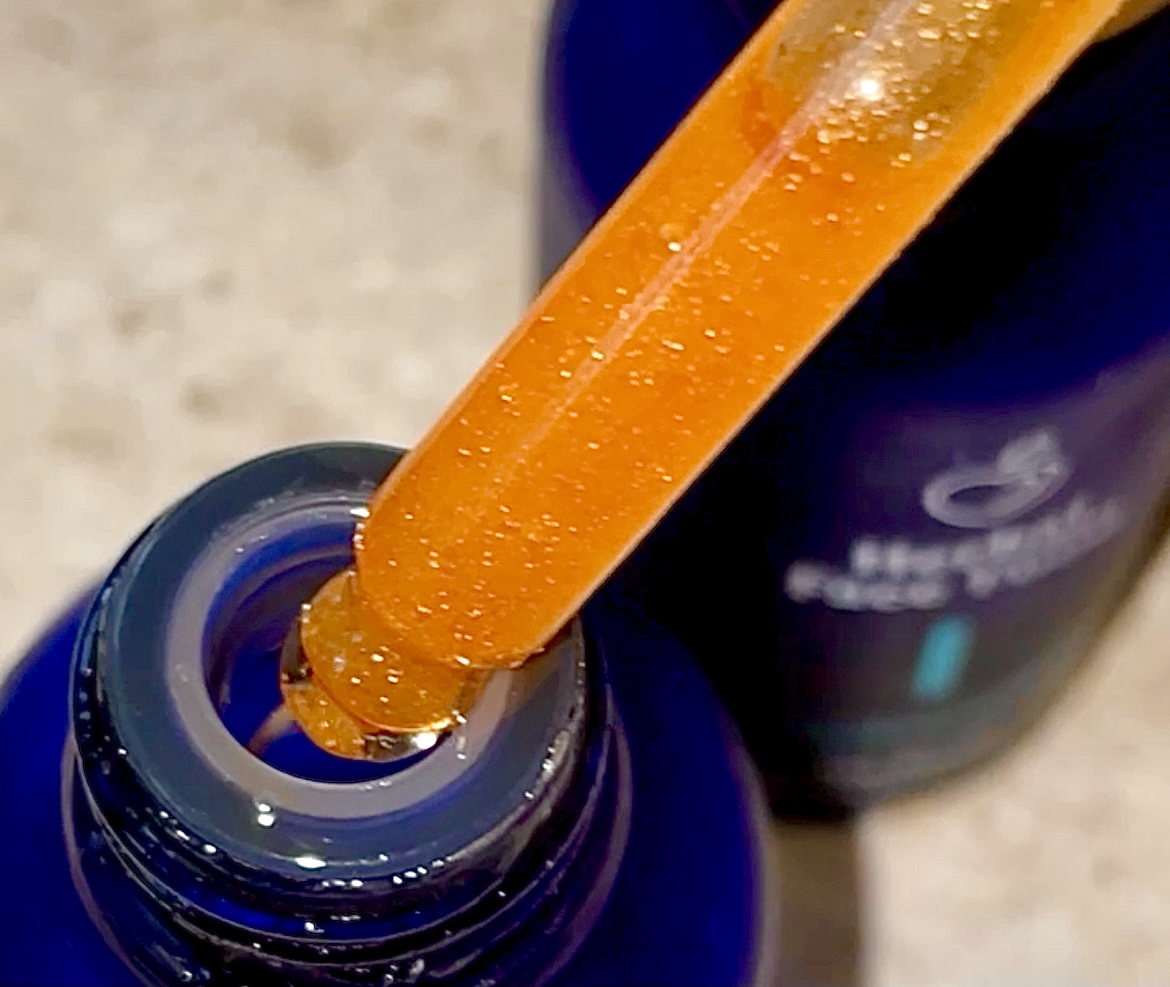 Herbal Face Food Ingredients
Aloe Barbadensis Leaf Extract, Simmondsia Chinensis Seed Extract, Haematococcus Pluvialis Extract, Helichrysum Stoechas Flower Extract, Lavandula Angustipolia Flower/Leaf/Stem Extract, Origanum Vulgaris Flower Extract, Eugenia Caryophyllus, Thymus Vulgaris Flower/Leaf Extract, Commiphora Myrrha Leaf/Cell Extract, Jasminum Officinale Flower/Leaf Extract, Vetiveria Zizanioides Root Extract, Cananga Odorata Leaf Oil, Pogostemon Cablin Leaf Extract, Santalum Album Extract, Elettaria Cardamomum Seed Extract, Citrus Nobilis, Citrus Medica Limonum Leaf Peal Stem, Cymbopogon Flexuosus Leaf Oil, Boswellia Carterii, Croton Lechleri, Daucus Carota Sativa (Carrot) Seed Oil, Ormenis Mixta, Rose Damenscena, Leptospermum Scoparium Leaf Extract, Callitris Intratropica, Vanilla Planifolia Bean Extract The antioxidant power of the Herbal Face Food serums lies purely in its plant ingredients, so I wanted to highlight a couple below:
Asataxanthin
very powerful antioxidant, many times more potent than vitamin E
helps protect the skin, throughout the dermal layers, from the free radical damage
helps to protect the skin from the sun's damaging UV rays
improves the elasticity of the skin by aiding healthy skin cell function
Niaouli
Helps to reduce oiliness, acne and outbreaks of blemishes
Effective for toning and tightening the skin
stimulates new cell growth promoting regeneration of damaged tissue
Melissa
traditional herbal medicine used widely as a mild sedative, spasmolytic and antibacterial agent
has antioxidant, anti-aging, and disease fighting properties.
Dragon's Blood
helps to protect the cells of the skin, and reduces redness and swelling.
Blue Mallee Eucalyptus
used to treat many skin infections & skin problems including acne
An active ingredient in Eucalyptus is called Cineole which is a great antiseptic for wounds