Heretic Parfum Natural Perfume Review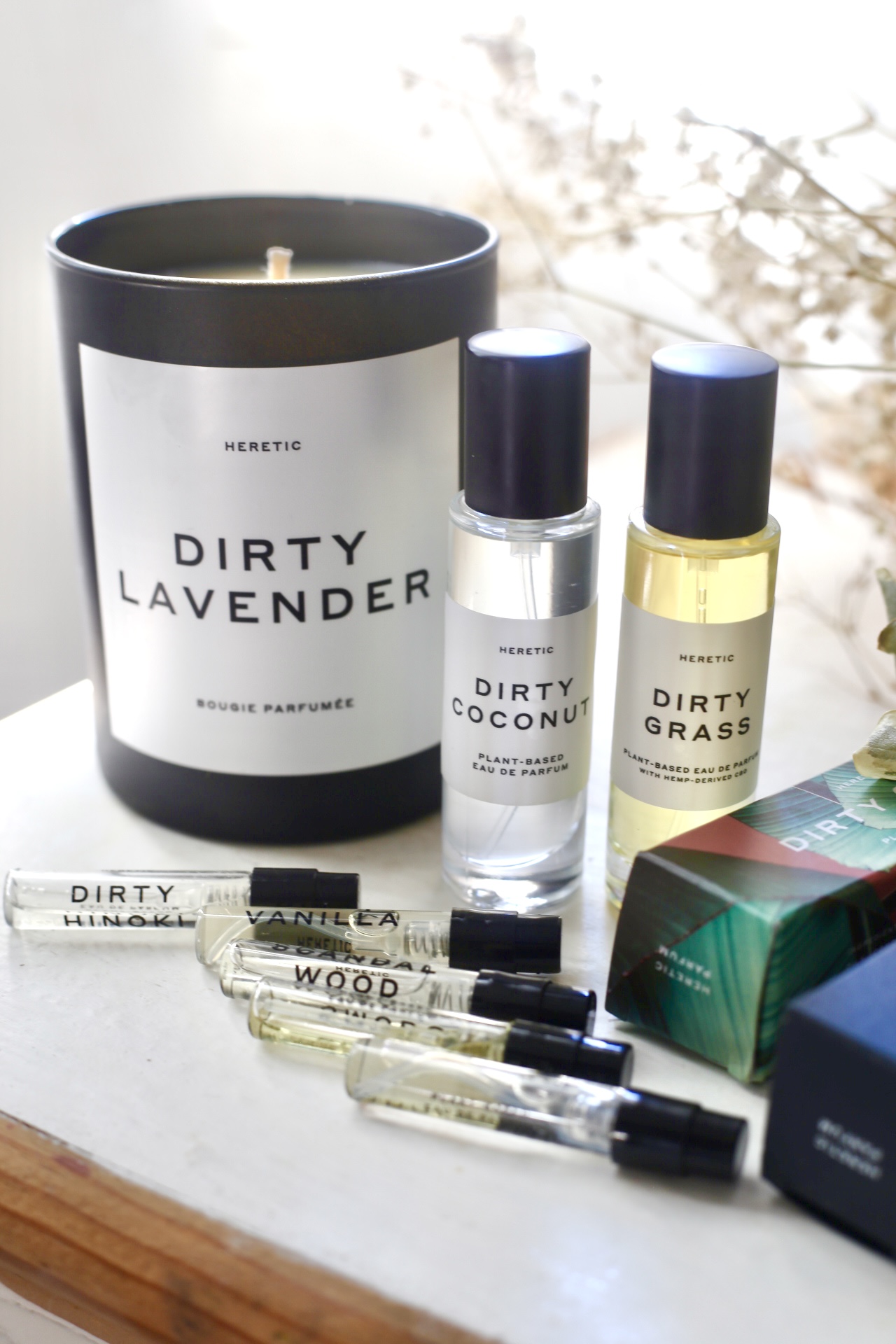 Heretic Parfum uses naturally derived botanical ingredients in an organic non-GMO alcohol base to create clean fragrances that explore the unpolished version of plants and flowers. Heretic perfumes encapsulate the raw and wild side of nature and have names like Dirty Hinoki and Dirty Coconut. Based in Los Angeles, Heretic has also collaborated with goop to create provocative scents like This Smells Like My Vagina. Their fragrances are Unisex, vegan, and cruelty-free and handcrafted in small batches at their Los Angeles studio. Heretic Parfum offers an interesting and sometimes unusual take on classic notes like vanilla, coconut, sandalwood, lavender and more. Read on to explore the dirty side of nature and my Heretic Parfum review.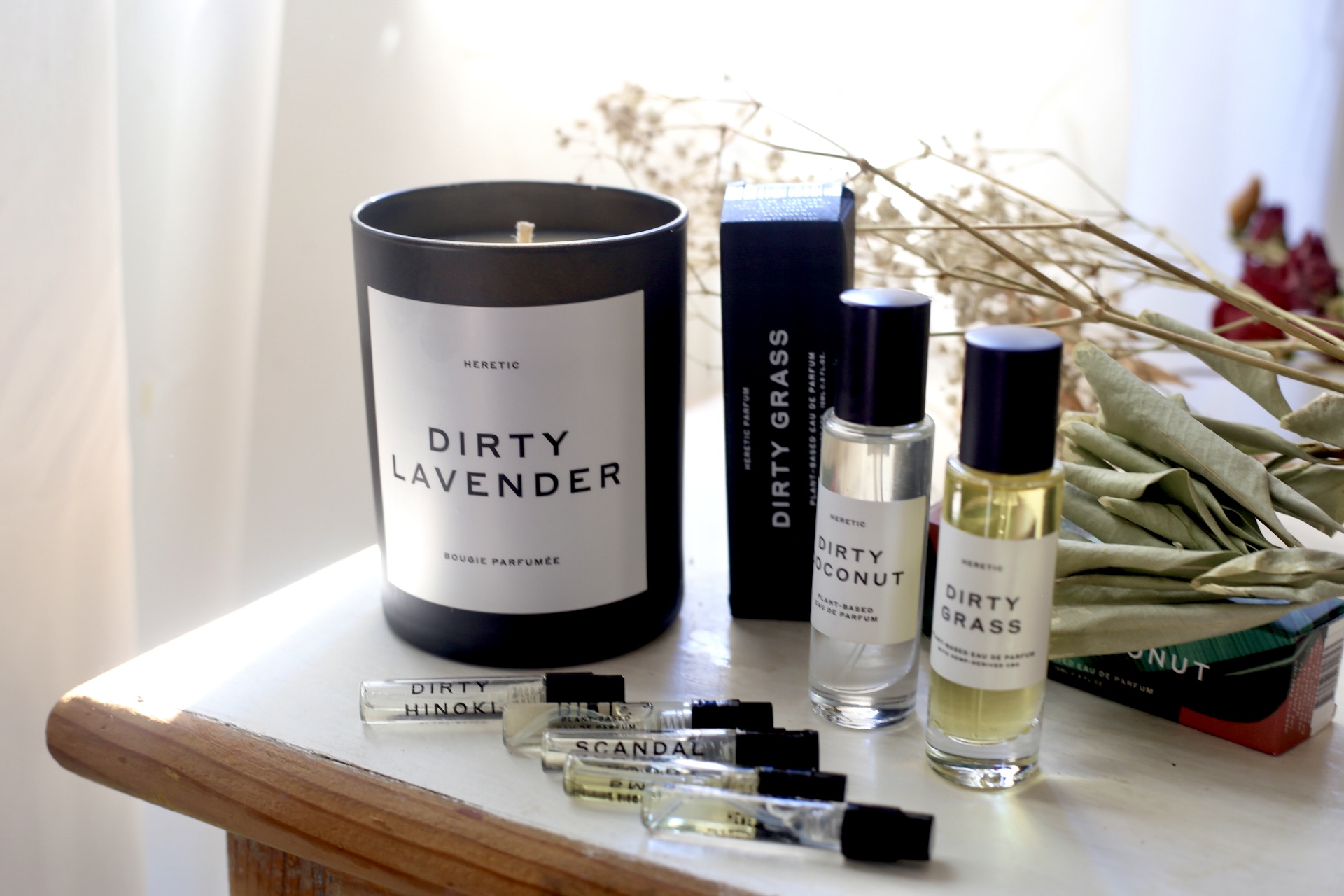 I tried almost the entire line of Heretic Parfum's natural perfumes and am sharing my thoughts on each scent, including my favorites and least favorites. My absolute favorite by far is Heretic's Dirty Hinoki
Note that some Heretic perfumes are all natural while others do contain safe synthetics. The brand clearly states which is the case on each perfume's page.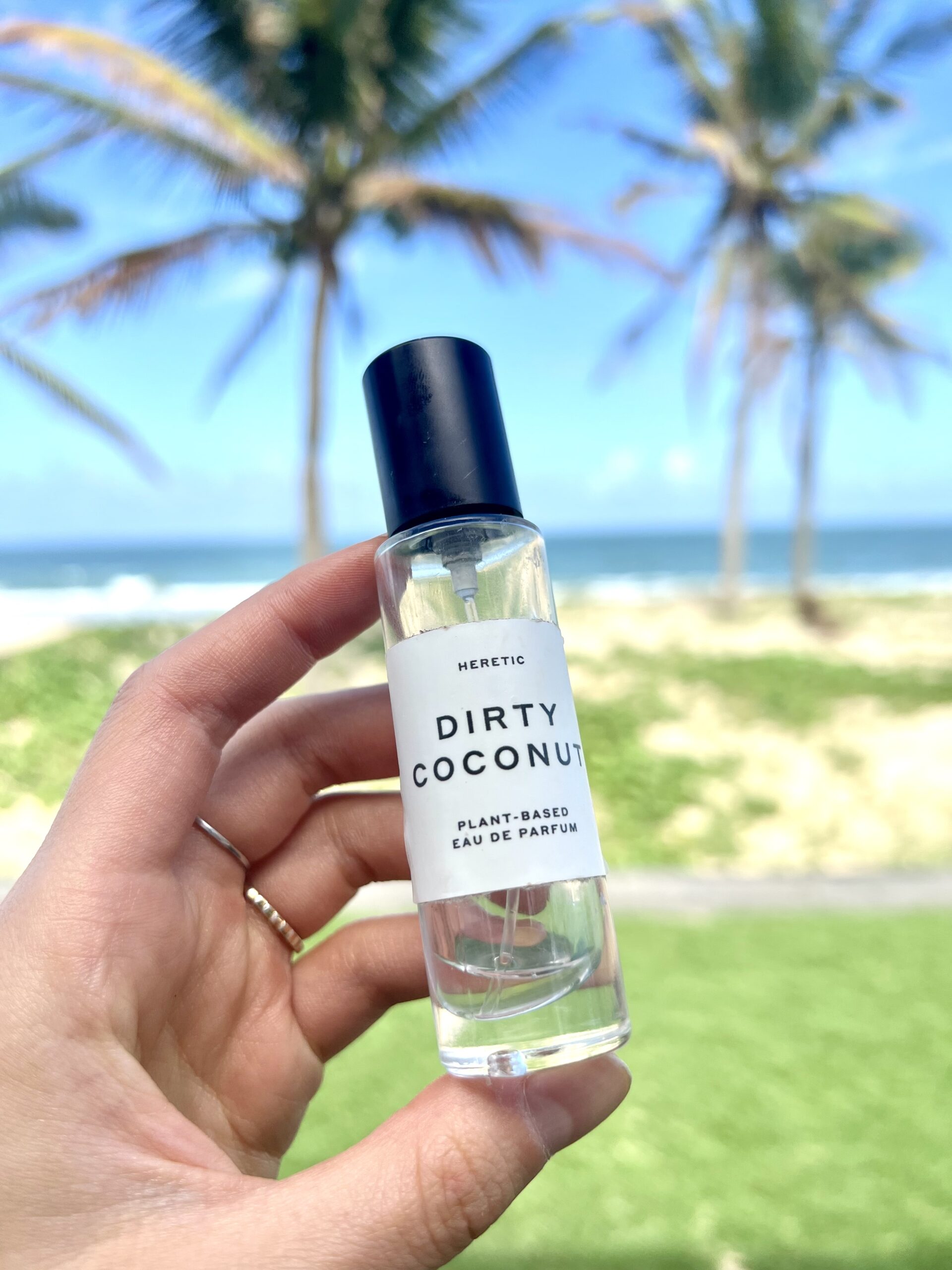 Longevity
With 4 spritzes some Heretic perfumes last me around 4 hours and others 1-2 hours. Some of the heavier scents like Smudge and Dirty Grass last longer than others, even up to 8 hours with some fading.
Price
A full sized bottle costs $165 with the smaller spray bottles costing $65. This is on the steep end, so I would not blind buy.
Favorite Heretic Perfumes
Runner Ups
Dirty Vanilla
Dirty Coconut
Florgasm
Least Favorite Heretic Perfumes
Longest Lasting Heretic Perfumes
Smudge
Dirty Grass
Dirty Lavender
Lightest Heretic Perfumes
The three Heretic Perfumes I can see myself purchasing for year round use is Dirty Hinoki, Bergamusk, Sandalwood and Florgasm. Dirty Coconut is something I would purchase to wear only in the summer.
A number of Heretic perfumes I would consider a perfume you'd wear for your own personal enjoyment and not for others. For instance, I couldn't picture myself wearing Dirty Lavender, Smudge, or Dirty Grass for others to enjoy.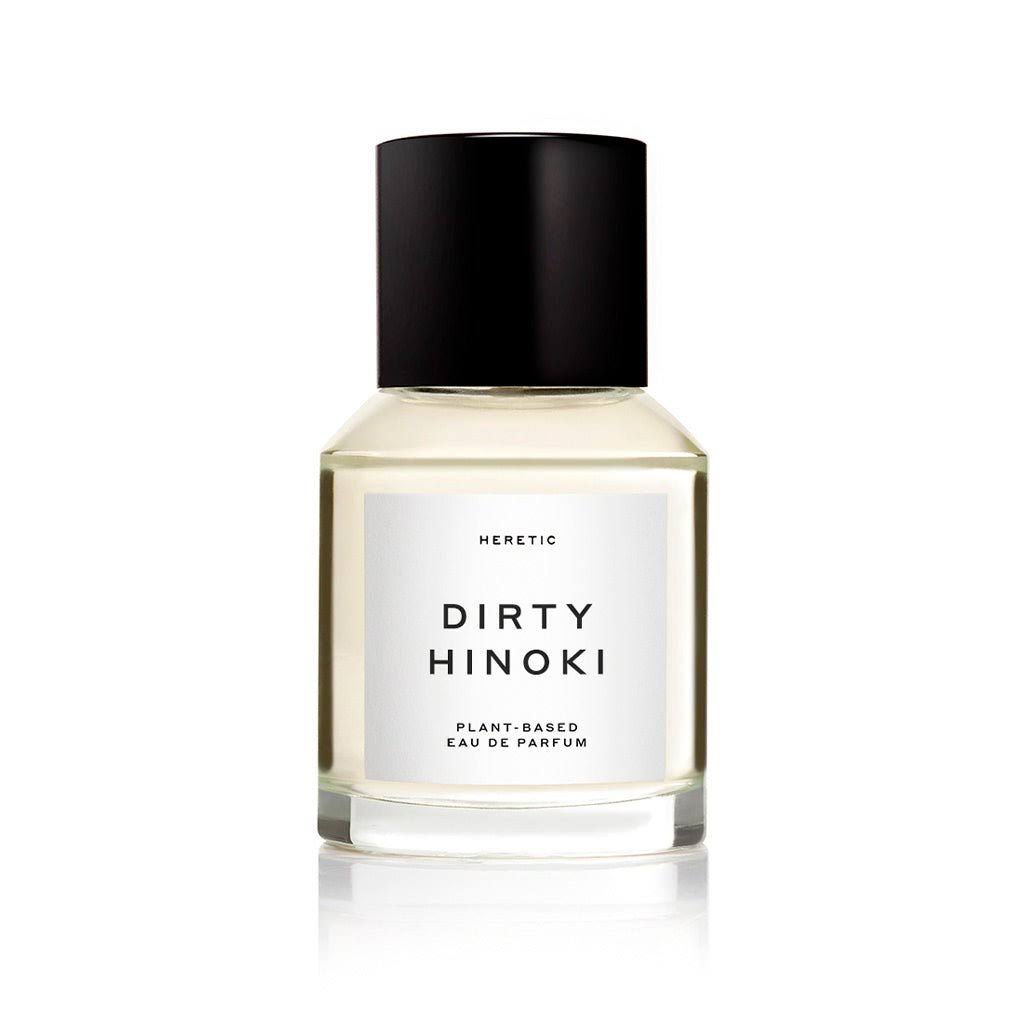 My absolute favorite out of the entire Heretic line! With Dirty Hinoki, I get both worlds of masculine and feminine in one bottle, though if this is absolutely a feminine perfume. The opening of Dirty Hinoki is a juicy burst of fruit which fades to reveal woodsy notes with a caramel sweetness. Depending on the day and the weather, I sometimes get a stronger woodsy scent and sometimes a stronger sweet scent. Beautifully complex, the dry down seems to reveal a completely different perfume, one that's highly feminine and sweet.
TOP: Lemon, Cedar, Nutmeg, Thyme, Pine
HEART: Hinoki, Cypress
BASE: Elemi, Wormwood, Fir Absolute, Ambrettolide, Balsam, Frankincense
Because of its name, I was afraid this scent might be too simple, but Sandalwood is surprisingly quite beautiful. Sandalwood does have some synthetics included and is a velvety, creamy woodsy floral scent.
TOP: Atlas Cedar, Coriander
HEART: Bulgarian Rose
BASE: Labdanum, Sandalwood, White Musk
Bergamusk is a surprisingly beautiful, feminine and interesting scent by Heretic. I wasn't sure I'd like this one because I'm not a huge Bergamot fan, but the name is a little deceiving as this is a complex woodsy citrus floral. It's got a bright sharp citrus opening which quickly reveals a woodsy yet fresh and uplifting floral and a delicate underlying lace of musk. I find this scent to be captivating with a lot of layers and depth. I can see Bergamusk being a people pleaser for the majority. Bergamusk is a lighter fragrance that dries down to a skin scent.
TOP: Bergamot, Lavender, Lime, Thyme, Verbena
HEART: Jasmine, Cedar
BASE: Ambrettolide, Musk, Sandalwood
Florgasm is a 100% natural feminine floral fragrance with Bergamot and Bitter orange with a hint of specimens from Pink Pepper as the opening and a heaping bouquet of beautiful florals like Jasmine, Orange Blossom and creamy Tuberose and Ylang Ylang at the heart. The final dry down is a sweet delicately light floral.
If you don't like light perfumes, then I wouldn't suggest Florgasm. This is a powdery floral that dries down quickly to lay close to the skin, leaving a sweet citrus floral scent. I have to admit that Florgasm didn't exactly wow me at first, but it has grown on me.
TOP: Bergamot, Bitter Orange, Coriander, Lemon, Pimento Berry, Pink Pepper
HEART: Jasmine, Linden Blossom, Orange Blossom, Tuberose, Ylang-Ylang
BASE: Hibiscus Seed
Firstly, Dirty Coconut is not for someone looking for a tropical or beachy coconut perfume. This is a coconut that leans woodsy and musky. Overall, this is one of Heretic's more simpler, linear scents and there's a hint of yummy sweetness from the vanilla absolute. In the opening of the perfume, the coconut leans a little sickly, but I think it dries down to a pleasant scent ideal for summer.
Top: Cedar and Vanillin
Middle: Coconut and CO2 Extracts
Base: Sandalwood, Vanilla Absolute and Ambretone.
Dirty Vanilla is an uncomplicated linear scent similar to Dirty Coconut and smells like creamy, woodsy, smoky, slightly spicy vanilla. This isn't vanilla cake frosting level sweet but it is sweet. Sultry and simple. Dirty Vanilla would be great during the holidays and layered with perfumes in other fragrance families. I love it with Dirty Grass and Bergamusk.
TOP: Cedar, Coriander, Ho Wood
HEART: Vanilla
BASE: Patchouli, Sandalwood, Styrax, Vanillin, Vetiver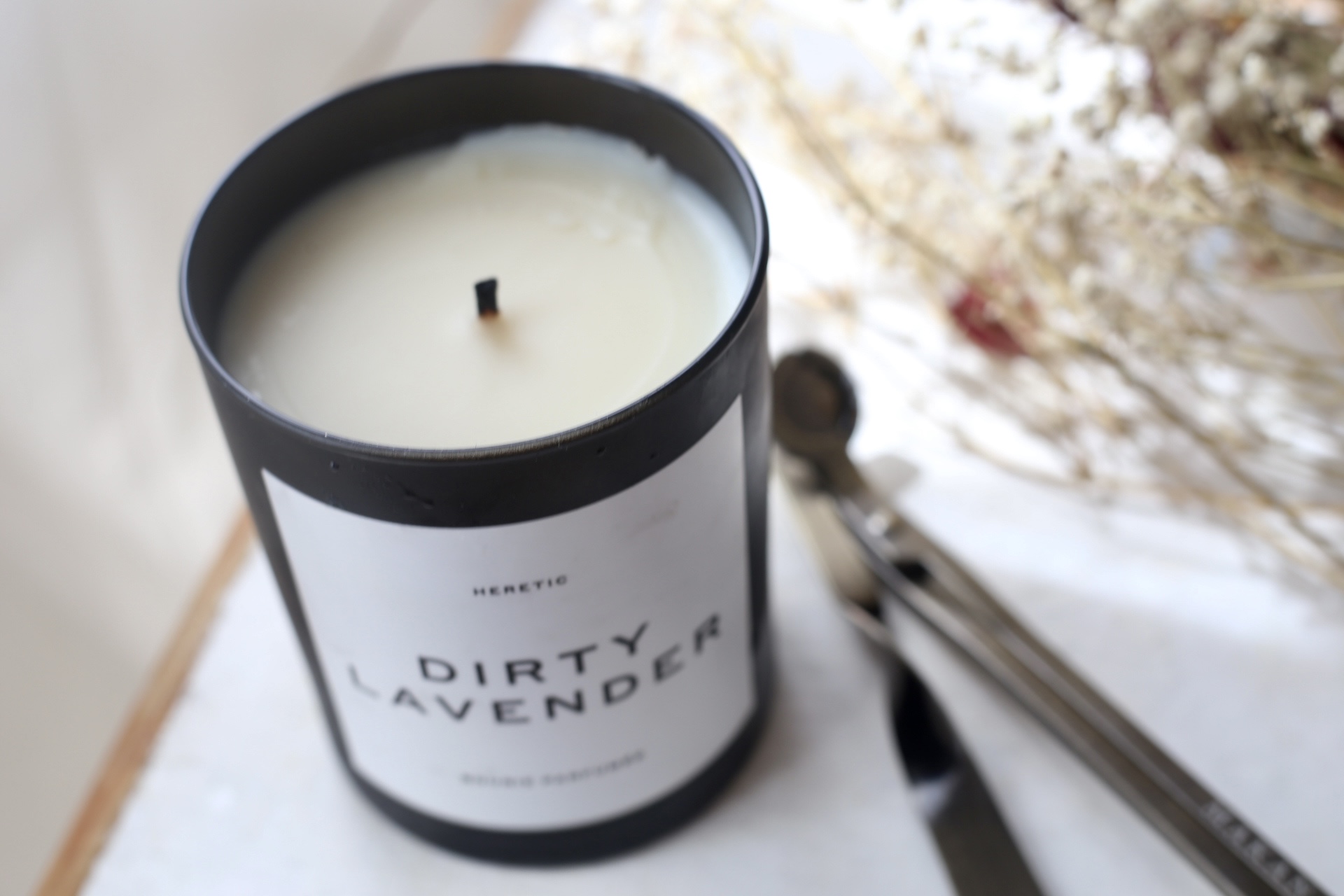 I can only really see myself wearing Dirty Lavender as a bedtime perfume, which it would actually be perfect for since lavender is so calming. This is one of Heretic's heavier perfumes and also quite linear as I get woodsy lavender through and through.
The Dirty Lavender candle has the same exact scent as the perfume and has a calming effect when I light it before bed.
One of Heretic's 100% natural perfumes that contains CBD, Dirty Grass is an intensely green scent. It's sharp, strong and one of Heretic's longest lasting perfumes. Dirty Grass is definitely not for someone looking for a feminine perfume. I enjoy layering Dirty Grass with Dirty Vanilla to create a sweet grass scent, but on its own Dirty Grass is much too reminiscent of grass for me.
Dirty Grass smells like freshly mowed wet green grass with a drizzle of lemon on top. As it dries down, a woodsy characteristic is revealed.
Just like Dirty Lavender, I can only see myself wearing Smudge for my own personal well-being and not for others' olfactory enjoyment. This is a heavy, dark and smoky woodsy scent that feels appropriate for spiritual healing and cleansing. I'm using this as a bedtime perfume and meditation perfume.
TOP: Atlantic Cedar, Frankincense, Sichuan Pepper
HEART: Clary Sage, Juniper, Tonka Bean
BASE: Canadian Balsam, Labdanum, Patchouli, Sandalwood, Styrax
Save 20% on Heretic Parfum here (ends Oct 23, 2022 – Discount automatically applied).