Max and Me is an eco-luxury high-vibrational skincare line hailing from Austria. using only the purest most high quality ingredients in their masterpieces. The founders are a husband-wife duo who pour their love for each other, nature and skincare to create products that work beyond skin healing and as vibrational tools. Each Max and Me product combines energy healing, aromatherapy and highly vibrant ingredients sourced from sacred pockets around the world. As a Max and Me blogger I've had the opportunity to use many products from their exquisite line, including the: Enchanted Face Oil, I am the Light Face Oil, Sweet Serenity Face Mask, The Intuitive Face Mist, Circle of Protection Body Oil, Rescue Balm and Purity & Grace Cleanser. In this Max and Me skincare review, I'll deep dive into what high-vibe skincare actually is and how Max and Me skincare elevates the skincare experience to nurture body, mind and soul.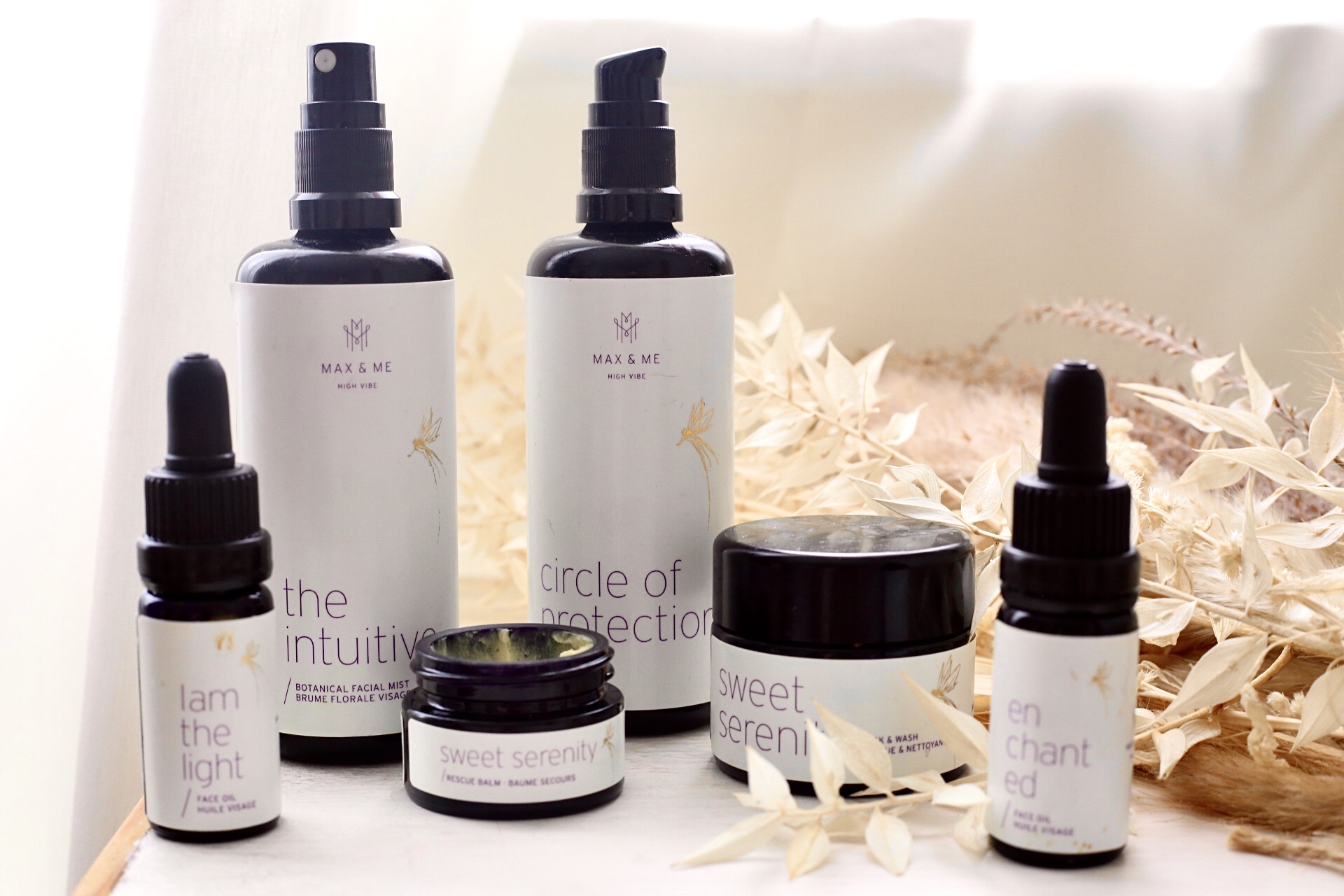 What is High Vibe Skincare?
First, let's look at what high vibrational even means. These days, you don't have to be a quantum physicist to know that everything is energy at the fundamental level. Science has shown us that everything is energy. It's in the building blocks of all matter. Our emotions are frequencies throughout the core of our being. This is why among the younger generations, we love to use the verb "vibe" when we say that we vibed with that person or didn't. We ARE energy. And it seems like our energies communicate with each other.
"Everything is energy. Match the frequency of the reality you want and you cannot help but get that reality. It can be no other way. This is not philosophy. This is physics." ~ Albert Einstein
Because skincare is matter too, it makes sense that these principles would apply to skincare. Each Max and Me skincare product is a vibrational tool of energetic healing in itself.
Max and Me founders describe high vibrational skincare as:
"The higher an ingredient vibrates, the purer, the more lit from within, the gentler yet the more intense it is. The better it can communicate on a cellular level.

High vibrational ingredients are more focused in their effects, more potent in their healing capacities, more talented in targeting troubled conditions. High vibrational ingredients suffuse your skin and your whole being with love, light and an exquisite harmony, realigning all bodily systems (cells, tissues, organs) and energetic centers (chakras, meridians …) with their perfectly balanced, innate structure and rhythm. Initiating regulating impulses, nurturing self healing capacities. All this is so beautiful and powerful for transforming skin's overall health and appearance."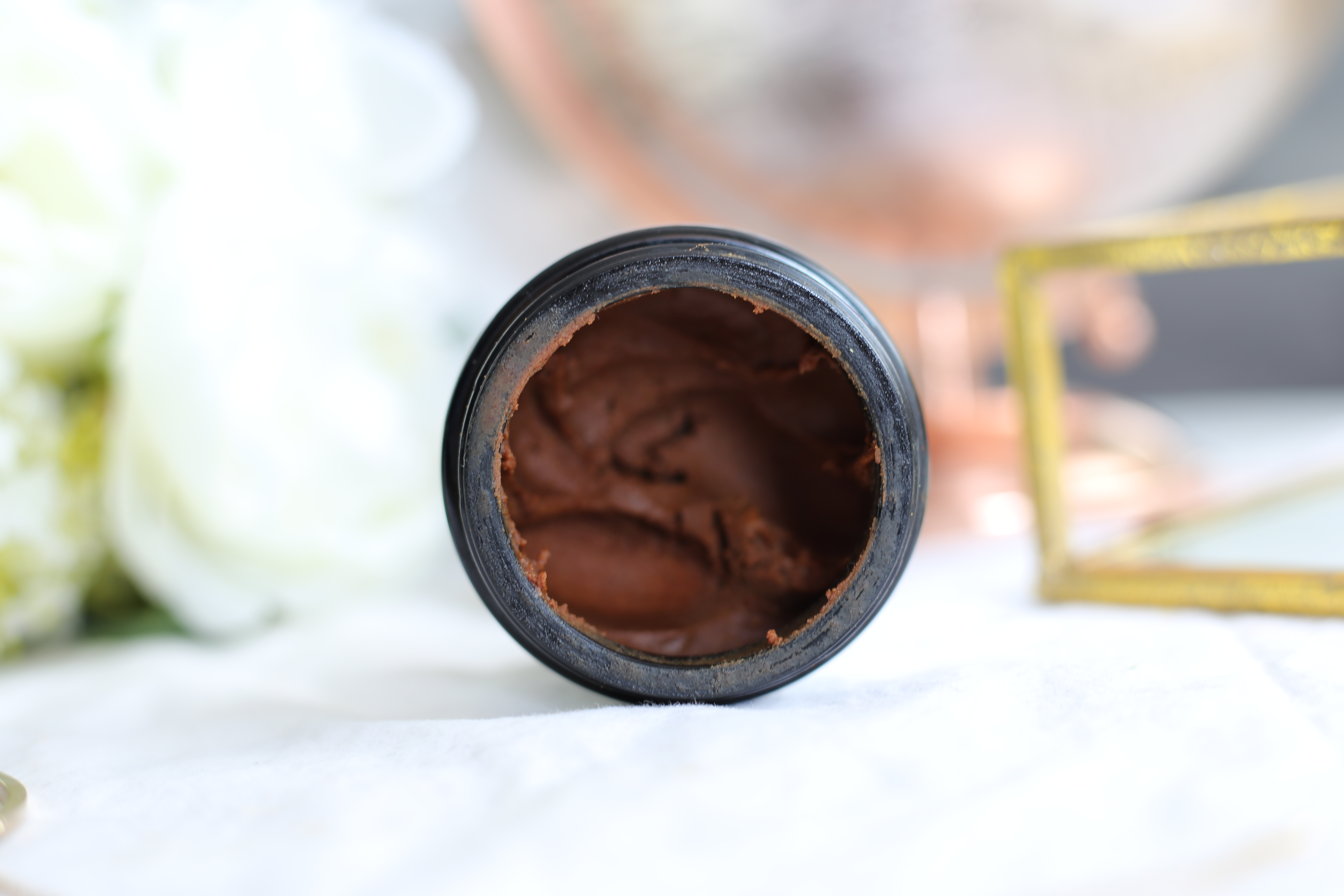 The Sweet Serenity Mask & Wash revitalizes dull, tired & irritated skin with a base of White Kaolin Clay, Manuka Honey, Shea Butter & Mangosteen powder, oils of immortelle, neroli, ylang ylang, lavender, palmarose & rose. Not only does it work to improve your skin it also helps restore your skin's harmonious rhythm. Incredibly healing, regenerative, soothing and intoxicatingly floral in scent, the Sweet Serenity Mask is an indulgent treat for my skin and I treat each use as its own skincare ceremony.
MAX AND ME SWEET SERENITY MASK BENEFITS
Soothes, calms & balances sensitive, irritated, flaky, thirsty skin
Benefits hard to treat skin issues (acne, rosacea, couperose)
Provides optimum hydration
Brightens and evens out skin tone
Stimulates collagen
Gives a major glow
Counterbalances hyperpigmentation
Boosts skin´s self-healing abilities
HOW I USE SWEET SERENITY FACE MASK & WASH:
Max and Me's Sweet Serenity Face Mask & Wash is a dry slightly creamy paste and I mix it with just a few drops of water to turn it into a smooth & more creamy paste. The shade will go from dark brown to light brown. I then apply and leave it on for about half an hour and sometimes a few hours if possible. They say to use a warm towel but I wash it off with warm water and make sure to massage the product in circles into my skin for an exfoliating effect. My skin is left looking radiant, brighter and more even toned. The skin's texture and clarity look improved. The best way to get the most out of Sweet Serenity Face Mask is to apply when taking a hot shower as the ingredients will attract moisture. You simply wash it off at the end of your shower for visibly toned, smooth and brighter skin.
MAX AND ME SWEET SERENITY MASK INGREDIENTS
White Kaolin Clay, Leptospermum Scoparium Mel (Raw Manuka Honey), Butyrospermum Parkii Butter1, Garcinia Mangostana Pericarp Powder1, Calophyllum Inophyllum Seed Oil1, Cranberry Seed Oil1, Theobroma Cacao Seed Powder1, Cocos Nucifera Oil1, Rosa Canina Fruit Oil1, Tocopherol, Prinsepia Utilis Seed Oil1, Glycine Soja Oil, Argania Spinosa Kernel Oil1, Punica Granatum Seed Oil1, Nigella Sativa Seed Oil1, Gardenia Tahitensis Flower Extract, Helichrysum Angustifolium Flower Oil1, Santalum Album Oil2, Rosa Damascena Flower Oil1, Leptospermum Scoparium Oil3, Citrus Aurantium Flower Extract1, Pelargonium Graveolens Oil1, Pogostemon Cablin Leaf Oil1, Cananga Odorata Flower Oil1, Lavandula Angustifolia Herb Oil2, Cymbopogon Martinii Herb Oil1, Linalool4, Geraniol4, Citronellol4, Limonene4, Alcohol, Farnesol4, Benzyl Benzoate4, Propolis Cera, Benzyl Salicylate4, Citral4, Eugenol4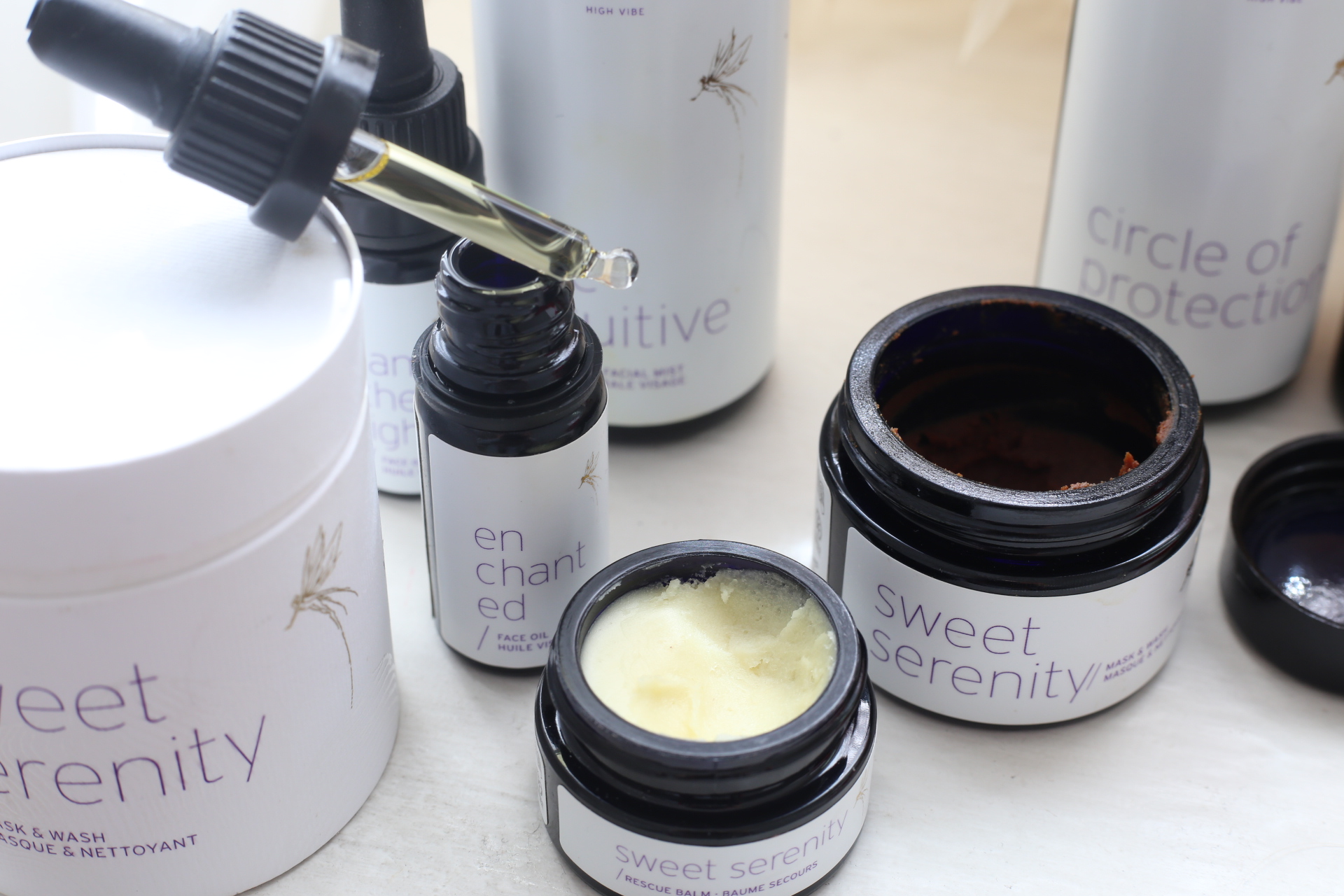 The award-winning Max and Me Enchanted Face Oil does just that- it enchants your skin & soul with its nourishing, regenerative, calming properties. One of the best smelling face oils in clean beauty, Max and Me Enchanted Face Oil is made with argan, marula, rosehip, pomegranate, evening primrose with essential oils of jasmine, frangipani, champaca, rose, sandalwood and lavender. Enchanted has the most lush jasmine scent, does not cause me any breakouts and leaves my dry skin looking radiant in the morning.
MAX AND ME ENCHANTED FACE OIL BENEFITS
Nourishes & restores
Soothes, calms & balances
Benefits sensitive, irritated & mature skin
Resonates beautifully with the heart chakra
HOW I USE MAX AND ME ENCHANTED FACE OIL
I place a few drops on my fingers and then press together to "activate" the oil. Then I inhale the oil as part of my selfcare ritual so the beautiful scent will calm my mind & prepare it for sleep. I apply all over my skin massaging it gently in. I then make sure to press the oils into my skin so it can penetrate deeper.
INGREDIENTS
Argania spinosa Kernel Oil1, Rosa moschata Seed Oil1, Sclerocarya birrea Kernel Oil2, Oenothera biennis Oil1, Macadamia ternifolia Seed Oil1, Punica granatum Seed Oil1, Rosa damascena Flower Oil1, Jasminum sambac Flower Extract1, Lavendula angustifolia Herb Oil2, Santalum album Oil3, Michelia champaca Extract, Cananga odorata Flower Oil1, Plumeria alba Flower Extract, Benzyl Alcohol4, Benzyl Benzoate4, Benzyl Salicylate4, Citral4, Citronellol4, Eugenol4, Farnesol4, Geraniol4, Isoeugenol4, Limonene4, Linalool4, Tocopherol5
Max and Me's The Intuitive is one of my most beloved Max and Me products. The Intuitive is so much more than a face mist — it's also an energy healing aura mist that I use with mindful intention to raise my mood and vibration. I look to the highly-vibrant The Intuitive when I need more than just skin hydration as any of my other face mists can provide that for me.
Max and Me The Intuitive face mist features a sublime and rare blend of ingredients only Max and Me would create — calming green Mandarine, Neroli oil from freshly hand-picked organic orange blossoms, calming Benzoe Siam, healing Immortelle, wild agonis to balance circadian rhythms and an infusion of blue tansy, neroli, calendula, rose, myrtle, and yarrow.
While each ingredient was meticulously chosen and sourced based on their vibrancy, my favorite ingredients in The Intuitive is Palo Santo Flower Water and Palo Santo Oil. Almost holy in nature, Palo Santo is sacred and spiritual in indigenous cultures. As with all of Max and Me's ingredients, the Palo Santo hydrosol and essential oil in The Intuitive is of the highest vibrancy. The Palo Santo is sourced from an intimate distillery in Ecuador that's dedicated to being in deep communication with the trees to create an essential oil and hydrosol that vibrates at its highest level possible.
MAX AND ME THE INTUITIVE BENEFITS
Deeply calming and benefiting sensitive, finicky, challenging conditions
Anti-inflammatory powers for troubled skin (acne, rosacea)
Hydrates, balances and regulates
Supports cell and tissue repair
Protective powers, dispels negative energy
MAX AND ME THE INTUITIVE INGREDIENTS
Achillea Millefolium (Yarrow) Flower Water*, Bursera Graveolens (Palo Santo) Flower Water**, Citrus Aurantium (Neroli) Flower Water*, Myrtus Communis (Myrtle) Flower Water*, Hamamelis Virginiana (Witch Hazel) Flower Water*, Rosa Damascena Flower (Rose) Water*, Calendula Officinalis Flower (Calendula) Extract*, Olea Europaea (Olive) Fruit Oil*, Lactobacillus Ferment, Rosa Canina (Rosehip) Fruit Oil*, Sclerocarya Birrea Kernel (Marula) Oil**, Bursera Graveolens (Palo Santo) Oil**, Citrus Aurantium Flower (Neroli) Extract*, Hyssopus Officinalis Decumbens Hyssop**, Citrus Reticulata (Green Mandarin) Flower Extract*, Styrax Tonkinensis (Siam Benzoin) Oil*, Helichrysum Italicum (Immortelle) Flower Oil*, Agonis Fragrans (Agonis) Oil**, Tanacetum Annum (Blue Tansy) Oil**
One of Max and Me's cult products happens to be a body care product. Although Max and Me offers four ethereal body oils (Flight to the Sun, Journey in Time, Crystal Clear Beauty and Circle of Protection), the cult favorite is undoubtedly Circle of Protection.
The Max and Me Circle of Protection Body Oil could very well be a skincare product on its own. It's formulated to vibrate at the highest frequency and heal even the most difficult skin conditions. Circle of Protection isn't just a body oil to moisturize skin — it's a corrective remedy that OBL readers have found to be the only product that's worked for their skin ailments.
Not only are Circle of Protection's ingredients selected for their ability to heal, soften and nourish your body, but also on their energetic healing abilities:
Magnolia – eliminates fear of the dark, illuminates your inner self
Manuka– highly protective ritual oil of the Maori attracts positive energy
Bourbon Geranium – deflects negative energy and protects
Jasmine – supports the Qi-energy of the heart, calms the nerves and uplifts the mind, helps with anxiety and restlessness
Litsea – attracts white light and cosmic protection
Vetiver Bourbon – grounds, protects, affords safety
Rose Damask – 
makes you receptive for universal love, dissolves blocks in the aura
Silver Fir – brings protection and light
MAX AND ME CIRCLE OF PROTECTION INGREDIENTS
Argania spinosa Kernel Oil1, Sclerocarya birrea Kernel Oil2, Rosa moschata Seed Oil1, Michelia alba Flower Oil, Leptospermum scoparium Oil2, Pelargonium graveolens Oil, Jasminum sambac Flower Extrakt1, Litsea cubeba Fruit Oil1, Vetiveria zizanoides Extrakt1, Abies alba Leaf Oil3, Benzyl Alcohol4, Benzyl Benzoate4, Citral4, Citronellol4, Geraniol4, Limonene4, Linalool4
Max and Me Sweet Serenity Balm is an emergency balm for seriously troubled skin or skin issues. In a base of shea butter and rosehip oil, this potent concoction is very high Immortelle which is incredibly healing and powerfully regenerating. Max and Me Sweet Serenity Balm also contains:
Antibacterial manuka
Balancing wild mountain lavender
Inflammation taming sandalwood
Regenerating neroli, toning ylang-ylang, soothing palmarose & calming patchouli
Because Sweet Serenity Balm is a small jar, I like to save this for special situations like on days when my skin has been exposed to the sun or if I have had a string of stressful, sleep-deprived days that leave my skin looking hallow. The Max and Me Sweet Serenity Rescue Balm provides:
Instant relief for irritated, stressed-out, inflamed conditions
Renews red, irritated, flaky skin
Relieves hard to treat skin-issues (acne, rosacea, couperose)
Calms and soothes deeply
The scent is either a love it or a hate it type as it's quite strong. Almost medicinal and highly floral and herbal, the Sweet Serenity Rescue Balm has an intoxicating scent that may be overpowering for some.
Max and Me is carried at Beauty Heroes.
GIVEAWAY (ENDED)
Win the full size Max and Me Sweet Serenit Mask (value $240) over on my Instagram! We will have 2 winners: 1 for the full size and 1 runner up for the limited edition 30ml version!