Mychelle Review: Best Mychelle Products 2023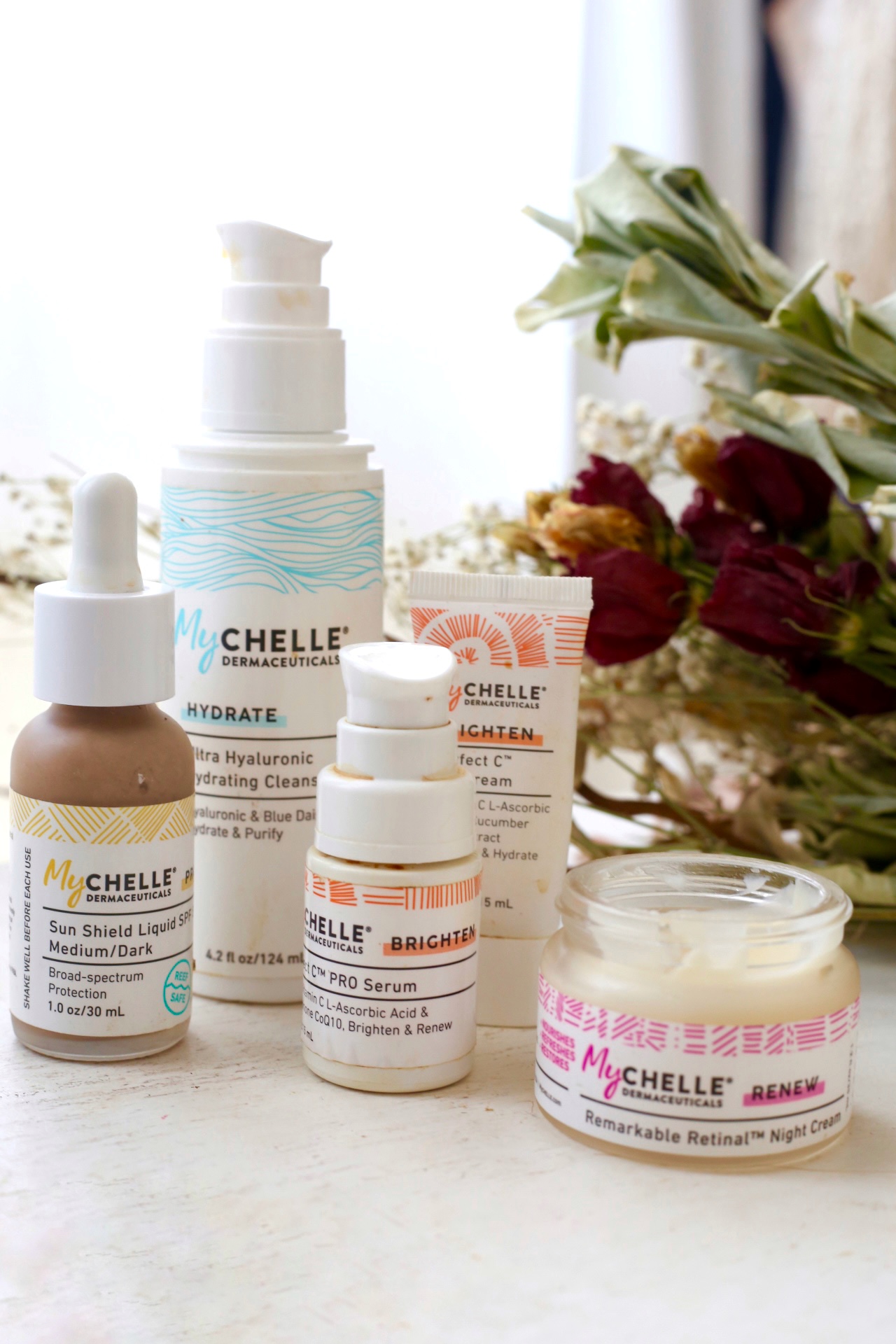 Mychelle is an accessible and affordable clean beauty brand that has been making natural skincare for over 20 years. Mychelle is also committed to the clean beauty movement and are a founding member of the Environmental Working Group's "Verified for Your Health" program, a PETA certified cruelty-free company and certified by Leaping Bunny. Naturally, you won't find any Phthalates, Parabens, Petroleum, Sulfates, Ureas, Artificial Fragrances and Colors in their line. Sold everywhere from Whole Foods to ULTA, Mychelle is widely accessible both in stores and online. I'm sharing my honest review on Mychelle Dermaceuticals hits and misses.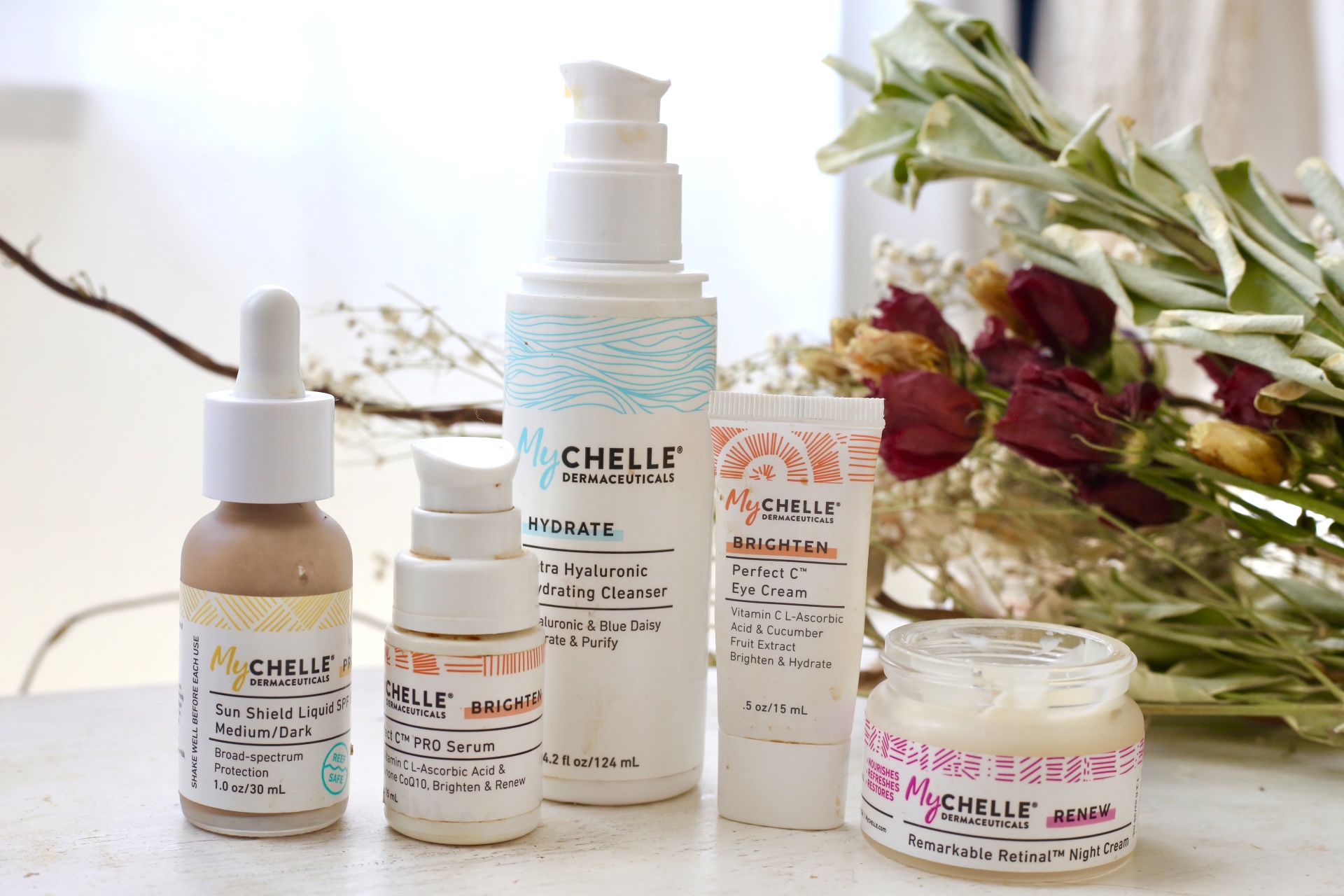 Mychelle offers eight different targeted skin care lines within their brand:
Vitamin C line for brightening
Hyaluronic line for hydration
Clear skin line for acne skin
Gentle soothing line for sensitive skin
Retinol line
Anti-wrinkle and firming line for mature skin
Enzyme line for dull skin
Sunscreen line
Mychelle is not an organic skincare brand. While they do use organic ingredients here and there, they do not consider nor position themselves as organic. You will find highly natural formulas with chemical preservatives used in Mychelle.
My least favorite Mychelle product is their Remarkable Retinal Night Cream. It feels almost waxy and just did not provide a pleasant application experience. The retinol night cream feels like it sits on top of my skin rather than sinks in.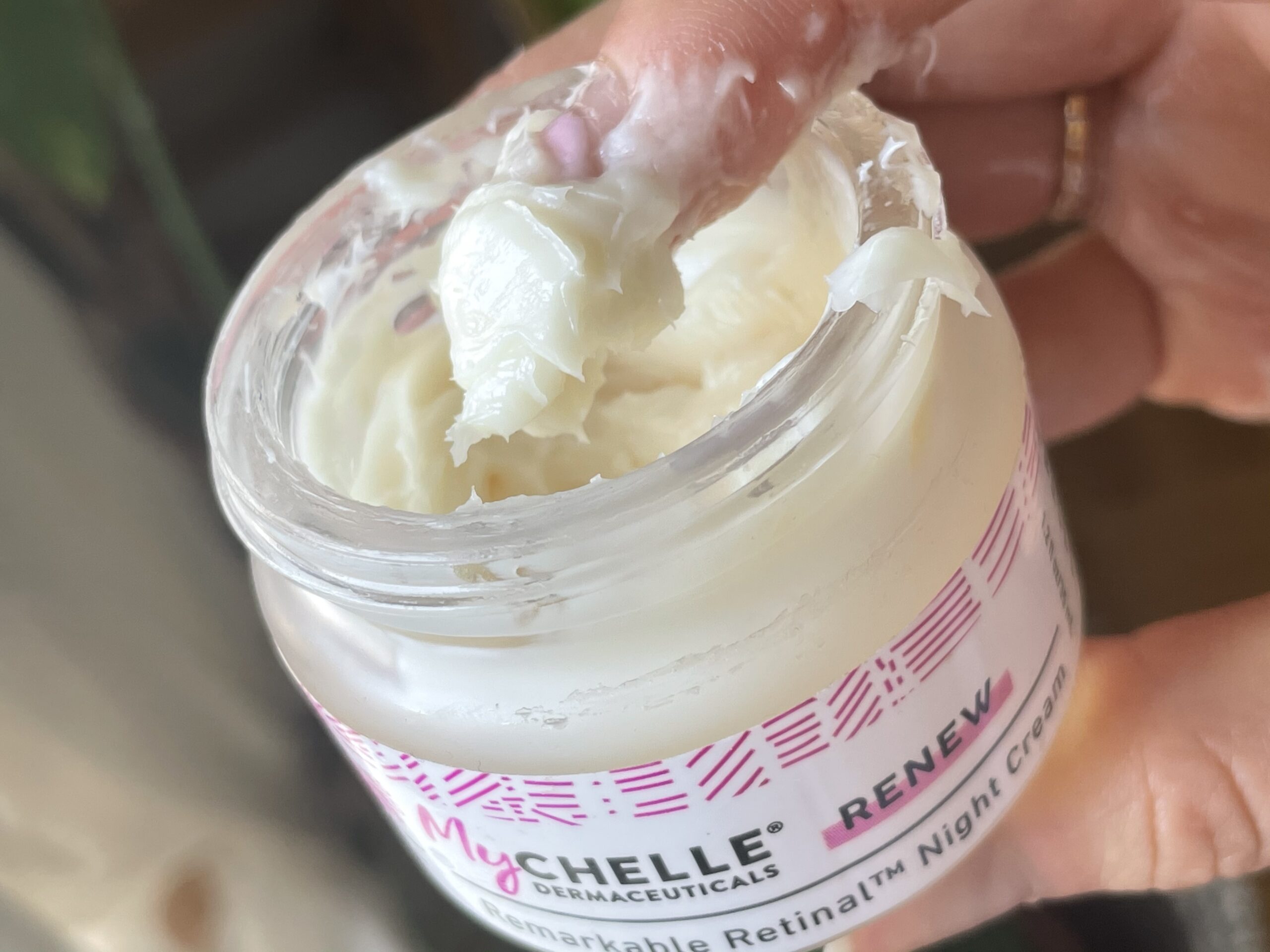 The Mychelle Remarkable Retinal Night Cream is $45 so it's not super budget friendly. It's described as a "Powerful nutrient-rich rejuvenating cream that works overnight to improve radiance and firmness. Containing Retinal (Vitamin A), ChroNOline™ Peptide and Monk's Pepper" to help deeply hydrate and reduce the appearance of fine lines and wrinkles.
The scent is floral lavender.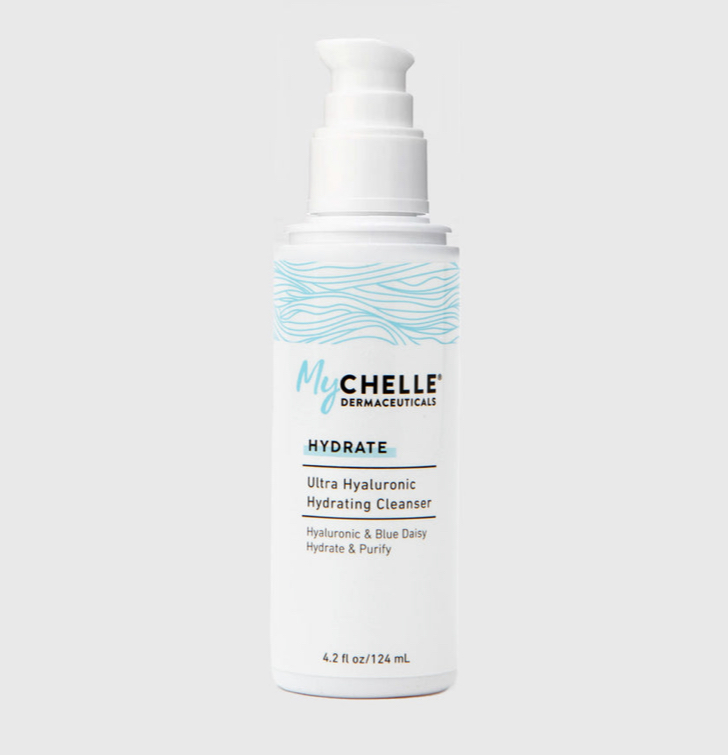 If you're looking for a super unctuous cleanser the Mychelle Ultra Hyaluronic hydrating cleanser is a great affordable option. It's a hybrid Cream oil cleanser that feels like a creamy gel. I absolutely love the scent – it reminds me of marshmallow.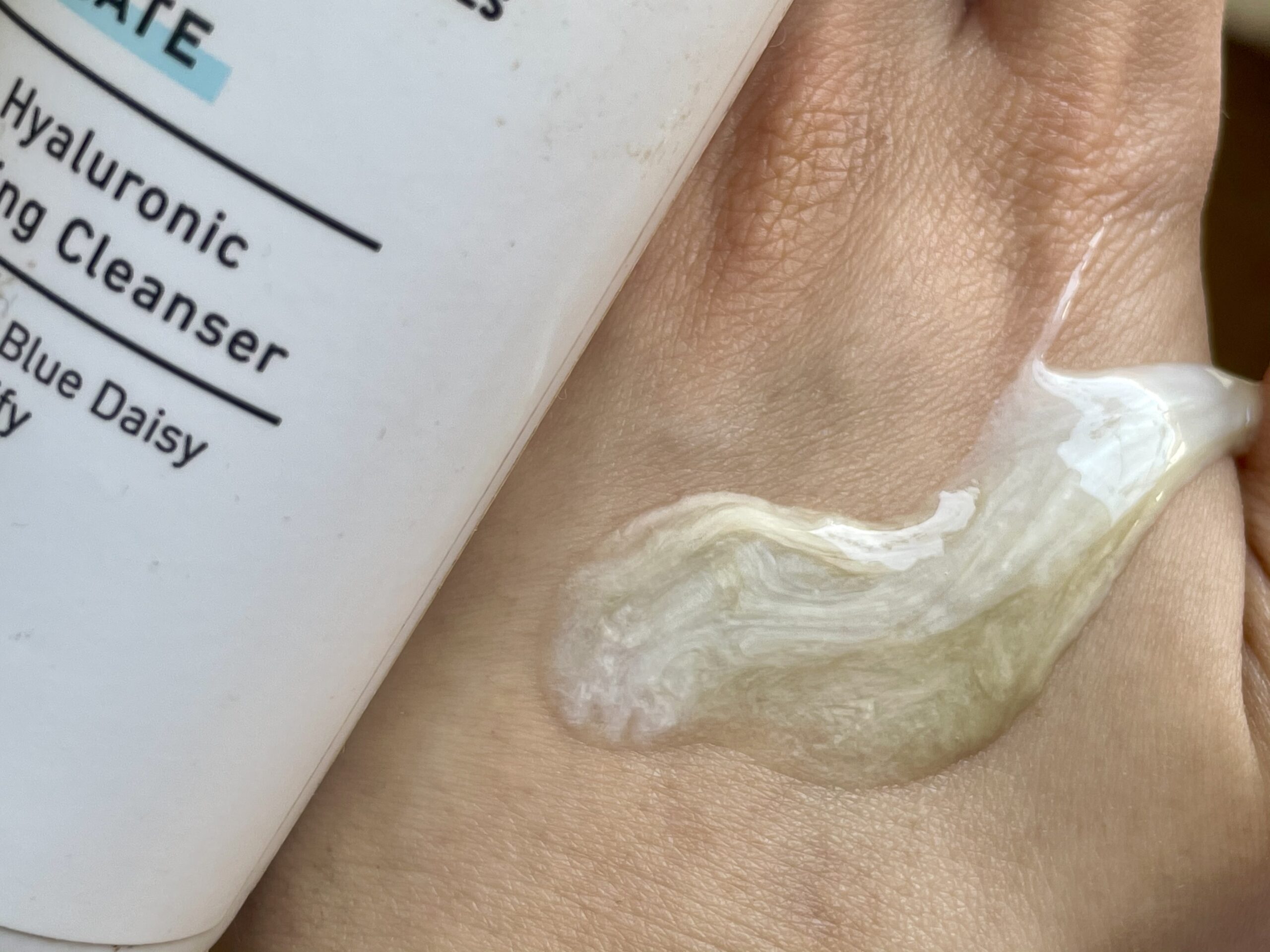 The Mychelle cleanser is infused with Hyaluronic, Rose Flower Water and Blue Daisy Extract to soothe and help calm skin. It's also enriched with botanicals like Neem, French Oak and Aloe Extract. For under $18 this is a great formula with interesting ingredients. Please note the Mychelle Cleanser does include Phenoxyethanol as a preservative.

The Mychelle Perfect C Eye Cream is one of four kinds of eye creams Mychelle offers. I'm always looking for products that help brighten my under eye area, so I look for ingredients like vitamin C, green tea and caffeine.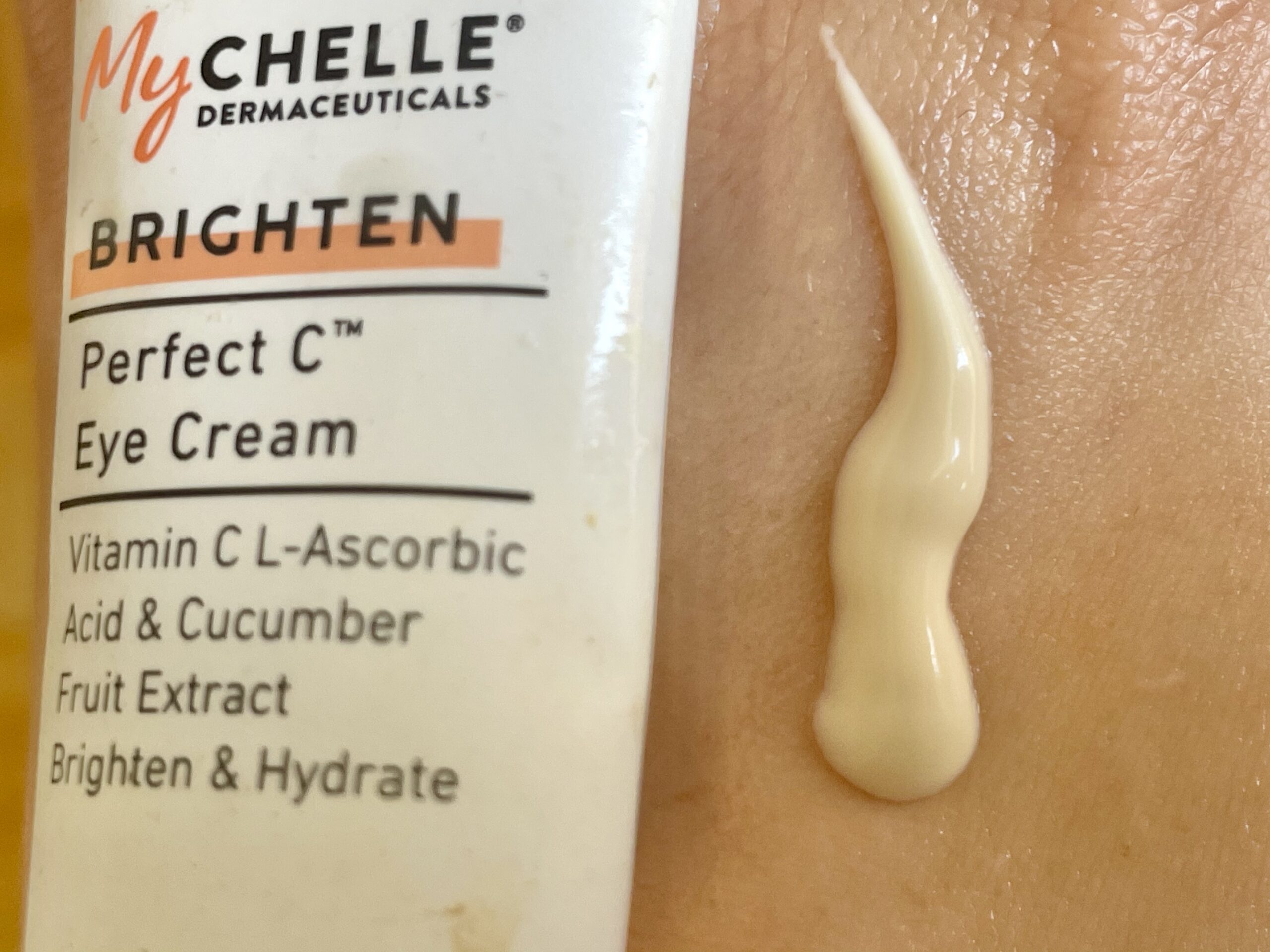 The Mychelle Eye Cream contains L-Ascorbic Acid, Plant Stem Cells and Hyaluronic Acid and feels super silky and hydrating. Unlike the Mychelle retinal cream that I tried, this eye cream sinks in beautifully and absorbs well. It has a light and subtle citrus scent.
This eye cream does moisturize and reduce the look of fine lines but I didn't see much of a brightening effect.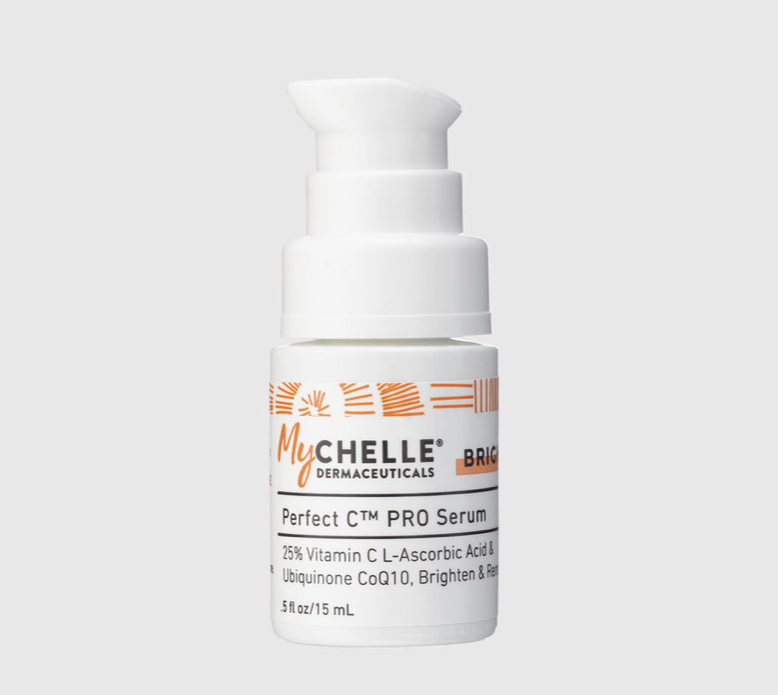 I was very interested in trying out the Mychelle Perfect C Pro serum 25% because it contains a whopping 25% of L-Ascorbic Acid . I normally see a maximum of 20% vitamin C so I wasn't sure if my skin would agree with 25%. This vitamin C serum also contains Ubiquinone CoQ10.
Mychelle Perfect C Pro serum is a deep orange hued serum, so you need to be careful that it doesn't stain your clothes or your pillow cases. It's a a lightweight water based serum and surprisingly did not irritate my skin despite the high vitamin C content. But I don't think that having the 5% more vitamin see made this serum any more effective than my other vitamin C serums. At $55 I found The Mychelle pro vitamin C serum not very affordable. I have used much more budget friendly vitamin C serums that I felt were more effective.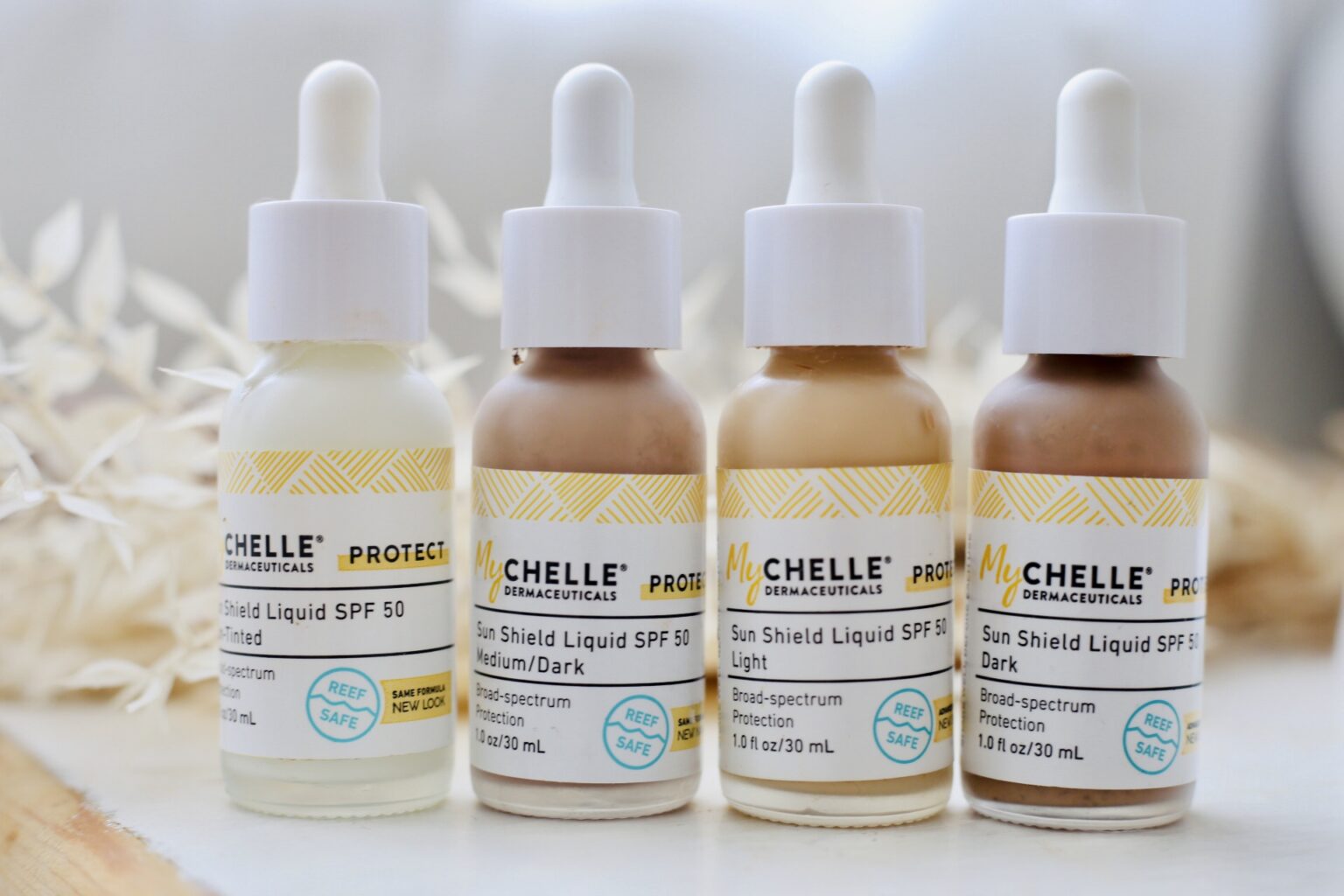 Here is a basic rundown of the Mychelle Sun Shield Liquid SPF 50:
SPF 50 broad spectrum coverage
Offered in four shades (Non-tinted, Light/Medium, Medium/Dark, Dark)
Price: $24 (or $17 on Amazon)
20% Zinc Oxide
Sheer tint
In a base of Agave Tequilana Leaf Extract (an extract of the leaf of the blue agave)
Enriched with safflower and bentonite clay
The Mychelle Sun Shield Liquid SPF  is a very thin liquid sunscreen that has a little bit of an odd sound, but if you can get over that and are looking for a matte Liquid Sunscreen, Mychelle is a great option. Beware do not go for the non-Tinted version.
I have an in-depth review of the Mychelle Liquid Sunscreens here.
The Mychelle Ultra Hyaluronic Hydrating Cream is a medium weight moisturizer with Hyaluronic Acid, Blue Lotus Extract and Sea Water. I really like the formula and ingredients they chose for this moisturizer. There are Resistem Plant Stem Cells which are obtained by stem cell culture of GlobulariaCordifolia and helps skin build its own anti-aging defense system. Mychelle Ultra Hyaluronic Hydrating Cream also contains Squalane, French Rose flower extract, White Tea leaf extract and a variety of Ayurveda ingredients like Turmeric, Neem and Eggplant.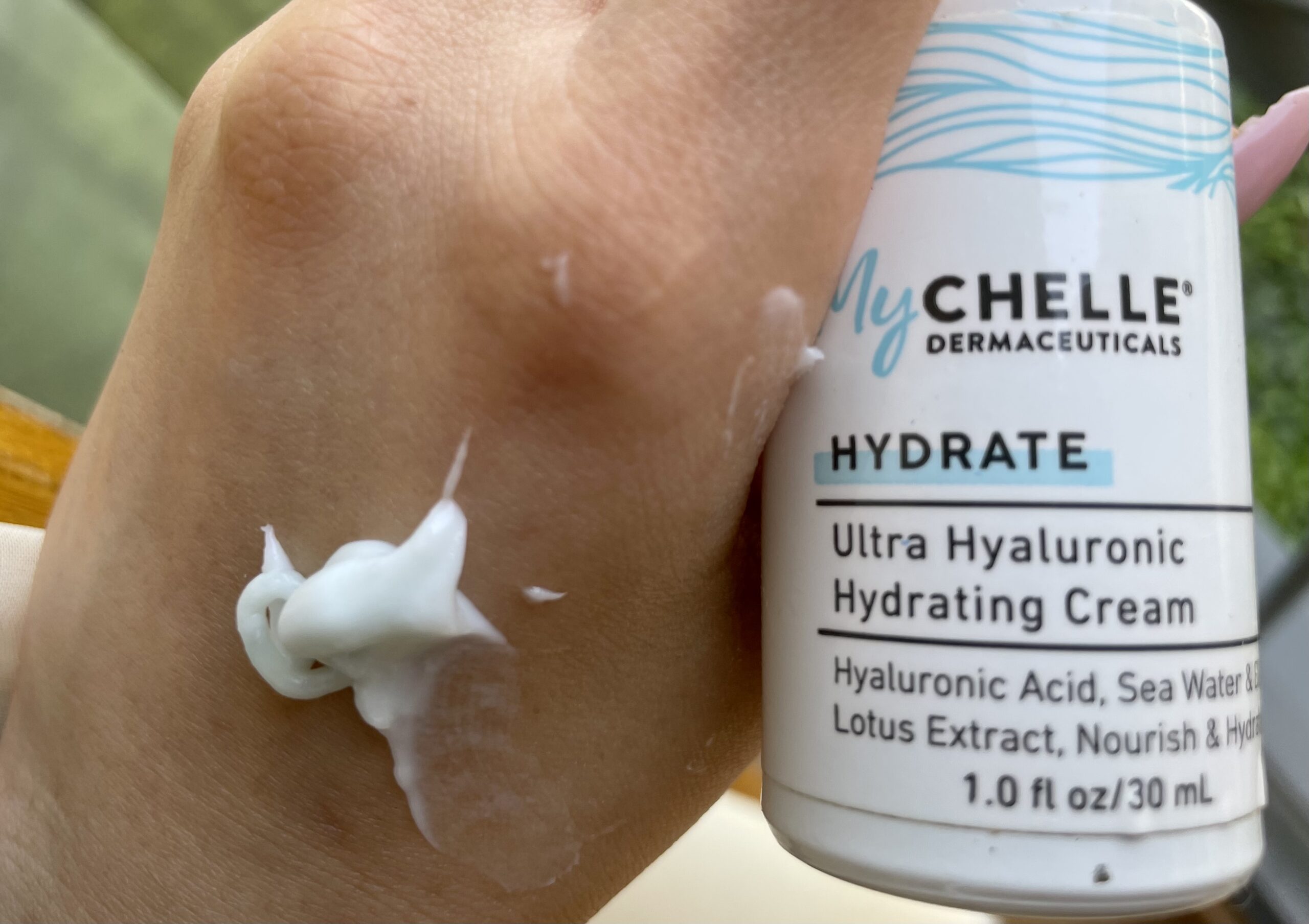 That being said, I sadly did not feel like the cream was that hydrating. As a regular cream it's fine, but since it's supposed to be "ultra hydrating" I feel like this product would disappoint someone looking for a ton of moisture. So in short, didn't feel super hydrating and didn't provide long lasting moisture. The pump dispenser is also pretty stiff, making it a little inconvenient to dispense product. The Mychelle Ultra Hyaluronic Hydrating Cream is, however, a very popular and highly rated Mychelle product.