The QYKSonic ZOE is my go-to facial cleansing device and I could not imagine my skincare routine without this gamechanging "skinnovation" that does so much more than cleanse. I have both the QYKSonic ZOE Bliss and ZOE Plus and will cover how to use QYKSonic ZOE and compare both devices in this review. The Orange County, California based company first reached out to me in 2018, so I've been using this device for almost 2 years now. As always, my affiliated QYKSonic ZOE discount code OBL saves.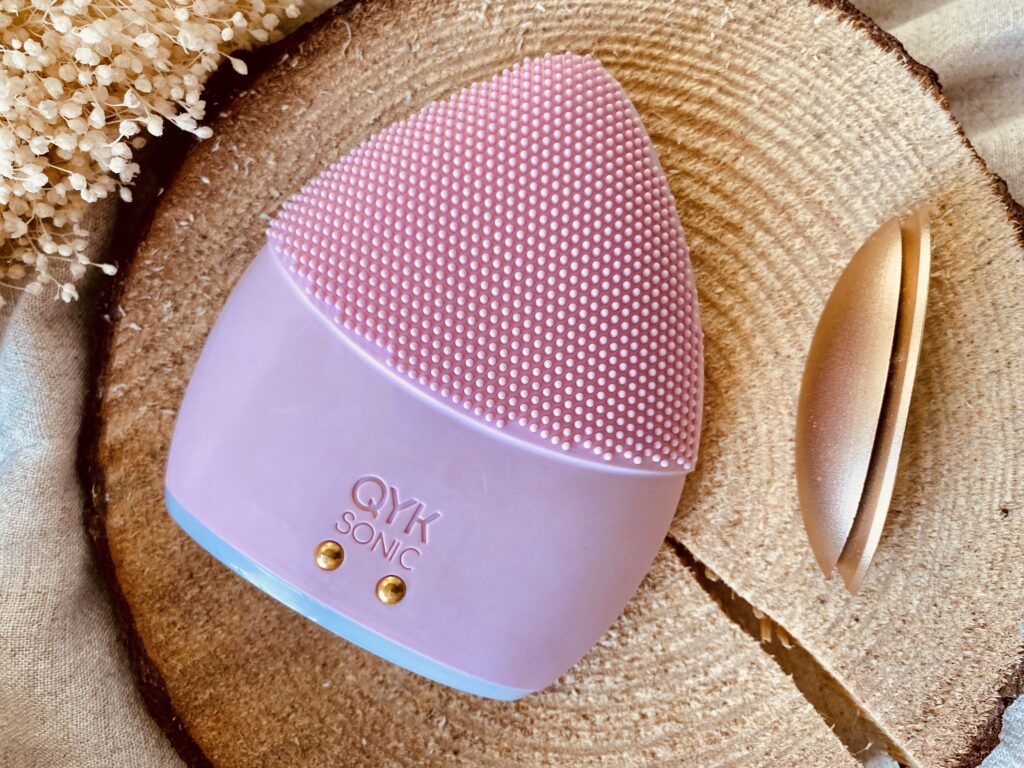 Chances are you already know why cleansing is important if you are trying to find QYKSonic ZOE reviews. I'm not going to go into skincare education mode and talk about why cleansing is the most important step in your skincare routine. So let's just dive right into this ZOE Bliss and Plus review.
The QYKSonic ZOE is an 4-in-1 skincare device that provides sonic cleansing, exfoliation, product penetration and facial massage using a patented T-sonic technology.
QYKSonic ZOE features:
7500 T-sonic pulsations per minute
Highest medical grade silicone bristles that do not harbor bacteria
Up to 300 uses with a single charge
Over 2000 biometrically placed touch points
Fully waterproof
15 power settings
Suitable for all skin types including sensitive and acne-prone skin
QYKSonic ZOE functions include:
The frontside provides complete facial and body sonic cleansing
Gently exfoliates without irritating even the most sensitive skin
Anti-aging and micro-firming circulation massage
Helps minimize the size of pores and wrinkles
The backside is used to enhance product penetration of skincare ingredients
Rhythmic Tap Pulsations mode for product penetration (press the power button twice for this function)
Gentle enough for the delicate eye area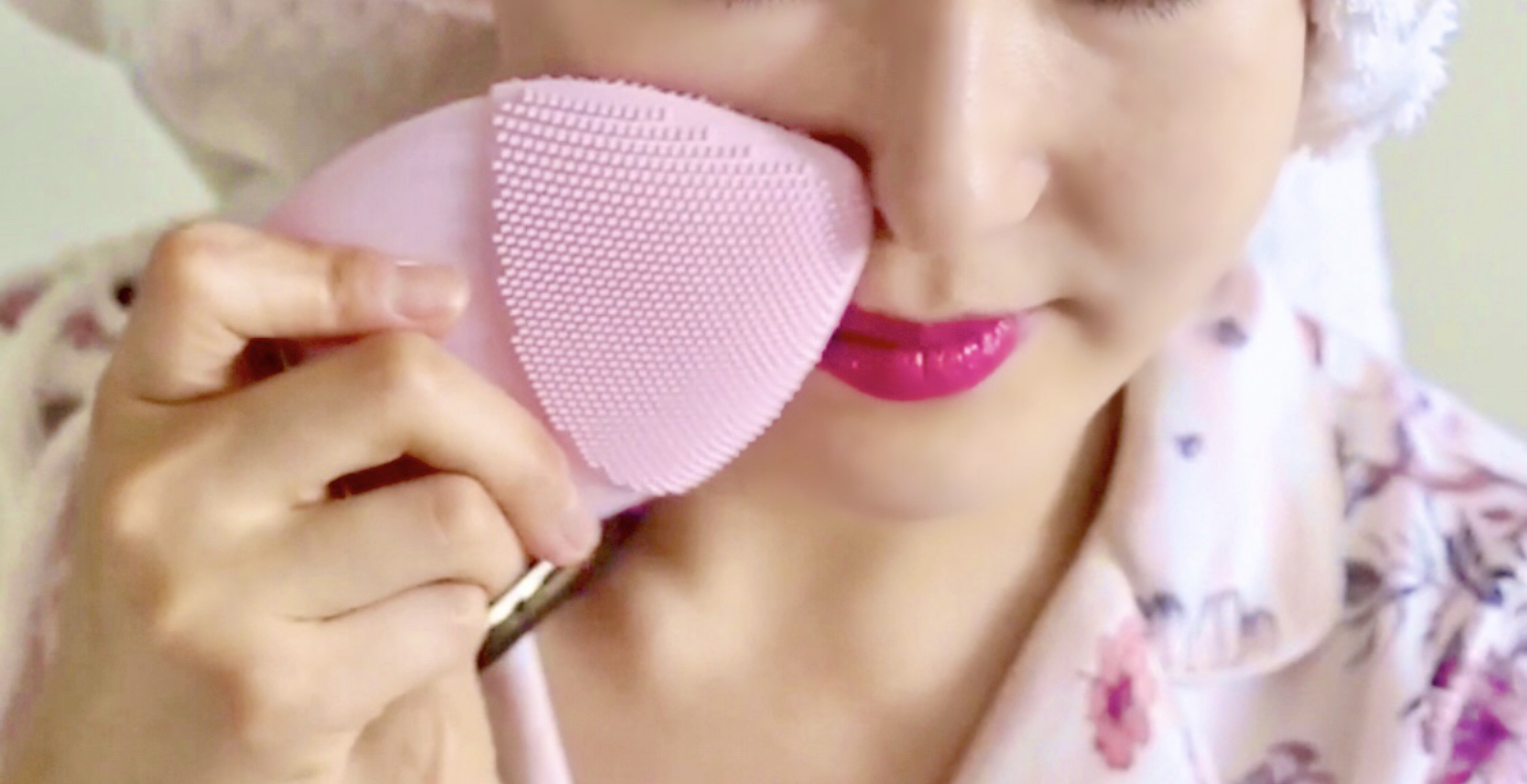 QYKSonic ZOE vs FOREO Luna
QYKsonic and Foreo are the only two companies that use patented T-sonic technology. T-sonic stands for Transdermal Sonic pulsations which are designed to work through the layers of the skin. The knock-offs are not using this technology and shouldn't even be considered if you want a high quality superior device. I've heard from those who've purchased cheap Amazon knock-offs that they don't even begin to compare to the real thing. They are weak in power and start to break down quickly.
The main difference between QYKsonic and Foreo Luna is the shape of the devices. QYKsonic ZOE has a petal shape with a pointy tip and Foreo Luna has a curved rounded shape. People who prefer QYKsonic to Foreo favor QYKsonic's petal shape because it allows them to get into the nooks and crannies of the face and pinpoint harder to reach areas.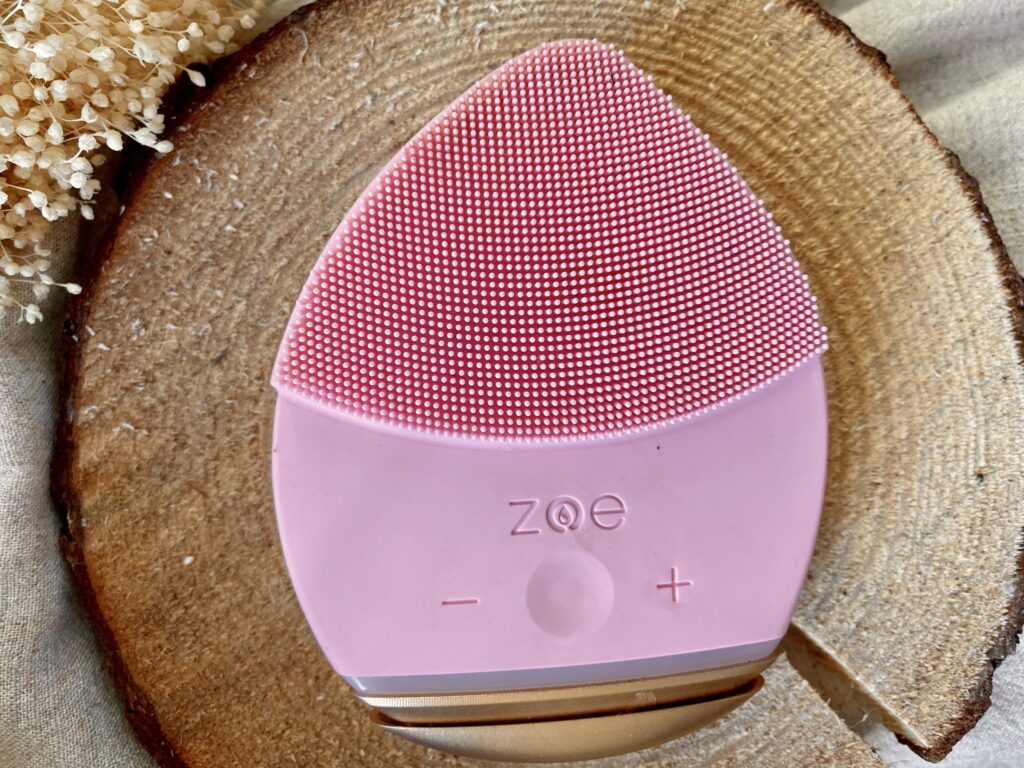 ZOE can be used in so many different ways. Your imagination is the limit! Here are more than 10 different ways I've enjoyed using QYKSonic ZOE:
Cleansing obviously
Face massage and lymphatic drainage massage
Using ZOE with a face mask to push ingredients deeper into pores
During a bath or shower to multitask
Releasing brow tension
Scalp massage
With a hair mask on to push ingredients deeper into scalp
After applying my skincare products, I use the backside on product penetration mode to help drive ingredients into skin
With an exfoliator product to enhance the exfoliation benefits
Keeping it in my skincare fridge to use the zinc bottom to depuff undereyes
Gua sha style massage using the bristles or zinc-based bottom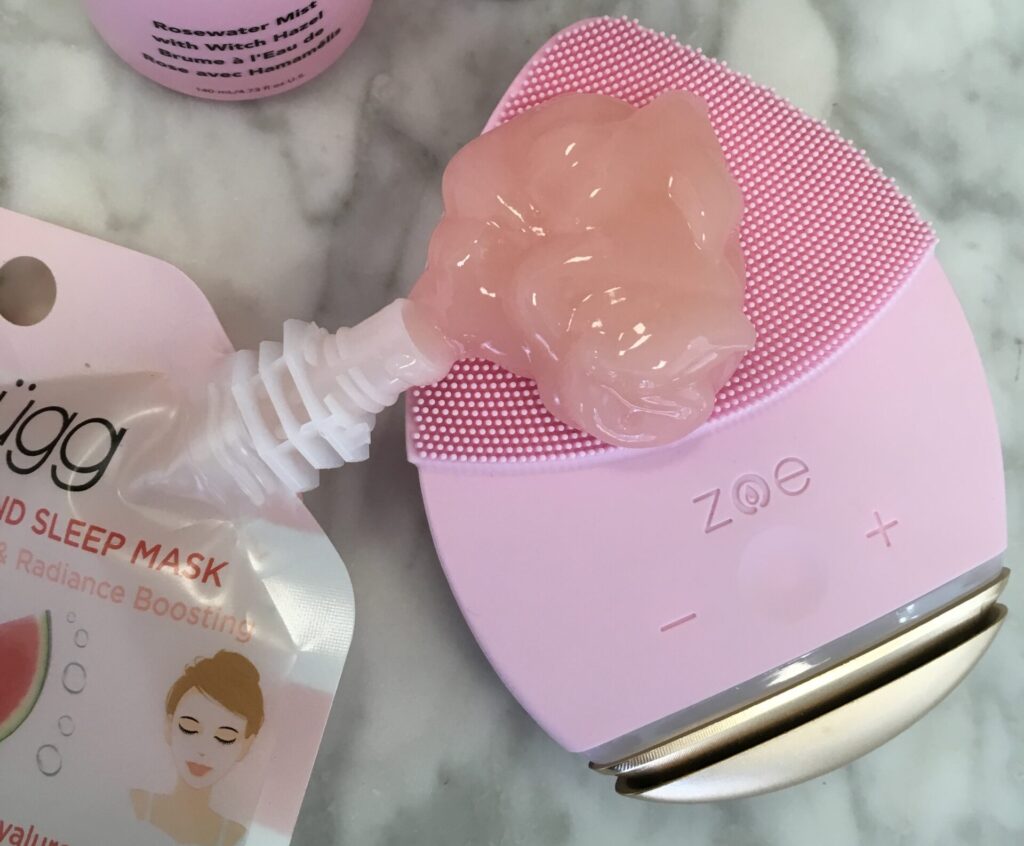 I like to use ZOE both morning and night. In the morning I feel like it helps "wake up" my skin with an invigorating massage and remove any leftover skincare that I've applied from the night before.
I have gotten so used to using ZOE by default that if I try using my hands to wash my face with cleanser I feel like I'm just rubbing product around instead of actually cleansing my skin. Using this skincare tech is so much more effective than using my fingers. I love that, at the same time, I'm giving myself a quick face massage, especially when I'm too tired or lazy to do gua sha or microcurrent.
I use ZOE's frontside for cleansing and simultaneous exfoliation and the backside for product penetration. For product penetration, I use a rocking motion and press into my skin after I've applied product. For a facial massage, I use either side depending on my mood.
How to Clean ZOE
To clean my ZOE I simply use warm water and soap. For an even deeper clean, I'll soak ZOE in rubbing alcohol. It's never worn down the silicone in any way and professionals can even spray ZOE with barbicide in between clients. If skincare product gets stuck in between the bristles you can use an extra toothbrush to clean it out.
Besides everything I've mentioned so far, one key factor that sets QYKSonic ZOE apart from the competition is that ZOE is designed for professional use. ZOE is used by pro aestheticians, including medical aestheticians and facialists, at med spas, aesthetic clinics and plastic surgeon offices. You won't find ZOE sold at big generic retailers like Sephora or Amazon to the general public. Instead, QYKSonic is exclusively sold through professionals in the aesthetics industry or on the QYKSonic website.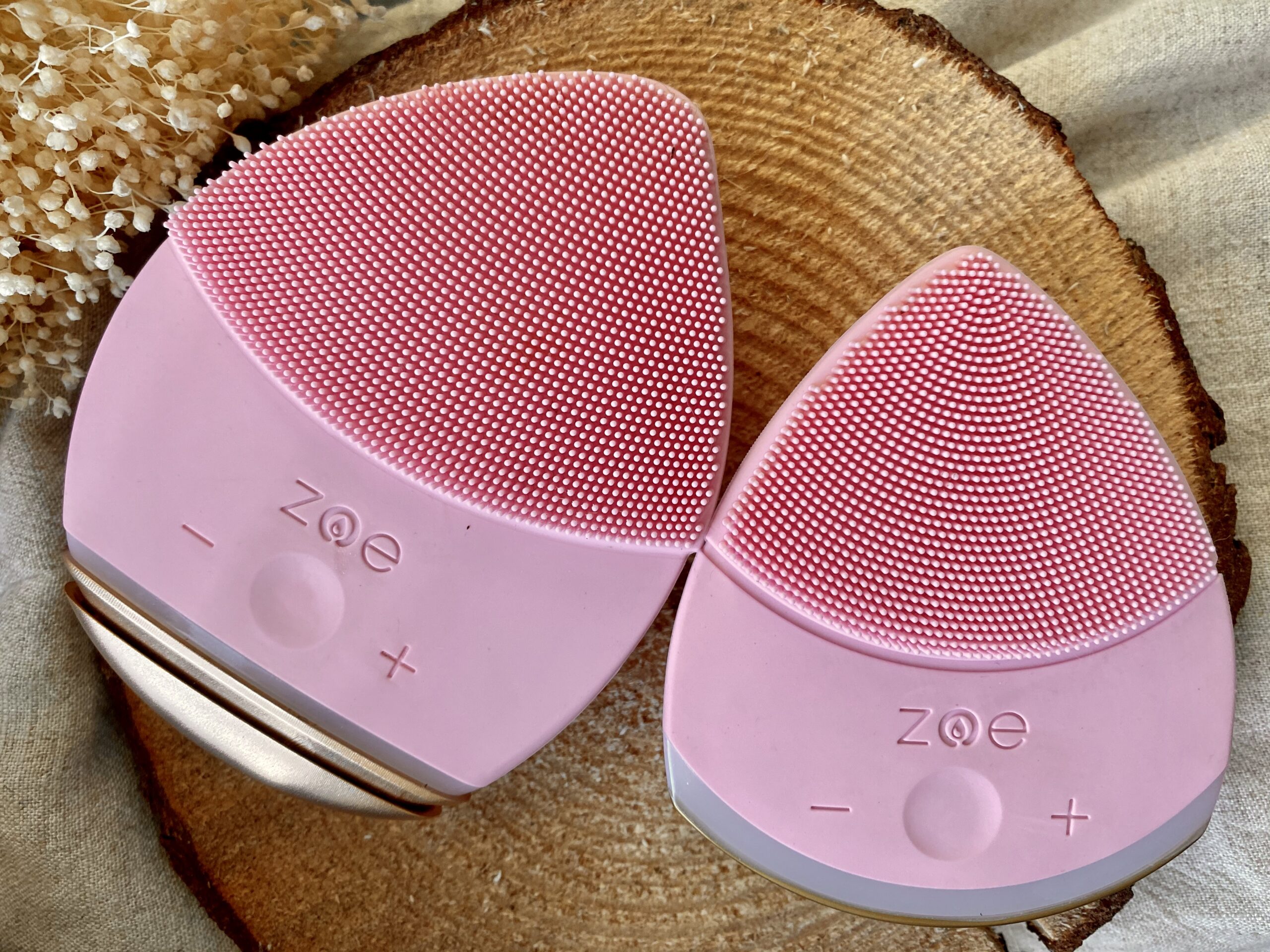 Now, for those of you who are trying to decide between the QYKSonic ZOE Bliss and Plus, this review section is for you.
Here are the key differences between ZOE Bliss vs Plus:
SIZE: ZOE Plus is larger in size than the Bliss. It has more biometric points and covers a larger surface area. Because of the size difference, ZOE Bliss fits a little more snugly in my hand than the ZOE Plus. Many aestheticians favor the ZOE Plus because it's great for back facials and larger areas of the body.
POWER: ZOE Plus works at up to 9000 pulsations per minute while ZOE Bliss is 7500 pulsations per minute.
PRICE: ZOE Plus costs significantly more than the ZOE Bliss at $249 while the Bliss costs $149
3rd Vibration Mode: ZOE Bliss has 2 vibration modes, the continuous one which is the mode it's on when you turn on the device and the Rhythmic Tap Pulsations mode for on and off pulsations when you press the power button again. ZOE Plus has a 3rd vibration mode for its zinc-based bottom. The base will vibrate for you to utilize the base for an anti-aging massage.
SHAPE: This is a minor difference but the ZOE Plus has a slightly curved tip while the ZOE Bliss is a straight tip
LED Light Therapy: If you remove the detachable base, ZOE Plus has a light therapy mode if you press the power button 3 times.
Detachable Base: ZOE Plus' base is detachable and must be removed if you want to charge it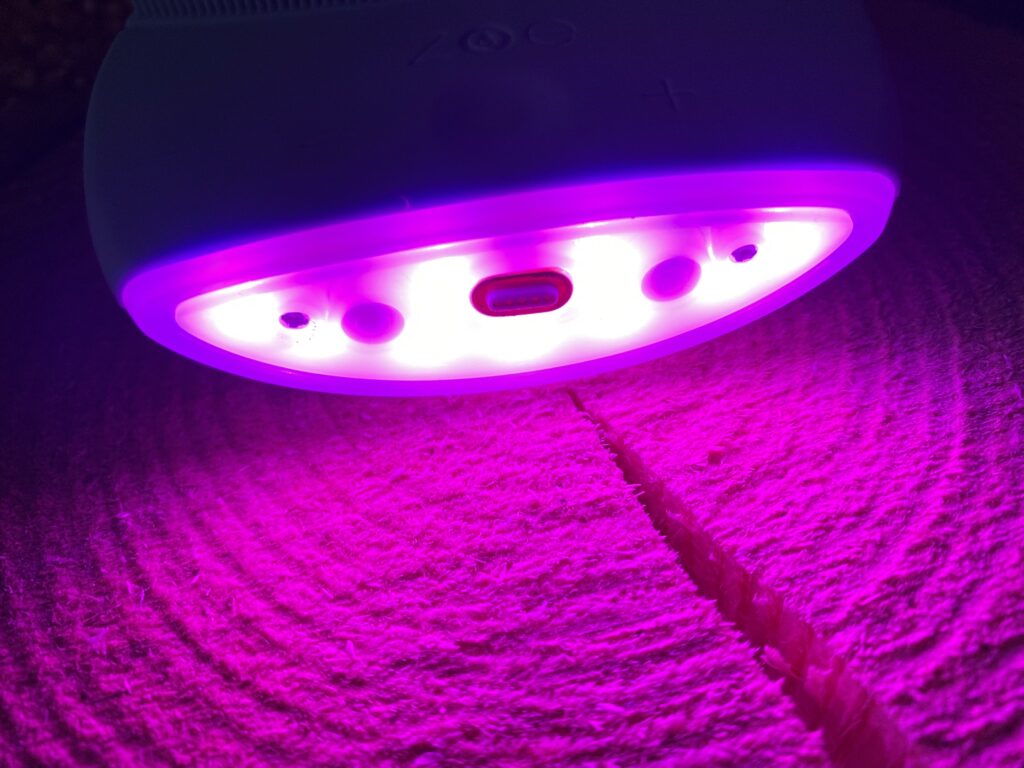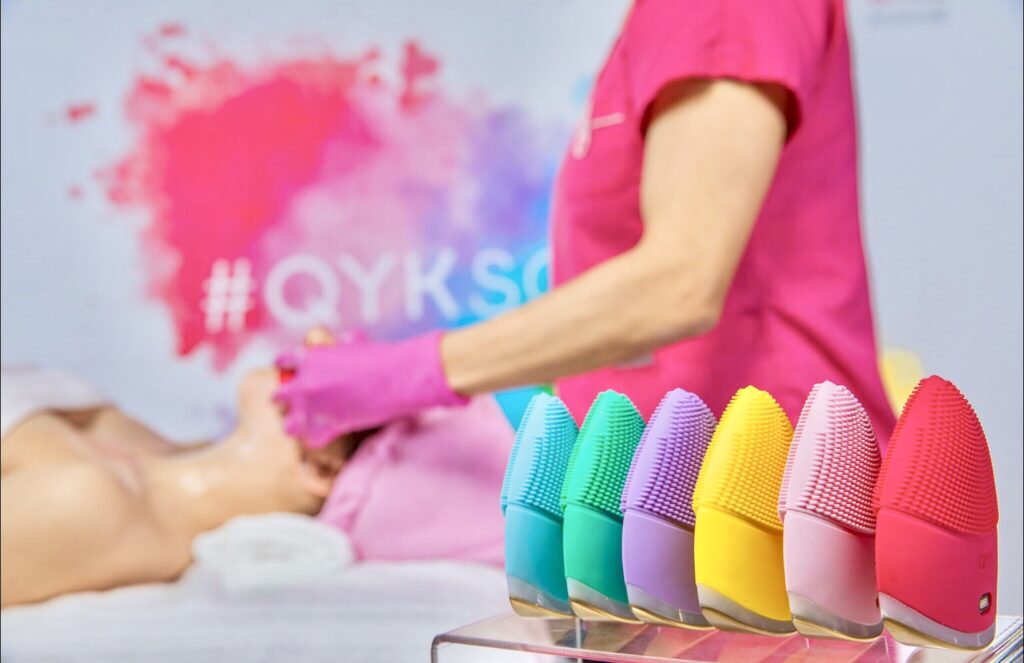 Choose from 6 Colors
Both QYKSonic ZOE Bliss and Plus are available in 6 colors. They are all the same device and do not differ in any way because of their color.
QYKSonic offers international shipping (free economy shipping) and a 2 year warranty with free shipping and returns. Once you get in the habit of using ZOE everyday, you may never be able to be without it again. Use my affiliate QYKSonic coupon code OBL to save at checkout.