Upcircle Beauty Review 2023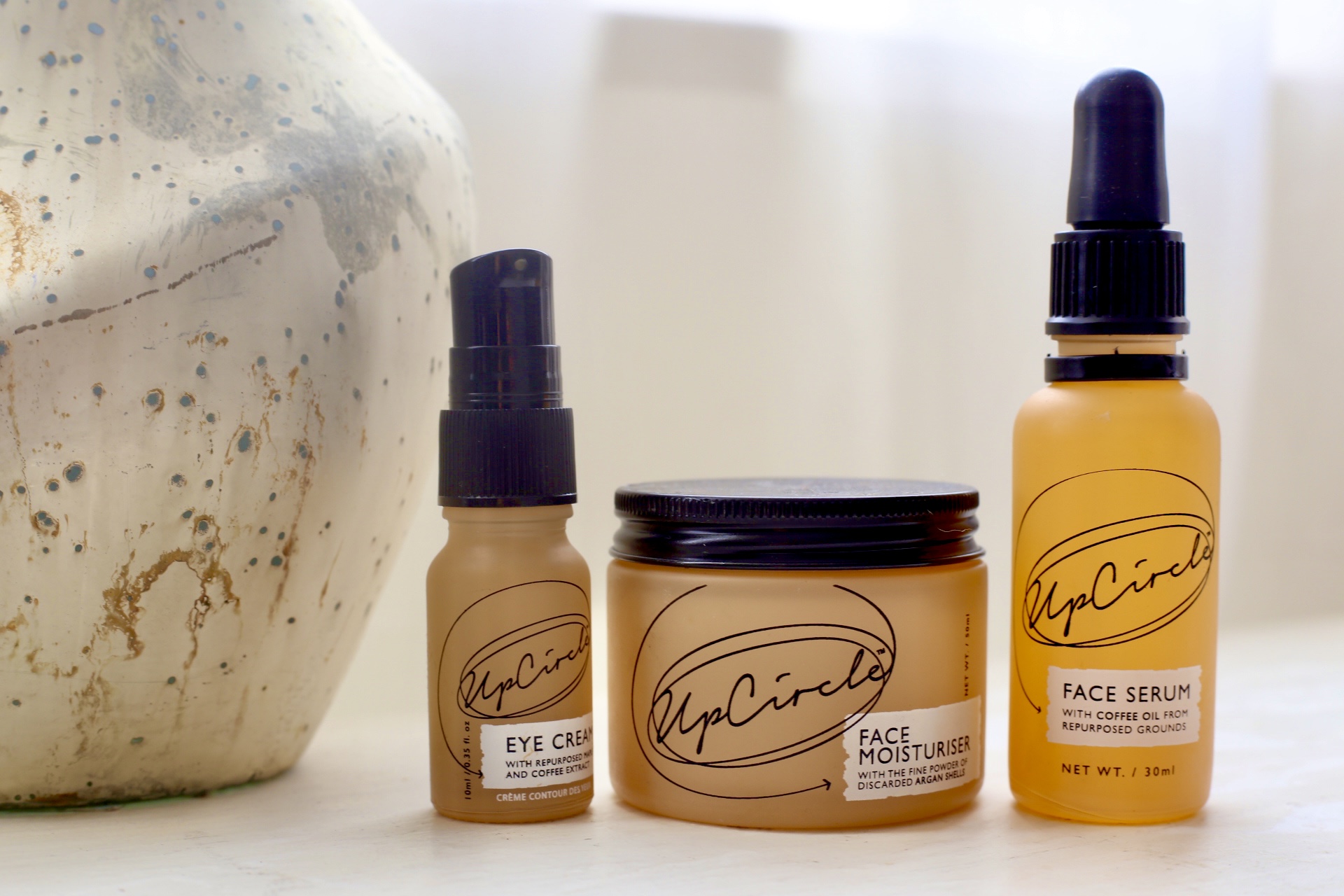 Sustainable natural skincare brand Upcircle Beauty is breathing new life into ingredients that are typically thrown away. Born in London, Upcircle is vegan, zero waste, Leaping Bunny Certified, certified Plastic Negative and uses natural and organic ingredients. The best part? They're so affordable! Backed by crowdfunding and three Shark Tank investors, the brand is now available at major US retailers like Whole Foods, Credo Beauty, Thrive Market and Urban Outfitters. Upcircle Beauty regularly collects coffee grounds from 100 artisan coffee shops to create their upcycled skincare products and have expanded to using many more salvaged ingredients. I tried the Upcircle Beauty moisturizer, eye cream and serum featuring upcycled coffee and am sharing my thoughts in this Upcircle review.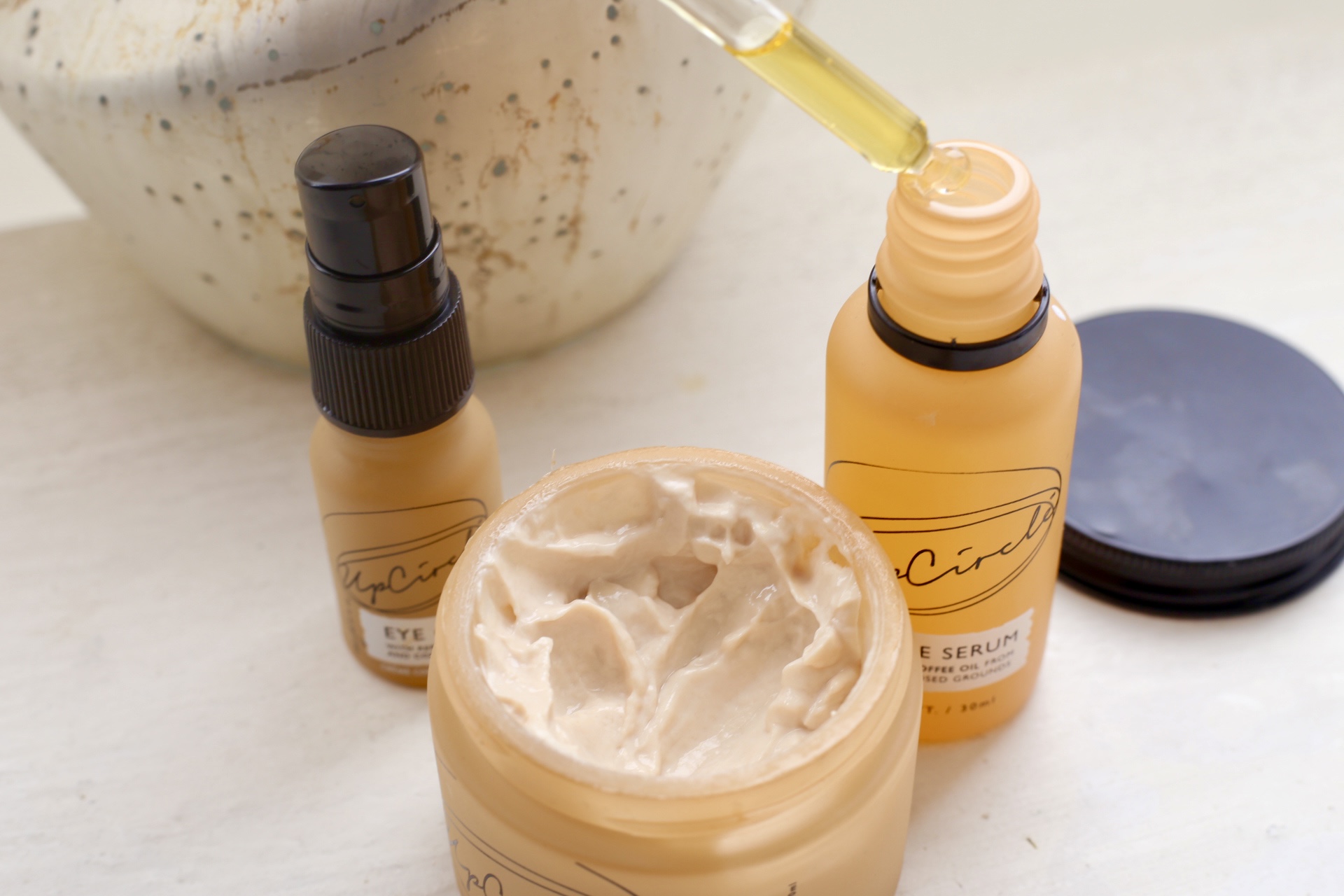 If you love the idea of promoting a circular economy and using products that reduce food waste, Upcircle Beauty has a growing range of skin and body care products that salvage coffee, chia, ginger, date seeds and more that would otherwise be discarded. They even make candles. If you love the idea of your skincare smelling like coffee, then look for the Upcircle products with upcycled coffee like their Face Serum. The Upcircle Night Cream smells like sweet buttercream.
The packaging is 100% recyclable tinted glass jars and bottles and all products are affordable with the entire line under $30. Upcircle skincare is made in the UK.
The Upcircle Face Moisturizer is a light to medium weight moisturizer that's creamy yet still breathable. It has somewhat of a moussy texture and smells quite herbal.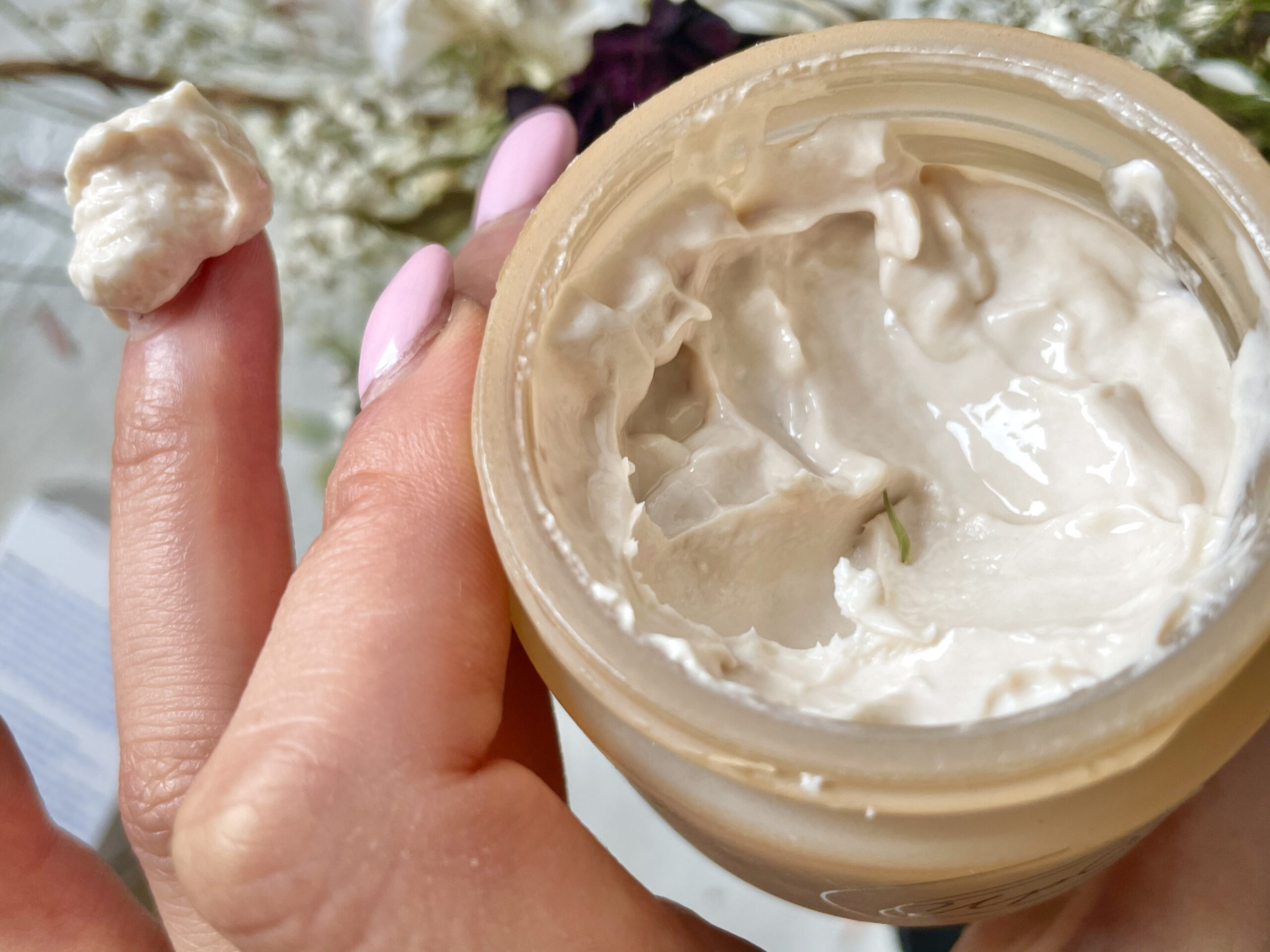 The "Best Moisturizer" 2021 winner  by the Beauty Shortlist Awards is made with finely-ground powder of discarded argan shells, a natural by-product of the argan oil industry and rich in antioxidant Vitamin E, cocoa butter and blood orange.
At under $30 the Upcircle face cream is so affordable and does feel hydrating, but I did not enjoy the strong scent. It smells herbal, which I'm usually not averse to, but I didn't like this particular scent. On the other hand, my partner who is male loves the scent. The moussy airy texture is also quite nice.
The Upcircle eye cream is 99% natural and made with coffee oil extracted from repurposed grounds and anti-inflammatory maple bark extract, a by-product of the wood industry. They say it helps "brighten, refresh and renew, reducing the appearance of dark circles and fine lines." While I feel the eye cream provides a good dose of hydration I would not expect any dark circle brightening miracles. Hereditary dark circles are impossible to get rid of and if you're just experiencing an episode I prefer to recommend sleep, good food and exercise than any supposed miracle eye cream.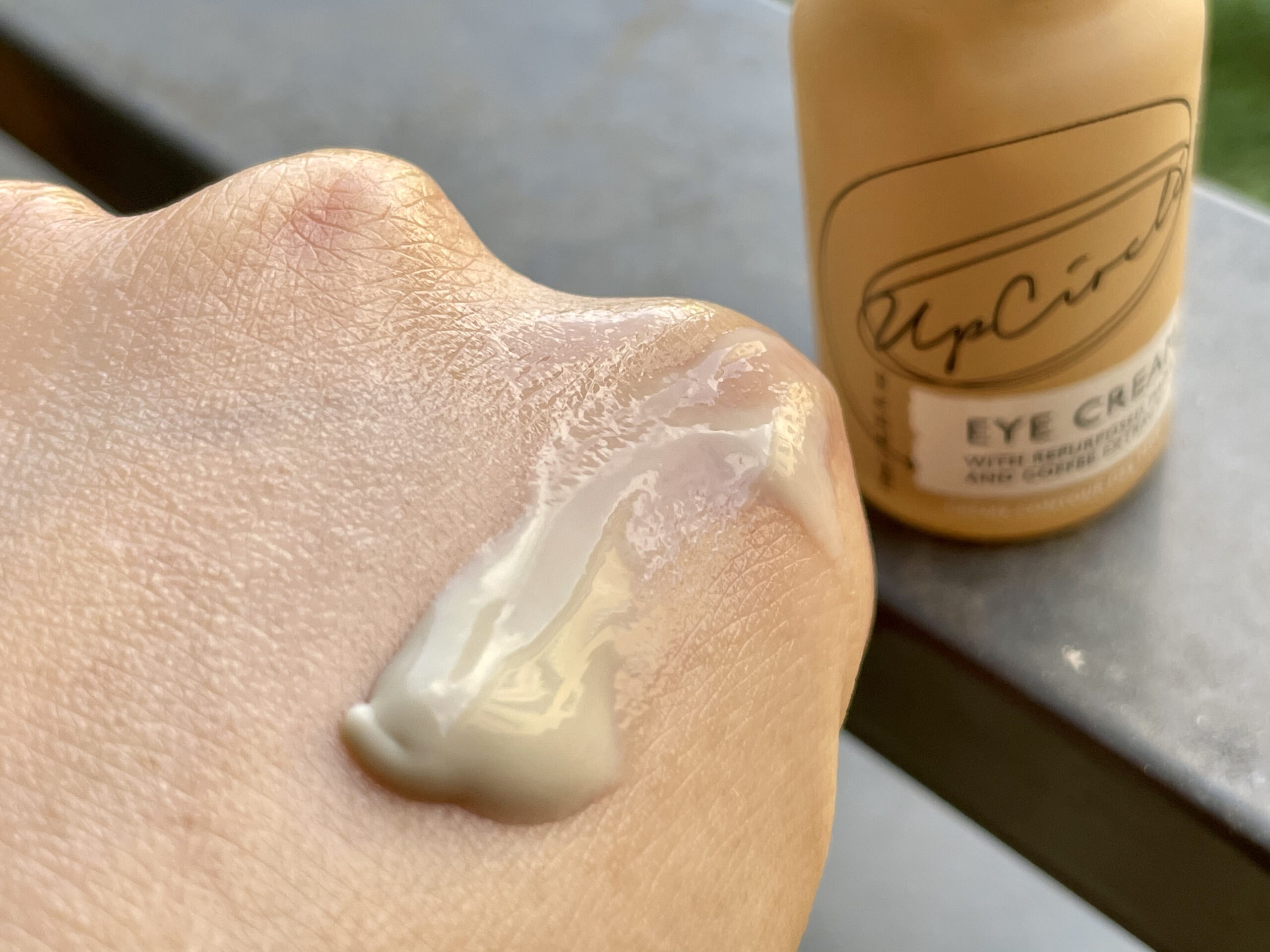 The Upcircle eye cream has a very light consistency so I would only recommend this for young skin. If you have fine lines or wrinkles I would focus on serums that penetrate, oils and balms formulated for the eye area. I'm in love with the delicious coffee scent. If you're a coffee lover, Upcircle was made for you.

The Upcircle Face Serum is actually a face oil, and a highly affordable Certified organic product too at just $20. A lightweight oil that smells like rich coffee, Upcircle Face Serum is certified organic with 98% organic ingredients. Besides antioxidant rich coffee oil, it also contains oils of rosehip, sea buckthorn, raspberry seed, Jojoba and more.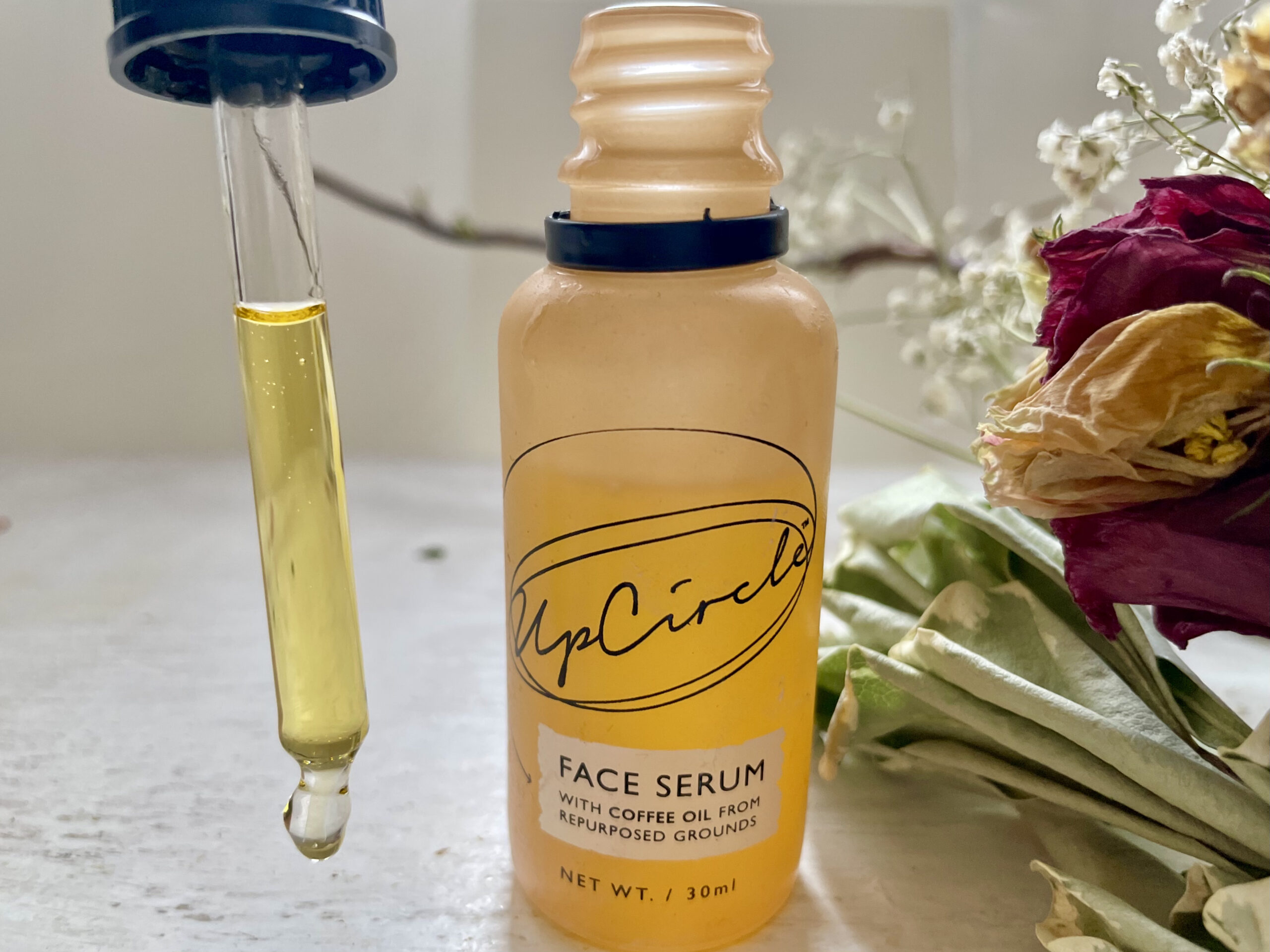 While not one of the lightest oils out there, the Upcircle Face Serum lies somewhere in the middle of light and medium. It feels non-greasy and sinks in and absorbs easily. I think this is a great truly organic option that's budget friendly.
International: Shop Upcircle at Beauty Bay