Aftelier Perfumes Review: The Pioneer of Natural Perfumery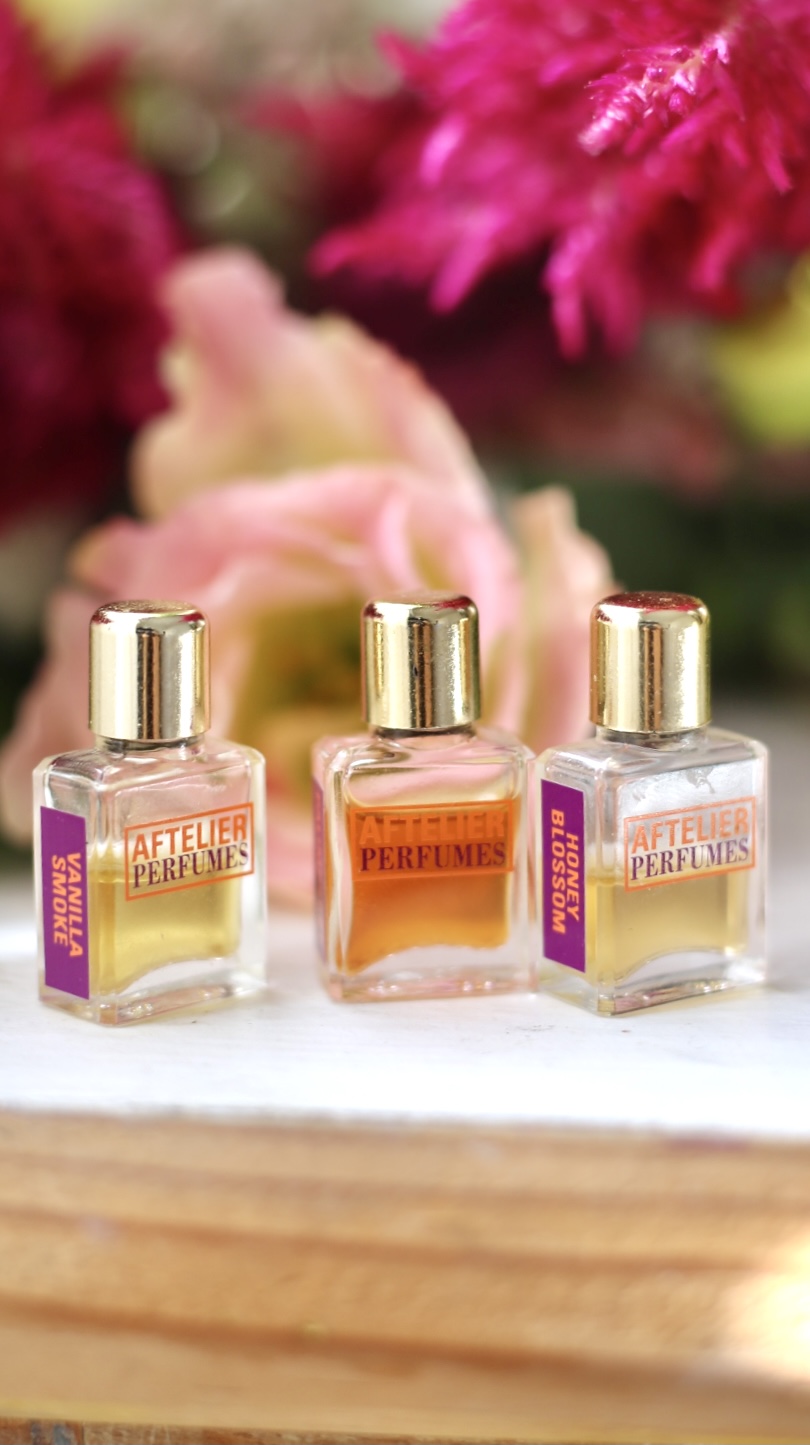 Indie perfume brand Aftelier Perfumes creates 100% natural perfumes using the finest essences from around the world. The Berkeley based brand is also a pioneer in the natural perfumery world and has helped shape it into the industry it is today. Perfumer and founder Mandy Aftel has authored nine books, mentored a number of today's prominent natural perfumers and masterfully blends her natural creations into perfection.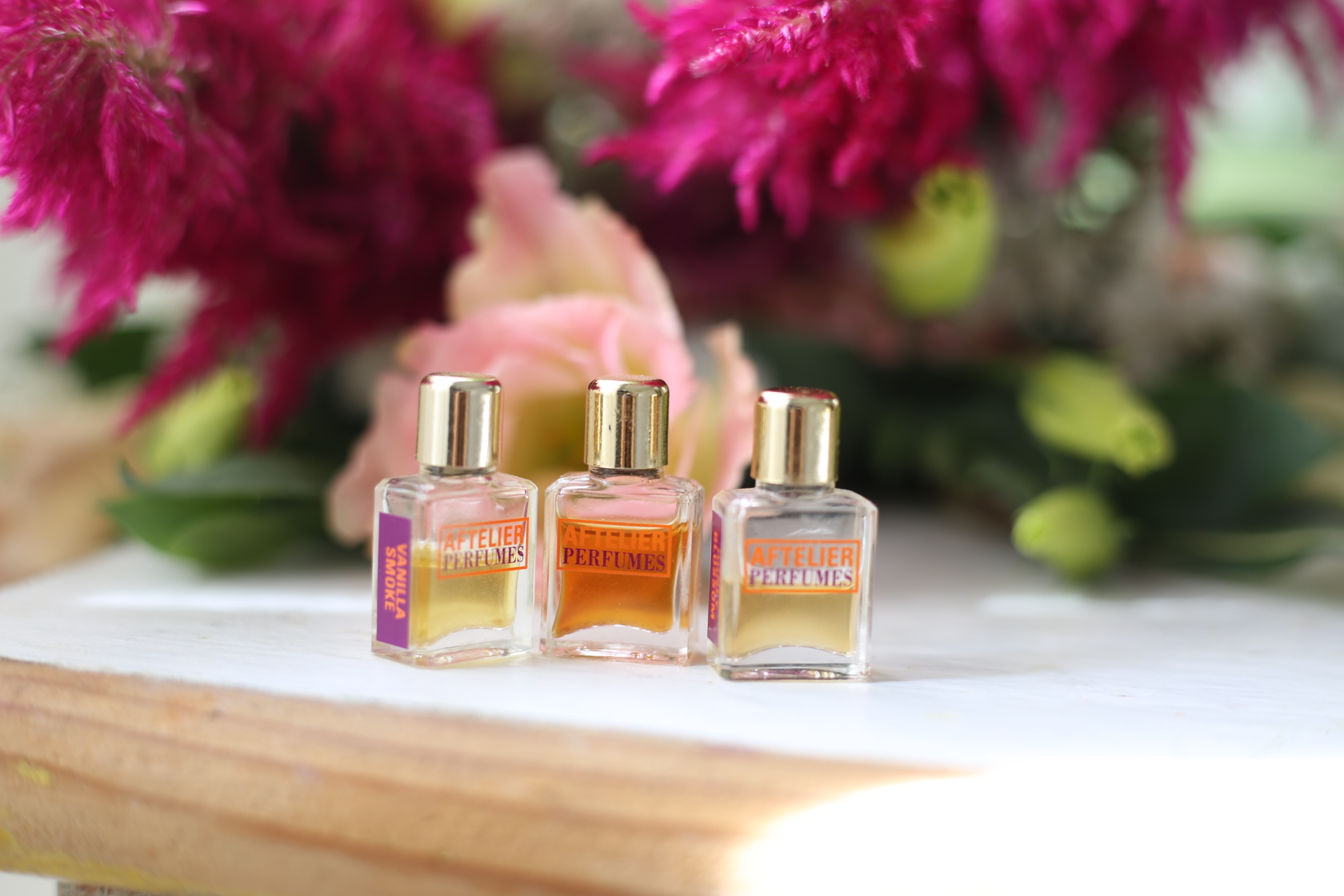 While unisex, the brand is on the feminine side of unisex. Aftelier Perfumes scents are complex and full of character and depth. These exquisite fragrances are not made to please the masses. They're an artist's expressions, memories, inspirations, and imagination captured — and put out into the world for those who might stumble upon these hidden treasures and resonate with them.
Despite the changing landscape, Aftelier Perfumes has intentionally stayed a small niche business in a world where clean perfumes have gained mainstream popularity.
Through Mandy Aftel's creations, you very much get the sense that she has an artisan soul, who has crafted her life into a work of art and whose works of art are her life.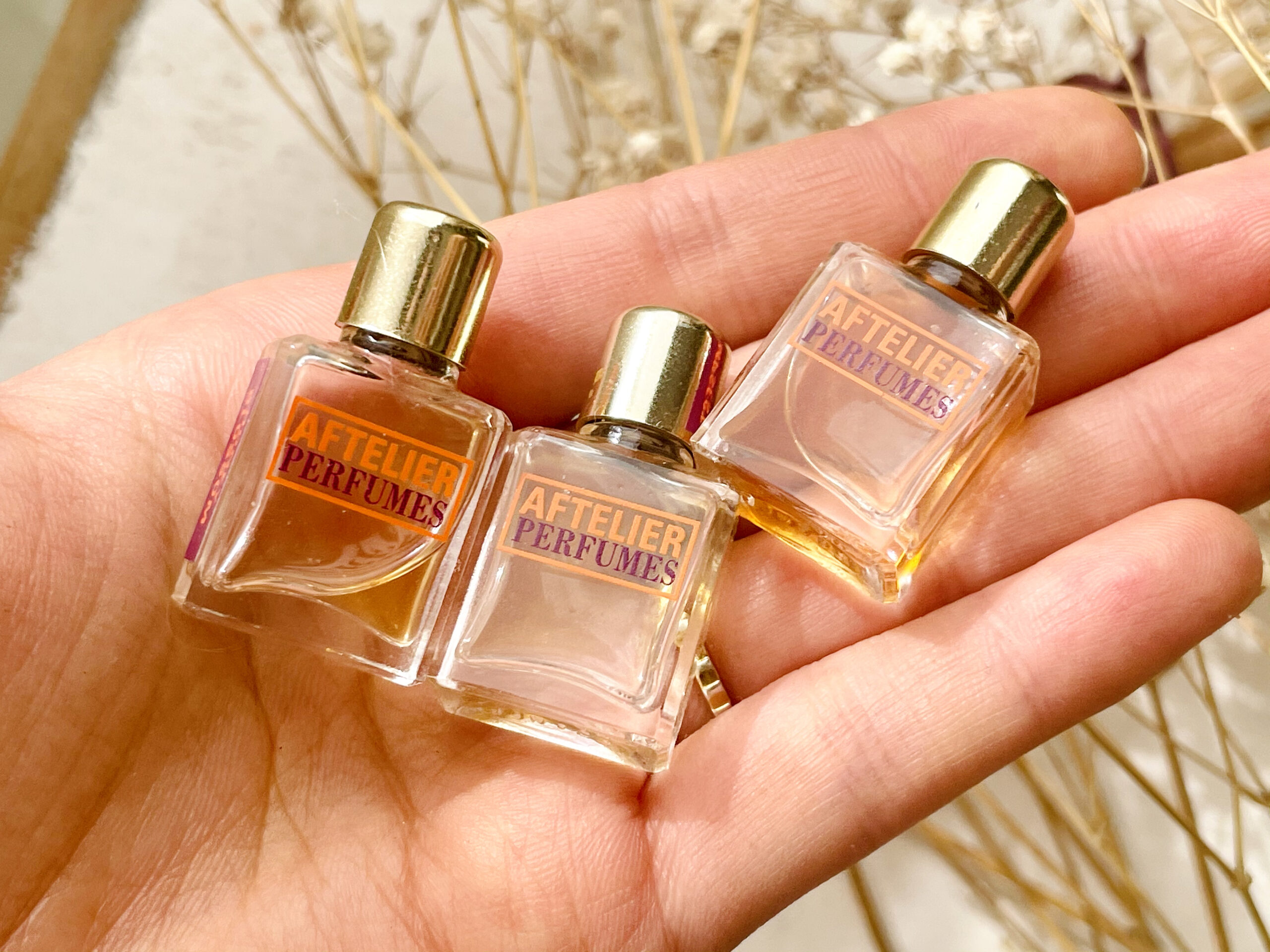 Aftelier Perfumes is a luxury perfume line with full sized bottles costing $210.
I tried three of their mini 2ml sizes:
Honey Blossom
Pampliset
Vanilla Smoke
A 2ml mini bottle costs $55 and a .25ml sample costs $8.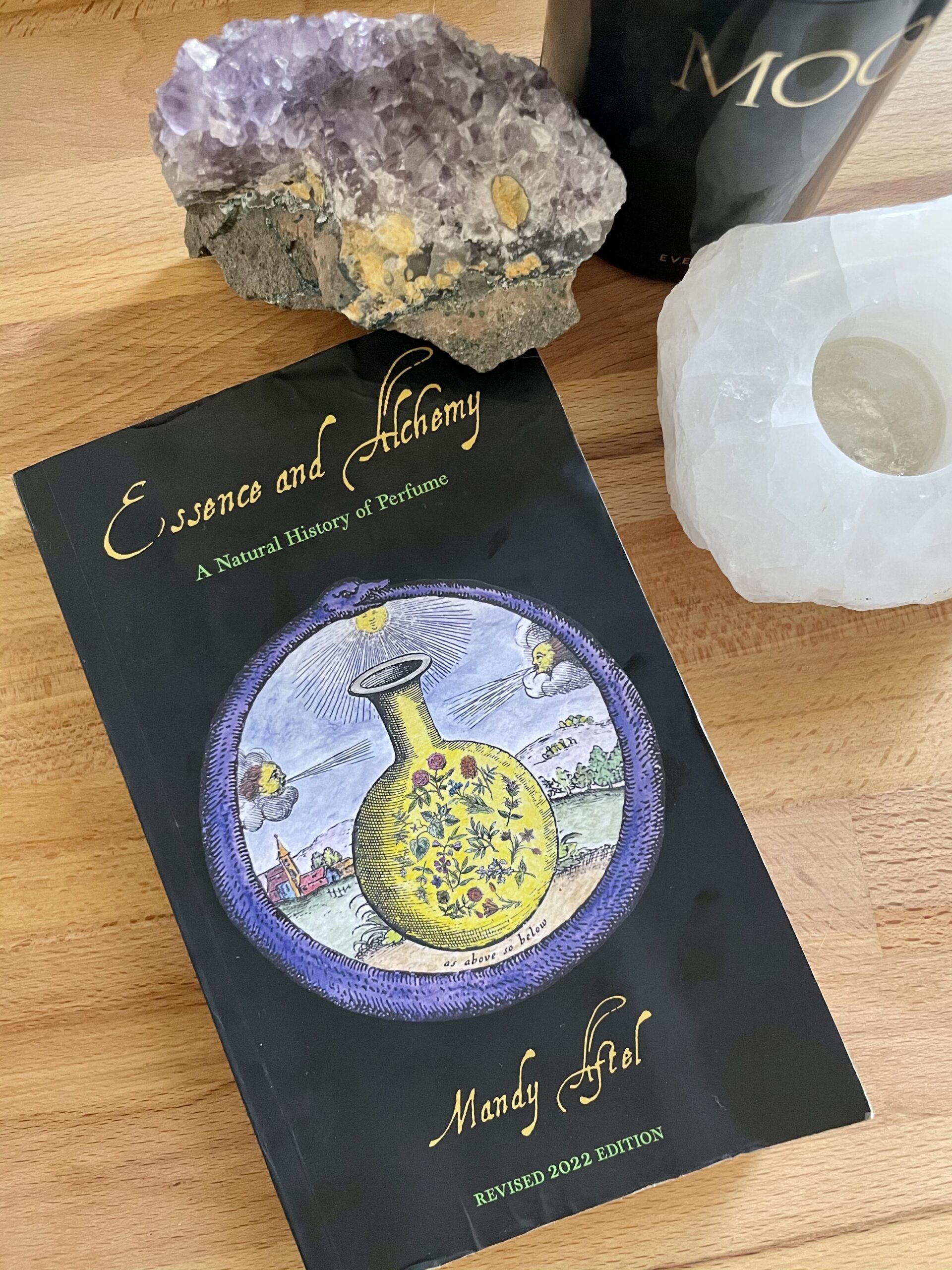 And if you want to learn more about this art form that is over 4,000 years old and immerse yourself in the forgotten world of its rich social and metaphysical legacy, Essence and Alchemy is a must read.
Now, let's dive into each Aftelier perfume!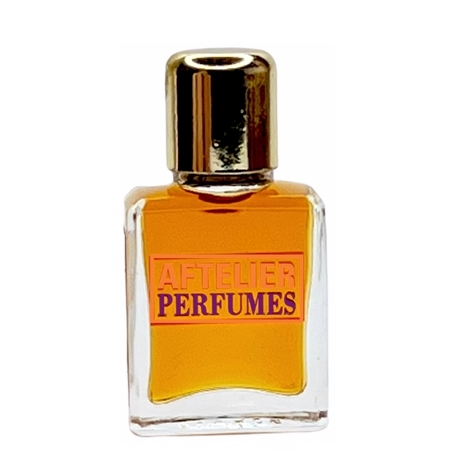 Palimpsest
First I'll share how Mandy describes her creation  before going into my own thoughts and experience with Palimpsest.
Scent Family: Fruity Floral
Palimpsest captures the feeling of being in the Garden of Eden at midnight: lush, wild florals, forbidden fruit, and majestic creatures in hiding. The perfume undulates down through florals to its ambergris-laced, other-worldly drydown, and the base notes shimmer up through the top and middle notes in a seamless, scented wave. A palimpsest is an old document on which the original writing has been erased and replaced with new writing. Sometimes the older writing can still be read under the new, resulting in a complex and beautiful layering. I wanted to evoke the richness that you feel when you experience the past as alive in the present, creating the gorgeous complexity of life.

Character: Fruity Floral, lush florals and ripe fruit, creamy and layered, leathery, lasting.

Fragrant Notes: peachy jasmine, fruity ylang, softly animalic, a smidge of vanilla, exotic fire tree.
My Thoughts on Palimpsest
Palimpsest is an advanced complex perfume, while the other two fragrances I tried (Honey Blossom and Vanilla Smoke) are easier to understand. There's a lot going on in Palimpsest – it's floral, it's fruity and it's also musky.
But it's also so much more than that. Palimpsest is heady, almost animalic. It reminds me of that distinctive after-sex stank if it were in a bed of flowers. I consider this to be a feminine fragrance. Palimpsest has ambergis, but while I can't detect the note per se, I can tell that the fragrance has been touched by ambergis. It is beautiful, but not a scent I would recommend to natural perfume beginners.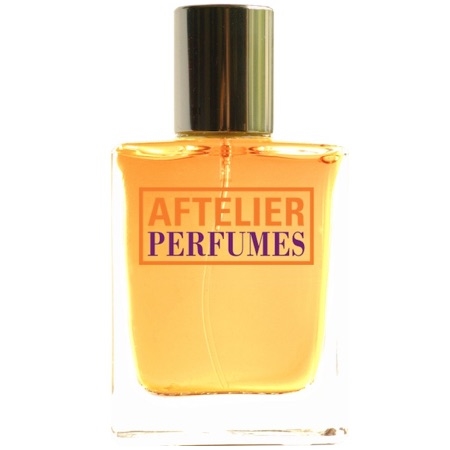 Vanilla Smoke
Here is how Mandy describes Vanilla Smoke:
Scent Family: Gourmand
Vanilla Smoke is a sexy sophisticated smoke-laced vanilla perfume. I have always loved the refined aroma of vanilla absolute from Madagascar for its gorgeous facets of wood, resin and spices. Fine vanilla absolute possesses none of the ubiquitous creamy sweet candy-like notes associated with commercial vanilla fragrances. The vanilla becomes even more beautiful when accentuated with the dark smokiness of lapsang souchong tea. Precious Siam wood offers warm balsamic wood notes that merge seamlessly with the vanilla.

Character: Gourmand, smoke-laced vanilla, creamy woods, smokey tea, powdery, sophisticated.

Fragrant Notes: Madagascar vanilla absolute, tea smoked over pine, Siam wood, saffron, ambergris.
Vanilla Smoke is a unisex scent that would work just as well on a man as a woman. I might even consider it more masculine leaning.
It's dark, resinous, woodsy, smoky. A cup of black tea made with fresh leaves from the forest and a streak of vanilla without any syrupy sweetness. This is a clean and sophisticated fragrance that is a much more grown vanilla compared to commercial sweet vanillas on the market. If you enjoy a smoky scent with a delectable quality, I think you'll enjoy Vanilla Smoke.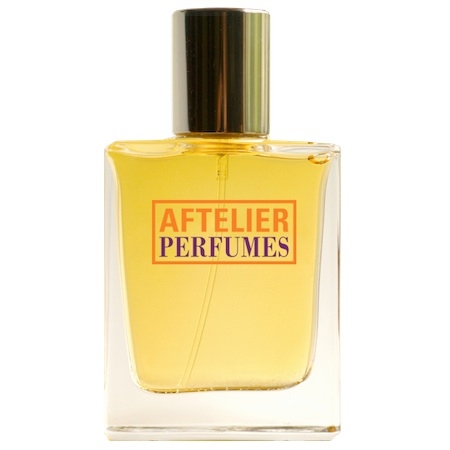 Honey Blossom
Honey Blossom is easy to like – it's floral, light and honeyed. This is a feminine and delicate scent that can be worn on its own or layered with something bold. It opens bright and floral and dries down to a softer, resinous (yet still sweet) floral laced with ambergris that adds character.
Honey Blossom reminds me of innocence-filled childhood summer mornings, when you first step outside to an already bright, warm sun with no obligation to walk to school, and the smell of the flowers laced with morning dew and sunshine wafts towards you, while the bees lazily hum around them. Nothing is really going through your head in that moment and the possibilities for the day are endless.
Here is Mandy's description of Honey Blossom:
Beautiful honeyed floral, hypnotic with notes of honeysuckle. If there were a flower that smelled like honey, this would be it. Sheer and reminiscent of being in a meadow, this light floral is a perfect pairing for warmer weather.
Fragrant Notes: linden blossom, mimosa, orange flower, tea rose and ambergris.