Bite Toothpaste Bits is a zero waste brand based out of Marina del Rey, California creating plastic-free, clean toothpaste, mouthwash and body care products. The small company hit it big when they appeared on Shark Tank and count celebs like Kristen Bell as a fan. Today, their innovative eco-friendly toothpastes bits are fluoride free, vegan, made with nano hydroxyapatite and plant-derived, high quality ingredients and sent off in sustainable packaging. I tried Bite Toothpaste Bits (fluoride free), Mouthwash Bits and Solid Body Balms and and am sharing my thoughts in this Bite review.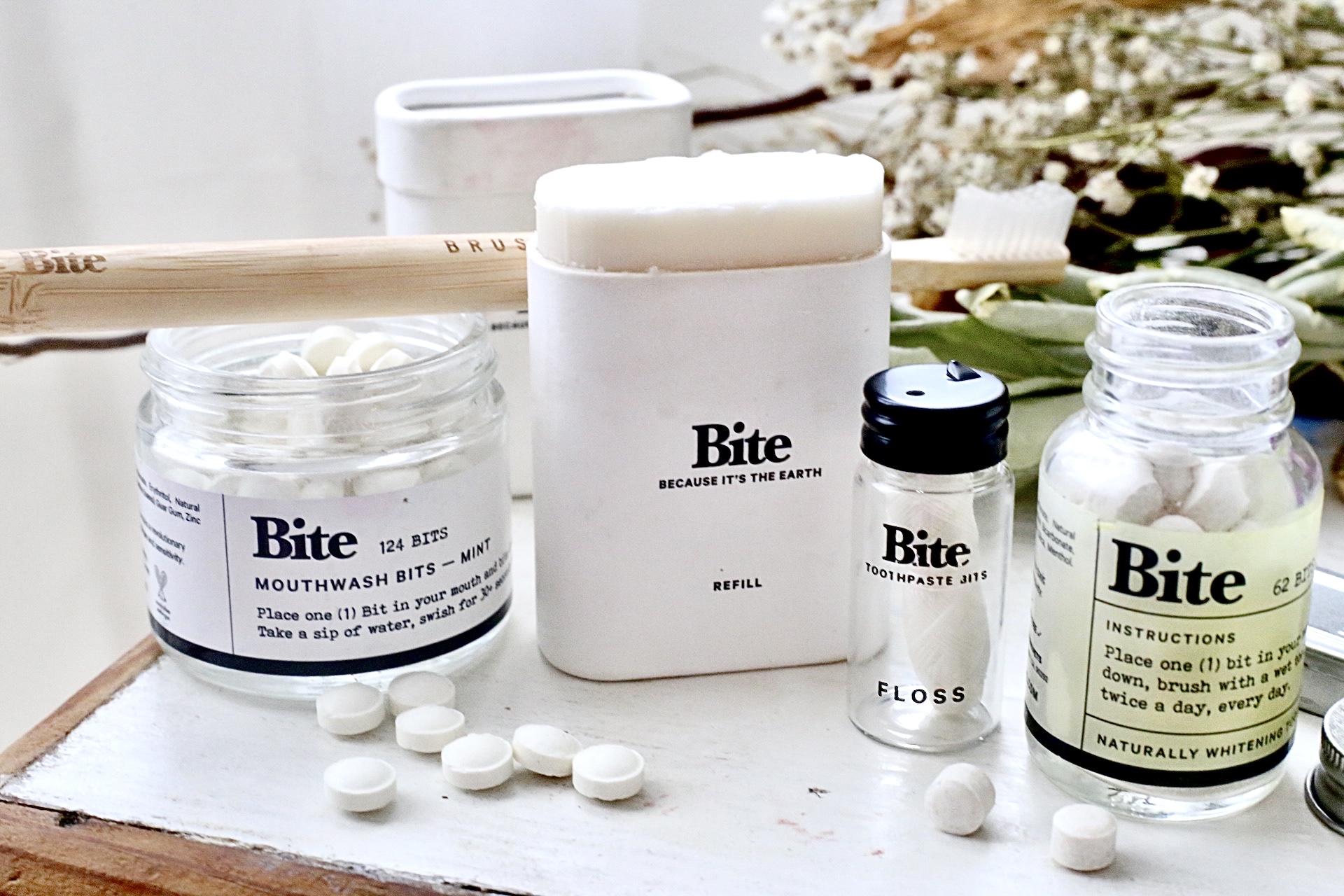 Bite Toothpaste Bits tablets are 100% vegan, palm oil free, fluoride free and gluten free. Dig a little deeper and you'll find a mission-drive brand determined to end plastic waste. More than 1 billion plastic toothpaste tubes are thrown out each year, with harsh chemical residues. More than 100 million animals suffer and die in the U.S. every year in cruel chemical, drug, food, and cosmetics tests. Every year, more than 50 Empire State Buildings worth of toothpaste tubes end up in landfills or oceans. If you're looking to build a bathroom filled with more sustainable and plastic-free products, Bite is a great place to start.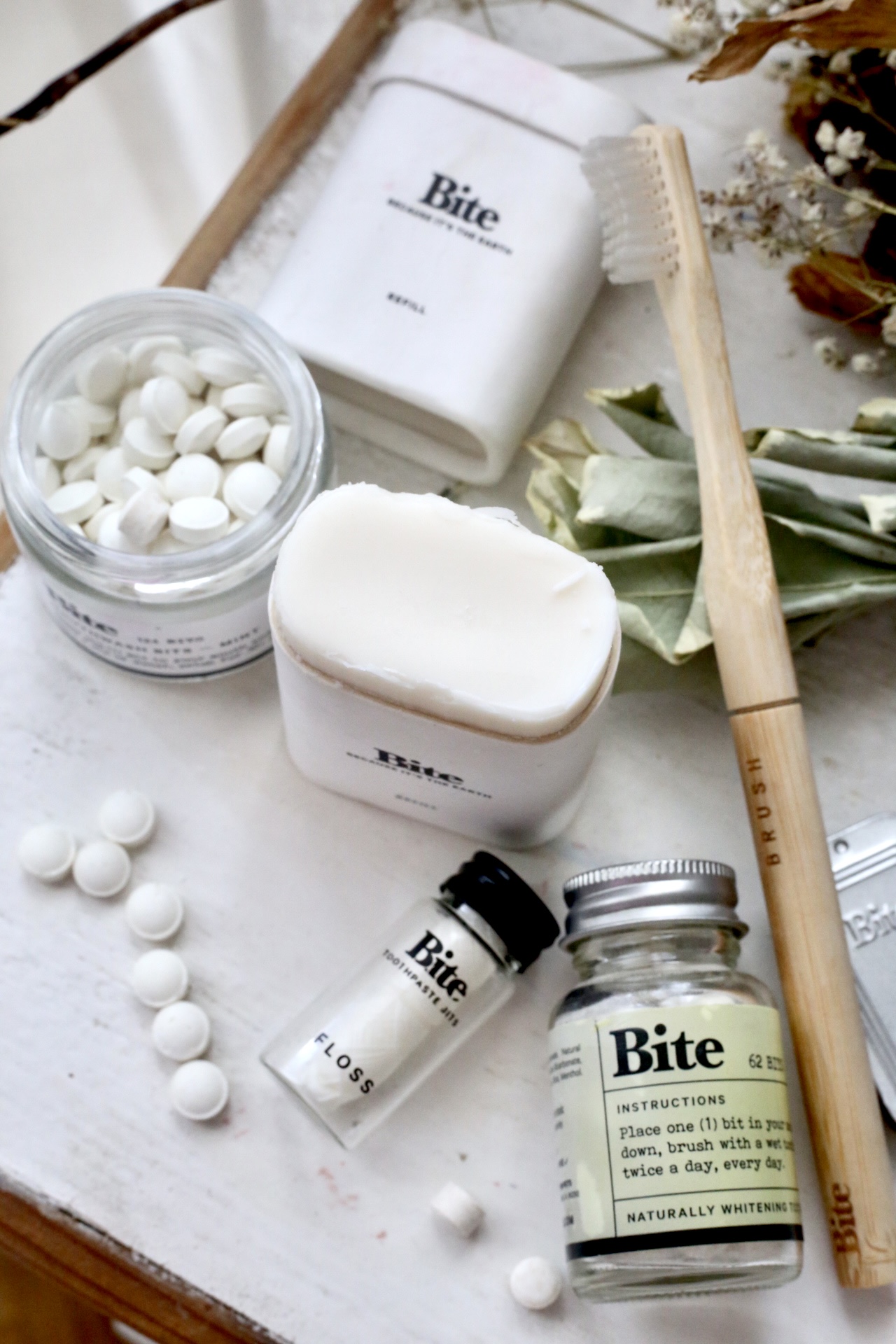 Bite Toothpaste Bits Review
The Bite Toothpaste Bits are a totally brand new experience for me – I've never not used a paste before! To be honest I wasn't a fan at first and I still feel like I'm compromising on the regular toothpaste brushing experience, but I love knowing that I'm using a much more environmentally friendly product. You bite down onto the toothpaste bit then use a wet toothbrush. You don't get the creamy pasty feeling of a regular toothpaste. Bite Toothpaste Bit me are much thinner in consistency once mixed with water, but they still provide a minty clean refreshing feeling at the end. I tried the fluoride free toothpaste bits, but they now offer a fluoride option.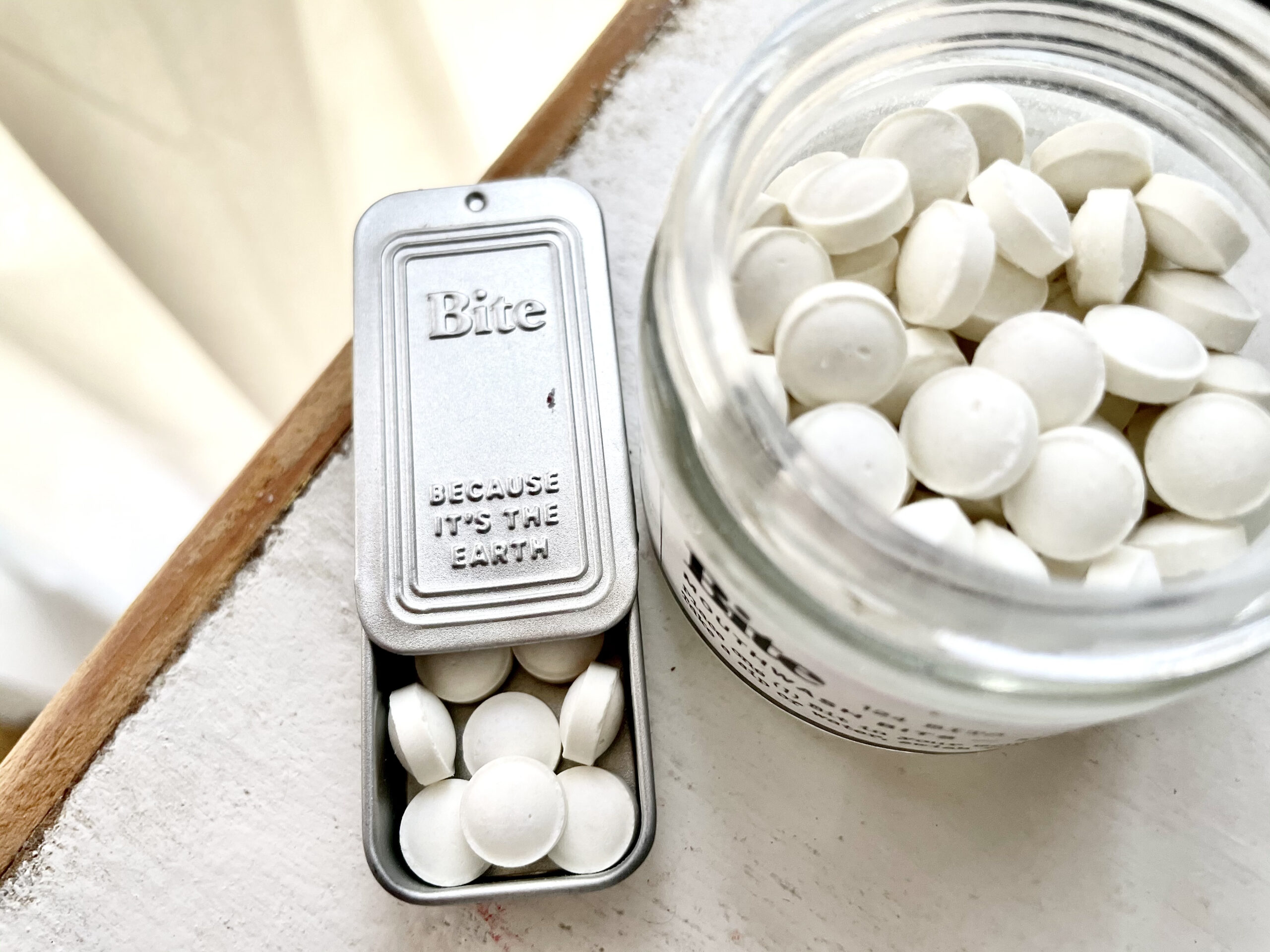 Bite Mouthwash Bits Review
The Mouthwash Bits are fantastic! Mouthwash has always been annoying to transport around, and they never look discreet when you need to freshen your breath but don't have access to a bathroom.  These bits look almost identical to the toothoaste bits and all you have to do is bite down and take a sip of water to turn it into mouthwash. So simple yet it feels like I'm performing alchemy in my mouth. I also found that I don't necessarily need to add any water and my saliva ends up being enough. The more water you add the more diluted the mouthwash becomes. With just the addition of my saliva I'm able to swish it around in my mouth AND the mouthwash feels super powerful.
Bite Toothpaste Bits Ingredients
Erythritol, Xylitol, Calcium Carbonate, Natural Flavor (peppermint), Hydroxyapatite (nano), Sodium Bicarbonate, Guar Gum, Sodium Cocoyl Glutamate, Zinc Citrate, Silicon Dioxide, Menthol 
How To Use Bite Toothpaste Bits
Open the bottle, pop a tablet in your mouth, bite down a few times and brush with a wet toothbrush.
Bite Toothpaste Bits are not recommended for kids under 3 as they can be a choking hazard. For children under 3, the Bit should be crushed into powder before brushing.
How Many Bits Are Included?
Small bottles: 62 tablets (about one month supply of used 2x a day)
4 month subscription: 248 tablets
Mouthwash jar: 124 Bits (4 month supply if used once a day)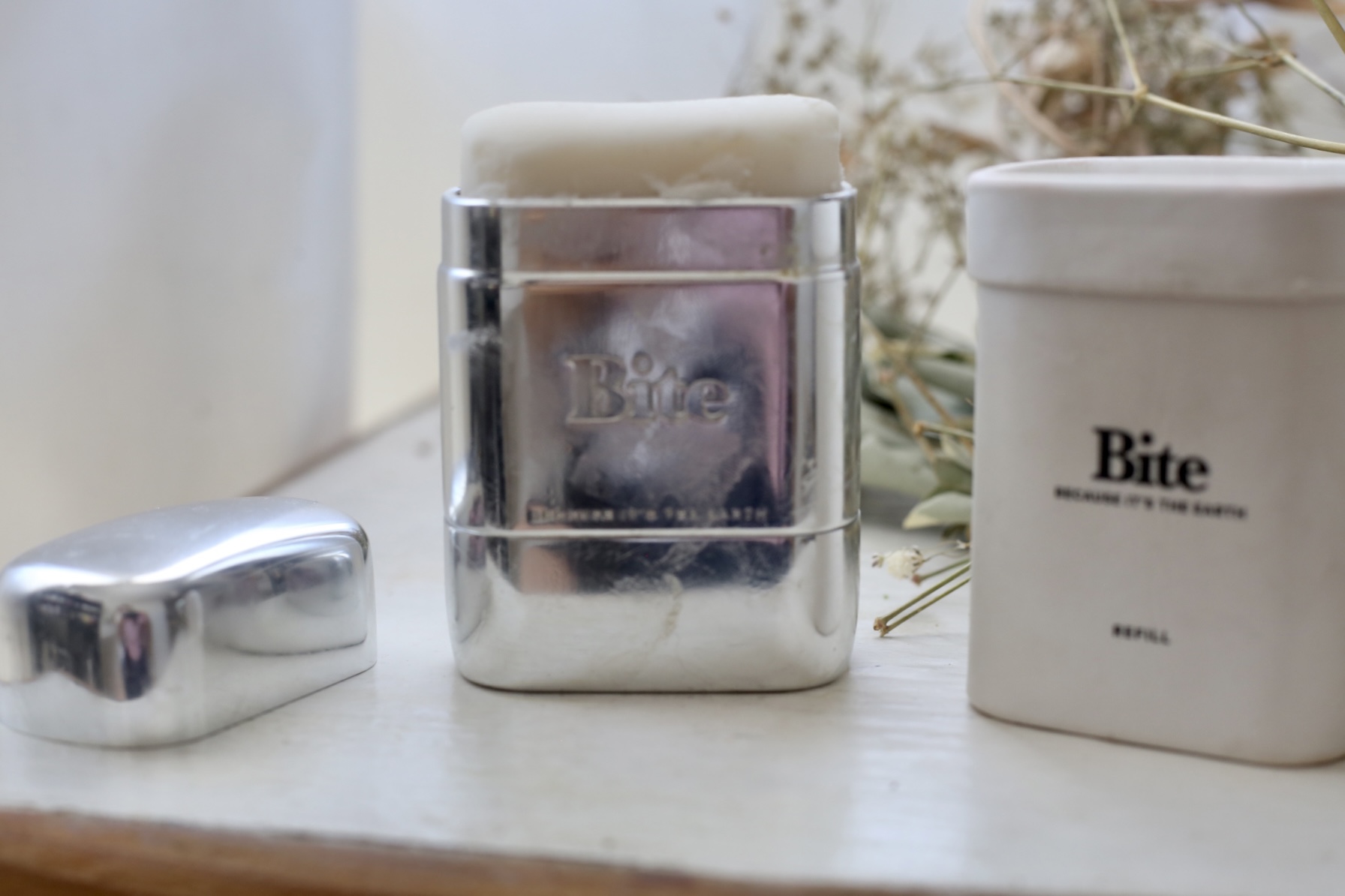 The Bite Body Balm is able to replace five 8oz body lotions and is Vegan, Cruelty-free, fragrance- free, plastic- free, and palm oil- free. These are dense balms that might need a bit for warming up depending on the season. Bite Body Balms are made with rice starch, sunflower seed wax, castor seed oil, Shea butter, rice bran wax, Squalane and hyaluronic acid.
This was also my first time trying a zero waste solid body lotion that comes in the form of a balm and is endlessly refillable. I tried both the Neroli and Santal scents and my personal preference is neroli.
Ingredients: Isostearyl Isostearate, Squalane (Vegan), Rice Bran Wax, Jojoba Esters, Sunflower Seed Wax, Rice Starch, Shea Butter, Tapioca Starch, Rosehip Oil, Vitamin E, Isopulegol, Castor Seed Oil, Hyaluronic Acid, and Hydrogenated Castor Oil.